Roses have inspired poetry, songs, and comparisons to beautiful women for millennia. Prized in ancient societies throughout Asia and the Middle East, its popularity grew in Europe during the middle ages. Roses were beloved as perfume and cosmetic treatments for the skin and hair.
Rose water has persisted in popularity to this day because science backs up its benefits for the complexion. Rose is a natural anti-inflammatory that's high in vitamins C and E. It can even help stimulate your skin's collagen production. This makes it a popular option for anti-aging applications. It can also help reduce redness and balance out oil production in most skin types.
While pure rose oil is extremely concentrated (it requires about 10,000 roses to make just 5ml of essential oil!), and is therefore very expensive, rose water is a more affordable way to add real rose extract to your skincare routine.
Commercial Rose Water Products
While there are many options for 100% rose water on the market, rose water can vary in its properties (and potency) depending on what variety of rose is used and how it's processed. There are also many toners and cleansing waters that use rose water as the main ingredient. We include some in our guide because they are great ways to incorporate rose water into your skincare routine and may especially benefit certain skin types.
Here are a few terms you will see used to describe some of the products on our list:
Toner
Skin toner is a liquid that helps cleanse and moisturize the skin. It can be used by itself on a makeup-free face to refresh your complexion and remove excess oils, or it can be used as part of a skincare routine. If you have oily skin or larger pores, it can help make your complexion look more balanced without drying it out.
Micellar Water
One of the more recent trends in skincare, micellar waters are used to cleanse the skin and remove makeup. They are made of purified water combined with ingredients like glycerin and cleansing oils. More gentle than cleansers that include soap or alcohol derivatives, people with dry skin can often benefit from these products.
Hydrosol
Hydrosols are the plant-infused waters left behind from steam distilling different herbs. They are a more gentle option than using essential oils directly on the skin, but they still give you some of the fragrance and healthful properties of the herbs. Most are made to be misted on and can take the place of a toner. They can be used to refresh dry skin or clean oily skin.
Organic and Cruelty-Free Options
More consumers are getting savvy about what they use on their skin every day. After all, we absorb skincare products and pass them through our bloodstream, just like the nutrients from food. Looking for products without excess chemicals has become an important aspect of shopping for many people.
The difficulty is that many body products don't go through the USDA certification process for organics. If they are largely made up of non-edible ingredients, they may not be able to be certified as organic. Rose petals are actually edible, so several products that are 100% rose extract on our list do carry a USDA Organic certification.
For each product, we'll note if it is certified organic, uses organic ingredients, or if it makes no claims of being organic.
Many people also want to avoid products that use animal testing for ethical reasons. Companies can apply to be Leaping Bunny certified as cruelty-free if all of their products can be guaranteed free from animal testing.
Some companies do not have this across the board stamp of approval but will mention if a specific product is free from animal testing. We make note of that in our product break-down as well.
Top 10 Best Rose Waters 2023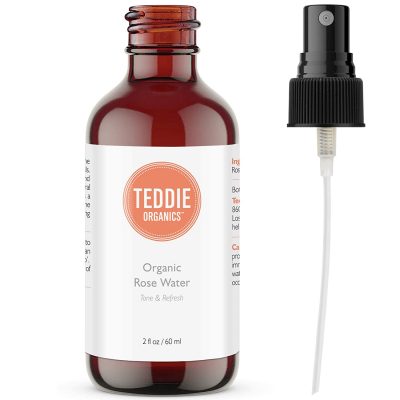 Why we like it:
This clean and simple rose water will suit nearly everyone.
Editor's Rating:
Quick Facts                                                                         
Size: 2 oz.
Ingredients: 100% rose water
Organic: uses organic ingredients
Cruelty-Free: no animal testing
Highlights
This 100% rose water toner is made from Rosa Damascena, or damask rose. This hybrid originated in western Asia but is now mostly cultivated in Bulgaria.
This product doesn't dilute or augment the rose water with any other ingredients. It comes in a convenient spray bottle and is marketed as a daily toner. Intended for all skin types, it can also be used for hydrating your hair and scalp. You can spritz it on at your roots daily to refresh and hydrate that often-ignored skin.
Teddie Organics drew a good amount of buzz in the past with their rosehip oil, which was lauded by many online reviewers as one of the simplest and best anti-aging products available. This rose water is another example of the company sticking to high-quality single-ingredient products for the best results. And it illustrates that their rose-based products are excellent and have a track record of consistency.
Downsides
While there is little to complain about with such a simple and effective product, some users may find the company's claims about what it will do for your skin to be somewhat exaggerated. For example, though the product description mentions that it is ideal for use with rosacea, those with severe cases may not find it very effective.
It's an extremely gentle product, so if you're looking for a stronger, more astringent toner that will condition and tighten your skin, this may be too lightweight for you. For a stronger toner effect, you can try a rose water-infused Witch Hazel like this one from Thayers.
Who It's For
Overall, this is a good product for nearly anyone looking to incorporate rose water into their skin routine. You can't argue with an ingredients list this simple. The spray top and 2-ounce size make it convenient to take to the gym, keep in your desk drawer, or even throw into your carry-on. Anytime you're feeling dry, you can lightly mist it over your face.
If you like DIY-ing your beauty products, you can easily blend this with other hydrosols or essential oils to create your own custom product.
Pros
100% organic rose water

Convenient spray top bottle

Easy to blend

Can be used on hair and scalp
Cons
May not help all rosacea sufferers

Not a strong toner
---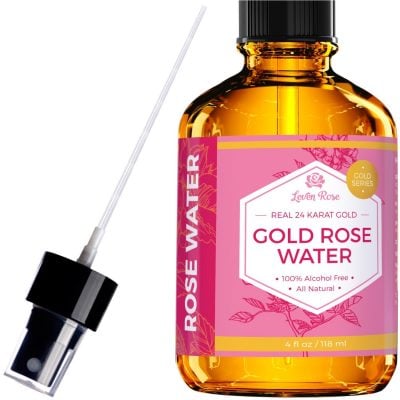 Why we like it:
Nothing is more luxurious than rose water that's infused with real gold.
Editor's Rating:
Quick Facts
Size: 4 oz.
Ingredients: gold-infused rose water
Organic: uses organic ingredients
Cruelty-Free: yes
Highlights
Compared to other rose waters on our list, this option from Leven Rose is much pricier per ounce. However, once you look at the price of other skin treatments on the market that are infused with real 24 karat gold, this product seems like a steal.
Gold has been popularized in skin products and spa treatments for several reasons. Gold is not soluble, so it poses little risk when applied topically. It also has anti-inflammatory and anti-aging effects. It can also protect your skin from wrinkles and sun damage by stopping free radicals, so it's not just for show.
The gold is infused into organic Moroccan rose water. Moroccan roses are known for their very strong natural aroma and have been a staple of French cosmetics since the 1940s. Moroccan rose water has stronger astringent and emollient (moisture drawing) properties than some other rose varieties. That makes this an effective way to condition your skin in multiple ways with just one product.
Downsides
For folks with really sensitive skin caused by conditions like cystic acne, this product may not be a good choice. Extremely dry skin may also not benefit from this more astringent rose water. In these cases, it can lead to irritation and discomfort. Gentler rose water with extra moisturizers like the one from Mario Badescu may be a better choice.
The spray bottle top this product comes with also feels a little subpar for such a high-end product. It can feel less like a gentle mist and more like a jet of water coming out.
To extend the shelf-life, it's also recommended to keep it in the refrigerator. This is a little inconvenient and may make it harder to apply in the winter when you would rather not splash cold liquid on your face.
Who It's For
If you're looking for a way to incorporate gold into your skincare routine, this is a great way to start. When combined with rose water, the two ingredients create a luxurious anti-aging cocktail that has that distinctive Moroccan rose scent.
As skin ages, even by your late twenties, you may want to start investing in products that focus on balancing and healing damage. Sun damage affects people of all ages and skin tones, and it can gradually erode the health of your skin. This product promises to help heal some of that damage.
Pros
The luxury of gold-infused cosmetics at a moderate price

Uses astringent and emollient Moroccan rose

Extra ant-aging properties

Can help reduce sun damage
Cons
Not ideal for very sensitive skin

Spray bottle is low-quality

Needs to be refrigerated
---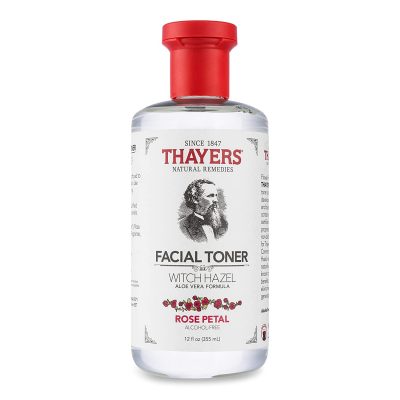 Why we like it:
Witch Hazel combines with rose water to create a balancing toner.
Editor's Rating:
Quick Facts
Size: 12 oz.
Ingredients: Witch Hazel, rose water, aloe
Organic: uses certified organic ingredients
Cruelty-Free: no animal testing
Highlights                                                                              
Thayers has been producing herbal products since 1847, and their line of Witch Hazel toners is an enduring favorite. Witch Hazel has been a popular skin treatment for centuries, helping to keep your skin from producing too much oil without drying it out. It can also tighten up pores and lessen their appearance. Witch Hazel is also used in first aid to clean and soothe topical injuries and rashes.
This pH balancing rose formula combines restorative and soothing rose water with moisturizing aloe and is recommended for skin that needs more moisture than most toners offer. Those with dry or combination skin can use this before applying serums and moisturizers to prepare their skin. The company promises it will give you a "natural glow" with regular use, due to the Witch Hazel tannins that stay preserved through their gentle extraction methods.
This product offers a great value with one of the best prices per ounce that we've found. It comes in a convenient twelve-ounce bottle with a small applicator on the lid that keeps you from using too much. One bottle can easily last for several months of daily use.
Downsides
Thayers recommends this product for normal to dry skin types to improve texture and balance. Unfortunately, it may not be very helpful to those with chronic acne or excess oil. (Thayers recommends their lemon astringent for more oily skin types.) Some people may also find themselves sensitive to witch hazel, which can cause irritation when using this product.
While Thayers uses primarily natural and organic ingredients in their products, this toner does contain phenoxyethanol, a chemical solvent used as a preservative in cosmetics. The Cosmetics Ingredients Review panel determined it to be safe when used topically in small amounts. If you prefer to keep your beauty routine free from any unnecessary additives and preservatives, this might be a deal-breaker. Instead, you may want to choose a 100% rose water toning option, like our pick from Teddie Organics.
Who It's For
If plain rose water doesn't give you the toning effect you're looking for in your skin routine, this blend is a really good choice. It smoothes and tightens your skin without removing its natural moisture. The addition of rose gives it a lovely scent as well as incorporating soothing and anti-aging benefits from the rose extract. Aloe also helps add a little moisture back into your skin during use.
This product is a great precursor to your daily moisturizer. More mature skin may especially benefit from this product, particularly in cases of combination skin or adult acne. It also does a great job of soothing sunburn if you're prone to it.
Pros
Improves texture of skin and pore size

Balances skin pH

Soothes and moisturizes

Natural tannins help heal skin
Cons
Not intended for oily skin types

Includes synthetic preservative phenoxyethanol
---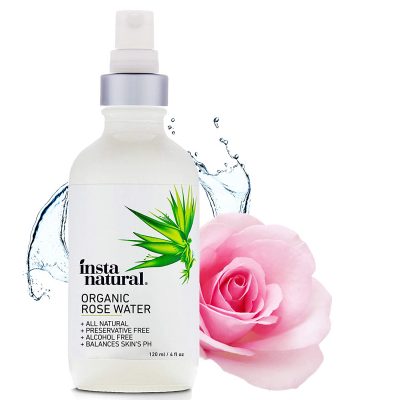 Why we like it:
This pure rose water tones and refreshes.
Editor's Rating:
Quick Facts
Size: 4 oz.
Ingredients: 100% rose water
Organic: yes
Cruelty-Free: yes
Highlights
Instanatural is making a name for itself with cleaner skincare solutions. Their vitamin C-infused products have gained a following. The company guarantees its products to be free from harmful additives like parabens, petroleum, and formaldehyde releasers.
They manufacture all of their products in the US, including this rose water spray. Made from only organic Rosa Damascena, or Damascus Rose, this lightweight rose water is suitable for all skin types. There are zero additives. The company allows the natural vitamin C, antioxidants, and hydrating properties of rose to speak for themselves.
Packaged in a convenient spray bottle, the product is easy to take with you almost anywhere. It can be used as a toner, primer, or setting spray depending on your needs and skin type.
Downsides
There is no clear indication of where the roses at the base of this product are sourced from. While the product is manufactured in the US, it's unclear whether the roses are imported or grown abroad. It's possible that they use multiple suppliers from around the world, which could result in some inconsistency between batches.
While Moroccan roses tend to have a very strong and distinct scent, this product seems to have a more muted or "old rose" aroma that some may not like. Perhaps due to the concentration of rose in the product, the scent tends to linger as well.
For people with larger pores and trouble with blackheads, this may be too light to completely replace toner in their skincare routine. Choosing a toner with added rose water like our pick from Thayers may be a better choice.
Who It's For
If you have sensitive skin and want the purest possible skincare experience, choosing this organic 100% rose water may be a good option. It can add an extra boost of hydration before or after you apply makeup.
By keeping the ingredients simple and pure, Instanatural removes a lot of allergens. Almost everyone will be able to use this product without any side effects. It's also nice to not have to worry about additives potentially proving unhealthy in the future.
Pros
100% organic rose water

Lightweight primer or setting spray

The company guarantees no harmful additives
Cons
Some inconsistency between batches

"Old rose" scent

May not replace a toner for everyone
---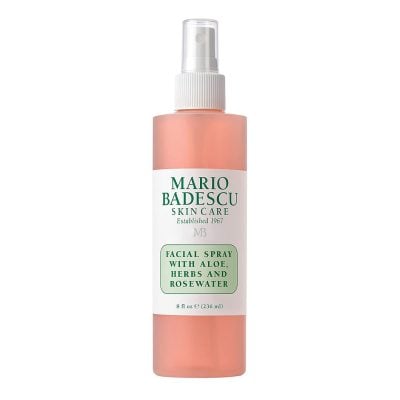 Why we like it:
This botanical mist is light and gentle on the skin.
Editor's Rating:
Quick Facts
Size: 8 oz.
Ingredients: aloe, rose extract, thyme, and gardenia extracts
Organic: no
Cruelty-Free: no
Highlights
Despite some issues in the past regarding ingredient disclosure in certain products, Mario Badescu has reformulated and persevered. They've become a cult-favorite brand online because of their unique and intuitive products.
This rose water facial spray combines rose with moisturizing aloe and other beneficial herb extracts. Thyme is an anti-fungal herb that can reduce bacteria on your skin, helping to prevent breakouts. Gardenia is a mild and soothing plant additive that has anti-inflammatory properties. It also includes bladderwrack extract. This antioxidant seaweed has been used to help promote collagen production in the skin which can reduce the look of aging.
The spray bottle packaging makes it pretty clear how best to use it. Misting it onto your skin throughout the day can help reduce feelings of dryness or be used before a serum or cream. This is also recommended as a makeup setting spray. It helps your makeup stay in place and keeps your skin more moisturized underneath it.
Downsides
The beneficial botanicals in this product make it a good choice for many with sensitive skin. However, it can cause irritation when applied to broken skin. The bladderwrack can be the cause of a negative reaction if you apply it over cuts, scrapes, or even broken skin around acne. Some people may also find that it causes some irritation to the extra thin and sensitive skin of their eyelids as well, so those with sensitive skin should be aware of the uncommon ingredient.
In spite of branding themselves as a botanical brand, this product does use a lot of additives. Like the rose water toner from Thayers, it includes phenoxyethanol, a preservative that some may not be comfortable with.
This product also has propylene glycol as one of the first ingredients. While most people use this with no ill-effects, it does have a history of causing contact dermatitis of varying severity in many people. If you have a history of breaking out from products that contain propylene glycol, this won't be a good choice for you.
Who It's For
If you live or work in a dry environment, this spray offers a refreshing pick-me-up you can spritz on throughout the day. Use it on bare skin or over makeup. Either way, it will help give your complexion a dewy glow that looks fresh and healthy.
For people with dry skin who want a little extra boost to their plain rose water, this has some other gentle herbs that bring their own skin benefits. Just be sure to patch test it somewhere like your inner arm first if you are unsure about your sensitivity to propylene glycol.
Pros
Light hydrating spray

Anti-inflammatory and anti-fungal

Sets makeup with a dewy finish

Gentle moisture throughout the day
Cons
Bladderwrack can irritate broken skin and eyelids

Many chemical additives

Contains propylene glycol
---

Why we like it:
This pure rose water is cold-pressed for maximum potency.
Editor's Rating:
Quick Facts
Size: 8 oz.
Ingredients: 100% rose water
Organic: USDA certified
Cruelty-Free: yes
Highlights
Eve Hansen is a Los Angeles-based cosmetic brand. They keep their manufacturing process in the US, but many of their ingredients are sourced from abroad.
This rose water is made from organic Moroccan roses. That means this rose water has a strong, fresh scent, but also means it may be a more effective toner than some other rose waters. Moroccan roses are known to be more astringent than those grown in other areas, like Bulgaria.
To make their rose water, they use a cold-press extraction technique. This doesn't apply heat to the rose petals the same way a distillation method does. Overheating the flowers can reduce the potency of their aroma and certain other chemical compounds. By using a cold extraction process, it preserves all of the botanical elements that help keep skin healthy.
Downsides
Since this product has no additives and includes a higher concentration of natural oils due to the cold pressing process, it runs the risk of turning rancid faster. This can produce a slightly sour smell that's unpleasant. Keeping it in the fridge will help slow this process down if you don't go through it quickly. Even keeping it out of steamy environments like the bathroom can go a long way.
The stronger natural oils can also leave a slight residue on your skin if you just spritz it on and go. Rubbing it in with clean fingertips or a cotton pad is necessary to ensure absorption. That makes this less ideal for use as a setting spray than other rose waters like our pick from Instanatural.
Who It's For
For folks who want maximum rose impact, this cold-pressed version will give you that. It has more natural rose oil and a greater concentration of its naturally occurring chemicals than most steam distilled options will have.
It's best to use before applying your makeup or as part of your nighttime moisturizing routine. The more astringent Moroccan roses can help oily and combination skin while nourishing it with rose extract. It can also be spritzed on hair to tame frizz and increase shine.
Pros
USDA certified organic Moroccan roses

Cold-pressed to preserve nutrients

Tones and moisturizes

Smoothes hair
Cons
Will go rancid faster than other products

Can't be used as a setting spray

May leave a residue if not rubbed in
---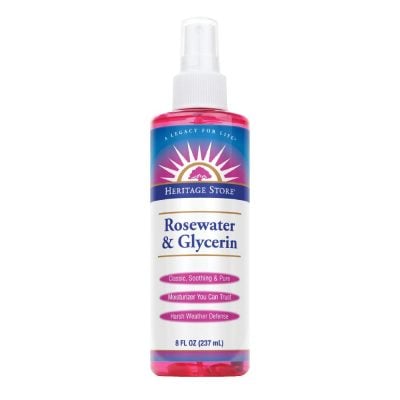 Why we like it:
This combination of rose water and glycerin is simple but effective.
Editor's Rating:
Quick Facts
Size: 8 oz.
Ingredients: glycerin and rose water
Organic: no
Cruelty-Free: yes
Highlights
Heritage Store was founded in 1969, and its packaging and company values haven't changed much since then. While the company's commitment to using magnetized water to 'pass along positive energy' doesn't have a strong scientific backing, they do keep their products simple. There are no mystery chemicals in this.
Damask rose water combines with vegetable glycerin in this simple mist, and the two ingredients complement each other. Rose brings its soothing and calming properties to refresh skin and reduce redness. Glycerin is a neutral humectant that helps draw moisture to the skin to keep it better hydrated and give a dewy finish to the skin.
There is a full line of rose water infused products from Heritage, but this simple two-ingredient formula remains a favorite. It can be used as a primer, a setting spray, or a precursor to other serums and moisturizers in your routine.
Downsides
Because of the heavy-duty moisturizing of this product, it can make some people feel too shiny or oily after application. For people who produce excess oil, to begin with, this may just add fuel to the fire. Plain rose water, like our pick from Instanatural, is a better choice for oily skin that just needs the soothing and redness reduction rose can provide.
In spite of its mist applicator, you may still need to work it into your skin with a cotton pad or your fingertips. Otherwise, it can leave a slightly sticky residue.
The spray bottle is also not very secure. It can easily leak in-transit and make a mess. This makes it less ideal to carry with you for touch-ups during the day.
Who It's For
If your dry skin leaves you feeling tight throughout the day, or your makeup tends to look flakey and powdery, this mist could be a great addition to your routine. Very dry skin can benefit from the extra moisture provided by the glycerin in this product.
Combination skin may benefit from this spray as well. The glycerin helps replenish dry spots, but the rose can soothe and balance redness and oil in other areas. Just use it more lightly on oil-prone areas to ensure you don't increase the oiliness of your skin too much.
Whether it will actually help raise your energy to another plane is debatable, but there's no debating that dry skin will drink this up and will probably be all the better for it.
Pros
Ultra-hydrating formula

Reduces flakey, powdery look

Reduces skin redness
Cons
Too heavy for oily skin

Can leave a sticky residue

Bottle tends to leak
---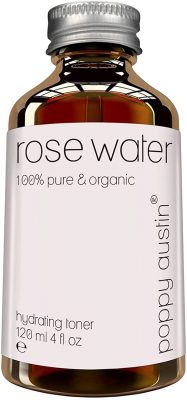 Why we like it:
This rose water is ethically produced in Morocco.
Editor's Rating:
Quick Facts
Size: 4 oz.
Ingredients: 100% rose water
Organic: yes
Cruelty-Free: yes
Highlights
Poppy Austin is a small cosmetics brand from Somerset, England. Their company is dedicated to helping women "get younger-looking skin and the confidence that goes with it." Besides that, they have a core philosophy dedicated to ethically sourced and responsibly produced skincare, something we can all get behind.
Their 100% pure rosewater perfectly illustrates this. The roses used in their product are grown in Morocco by a women-owned co-op. They use a handmade process to select the best roses and steam distill them in mountain stream water.
This rose water is branded as a toner appropriate for nearly all skin types. A twice-daily application is recommended for best results.
Downsides
This Moroccan rose-based water is definitely more astringent than many other rose waters. It pulls makeup and oil off the skin, but doesn't soothe and moisturize as much as you may need. For pure rosewater that has more moisturizing properties, a cold-pressed option like the one from Eve Hansen is a better choice.
Moroccan roses are noted for their particular scent, but this product doesn't seem to have that fresh and clean rose smell you might expect. It has a more mild scent that dissipates quickly.
Who It's For
Overall, this is a very basic rose water. If you're looking for light astringent rose water to use as a gentle toner in your skin routine, then this may be a good choice. It seems to work best with oily skin types. It's very middle-of-the-pack for us in terms of its benefits and its overall performance.
The ethical way it's produced is definitely a big benefit, however. Finding a brand you can feel confident about, knowing where your product is coming from and that workers weren't abused to produce it is becoming more and more important to many people.
Pros
100% organic Moroccan rose

Ethically produced

A gentle toner for oily skin
Cons
Doesn't soothe or moisturize much

Has an unusual scent

May be less concentrated
---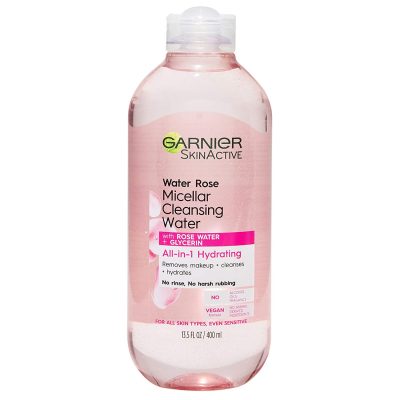 Why we like it:
This is a great way to incorporate rose water into an existing skincare routine.
Editor's Rating:
Quick Facts
Size: 13.5 oz
Ingredients: rose water, glycerin, propanediol
Organic: no
Cruelty-Free: no
Highlights
Micellar waters are having a moment. As an alternative to other cleansers that may contain harsh and drying soaps and alcohols, micellar water uses ingredients like oil and glycerin to lift dirt and oil from the skin.
This micellar water from popular drugstore brand Garnier adds rose water into the mix. It's intended to help condition and soothe the skin during the cleansing process. The rose water also adds a pleasant floral aroma. This product also uses glycerin to help keep moisture trapped in your skin.
It can be used to gently cleanse the entire face or just on target areas for makeup removal. Interestingly, this product has some salicylic acid in the ingredients as well. This is a naturally occurring chemical you probably have in your medicine cabinet as aspirin. For the face, this acid is a gentle exfoliant that can reduce inflammation.
Downsides
While Garnier includes claims that all their products are allergy and dermatologist tested and that even those with sensitive skin can use this product, it might not be so simple.
The second ingredient in this product is "propanediol," which is just another name for propylene glycol. As mentioned above in our review of Mario Badescu's rose water spray, propylene glycol is actually a common allergen. It's added to so many products that often people don't realize what's irritating them or simply think they have sensitive skin.
Questionable ingredients aside, this product is meant to be made for all skin types, but certainly works better on some. For people with oily skin or even some with combination skin, this product is too heavy to be used as a cleanser. In spite of Garnier promising you won't need to rinse after using, it can leave behind residue that might require additional cleansing. It also takes longer to work through heavy makeup than micellar waters from the brand.
Who It's For
If you have dry skin and need a gentler way to cleanse, then this product could be a great alternative. As long as you aren't allergic to the additives in this mix, you'll be able to benefit from the soothing and moisturizing characteristics of the rose and glycerin.
If you don't wear very heavy makeup, this should be sufficient for removing what you wear at the end of the day. It's also a great way to add rose water into your routine without adding an additional step.
Pros
Cleanses without drying

Reduces redness

Moisturizes skin
Cons
Has common allergen propylene glycol

Can leave behind residue

Doesn't remove heavy makeup effectively
---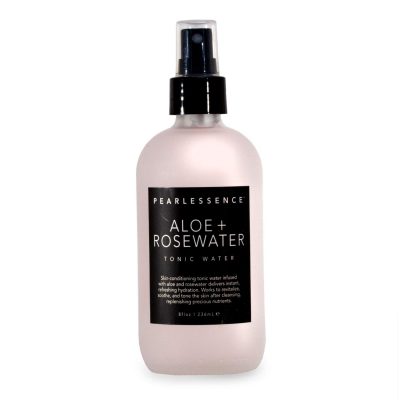 Why we like it:
This light, non-sticky mist is very versatile.
Editor's Rating:
Quick Facts
Size: 8 oz.
Ingredients: rose water, aloe, hibiscus extract
Organic: no
Cruelty-Free: yes
Highlights
This skin tonic is described as a "pick-me-up" for dry skin. Formulated with aloe vera, rose, and hibiscus, this spray has several natural benefits for your skin. While rose and aloe are the featured ingredients for their soothing and moisturizing properties, the hibiscus plays an interesting role.
Hibiscus is used particularly to prevent skin aging. It can encourage new cell growth, smooth the complexion, and reduce discoloration. It also has antioxidant properties.
This product has a mild rose scent as it has multiple applications. It can be used after cleansing to lightly tone and moisturize your face to prepare it for your favorite skin cream. It can also be used as a primer or setting spray with makeup to prevent a flakey look on dry skin.
Downsides
In spite of the gentle botanical elements in this product, there are a few additives that can cause irritation. It contains several preservatives, stabilizers, and fragrances. SkinSAFE has determined that this product isn't safe for use on eyelids or lips because of the more delicate skin in those areas. Of course, with a spray applicator, that's hard to avoid.
For a gentler treatment that combines aloe and rose water, you may want to try this toner from Thayers.
Besides the possible stinging or breakouts that those with sensitive skin or allergies may experience, this mist may not be as hydrating as you hope. Even though it's promised to be a refresher for dehydrated skin, it evaporates quickly without making a significant difference.
Who It's For
If you're looking for a light moisturizing spray that gives you the benefits of rose water and some other plant extracts, this may be worth a try. It's a good way to incorporate some mild anti-aging ingredients into your routine without making a dramatic change.
To add a hint of dewiness to your complexion with makeup, this also provides a little extra glow to your skin.
For those with oily skin, this may be used in place of a moisturizer in your routine. It can provide enough hydration and balance without increasing your skin's oil production.
Pros
Anti-aging hibiscus in formula

Light moisture for oily skin

Gives makeup a dewy finish
Cons
Many chemical additives

Can irritate sensitive skin

Not very deeply hydrating
---
Choosing the Best Rose Water for You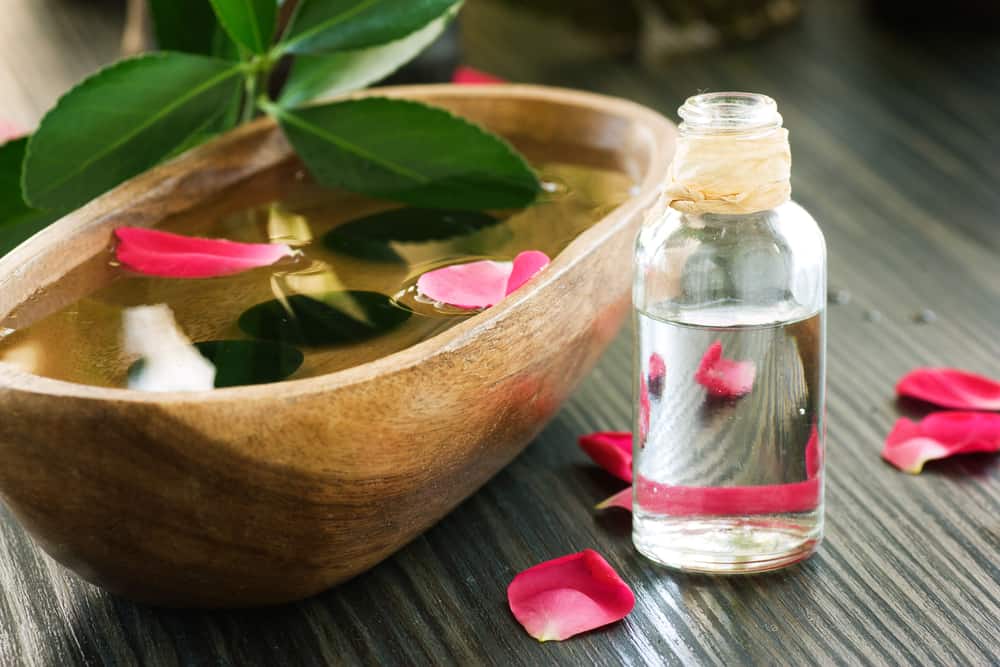 While some people might wonder if rose water is a bit dated, belonging more on your grandmother's vanity than on your bathroom sink, it really can benefit a wide variety of skin types. Rose water has nourishing properties that can help heal troubled skin and help prevent problems from cropping up.
For the best results, you have to figure out how best to incorporate rose water into your routine and choose the best rose water product for your skin type.
How Should You Use Rose Water?
There are a variety of ways to add rose water into your skincare routine. Here are a few ways that people find work for them.
Toner
After cleansing, toning your skin can help improve the look and texture of your skin. Rose water can be a gentle and natural alternative to harsher toning fluids. It also helps prepare your skin for moisturizers and serums.
Makeup Remover
Rose water and rose water-infused cleansers can be used to gently remove makeup without drying out your skin. It may not be strong enough to remove heavy or oil-based makeup, but for light cleansing, it can do the trick.
Primer/Setting Spray
Since rose water can have astringent properties (especially distilled Moroccan rose), it can help tighten your pores without drying out your skin. This prepares the skin for the smooth application of makeup. After applying makeup, it can be misted overtop to give a light dewy finish that will help prevent your makeup from drying out and flaking off.
Other Skincare Products
Rosewater isn't the only beauty product out there that you can incorporate into your skincare routine to keep skin clear, healthy, and soft. Consider incorporating some of the following products into your beauty regime:
Face Moisturizers: While rose water does help to keep skin moist and soft, a moisturizer should also be included in your daily routine, especially helpful to keep skin clear and healthy-looking.
Firming Creams: Not necessarily meant for daily use, firming creams can be used on all types of skin to prevent the effects of damaging UV rays and aging.
Rosehip Oils: Similar to rose water, rosehip oils are renowned for their revitalizing and anti-aging effects. They're natural and effective.
The Best Rose Water for Your Skin Type
Your individual skin needs are largely determined by your skin type. Whether you need extra moisture or gentle balancing, there's a rose water product that can benefit you. First, you'll need to determine your skin type.
Normal
If you have normal skin, you're already pretty well balanced, so the key is using products that help keep you that way. Your skin can look its best when it's lightly moisturized without adding too much oil to the skin. Thayers' gentle rose water and Witch Hazel toner is a great option for keeping your normal skin looking fresh.
Combination
The term "combination skin" describes skin that has areas of oiliness and dryness simultaneously. Often, cheeks will tend to have more dryness, whereas areas like the nose and chin tend to produce more oil and breakouts. It can be hard knowing which products to choose when struggling with combination skin. Eve Hansen's pure cold-pressed rose water maintains a little more of the natural rose oils than steam distilled rose waters. This makes it a lightly hydrating, but ultra-soothing option for combination skin.
Oily
Oily skin tends to come with breakouts and redness as well as shine. You'll want to choose light products that don't leave residue or strip your skin. Stripping all of your natural moisture will only make your skin produce even more oil to compensate. Instanatural's 100% rose water toner is light and refreshing, helping clean excess oil off your skin while gently conditioning it. That makes it a good option for oily skin types.
Dry
Some people experience dry skin all year round, but those with normal or combination skin may only have seasonal dryness. Whether you live in a climate with a dry season, or indoor heating makes your skin dehydrated, you'll need to infuse extra hydration into your skin. Dry skin can look flaky or feel tight. Dryness can even increase the look of fine lines and wrinkles in your skin. Choosing a formula like Heritage's rose water and glycerin blend will help draw moisture into your skin to keep it supple all day.
Sensitive
Sensitive skin can overlap with any of the other skin types on our list. Mainly, though, it's characterized by skin that experiences frequent negative reactions to the environment. Rose water often helps with the redness and inflammation that sensitivity can cause. But, it's important to make sure you're choosing a gentle product that doesn't contain irritating additives that can trigger skin issues. Teddie Organics' rose water spray is a gentle and effective rose water that is non-irritating.
Final Thoughts
Choosing skincare products can be tough. What works for one person may cause a negative reaction in someone else. Through this list, though, we feel confident that we've found a good variety of rose water products that will help most people find something that works for them. Consider testing products on a small patch of arm skin before facial use if you're prone to adverse reactions.
Not all additives and 'chemical' ingredients are evil, although most of our top picks stick to clean ingredients. It's about knowing how your body responds to these ingredients. Always test a new product somewhere like your inner arm or on jawline before applying it all over your face. This is especially true for sprays. Your lips and eyelids have more sensitive skin than the rest of your face, so make sure a product is non-irritating before letting come in contact with those delicate areas. Otherwise, enjoy the benefits of rose water!