Top Picks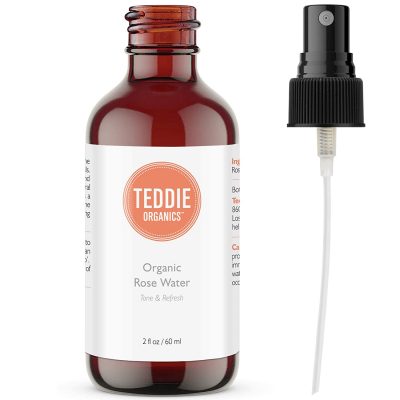 Teddie Organics Rose Water Facial Toner Spray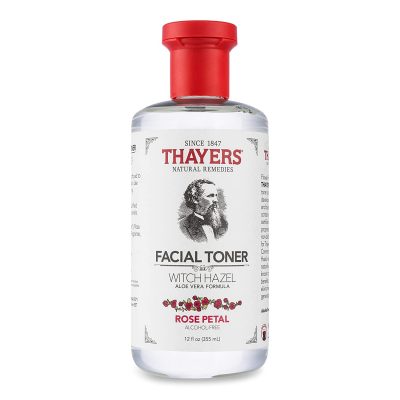 Thayers Rose Petal Witch Hazel Toner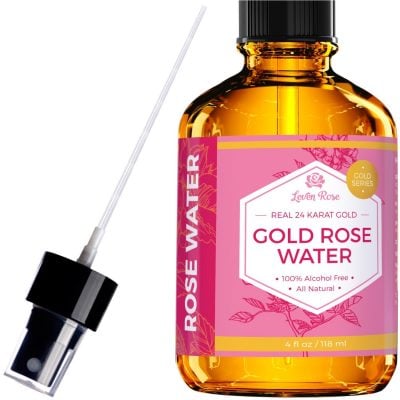 24 Karat Gold Rose Water Facial Toner by Leven Rose
Previous
Next
Roses have inspired poetry, songs, and comparisons to beautiful women for millennia. Prized in ancient societies throughout Asia and the Middle East, its popularity grew in Europe during the middle ages. Roses were beloved as perfume and cosmetic treatments for the skin and hair.
Rose water has persisted in popularity to this day because science backs up its benefits for the complexion. Rose is a natural anti-inflammatory that's high in vitamins C and E. It can even help stimulate your skin's collagen production. This makes it a popular option for anti-aging applications. It can also help reduce redness and balance out oil production in most skin types.
While pure rose oil is extremely concentrated (it requires about 10,000 roses to make just 5ml of essential oil!), and is therefore very expensive, rose water is a more affordable way to add real rose extract to your skincare routine.
Commercial Rose Water Products
While there are many options for 100% rose water on the market, rose water can vary in its properties (and potency) depending on what variety of rose is used and how it's processed. There are also many toners and cleansing waters that use rose water as the main ingredient. We include some in our guide because they are great ways to incorporate rose water into your skincare routine and may especially benefit certain skin types.
Here are a few terms you will see used to describe some of the products on our list:
Toner
Skin toner is a liquid that helps cleanse and moisturize the skin. It can be used by itself on a makeup-free face to refresh your complexion and remove excess oils, or it can be used as part of a skincare routine. If you have oily skin or larger pores, it can help make your complexion look more balanced without drying it out.
Micellar Water
One of the more recent trends in skincare, micellar waters are used to cleanse the skin and remove makeup. They are made of purified water combined with ingredients like glycerin and cleansing oils. More gentle than cleansers that include soap or alcohol derivatives, people with dry skin can often benefit from these products.
Hydrosol
Hydrosols are the plant-infused waters left behind from steam distilling different herbs. They are a more gentle option than using essential oils directly on the skin, but they still give you some of the fragrance and healthful properties of the herbs. Most are made to be misted on and can take the place of a toner. They can be used to refresh dry skin or clean oily skin.
Organic and Cruelty-Free Options
More consumers are getting savvy about what they use on their skin every day. After all, we absorb skincare products and pass them through our bloodstream, just like the nutrients from food. Looking for products without excess chemicals has become an important aspect of shopping for many people.
The difficulty is that many body products don't go through the USDA certification process for organics. If they are largely made up of non-edible ingredients, they may not be able to be certified as organic. Rose petals are actually edible, so several products that are 100% rose extract on our list do carry a USDA Organic certification.
For each product, we'll note if it is certified organic, uses organic ingredients, or if it makes no claims of being organic.
Many people also want to avoid products that use animal testing for ethical reasons. Companies can apply to be Leaping Bunny certified as cruelty-free if all of their products can be guaranteed free from animal testing.
Some companies do not have this across the board stamp of approval but will mention if a specific product is free from animal testing. We make note of that in our product break-down as well.
Top 10 Best Rose Waters 2020
Choosing the Best Rose Water for You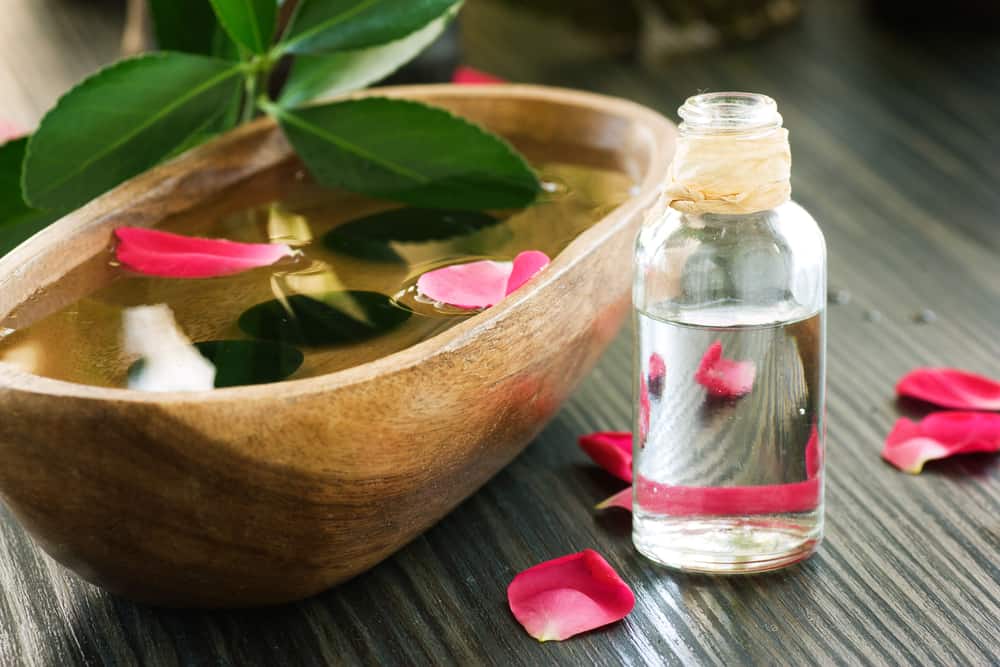 While some people might wonder if rose water is a bit dated, belonging more on your grandmother's vanity than on your bathroom sink, it really can benefit a wide variety of skin types. Rose water has nourishing properties that can help heal troubled skin and help prevent problems from cropping up.
For the best results, you have to figure out how best to incorporate rose water into your routine and choose the best rose water product for your skin type.
How Should You Use Rose Water?
There are a variety of ways to add rose water into your skincare routine. Here are a few ways that people find work for them.
Toner
After cleansing, toning your skin can help improve the look and texture of your skin. Rose water can be a gentle and natural alternative to harsher toning fluids. It also helps prepare your skin for moisturizers and serums.
Makeup Remover
Rose water and rose water-infused cleansers can be used to gently remove makeup without drying out your skin. It may not be strong enough to remove heavy or oil-based makeup, but for light cleansing, it can do the trick.
Primer/Setting Spray
Since rose water can have astringent properties (especially distilled Moroccan rose), it can help tighten your pores without drying out your skin. This prepares the skin for the smooth application of makeup. After applying makeup, it can be misted overtop to give a light dewy finish that will help prevent your makeup from drying out and flaking off.
Other Skincare Products
Rosewater isn't the only beauty product out there that you can incorporate into your skincare routine to keep skin clear, healthy, and soft. Consider incorporating some of the following products into your beauty regime:
Face Moisturizers: While rose water does help to keep skin moist and soft, a moisturizer should also be included in your daily routine, especially helpful to keep skin clear and healthy-looking.
Firming Creams: Not necessarily meant for daily use, firming creams can be used on all types of skin to prevent the effects of damaging UV rays and aging.
Rosehip Oils: Similar to rose water, rosehip oils are renowned for their revitalizing and anti-aging effects. They're natural and effective.
The Best Rose Water for Your Skin Type
Your individual skin needs are largely determined by your skin type. Whether you need extra moisture or gentle balancing, there's a rose water product that can benefit you. First, you'll need to determine your skin type.
Normal
If you have normal skin, you're already pretty well balanced, so the key is using products that help keep you that way. Your skin can look its best when it's lightly moisturized without adding too much oil to the skin. Thayers' gentle rose water and Witch Hazel toner is a great option for keeping your normal skin looking fresh.
Combination
The term "combination skin" describes skin that has areas of oiliness and dryness simultaneously. Often, cheeks will tend to have more dryness, whereas areas like the nose and chin tend to produce more oil and breakouts. It can be hard knowing which products to choose when struggling with combination skin. Eve Hansen's pure cold-pressed rose water maintains a little more of the natural rose oils than steam distilled rose waters. This makes it a lightly hydrating, but ultra-soothing option for combination skin.
Oily
Oily skin tends to come with breakouts and redness as well as shine. You'll want to choose light products that don't leave residue or strip your skin. Stripping all of your natural moisture will only make your skin produce even more oil to compensate. Instanatural's 100% rose water toner is light and refreshing, helping clean excess oil off your skin while gently conditioning it. That makes it a good option for oily skin types.
Dry
Some people experience dry skin all year round, but those with normal or combination skin may only have seasonal dryness. Whether you live in a climate with a dry season, or indoor heating makes your skin dehydrated, you'll need to infuse extra hydration into your skin. Dry skin can look flaky or feel tight. Dryness can even increase the look of fine lines and wrinkles in your skin. Choosing a formula like Heritage's rose water and glycerin blend will help draw moisture into your skin to keep it supple all day.
Sensitive
Sensitive skin can overlap with any of the other skin types on our list. Mainly, though, it's characterized by skin that experiences frequent negative reactions to the environment. Rose water often helps with the redness and inflammation that sensitivity can cause. But, it's important to make sure you're choosing a gentle product that doesn't contain irritating additives that can trigger skin issues. Teddie Organics' rose water spray is a gentle and effective rose water that is non-irritating.
Final Thoughts
Choosing skincare products can be tough. What works for one person may cause a negative reaction in someone else. Through this list, though, we feel confident that we've found a good variety of rose water products that will help most people find something that works for them. Consider testing products on a small patch of arm skin before facial use if you're prone to adverse reactions.
Not all additives and 'chemical' ingredients are evil, although most of our top picks stick to clean ingredients. It's about knowing how your body responds to these ingredients. Always test a new product somewhere like your inner arm or on jawline before applying it all over your face. This is especially true for sprays. Your lips and eyelids have more sensitive skin than the rest of your face, so make sure a product is non-irritating before letting come in contact with those delicate areas. Otherwise, enjoy the benefits of rose water!