Editor's Note: Feminine washes are a controversial product, and many individuals on both sides of this argument have valid opinions about using or not using these washes. However, in my experience, there is nothing wrong with selecting a feminine wash product if it works for you and your body, and it helps you feel more fresh and confident. We've carefully selected the best feminine washes so you don't have to spend time debating which item to get in the store or wondering if there's a different item out there that might better suit your feminine wash needs.
Whether you call it your hoo-ha, your little lady, or a more scientific name, we all know that we need to keep our downstairs area clean. Otherwise, things can turn nasty – nobody wants to suffer from a UTI or thrush more often than they have to.
Yet if you feel self-conscious about the smell or health of your vagina, it's not exactly something you normally bring up around the dinner table or at the office. Luckily, we've compiled everything you need to know about finding the perfect feminine wash in one place.
Features to Look For in a Feminine Wash
Few areas of the body are more sensitive than the vagina – choose a product that doesn't agree with you and you'll suffer the consequences. To minimize the chance of that happening, make sure you're clued up on what to look for in a feminine wash.
pH Balanced
The vagina should have a pH of 4.5 or less to keep it acidic – too much alkalinity leads to excess bacteria. If a feminine wash isn't pH balanced, only use it if you've never suffered from pH issues before, and be sure to stop using it if issues occur.
Hypoallergenic
Because our vaginas are so sensitive, you might want to go for a hypoallergenic option. These feminine washes avoid known allergens to minimize the chance of a breakout – but it's no absolute guarantee.
Gentle Ingredients
Some people prefer feminine washes without toxins and chemicals to reduce the chance of irritation. You can read more about ingredients that could be harmful in our detailed breakdown.
Gynecologist or Dermatologist Approved
Nobody knows your vagina quite like you do. But if you're going to trust someone to make an educated guess other than yourself, it should be a healthcare professional like a gynecologist or dermatologist. Look out for products tested and approved by these specialists.
Type
As you'd expect, feminine washes tend to come in a liquid form – that's where the "wash" part comes in. However, there are also a few that take more of a gel-like form for topical application that provides relief from inflammation. Some washes take the form of a foaming gel, while others are creamier.
Fragrance
Some of us love our natural scent and don't want a cosmetic product to interfere with it; others are looking for something to mask it as much as possible. Whatever the case, make sure you know what you're buying before you apply it, and be on the look out for artificial fragrances since they can sometimes cause irritation.
Cruelty-Free
Sadly, many brands out there are still testing on animals. If you're against the practice, assume that no brand is cruelty-free unless it explicitly says otherwise.
Okay, that's the basics covered. It's time for the moment you've been waiting for: which feminine washes finished top of class?
Top 10 Best Feminine Washes 2023

Why we like it:
Gentle enough to use every day yet cleansing enough to leave you refreshed, the Lemisol feminine wash strikes the perfect balance between hygiene and giving a pleasant experience.
Editor's Rating:
Quick Facts:
Amount: 16 Fl oz
Type: Foaming wash
pH-balanced: Yes
Scent: Mint
Gynecologist tested: No
Dermatologist tested: Yes
Hypoallergenic: Yes
Cruelty-free: Yes
Lemisol is a Latin feminine hygiene brand with a history spanning over 30 years, and its flagship product Lemisol Plus is extremely popular among its customer base.
Need more convincing than that? Lemisol says that dermatologists recommend its products, and the hypoallergenic status of the Lemisol Plus ensures that even those with sensitive skin can use it safely.
Apply the Lemisol Plus feminine wash solution to your skin, and you'll be met with a lovely, refreshing mint tinge – refreshing enough to keep you feeling hygienic all day long.
Although this version is a two-pack, you can also buy it as an individual item (although it's more expensive that way).
One of the main downsides is the packaging. The product doesn't have a seal cap, so there's no surefire way to find out if it was tampered with or somebody used the product before you, and there may be some slight leakage.
Ingredient Quality
The key ingredient here is 100% natural lactoserum (also known as whey or lactic acid), an active ingredient that does a great job of controlling your pH and keeping germs at bay.
It also contains aloe vera – an antioxidant that fights bacteria – and chamomile for reducing irritation, making it perfect for UTIs.
As well as smelling nice and minty, the menthol moisturizes the mucous membrane of the vagina and skin.
However, the ingredients list includes sodium laureth sulfate and artificial colorants. If you want a more natural option, try the Sliquid Splash wash instead.
Pros
Cruelty-free

Lactoserum as an ingredient

Hypoallergenic
Cons
There's no seal cap

Contains sodium laureth sulfate and artificial colors
---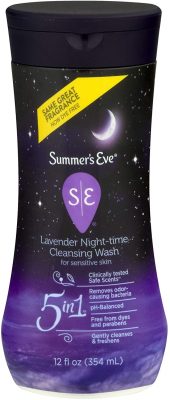 Why we like it:
There's no need to overpay to keep yourself feeling fresh. Summer's Eve feminine wash will thoroughly cleanse you down there without irritating sensitive skin.
Editor's Rating:
Quick Facts:
Amount: 12 Fl Oz
Type: Foaming wash
pH-balanced: Yes
Scent: Lavender
Gynecologist tested: Yes
Dermatologist tested: Yes
Hypoallergenic: Yes
Cruelty-free: Yes
Keep your vagina smelling fresh throughout summer nights (and winter days) with the Summer's Eve cleansing wash. This is a 5-in-1 wash, since it helps with five core problems: removing odor, cleansing, freshening, washing, and maintaining your pH.
As well as being tested by gynecologists and dermatologists, it's clinically tested to provide safe scents – use it liberally without worrying about irritation.
However, the scent is certainly not suitable for the faint-hearted – the strong lavender fragrance can be quite overpowering for some people.
Ingredient Quality
To ensure you avoid any harsh reactions down there, the lavender feminine wash is free from parabens and dyes, two of the most harmful ingredients you can find in feminine washes
It's also free from soap and alcohol, which can ruin the natural pH of your vagina.
However, it does contain sodium laureth sulfate, which is a harsh cleanser. If you'd prefer something gentler, maybe the oney Pot wash would suit you better.
Since this is a budget option, the "magic" ingredients inside are limited – but it does contain a little lactic acid and lavender. The lactic acid is great for fighting bacteria, while lavender is an antimicrobial that helps mask any unpleasant scents.
Pros
Gynecologist tested

Free from parabens and dyes

Affordable
Cons
Contains sodium laureth sulfate

Overpowering smell
---

Why we like it:
You'd struggle to find a feminine wash with purer ingredients than this Honey Pot product, making it the perfect choice for anyone who wants to be extra careful.
Editor's Rating:
Quick Facts:
Amount: 5.51 Fl Oz
Type: Foaming wash
pH-balanced: Yes
Scent: Herbal
Gynecologist tested: Yes
Dermatologist tested: No
Hypoallergenic: No
Cruelty-free: Yes
The Honey Pot is a plant-based feminine products brand designed to find the perfect equilibrium with your body rather than ruin your natural environment. Its founder created the company from herb-based handmade products after suffering from bacterial vaginosis that commercial products couldn't solve.
This is a great wash for anyone who suffers from dryness, infections, or irritation. It will even help with boosting your natural moisture levels.
The wash's pH is between 3.5 and 4.5, so you know exactly what you're dealing with here. However, with a price tag above $10, it may be out of many peoples' budgets. vH Essentials Feminine Wash offers the same pH-balancing effects at a much lower price, but it's not as natural or effective.
Ingredient Quality
The Honey Pot Sensitive wash is 99% natural, and unlike many other options on this list, you don't need to worry about sodium laureth sulfate or other harsh cleansers. It's also free of chemicals, parabens, and carcinogens.
Instead, the primary ingredients are coco glucoside and organic oat extract, which are much gentler ways to keep yourself clean.
Plus, the lavender, vinegar, and calendula all keep your vagina fresh. Vinegar fights bad bacteria like yeast, coconut oil helps with odor control, and lavender reduces inflammation.
It also contains colloidal silver, an ancient remedy believed by many to help with bacterial and fungal infections. However, there are also some possible health concerns and side effects of the silver, so be sure to read up on it before purchasing.
Pros
Great for sensitive skin

99% natural

Free from sulfates and parabens
Cons
There are health concerns related to colloidal silver

Expensive
---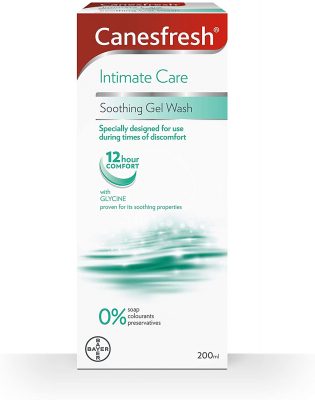 Why we like it:
Give yourself some relief down below with the Canesfresh soothing gel, which promises to provide comfort for 12 hours – why suffer unnecessarily?
Editor's Rating:
Quick Facts:
Amount: 6.76 Fl Oz
Type: Gel
pH-balanced: No
Scent: Neutral
Gynecologist tested: Yes
Dermatologist tested: Yes
Hypoallergenic: No
Cruelty-free: No
Many people are looking not just for something to freshen them up and mask odors, but also a solution to discomfort they're feeling. Canesfresh provides both – as a gel, you can apply it directly to the area that's giving you a hard time for some relief. It also provides moisturization and lubrication.
Unfortunately, since Canesfresh must be imported from Europe, buying it from the US results in a higher price tag than many other items on the list. For a more affordable feminine wash, consider Summer's eve instead.
Another issue is the lack of clarity over whether Canesfresh is pH-balanced and hypoallergenic, although the ingredients are fairly gentle.
Ingredient Quality
Nobody wants to apply a product that's supposed to soothe their skin, only to end up with a bigger problem than they had to start with! Luckily, the Canesfresh gel is free from soap, preservatives, and colorants – all of which are among the most problematic ingredients.
There's also no sodium laureth sulfate, with milder surfactants like cocamidopropyl betaine used instead.
Finally, it derives its soothing properties from glycine, an amino acid that helps the body to make proteins, repair itself, and calm the body.
Pros
Provides comfort for 12 hours

Free from soap, preservatives, and colorants

Highly moisturizing
Cons
Expensive due to being an imported product

Unclear if it's pH-balanced
---
5.

Best Odor Blocking Feminine Wash:

Vagisil Odor Block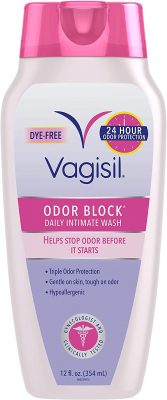 Why we like it:
You shouldn't have to lose your confidence because of odor down below, and Vagisil Odor Block feminine wash gives you 24-hour protection to ensure you never have to.
Editor's Rating:
Quick Facts:
Amount: 12 Fl Oz
Type: Foaming wash
pH-balanced: Yes
Scent: Light and clean
Gynecologist tested: Yes
Dermatologist tested:
Hypoallergenic: Yes
Cruelty-free: No
The Vagisil Odor Block goes above and beyond with its triple odor protection, which aims to stop all bad smells in their tracks. This three-stage process includes a cleanse, an odor block, and a scent to disguise any smell that still lingers.
Clinically tested by gynecologists and hypoallergenic, the disguise of odor also won't come at the cost of your vaginal health.
However, despite being labeled as a gentle product and hypoallergenic, there are a few harsh ingredients, as you'll soon see. More sensitive types may face a little burning or irritation.
Ingredient Quality
Vagisil uses natural aloe, chamomile, and calendula to freshen you up. Calendula is often used to tackle inflammation and infections, while aloe has soothing properties, and chamomile is an ancient herbal remedy that can also tackle irritation and inflammation.
The wash is also free from dyes, which can be very harmful.
However, not all the ingredients present are quite so natural. Among the ingredients are sodium laureth sulfate and artificial fragrances. For a safer alternative, consider the Sliquid wash.
Pros
Blocks odor for at least 24 hours

Clinically tested by gynecologists

Can be soothing if you don't react to it poorly
Cons
Contains sodium laureth sulfate

Uses artificial fragrances
---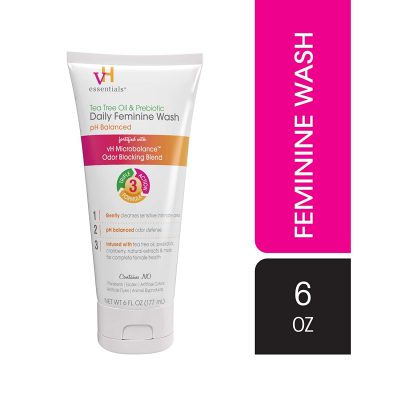 Why we like it:
Every feminine wash worth its salt tries to balance pH, but few go to the extreme lengths of vH Essentials. With prebiotics and a selection of other ingredients to balance pH and bacteria, your vagina will never feel better.
Editor's Rating:
Quick Facts:
Amount: 6 Fl Oz
Type: Foaming wash
pH-balanced: Yes
Scent: Tea tree
Gynecologist tested: No
Dermatologist tested: No
Hypoallergenic: No
Cruelty-free: Yes
With ingredients to promote the right kind of bacteria and increase acidity, the focus of vH essentials is all about balancing your vagina's pH. And what happens when you fight the bad bacteria? You also combat odor and any lingering infections.
Using a triple action formula, the vH essentials feminine wash cleanses you, balances your pH, and infuses your skin with all kinds of natural solutions.
Ingredient Quality
The use of cranberry and tea tree oil is a great combination. Tea tree is a natural antibacterial and cranberry is an antioxidant. Known for being a natural cure to UTIs, it's great at fighting infections.
However, the standout ingredient is the use of prebiotics: live organisms that introduce the right bacteria into the body. These do a great job of tackling any disruptive bacteria that might come your way because of your lifestyle.
vH has excluded most of the bad stuff from its feminine wash – there are no parabens, gluten, artificial colors, or artificial dyes. Still, it's not exactly 100% natural.
One of the principal ingredients is sodium ether lauryl sulfate, and it also contains artificial fragrances. For an option free of these two substances, opt for the Honey Pot company wash.
Pros
Contains prebiotics to introduce good bacteria

Free from parabens and artificial colors and dyes

Fights odor and infections
Cons
Contains sodium ether lauryl sulfate

Not tested by gynecologists or dermatologists
---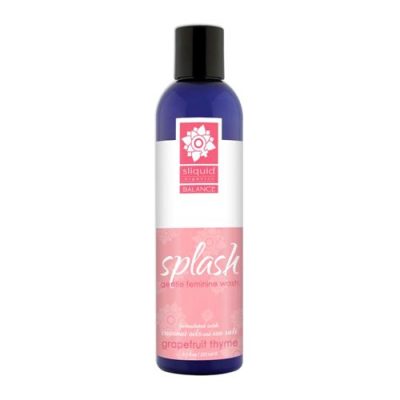 Why we like it:
We can all be a little sensitive sometimes – and so can our vaginas. If you're prone to allergies and common but irritating ingredients, a gentle feminine wash like this is perfect.
Editor's Rating:
Quick Facts:
Amount: 8.5 Fl Oz
Type: Foaming wash
pH-balanced: Yes
Scent: Grapefruit
Gynecologist tested: No
Dermatologist tested: No
Hypoallergenic: Yes
Cruelty-free: Yes
Sliquid was originally a lubricant company, so they know a thing or two about health in the genital region. The founder's wife was sensitive to many ingredients common in lubricants, so the brand focused on using natural, non-inflammatory ingredients for other sensitive gals.
That's why the Splash wash is hypoallergenic, gentle, and set to the neutral pH of 6.0 – to be as non-invasive as possible. Unfortunately, it doesn't have an official stamp of approval from gynecologists or dermatologists, but its fans love and trust it.
Ingredient Quality
The ingredients list for Sliquid Splash is more minimal than most other feminine washes. It's free of sulfates, opting for the natural surfactants cocoampoacetate and coco betaine instead.
Sliquid uses organic botanical extracts to infuse its products instead of artificial fragrances, giving off a pleasant grapefruit scent with no nasty consequences. Among the other special ingredients are coconut derivatives (which have antibacterial properties) and sea salt to fight infection.
The feminine wash is also free from parabens and glycerin. Although glycerin can be a great moisturizer – you'll find it in plenty of hair and skin products – it can be dangerous since it's a sugar derivative and often contains damaging chemicals. This can lead to dryness, or worse.
However, it does contain potassium sorbate as a chemical preservative – although this chemical is naturally occurring in many fruits, it has some links with a negative effect on immunity.
Pros
Non-toxic

Suitable for vegans

Very gentle and unlikely to cause irritation
Cons
Contains potassium sorbate

Not tested by dermatologists or gynecologists
---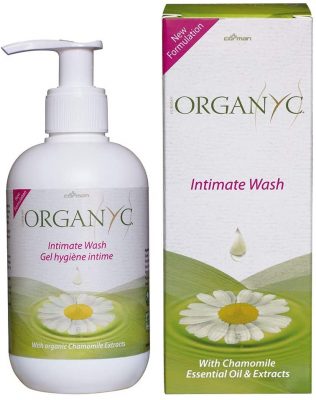 Why we like it:
Your body is your temple, and few brands understand that quite as well as Organyc. This feminine wash is perfect for those with sensitive skin, complete with all organic and hypoallergenic ingredients.
Editor's Rating:
Quick Facts:
Amount: 8.5 Fl Oz
Type: Clear wash
pH-balanced: Yes
Scent: Chamomile and calendula
Gynecologist tested: Yes
Dermatologist tested: No
Hypoallergenic: Yes
Cruelty-free: Yes
Certified by the ICEA (an Italian non-profit organization that verifies whether brands use organic farming), Organyc cares about using only the purest ingredients. Dermatologists have also tested the wash and found it's suitable for sensitive skin.
As well as balancing pH and fighting infection, it will help with moisturization and hydration.
Despite a high-end approach, the products are surprisingly affordable, and one bottle should last for months.
However, the scent is quite chemical and herbal, which isn't popular with everyone. Also, it doesn't foam much, with more of a runny texture.
Ingredient Quality
Although many feminine washes on the list contain organic extracts or mostly natural ingredients, this Organyc wash is the only option with 100% natural and organic components.
To soothe you down below, it contains chamomile and calendula, both of which are known for their comforting properties. There's also lactic acid to help with balancing pH.
Ready for the full list? It's free from chlorine, SLS/SLES, preservatives, dyes, and synthetic perfume – all of which can be harmful. You can read more about them in our overview of harsh ingredients.
Even better, it's proven to contain a low concentration of nickel, a metal that can creep into cosmetic products and run havoc in the body.
The only ingredient which could possibly be problematic is glycerin, which can cause adverse reactions. For a product free from glycerin, consider the Sliquid wash.
Pros
Free from preservatives, SLS, and synthetic perfume

Made from 100% natural organic ingredients

Comfortable and pH balanced
Cons
Doesn't foam

Strong scent

Contains glycerin
---

Why we like it:
If you suffer from dryness down below, the last thing you want is a feminine wash that exacerbates your problem. Filled with soothing ingredients, the Luvena therapeutic wash aims to soften the skin instead of drying it.
Editor's Rating:
Quick Facts:
Amount: 6.76 Fl Oz
Type: Foaming wash
pH-balanced: Yes
Scent: Cucumber
Gynecologist tested: Yes
Dermatologist tested: No
Hypoallergenic: Yes
Cruelty-free: Yes
As a daily therapeutic wash, you can use the Luvena wash safely on sensitive or dry skin. You might think that being "therapeutic" is a big claim, but the wash is OB/GYN recommended and certified, which should put your mind at rest.
The high cost might make it hard to justify for those on a tight budget, but you get what you pay for
Also, the light cucumber scent isn't to everyone's taste – it can seem overly chemical or downright strange.
Ingredient Quality
Dry-skinned individuals will be happy to know that the Luvena therapeutic wash is free from SLS and parabens. However, it does contain other sulfates (including sodium tricedeth sulfate) and various chemical ingredients – better than some, but not perfect.
It also boasts bio-active enzyme protection, meaning there are active enzymes inside the formula to provide you with the right bacteria down below.
There's glycerin, Vitamin E, and silk amino acid to give your skin the moisturization that it needs. However, some people might be wary of glycerin since it can sometimes cause dryness.
Pros
Free from SLS and parabens

Helps to moisturize

Helps promote good bacteria
---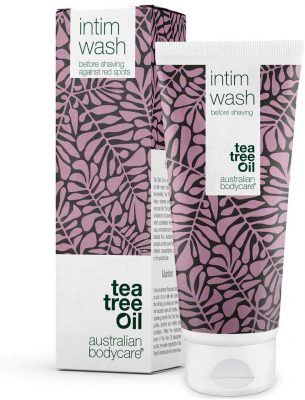 Why we like it:
Why not kill two birds with one stone by looking after your skin irritation before shaving while also taking care of your hygiene down below? The Australian Bodycare intimate wash is one of the few products that lets you do exactly that.
Editor's Rating:
Quick Facts:
Amount: 6.76 Fl Oz
Type: Gel wash
pH-balanced: Yes
Scent: Tea tree
Gynecologist tested: No
Dermatologist tested: Yes
Hypoallergenic:
Cruelty-free: Yes
If you've ever shaved, you're probably all-too-familiar with that horrible itchy redness that comes after the fact – especially when you shave your intimate area. Although this is hard to avoid completely, the Australian Bodycare intimate wash does its best to minimize the damage.
You can then apply the rest of the "intimate kit" – a shaving gel and an after-shaving balm – for the full effect.
But it's not hypoallergenic, so it might not be suitable for the most sensitive skin types.
Ingredient Quality
The 100% natural tea tree oil (grown in Australia) and the lactic acid help reduce the itchiness and any rashes that appear after you've shaved.
It's free from parabens, sulfates, and artificial fragrances too, and the chemical ingredients are minimal. But, like many other feminine washes, it contains glycerin. This may help with making your skin smooth before shaving, but could also lead to some unwanted irritation-or-dryness.
There's also isopropyl alcohol, which could be overly harsh and drying for some people.
Pros
Vegan

Specially designed to tackle itchiness from shaving

Part of a complete shaving set
Cons
Contains glycerin and alcohol

Not hypoallergenic
---
A Complete Guide to Vaginal Health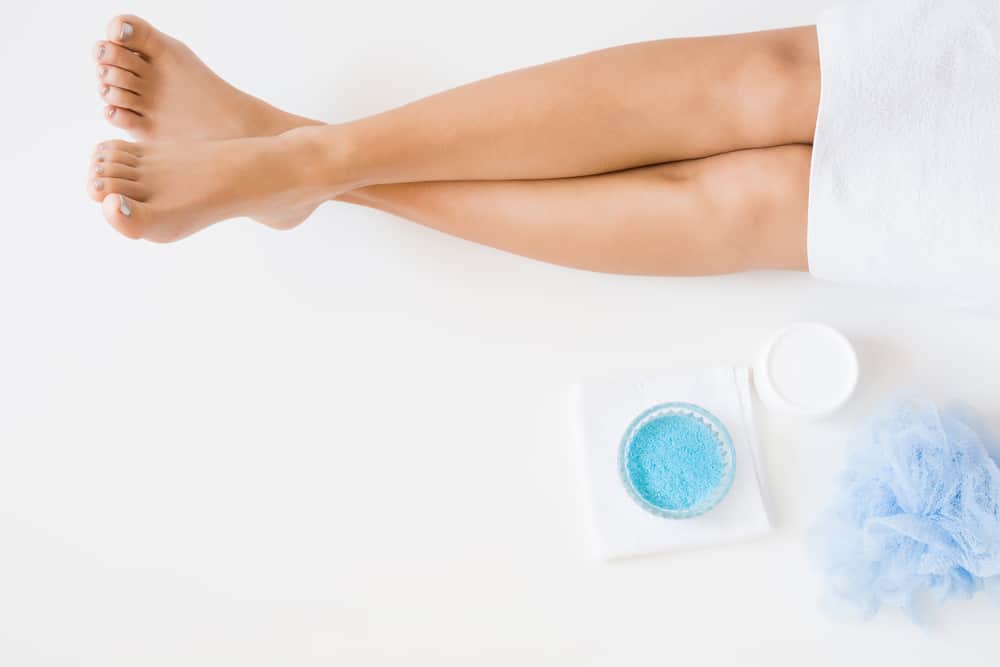 Most people assume there's nothing more to feminine washes than adding a little water and liquid down there and hoping for the best. In reality, that couldn't be further from the truth – washing your intimate area is both a science and an art. Here's everything you need to know.
Should I Use Soap or a Feminine Wash?
We use soap to clean ourselves, so it sounds reasonable to apply soap to the vagina, right? Well, things don't quite work that way.
Soap is a harsh substance, and it's certainly not designed for an area as sensitive as the vagina.
If you use it there, it's likely that you'll end up with dryness, irritation, or worse. Why? The main issue is that soap is alkaline, while the vagina is acidic.
If you have a tough vagina, you might be thinking: "I've used soap down there before without getting an adverse reaction" – but you're probably the exception rather than the rule. Even if this is you, we recommend not pushing your poor vagina to the limits. You never know if you could get a nasty shock when your immune system is down.
And, no, you can't use a regular body wash, either!
Is a Feminine Wash Necessary?
You might have heard that the vagina is self-cleaning. While this is true, it's important to clean the vulva. Warm water will do the job, but you might also want to moisturize and freshen up.
We can build up lots of bacteria and sweat throughout the day, as I'm sure you know.
If you're more prone to dryness, UTIs, thrush, irritation, or other conditions, using a feminine wash could be a good idea. Many people find that their vagina effectively self-cleaned until their lifestyle changed, making it necessary to use a feminine wash.
How Should I Clean My Vagina?
Since the vagina is so sensitive, it's best to test the feminine wash on a small patch of skin and see the reaction before committing to the full shebang.
It's normal for there to be a small amount of tingling, but any irritation is a sign that you shouldn't use that product.
You might also be wondering about the best time of day to use a feminine wash. Although you can apply it at whatever time suits your routine best, most people prefer to use a feminine wash in the shower or before bed.
You can stop there if you want, or add in a few additional steps to pamper yourself. Some people also like to use a powder, spray, or cloth – but don't go overboard.  Remember, the vagina can handle most of the cleaning itself! It's independent, just like you.
Who Should Use a Feminine Wash?
You might want to consider a feminine wash if when taking antibiotics, during menopause, when on your period, or if you're prone to UTIs. These can all mess with your natural pH.
However, be aware that feminine washes can cause occasionally cause some of these conditions – always be conscious of how a product interacts with your body.

Avoiding Harsh Ingredients
Even though it should never be used to clean your vagina, using a gentle body wash can do a lot to help prevent harsh ingredients from causing irritation, especially when combined with a gentle feminine wash. In an ideal world, every feminine wash would be gentle enough to use without having to worry about irritation. Unfortunately, it's not that simple – you need to be incredibly careful with the feminine wash that you choose. Here are a few harsh ingredients to look out for.
Parabens
Anyone used to reading the labels of cosmetic products should be familiar with parabens. These preservatives are often found in feminine washes since they can tackle bacteria, but they can also cause adverse reactions.
Those with sensitive skin would do well to avoid since parabens may contribute to irritation or dermatitis, choosing something like the affordable paraben-free Summer's Eve Lavender Cleansing Wash.
Sodium Laureth Sulfate (SLS)
Sometimes called sodium laureth ether sulfate (SLES), this chemical is a surfactant, meaning it helps to cleanse our body. Unfortunately, it's overly harsh and can interrupt our natural equilibrium. Choose a wash with gentler surfactants instead, like Sliquid splash.
Synthetic fragrances
We all like a nice-smelling liquid to wash ourselves with – but if this comes at the cost of exposing our body to chemicals and disrupting our natural balance, it's safest to avoid. Perfumes are often the most chemical-heavy ingredient, so try to choose washes with natural scents, like the Australian bodycare wash.
Dyes
Similarly, dyes that make a feminine wash look like a cool color can be risky because of the chemicals contained. Opt for something clear – it might look boring, but at least it's safe! The Organyc wash is a great example.
Alcohol
Having a small concentration of alcohol isn't always a terrible thing, but it can be drying or irritating for some people. Steer clear of anything with alcohol if you know you're one of them.

Tackling Dryness
Fighting against dryness down below might sound like a no-brainer, but figuring out the best way to do it certainly isn't. Many feminine washes designed to moisturize us contain glycerin – but this has the unfortunate add-on effect of adding sugar to our pH, potentially leading to yeast infections.
If you'd prefer a product free from glycerin, consider the Sliquid wash.
Tackling Itching and Inflammation
One of the most common reasons that women venture into the world of feminine washes is to tackle itchiness or inflammation they have around their vagina.
If that's you, look out for feminine washes with ingredients that can tackle these issues. Essential oils like tea tree, chamomile, and calendula do a great job of this, as they have soothing properties and can fight bacteria. For instance, the Organyc wash contains both calendula and chamomile.

Lifestyle Factors that Impact Your Natural Balance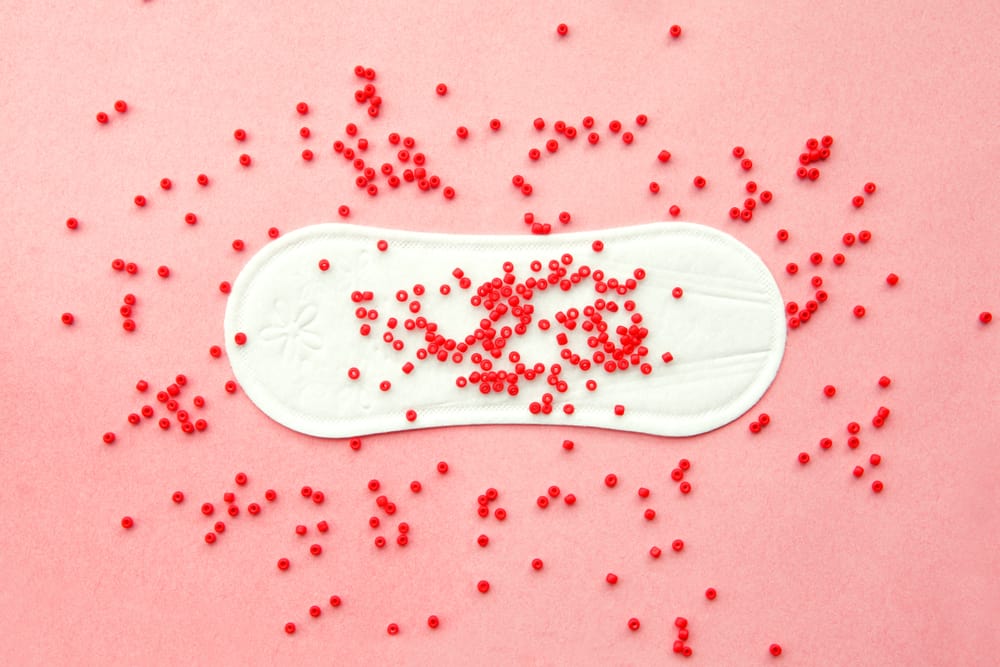 Often, just going about our daily activities can have an impact on our vaginal health. This doesn't always result in anything disastrous, but they can lead to odor or a lack of freshness if you're not careful.
Lifestyle factors to be aware of include sexual activity, contraceptives, stress, antibiotics, menstruation, and more, all of whuich can change your pH.
If you struggle with odor and you're not sure why, it's likely due to one of the elements listed above. Luckily, you can tackle the problem using an odor-blocking feminine wash like the Vagisil odor block wash.
Feminine Wash FAQs
Still got some burning questions about feminine washes? Hopefully they're figuratively burning and not literally, if you know what I mean. Moving on…
Is Douching a Good Idea?
Douching involves cleaning a vagina out using acidic items like baking soda and vinegar. Although the vagina thrives in an acidic environment, this process can wash out good bacteria and increase the chance of infections. Steer clear of this one, ladies!
Can a Feminine Wash Cause a UTI?
The idea of a feminine wash causing a UTI might sound counterintuitive, but it can sometimes happen if you choose the wrong kind of feminine wash for your vagina. There's some evidence that feminine hygiene products can increase the risk of a UTI, probably because of harmful chemicals, so be sure to choose one with as few potentially dangerous ingredients as possible.
Can a Feminine Wash Cause a Yeast Infection?
Many people turn to feminine washes to prevent a yeast infection, but you could end up causing one if you're not careful. Make sure you choose a product that's pH balanced. Glycerin as an ingredient may also cause yeast infections since it's a sugar, so avoid it entirely if you're prone to yeast infections.
Is a Feminine Wash Safe During a Pregnancy?
The vagina is sensitive at the best of times, but this sensitivity increases during pregnancy. A feminine wash is still safe to use, but make sure you avoid anything with perfumes, and don't wash more than twice a day.
Can a Feminine Wash Cure Bacterial Vaginosis (BV)?
A feminine wash can be a useful tool in tackling bacterial vaginosis since it will introduce good bacteria into your vagina. However, you should also take a probiotic every day, cranberry supplements, and cut your sugar intake to give yourself the best chance of success.
Can a Feminine Wash Cause Infertility?
A feminine wash itself won't cause infertility, but it's possible for it to cause vaginal infections that can cause infertility. However, this is a very extreme and unlikely circumstance.
Put an End to Your Suffering
If you've learned one thing from this article, hopefully it's how to find the perfect feminine wash for you. And, if you've learned two things, the second should be that you're not alone. Yes, it might be slightly corny to say this, but there's no need to be embarrassed or worried about the issues you have down below.
More than half the population has a vagina, so it's fair to say that we all have different needs!
If you're sick of dealing with a stinky, itchy, or dry intimate area as you go about your daily tasks, it's time to do something about it. Adding a simple feminine wash to your daily cleanliness routine can make all the difference. What are you waiting for?