Top 10 Best Face Moisturizers for Dry Skin 2023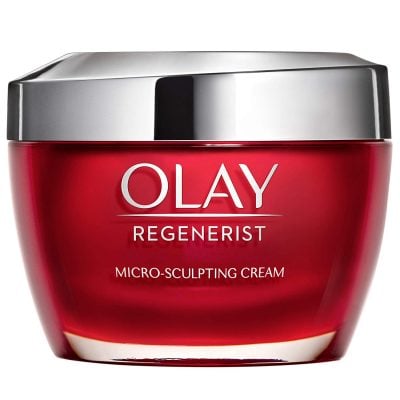 Quick Facts
Skin Type: All Types
SPF: None
Formula: Cream
Regenerist is the flagship anti-aging product line from veteran drugstore cosmetics brand, Olay. Intended for daily use, the Regenerist Micro-Sculpting Cream is a multifaceted face moisturizer effective for all skin types, and useful across the spectrum of skincare and beauty needs.
Regenerist Micro-Sculpting Cream's formula includes a multitude of humectants and antioxidants. Hyaluronic acid and glycerin lead the way by encouraging hydration and moisture retention at the skin level, while vitamin B3 accelerates skin cell regeneration and the culling of dead skin cells. Dimethicone, an emollient, helps treat and prevent itchiness and skin irritation. In sum, expect Regenerist to keep your skin moist and hydrated and limit the visibility of lines and wrinkles.
On the negative side, Olay Regenerist is notably thick and sticky, akin to cake frosting, meaning consumers might find it uncomfortable or cumbersome to layer it over or underneath makeup and/or sunscreen. (Although other Olay Regenerist products include SPF, the Micro-Sculpting Cream does not.) It's available in both scented and fragrance-free varieties.
---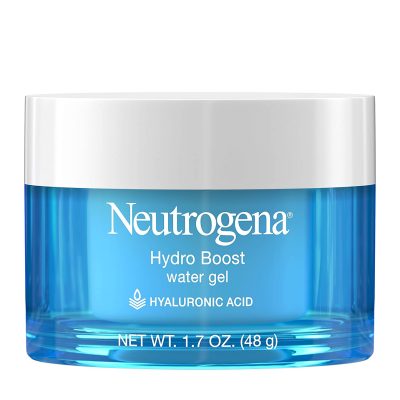 Quick Facts
Skin Type: Sensitive, Acne-Prone, Dry
SPF: None
Formula: Gel Cream
Generally available for under $30, Neutrogena Hydro Boost is a premium cosmetic at budget prices. While certainly costlier on average than Jergens Ultra Healing Dry Skin Moisturizer, it offers plenty of value in addition to the low price-point.
Neutrogena Hydro Boost is well stocked with hyaluronic acid, which as we've learned is an essential addition to any face moisturizer, due to its capacity to elicit and/or maintain skin hydration. Hydro Boost Cream Gel is an excellent choice for people with sensitive or acne-prone skin, as it moisturizes without causing breakouts and contains no common skin irritants. In fact, this gel is so light on the skin that you'll barely notice it's on – which is perfect for anyone fed up with greasy, cloying face moisturizers.
That said, Neutrogena's odd decision to package Hydro Boost in a wide jar is a bit unfortunate: the formula's high viscosity means that it is quite literally liquid in a jar. One poorly timed case of the butter fingers, and you'll watch in horror as your favorite face moisturizer splashes all over the bathroom counter. Or onto the floor. Which you'll then have to clean. (Why didn't they put it in a tube?)
---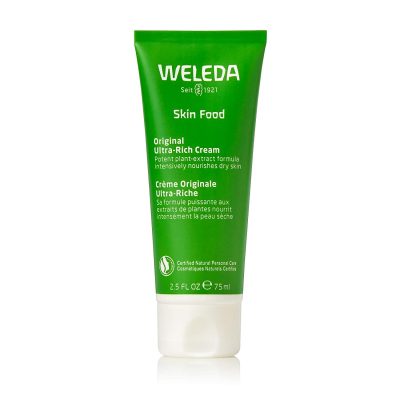 Quick Facts
Skin Type: Acne-Free, Dry
SPF: None
Formula: Multi-Use Lotion
It's a favorite of celebrities including Julia Roberts and Victoria Beckham, but you don't need to belong to the jet-set crowd to recognize the value in Weleda Skin Food. Instead of humectants, Skin Food's formula is built on fatty acids and herbal extracts. And it gets results – fatty acids are the building blocks of your skin's surface and play a key part in maintaining skin hydration and elasticity. And those herbal extracts – including chamomile and viola tricolor – provide Skin Food with its famous perfume.
Most commonly utilized as a standard face moisturizer, Weleda Skin Food also moonlights as a makeup primer, highlighter, and foot cream. The advantages inherent to any multi-use cosmetic go virtually without saying: the same logic used to argue in favor of SPF added moisturizers like La Roche-Posay Toleriane Double Repair Face Moisturizer also applies to Weleda Skin Food. Any product that can save you money and cabinet space via its capacity to fulfill multiple needs is at least worth your consideration.
Unfortunately, Skin Food's versatility also presents some problems. Its effectiveness as a stand-in for highlighter is due in part to its slow absorption time. Expect this moisturizer to retain a layer of oil on your face for quite some time after application, which is problematic if you typically wear makeup and/or sunscreen in addition to your moisturizer of choice. This prolonged absorption period necessitates that people with acne take caution when using Weleda Skin Food – it may trigger breakouts.
---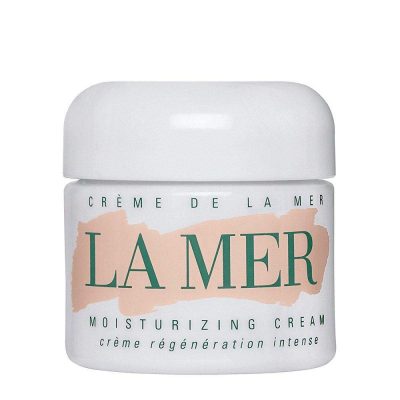 Quick Facts
Skin Type: Mature, Dry
SPF: None
Formula: Extra-Thick Cream
The "crème de la crème" of moisturizers, or overhyped and overpriced? We can't say we fault anyone unwilling to drop more than a Benjamin on less than an ounce of face cream, but as far as luxe cosmetics go, Crème de la Mer Moisturizing lives up to the billing. The famous "Miracle Broth" beloved of celebrities and influencers isn't really miraculous, but it's definitely great for your skin. Its rich formula leaves you with dewy skin that looks fresh and vibrant, and the thick cream feels like a total luxury while you apply it.
Crème de la Mer requires a bit more prep work than the typical face moisturizer. The cream is as thick as Greek yogurt and needs a little massaging between your fingers before application. Once it's warmed up, Crème de la Mer loses its stickiness. Luckily, a mere pea-sized drop is sufficient per use. The thick cream is probably most helpful for aging or dry skin.
Crème de la Mer falls short in more ways than the hefty price tag. A perusal of the ingredients reveals a formula not so different for moisturizers a fraction of the price – mineral oil, lipids, humectants, plus the signature algae extract. Where's the miracle in the Miracle Broth? Still, it's an excellent moisturizer if you'd like to add a little luxury to your skincare routine.
---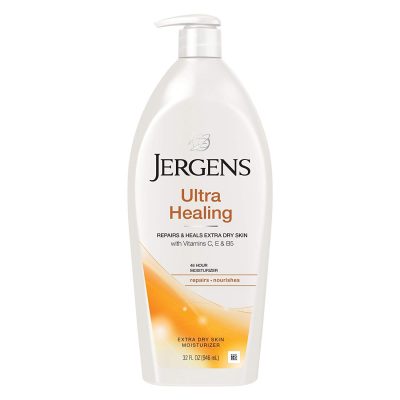 Quick Facts
Skin Type: Sensitive, Moderately Dry
SPF: None
Formula: Light Lotion
Jergens Ultra Healing Dry Skin Moisturizer earned its loyal customer base due in no small part to its unbeatable price point – 32 oz bottles go for under $10. And it's a convenient moisturizer choice for more reasons than its impact on your bank account – intended for use as a body lotion as well as a face moisturizer, this product is another cosmetic multitasker. Jergens is a fast-absorbing moisturizer that never leaves a layer of grease.
Jergens Ultra Healing Dry Skin Moisturizer is far from flawless. Its lightness is perfect for customers with sensitive skin, but also responsible for its inconsistent moisturizing capabilities. If you have very dry skin or eczema patches, this moisturizer simply isn't strong enough to get the job done. You'll be better off with a sturdier product like Clinique Dramatically Different Moisturizing Lotion. Note that Jergens also contains fragrance, and thus may be allergenic.
---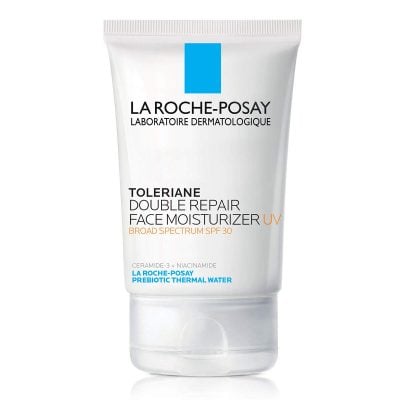 Quick Facts
Skin Type: Sensitive, Dry, Acne-Prone, Rosacea-Prone
SPF: SPF 30
Formula: Cream
A generalist face moisturizer particularly suited for folks with dry or sensitive skin, La Roche-Posay Toleriane includes an SPF of 30, removing the need to apply a further layer of sunscreen. The fragrance-free formula leaves out the bad stuff in favor of skin-friendly ingredients like shea butter and B vitamins, which act in concert to relieve and prevent rosacea flare-ups and acne breakouts.
Toleriane's backbone is built from humectants and fatty acid compounds like glycerin and shea butter, emollients commonly utilized in moisturizers for their water-bonding properties and rapid absorption, as well as ceramides, which inhibit evaporation. La Roche-Posay Toleriane is also delightfully affordable – Comparable moisturizers can run a bit pricy, but Toleriane retails at under $30.
On the downside, La Roche-Posay Toleriane's heaviness limits its utility as a year-round, daily moisturizer, as consumers might find it too thick to use in concert with makeup or other skincare products.
---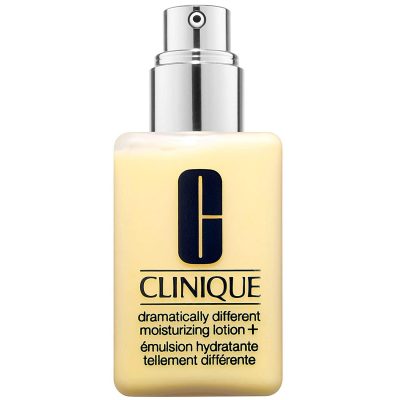 Quick Facts
Skin Type: Very Dry
SPF: None
Formula: Light Lotion
Clinique Dramatically Different is our pick for the best moisturizer for very dry skin. It's hearty enough to moisturize dry and cracked skin, but still absorbs quickly without leaving your face oily – perfect for anyone planning to follow it up with a layer of makeup. The formula includes lots and lots of fatty acids and humectants, such as glycerin, hyaluronic acid, and urea. Yes, urea is what you think it is (urine), but don't fret – urea is one of the secrets to Clinique Dramatically Different's moisturizing heroics.
While a popular product for good reason, "Dramatically Different" might be a bit of a misnomer. While the moniker implies Clinique has revolutionized the world of skin-care cosmetics with this product, it's essentially the same moisturizer that first hit the market in the 1960s. Consistency isn't so terrible, though: Clinique Dramatically Different Moisturizing Lotion may not have the bells and whistles of a multipurpose moisturizer like Weleda Skin Food, but it still gets the job done. Those results don't come cheap, however – expect to pay over $7 per ounce.
---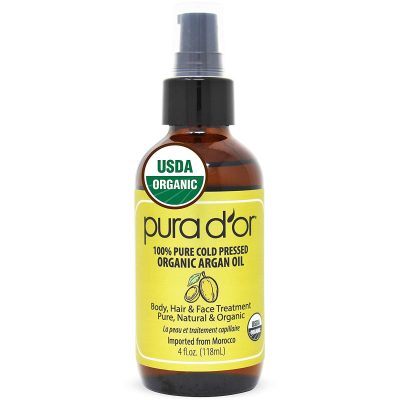 Quick Facts
Skin Type: Acne, Eczema, or Psoriasis-Prone; Dry
SPF: None
Formula: Oil
Comparing and contrasting rival face moisturizers can be a thorny proposition, not least because of the long lists of difficult to pronounce ingredients you've probably never heard of. Not so in this case, as Pura D'Or's face and body moisturizer has exactly one ingredient: argan oil. Called "liquid gold" due to its rarity and cosmetic value, argan oil is extracted from the argan tree in Morocco. The oil is packed with fatty acids and antioxidants, making it nature's own moisturizer.
But smearing oil all over your face should make your skin…well, oily. Right? Surprisingly not. Argan oil is quick-absorbing and never leaves behind a greasy residue. Its abundant store of Vitamins A and E increase the skin's water retention while also softening wrinkles and impeding the production of excess pigmentation. Pura D'Or Argan Oil also provides acne relief – argan oil's linoleic acid content limits the build-up of breakout-causing sebum and reduces acne-related inflammation.
Pura D'Or is about as eco-conscious a cosmetics company as you'll find. All their products – including the argan oil – are USDA Certified Organic, cruelty-free, and manufactured in a solar-powered facility.
Despite its benefits, Pura D'Or Organic Moroccan Argan Oil is certainly not for everyone. It's cold-pressed from argan nuts, and therefore a product anyone with tree nut allergies should avoid at all costs. Argan oil also smells strongly of nuts, an aroma some people might find off-putting.
---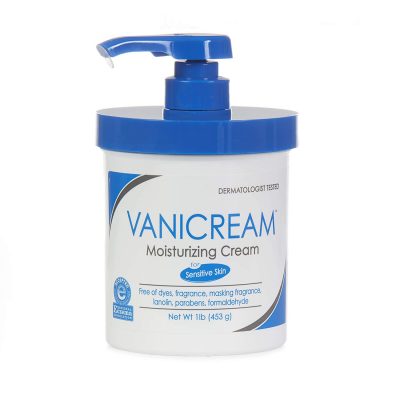 Quick Facts
Skin Type: Highly Sensitive Dry
SPF: None
Formula: Cream
Devoid of any of the common chemical irritants present in many other face moisturizers, Vanicream Moisturizing Skin Cream is the ideal choice for people with sensitive skin. Vanicream's formula incorporates petrolatum and glyceryl stearate, emollients that reduce inflammation and boost hydration – the perfect remedy for cracked or itchy skin. With 16 oz tubs priced at under $20, this skin cream fits anyone's budget.
Vanicream Moisturizing Skin Cream is intended primarily as a cosmetic solution for highly sensitive skin, eczema, and psoriasis, and it accomplishes that aim commendably. However, it likely doesn't hold much appeal to the general consumer. The skin cream has no anti-aging properties and contains no humectants or antioxidants. That said, it may be worth keeping around as a backup moisturizer, especially if your skin tends to really dry out in cold weather.
---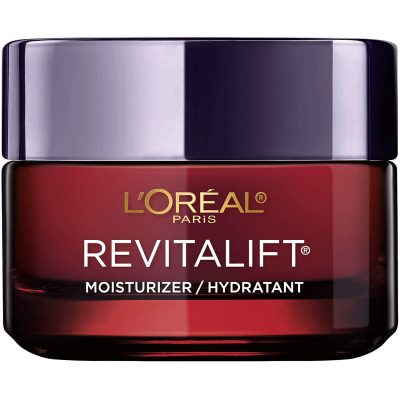 Quick Facts
Skin Type: All Types
SPF: None
Formula: Cream
A staple in the cosmetics industry for a century, L'Oreal Paris has debuted numerous anti-aging creams and serums over the years. Revitalift might be the best of the bunch. The formula derives its potency from our friend hyaluronic acid and pro-xylane, a plant-based sugar-protein compound. The duo act in tandem to plump up and hydrate the skin, counteracting the inevitable loss of collagen and skin moisture with age.
Pro-Retinol is another key ingredient in Revitalift's recipe. A Vitamin A derivative, Pro-Retinol promotes skin firmness and elasticity via inducing an enzymatic conversion into retinoic acid in the skin cells, a process that facilitates skin cell regeneration and collagen synthesis. In effect, this leads to the appearance of smoother, more youthful skin.
Note that Revitalift contains fragrances, which may irritate the skin or provoke allergic reactions in some people. In some cases, the cream may leave the skin dry and flaky, although this appears to be a relative rarity.
Don't expect Revitalift to turn back time – sadly, that's impossible – but conscientious use of the product will soften wrinkles, fade lines and dark spots, and preserve a youthful sheen to your skin for as long as possible.
---