Choosing a toner might seem daunting with all of the options out there, but the benefits that it provides for your skin are immeasurable. There's so much variety that you can find toners that target acne, brightening, or an assortment of other skincare problems. By identifying the ingredients and properties of skincare toners, you'll find one that can regulate oil control and help with your skin health without having to break the bank!
How to Choose the Right Toner
Toners are a watery substance that's applied on the face right after the cleansing routine. However, while it looks and feels like water, the benefits you can get from one far exceed benefits from just washing with water. Before, when facial cleansers were more alkaline and disrupted the pH of the face, toners helped remedy that. Today, they keep that same property while adding on extra benefits for your skin.
When you have oily skin, the last thing you want is for your toner to worsen the problem. Picking out the right toner can be a challenge, as the aim is to find a toner that hydrates your skin without overdoing it.
You can get a more in-depth guide to what toners do, picking out a toner, and tips on how to get the most out of it in our full guide at the end of the article. For now, we'll take a look at the main factors you should be looking at when it comes to picking out toners.
Factors to Consider When Picking Out a Toner
When picking out a toner, you'll want to have a basic idea of what you would like it to do for your skin. While all toners can help rebalance the pH of the skin after your cleansing routine, the ingredients they're made of effects the overall impact they might have.
Ingredients
The biggest thing when it comes to toners is to keep an eye out for ingredients. Some, like BHAs and AHAs, can help reduce sebum production in the skin, which is essential for helping control some of the oil production. By knowing which ingredients are in the toners, you'll be able to know whether or not it's right for you. You can learn more about specific beneficial ingredients in our full guide.
Size
You'll be using toners at least once a day, and maybe even twice a day. You'll want to make sure any toner you pick is large enough to last you for a good chunk of time so that you won't have to be ordering a new bottle every week. However, you also want to avoid ordering a bottle that's so large that you won't be able to finish it before expiration!
Dispenser
Some toner bottles are easier to use than others. Bottles may have a spray nozzle to make it easy to get on your face. Other toners may come directly from a large opening, which makes it hard to regulate. Since toners are used daily, you definitely don't want to pick one that you'll have to struggle with every time you open it.
Scent
The scent of any skincare product is important, and the scent of toners can impact its effectiveness. Some people aren't as tolerant of scents, so keep that in mind when you're shopping so you don't get a product that's too overpowering! The scents are sometimes also made with artificial ingredients, which you need to be wary of.
Picking out a toner is no small feat, and takes a bit of research to fully understand what you're looking for. Now that we've covered the basics when it comes to shopping for toners, let's get started with the reviews of our top choices.
Top 10 Best Toners for Oily Skin 2023

Why we like it:
Paula's Choice toner is made with high-quality ingredients that help improve your skin health in all departments. It can help with pH rebalancing, reducing inflammation, regulating oil production, and even reduce your pore size, making this toner a good choice for any occasion.
Editor's Rating:
Quick Facts
Size: 190 mL
Dispenser: Pump/nozzle
Ingredients: Niacinamide, hyaluronic acid, chamomile, ceramides
Scent: Unscented
Paula's toner is made from an antioxidant formula that effectively rebalances skin pH without being too drying. It also helps get rid of any extra makeup and oil, while the ceramides help keep your skin from looking to shiny while regulating oil production. The chamomile can also help soothe inflammation without being too overpowering.
However, the toner may leave a slightly sticky residue when used, and it takes a little longer to dry compared to some of the other toner choices. Aside from that, the toner is able to be used daily as part of any skincare routine, and can be easily incorporated into an existing one. In addition, it helps with removing excess impurities in the skin.
This toner is a solid choice if you would like to see all-around benefits for your skin since the ingredients can help with everything from brightening to evening complexion. The hyaluronic acid also helps with improving the health of your moisture barrier. It even makes a visible difference in reducing pore size!
Pros
The antioxidant formula helps with rebalancing pH

Removes extra impurities from the skin

Chamomile helps soothe inflammation

Reduces pore sizes

Helps even skin complexion
---

Why we like it:
Clinique's toner pulls out all the stops when it comes to using high-quality ingredients, and is formulated to be used on oily skin by a dermatologist. With salicylic acid and witch hazel, it regulates oil production while rebalancing skin pH.
Editor's Rating:
Quick Facts
Size: 400 mL
Dispenser: NA/Large opening
Ingredients: Salicylic acid, witch hazel, alcohol denat.
Scent: Unscented
Clinique's toner comes in a large bottle that's made to last, and potent enough to get its job done. It rebalances the skin's pH without being too overpowering and it prepares your skin for your skincare routine, even if it is an alcohol-based toner. In addition, it doesn't sting or burn and it gets rid of any leftover impurities that may remain on your skin after cleansing. It can even clear breakouts, get rid of blackheads, and deal with other acne problems.
However, the bottle it comes in doesn't have a good dispenser system, with a larger opening for you to pour the toner out of. As a result, you'll have to be more careful not to pour out too much onto your cotton pad each night. In addition, the salicylic acid and alcohol combination may be too strong for those with more sensitive skin, even if they work together well to get the job done.
If you are concerned and want a toner that is better for those with skin on the sensitive side, you'll want to consider DearKlairs facial toner.
This toner was developed by a dermatologist at Clinique and is safe to use. It's primarily good for those with oilier skin types. The salicylic acid lightly exfoliates to get rid of dead skin cells, leaving your face looking brighter after you use it.
Pros
Salicylic acid removes dead skin cells

Good at cleansing leftover impurities on the skin

The large bottle will last a while

Helps with oily and combination skin

Effective at rebalancing pH and prepping skin for skincare routine
Cons
No good dispenser system

May be too overpowering for some user
---

Why we like it:
Thayers witch hazel toner is perfect for those on a budget who still want to get the most out of their skincare routine. With this toner, you'll be able to control some of the excess oil production of your skin without drying it out too much.
Editor's Rating:
Quick Facts
Size: 355 mL
Dispenser: NA/Small opening at the top
Ingredients: Witch hazel, aloe leaf juice, rose water
Scent: Rose petals
Thayers Witch Hazel Toner is the most affordable option and can last longer than many other brands. The high concentration of witch hazel can help with clearing residue and oils so that your skin is prepared for the next steps of your routine. In addition, it can help with acne and breakouts, and even decrease the visibility of some blemishes.
However, it is a little more potent than some of the other toners, so it may irritate more sensitive skin. In addition, the fragrance can be overwhelming and take away from the experience. While the product is meant to be anti-inflammatory and soothing, it does not work for every user.
If you want a toner with more widespread results but that still contains witch hazel, you should consider Murad's clarifying toner.
This toner does contain a larger amount of witch hazel than other options, however, which is also useful for under-eye bags and other benefits. In addition, it is also alcohol-free and won't be too harsh on your skin, especially if it's on the oilier side. If anything, it helps decrease and control oil production to make it more manageable.
Pros
Affordable

A higher concentration of witch hazel

Alcohol-free

Helps with under-eye bags

Controls and reduces oil production and acne
Cons
Fragrance can be overwhelming

Doesn't work for everyone
---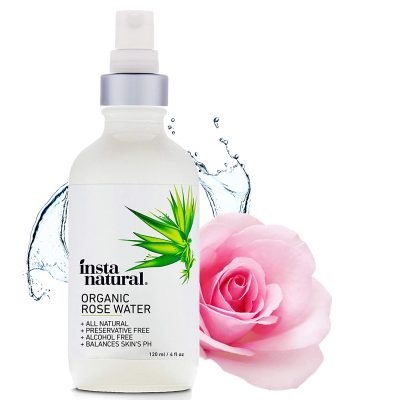 Why we like it:
The InstaNatural rose water toner can be used in multiple ways, making this toner the most versatile on the list. It can also be applied as a primer or setting spray for makeup, and the beneficial properties carry over whenever it is used.
Editor's Rating:
Quick Facts
Size: 120 mL
Dispenser: Spray nozzle
Ingredients: Rose damascene, vitamin C, vitamin A
Scent: Faint rose scent
The InstaNatural toner is made with rose water and supplemented with vitamin C and vitamin A so that it can soothe the skin while doing its job. The rose water itself can be hydrating and revitalizing, while the natural scent from the toner is refreshing and pleasant. In addition, rose water can also help with shrinking pores, which is never a bad thing.
However, some of the packaging of the product may get messed up during shipping, and the packaging varies so you may receive a different design than the one advertised. In addition, while it is hydrating, it doesn't contain many ingredients to help with excess oil production and may leave the facial skin looking slightly shiny. If you do want a product that also helps with controlling oil production, check out the Paula's Choice skin balancing toner.
The spray is lighter than some of the other toners, and as a result, you can use it for a primer or a setting spray when applying makeup. This makes the product useful at multiple stages of your skincare routine, giving you the most bang for your buck. With all the beneficial effects of rose water, you can't go wrong with using this spray as much as you want.
Pros
Made with pure rose water

Rose scent is pleasant

Can be used as setting spray and primer

Can be used multiple times a day

Rose water hydrates and shrinks pores
Cons
Packaging may have issues during shipping

Doesn't contain ingredients to control excess oil production
---

Why we like it:
DearKlairs facial toner is made with hyaluronic acid and Phyto-Oligo so that it rebalances your skin's pH while keeping it hydrated. The lack of acids and harsher ingredients means that you can use it as many times as you need in a day without worrying about overdoing it.
Editor's Rating:
Quick Facts
Size: 180 mL
Dispenser: NA/Small opening at the top
Ingredients: Hyaluronic acid, Phyto-Oligo, plant extract
Scent: Light herbal scent
DearKlairs facial toner contains Phyto-Oligo which specifically works to rebalance the skin's pH after using your cleanser. It targets the main goal of toners, and it does it well. In addition, the Phyto-Oligo and the hyaluronic acid work together to provide extra hydration, which nourishes the skin and soothes it so it doesn't get irritated.
While this is a solid combination, it can leave oily skin looking a little shinier than a toner that has algae extract. In addition, while you won't get irritated from the toner, the extra hydration could prove to be too hydrating for some people and end up causing breakouts by not controlling oil production. It also doesn't have an easy-to-use dispenser like a nozzle or pump.
If you do want a toner that helps with acne and breakouts, you should consider getting one that contains salicylic acid as an ingredient. We recommend Clinique's clarifying lotion.
However, your skin won't get irritated from using this toner no matter how many times you use it in a day, due to the lack of acids and other potent ingredients. This means that if your skin is on the more sensitive side, this is the toner for you. You'll also be able to use it as many times a day as you need to. In addition, unlike other toners, the ingredients also facilitate the faster absorption rate so you won't have to wait for ages before the next step of your routine.
Pros
Rebalances pH due to containing Phyto-Oligo

Hyaluronic acid helps with hydration

No irritation through using this toner

Fast absorption of the toner once applied

Fewer acids make it safe to use multiple times a day
Cons
No easy-to-use dispenser

Skin looks shiny after use

May be too hydrating for some people
---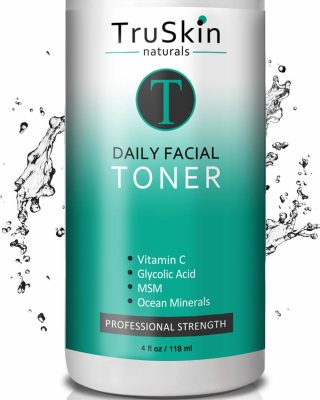 Why we like it:
The TruSkin Naturals toner helps reduce any fine lines or wrinkles that may appear on your skin, all while evening out skin complexion and getting rid of dark spots. Filled with potent ingredients, this toner gets straight to the point with its natural and organic ingredients
Editor's Rating:
Quick Facts
Size: 118 mL
Dispenser: Spray nozzle
Ingredients: Amino acids, witch hazel, vitamin C, Aloe Vera, glycolic acid
Scent: Witch hazel fragrance
The TruSkin toner is made with all-natural and organic ingredients, with strong concentrations of vitamin C and other ingredients to combat fine lines and wrinkles. Full of ingredients such as glycolic acid and witch hazel, it helps combat any excess oil production and makes it a solid choice for those of us with oily skin types.
However, the combination of all the ingredients can make this toner a little too drying for the skin at times. In addition, it has a strong witch hazel scent even though it claims to be unscented. It also may still irritate your skin, even if it does contain Aloe Vera to help combat some of the dryness.
The toner does its main job, which is to rebalance the skin and prepare it for the next steps of the skincare routine. With its higher concentrations of active ingredients, it also targets any aging effects on your skin to keep your appearance young. In addition, these ingredients can also help with dark spots and breakouts that may occur with all of the plant extracts and amino acids contained. The spray nozzle is also easy to use.
Pros
Reduces fine lines and helps with wrinkle prevention

Glycolic acid and witch hazel helps control oil production

Extra amino acids and plant extracts combat dark spots

The spray nozzle is easy to use

Created with natural ingredients
Cons
Can dry out the skin too much

Witch hazel scent is a little too strong

Sensitive skin may be irritated
---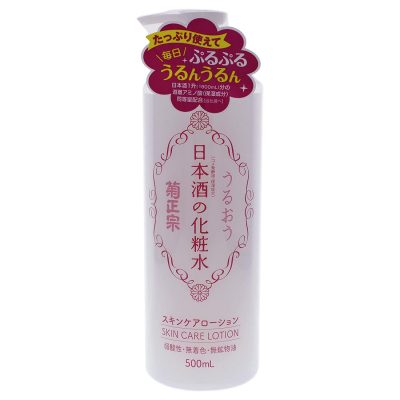 Why we like it:
The Kikumasamune Sake toner comes in a large 500 mL bottle with a pump to help you get as much toner as you'll need for a while. It's one of the most affordable options for such a large size, and you could easily stock up for the entire year.
Editor's Rating:
Quick Facts
Size: 500 mL
Dispenser: Pump
Ingredients: Glycerin, rice ferment filtrate (sake), arbutin
Scent: Bubblegum
While the name may sound odd at first, the Kikumasamune Sake toner does not contain the alcohol that we might be thinking of. Rather, it contains rice ferment filtrate, which is said to contain benefits for skin as it hydrates and makes it softer. In addition, the 500 mL bottle is more than you'll need for a while since a little goes a long way with this toner.
However, the pump for this bottle doesn't work very effectively, and often squirts out more than you'll need to use. You'll have to decant the toner into some smaller bottles or even spray bottles to control how much toner you want to dispense each time. Using a spray bottle for dispensing this toner also works well, since it is watery enough. If you want a thicker toner, check out Paula's Choice skin balancing toner.
It's easily one of the most affordable ways to stock up on toner for the entire year since you won't need very much toner with each pump. However, it does have a very light bubblegum scent which some people may find too strong. In addition, it can be a little too hydrating if your skin is naturally very oily. But if you want a toner that is very hydrating, good for skin, and lasts a long time for regular usage, the Kikumasamune toner is right for you.
Pros
Hydrating sake toner that makes skin softer

500 mL bottle lasts a long time

Don't need to use much product each time

Affordable for such a large size

Does not contain harmful alcohol for skin
Cons
The pump does not work very well

May be too strongly scented for some

May be too hydrating for some oily skin types
---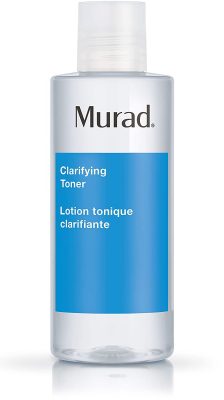 Why we like it:
Murad's clarifying toner is a solid choice for those who want a toner that cleanses the skin. By using witch hazel, it's able to get rid of excess oil and impurities to give your skin a fresh look for the day. Extra plant extracts keep the toner soothing when used.
Editor's Rating:
Quick Facts
Size: 180 mL
Dispenser: Open screw top
Ingredients: Witch hazel, algae extract, fruit extract
Scent: Unscented
Murad's clarifying toner is perfect for removing impurities in your skin that your cleanser might have missed. The included witch hazel is healthy and helps dissolve any excess oil, while the algae extract helps with a matte finish to the skin without drying it out at all. For those of us with oily skin, this toner takes care of most of the issues we have with excess oil production.
However, this toner does come in a smaller size, which makes it a bit pricier than many of the other options. The bottle is only 180 mL, so you will have to restock quite often if you plan on using it multiple times a day. In addition, this toner comes from a skincare line by Murad and works best when paired with all the products in that line.
This makes it a little harder to incorporate it into an existing routine, especially if you already have most of the products picked out. If you'd like a toner that also contains witch hazel, but can easily be used in any routine, you'll want to check out Thayers witch hazel toner.
Of course, the toner will still work even if you don't own other products from the same brand and will remain effective in removing impurities. In addition, the toner contains enough plant extracts to benefit the health of your skin while soothing it so that the active ingredients won't be too rough. In particular, the cucumber extract can keep your skin cool and make sure the toner doesn't irritate it.
Pros
Witch hazel helps with any excess oil

Algae extract keeps skin from looking shiny afterward

Contains natural plant extracts

Has cleansing properties to remove impurities

Cucumber extract soothes skin
Cons
The smaller sized bottle requires more restocking

More expensive

Harder to incorporate into an existing routine
---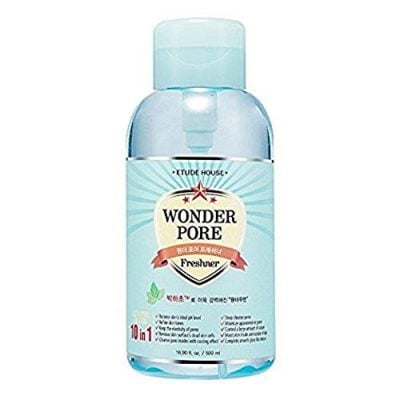 Why we like it:
This Etude House toner is perfect for those with larger pores, and quickly regulates oil production and pH levels for your face. It's a simple, affordable option for those who want to regulate their pore size without having to invest in too many products.
Editor's Rating:
Quick Facts
Size: 500 mL
Dispenser: Pump nozzle
Ingredients: Water, Chrysanthellum Indicum Extract, Alcohol Denat.
Scent: Fragrance-free
For those of you who worry about large pores, the Etude House toner is the best pick for you. It's one of the more potent toners and perfect for those with oily skin. While it does contain alcohol (which can be a hit or miss, depending on the sensitivity of your skin), it's not in high enough concentrations to dry out your skin. In fact, it helps thin out this otherwise oily product to make it suitable for oily skin types.
While alcohol can be too drying for more sensitive skin types, the one in this product is definitely watered down to lower concentrations. The alcohol also helps the toner absorb into your skin faster. It contains various plant extracts to help accentuate some of the benefits that the toner brings. The alcohol helps with oil control in your skin, and the watery toner is able to make some of your pores seem smaller.
However, due to the alcohol content, you do want to make sure you only use it once a day instead of twice a day (alcohol tends to dry out skin quicker). If you want a toner than helps cool and soothe the skin more, we recommend the OZNaturals ocean mineral toner. In addition, it can help with cleansing any leftover impurities in your skin through its deep cleansing properties and is created at a low 4.5 pH level to match the skin's pH level.
Pros
Useful for those with larger pores

Helps control excess oil production

Toner isn't too heavy or oily

Contains plant extracts with natural benefits

Helps with deep cleansing for your face
Cons
Contains alcohol as the third ingredient on ingredient list

Cannot use multiple times a day

Cannot use if your skin is more sensitive
---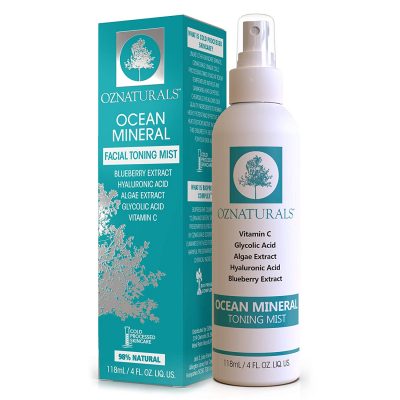 Why we like it:
The OZNaturals ocean mineral toner is full of beneficial ingredients to help soothe and cool your skin. This product is also cold processed to increase potency while still keeping it from irritating skin, meaning you can use it without worrying about redness.
Editor's Rating:
Quick Facts
Size: 118 mL
Dispenser: Spray nozzle
Ingredients: Vitamin C, glycolic acid, witch hazel, hyaluronic acid, algae extract
Scent: Light ocean scent
The OZNaturals ocean mineral toner uses cold processed ingredients in its formulation to help increase the potency while not irritating the skin. Using only hypoallergenic materials, it's safe for sensitive skin types, even with the myriad of active ingredients that it contains. In addition, with Vitamin C and glycolic acid, it boasts anti-aging properties as well.
However, the toner is a smaller size compared to many other products on the list. Also, while it does contain glycolic acid which helps with exfoliation for your skin, this ingredient makes the toner too potent to be used more than once a day. The spray nozzle can also be a little hard to use at times, which gets annoying when you're trying to quickly apply toner in the morning or night.
In addition, this toner doesn't help much with pore size like the Etude House toner does. However, it will deal with an assortment of other skin concerns, such as evening out your skin complexion.
While the plant extracts in this toner do help with soothing your skin, be careful not to overuse this toner. However, when you do decide to use it, the vitamin C within is sure to brighten your complexion and help with wrinkle prevention. It's also made with ocean minerals which can provide additional benefits.
Pros
Contains glycolic acid for exfoliation

Plant extracts and ocean minerals help with soothing skin

Vitamin C brightens the complexion and helps with aging

Cold processed ingredients are more potent

Toner is vitamin-rich to deal with a myriad of skin concerns
Cons
More expensive at a smaller size

Shouldn't use toner more than once a day

The spray nozzle can be hard to use
---
Guide to Picking the Perfect Toner for Your Skin

Toners are an essential step in any skincare routine, helping rebalance the skin and improving the effectiveness of the rest of your skincare routine. They cover a wide range of skin issues, so you'll certainly be able to find one that boosts your skincare routine in just the right way. We'll look into the best ways you can maximize toner effects and how to pick out the perfect one for yourself.

Ingredients to Look For
The ingredients of toner are what differentiates them from one another and help them do their job. Below are some of the most common ingredients that are useful to you, and how they may help.
Salicylic Acid
Salicylic acid is the best ingredient for those of us with oily skin since it helps with dissolving skin debris that clogs pores and gets rid of excess oil. In addition, since oily skin is more prone to acne breakouts, this type of acid can also target both blackheads and whiteheads to get rid of them.
As long as you don't overuse this ingredient, it can do wonders for oilier skin. Our favorite toner with salicylic acid is Clinique's clarifying lotion. You can learn more details about salicylic acid in this article.
Witch Hazel
Witch hazel can help with irritation, injury, and inflammation when used on the skin. In addition, it is one of the best ingredients for cutting through excess oil production and helping out with drying out acne and blemishes. It's also a more affordable ingredient that can commonly be found in toners. Thayers witch hazel toner contains plenty of this ingredient, as the name suggests.
Rose Water
Rose water is good at controlling the skin's pH, making it a good ingredient to look for in toners. It can also help with hydration and revitalizing (although you don't want to overdo it if you have oily skin). In addition, it can also help with healing old acne scars. It's also great at evening out the skin complexion by strengthening skin cells and tissues. Our favorite toner that contains rose water is InstaNatural's rose water toner.
Amino Acids
There are 20 types of amino acids, and each helps your skin keep its bright and healthy complexion as you go about your day. Synthetically generated amino acids in skincare products can provide high hydration benefits. Toners that contain amino acids help increase the health of your skin along with their normal duties as a toner.
Our favorite toner that contains amino acids would be the TruSkin Naturals toner. You can also read more about amino acids.
Vitamin C
Vitamin C is a strong antioxidant that can help with fine lines and wrinkles, along with brightening skin complexion. It can also lessen acne scars and blemishes, which is a bonus. While it is the strongest defender against anti-aging, it's also one of the harder ingredients to preserve for an extended period of time. Once again, TruSkin Naturals toner does a good job of incorporating it into their toner.
Understanding the Ingredients
When it comes to skincare, companies don't always reveal how much of each ingredient is in the product itself. The ingredients are always listed from the highest amount to the lowest amount in the product, but you need to make sure not to misinterpret it. After all, the ingredients only tell you how much they appear in the product relative to each other rather than just an overall amount.
Just because one product has witch hazel listed first and another has witch hazel listed second doesn't necessarily mean that the first product has more witch hazel. After all, the second product could just have more witch hazel, and a larger quantity of the ingredient listed first. Thus, when purchasing a product, you'll have to consider more than just the ordering of the ingredients (though it certainly plays a factor).
Toners and Skincare Routines
Toners should be used directly after your cleansing (and exfoliating) part of your skincare routine. Below, we'll give two different examples of routines for those who only want the necessities in skincare and those who go all out with skincare. While these are both nightly routines, keep in mind that toners can be used in the morning after cleansing the skin as well.
Three-Step Routine
Foam cleanser
Toner
Moisturizer
For the three-step routine, the toner helps get rid of any leftover particles that may remain from the foam cleanser, while getting your skin ready to absorb the moisturizer. Notice that no matter how small the routine is, you'll need a toner to prepare your skin for the rest of the routine.
Five-Step Routine
Foam cleanser
Toner
Treatments/Serums
Eye Creams
Moisturizer
With the five-step routine, the toner becomes a little more important as it helps prepare your skin to absorb ingredients from the next three steps. While you could try a longer routine without toner, having one helps your skin get more benefit out of all the following products that you may be applying.
Skincare routines can have up to ten or even fifteen steps, but you'll notice that the toner is always right after the cleanser. With toners, the longer the routine, the more benefit you'll receive from the toners as it helps your skin absorb any following products much better.
Benefits of Using Facial Toners
Toners can be used for a variety of reasons, which is how it boosts your skincare routine to the next level. For example, since they're used right after the cleansing step of your routine, they provide an additional cleansing element to get rid of any leftover dirt, grime, or even cleanser particles that remain from earlier in the routine.
In addition, regularly using a toner can help minimize how pores appear on your face. Repeated use can lead to smaller pores and a brighter complexion overall. Of course, while doing this, the application of a toner instantly refreshes your skin and helps you feel better throughout the entire routine.
On the technical side of skincare, it rebalances the pH of your skin since your soaps and cleansers can throw it off too much. In addition, it can also hydrate your skin with its watery essence, and prepare your skin for the next steps of your routine. After using toner, your face will be able to better absorb the creams and other serums that you may apply next.
Regular use of toners can also keep infections, breakouts, and excess oil production from occurring. While this does vary from toner to toner, most contain ingredients that target these problem areas so that your skin becomes much healthier than before. Toners are often known for their anti-inflammatory effects, and can even reduce breakouts on the skin when needed.
Finally, the ingredients of toner can add a protective barrier between your skin and the outside world with all its impurities. With toners, you'll be able to clean away any stubborn grime on your face while keeping more grime from getting on it. As long as your toner is full of helpful ingredients, you'll be sure to notice the added radiance to your skin before long.
Toner Application Tips
When applying toner, using a cotton pad or cotton ball is definitely the best method. With cotton pads and cotton balls, you should get a few drops on them before wiping over your face with the cotton item. If you don't have cotton pads or balls, you could also use your fingers (but make sure they're clean first!)
However, make sure you rub in the toner somehow, whether it's with your fingers or cotton applicator. The purpose of a toner is to help with cleansing and rebalancing, so you'll want to use it all over your face. Even if it comes with a spray nozzle, you'll want to spray it on your face first before gently massaging it in.
After using the toner, you should give your skin a minute or two to fully absorb it and reap the benefits. Some brands take more time than others, but once your skin feels dry to the touch, you can proceed with the next steps of your routine.
A Note on Expiration Dates
The way that expiration dates for toners work differently than what you're used to. They often have an icon of an open jar at the back with a number in it followed by a letter (such as 12M). This number lets you know how long you'll have to use after you open the toner bottle before it expires. Write down the date you open the bottle somewhere (or even on the bottle itself) so you won't forget. This is important, as expired toner isn't nearly as effective.
Toner FAQ
How Often Should I Use a Toner?
Toners should be used daily at the very least, whenever you do your nightly skincare routine. However, due to the gentle nature of toners, you can also use it twice a day, once in the morning and once at night. This is especially helpful for those of us who have oily skin types.
Can I Use Toner for Cleansing and Removing Makeup?
While toners have many beneficial properties, you should definitely avoid relying solely on toners for cleansing. They're gentler than most cleansers, so they won't do a good job at getting all of the dirt and grime off of your face. They're better suited for when you've finished cleansing so that they can enhance the effects of the rest of your skincare products.
Are There Any Side Effects of Using Toners?
If you picked out the right toner, you shouldn't get any negative side effects when using them. However, for those of us with oily skin, we need to make sure our toners are too hydrating since this could lead to breakouts. Besides, as long as you avoid the harmful ingredients listed above, any toner you pick should be just fine for your skin.
Final Thoughts
Picking out a toner may be one of the most important steps of your skincare routine, so you definitely want to make sure that you get it right. There's enough variety in ingredients and composition that you can find toner for almost any skincare issue! It's easy enough to apply, and simple to add to your existing collection of skincare products. With all of the benefits a toner presents, you'll enjoy the process of incorporating it into your routine.