They say you can't turn back time. Even Cher gets wistful when she sings about it. It seems like an uphill battle sometimes. Your skin sags. You need a solution. These days there is something extra to add to your arsenal — a line of skin-firming creams. Our list has the best products on the market available now so you can help your skin look the best it can possibly be.
What You Need to Know
Shopping for a good skin-firming cream isn't easy, we know. There are literally thousands of choices out there. So how do you know which one to buy? First, you need to know what to look for in a good cream.
Each cream should be nutrient-rich, so it nourishes your skin while firming and toning. But every company has a different idea of what that means. There is a dizzying array of active ingredients, from collagen to elastane to jojoba, shea butter, oat sugars, and wheat protein. What you choose is ultimately up to you, but here are some guidelines:
Moisturizer
If what you're eyeing has "moisturizer" on the bottle, that's a pretty good indication that it will help with some of your skin woes. Dry skin is a killer, particularly in drier climes and especially during winter. A good firming cream will have that aspect as one of its main benefits. Hydrated skin is happy skin.
Reduces Cellulite
That's another thing you should look for. Dimpling is a problem, and one you might be trying to solve. A good skin-firming cream that makes that promise can help.
Dermatologist Approved
This means your skin-firming cream was reviewed by a dermatologist, a specialist in skin, hair, and nails. Since dermatologists are medically certified, if 9 out of 10 dermatologists recommend it, that's worth listening to.
Other Things You Might Take Into Consideration
Cruelty-Free
If you're an animal-lover, you might want to stick to products with this label. It guarantees your skin-firming cream wasn't tested on animals. It sometimes goes hand-in-hand with more natural ingredients too.
Free of Parabens, Sulfates, Phthalates, Petrolatum, and Mineral Oil
This is another thing you'll notice some products containing. Sulfates are a foaming agent, and can be a skin irritant. Parabens have been linked to cancer. Pthalates are associated with reproductive concerns and have been banned in the EU. If you're concerned about your health, you might not want these in your skin-firming cream.
The follow are our top ten skin firming creams currently available.
Top 10 Best Firming Creams 2023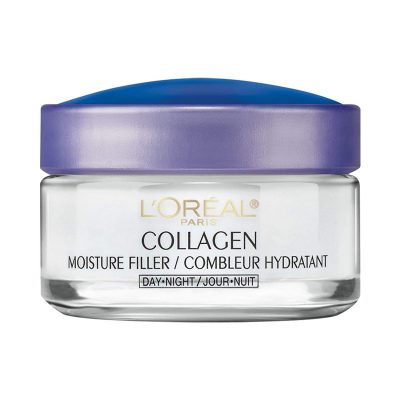 Why we like it:
A top cream from a great brand that delivers results in as little as a week. Despite its quality, it comes in at a low price.
Editor's Rating:
Overview
This doubles as a face moisturizer and an anti-aging cream, reducing the appearance of fine wrinkles and filling in deeper ones. It also goes on creamy, and leaves your face feeling fresh. It moisturizes the skin excellently and it's also contains collagen to fill in those wrinkles and make you feel younger. It provides a smooth, plump finish to your skin which helps you recapture its former glory.
When to Use
This cream can be used any time of day. Twice daily is recommended by the manufacturer.
How Does It Smell?
It has a pleasant fragrance of primarily shea butter. It isn't overpowering at all but it's a pleasure to use.
Is It Harsh on Skin?
Not at all. It's formulated to be gentle on the skin so if you have sensitive skin you shouldn't have an issue using this cream.
Pros
Restores moisture, not harsh on skin

Gives the appearance of smoother, plumper skin
Cons
May not be for oily skin

The cream can be a little thick.
---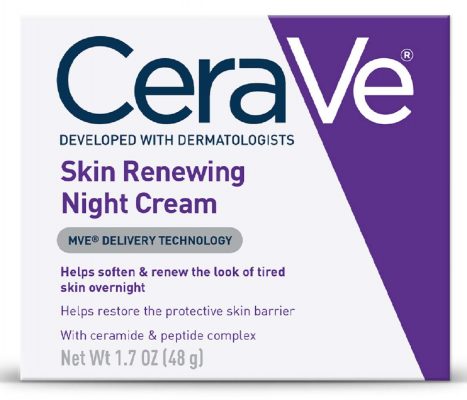 Why we like it:
Suitable for all skin types and developed with dermatologist expertise, this is a competitively priced firming agent that delivers results.
Editor's Rating:
Overview
This firming cream was developed in conjunction with dermatologists. First, it improves the appearance of tired-looking skin. It also helps restore and maintain the skin's natural barrier. Not only that, but it aids the skin in retaining moisture.
When to Use
Apply this to your skin at night and wake up with fresh-feeling, glowing skin
How Does It Smell?
It doesn't have a fragrance. If you're someone who likes your beauty products to smell nice as you use them, this unfortunately doesn't deliver. Many will enjoy the neutral smell however.
Is It Harsh on Skin?
It is specially formulated to be gentle on your skin. Whether you have sensitive skin, oily skin, dry skin or normal skin, it doesn't matter. It doesn't dry out your skin like harsher cleansers either.
Pros
It can soothe very dry skin, especially in winter.

Glides on smoothly and the skin absorbs it well.

Thick without feeling heavy on the skin.
Cons
If you apply it too close to your eyes, it might sting or burn.

It doesn't completely wear off overnight, so you can feel it on your skin when you wake up.
---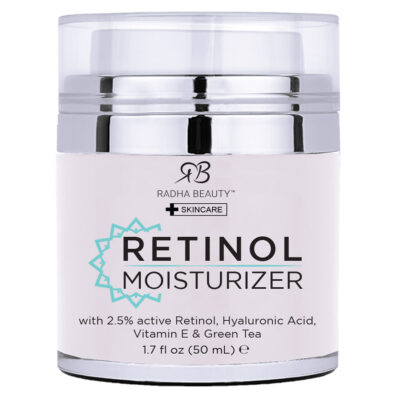 Why we like it:
It doesn't have alcohol, sulfates, PABAs, or parabens. It's also cruelty-free, so we can use it knowing it wasn't tested on dogs, cats, or other animals.
Editor's Rating:
Overview
Although expensive, this is a superb cream. It's another retinol-based skin-firming cream. But it doesn't stop there – it also has vitamin E, organic aloe vera, green tea, jojoba oil, and shea butter, all substances known to make your skin happy. Not only that, it's gentle enough to use as an eye-cream as well. And we know things like green tea and aloe vera are miracle workers all on their own. It can even get rid of older scars. Combined with everything else? Satisfaction in a jar.
When to Use
Day or night. If you use it in the daytime, you might want to pair it with sunscreen because it makes your skin more sun-sensitive.
How Does It Smell?
It's fragrance-free so it's good for those who like neutral smelling products.
Is It Harsh on Skin?
As it is a moisturizer, it's not harsh at all. If you have sensitive skin it can help it feel soothed.
Pros
Formulated with retinol, green tea and aloe vera, great products all on their own.

Cruelty-free.

Moisturizing.

No alcohol, sulfates, PABAs, or parabens.
Cons
Slightly less effective than other creams on the list.
---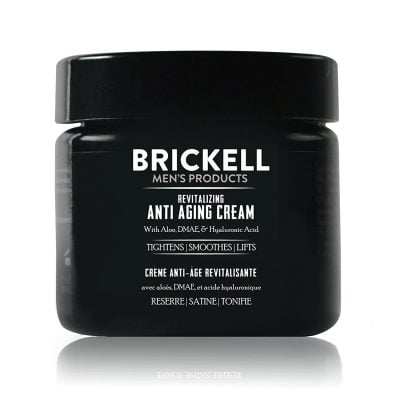 Why we like it:
It's versatile and intended for all skin types – especially dry, sensitive, and faces only just starting to develop wrinkles. We also like that it's all natural, that's a definite plus. A great option for men.
Editor's Rating:
Overview
We wanted to include a skin firming cream targeted at men on this list. It's also one of the more expensive options, coming in at more than twice the average price of a firming cream. But there's a reason for the price. It boasts natural & certified organic ingredients, including aloe, DMAE, MSM, and green tea. DMAE is an organic compound that gives your skin firmness, tone and lift, not to mention elasticity and luminosity. MSM is another organic compound which is noted for its pain relief qualities. It also contributes towards healthier skin. For an all-natural solution, this is the cream for you. It has powerful, all-natural ingredients to help fight the appearance of aging.
When to Use
Best used at night, when your skin dries out the most.
How Does It Smell?
It comes in two varieties; one is odorless, the other has a minty smell.
Is It Harsh on Skin?
It has a mousse-like texture and is easily absorbed by your skin. It doesn't dry out skin even with twice-daily usage.
Pros
Organic ingredients, including powerful compounds.

All-natural
Cons
Might be a bit pricey for some.
---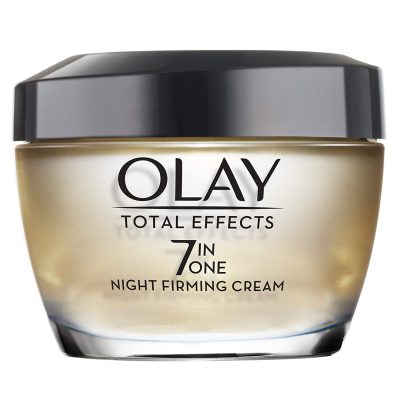 Why we like it:
A vitamin-rich, affordable product from a great brand that isn't greasy.
Editor's Rating:
Another budget-conscious item for those not looking to spend a fortune. Olay has a fairly comprehensive skin care line, and this is one of their best. It both moisturizes and renews your skin. It evens out your skin tone, firms your face and reduces the appearance of fine lines and wrinkles, leaving your skin glowing. For a 7-in-1 option, it's comparatively cheap. It's from a company with a good reputation. Its ingredients include VitaNiacin Complex, with Vitamins C and E to exfoliate and renew skin, and the mixture is oil-free.
When to Use
Generally at night, so it has time to work its magic. Your skin loses more moisture at night than at any other time. Use a gentle cleanser first for the best results.
How Does It Smell?
It has a mild fragrance to it so it smells nice as you're putting it on before bed.
Is It Harsh on Skin?
Although intended as a moisturizer, it can be a little harsh on skin. It's probably not the best choice if your skin is overly sensitive.
Pros
It's an exfoliating cream, designed to strip off the dead skin while the other ingredients renew your skin.

Vitamin-rich for healthy-looking skin.

Moisturizing.

Oil-free
Cons
Has been known to induce rashes – check on an area of skin first.

Might not be the best option for sensitive skin.
---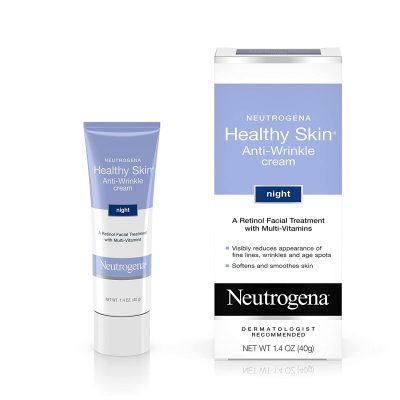 Why we like it:
It reduces the appearance of line and wrinkles at a great price for the budget-conscious.
Editor's Rating:
Overview
Neutrogena are a good brand when it comes to skin care. This skin-firming cream is no exception. It contains retinol, the FDA-approved pure form of vitamin A. It also has other vitamins like Pro-Vitamin B5, Vitamin E, and special moisturizers, to boot.
It's also one of the cheaper items on the list. This may be due to the reduced retinol in the formula. Nevertheless, Neutrogena is a mark of quality. It might take a couple months, but overnight solutions are rare with these creams. With a number of vitamins in conjunction with retinol, you have a great way to moisturize and keep your skin feeling smooth. If you want a decent skin-firming cream on a budget, give this one a try.
When to Use
It's meant to be a night cream, so let it be the last thing you put on your face before bed.
How Does It Smell?
It has no fragrance.
Is It Harsh on Skin?
No. As well as being a moisturizer, it contains retinol and other minerals that are gentle on skin.
Pros
Fortified with hyaluronic acid, which is great for your skin.

Dermatologist-tested.

Moisturizing.
Cons
Possible formula/effectiveness change.
---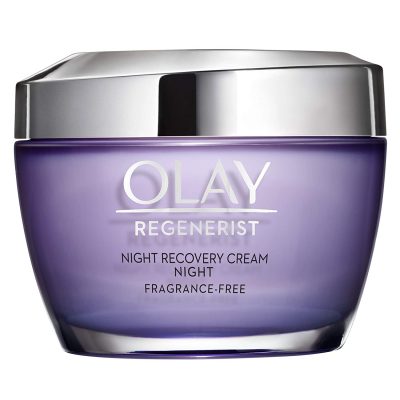 Why we like it:
Quick results. In just under a week it helps restore skins vitality.
Editor's Rating:
Part of the highly-rated skin care line from Olay (formerly Oil of Olay, a recognized brand), Olay Regenerist Night Recovery cream is an fantastic product at reducing wrinkles and lines. For skin regeneration, it boasts an Amino-Peptide Complex that erases wrinkles and nourishes your skin. This cream provides fast results, even though it's a little pricey.
When to Use
At night, when the skin is most receptive to skin-firming creams for cell repair.
How Does It Smell?
Fragrance-free
Is It Harsh on Skin?
It's not the gentlest product on our list. It's well worth testing on a portion of your skin before applying this to your face overnight. However, only those users with the most sensitive of skin will run into issues with this.
Pros
Good moisturizer

Great brand

Uses amino-peptides to repair your skin
Cons
Test on a portion of your skin first.

A little pricier than the competition.
---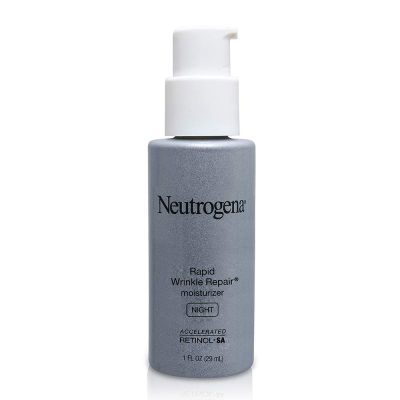 Why we like it:
It moisturizes and reduces the appearance of fine wrinkles at a great price point, even if it has some drawbacks.
Editor's Rating:
Next up is Neutrogena's Rapid Wrinkle Repair Moisturizer. It hydrates, evens out your skin tone, and reduces the appearance of wrinkles. Unfortunately, it does leave your skin a little bit red after use, but that goes away by the time you wake up the next morning. However, this retinol-infused product does provide results.
When to Use
It's a night moisturizer, so applying before bed should give you the best results.
How Does It Smell?
It's not the most pleasant smelling of creams.
Is It Harsh on Skin?
I can make your skin blotchy and does contain chemicals that are bad for your skin. This product definitely needs to be tested before using it on your face overnight.
Pros
Good moisturizer

Contains retinol to fight wrinkles

From a recognized brand when it comes to skin care
Cons
Leaves skin initially red and blotchy after use

Contains some products that are reportedly bad for skin.

The smell isn't great.
---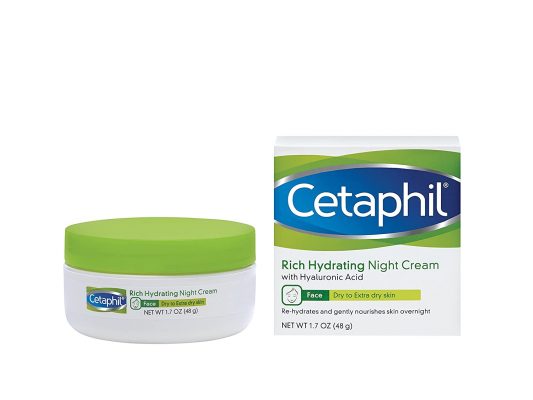 Why we like it:
Soothing feeling when you apply it, and doesn't feel like you'll clog your pores. It contains hyaluronic acid which is superb for your skin.
Editor's Rating:
If you're in the market for a night cream, this might be the one for you. It's gentle on your skin, and nourishes it while you catch your Zs. It's tested by dermatologists too. It's designed not to clog your pores, and while it claims it's fragrance-free, there is a slight odor. It includes hyaluronic acid and vitamins among its ingredients which both promote healthy skin. And healthier skin is happier, younger looking skin.
Not only that, but it has been found to be helpful in healing wounds, sealing them up and erasing them. It's good for pain relief for those same wounds.
When to Use
It's specifically formulated to be used at night.
How Does It Smell?
Although it claims to not have any scent, it does have a mild fragrance.
Is It Harsh on Skin?
Retinol is known to cause peeling. This product contains a moisturizer which chases those retinoid cream blues away. It feels good when you apply it, too.
Pros
Fortified with hyaluronic acid, which is great for your skin.

Dermatologist-tested.

Moisturizing.
Cons
A relatively unknown brand

Results talk a while to notice.
---

Why we like it:
It's one of the best retinol-based skin-firming creams you can get without a prescription. Even though it's not for sensitive skin, it does provide results.
Editor's Rating:
If you have deep wrinkle woes, you might consider this firming cream. It's known for working fast although it sometimes take longer than you'd hope. Like many other creams, it's made with retinol. Your skin has cells that synthesize the retinoic acid which causes cell turnover to increase. This in turn thickens the skin, increases collagen production, stimulates blood vessels, and reduces sun spots! Voila! Healthy-looking skin. You'll need sunscreen, too, because your skin becomes more sensitive to the sun.
The cream is very strong, no doubt. It does reduce wrinkles, but in doing so it does make you skin red and can cause it to peel, which can be unpleasant.
When to Use
About 30 mins after you've washed your face. Face needs to be completely dry.
How Does It Smell?
It is fragrance-free.
Is It Harsh on Skin?
Unfortunately, that would be a yes. Due to its strength, it can cause irritated, red and blotchy skin. if you have very sensitive skin it can cause breakouts too. Be careful if you choose to go for this product if you have sensitive skin.
Pros
Specially formulated so as not to block your pores

Retinol is a proven anti-aging formula.
Cons
Not for sensitive skin. Can cause blotchy, irritated, red skin.

Extremely potent, might dry out skin. Moisturizer recommended.

Skin becomes more sensitive. Need sunblock.
---
Guide to Buying the Best Firming Creams
How do you know what the best skin-firming cream is? As you know, gravity is a harsh mistress, making our skin sag, giving us wrinkles. It's just part of the aging process. We're not anti-aging though, just anti-wrinkles. And the great thing is that there are some skin-firming creams you can find on Amazon that will help you tame those wrinkles, make your skin look better, and help you look your best.
It's important to choose the right one. But how do you do that? Some do nothing at all, or cause breakouts. That's why we created this guide, so you can make an informed choice before you lay any money on the table.
Primary Ingredients in the Best Skin-Firming Creams
How do these products work? What do you need to look for, and why? We're here to break it down for you.
Retinol
Retinol is the main one, and a key ingredient in most of the creams we reviewed. Retinol is a pure form of Vitamin A. It's also the only ingredient the FDA has approved as an anti-aging agent. It helps your face in so many ways: it can minimize fine lines and wrinkles, it firms the skin so you look younger, and it helps rejuvenate your skin to retain that youthful look. It's about the closest thing to the fountain of youth in a jar.
Hyaluronic Acid
Hyaluronic Acid is naturally occurring in people. It's part of the makeup of your skin. But over time, pollutants, the sun, tobacco, and other such things may reduce the amount of that acid. That's why it can be found in many skin-firming creams. It's designed to replenish that compound to help heal your skin and kill wrinkles. It's a popular ingredient, used by many major brands.
Green Tea Extract
Green Tea is one of the best ingredients in these creams. Not everyone includes it, which is a shame. It does tighten your skin, which is the main benefit. But it goes beyond that. You can use green tea extract as a sunscreen, it slows down the visible signs of aging, and is a top-notch wrinkle-fighter. The best thing about green tea is that it's all-natural, so you don't have to worry about chemicals or anything else.
Caffeine
Ahh, caffeine… It's a great pick-me-up in the morning or a way to beat that afternoon slump. But did you know that caffeine has more uses than that? Yes, it has an anti-aging component. Quite a few companies are taking advantage of that by putting it in their skin-firming creams. It can prevent wrinkles from forming, including around your eyes. It also helps protect you from skin cancer. All of this makes caffeine a key ingredient in the skin care industry.
Vitamins
In case it needs to be said, vitamins can give you healthy-looking skin. Among these products, Vitamin E is the most prominent. Found in many skin care solutions, it helps with premature aging and wrinkles, and it improves the appearance of scars and imperfections. Vitamin A helps repair your skin. Vitamin C improves collagen formation which strengthens your skin. If you're looking for a natural way to nourish your skin, look for skin-firming creams that have vitamins.
Collagen
There are few things better for your skin than collagen. In fact, collagen is our skin. And we produce less and less collagen as we age. Our facial muscles contract, and our healthy skin gives way to wrinkles. And while there's no way to turn back the clock, we can use skin-firming creams with collagen in them to help replenish our supply. Collagen tightens your skin, while at the same time restoring your face's elasticity so it's similar to how you were when you were younger. It also makes your skin plumper and healthier, and gives you back that youthful glow.
Amino-Peptides
Peptides are the building blocks for protein. When they're linked together, they're known as amino-peptides, and that's an ingredient that is just wonderful for your skin. Like collagen, it's part of your epidermis, so using products that are formulated with this helps repair skin. Amino-peptides smooth out your skin, eliminate wrinkles, and give you that healthy glow you are looking for. They also can stimulate collagen growth.
Other Ingredients
We've already warned you about parabens, sulfates, and phthalates. But there are other things too look out for. Mineral oil, for example, is used in all sorts of things, like baby oil. Sounds good, right? Not so fast, because mineral oil is known to be bad for oily skin and will clog your pores. You might want to stay away from products including it. On a related note, there's petrolatum. Petrolatum is used in products like Vaseline. It should make your skin feel moisturized, but it's just an illusion. You might want to steer clear of products with petrolatum and stick with real moisturizers.
Things to Think About
Now that you're ready to dive in and figure out which skin-firming cream you want, there are some other items to consider before making your purchase. Here are a few things to take note of.
Sun Protection
All of these creams leave your skin more sensitive to the sun. It's just a side-effect of all that firming and restoring. Most creams don't include something to help out in that area. Admittedly, the night creams don't need to, but if you're using this as a day mask beneath your makeup, you'll want to invest in a bottle of sunblock. Make sure it's at least SPF 30 to be on the safe side. And don't forget to slather it on your neck, too.
Night vs. Day Creams
Most of these creams are meant to be applied at night, but some are for any time of day. So that might factor into your decision as to which skin-firming cream to get.  You might even invest in a couple jars, one which is a night cream and the other jar full of a daytime product. Healthy, youthful skin doesn't wait for a convenient time.
Skin Type
We tried to be thorough with the products we reviewed. That's why we included whether a particular cream seemed to be for a specific skin type. You should have an idea of what type of skin you have; dry, oily, sensitive, etc. That way you can find something suitable for your skin. You don't want to get something with a moisturizer if your skin is oily, for example.
Dry skin is a different beast. It's just better to find a skin-firming cream that is formulated specifically for dry skin. That way, you don't need to use a lot of it to see results.
Smelly Creams
This is definitely something to keep in mind while shopping for your cream. Does it smell? Is it a pleasant smell or is it a nasty, medicinal smell? Is it light or is it overpowering? Many are not too bothered about mildly unpleasant smells, but for others it's certainly a dealbreaker.
Roundup
We don't want you wasting your money, hence this list. We realize you probably count every dollar and watch where it goes. What we've put together here should help you out a lot. If you're looking to get the best value for your money, these creams are the best on the market. Although there is no way to be younger again, these creams are the best weapon you can have in keeping your skin looking fantastic.
We hope you've enjoyed reading this, and are now a little more prepared when marching to battle against those wrinkles. Good luck!