Top Picks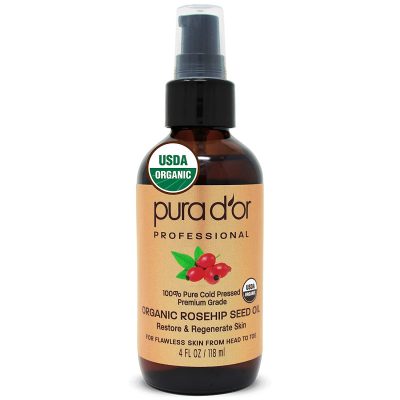 PURA D'OR Rosehip Oil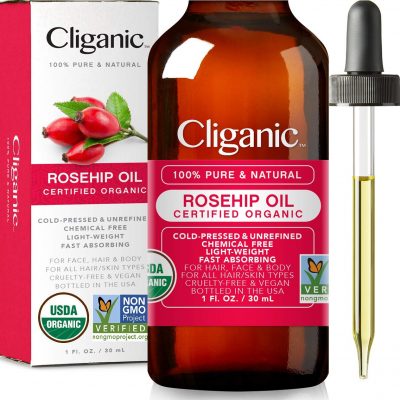 Cliganic Rosehip Oil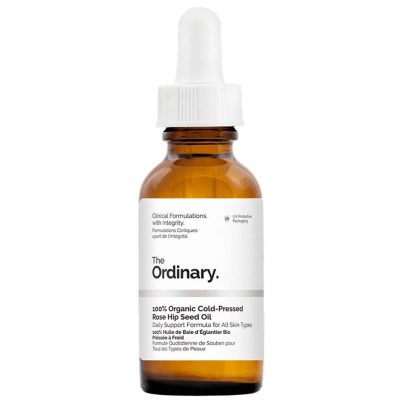 The Ordinary Rosehip Oil
Previous
Next
Every year, the beauty industry comes out with new and promising anti-aging products that they quickly label the new fountain of youth. But what if we told you that the real fountain of youth has existed for centuries and that it's completely natural and inexpensive? We're talking about rosehip oil, of course!
As it turns out, there are few products as effective as rosehip oil when it comes to reversing the hands of time. This magical oil has so many benefits that it's a wonder that many of us are just learning about it today. Who's ready to find out more about rosehip oil and its magical healing properties?
What You Need to Know Before Buying Rosehip Oil
Rosehip oil has a long history of helping humans put their best face forward. If you're interested in healing your skin and giving your face a new and healthy glow, rosehip oil is at your command. Our research led us to some of the most beneficial and reputable rosehip oils on the market, which we will proudly list in this guide. Before we do that, however, let's find out a little more about rosehip oil and what it can do for you.
What Is Rosehip Oil?
Roses are the embodiment of beauty and grace and have been touted as such for generations. So, it comes as no surprise that a beauty enhancing oil like rosehip oil derives from this flower — or more specifically — from the Rosa canina rose bush, a wild rose species native to South America.
Rosehip oil, often referred to as rosehip seed oil, might share some common ground with rose oil, but these two are not to be confused. Rose oil is extracted from rose petals, whereas rosehip seed oil is cold-pressed out of the seeds and fruits of the Rosa canina (dog rose) bush. Once extracted, rosehip oil becomes a rich source of vitamins, phenols and fatty acids — all of which combine to give us glorious skin.
What to Consider When Choosing a Rosehip Oil for Your Face
Selecting skincare products may seem like a straightforward process, however, it's anything but. What works for some people might not work for you, so it's important to consider your individual skin type before siding with a powerful potion like rosehip oil. There's so much to consider when selecting the best rosehip oil for your face — like the following factors!
Scent
Do you have a sensitive nose? Or are you someone who enjoys earthy and natural smells? The scent of rosehip oil isn't for everybody. Luckily, however, its smell disappears once absorbed by the skin. If you'd rather go with rosehip oil that has added fragrance to it, we highly recommend the Pearlessence Rosehip Oil.
Skin Conditions
Before making your final pick, it's important to take your skin conditions into account. This way, you can find the best rosehip oil for your individual needs. Although most rosehip oils can appease a slew of skin conditions, some are better at targeting specific conditions, like rosacea or hyperpigmentation, than others.
Ingredients
Rosehip oil should have one ingredient: rosehip oil. So, if you find a product that has more than one ingredient listed, it isn't 100% pure. Some rosehip oils will have added vitamins and antioxidants to boost its healing properties. However, you want to stay away from rosehip oils that add toxic ingredients to their mix. You'll find that all of the rosehip oils on our list are completely natural.
Expectations
Another thing to consider is your expectations. Like most good things in life, rosehip oil takes time to work its magic. So be patient and your skin will thank you. You can expect to wait a few months before noticing extreme results. However, you can also expect your skin to feel hydrated and soft after just a few uses. Sometimes, we forget what our skin used to look like, which is why we recommend taking before and after pictures.
Budget
Nothing puts a damper on your skincare routine like a budget. Luckily, there's no need to fret because rosehip oil is actually very affordable. While some may be more expensive than others, this doesn't always mean that they're better. In fact, our favorite rosehip oil is far from being the most expensive option on our list.
How We Picked the Best Rosehip Oils of the Year
To pair you up with the best rosehip oil for your face, we considered the following factors while making our picks.
Quality: We'll fill you in on everything from the quality of ingredients to the certifications of each bottle of rosehip oil.
Application: We'll also let you know how each product should be applied and how often you can use it on your skin.
Results: Lastly, we'll let you know how quickly you can expect results.
Now that we know why rosehip seed oil has become such a hot commodity in the beauty industry, let's find out which rosehip oil suppliers have managed to come out on top.
Top 10 Best Rosehip Oils for Your Face in 2021
Guide to Buying the Best Rosehip Oil for Your Face
Rosehip Oil is one of the most versatile and skin-friendly products on the market, and it's completely natural! A few drops of rosehip oil a day goes a long way — giving you the skin you deserve. There's a lot to know about rosehip oil — from its many different uses to its side effects. In this buyer's guide, we aim to tell you everything you need to know about rosehip oil, and how to find the best one for your face!
Benefits of Rosehip Oil
Rosehip seed oil has so many benefits. It's a wonder it hasn't been incorporated into our skincare routine since the very beginning. But is it right for you? To find out if you can benefit from using rosehip oil we put together a list of its healing properties. If any (or all) of these benefits jump out at you, chances are rosehip oil is exactly what you've been searching for.
Rosehip seed oil is right for you if…
Your skin lacks moisture and hydration
Your skin could use some brightening
You want to reduce the appearance of stretch marks
You want to treat and prevent mild acne breakouts
You have hyperpigmentation
You want to get rid of stubborn dandruff
You want to keep your rosacea at bay
You want to boost your formation of collagen
Your face feels puffy and inflamed
You want to boost your body's immunity
You want to shield your face from sun damage
You want to prevent photoaging
You want to reduce the appearance of scars, fine lines and wrinkles
While rosehip oil is commonly used on the face for beauty purposes, it can also help with stress management and osteoarthritis. But despite having the ability to cure many ailments and skin imperfections, rosehip oil does have some side effects, which are worth checking out before making your final pick. If you are currently pregnant or breastfeeding, or if you're diabetic or anemic, be sure to talk to your doctor before taking rosehip oil.
Using Rosehip Oil
There are a few ways you can use rosehip oil. You can either apply it to your skin as a moisturizer or, you can apply it directly to your scars, stretch marks, and troubled skin areas. In the end, rosehip oil is essentially a natural moisturizer and can be applied in a similar fashion. However, rosehip oil isn't only for the face, and can be used on other parts of the body, too.
Seeing Results
Depending on your age and the severity of your skin conditions and scars, it can take several weeks of constant use for rosehip oil to work its magic. However, many report seeing results — like brightened and hydrated skin — by the end of the first week.
What to Know Before Using Rosehip Oil
Before using rosehip oil on your face, it's important to test it on your skin to ensure that no adverse reactions take place. To do this, conduct a skin patch test on your elbow, wrist or jawline. Once this test has been completed and no side effects have presented themselves, you can be reassured that no allergic reaction will take place. It's also important to know that rosehip oil must be stored a certain way to prevent it from going rancid.

Other Uses of Rosehip Oil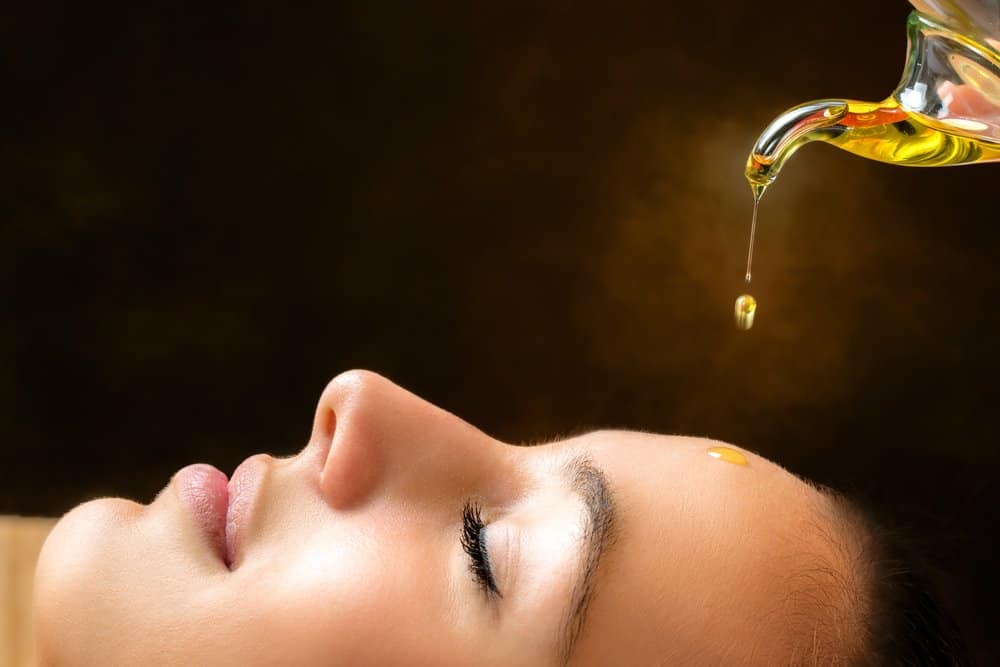 Rosehip oil is rich in vitamins and antioxidants, making it one of the best alternative treatments when it comes to skincare. But did you know that rosehip oil can do a lot more than give your skin the healthy glow it craves? To help you get the most out of your bottle, we listed some of the other uses of rosehip oil down below.
Hair Care
Rosehip oil has often been referred to as liquid gold and it can help restore moisture to dry hair, all while giving it a healthy shine. You can either apply it to your scalp for under 10 minutes to fight dandruff and scalp eczema before washing it out with shampoo. Or, you can add it to your actual hair, while damp, to add moisture to dry hair and split ends. Adding rosehip oil to your hair care routine can result in hair growth, helping those who are coping with sudden hair loss.
Nail Care
Rosehip oil also has the ability to strengthen nails since it is rich in vitamins A and C, which combine to treat brittle nails. You'll see evidence of healthier and stronger nails after just one week! You can combine rosehip oil with other nail strengtheners as well.
Stress Management
Rosehip oil has a very strong earthy scent that can trigger a soothing response from the brain. Its smell alone can help promote a steady breathing rate, lowering blood pressure and blood oxygen saturation, therefore lowering stress levels.

How to Store Your Rosehip Oil
Rosehip oil has a relatively short shelf life, which is why 100% natural rosehip oils tend to go rancid after about 6 months. However, since it's recommended to use rosehip oil daily, a bottle's contents tend to disappear much earlier than that. If you select a rosehip oil that has more than one ingredient present, this bottle could last you a little longer.
To ensure that your rosehip oil stays fresh for as long as possible, it's recommended to store it in a cool place once opened, like a dark shelf or a refrigerator. Since rosehip oil is light-sensitive, it is often sold in a dark glass bottle that reduces its exposure to UV light — which can cause it to lose its potency.
How to Spot Fake Rosehip Oil
It goes without saying that some rosehip oils are purer than others. However, we want the real deal when ordering a bottle and we're sure you do, too. Natural and pure rosehip oil will be a shade of amber — the darker the shade, the better. It will also have a very strong smell but contrary to popular belief, this smell will be earthy and nutty opposed to smelling like roses.
When shopping around for a bottle of rosehip oil, steer clear of products that are sold in pale plastic bottles, as these will most likely be rancid by the time they reach your door. Pay attention to the shade and texture, too. Fake or diluted rosehip oil will be runny in texture and a lighter shade of yellow instead of amber. The biggest giveaway, however, is the smell. If your rosehip oil smells fishy, it's the exact opposite of what you're looking for.

Side Effects of Rosehip Oil
Rosehip oil may be natural and moisturizing, but it isn't for everyone. Allergic reactions may occur which is why it's always best to test out a small amount of rosehip oil before spreading it all over your skin. To do this, add a drop of rosehip oil to the inside of your elbow or wrist and wait 24 hours before applying more. Should a rash or hives become apparent, stop using the product immediately and rinse with water.
Although rosehip oil is used as a destresser, it can cause some people to experience a rapid heartbeat or chest discomfort. And, if it gets into your eyes, it can cause them to become itchy and watery. The biggest side effect of rosehip oil occurs in people who are unknowingly allergic to the plant it derives from. Should an allergic reaction occur, you might experience some difficulty breathing. However, this is very rare!
For these reasons, it's best to conduct a skin patch test and to consult your doctor before applying this natural oil to your skin. You should seek medical attention immediately if you have any of the above reactions.
Frequently Asked Questions (FAQs)
It's time to answer some of the most frequently asked questions surrounding rosehip oil. Let's jump right in.
Can I Use Rosehip Supplements Instead of Oil?
Massaging rosehip oil into your skin a few times a day isn't for everyone, as it takes a lot of commitment and time, which some of us can't dedicate. Luckily, you can choose to go the supplement route instead. Our favorite rosehip supplement is brought to us by Nature's Bounty. These supplements, which combine vitamin C and rosehip, offer an array of benefits, one of them being healthier skin!
Can You Ingest Rosehip Oil?
Rosehip oil is a topical treatment and should not be ingested. If you swallow rosehip oil, you might experience abdominal discomfort, vomiting, diarrhea or a general feeling of unwellness. Store your bottle of rosehip oil in a safe place where children and animals won't be able to reach it. Call poison control immediately if anyone in your household ingests rosehip oil.
Is Rosehip Oil Good for Your Face?
Rosehip oil is one of the best natural oils for your face! If used long-term, it can completely revamp the appearance of your skin.
Can You Use Rosehip Oil on Your Face Every Day?
Rosehip oil is safe for daily use. In fact, it's recommended to use it twice daily: in the morning and before bed.
Can Rosehip Oil Replace Moisturizer?
Rosehip oil hydrates the skin like no other, which is why you can use it as a daily moisturizer.
Do I Put Rosehip Oil on Before or After Moisturizer?
It's recommended to rub rosehip oil onto a freshly washed face, before adding moisturizer. However, rosehip oil negates the need for moisturizer since it successfully hydrates the skin. If you enjoy a certain moisturizer, you can always add a few drops of rosehip oil into the bottle for added hydration.
Final Words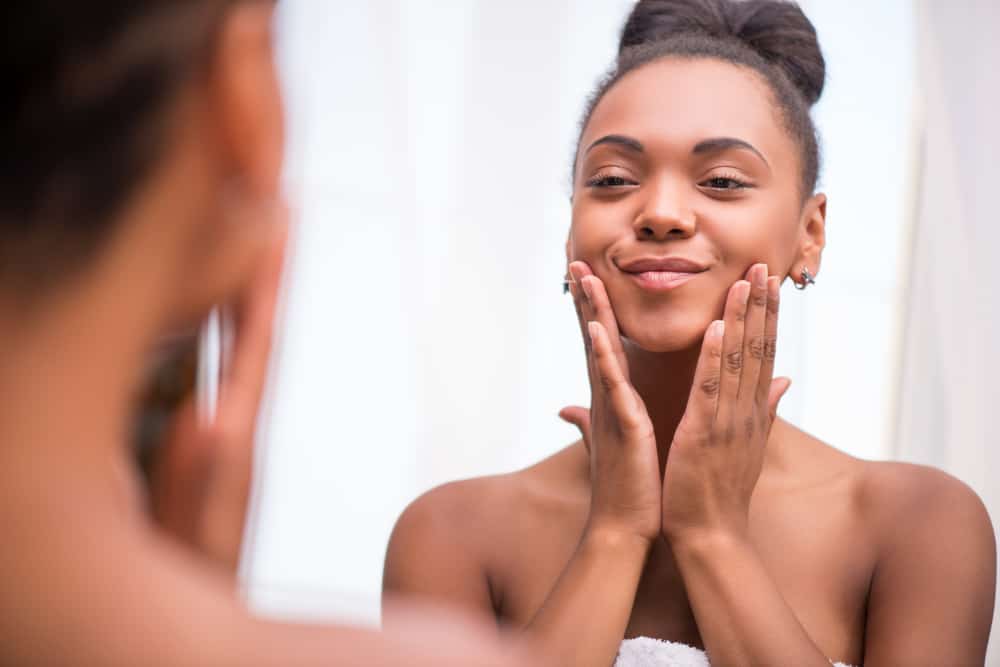 The first thing we see when we meet someone is their skin, which is why having skin imperfections can harm our self-esteem. We all deserve to be proud of the skin we're in, which is why many of us spend hundreds of dollars on skincare products each and every year. Caring for your skin doesn't have to be complicated, which is why we love rosehip oil with a passion.
Whether you're trying to get rid of acne scars, sunspots, stretch marks, or pesky flakes, rosehip oil can help revitalize your skin without subjecting it to harsh chemicals. We hope this liquid gold gives you the confident glow you crave. You deserve it, after all!