Top Picks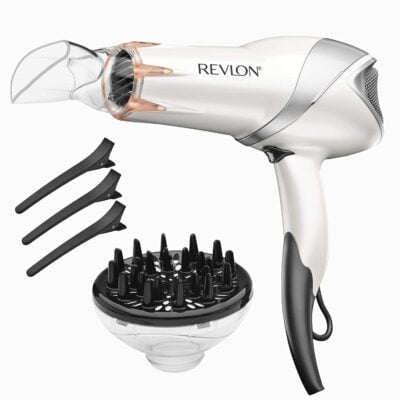 Revlon Infrared Heat Hair Dryer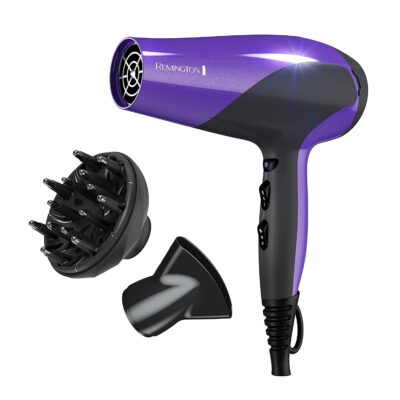 Remington D3190 Damage Protection Hair Dryer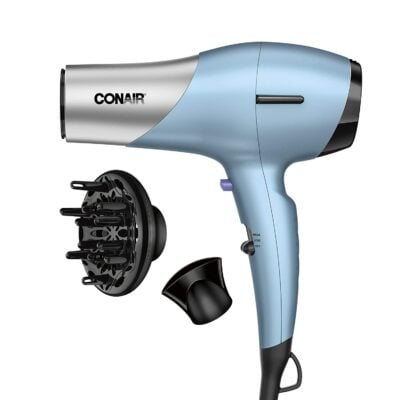 Conair 1600-Watt Fine Hair Dryer
Previous
Next
A well-designed hair dryer can create that much-needed volume people with fine hair are looking for. However, they can also cause damage to your fragile locks. So, it's important to look for a hair dryer that can create volume while minimizing damage as much as possible.
In this guide, we'll give you some tips on how to tell which hair dryers are good for fine hair and then give you our top 10 picks for the best hair dryers for fine hair in 2020.
How to Tell if a Hair Dryer Is Good for Fine Hair
With fine hair, gentleness and volume are your top two priorities. You need a hair dryer that causes as little damage as possible while also providing the right settings and features to create as much volume as you need. Here are the key features a hair dryer needs to satisfy both of those priorities:
Wide Range of Heat and Speed Settings
The more control you have over the heat level and the speed of the fan, the better. Ideally, you want heat and speed to have separate controls, as seen on this hair dryer from Revlon. This allows you to keep damage to a minimum while creating the volume you want.
For everyday purposes, go for the lowest heat and the slowest fan setting. You might even use the cold shot button, if available, throughout your styling session to avoid excess heat damage.
For more elegant or stylish looks, keep the heat low but switch to a higher fan setting to speed up the drying process without using excess heat.
Low Wattage
Most hair dryers like to brag about how powerful they are. High wattage sounds impressive but it's only suitable for thicker hair. Even then, it's more likely to cause frizz. Its only real advantage is that it dries hair faster.
For fine hair, you want to look for a hair dryer that maxes out at around 1800 watts. Anything above this is just too intense for your fragile locks.
Something in the 1000- to 1600-watt range is the ideal, especially for those in search of a daily hair dryer. The 1600- to 1800-watt range is still safe for fine hair but best reserved for occasional use to minimize heat damage.
Ceramic or Tourmaline Parts
Avoid pure titanium or other metal hair dryers. For fine hair, you want to narrow your search to ceramic or tourmaline dryers.
With titanium and similar materials, the heat can fluctuate dramatically throughout the process. This results in blasts of high heat followed by periods of low heat. The result is that you expose your hair to extreme heat. You also often spend more time drying your hair due to the temperature fluctuation.
Ceramic and tourmaline hold heat better which allows your hair dryer to maintain a consistent temperature throughout the process. This minimizes damage and makes the hair dryer more efficient.
For more information on why ceramic and tourmaline are the better options, see our full buyer's guide below.
Attachments
The two main attachments you'll see with hair dryers are diffusers and concentrators. For fine hair, you really want a hair dryer with both, such as this NITION dryer. If you're just choosing one, choose based on your priorities.
We'll go into more detail in the full buyer's guide below. For now, think of the concentrator as the volumizer, and the diffuser as the damage and frizz control.
If you're more concerned about maximizing volume, make sure your hair dryer comes with a concentrator. If you're more concerned about damage or frizz, make sure it comes with a diffuser.
Now that you have a clearer idea of what features make a hair dryer suitable for fine hair, take a look at our top 10 favorite hair dryers for fine hair in 2020:
Your Complete Guide to Hair Dryers for Fine Hair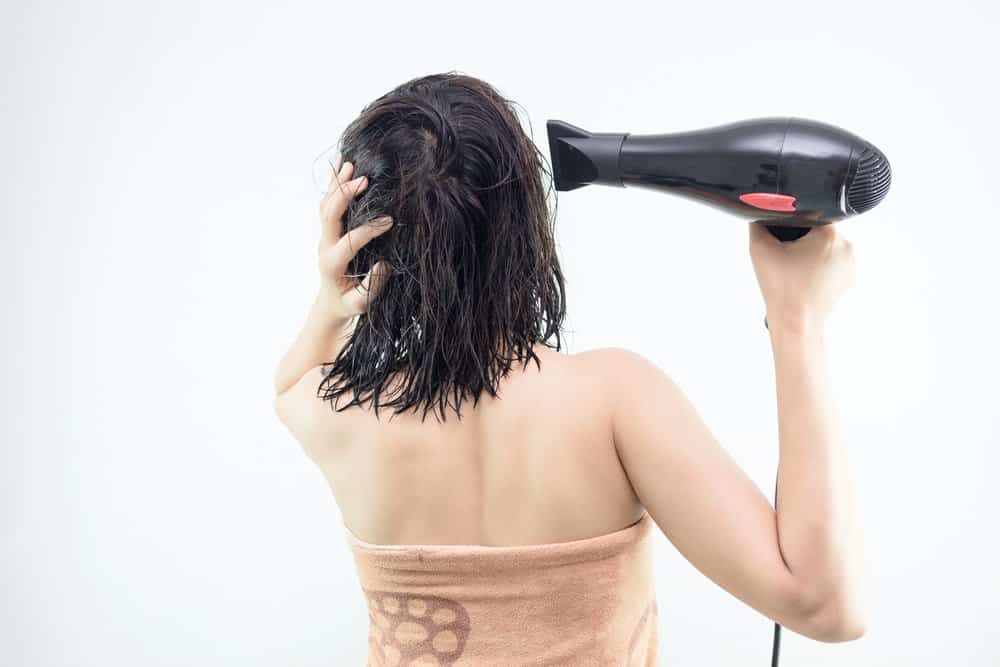 Shopping for a great hair dryer when you have fine, fragile hair can be a challenge. To help guide that process, check out some of our answers to the most common questions people have when shopping.
How Do I Choose a Hair Dryer for Fine Hair?
Earlier, we talked about the need for low wattage, quality materials, and appropriate attachments. Each of these factors are extremely important for anyone with fine or thinning hair. Your priorities are to add volume without risking breakage or damage. So, let's look at each of those to help you better narrow down what you're looking for.

Pick the Right Wattage
For fine hair, you should be looking at hair dryers in the 1000- to 1800-watt range. Where you end up within that range depends on how you plan to use the tool.
Do you want something safe and effective for daily use? Stick to the lower end of that range.
Do you want something strong enough to handle the more elegant and voluminous styles that you do for special occasions and nights out? Go up to the higher end of that range.
If you want something that can do both, choose something in the middle, like this Conair fine hair dryer that offers enough heat and speed settings. This way, you can set it to low for your everyday looks and bump it up to high for your more elaborate styles.
Get the Right Attachments
The two main attachments that come with hair dryers are the diffuser and concentrator. The diffuser helps create a gentler air flow, add definition, and prevent frizz. The concentrator helps focus heat to prevent over-drying your strands and create volume at the roots.
Both are important to have if you have fine hair. Use the concentrator at your roots to get volume. Then, switch to the diffuser to dry the rest of your hair. The result will be lots of volume but also great definition and polish throughout the length of your strands.
Some hair dryers also come with a comb attachment. This looks like a pick, and it's great for creating volume and definition at the same time. It's a little trickier to use than the other two since it's easy to tangle your hair in it.
However, if you have one, we recommend using it toward the end, when your hair is mostly dry. You can come through your strands and "back comb" your roots for targeted volumizing and smoothing. It's not a "must have" attachment like the diffuser or concentrator if you have fine hair but it's convenient to have on hand.
Pick the Right Heating Material
Your three main choices when it comes to the heating elements inside your dryer are titanium, ceramic, and tourmaline. For fine hair, you generally want to avoid titanium as much as possible. The temperature fluctuations mean it can fry strands in seconds, even if you're using a lower heat setting.
Ceramic and tourmaline, on the other hand, are better at maintaining a consistent temperature. So, when you set it to low heat, it will remain low heat throughout the process. Their key drawback, however, is their negative charge.
While this negative ionic charge helps with frizz, it can end up sapping fine hair of its volume. You can compensate for this effect by using a concentrator attachment, volumizing hair spray, or better volumizing drying techniques.
If you're worried about this risk of flatness, stick with a ceramic-only option, like the NITION.
Tourmaline produces six times more negative ions than ceramic does. So, any flattening effects will be less noticeable with ceramic. However, they are both great options that give you better control over the heat that you apply to your fragile strands.
Is There a Hair Dryer That Won't Damage Hair?
Unfortunately, the answer is no. Heat will do damage to your hair, no matter how gentle and no matter what high tech components it includes.
With that in mind, there are hair dryers that will do less damage to your hair than others. They do less damage by offering lower temperature settings, lower speed settings, and better temperature control.
For the least possible damage while drying your hair, use the cold blast setting throughout the entire process. This takes more time but it's still faster than just air drying, which would be the zero-damage method for drying your hair.
How Can I Minimize Damage to Fine Hair?
You may not be able to completely avoid heat damage but there are still lots of steps you can take to minimize it. In this section, we'll go over some of the key steps you can add to your hair styling routine to make sure you're getting great volume without the risk of broken or fried strands.
Let Your Hair Air Dry First
You can reduce the amount of time you spend applying heat to your hair by letting your hair air dry a bit first. So, make styling hair the last step of your process.
If you wait to start drying until it's already about 80% dried on its own, you'll only need to use the hair dryer for a couple minutes to lock in that volume and finish drying your locks.
Don't Leave Your Hair in a Towel
It's a common habit to twist hair into a towel and then leave it there until you're ready to style it. However, towels generally create a lot of friction that can cause breakage. So, you're doing damage before you've even touched the hair dryer!
Instead of the hair turban technique, just gently squeeze sections of your hair with the towel to remove the excess water. Then, let it air dry until you're ready to style.
If it's still dripping and that bothers you, you can wrap your hair in a cotton T-shirt instead. If you have a microfiber towel, you can also use that. Just avoid wrapping it in any textured or rough materials.
Use the Lower Heat and Fan Settings
For fine hair especially, the lowest setting on a hair dryer is your best friend. Less heat and less speed allow you to dry your hair gently, without blasting away moisture or frying your strands.
While these lower settings aren't as effective for more elaborate styles, the use of attachments can help compensate for some of that since they can target heat more effectively and lock in styles.
So, if you're worried about lower settings not getting the job done, combine them with the proper attachments to achieve similar results.
Use the Attachments
The attachments aren't just there to clutter up your drawer. They're there to help turn your hair dryer into a precision tool.
With the concentrator, you can focus the heat at the specific section you're drying so that you don't just keep blasting heat all over and over-drying locks that have already been dried.
With the diffuser, you spread the heat out better, creating a gentler flow of air. This prevents high-speed blasts of hot air from ripping out the moisture in your strands.
In both cases, you're minimizing the damage that comes with applying heat to your hair.
Use a Heat Protective Spray
A lightweight heat-protective spray can lock in moisture without adding weight to your fine hair. You can also try a hairspray with heat protective qualities to minimize the amount of product you're adding to your hair.
Either way, do not skip this step if you plan to dry your hair or use any other hot tools more than twice a week. The more you expose your locks to high heat, the more important it is to take extra precautions to protect them from the damage that can cause.
Dry Before Brushing
It's common to use a round brush on your wet hair while you're drying it. However, running a brush through soaking wet hair is a recipe for disaster. It will rip at wet strands, causing breakage and potentially even removing whole strands of hair by the root.
Don't reach for the brush right away. If you haven't air dried your hair to at least 50% dry, take a minute or two to go over your hair with the dryer by itself.
Skip the Hair Dryer When Possible
Try to avoid using your hair dryer or any hot tools whenever you can. If you need to dry your hair for work during the week, maybe give your hair a break on the weekends. If you can get away with air drying your hair before work, do that and then only style your hair when you go out on the weekends.
You can also try out these heat-free hairstyles a few days a week to give your hair a rest from the hair dryer.
Other Options for Fine Hair
Fine hair requires a lot of TLC to hold volume and minimize damage. Here are some other products that can help keep fine locks looking plump and healthy:
Final Word
The best hair dryer for your fine hair is the one best suited to your priorities. If you're more concerned about maximizing volume than minimizing damage, go for a higher wattage dryer with a concentrator attachment like this Revlon infrared dryer.
If you want something safe and convenient enough for daily use, go for a low wattage option like this Conair miniPRO dryer or an all-in-one tool like this hot air brush.