Top Picks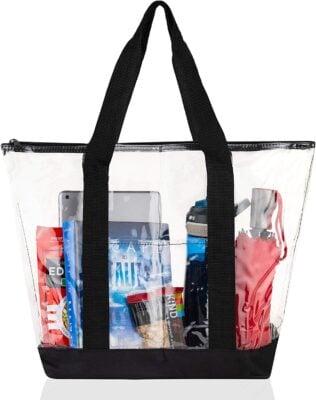 Bags for Less Large Clear Vinyl Tote Bag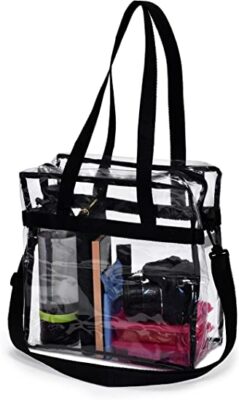 Handy Laundry Clear Tote Bag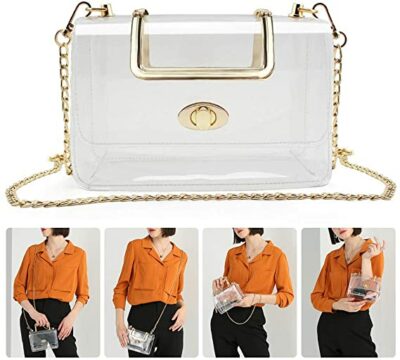 MOETYANG Transparent Clutch
Previous
Next
Transparent bags are quite a statement. Many schools, stadiums, and concert arenas require them, but they can also serve as a fashion choice. Maybe you don't have anything to hide, or you don't mind if people see what you have. Or perhaps you just want to show off your new wallet.
Whatever the reason may be, it can be difficult to decide what kind of bag to choose. Look no further – we'll explain what makes a transparent bag stand out and show you the best bags available for all sorts of styles and purposes.
How to Pick the Best Transparent Bag
Many people choose bags as a cohesive accessory for their outfits, but the ultimate goal of a bag is to be functional. You don't have to have one without the other, of course, but you should make sure a bag covers all of your needs before you choose it.
Type
There are (at least) 100 types of bags. A backpack differs significantly from a clutch, and each is expected to function differently. You wouldn't see a student carrying their pencils in a clutch, unless maybe they're hip. The type of bag you need will depend on what you intend to put in it and where you're going to go with it.
Size
When picking a bag, you usually have to compare the size to the items you plan to put in the bag. If you need to carry a laptop, you'll make sure the bag is big enough. If you only need a place to put your keys, wallet, and phone, you won't need a big bag.
If you're looking for a transparent bag due to a clear bag policy, you probably have some guidelines to follow. While the restrictions might vary between venues or schools, most places won't allow transparent bags that exceed 12" x 6" x 12" or clutches that exceed 5" x 8". If you're buying a bag to comply with a specific policy, check their website to make sure you're following their guidelines correctly. We don't want you to get turned away at the door!
Material
Most transparent bags are made from PVC, which is a type of plastic. PVC is incredibly flexible and can be made to be soft or sturdy. So, you might find a hard clutch and a soft tote bag that can slouch, yet both are made from the same material.
Compartments
When you have a bag you can see through, it may seem pointless to have separate compartments or pockets. While they may not serve a purpose visually, they'll help you stay organized and prevent you from digging through a pool of items just to find that one thing that fell to the bottom (let's face it: it's always the keys).
Clear bag policies may have restrictions against pockets and compartments, mainly if they cause the bag to exceed the allowed size guidelines. Make sure pockets are included in the size that's listed. Some bags have mesh pockets which might end up being against the rules, too.
Closures
Bags can close with zippers, buttons, magnets, and Velcro. Some bags might not have any closures at all. That might not be an issue if you'll have the bag with you at all times, but if you leave it on the back of a chair while you're eating or set it on the ground by your feet, it's much easier for someone just to reach in and take your stuff
Straps
Transparent bags can come in any style, so they have a wide range of straps they can use. Short straps are used to carry by hand, arm, or shoulder. Crossbody bags use long straps so you can carry them hands-free. Backpacks will use two shoulder straps that help support heavy objects.
Now that we've looked at the basics, let's get into the best transparent bags available.
Top 10 Best Transparent Bags 2021
All You Need to Know about Transparent Bags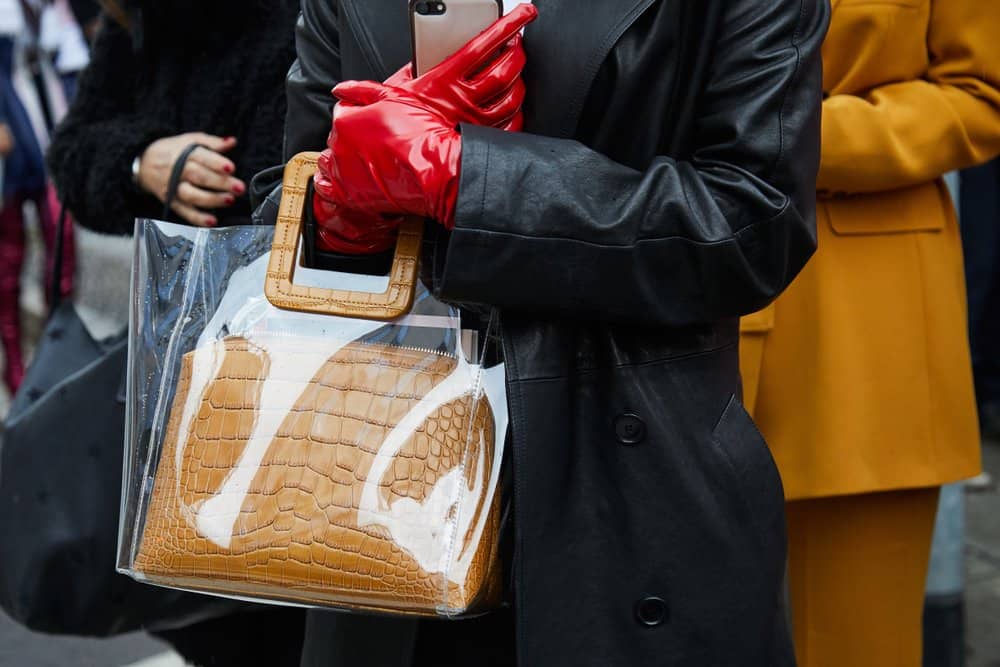 You might not be too keen on the idea of transparent bags, especially if you've never used one before. If you have any reservations about letting the world see your stuff or you're not sure where to start, this guide will help you figure out where to begin.
Why Use a Transparent Bag?
Transparent bags serve a variety of purposes besides showing off your items. They're more than just a requirement for schools and venues.
Clear Bag Policies
Many stadiums, schools, and workplaces have clear bag policies to ensure everyone's safety in the building. The idea behind these policies is that nobody will bring harmful items into a building if everyone can see inside your bag. Many people are against the policies because it creates a lack of privacy, especially for those who have to bring along hygienic or medical items that make them feel self-conscious.
Even though there are concerns and drawbacks, clear bag policies do make it easier for bag checkers to look through everyone's bags. They create shorter wait times in the bag check lines at sports and concert venues, which benefits everyone in the end.
Fashion Choice
While transparent bags may be a negative symbol for some (like students who have to take them to school in the name of safety), they've made quite a statement in the fashion world in recent years.
Many people take the transparency as an opportunity to show off stylish phone cases and clutches. If you have a new keychain or wallet you're proud of and want to show people, a clear bag can be the perfect way to do so.
Simplicity
If you're a human, you're going to be self-conscious about how others perceive you based on the contents of your bag. Even if you've matured past caring what others think, you're bound to care a least a little bit, and that's okay.
Open your bag. What's inside? Are you seeing multiple receipts, loose cough drops, spare change, and hot sauce packets that you don't remember "saving for later?" A transparent bag will help you cut down on your packrat tendencies because your mess will be out in the open for all to see and judge.
It's not healthy to care about what others think, but you might as well use the weakness to your advantage.
Waterproofing
Transparent bags are the perfect way to keep your belongings dry at the beach or on rainy days. Plastic is waterproof, and since almost every clear bag is made with PVC, they'll be able to hold up in wet conditions. It's trendy to carry a clutch inside of a transparent bag, so you can easily look cool and keep your stuff dry.

What Bags are Compliant with Clear Bag Policies?
Specific policies may vary at each venue, but the NFL's policy is a pretty standard one and is, of course, used at several stadiums across the United States. Their specific policy guidelines are:
Bags should be made of PVC material (or vinyl or plastic)
No bigger than 12" x 6" x 12"
NFL team logo bags are allowed but must be purchased through the NFL
Logos can only be on one side
No embellishments are allowed such as buckles or buttons
One-gallon plastic bags like Ziploc brand are allowed
Clutch bags that aren't transparent must be no bigger than 4.5" x 6.5"
Schools may have different guidelines since backpacks can be pretty large and have several pockets. Be sure to check the guidelines provided by the location with the policy so you can make sure you're following them correctly.

What If I Don't Want to Show Off My Belongings?
Whether you're buying a transparent bag because you have to or because you want to, privacy is a concern. We all have things we want to hide, whether it's numerous fast-food receipts, prescription bottles, or hygiene products. Fortunately, there are a couple of inconspicuous ways to hide your stuff without making it obvious.
Wristlets
You can use a wallet or clutch with a wrist strap to hold your belongings. You can pick something that looks nice to create a fashionable way to carry your items, but the irony will be that the item holding your personal belongings will be what catches people's eyes.
If you're the type of person that accumulates a lot of stuff in your bag, you might find yourself carrying several wristlets in your clear bag. That might defeat the purpose, so if you're choosing a clear bag for looks, you may need to reconsider or get serious about carrying less.
Zipper Pouches
Zipper pouches are similar to wristlets, but they don't have a wrist strap and only have one compartment. They're usually used as makeup bags or coin purses and come in a variety of sizes. Since they're simple, they come in a wide array of patterns and prints so they can add some color to your transparent bag.
How Do I Wash a Transparent Bag?
Transparent bags are super easy to wash when they're made out of PVC. Whether it gets dirty on the outside or something spills in the inside, there are only a few steps you need to take to get it cleaned.
For small messes, you just need a paper towel to remove the mess. Get it wet if you need to.
For bigger messes, use soap and water to remove the mess. Be sure to scrub a little extra around the seams since gunk can build up in these areas.
Dry the bag with a clean, dry towel. If you choose to let it air dry, leave the bag open so water won't stay behind. You should still use a towel after air drying just to make sure it's completely dry before you put anything inside the bag.
Final Thoughts
Transparent bags can be stylish and functional. It may not be your first choice if you're buying one to fit the demands of a clear bag policy, but it's quite possible to find something that will suit your needs and look good, too.