Transparent bags are quite a statement. Many schools, stadiums, and concert arenas require them, but they can also serve as a fashion choice. Maybe you don't have anything to hide, or you don't mind if people see what you have. Or perhaps you just want to show off your new wallet.
Whatever the reason may be, it can be difficult to decide what kind of bag to choose. Look no further – we'll explain what makes a transparent bag stand out and show you the best bags available for all sorts of styles and purposes.
How to Pick the Best Transparent Bag
Many people choose bags as a cohesive accessory for their outfits, but the ultimate goal of a bag is to be functional. You don't have to have one without the other, of course, but you should make sure a bag covers all of your needs before you choose it.
Type
There are (at least) 100 types of bags. A backpack differs significantly from a clutch, and each is expected to function differently. You wouldn't see a student carrying their pencils in a clutch, unless maybe they're hip. The type of bag you need will depend on what you intend to put in it and where you're going to go with it.
Size
When picking a bag, you usually have to compare the size to the items you plan to put in the bag. If you need to carry a laptop, you'll make sure the bag is big enough. If you only need a place to put your keys, wallet, and phone, you won't need a big bag.
If you're looking for a transparent bag due to a clear bag policy, you probably have some guidelines to follow. While the restrictions might vary between venues or schools, most places won't allow transparent bags that exceed 12" x 6" x 12" or clutches that exceed 5" x 8". If you're buying a bag to comply with a specific policy, check their website to make sure you're following their guidelines correctly. We don't want you to get turned away at the door!
Material
Most transparent bags are made from PVC, which is a type of plastic. PVC is incredibly flexible and can be made to be soft or sturdy. So, you might find a hard clutch and a soft tote bag that can slouch, yet both are made from the same material.
Compartments
When you have a bag you can see through, it may seem pointless to have separate compartments or pockets. While they may not serve a purpose visually, they'll help you stay organized and prevent you from digging through a pool of items just to find that one thing that fell to the bottom (let's face it: it's always the keys).
Clear bag policies may have restrictions against pockets and compartments, mainly if they cause the bag to exceed the allowed size guidelines. Make sure pockets are included in the size that's listed. Some bags have mesh pockets which might end up being against the rules, too.
Closures
Bags can close with zippers, buttons, magnets, and Velcro. Some bags might not have any closures at all. That might not be an issue if you'll have the bag with you at all times, but if you leave it on the back of a chair while you're eating or set it on the ground by your feet, it's much easier for someone just to reach in and take your stuff
Straps
Transparent bags can come in any style, so they have a wide range of straps they can use. Short straps are used to carry by hand, arm, or shoulder. Crossbody bags use long straps so you can carry them hands-free. Backpacks will use two shoulder straps that help support heavy objects.
Now that we've looked at the basics, let's get into the best transparent bags available.
Top 10 Best Transparent Bags 2023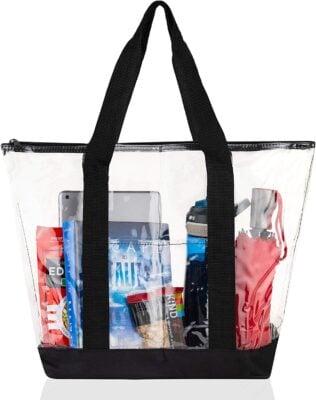 Why we like it:
This tote bag is versatile and can be used for any occasion, including as an everyday bag.
Editor's Rating:
This bag can carry quite a bit, but it isn't a huge bag. A lot of tote bags don't come with closures, but this one does so you can keep your items dry on a rainy day. You can use it as an everyday bag or a purse since it's about that size. The handles come in four different colors.
We recommend this bag as the best overall bag, but it's a bit too big to be allowed in football stadiums, so that's a huge downside of this product. For a stadium approved option, check out our recommendation for the best budget-friendly bag.
Type
This is a classic tote bag that's ready to carry just about anything you need. It's an appropriate size for using it as a purse or carrying belongings to work. Since it's made of PVC and sturdy handles, you could even take it to the beach with you to keep your items dry.
Size
This bag measures approximately 19" x 6" x 14", which exceeds most stadium clear bag policy limits.
Features
The tote bag has a zipper and an outside pocket. The pocket is flat and large and is the perfect place to keep items you need to quickly reach, like a phone or keys. If you use the bag to organize supplies, you could stick a piece of paper in the pocket as a sort of label.
Pros
Zipper closure

Big outside pocket

Sturdy handles
Cons
Doesn't meet most stadium clear bag policy requirements
---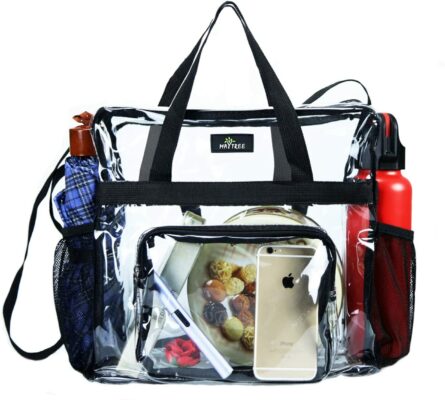 Why we like it:
This bag has plenty of pockets to keep your belongings organized, so you don't have to stuff everything into the same space.
Editor's Rating:
A lot of transparent bags don't have many pockets since many are designed to take into stadiums. This bag by May Tree, however, is perfect for organizing your stuff. It has three pockets on the outside so you can easily reach your small items. This bag meets the NFL size requirements, so you might be able to bring it into a stadium, although the outer pocket adds to the overall measurement and could cause problems.
Type
This is a tote bag that has short handles to carry by hand and a long adjustable strap so you can wear it as a crossbody bag or on your shoulder. It's big enough for small laptops and spirals so you can easily take it to work or school.
Size
The main compartment of this bag measures 12" x 6" x 12", and the front pocket measures 7.5" x 1.5" x 6.5". The main compartment is the maximum bag size allowed by many stadiums and venues with clear bag policies, but the front pocket isn't included in that measurement, which could cause some problems.
Features
This bag has one big compartment on the inside, a small transparent pocket, and two mesh pockets on the outside. Both of the transparent compartments close with a zipper so your items will stay secure. The mesh pockets don't have closures, so these are best used for water bottles, umbrellas, or small items that won't fall out.
You can adjust the shoulder strap so you can carry it as a crossbody bag if you'd prefer. The strap extends up to 58", which is pretty long for a crossbody bag.
Pros
Two compartments with zippers

Mesh pockets

Long shoulder strap
Cons
Extra pocket may prevent you from bringing it into a stadium
---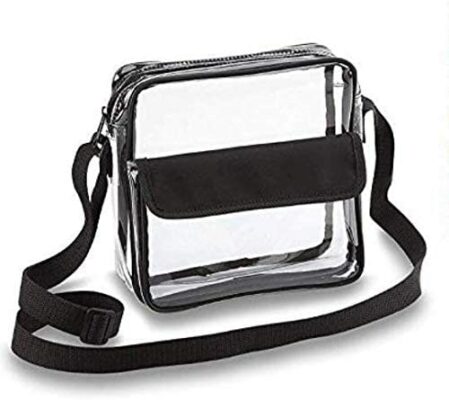 Why we like it:
This crossbody bag is roomy for its small size. It's perfect for traveling or for those who don't want to carry a big bag around.
Editor's Rating:
Not everyone wants to carry a big bag around. Sometimes, you just need the necessities with you, and this bag is great for that. Its small size is great to take with you while you're traveling or running errands, and it's available in several different colors.
Type
This is a crossbody bag that can also be worn as a shoulder bag. In terms of usage, it's not flexible outside of using it as a purse or everyday bag for the essentials.
Size
This bag measures 8" x 3" x 8". It should be approved by almost every clear bag policy.
All smartphones will fit comfortably, but long rectangular women's wallets might be a tight fit. If you have one of those wallets that are basically a clutch, you may need to find an alternative to carry your cash.
Features
This bag has one compartment on the inside and a front pocket on the outside. The main compartment has a zipper, and the pocket uses Velcro. There are only two small pads of Velcro keeping the pocket closed, and Velcro eventually loses its "stick," so it's not the best closure.
The long strap can go from 29" to 58" so you can easily find a length that will suit you. Since the bag is reinforced around the edges, you'll be able to stand it up when you put it on the ground or store it in a closet.
Pros
Big enough for phones and most wallets

Long adjustable shoulder strap

Can stand on its own

Several colors to choose from
Cons
Might not fit large women's wallets
---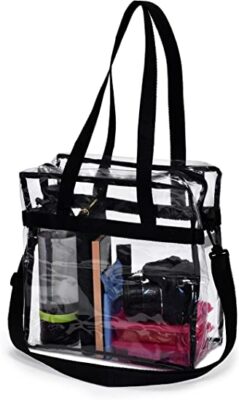 Why we like it:
This budget-friendly bag doesn't skimp on space. There's plenty of room for all of your belongings, and it can be worn as a crossbody bag or over the shoulder.
Editor's Rating:
If you're in search of a transparent bag on the fly because you need one ASAP, or if you don't want to spend much on this kind of bag, this budget-friendly tote from Handy Laundry should suit your needs. It's spacious and doesn't break the bank.
However, it only has one big compartment and no extra pockets, which might be a downside for some. If you'd prefer a pocket, you might enjoy this bag instead.
Type
This is a tote bag that comes with shoulder straps, or a longer detachable strap so you can carry it as a crossbody bag.
Size
This bag measures 12" x 6" x 12". It meets the NFL clear bag policy guidelines and should meet others', as well.
While no pockets might be a negative for some, it does mean that you can cram the one compartment full. This would make a great diaper bag, beach bag, or overnight bag since there isn't anything hindering you from filling it to the brim.
Features
The bag closes with a zipper, and since it's made from PVC, it means that your items will stay dry when it's zipped shut. If you're expecting a downpour of rain, this would be a great bag to take with you instead of whatever you usually take.
The edges are reinforced to make the bag sturdy and keep its shape when you set it down. Unfortunately, the seams are susceptible to unraveling after being used frequently. But, this isn't a frequent complaint, so it seems to be an occasional issue that you should only be cautious of and not worry too much about.
Pros
Budget-friendly

Can hold a lot of stuff

Waterproof when zipped shut
Cons
No pockets

The seams might unravel
---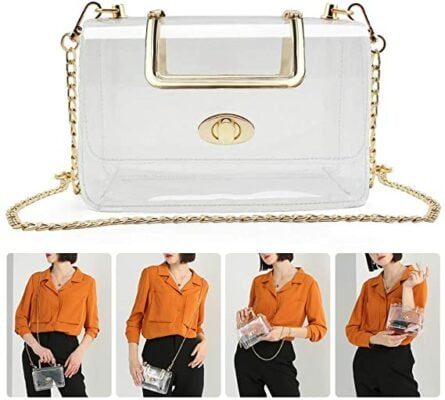 Why we like it:
This transparent bag looks trendy with its gold embellishments. It's a good way to follow transparent bag policies while staying in fashion.
Editor's Rating:
Transparent bags are used for more than just policy compliance. They're trendy and can be a bold statement since they give off a "nothing to hide" vibe. This bag has gold-colored embellishments and looks more stylish than the other options on this list. This bag is incredibly small, so you shouldn't expect to fit large wallets inside.
Type
This is a clutch bag that has a handle. It also has a detachable chain so you can carry it as a crossbody bag. The chain might be uncomfortable for those with shoulder-length hair or longer since hairs typically get caught in chain links. (That always hurts!)
Size
This bag measures 7.3" x 2.7" x 5.3". Your smartphone can fit, but your large wallet probably won't. This bag is more for those who pack lightly and don't need to bring the kitchen sink with them.
Features
The bag is made from thick vinyl, so it'll hold its shape. It's not a hard case, but it's sturdy and durable enough so that it won't slouch or lose its shape once your belongings are in it.
A big flap covers the entire compartment and then locks it into place with a twisting clasp. The corners of the flap might come up, but the bag will remain closed if the clasp is in the locked position.
Because of its small size, this bag only has one singular compartment. There aren't any nooks or crannies to cram lip balm or gum wrappers into, so you might benefit from putting a tiny zipper pouch in it if you like to have pockets in your bags.
Pros
Stylish design

Optional chain for crossbody style carry

Twisting clasp keeps it closed
Cons
Only one main compartment

Long hair might get caught in the chain
---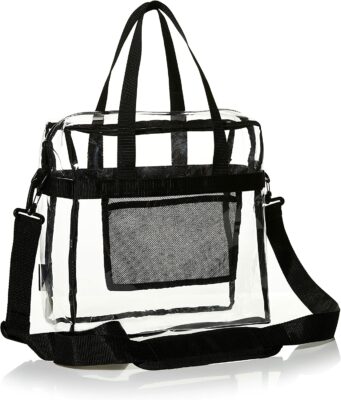 Why we like it:
This bag has a convenient mesh pocket so you can easily access small items like your phone or keys.
Editor's Rating:
This bag is a lot like our budget-friendly recommendation, but it includes a mesh pocket that adds an appreciated touch of convenience. It still lacks an outer pocket, but it's spacious and has plenty of room for everything you need to put in it.
Type
This is a standard tote bag that has a detachable long strap and two handles so you can carry it on your shoulder. The handles can't be removed from the bag.
It's made of sturdy PVC and will hold its shape while standing, but it might be too stiff and uncomfortable for some.
Size
The tote measures 12" x 6" x 12", so it should be allowed into most stadiums and venues and hold smaller laptops.
Features
The biggest problem with tote bags is that small items get lost in the bottom, which is why pockets are so appreciated. The mesh pocket that's on the inside of this bag is guaranteed to save you from fishing at the bottom of the bag for those tiny items that seem to disappear. If you pack this bag to full capacity, however, you might have a hard time reaching the mesh pocket.
This tote comes with a detachable zipper pouch. The pouch comes with it so you can have a place to keep personal items like cash or credit cards. Not many transparent bags include this necessary accessory, so it's a nice touch, for sure.
Pros
Mesh pocket on the inside

Comes with a detachable zipper pouch

Made with sturdy materials
Cons
No outer pockets

Material may be too stiff
---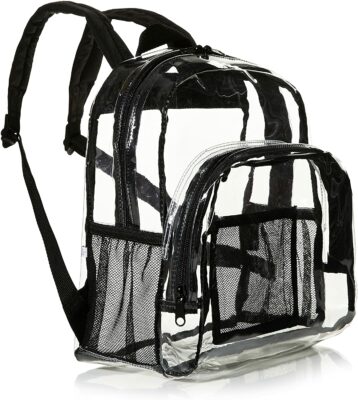 Why we like it:
This backpack has plenty of room to spare with its second compartment and mesh pockets on the side. It's perfect for taking with you when you have a lot to carry.
Editor's Rating:
Whether you're trekking to school, the stadium, or anywhere else, this mini backpack has enough room to carry most of your belongings. It's compliant with most clear bag policies and has plenty of pocket space, and the shoulder straps make it comfortable to carry. It is a miniature backpack, though, so it can't comfortably fit big folders.
For a full-sized backpack that's great for students, take a look at this bag by Trailmaker.
Type
This bag is a miniature backpack. The straps are designed to help you comfortably carry the weight of everything you fit into it. Since this bag is on the smaller side, you shouldn't expect it to get as heavy as the average backpack.
Size
It measures 12" x 6" x 11". It's compliant with most clear bag policies.
If you're using this for school, be sure to measure your belongings. Average or large laptops won't fit in here, and neither will the typical folder since those usually measure 11.5" tall. Spirals should fit without issues, but letter size paper is 11" and will have a tight fit and might get crinkled.
Features
While this bag may be on the small side, it has plenty of room to spare. It has two compartments, one of them being about half the size of the other. Both of these have zipper closures to keep your items secure.
It has a mesh pocket on the inside and two mesh pockets on the outside. None of these have closures, so they're best used for water bottles, keys, or other smaller items that won't fall out.
It has a small handle on the top so you can carry it by hand and two adjustable shoulder straps. The shoulder straps measure about 21" long but can be adjusted longer. Adults may find the straps to be a bit uncomfortable since they're thin and shorter than the straps on bigger backpacks.
Pros
Two main compartments

Three mesh pockets

Compliant with most clear bag policies
Cons
Can't fit many items that students need like laptops or folders
---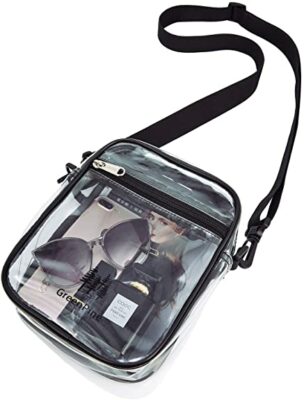 Why we like it:
This bag is tall and slim and has zipper closures for both of the compartments to make sure your items stay secure.
Editor's Rating:
This crossbody bag is small and easy to take with you, but unlike our recommended compact bag, this one has a zipper on the second pocket instead of Velcro. Unfortunately, it's only available in black.
Type
This is a crossbody bag that has a strap that can extend up to 56".
Size
The bag measures 8.7" x 2.8" x 6.7". You should be able to comfortably fit any size of wallet in this bag, although it might not leave enough space for other items. It does have a second pocket on the front, which allows for extra space in the bag.
Features
Both compartments close with zippers, so your items will be safe in this bag. If you have concerns about security, you can always turn the bag so that the zipper is facing you for an extra layer of protection.
The second compartment is a pocket on the front that's thin and not as spacious as the main compartment. This pocket is ideal for small items like lip balm or venue tickets, but you shouldn't expect to fit anything wider than a phone in here.
Pros
Zippers for both compartments

Long adjustable shoulder strap

Should fit most wallets
Cons
No color choices other than black
---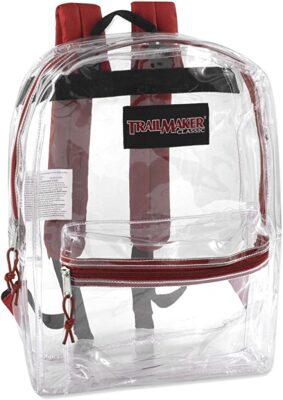 Why we like it:
This backpack is big enough for spirals and laptops, so it's great for students and remote workers who travel to different locations.
Editor's Rating:
Many schools and workplaces require students and employees to have transparent bags. In this day and age, you're probably going to carry a laptop with you. Most laptops are about 13" wide and won't fit in NFL-approved clear bags, so you need to go with something bigger.
This backpack will be able to fit a laptop and then some. It has a smaller pocket on the front but lacks side pockets for water bottles and keys.
Type
This is a regular-sized backpack that you'd expect a student to carry with them to school. It has adjustable shoulder straps and a handle on the top. The straps are padded and wide, so they'll be comfortable on the shoulders.
Size
This backpack measures 17" x 5.5" x 12".
Currently, the largest laptops measure close to 16" in width, so there's no doubt you'll be able to fit any kind of laptop in here. (But let's be real: you wouldn't put your huge laptop with a huge price tag in a transparent bag, right?)
This backpack will be able to comfortably fit 3-ring binders, folders, spirals, and anything else you might need to take with you to work or school. If you're using it to travel or as an overnight bag, you can easily fit all of your clothing into it.
Features
This backpack is available in several bright colors and has a budget-friendly price. It's made with sturdy PVC, so it's waterproof, will keep its shape, and should be able to withstand plenty of wear and tear.
The front pocket is about a third of the size of the main compartment, so you won't be able to fit as much into it. It'd be a great spot for a pencil bag or other pouch to keep personal belongings.
The lack of side pockets is the most notable fault of this bag since it means there isn't an easy way to carry a water bottle or umbrella.
Pros
Plenty of room for laptops

Made with sturdy PVC material

Padded shoulder straps
Cons
Doesn't have side pockets
---
Why we like it:
This bag is made with lunches in mind, but it's versatile enough that it can be used for almost anything.
Editor's Rating:
Many tote bags are tall and wide, but sometimes you need something a little shorter. This lunch bag is a great contender. It's shorter than most totes on this list, but it has more depth, so you can put more into it. It isn't required to be a lunch bag, of course, but its boxy shape might deter you from using it as anything else.
Type
This is a tote bag that's styled as a lunch bag. Its rectangular shape is good for fitting food containers into it.
Size
The bag measures 10" x 7" x 11".
Features
This bag has a main compartment that can fit quite a bit into it. You can easily fit two or three lunch containers along with a water bottle and fruit.
The smaller compartment on the front of the bag might not be the best place for food since it's so small, but it's a good place to put your phone, wallet, and other things you don't want to keep with your food.
Both compartments close with a zipper and the bag is waterproof, so it will keep your items dry and prevent spills from coming out of the bag.
Pros
Waterproof and leakproof

Plenty of room for food containers

Second pocket
Cons
Boxy shape may prevent it being used as anything other than a lunch bag

No side pocket for drinks
---
All You Need to Know About Transparent Bags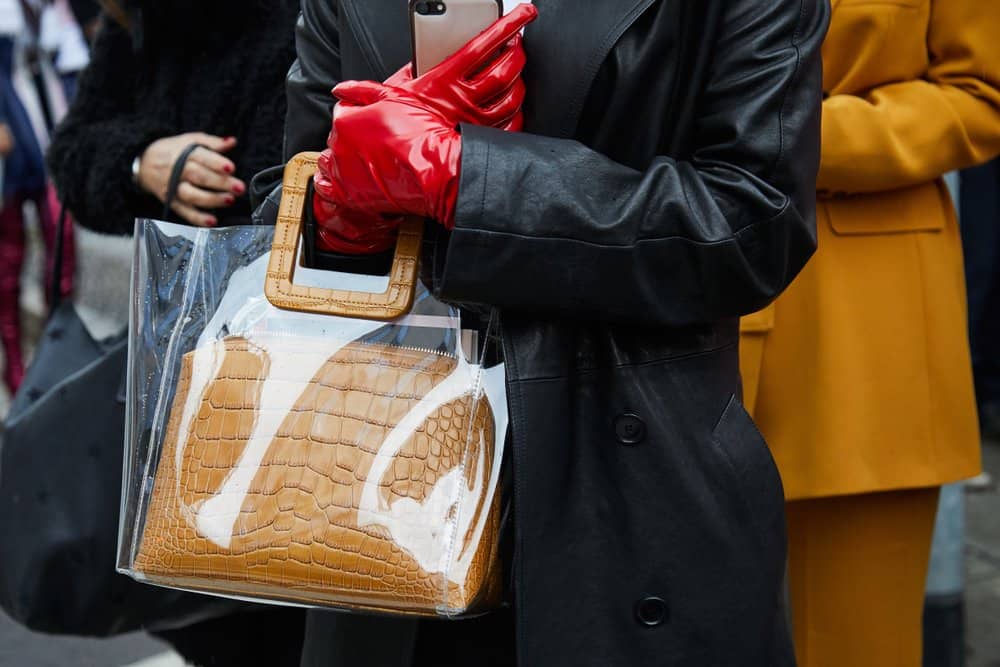 You might not be too keen on the idea of transparent bags, especially if you've never used one before. If you have any reservations about letting the world see your stuff or you're not sure where to start, this guide will help you figure out where to begin.
Why Use a Transparent Bag?
Transparent bags serve a variety of purposes besides showing off your items. They're more than just a requirement for schools and venues.
Clear Bag Policies
Many stadiums, schools, and workplaces have clear bag policies to ensure everyone's safety in the building. The idea behind these policies is that nobody will bring harmful items into a building if everyone can see inside your bag. Many people are against the policies because it creates a lack of privacy, especially for those who have to bring along hygienic or medical items that make them feel self-conscious.
Even though there are concerns and drawbacks, clear bag policies do make it easier for bag checkers to look through everyone's bags. They create shorter wait times in the bag check lines at sports and concert venues, which benefits everyone in the end.
Fashion Choice
While transparent bags may be a negative symbol for some (like students who have to take them to school in the name of safety), they've made quite a statement in the fashion world in recent years.
Many people take the transparency as an opportunity to show off stylish phone cases and clutches. If you have a new keychain or wallet you're proud of and want to show people, a clear bag can be the perfect way to do so.
Simplicity
If you're a human, you're going to be self-conscious about how others perceive you based on the contents of your bag. Even if you've matured past caring what others think, you're bound to care a least a little bit, and that's okay.
Open your bag. What's inside? Are you seeing multiple receipts, loose cough drops, spare change, and hot sauce packets that you don't remember "saving for later?" A transparent bag will help you cut down on your packrat tendencies because your mess will be out in the open for all to see and judge.
It's not healthy to care about what others think, but you might as well use the weakness to your advantage.
Waterproofing
Transparent bags are the perfect way to keep your belongings dry at the beach or on rainy days. Plastic is waterproof, and since almost every clear bag is made with PVC, they'll be able to hold up in wet conditions. It's trendy to carry a clutch inside of a transparent bag, so you can easily look cool and keep your stuff dry.

What Bags Are Compliant With Clear Bag Policies?
Specific policies may vary at each venue, but the NFL's policy is a pretty standard one and is, of course, used at several stadiums across the United States. Their specific policy guidelines are:
Bags should be made of PVC material (or vinyl or plastic)
No bigger than 12" x 6" x 12"
NFL team logo bags are allowed but must be purchased through the NFL
Logos can only be on one side
No embellishments are allowed such as buckles or buttons
One-gallon plastic bags like Ziploc brand are allowed
Clutch bags that aren't transparent must be no bigger than 4.5" x 6.5"
Schools may have different guidelines since backpacks can be pretty large and have several pockets. Be sure to check the guidelines provided by the location with the policy so you can make sure you're following them correctly.

What if I Don't Want to Show off My Belongings?
Whether you're buying a transparent bag because you have to or because you want to, privacy is a concern. We all have things we want to hide, whether it's numerous fast-food receipts, prescription bottles, or hygiene products. Fortunately, there are a couple of inconspicuous ways to hide your stuff without making it obvious.
Wristlets
You can use a wallet or clutch with a wrist strap to hold your belongings. You can pick something that looks nice to create a fashionable way to carry your items, but the irony will be that the item holding your personal belongings will be what catches people's eyes.
If you're the type of person that accumulates a lot of stuff in your bag, you might find yourself carrying several wristlets in your clear bag. That might defeat the purpose, so if you're choosing a clear bag for looks, you may need to reconsider or get serious about carrying less.
Zipper Pouches
Zipper pouches are similar to wristlets, but they don't have a wrist strap and only have one compartment. They're usually used as makeup bags or coin purses and come in a variety of sizes. Since they're simple, they come in a wide array of patterns and prints so they can add some color to your transparent bag.
How Do I Wash a Transparent Bag?
Transparent bags are super easy to wash when they're made out of PVC. Whether it gets dirty on the outside or something spills in the inside, there are only a few steps you need to take to get it cleaned.
For small messes, you just need a paper towel to remove the mess. Get it wet if you need to.
For bigger messes, use soap and water to remove the mess. Be sure to scrub a little extra around the seams since gunk can build up in these areas.
Dry the bag with a clean, dry towel. If you choose to let it air dry, leave the bag open so water won't stay behind. You should still use a towel after air drying just to make sure it's completely dry before you put anything inside the bag.
Final Thoughts
Transparent bags can be stylish and functional. It may not be your first choice if you're buying one to fit the demands of a clear bag policy, but it's quite possible to find something that will suit your needs and look good, too.