Top Picks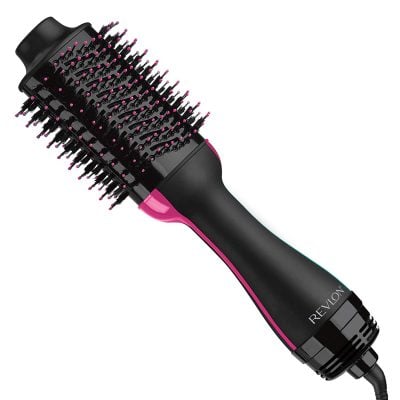 Revlon One-Step Hair Dryer and Volumizer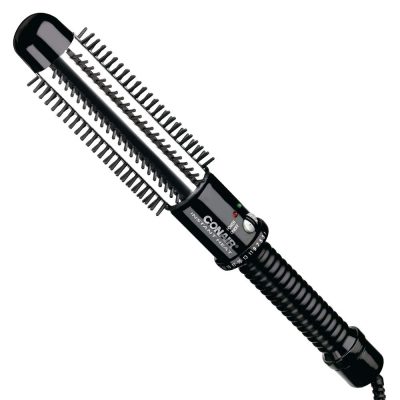 Conair Instant Heat Styling Brush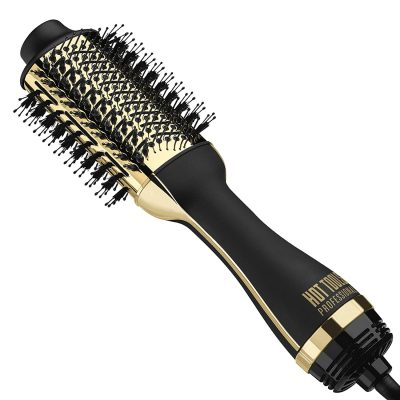 HOT TOOLS Professional 24K Gold One Step Dryer Volumizer
Previous
Next
Getting the perfect blowout at home isn't easy, but a hot air brush is probably your best bet!
A hot air brush can be the tool to give you the glamorous hairdo you're after or just simply maintain your current style. Even beginners can use hot air brushes and get salon-like looks at home.
As the name indicates, a hot air brush is a hairbrush that blows hot air. It serves the dual purpose of drying your hair while simultaneously helping you style it.
You've probably seen a hot air brush in your favorite influencer's or stylists' TikTok or Instagram videos using the brushes to create stunning hairdos. While we can't guarantee that you'll get the exact same results with the hot air brushes in this guide, they're probably your best shot!
Important Factors to Consider Before Choosing a Hot Air Brush
Hair Length
Your hair length is the first indicator to which hot air brush is the best for you. Generally, the longer your hair, the larger the barrel.
If you have short or medium-length hair, you need to pick a hot air brush with a small barrel (1 to 1.5 inches). A small barrel can easily get closer to your roots, giving you more diverse styling options.
If you have long hair, you need to select a hot air brush with a large barrel and mixed bristles. This will help you detangle hair effortlessly without causing damage. Long-haired users must section off their hair into smaller parts and then use the brush on each section.
You can read below the buyer's guide to find out more about how hair length impacts your choice in a hot air brush.
Hair Type
Your hair type is another deciding factor. While a hot air brush works on all hair types, choosing the right one for your hair gives the best result.
If you have fine or thin hair, you should consider a hot air brush with adjustable temperature settings and high-quality bristles. The ideal hot air brush will also have ceramic coating or ceramic-tourmaline heating materials to help mitigate thermal damage and dryness.
Those with coarse/thick hair need to select a hot air brush with high temperatures for effective drying. Another option would be to pre-dry your hair a little with a towel before using a hot air brush. A stiff brush is also for better detangling and styling.
A detailed explanation of how hair type affects your choice in a hot air brush can be found below.
Hot Air Brush Types
There are several types of hot air brushes on the market today. They can be differentiated by barrel size, bristles, heat distribution, rotating vs. stationary, and other factors.
Typically, the barrel size you choose depends on your hair length. Smaller barrel sizes are suitable for shorter hair, and larger ones for longer hair.
The material of the bristles needs to be stronger for thick hair and softer for fine hair.
Most modern hot air brushes use ceramic or tourmaline heating elements. Unlike previously used aluminum barrels, these materials heat-up quickly but do not burn your hair.
A stationary hot air brush and rotating hot air brush have the same effects, but using the latter is easier for some. If you have straight or medium hair, a rotating brush makes for better detangling. But the same is not valid for those with thick/curly hair. A rotating brush also requires some practice to get the best results.
Now that you have an idea of what is available, here are our top 10 picks for hot air brushes to buy in 2020.
Top 10 Best Hot Air Brushes 2021
How To Choose the Best Hot Air Brush
Because it's sure to be an accessory that you use every day, a hot air brush is an important purchase. Here's a more in-depth look at picking the right one for you.

Hair Length
Hot air brushes can be used to style all hair lengths. The ideal length to use this tool would be a shoulder-length bob, but that doesn't mean it won't boost your look for shorter or longer hair.
Since you want to style as much of your hair as possible and don't want to leave your roots flat, your hot air brush needs to reach close to your roots.
Short Hair
A hot air brush isn't effective on extremely short hair, like a buzz cut, because you can't wrap it around the barrel. However, if your hair is a little longer, it can work wonders. If you're looking for a hot air brush for short hair, you should stick to a 1-inch barrel.
Shoulder-Length Hair
Having shoulder-length hair gives you the perfect opportunity to try out everything a hot air brush can do. It's the right length to give your bob some bubbly curls or straighten it out. If you have medium-length hair, stick to a barrel that is 1 to 2 inches wide.
Long Hair
Long-haired users can get loose waves, curl their ends, or simply keep their current style but add more volume. If you have long hair, choose a 1.5-inch to 2+ inch barrel. While using the tool, you must section your hair into smaller parts and style each section.

Hair Type
Like anything that is related to haircare, your hair type is a major deciding factor. Hot air brushes can be used on all hair types, but that doesn't mean you should randomly pick one.
Fine Hair
Hot air brushes are excellent for this with fine hair since it adds plenty of volume and makes your hair look luscious. You need to select brushes that are ceramic coated, have soft or mixed bristles and lower heat settings to avoid thermal damage.
Small barrel sizes are ideal for those with fine hair since it reduces the pressure on your strands while curling around the brush.
Thick Hair
If you have thick hair, choose a hot air brush that has high heat temperatures. You also have to pre-dry your hair until it's only slightly damp before using a hot air brush for styling. Choose larger barrels for better detangling and easier styling.
Curly Hair
While a hot air brush cannot fully straighten hair like a flat-iron, it's still great for adding that "oomph" factor for curly-haired individuals. It smoothes your hair and makes it look gorgeous. Pick a hot air brush with a 2-inch or larger barrel.
Straight Hair
A hot air brush can add more body and loose curls or waves to straight hair. You can use hair mousse or hairspray for long-lasting volume.
How Do Hot Air Brushes Work?
Imagine a hairbrush with a hairdryer inside it – that's pretty much what a hot air brush is. It's a brush with the mechanism to blow hot air from inside onto your hair.
The hot air from within the body dries your hair while the brush head can straighten, curl, or style your hair however you want.

Hot Air Brush Types
Not all hot air brushes are made equal. Several crucial factors differentiate one from the other:
Barrel Size
The size of the barrel directly affects what your hair will look like after styling. Hot air brushes typically come in sizes ranging from 1 inch to 2.5 inches in diameter.
The general rule is that the larger the barrel, the straighter the resulting style. If you want tight curls, choose a smaller barrel like the 1-inch one. Looser curls and relaxed waves can be achieved through larger barrels that are two or more inches.
As stated above, your hair length also dictates the best barrel size for you.
Bristles
Most modern hot air brushes use nylon bristles. Bristles can be stiff, soft, or somewhere in between.
Stiff bristles are great for detangling, especially for long, thick hair. Soft bristles are ideal for thin, fine hair as they gently style your hair without causing breakage.
The Revlon One-Step Hair Dryer and Volumizer, for example, uses stiff nylon bristles for better smoothing and detangling. But if you have fine hair, you can also opt for brushes with softer bristles such as the Conair 2-in-1 Hot Air Curling Combo.
Heat Distribution
The method used by a hot air brush to heat up and then spread that heat evenly across your hair is critical. You want a brush that doesn't take forever to heat up, lets you control how hot it gets, and spreads the heat well without damaging your hair.
The Revlon One-Step Hair Dryer and Volumizer, has a ceramic-coated barrel for optimum heat control and distribution. While the HOT TOOLS Professional 24K Gold One Step Dryer uses gold in their barrel for good heat distribution.
Many of the other hot air brushes listed above use a combination of elements to ensure users get consistent results.
Another way to control heat distribution is to let users decide how hot they want their brush to get. Most hot air brushes offer 2-3 heat settings while the Conair Instant Heat Styling Brush provides 25 settings!

Ionic Technology
You've probably seen ionic technology mentioned multiple times above, such as the INFINITIPRO by Conair, but aren't aware of what it is and how it works.
Ionic technology isn't new, it's been around for decades. It affects what's on your hair rather than the hair itself.
Ions are atoms or molecules that are present on your hair. They have a positive or negative charge. While your hair has ions with both charges, positively-charged ions lead to frizz and static. These ions are likely to be in your hair even after towel drying.
Hot air brushes with ionic technology aim to emit negative ions. This neutralizes the hair, leading to less static and frizz. It also helps hair dry faster while retaining moisture, leading to less thermal damage and breakage. Thus, ionic technology helps users get shiny, sleek hair.
Stationary vs. Rotating
Hot air brushes can be stationary/fixed, rotate in one direction, or rotate both clockwise and counter-clockwise.
Stationary Brushes
Stationary brushes are fixed in one position, so users have to turn it themselves to achieve curls and waves. These brushes are great for beginners and experienced users since everything is under their control.
Rotating Brushes
Rotating brushes, like the BaBylissPRO's Nano Titanium Hot Air Brush, usually turn in both directions. They make styling easier since users just have to hold it and move through their hair from roots to ends. The automatic rotations also add more volume.
Brushes that rotate in both directions have the advantage of being suitable for both right and left-handed users. These brushes take some practice to master to ensure your hair doesn't get tangled in the brush head, so it's not suitable for beginners.
The Advantages of Using a Hot Air Brush
A hot air brush has many benefits:
Adds volume to your hair, reduces frizz, and makes styling a breeze.
Produces less heat when compared to tools like a flat iron. Lower heat is better for your hair since it causes less damage.
More comfortable to maneuver than a standard hair dryer since you don't need to coordinate 2 separate tools. You can use one hand to hold the hot air brush and the other for better sectioning and styling.
It is useful for both last-minute touch-ups and detailed styling.
Most hot air brushes are compact and can fit in your purse or bag easily. They're the perfect travel accessory.
Pro Tips for Using a Hot Air Brush
For the best hairdo, here are some pro tips on how to use a hot air brush:
Wash your hair.
Dry your hair slightly with a towel.
Brush through hair.
For long hair, part your hair into multiple sections.
Plug in your hot air brush and wait for it to heat-up.
Starting from the back off your hair, roll sections of your hair around the barrel, roll it up, and then roll it down.
Repeat for all the sections.
Apply any other products, like hair serums.
While these steps are the same for long and short hair, remember to choose the right barrel size for your hair length. If you have long hair, you might have to brush through multiple times.
Are Hot Air Brushes Bad for Your Hair?
In short, no.
The long answer is that while hair styling tools like straighteners could damage hair with long-term usage or overuse, hot air brushes don't work the same way.
In a hot air brush, the styling is done using soft, stiff, or flexible bristles. This method is a much better option than a flat iron, which sandwiches hair between 2 heated plates to straighten it. The extreme heat of a flat iron leads to dry hair or worse, burnt hair, if you're not careful.
Moreover, hot air brushes use varying materials and technologies to reduce the heat impacting your hair. Ionic technology, different heat settings, and ceramic coatings all ensure that you don't have to worry about hair damage while styling.
Final Thoughts
A hot air brush can be the best styling tool to keep your hair looking glamorous for days. No more trying to fumble around with a brush and a dryer at the same time. Just pick the right brush and you can effortlessly take your hair to the next level in minutes.