Top Picks

Sebastian Professional Shaper Hairspray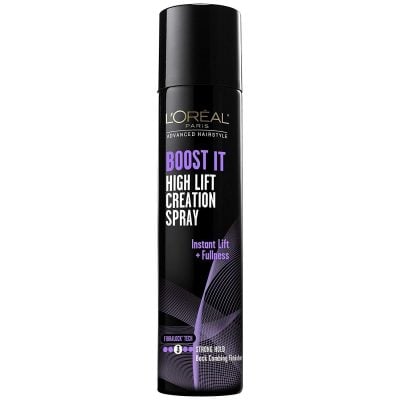 L'Oreal Paris Advanced Hairstyle BOOST IT High Lift Creation Spray

Nioxin Niospray Hairspray
Previous
Next
A good hairspray is a fine-haired person's best friend. It adds volume and helps protect elaborate hairstyles that would otherwise fall flat in minutes. However, using the wrong hairspray for your hair type can result in something even more flat and lifeless. It can also cause breakage and drying, which can harm fine hair.
To help solve your hair woes, we've put together this guide to help you find the best hairspray for fine hair, learn more about how to care for your fine hair, and analyze exactly what to look for in a hairspray.
The Benefits of Hairspray for Fine Hair
Some of the chief concerns for those with fine hair are adding volume and thickness to their locks while avoiding breakage and frizz. While proper hair care is important to keep your hair healthy and voluminous in the first place, hairspray is a great quick fix to add instant life to flat hair. Here's how it works:
Volume & Thickness
A good, volumizing hairspray like this one adds body to your hair by lifting up the strands at the root. It can create the illusion of thickness by adding volume to the lower layers of hair so that the top layer appears more substantial.
Another strategy the product might use is adding glossy or reflective ingredients to the hairspray formula. The more light reflects off your hair, the more it creates an illusion of depth and multi-dimensional texture.
Frizz Control
Fine hair is highly prone to frizz and flyaway strands. It's even more noticeable since fine hair lies flat on the scalp, so even a little frizz is more noticeable than on those with curly hair. That's where hairspray comes in. A light hold spray can help bind your strands together, preventing the risk of those frizz-causing stragglers.
Texture
Another problem you'll deal with if you have fine hair is flatness, especially in between washes. Daily shampooing can dry out your strands and cause breakage, but skipping it can make your hair look dull and lifeless.
By working a little hairspray into your roots and ends, you can add dimension and texture to your hair, bringing it back to life. So, put down the shampoo and reach for a lightweight, water-based hairspray instead!
Style & Hold
The problem with most hairsprays is that the formulas are either too heavy or too weak. Heavy formulas weigh your hair down, making that flatness and lifelessness even worse. They can also tend to turn your hair into a solid board that feels like it could snap in half.
Weak formulas, on the other hand, offer such little hold that you have to use a lot to see any difference. By the time you've added enough hairspray, your hair is falling flat under the weight of all that spray.
To avoid these problems that are so common for people with fine hair, you need to do your research and find the right formula that will provide lift, body, and life to your hair without weighing it down or plastering it into a solid sheet. Here are a few of the features you want to look for:
Level of Hold
You'll want to customize your hairspray to your hairstyle and hair type, and the level of hold refers to how firm your hairspray is.  Light hold sprays provide a small amount of firmness, more meant to add texture than to lock in a hairstyle, while firm hold sprays function to firm up a hairstyle and keep it completely in place.
Water-Soluble Polymers
Without digging too deep into those high school chemistry lessons we all forgot, polymers make things stick. Think of the polymers in your hairspray as the active ingredient, the one that makes it work.
Not all polymers are the same, though. Most hairsprays on the market are made of one of two possible polymers: polyvinylpyrrolidone or polydimethylsiloxane. The first one is water-soluble. The second one is not.
Water-soluble polymers are lighter in weight, so a maximum hold hairspray with the first polymer will weigh down your hair less than a maximum hold hairspray made with the second polymer. For easier shopping, just remember, you want the complicated chemical with "vinyl" in it, not the other one.
Lightweight Formulas
If you get a firm hold formula, make sure it either has a fine mist diffuser like this one or spray it on your hands first and massage it into your roots and ends. Even "lightweight" firm hold sprays tend to be heavier than texturizing sprays, for example, so putting too much on will flatten and harden your hair.
Water-Based Over Alcohol-Based
Those water-soluble polymers you read about earlier are usually found in water-based formulas. The other ones are usually found in alcohol-based formulas. While the alcohol is needed to break them down and help them bind to your hair, the alcohol itself ends up drying up your hair and scalp. That's where the flakiness and brittleness you might have experienced comes from.
Often, brands will make up for those drying effects by adding oils and other infusions to offer some moisturization. For fine hair, these moisturizing additives add way too much bulk to the formula and will weigh your hair down. It's better to opt for a water-based formula that just isn't as drying to begin with, so you can skip the heavy oil and cream additives.
A Note on Synthetic vs. Natural Formulas
Natural hairsprays are growing in popularity but there's not much benefit to them and they tend to use heavy formulas that would add too much weight to your fine hair. This is mainly because they often use a kind of vegetable gum as the polymer in their formula. Vegetable gum is heavier than that long-named chemical with "vinyl" in it.
There's also not really any notable benefit to your hair. It's a little less damaging than synthetic hairsprays but the slight difference is not worth it for fine-haired folks who want volume without needing to put excess product in their hair. So, for most applications, stick with the unpronounceable synthetic chemicals. They're quite safe for the body either way, and often less toxic than common makeups.
Each of the hairsprays in our list below offers lightweight formulas with ingredients that are safe to use on fine hair:
Hairsprays on Fine Hair

As a quick hack to luscious volume and shining hair, it's no wonder hairsprays are so popular for those with thin and fine hair. Learn more about the popular beauty product below.

How to Apply Hairspray to Fine Hair
Those with fine hair need to take special care when applying hairspray to their hair. Even with the perfect formula in hand, you won't get the look you're going for just by spraying a thick cloud of mist over your head. It takes some finesse and attention to detail to get it right. Here are a few tips to improve your hairspray technique:
Spray It on Your Hands First
For texture and volume only, there's no need to spray anything directly on your head. That technique is used either for frizz-control or for setting an updo. If your hair is down or in a loose style, you can skip the hairspray cloud.
Instead, spritz some hairspray on your fingertips and run your fingers through your hair. For volume, focus primarily on massaging it into your roots. For texture, focus primarily on the ends of your hair.
Either way, leave the middle section of your hair alone. By allowing most of your hair to remain loose and flexible, you minimize breakage and avoid weighing your style down with too much product.
Spray Curls Separately
If you are trying to hold an entire look rather than just texturize or add body, you should spritz it directly on your hair. If you're doing curls, do short spritzes on each individual curl rather than an all-over mist.
The reason for the individual attention is to encourage your curls to remain separate and distinct. If you do an all-over mist on your freshly-curled hair, the distinct curls may cling together. After a few hours of activity, instead of being a glamorous head of ringlets, you've just got a wild mane of frizz.
When spraying each individual curl, be sure those spritzes are short and light. Hold the canister underneath the curl and spritz upwards to ensure you don't over-saturate it.
Hairspray Hacks
Hairspray is a pretty remarkable product, helping to hold looks together, tame frizz, and even nourish hair with the latest formulas. The following beauty hacks can maximize the value you get out of a hairspray.
Tame Fly Away Strands with a Toothbrush
If you've got baby hairs or random flyaway strands, it's not worth dousing your whole head in hairspray. Doing so will result in way more product than you needed on your hair. That will lead to a flat, brittle look by the end of the day. Instead, spritz a little hairspray on a toothbrush and brush back those flyaway strands or baby hairs.
Use Hairspray Before Curling
Those with fine hair know the struggle of trying to get curls to hold. It seems like you need more hairspray than most to get them to last even an hour. But if you use too much, you end up weighing the curls down, causing them to fall flat before you even get out of the house.
The secret is to use the hairspray during the actual curling process. Spritz a very light mist over each strand just before you wrap it around your curler. Then, pin the curl to your scalp once you've released it from the curling iron. When all your curls are done, unpin them. Gently shake them out and give one last light spritz over each curl. That's it! Don't do this frequently, though, as it will lead to hair damage.
Tips to Add Volume and Thickness to Fine Hair
The best way to make hairspray more effective for fine hair is to take away some of its workload. With proper care and maintenance of your hair, you can increase the natural volume and thickness a little so that by the time you're spritzing on hairspray to finish your morning look, it doesn't have to work as hard to create lift and body.
Improve Your Health
While fine or thin hair is partially just genetics, it can also be affected by your diet and health. This is especially true if you've just started to notice your hair becoming thinner or weaker. If that's the case, a check-up with the doctor may be in order. Otherwise, use these tips to minimize breakage and hair loss:
Drink more water. Hydration is key to keeping your locks plump and more resistant to breakage.
Eat more healthy fats. Omega-3s and other fatty acids are needed to add thickness and shine to your hair.
Eat iron-rich veggies. Getting more iron in your diet will make your strands stronger.
Eat enough protein. Your hair is primarily made of protein. Not getting enough protein in your diet can contribute to thinning and brittle hair.
Basically, staying hydrated and eating a healthy and balanced diet will provide the building blocks to help your hair become as thick and full as it can be.
Stop Shampooing Daily
For those with fine hair, it tends to look the most voluminous and lively right after you shampoo it. This can tempt you into daily shampooing to keep getting that volume. However, in the long run, excessive shampoo dries out your hair and leads to increased breakage and thinner strands.
So, for long-term volume, you need to cut back on the shampoo. Use it no more than two or three days out of the week. On your no-shampoo days, use a little hairspray to add some volume instead if it's starting to look too flat. Dry shampoo can also help keep your hair clean without reducing volume: check out our favorites here.
Condition the Right Way
With fine hair, you need to be careful with your conditioner. If you skip it entirely, you'll end up with dry, frizzy strands that are prone to breakage. But if you use too much, you end up with permanently flat hair.
To avoid both problems, massage a small amount of conditioner into the ends of your hair only. Then, massage an even smaller amount into your roots. Let it sit for the recommended two or three minutes. When you rinse, do so with cold water to lock in the moisturization while still thoroughly rinsing out excess product.
Trying Mousses
While some write off hair mousse as a relic of the 1980s, new formulations have come back and made mousse popular again. These high-end mousses add volume, texture, and fortify hair from dryness and malnutrition. You can find a list of our favorite mousses here.
Be Gentle with the Towel
Drying your hair with aggressive rubbing can cause some hair loss and breakage. So be gentle. Instead of scrubbing at your scalp, just gently pat your hair with the towel. This will dab away the excess moisture without ripping and scratching at the hair itself. This gentler technique also helps minimize frizz.
Treat Dandruff
A flaky scalp is no fun under any circumstances. Not only is it unsightly, but the buildup of dandruff can actually cause hair loss! The dandruff blocks new hair growth and any scratching you do will pull out strands.
If you have dandruff, use a good dandruff shampoo and use it regularly, even after the flakes have disappeared. With long term treatment, more of your hair follicles will be free and clear to grow new hair. This will add some thickness to your hair.
Give Natural Hair Oils a Chance to Work
It's not just the use of harsh detergents in your shampoo that cause drying when you wash your hair daily. The simple act of rinsing your hair under water is stripping away its natural oils. This just makes the drying effects worse and increases the chance of breakage.
So, in addition to shampooing your hair less often, make sure to protect your hair with a shower bonnet to keep it dry while showering on days when you aren't washing your hair. This will give the natural oils in your hair a chance to moisturize and deposit minerals along each strand. The result will be stronger, thicker locks.
Don't Brush Wet Hair
Wet hair clings together well which means that as you move a brush through it, you're more likely to pull strands out. Instead, wait until your hair has dried to brush it. When you do brush, do so gently and start at the ends to work out tangles. Work your way up toward your scalp.
Switch Your Part Seasonally
This one sounds weird but it works. Keeping your hair parted the same way all year round, all your life causes those strands where your part is to flatten. It also means that the same part of your hair is being exposed to sun, wind, and cold all the time.
By moving your part, even just by a quarter of an inch, every few months, you can prevent this damage and add an instant lift to your hair.
Is Hairspray Bad for Thin Hair?
Hairspray isn't really 'healthy' for any hair type, as it tends to pull moisture out rather than put moisture in, but modern formulas are far less harmful than older ones. It's also important to note that hairspray does not cause hair loss but it can exacerbate the problem if not used properly.
Hairspray is designed to hold your hair in place. When the spray dries, it hardens around the shaft of your hair. As a result, the strands become much less flexible. The natural movement of your hair throughout the day that normally wouldn't be a problem is now a potential cause of breakage.
If you run your brush or your hands through brittle or overly-sprayed hair, you're more likely to yank out strands than if you were to brush through soft, flexible hair. That's where any hair loss you notice would come from. It's not the chemicals in the formula. It's just the loss of flexibility and the increased risk of tangles that come with using hairspray.
That doesn't mean that you can't wear hairspray at all. It just means that it's much more important to pay attention to the formula and choose a quality brand. You need something lightweight enough to still allow some flexibility and movement without breakage. Select a hairspray that is non-drying but without added oils that will weigh your hair down.
Final Word
The most important features of a great hairspray for fine hair are a lightweight formula, a water-soluble formulation, and a lack of additives. Another feature that's nice to have is a fine mist diffuser nozzle so that you can get more coverage with less product. Above all, your goal is to get as much lift with as little product as possible. The less you can get away with using, the less weight you're adding to your hair, helping add lift all day long.