Top Picks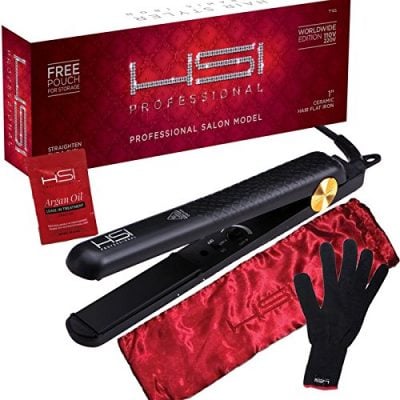 HSI Professional Glider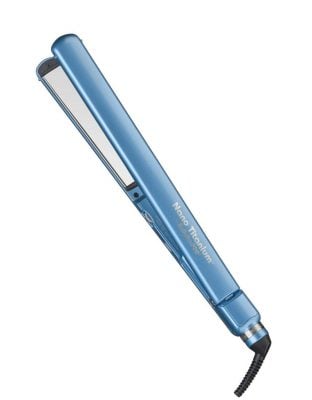 BaBylissPro Nano Titanium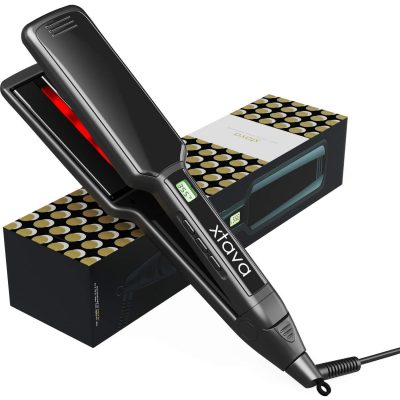 Xtava Pro Satin
Previous
Next
Everyone notices beautiful hair. It is one of the first things that sticks out whether making a first impression at a job interview or a date, or just going out to karaoke with your friends on a night out.
That is why you should treat your hair well. If you have fine hair, it may sometimes be an ace up your sleeve in comparison to thick-haired people, but it must be maintained and made to look the best it can while also staying healthy. Since hair straightening is an activity performed as often as showering, toothbrushing, and eating breakfast, you have to own a good device to help you start your day right. There are many flat-irons that promise to be your hair's best friend, but which one is? We've picked out the 10 best flat irons for fine hair on the market in 2020.
Before we do, let's go over the features of a good flat iron, and what you can do to make sure it stays that way for as long as possible. Keep in mind that fine hair is sensitive to heat, so don't turn up the heat to its maximum capacity thinking it will get the job done quicker.
The best plates are those that conduct heat the fastest, lock moisture in, and remain evenly heated throughout the whole styling session. Namely, the most recommended types of plates are ceramic (not ceramic-coated), titanium, and tourmaline-covered ceramic.
Second, the heating technology that is being used is a crucial factor in the decision making process. The two most popular and reliable technologies are ionic and the little bit pricier infra-red heating.
Even though most irons come with a wide palette of temperature settings, try not to exceed 300 degrees Fahrenheit – and not go under 140 Fahrenheit – by too much. The less the minimum temperature limit is, the better and more suitable for fine hair the flat iron is. That way you don't have to worry about fried ends. If the flat iron also has an automatic shutoff feature, it's a plus.
All of the following flat irons are high quality, but they come in at different price points so you can make a decision that fits your budget. Keep in mind the size too. If you're travelling a lot with your flat iron, it might be best to go for something smaller, whereas if you plan on keeping your flat iron on your dressing table then a large one will be no problem.
Top 10 Best Flat Irons for Fine Hair 2021
Guide to Buying the Best Flat Irons for Fine Hair
Let us discuss some features you have to be careful about before deciding on your ideal flat iron for fine hair. These will also be the characteristics we have covered for each of the 10 picks.
Plates
There are various types of heated plates that iron out the kinks in individual strands of hair:
Titanium plates
Ceramic plates
Tourmaline-covered plates
Ceramic-coated plates
Silicon/rubber
Teflon
Metal/glass
The reason metal/glass plates are on the same row is because you should avoid either one of them. They are mostly low quality straighteners, due to unpleasant results like heat spikes or burnt hair, and they break easily. Next up on the list of untrustworthy heated plate types is teflon. It is better than the metal and glass types, but it can flake off easily, so you might as well invest a bit more in something a bit more durable. Silicon and rubber coverings for your plates are good at smoothing out hair when it is being pulled through the iron.
Tourmaline-covered plates consist of a new and fairly expensive material. It usually covers ceramic plates, making them smoother, and thus preventing the hair from damaging or getting caught in the plates. If going a bit over budget is not a problem for you, tourmaline-covered plates are the most durable choice on the market. There is a difference between ceramic and ceramic-coated plates. The "coated" part means they are not entirely made of ceramic, but most likely of metal underneath, which is not as great of a heat conductor as pure ceramic, which means they can heat up quickly but not stay as hot as a pure ceramic plate.
The top tier flat irons are usually made from ceramic or titanium. If you are reading this, you are probably eager to find out if there truly is a best option specifically for thinner hair, and there is. Ceramic is the way to go for fine hair! It is great for smoothing it out and reducing frizz because it holds heat very well so you can set it to the right temperature and it will stay that way.
Temperature
Fine hair has the disadvantage of getting damaged by temperatures that are too high. It is important to choose irons that have a good selection of heat levels. Preferably digital flat irons, which allow you to choose the exact recommended temperature to avoid affecting your hair with excess heat. According to the Huffington Post, the ideal heating temperature for fine hair is just below 300 degrees Fahrenheit.
Technology
There are two types of technology used in flat irons to prevent frizzy hair. These are the ionic and infrared technologies. Ionic straighteners work by emitting negative ions, which eliminate frizz and static and neutralize the hair's atoms. Infrared technology penetrates the hair at a lower temperature and dries it from the inside out. It is a much more suitable option for people with fine hair, as it has even been used for reducing hair loss for both men and women. Ceramic and infrared technologies are the perfect combination for fine hair. Ionic technology is not recommended for people with fine hair because it reduces the hair's activity. If you do end up getting an ionic technology-driven iron, use it mostly for the bottom and back sections of the hair.
Weight/Size
While it may seem obvious, the actual weight and size of a flat iron are very important. The less it weighs, the less the chances of your arm hurting while ironing the hair. If you are a man or woman with short hair, you should look into smaller and thinner flat irons. They travel well, and allow you to style your bangs, or spike up your hair. If you have long hair, the best options are the larger and wider flat irons, since they cover more surface area.
How to Use Your Flat Iron
If you are reading this and will be using a flat iron for the first time, take a look at this instructional video on how to properly use a flat iron without causing damage to your hair.
We compiled a list of do's and don'ts when going into preparation for using your new flat iron for the first time. Each step is important in making your hair the best it can be.
Do's
Use the right hair care products. This means conditioners, shampoos, and anything else that helps nurture your hair, without using any product in excess.
Use a heat protective spray on your hair before turning on your flat iron. The spray is effective only when the hair is dry, so either apply it on dry hair, or wait for the freshly sprayed wet hair to dry before applying the iron.
Add extra volume. This is a trick that is achieved by not getting the iron too close to the roots of your upper sections.
Be gentle with the way you apply the flat iron. Take the time to make each pass slow and even.
Use finishing products at the end of the straightening session. Make sure to carefully inspect the ingredients in the formula you are using. Only apply the products once your hair cools down.
Don'ts
Don't make multiple passes at a single hair section. Try minimizing follicle damage by restricting yourself to one pass per section.
Don't try to speed the process up, even if you are in a hurry.
This is especially recommended for fine hair, but don't forget to use protective hair spray. This increases your hair's thermal resistance.
Don't use too much heat. Only use extra heat if you think it is truly necessary, otherwise we encourage you to set the temp setting in the lows.
Wrapping It Up
When looking for products online, it is always easy to encounter fake products, or products that are not up to par with the consumer's expectations. We've handpicked the most trustworthy products and sources so that your only issue will be what to wear to your next date, job interview, night out, or brunch…because we got the flat iron part covered. You will look stunning and maintain healthy hair by going with any of the choices on this list.