Top Picks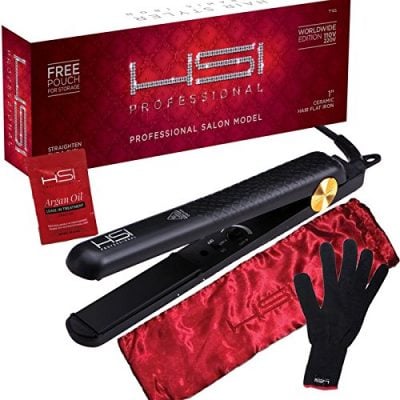 HSI Professional Glider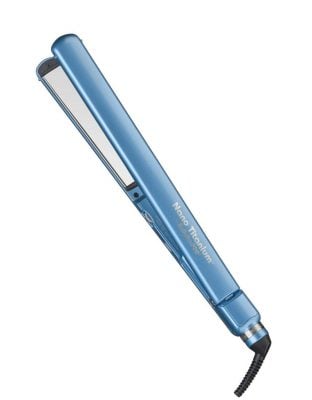 BaBylissPro Nano Titanium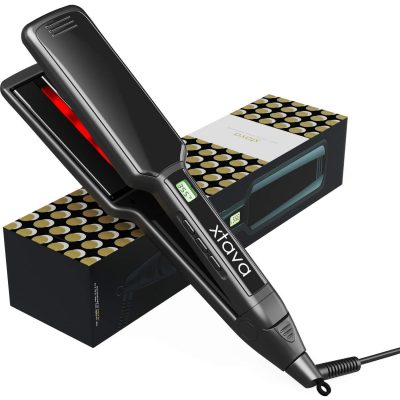 Xtava Pro-Satin
Previous
Next
Everyone notices beautiful hair. It is one of the first things that sticks out whether making a first impression at a job interview or a date, or just going out to karaoke with your friends on a night out.
That is why you should treat your hair well. If you have fine hair, it may sometimes be an ace up your sleeve in comparison to thick-haired people, but it must be maintained and made to look the best it can while also staying healthy. Since hair straightening is an activity performed as often as showering, toothbrushing, and eating breakfast, you have to own a good device to help you start your day right. There are many flat-irons that promise to be your hair's best friend, but which one is? We've picked out the 10 best flat irons for fine hair on the market in 2020.
Before we do, let's go over the features of a good flat iron, and what you can do to make sure it stays that way for as long as possible. Keep in mind that fine hair is sensitive to heat, so don't turn up the heat to its maximum capacity thinking it will get the job done quicker.
The best plates are those that conduct heat the fastest, lock moisture in, and remain evenly heated throughout the whole styling session. Namely, the most recommended types of plates are ceramic (not ceramic-coated), titanium, and tourmaline-covered ceramic.
Second, the heating technology that is being used is a crucial factor in the decision making process. The two most popular and reliable technologies are ionic and the little bit pricier infra-red heating.
Even though most irons come with a wide palette of temperature settings, try not to exceed 300 degrees Fahrenheit – and not go under 140 Fahrenheit – by too much. The less the minimum temperature limit is, the better and more suitable for fine hair the flat iron is. That way you don't have to worry about fried ends. If the flat iron also has an automatic shutoff feature, it's a plus.
All of the following flat irons are high quality, but they come in at different price points so you can make a decision that fits your budget. Keep in mind the size too. If you're travelling a lot with your flat iron, it might be best to go for something smaller, whereas if you plan on keeping your flat iron on your dressing table then a large one will be no problem.
Top 10 Best Flat Irons for Fine Hair 2020
#1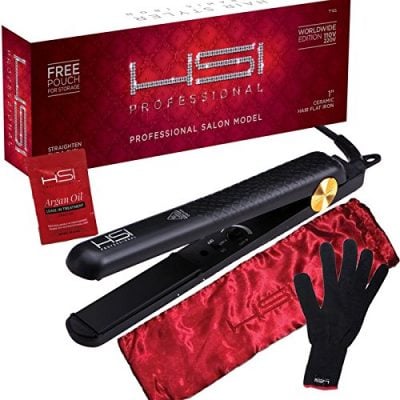 Best Overall Flat Iron:
Why we like it:
It is suitable for all kinds of hair, and with the right temperature applied, is absolutely perfect for fine hair. Its tourmaline-coated ceramic plates make it the best there is, especially at this price. You can carry it with you anywhere and it is easy to handle.
Editor's Rating:
The HSI Professional Glider is the number 1 best seller on Amazon, and has been for a while. It delivers the best results even on frizzy and coarse hair. It is compatible with 110 – 220 voltage circuits, and the 360 degree swivel cord allows you to move freely while using the flat iron.
Plates
This flat iron has ceramic and tourmaline plates, which ensures a smooth glide on your hair. The plates have a thickness of 1 inch, which enables the HSI Glider to protect your hair from heat damage, as well as to shine and eliminate frizz, all thanks to its ceramic ionic system.
Temperature
The iron's heat range falls between 140 to 450 degrees Fahrenheit, which is an impressive range. Temperature can be adjusted by using a dial button. Furthermore, the HSI Glider adjusts the temperature automatically for even heat distribution. This is achieved by integrated chips on the plates which permanently monitor the plate surface temperature.
Technology
The HSI Professional Glider uses 8 HeatBalance micro-sensors, which is a derivative of infrared heat distribution technology. It can heat up very quickly with only a slight heat increase on the dial. The HeatBalance sensors regulate the temperature and allow the iron to distribute the heat evenly, so you get great results even with fewer glides across your hair.
Dimensions
This product weighs a little more than one pound, which is the optimum weight for being able to apply it to your hair. Its measurements of 12.5 x 4.5 x 2.5 inches make for a great traveling companion so you can give your hair the form it needs wherever you are.
Price
For the specs it offers, it's incredible value. It also comes with an extra-long cord, a heat protection glove, heat resistant pouch, and Argan hair oil treatment. A one-year warranty is offered on this product.
Pros
Great price

Quality product

Infrared technology

Plate width narrow enough for curls and bangs

Comes with extra features like glove, pouch, and Argan oil treatment.
Cons
No automatic cutoff feature (must be switched off manually after each use)

Requires a power adaptor for usage outside the US, as European voltage systems are different and could potentially fry it without the right precautions
#2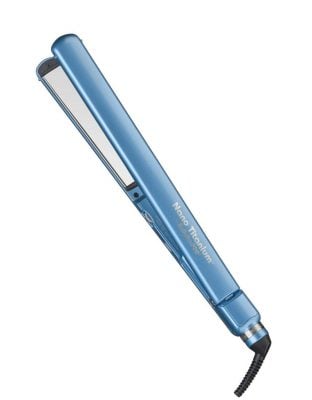 Best Premium Flat Iron:
Why we like it:
A professional quality flat iron whose extra-long 5" plates help you prevent your hair overheating whilst cutting down on time when straightening your hair. It is very light, portable and looks as good and slick as your hair will after using it.
Editor's Rating:
An ultra-thin straightener by one of the top brands in the game, BaByliss. It is one of the best flat irons for fine hair, especially short and medium hair. Its 1-inch thickness with five inches of length allows it to get close to the scalp and glide all the way down to smooth the ends.
Plates
The plates are made of titanium, which makes it considerably more expensive than if it had ceramic plates. Titanium plates heat up faster and easily maintain high temperatures. They also have high heat retention and provide smoothness which makes your hair look healthy and styled after every use.
Temperature
The body of the BaBylissPro Nano is made of Ryton, which a special material that can resist high heat. You can choose your preferred temperature from the 50 multiple heat settings this flat iron has to offer. For fine hair, we recommend you use lower temperatures (around 300 degrees F), as Titanium tends to heat up quickly (in about 40 seconds). Use a heat protection spray prior to applying this flat iron on your hair.
Technology
The BaBylissPro Nano Titanium flat iron is powered by ionic technology. Thanks to this titanium-ionic technology combination, frizz, messiness, and kinks in your hair are completely eliminated.
Dimensions
The device weighs 1 pound and measures 12 x 1.2 x 7 inches. Because it is made from titanium, it feels very light. Due to its pragmatic design, your hands won't get tired as wider areas of the hair can be covered.
Price
Partly because it is made of titanium and partly due to the brand name, the BaBylissPro Nano is much more expensive. The benefit is the results are up to par with the outcome any professional salon may provide your hair with. After all, it is the standard flat iron professional salons use.
Pros
Glides through the hair, doesn't snag

Heats up fast

Reduces straightening time

Heat-resistant handle (made of Ryton)
Cons
No automatic cutoff

No temperature display

No hanging loop
#3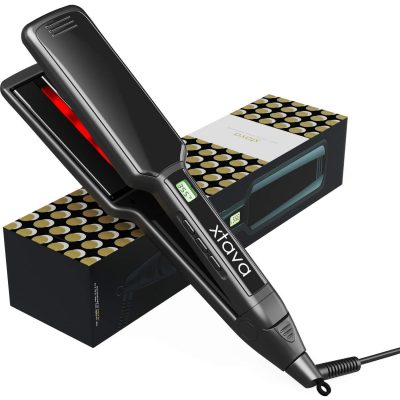 Why we like it:
Great technology at an affordable price that even includes an automatic cut-off feature to prevent accidents. This elegant flat iron is dependable as it is handsome.
Editor's Rating:
Plates
The Xtava Pro-Satin uses durable ceramic tourmaline plates. Not only are its plates wide – as can be deducted from its appearance – but their tourmaline coating makes your hair silkier. Because heat is more evenly distributed, the tourmaline coated plates are easy on fine hair and add shine.
Temperature
You can set your preferred temperature as precisely as you like, with the help of the advanced microprocessor with LCD display that the iron uses. There are 10 temperature settings you can choose from, ranging from 265° F to 445 °F. As we suggested before, an ideal temperature for fine hair is between 265° F to 300 °F on this machine. It also heats up in just 90 seconds.
Technology
The technology used is infrared heat. This enables the hair to be heated from inside, which reduces frizz and locks moisture. An outstanding feature that distinguishes the Xtava Pro-Satin from other top notch flat irons is a 60 minute automatic cutoff feature. It is affordable for what it offers, and the 2 inch plates make the application go smoother.
Dimensions
The Xtava Pro-Satin measures 11.6 x 2.1 x 1.5 inches and weighs two pounds. It comes with a swivel cord, thereby allowing you to twist and turn it in any way. The grip is especially easy to hold and maneuver, especially due to the swivel cord it comes with. This makes it easy to hold in any position while styling your hair. The flat iron can be pulled through your hair without running into any stops.
Price
Considering it's a tourmaline-coated ceramic / infrared technology combo, it's available at a very reasonable price. Not only that, but it also comes with a travel lock, dual voltage support and a heat resistant travel pouch. Its packaging is very sturdy. Xtava offers a 2-year warranty and money-back guarantee on this product.
Pros
Automatic cutoff

Tourmaline-coated ceramic plates

Affordable

2-year warranty

Digital display

Has lock safety, perfect for traveling
Cons
Doesn't heat up as fast as others

Plates are not removable for cleaning

No protective glove
#4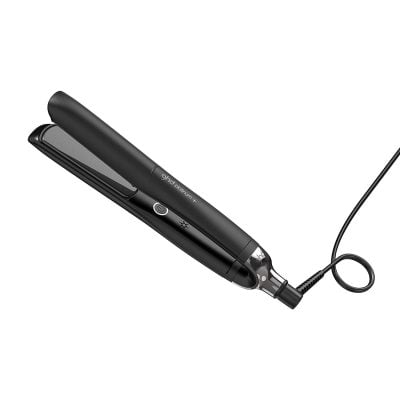 Why we like it:
The results of this fine flat iron are on a different level. The ultra-zone technology lifts a burden off your shoulders by allowing the device to treat your hair right according to factors such as hair thickness and temperature. It is adaptable, portable, and stylish in look and ability.
Editor's Rating:
Plates
The Ghd Platinum+ uses ceramic plates to ensure quick heating and smooth glides. They are 1" wide and have a sparkling glossy coating. The rounded barrel edges provide a smooth styling action at any angle you might hold the iron at and there are no sharp edges to snag your hair while using it.
Temperature
To reach its maximum and optimal temperature of 365 degrees, this flat iron only requires 20 seconds! According to the scientific department at Ghd, 365 degrees is the suggested temperature for changing your hair's shape with as minimal damage as possible. It can also help revitalize your hair if it is already damaged.
Technology
The finest perk of the Ghd Platinum+ is that it uses Ultra-zone technology, which can predict the needs of your hair by recognizing its thickness, and adapts its temperature constantly to suit your needs. The way it works is that below the plates, there is a matrix of sensors that measures temperature 250 times per second. Thanks to this über-intelligent technology, 70% less breakage occurs, and the color is twice as protected.
This is considered to be the best flat iron on Sephora's website, due to its revolutionizing predictive and adaptable technology. It is perfect for every hair type, requiring all but 20 seconds to heat up and do wonders to your hair. It also causes less breakage and protects the hair color more than other flat irons.
Dimensions
The Ghd Platinum+ measures 11 x 1.6 x 1.8 inches and weighs 1 pound. This is an ideal size and weight for frequent travelers. Not only that, but you can choose from black or white exterior options. Both make it look like just about the classiest electrical object that ever graced your power outlets, wherever you find yourself in the world.
Price
This is a pricey flat iron, but it's worth it. Included in the packaging are a rubber plate guard that you can slip at the end of the barrel after each use, and a 3-year warranty.
Pros
Predictable ultra-zone technology

Looks great

Only takes one snag-free stroke to style

Protects hair color

Reduces hair damage

Suitable for universal voltage
Cons
Light fuses can be faulty
#5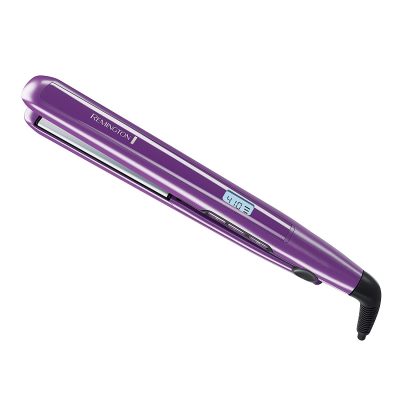 Best Budget Flat Iron:
Why we like it:
The perfect flat iron for thin hair that is also cheap doesn't exi… Oh, hello Remington S5500! It is perfect for styling your hair when you are in a hurry. This is a very good and affordable choice for thin hair.
Editor's Rating:
Plates
This 1" flat iron features long floating ceramic plates. Not only are colored ceramic plate irons hard to find, but if you like purple, you're in luck! Your hair will be glossy and fully conditioned after straightening it with this flat iron.
Temperature
The Remington S5500 can heat up from 310° F up to 410° F, and does so in just 30 seconds! It has an LCD display that lights up and shows the temperature radiating from the ceramic plates. With the help of just two buttons, you can increase or decrease the temperature. Finding and remembering the proper temperature for styling your hair has never been easier!
Technology
The device uses anti-static technology. This type of technology reduces negative charged ions to reduce frizz, while the long floating plates give you good style control. Brittle or fried hair are not an issue with this flat iron. This flat iron has a 60-minute automatic cutoff which is very helpful especially if you're in a hurry and forget to turn it off. It happens to the best of us, but luckily this flat iron doesn't make you pay for it. It also has a turbo boost feature that allows you to hit the highest temperature by simply pressing down the plus button.
Dimensions
The measurements on this are 1.1 x 1 x 11.8 inches, and it weighs a meager 10.4 ounces. It light and easy to maneuver, thanks to its long swivel cord, which allows you to style your hair wherever you want.
Price
The cheapest flat iron on our list – and far from being the worst . If you know you'll be traveling abroad, you might also consider buying a separate convertor so your iron doesn't fry due to incompatible voltages. The Key Power 200 Watt Convertor might be of interest.
Pros
Heats up quickly

Stylish, colorful ceramic plates

Automatic cutoff

Turbo boost temperature

Digital display

Long floating plates
Cons
No protective glove

Can heat up almost too easily, so handle with care

Due to its lightness, the build is not too sturdy
#6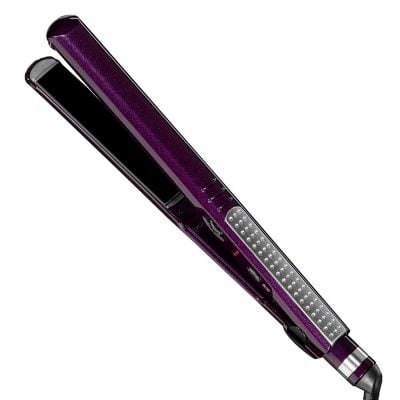 Why we like it:
This compact and lightweight flat iron is perfect if you are always on the go. Not only does the Conair InfinitiPro help the hair's strength and overall look, but it is also very affordable. The features you get for this price are unbeatable.
Editor's Rating:
Plates
The ceramic-tourmaline mixture is guaranteed to result in a long-lasting device. This is exactly what Conair had in mind when they came up with the InfinitiPro. The plates are made with tourmaline ceramic, which helps protect the hair against heat damage. In addition, its floating plates are extra-long, so hair can be gathered in larger sections to speed up the styling time.
Temperature
The InfinitiPro includes up to 30 heat settings, out of which the low setting is ideal for thin hair. You avoid hair damage thanks to the range of control this flat iron offers. It heats up in 15 seconds and reaches can reach a maximum temperature of 455 degrees Fahrenheit.
Technology
This little device is propelled by ionic technology. Negative ions from the plates create shine and eliminate frizz. This anti-frizz protection feature already exceeds the features that a product in this price range should have. The InfinitiPro comes with many cool features. The design focuses on ease of use. For example, the on/off button is placed away from the gripping area of the flat iron. It is one of the best tourmaline-coated in the industry.
Dimensions
It measures 2.5 x 5.4 x 13.9 inches and weighs 1 pound. This super lightweight Conair Infiniti Pro is easy to handle and ensures a straight and shiny outcome for your hair.
Price
The InfinitPro is one of the best and cheapest products on the market. Despite its low price it nearly matches the level of salon hair treatment.
Pros
30 temperature settings

Auto shut-off function

Tourmaline-coated ceramic

Heats quickly

Extra-long plates to reduce styling time
Cons
Inconsistent heat

Plates don't line up correctly
#7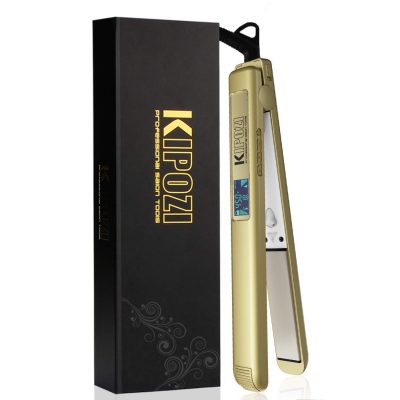 Why we like it:
The Kipozi Pro Nano-Titanium achieves satins-smooth and straight hair as well as curls in no time and with minimum damage. The touchscreen control system makes it much easier to handle. It also has a locking switch, which is convenient for saving space when traveling.
Editor's Rating:
Plates
The plates are made of titanium. The ultra-smooth titanium plates keep the iron hot for a long time. These 1" plates have a 3D floating technology to make it glide in a smooth manner. Once it firmly clasps your hair, it gently straightens it without causing any harm.
Temperature
The appliance heats up in just 30 seconds. There are three different temperature modes, the highest one being 410F. For fine hair, it is indicated you remain somewhere in the 270 to 350 degrees F, depending on your hair type. Also, the iron displays temperature in both Fahrenheit and Celsius, and can be used worldwide thanks to its dual voltage.
Technology
The Kipozi 1" Pro Nano-Titanium uses ionic technology. Negative ions are emitted in your hair, making it shiny and eliminating frizz caused by high temperature. It also has an automatic shut-off feature to avoid wasting electricity. The shut-down time can be decided upon by simply using the switch button and adjusting with the '+' and '-' signs.
Dimensions
This flat iron measures 11 x 3 x 3 inches and weighs about 14 ounces. It also has a touchscreen control system, which you can easily unlock while you use the device.
Price
This flat iron is very competitively priced. The device also comes attached with an 8.2 ft. long cord that rotates 360 degrees. You can roam around freely while straightening your hair, and let the plates adjust their position to the thickness of your hair. The device also comes with a velvet carry pouch.
Pros
LCD digital display

Auto shutoff feature (activates in 30 minutes)

100V to 240V voltage compatibility

3D floating plates

360-degree swivel cord
Cons
on/off button is flimsy

Occasionally pulls hair
#8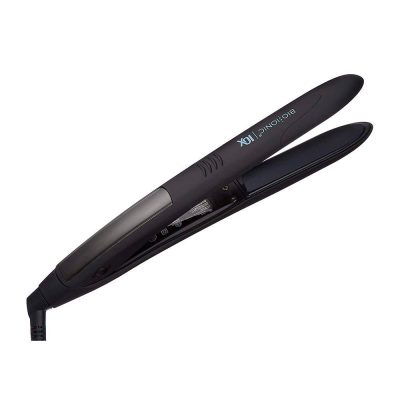 Why we like it:
The most important feature of this flat iron is also used in its description: "one pass". This is not only a marketing technique, but refers to its impressive capabilities, especially in the case of fine hair. After just one pass through the hair, hair has a totally reinvigorated look and feel to it.
Editor's Rating:
Plates
The BIO-IONIC 10x Pro Styling Iron uses pure nanolinic ceramic plates. These allow for smooth straightening and prevents any tugging of the hair. A feature that may feel weird at first is that the plates vibrate! In 10 minutes time, your hair will be styled and hydrated, due to the infused natural volcanic rock minerals which are driven deep into your hair by the negative ions.
Temperature
Its temperature settings reach 400 degrees Fahrenheit, but as you are aware by now, it is recommended not to take advantage of the high temperatures. The ideal temperature for fine hair when using this particular flat iron is around 240 degrees.
Technology
The ionic technology the BIO-IONIC 10x Pro uses works by releasing ions into your hair strands. The results deem this device a very dependable and fast-acting hair straightener. To make the design even more user-friendly, it has been endowed with silicone speed strips for a shiny and straight effect. All of this in half the time it takes other straighteners to get the job done.
Dimensions
The gliding process is an effortless one, thanks in part to the silicon strips in the flat iron, which cover portions of the hair in a matter of seconds. At 1.6 pounds, it is a portable a sturdy device with a one inch plate. Its overall dimensions are 15 x 3 x 5 inches. The flat iron is quite comfortable in the hands, and you need not worry about it slipping as it has a slip-free grip. It comes with a nine-foot cord which can swivel at an angle of ninety degrees.
Price
This is an extremely expensive flat iron. However, consider it a long-term investment that will save you all those trips to the salon. Plus, it comes with a 5-year warranty for peace of mind.
Pros
Hydrates the hair as it smooths it out

Very fast and long-lasting

Silicon speed strips make the gliding easy
Cons
Complicated warranty procedure in case anything goes rogue, plus a cost of $35

Expensive
#9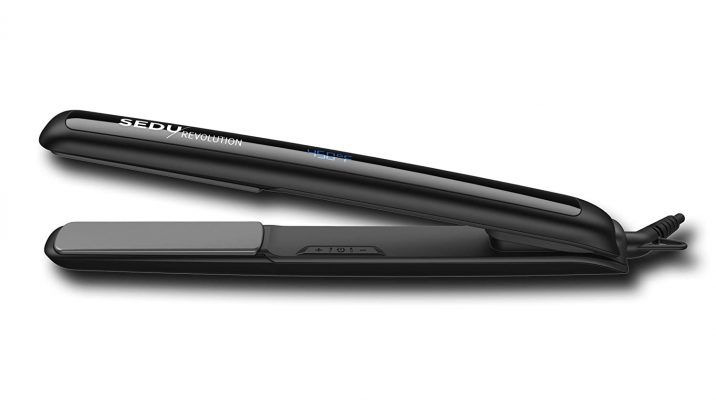 Why we like it:
This iron is safe for use on all hair lengths, types, and textures, including keratin-treated hair. It has a practical dual-voltage of 100-240v which makes it compatible with any electric circuits around the globe. The 60-minute auto-shutoff feature is definitely a plus!
Editor's Rating:
Plates
This flat iron has a unique set of plates. They come embodied with black tourmaline gemstones that give the plates the ability to evenly distribute heat throughout the hair. This ensures a lack of breakage, reduces static, and eliminates frizz.
Temperature
The Sedu Revolution 1" tourmaline ionic styling iron has an adjustable temperature control that ranges between 310º – 450º F. For fine hair, we always recommend using the lowest temperature possible, which is reached very fast by the iron.
Technology
Another great feature of the Sedu Revolution 1" is that it has an advanced heat recovery technology which reduces styling time in half. With the help of this technology, your hair remains smooth and silky without damage.
Weight
Like many other easy-to-handle flat irons, this one weighs 1 pound. It also has a 9-foot heat resistant textile swivel cord with a 360º swivel capability.
Price
The Sedu Revolution 1" costs quite a bit. But rest assured, it comes with a two-year warranty, as well as a heat proof pouch.
Pros
Black tourmaline gemstone plates

Advanced heat recovery technology

Auto shutoff feature

Two-year warranty
Cons
Minimum heat setting is 310 degrees, which can be a little high for sensitive fine hair

Occasionally snags
#10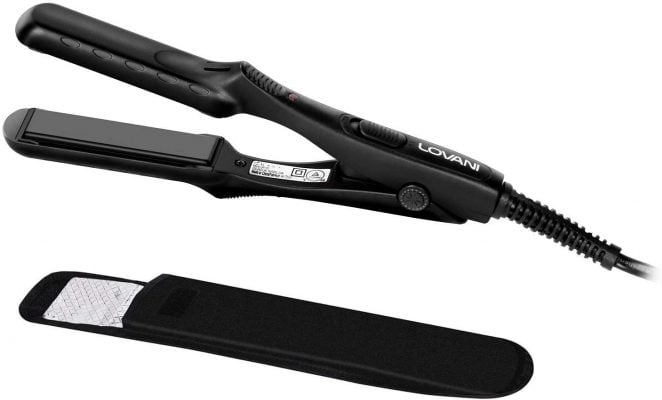 Best Portable Flat Iron:
Why we like it:
A super portable flat iron that's perfect for taking with you. It boasts ceramic plates which are ideal for thin hair and is available at an excellent price.
Editor's Rating:
Plates
The plates are made of ceramic and tourmaline which are ideal for thin hair. The negative ions help reduce frizz which is often associated with high temperatures and the materials of plates means it's not only portable but quick to use, as they heat up quickly and are ready to use in thirty seconds.
Temperature
This mini flat iron still packs a punch. If you're looking to quickly sort your hair out before a function or event, LOVANI's mini flat iron will get up to temperatures of 410 degrees and fast. Unfortunately, that temperature is not controllable, so this isn't great as your everyday flat iron for thin hair, but it's designed for fast results.
Technology
The LOVANI mini flat iron uses PTC heating tech to speed up heating times. As the heating panel is 3D and floating, it adjusts well to your hairs thickness. It's shape makes it excellent for putting in a quick curl to jazz up your hairstyle. Best of all, it auto-senses the voltage and adjusts accordingly, meaning you don't have to worry about carrying extra adaptors and be confident that it'll work wherever you go.
Weight
Wonderfully light and small, it weighs a mere 173g. Perfect for throwing in a travel bag or even a handbag with the minimum of fuss. It comes with a heat resistant bag too so if you're in a hurry and have finished styling you can throw it in without fear it'll damage what you're carrying.
Price
It's also available for under $20. This is a superb price for a flat iron that'll be great for use as an auxiliary to your main device when you're on the go.
Pros
Lightweight and portable

Heats up quickly

Automatically senses the proper voltage

Excellent value
Cons
No temperature control

Heat is too high for sensitive hair
Buyer's Guide
Let us discuss some features you have to be careful about before deciding on your ideal flat iron for fine hair. These will also be the characteristics we have covered for each of the 10 picks.
Plates
There are various types of heated plates that iron out the kinks in individual strands of hair:
Titanium plates
Ceramic plates
Tourmaline-covered plates
Ceramic-coated plates
Silicon/rubber
Teflon
Metal/glass
The reason metal/glass plates are on the same row is because you should avoid either one of them. They are mostly low quality straighteners, due to unpleasant results like heat spikes or burnt hair, and they break easily. Next up on the list of untrustworthy heated plate types is teflon. It is better than the metal and glass types, but it can flake off easily, so you might as well invest a bit more in something a bit more durable. Silicon and rubber coverings for your plates are good at smoothing out hair when it is being pulled through the iron.
Tourmaline-covered plates consist of a new and fairly expensive material. It usually covers ceramic plates, making them smoother, and thus preventing the hair from damaging or getting caught in the plates. If going a bit over budget is not a problem for you, tourmaline-covered plates are the most durable choice on the market. There is a difference between ceramic and ceramic-coated plates. The "coated" part means they are not entirely made of ceramic, but most likely of metal underneath, which is not as great of a heat conductor as pure ceramic, which means they can heat up quickly but not stay as hot as a pure ceramic plate.
The top tier flat irons are usually made from ceramic or titanium. If you are reading this, you are probably eager to find out if there truly is a best option specifically for thinner hair, and there is. Ceramic is the way to go for fine hair! It is great for smoothing it out and reducing frizz because it holds heat very well so you can set it to the right temperature and it will stay that way.
Temperature
Fine hair has the disadvantage of getting damaged by temperatures that are too high. It is important to choose irons that have a good selection of heat levels. Preferably digital flat irons, which allow you to choose the exact recommended temperature to avoid affecting your hair with excess heat. According to the Huffington Post, the ideal heating temperature for fine hair is just below 300 degrees Fahrenheit.
Technology
There are two types of technology used in flat irons to prevent frizzy hair. These are the ionic and infrared technologies. Ionic straighteners work by emitting negative ions, which eliminate frizz and static and neutralize the hair's atoms. Infrared technology penetrates the hair at a lower temperature and dries it from the inside out. It is a much more suitable option for people with fine hair, as it has even been used for reducing hair loss for both men and women. Ceramic and infrared technologies are the perfect combination for fine hair. Ionic technology is not recommended for people with fine hair because it reduces the hair's activity. If you do end up getting an ionic technology-driven iron, use it mostly for the bottom and back sections of the hair.
Weight / Size
While it may seem obvious, the actual weight and size of a flat iron are very important. The less it weighs, the less the chances of your arm hurting while ironing the hair. If you are a man or woman with short hair, you should look into smaller and thinner flat irons. They travel well, and allow you to style your bangs, or spike up your hair. If you have long hair, the best options are the larger and wider flat irons, since they cover more surface area.
How to use your flat iron
If you are reading this and will be using a flat iron for the first time, take a look at this instructional video on how to properly use a flat iron without causing damage to your hair.
We compiled a list of do's and don'ts when going into preparation for using your new flat iron for the first time. Each step is important in making your hair the best it can be.
Do's
Use the right hair care products. This means conditioners, shampoos, and anything else that helps nurture your hair, without using any product in excess.
Use a heat protective spray on your hair before turning on your flat iron. The spray is effective only when the hair is dry, so either apply it on dry hair, or wait for the freshly sprayed wet hair to dry before applying the iron.
Add extra volume. This is a trick that is achieved by not getting the iron too close to the roots of your upper sections.
Be gentle with the way you apply the flat iron. Take the time to make each pass slow and even.
Use finishing products at the end of the straightening session. Make sure to carefully inspect the ingredients in the formula you are using. Only apply the products once your hair cools down.
Don'ts
Don't make multiple passes at a single hair section. Try minimizing follicle damage by restricting yourself to one pass per section.
Don't try to speed the process up, even if you are in a hurry.
This is especially recommended for fine hair, but don't forget to use protective hair spray. This increases your hair's thermal resistance.
Don't use too much heat. Only use extra heat if you think it is truly necessary, otherwise we encourage you to set the temp setting in the lows.
Wrapping It Up
When looking for products online, it is always easy to encounter fake products, or products that are not up to par with the consumer's expectations. We've handpicked the most trustworthy products and sources so that your only issue will be what to wear to your next date, job interview, night out, or brunch…because we got the flat iron part covered. You will look stunning and maintain healthy hair by going with any of the choices on this list.