Top Picks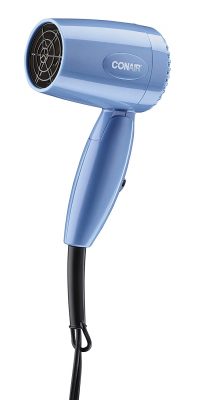 Conair Compact Hair Dryer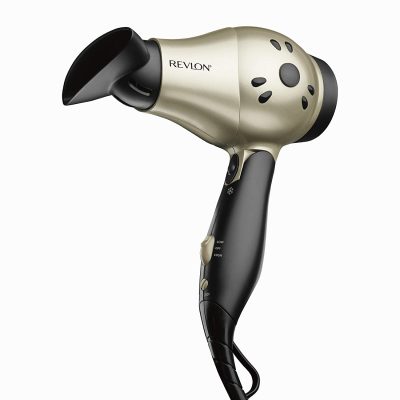 Revlon Compact Travel Hair Dryer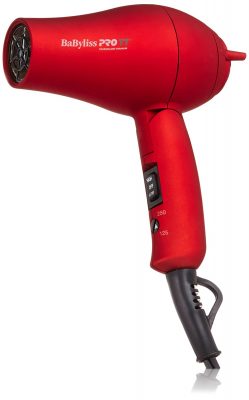 BaBylissPRO TT Tourmaline Titanium Travel Dryer
Previous
Next
Are you gearing up for that long-awaited vacation? Don't forget to pack the perfect travel hair dryer for the perfect travel hair. But with so many options on the market, how can you choose the best one?
Since you've been busy planning your trip, we've been busy finding the best travel hair dryers on the market for your personal needs. Read more below to find the perfect travel hair dryer for your luscious locks!
How to Choose the Best Travel Hair Dryer
With limited suitcase or backpack space, size is a HUGE factor. You don't want to choose between your favorite shoes and silky smooth hair, do you?  So leave your regular hairdryer at home and find one that's portable enough to get the job done without being a hassle to take along. Here is what we considered when deciding which travel hair dryers to recommend.
Size
When it comes to travel hair dryers, the smaller the size, the better the fit. Even a few inches is important because those inches could mean the difference between packing a dryer in your suitcase or going without. No one wants to have to rely on hotels for their hair-drying needs as they travel the globe.
Travel hair dryers come in a range of shapes and sizes. Backpacking around Europe for a month likely requires a smaller, more compact hairdryer. However, you could pack a larger dryer if you're spending a week at a resort and bringing two large suitcases.
Weight
The difference between a little less than a pound and a little more than a pound doesn't sound like much. But if you have thick hair that takes a while to dry, you'll most certainly notice that extra weight. Hello arm fatigue! The last thing you'll want is half-dried hair in your travel photos. So, either hit up the gym before your trip, or make sure you consider the weight of your travel hairdryer.
Cord Length
Not all hotels or Airbnb's have convenient electric sockets near the bathroom mirror. To ensure you can see what you're doing while doing your 'do, you'll want to ensure you have a decent cord length–at least five or six feet. It's even better if you can find a travel hair dryer with a retractable cord. That little feature is a sweet space saver.
Foldable Handle
One way to save space in a suitcase is to eliminate odd-shaped objects. A hairdryer is definitely an odd shape. To avoid this problem, look for travel hair dryers that have a foldable handle. By folding the handle, the hairdryer forms a nice compact item to shove into any remaining space. So, of course, all of the travel hair dryers on our list have foldable handles.
Drying Power
Some hair dryers pack more punch than others. If your hairdresser frequently says "You have such thick hair!" then you're going to want more power. The higher the listed watts on the dryer, the more powerful it is. Most travel hair dryers are 1000, 1200, 1600, or 1875 watts.
Materials
Hair dryers don't just blow hot air. They use specific materials that can turn your hair from frizz to fab. Here's where personalization really matters. You'll want to select your hair dryer based on your hair type.
Hair dryers might use ionic technology, ceramics, tourmaline, or titanium. Read about the materials in our full buyer's guide, and don't fall for the marketing hype you see.
In general, ceramic hair dryers are great for most hair types, but splurge on tourmaline if you can. If you have thick hair that can withstand high heat, you might want to opt for lightweight titanium.
Variable Heat/Speed Settings
The majority of travel hair dryers have two heat and speed settings, low and high. Sometimes though, you'll be treated to three heat and speed choices, or even a cool shot button. The cool shot button, often used at the end of a blow-dry, provides air without any heat to help lock in the style you just meticulously created.
Dual Voltage Setting for Worldwide Travel
You'll have enough to keep in mind while traveling. Where's my passport? Do I have the right type of money? Wait, which side of the road should I be driving on? The last thing you should be thinking about is if your travel hair dryer will work.
If you're only planning to travel domestically, you'll be good to go with any of our listed options. But international travel means you'll need to check the voltage of your dryer. Check out this country-by-country list of plugs, sockets, and voltages. Don't worry, we've indicated which travel hair dryers have a dual voltage setting.
Now that you know what to look for, here are the best travel hair dryers to buy in 2020.
Top 10 Best Travel Hair Dryers 2021
Guide to Buying the Best Travel Hair Dryer for 2020
Your travel hair dryer is the difference between Wow, you look incredible in that picture and Wow, that day of your trip must have been humid! We get it; it's an important decision. You probably have a lot of questions. Don't worry. We have answers!
Can You Travel with a Hair Dryer?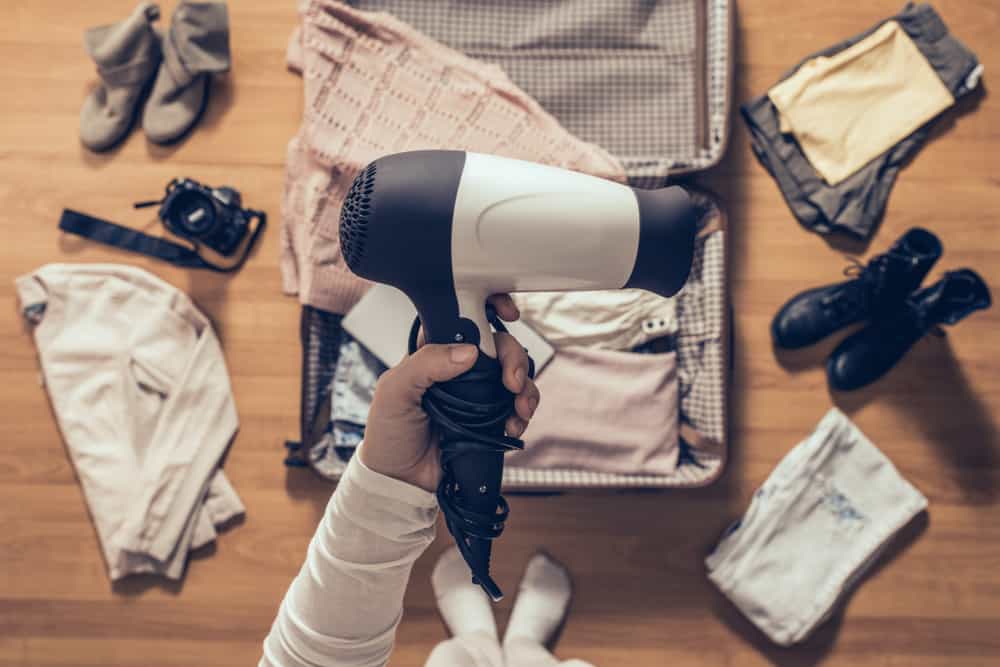 You can absolutely travel with a hair dryer. In fact, we think you should travel with one! There is no guarantee that your travel accommodations will provide a hair dryer, and sometimes it's a necessity, not just a luxury.
Imagine, you just hopped out of the shower before your glacier expedition in Alaska, and your hotel room failed to provide a hair dryer. This is quite the predicament. You're going to see icicles up close and personal. They won't be on the mountains in the distance–they'll be hanging from your head!
There are a few things to keep in mind, though, about traveling with a hair dryer:
First, you'll need to understand the Transportation Security Association (TSA) guidelines about what you're allowed to pack in carry-on bags and checked luggage if you're traveling by airplane.
Second, you'll need to understand that international travel requires a different voltage for electronics than we use in the United States.
Third, you'll want to know that not all travel hair dryers have a convenient way to switch voltage–so you'll need to keep an eye out for dual voltage features!
TSA Guidelines on Hair Dryers
The TSA advises and monitors what people can and can't bring on airplanes. They have created an extensive list of what you can bring on planes. Thankfully, hair dryers are safe to bring in both carry-on and checked luggage. Be sure to check the TSA guidelines before you travel in case there's a change to accepted items.
Dual Voltage Hair Dryers for International Travel
We've talked a lot about the wattage of hair dryers, but another term you're going to come across is volts. You can think of the watts as the horsepower of your hair dryer, while the volts are the speed of the horse.
In the United States, plugging things into the wall will give you 120 volts of power. And you'll actually be safe if you travel to Canada, Mexico, most of South America or Japan. Almost anyplace else you go will deliver around 240 volts. Plug a non dual-voltage hair dryer into one of those outlets and you may learn that your hair dryer can get a lot hotter than you're used to.
Most hair dryers on the market can handle both voltages. But definitely not all. In fact, a couple of the ones on our list can only do 120 volts. So, if international travels are on your horizon, make sure to pay attention to this feature.
What Is the Best Dual Voltage Travel Hair Dryer?
Most dual voltage hair dryers require you to move a switch before plugging them in. Definitely doable, but not the most convenient. The Conair Worldwide Travel Hair Dryer actually will sense the voltage coming in and just adapt. It even has a little LED light on it letting you know what voltage it's operating at.
More Wattage Means Faster Drying
Now that we talked about voltage, let's look at wattage. While the country you're in sets the voltage you get, the hair dryer determines the wattage, and generally speaking, you want more.
Hair dryers have a heating element in them that will take electricity and produce heat. So a heating element that uses 1,000 watts of power will produce around half the heat that a 1,875 watt heating element does.
How Many Watts Is Good for a Hair Dryer?
You might think this is an easy question: just choose the one that uses the most watts. But hold up!
If the only thing you care about is getting dry hair, then definitely go for the highest wattage. And you're in luck, half of the hair dryers on our list use the maximum 1,875 watts. Turn any of these babies on and you'll be blasted with hair-drying heat in no time.
Why would you ever want to go lower? There are actually two good reasons!
If your hair is of the thinner variety, you may actually want to hold back on the heat. While the scalding temperatures will quickly dry your hair, thin hair may be damaged by the heat. Even more important, thin hair allows more of the heat to reach your scalp. This can lead to damage of the hair follicles themselves, which can in turn lead to hair loss. Definitely steer carefully here.
If you want the ability to choose between high or low heats, then the Conair Worldwide Travel Hair Dryer is the only one on our list that has separate heat and speed controls.
Another reason you might want to avoid the super-powered hair dryer choices is that you might not be able to get the power you need.
Hair dryers use a lot of power. Really, a lot! In fact, the electrical systems of bathrooms in the United States are now actually designed around hair dryers. So if you're going to plug into a place built in the last couple of decades, you're probably safe. But not necessarily so if you're planning an overnight at a bed and breakfast in a colonial-built farmhouse.
Plug an 1,875 Watt hair dryer into an older electrical socket, and you're likely to end up in a dark room holding a powerless dryer. You'll soon find yourself having to search for a breaker to switch.
We'll spare you the math, but many older circuits will lose their power if you plug in anything past about 1,800 watts. Manufacturers know this and used to go up to 1,600 watts for exactly this reason. Since electrical systems were upgraded in newer houses, manufacturers also upped the wattage. Now, we regularly see travel hair dryers that go up to 1,875 watts.
So if you know you're staying in a newer place, and if you want an 1,875-watt hair dryer, then you're set. Many times when we're traveling it's not so clear. A safe bet you can take is to get a 1,600-watt hair dryer. Our best pick, the Conair Compact Hair Dryer is a perfect choice for you with an optimal 1,600 watt heating power.
Travel Hair Dryer Portability
Let's face it, there's never enough space to take everything you want to bring. If size is all you care about, then you'll definitely want a small hair dryer.
One of the main features that makes for a good travel hair dryer is having a foldable handle. There's a basic shape that any blow dryer is going to take and having a handle that can fold will let it squeeze into a smaller space.
This feature is so important that all of the travel hair dryers on our list sport a foldable handle. If you're looking for the most compact folding handle possible, we recommend the BaByliss PRO TT Tourmaline Titanium Travel Dryer.

Travel Hair Dryer Materials
Looking at a hair dryer, you might think they're all made of the same thing: plastic. But what makes up the parts inside make a huge difference in how your hair gets dried. Let's look at the most common materials and technologies used by hair dryers:
Ceramic
Ceramics are clays that have been heated up to make the internal parts of a hairdryer. They're really good at getting hot and staying at a specific temperature. That's important if you find yourself drying your hair frequently.
Ceramics make a specific kind of heat called infrared. This type of heat actually penetrates the hair, drying it from the inside, leaving natural moisture on the surface. This will leave your hair looking shiny.
Ceramics are a natural source of ions, they actually just pump them out when heated. Some hair dryers have whole parts made out of ceramic. These will produce more negative ions than a hair dryer where the parts are just coated with ceramic.
Tourmaline
Tourmaline is actually a semi-precious gemstone. But don't bust open your tourmaline hair dryer looking for anything shiny. Manufacturers grind up this mineral and use them to make or coat the parts of your hair dryer.
As you might guess, grinding up gems to make a hair dryer seems a little extreme, this is why hair dryers that tout they use tourmaline are going to be a little spendy.
Like ceramic, tourmaline is a natural source of negative ions. Just like ceramics, it's better to have whole parts made of tourmaline and not just coated. You likely won't be able to know which way it's used since it's typically not marketed.
Tourmaline is known for producing a lot of negative ions compared to the other materials. What this means is that it will dry your hair quickly. So if time is of the essence, definitely opt for this gem-laden choice.
Titanium
You might think of planes, buildings or wedding bands when you hear titanium. But there's one reason why titanium might be in your hair dryer: weight.
Titanium parts weigh in at 40% lighter than their ceramic counterparts. So if you're looking for a hair dryer that's good for a quick style, then titanium is what you want.
Titanium isn't known for producing infrared heat. That means the heat is going to be applied from the outside of your hair and have to make its way in.
This isn't a bad thing, but the quick heating of the hair surface makes titanium a better choice for those of us with thicker hair. If you have thin hair, you may want to look at ceramics or tourmaline.
Titanium doesn't naturally produce negative ions like the other choices. So if you're looking at a titanium hair dryer choice, make sure to check if it says it includes this feature. Most of the manufacturers do this by incorporating a small piece of ceramic or tourmaline somewhere inside to produce a small amount of ions.
Best Travel Hair Dryers by Hair Type
To fight the frizz and tame the mane, you'll want a travel hair dryer targeted to your individual needs.
It's true that everybody's hair is made of the same stuff. This might lead you to think all hair dryers will work the same for everybody, but that's not the case.
Hair can be thick or thin, or it can be straight or curly. These differences in hair structure mean that the hair dryer you use can have a huge effect on what happens to your hair. It can mean the difference between frizzy hair and smooth, silky hair.
We'll look at the four main types of hair and how to choose a hair dryer for them here:
Straight Hair
Assuming you want to keep your hair straight, you're in luck! Pretty much any hair dryer will work with your sleek hair. Really, what we suggest is not using your hair type to lead you to select a hair dryer. Instead focus on other factors. Do you care about space in your luggage, drying time, ease of travel? Choose your hair dryer based on that. Your hair will accommodate.
Curly Hair
Hair gets curly due to disulfide bonds that bend the shaft. But you don't need a degree in chemistry to figure out how to choose a hair dryer that will give you salon-like results.
Blow drying curls can be an anxiety-inducing ordeal. One small slip, and your curl ends up pointing the wrong direction. There are two things to keep in mind to help make the process flow smoothly.
Curly hair responds a lot better to far infrared heat. What that means is choose a hair dryer made of ceramics or tourmaline. You want to avoid titanium that tends to throw a lot more heat and works on just the surface.
Second, working on small parts of your hair, just a curl or two at a time can be critical. To do this, you're going to want a concentrator attachment. You can always go after-market and get one that fits onto your hair dryer, but save yourself the hassle and choose a hair dryer that comes with one already.
Many of the hair dryers on our list include a concentrator attachment, but the Revlon Compact Travel Hair Dryer is a great choice!
Thick or Coarse Hair
So let's start this off by clearing the air: thick hair and coarse hair are two different things. Thick hair means you have a lot of hair. Coarse hair means that the individual hairs you do have are thick.
So why are we grouping them here? Because you can choose hair dryers for both types the same way.
The main thing you want for these hair types is heat. You need the wattage. If you know you'll be staying at newer places, then opt for a hair dryer with 1,875 watts. Something like our Revlon Compact Travel Hair Dryer makes a great choice for this.
If you want to play it safe, then choose a hair dryer that puts out a perfectly decent 1,600 watts. Our number one choice, the Conair Compact Hair Dryer is an obvious pick here.
Thin Hair
Your fine hair needs protection so they don't end up split or frizzed. Like curly hair, fine hair is best heated drom a distance. So stick with ceramics or tourmaline and you'll be safe. Don't feel like you need to get the highest wattage hair dryer either. Using a moderate heat dryer works just great for fine hair.
Final Thoughts
Making sure your hair stays in top shape while traveling is a top priority. Choosing the right travel hair dryer is a critical part of this. You'll need to choose carefully based on what material your travel hair dryer is made of, it's size, the type of power it needs, and how much power it uses. And you have to do this all while keeping in mind the type of hair you have.
So enjoy choosing your travel hair dryer and rest assured that your hair will be in great shape for your next trip- wherever your journeys might take you!