A great flat iron can tame your curls, no matter how stubborn they are, creating a glossy, smooth look that can last for weeks. What makes the buying process so tricky is that you need something powerful enough to actually defeat those curls but gentle enough that it won't create frizz.
If that seems like an impossible goal, keep reading for some helpful tips for choosing the right flat iron and start shopping with our list of the best flat irons for natural hair in 2021!
Finding the Perfect Flat Iron
Flat irons are often designed for finer strands and more tamable curls, but that doesn't mean you're out of luck. Your natural hair can be straightened so long as you take the time to shop around and invest in a flat iron that can actually handle your locks.
The key features that will make a flat iron good enough for your hair are the maximum heat, the number of temperature settings, and whether or not it has any anti-frizz technology built into it.
Maximum Heat
Different curly hair types need different heat settings, but they all need more heat than finer, straighter hair does. In general, you'll likely need something with over 400 degrees of maximum heat, but here's a quick guide of recommended heat ranges based on curl type:
3a-3b: 360° to 380° F
3c-4a: 380° to 400° F
4b-4c: 400° to 450° F
These recommendations are very general and don't include any consideration of hair health or any treatments you might have done to your hair.
The more fragile or chemically treated your hair is, the gentler you want to be with hot tools. Also, the lower quality the iron is, the higher you'll have to go in temperature to get results. With a premium design like this BaBylissPRO, even 4c hair could become pin straight at 375° or 380° F!
If you're unsure, start at the lower end of the range and adjust up until you start seeing the results you want.
Adjustable Temperature
For the best results, you want to be able to crank up the heat on stubborn areas while cooling it down on more fragile areas. This creates a glossier, less frizzy result. In order to do that, you need a lot of range on your flat iron. That's not just in terms of how far apart the maximum and minimum temperatures are but also how many settings you have in between.
Look for flat irons with lots of temperature settings or, better yet, a precision temperature control that allows you to set the exact temperature you need.
Anti-Frizz Technology
Frizz control is a major factor when it comes to straightening natural hair. Your locks instinctively want to return to their curly state, so a flat iron with no frizz-control will create static and lift that encourages your hair to do just that.
Ionic technology, such as what you find in a titanium or ceramic flat iron, negatively charges the air and your strands, which encourages them to lie flat. Ceramic, especially tourmaline ceramic like the InfinitiPRO, offers the strongest frizz control and is the best choice for humid climates where frizz is already a problem.
The frizz control offered by nano titanium is a little milder but will do just fine in dryer climates. With the milder frizz control of something like the Vanessa flat iron you can preserve a little more bounce and volume.
Now that you've got your three key considerations in mind, check out our recommendations for the best flat irons for natural hair below.
Top 10 Best Flat Irons for Natural Hair 2023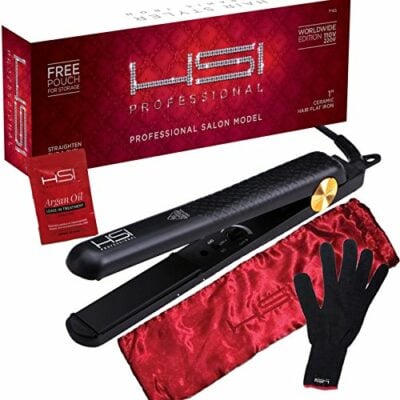 Why we like it:
The ceramic plates and wide temperature range make this a reliable all-purpose flat iron with lots of extra accessories tailored to your natural hair!
Editor's Rating:
Quick Facts:
Max Heat: 450° F
Temperature Settings: Precision Dial
Anti-Frizz Technology: Yes
Material: Tourmaline-infused Ceramic
This is one of the best designs to get if you have natural hair. It's packed with features that allow you to use the higher temps you need while keeping heat damage to a minimum so that you can get silky straight hair without causing dryness or breakage.
Features and Technology
Our favorite thing about this flat iron is the ceramic plates. The ceramic coating is infused with tourmaline crystals to boost the ionic charge for extra frizz control and shine. The adjustable heat gives you better control over the precise temperature you use.
Given the quality of the design, we recommend starting out at a lower temperature than you usually use. You might be surprised at how well this straightens your hair, even at those lower temperatures!
While the temperature dial gives you a lot of flexibility, it is a little annoying that only the maximum and minimum temperatures are labeled. You can kind of guess based on that maximum and minimum about where the temperature is at, but it will take you a while to get to know precisely where to turn the dial to get a temperature that works for your hair.
We recommend marking it with a permanent marker once you find the setting that works best for you. If you'd rather skip the guesswork, check out the Kipozi professional iron, which has a digital display showing the exact temperature.
Ease of Use and Performance
This is a great design that will work for a full flat ironing session or for touchups over the next few weeks. If your hair is especially long, the plates might be a little too short, but this is a great size for most hair lengths.
All the extra accessories that come with this iron really set it apart from the rest. You get a carrying pouch, a heat-proof glove, and a sample pouch of argan oil to rehydrate your hair after you've straightened it.
Pros
Tourmaline-infused ceramic plates for maximum frizz control

Precision dial for full control of heat settings

Heat-proof glove included

Argan oil included
Cons
Temperature control dial is not labeled well
---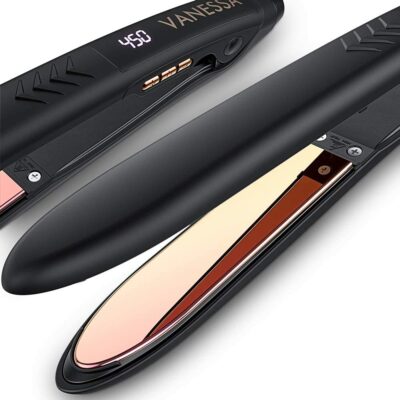 Why we like it:
This beautifully designed flat iron combines the convenience and power of titanium with the anti-frizz functionality of nanotechnology.
Editor's Rating:
Quick Facts:
Max Heat: 450° F
Temperature Settings: 11
Anti-Frizz Technology: Yes
Material: Titanium
This sleek and compact titanium flat iron is lightweight enough for extended flat ironing sessions and powerful enough to handle even the tightest curls. This is definitely one of the most reliable titanium flat irons at this price point!
Features and Technology
We love the extra-long nano titanium plates that allow you to work in slightly larger sections since you can spread the section in a thin layer across the longer plate. This will make the process a little less painstaking.
The digital temperature display is another great feature, allowing you to see the exact temperature you're setting it to. The temperature control buttons are also on the side, which keeps them out of the way so you won't accidentally turn the heat up or down while using the iron.
Ease of Use and Performance
This is an exceptionally lightweight design that you can comfortably use, even if you're spending 45+ minutes straightening your hair.
One drawback is that the plates kind of stick to your hair, making it hard to achieve a smooth glide, especially if you put a thicker section between them.
However, we think this is a drawback worth living with for two reasons. First, you need to be going slowly regardless, and the grip helps control your speed. Secondly, you also need to be working in smaller sections, so the fact that it struggles with thicker sections is almost a plus.
If you'd still rather get a flat iron that can glide more smoothly and handle larger sections, check out this Remington with floating plates that can adjust to different thicknesses.
Pros
Extra-long plate design

Digital temperature display

Sleek, elegant appearance

Lightweight
Cons
Plates grip hair

Doesn't handle thicker sections of hair well
---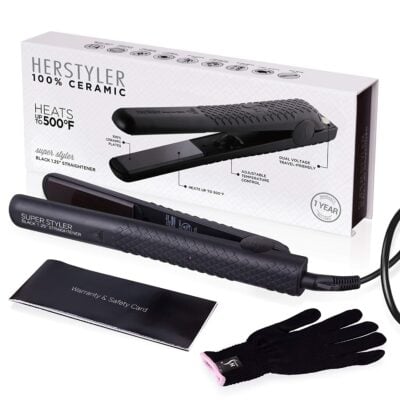 Why we like it:
With a max temperature of 500° F, this affordable iron packs the power you need to tame even the most stubborn sections of your hair!
Editor's Rating:
Quick Facts:
Max Heat: 500° F
Temperature Settings: Precision Dial
Anti-Frizz Technology: Yes
Material: Ceramic
This travel-friendly flat iron boasts an impressively high maximum temperature that will certainly be able to flatten any curls into submission, even if they've refused to cooperate with all the other flat irons you've tried!
Features and Technology
While the 500° F maximum temperature is definitely the most stand-out feature on this model, we also like that this high heat is balanced out by ceramic plates. This helps minimize damage, fight frizz, and add a glossy finish to your hair.
You'll also appreciate the range of movement you get with the 8-foot swivel cord and the free heat-proof glove that come with this.
As with similar designs, the precision dial doesn't label the range of temperatures. It doesn't even label the minimum temperature. We know from research that the lowest setting is 180° F. However, using any temperature in between will take guesswork and experimentation.
We think that extra high maximum heat is worth taking the time to experiment with precisely where to set it for straightening the less stubborn sections of hair. However, if you'd rather know exactly what temperature you're using, try the Kipozi Pro nano titanium iron with its digital temperature display.
Ease of Use and Performance
This dual-voltage flat iron was designed with travelers in mind. That means maximum versatility in as compact a design as possible. That means it's very lightweight and will work well on all curl types.
However, it also means it's a little smaller. For shoulder length or longer hair, it's still large enough to work through a complete flat ironing session. For medium to long hair, this might only be practical for touchups.
If you need something larger but still want to stay under budget, check out the Kipozi Pro nano titanium iron.
Pros
500° F is hot enough for all curl types

Ceramic plates for damage- and frizz-control

Dual voltage

Lightweight

8-foot swivel cord
Cons
Temperature control dial is not labeled well

Not practical for medium to long hair
---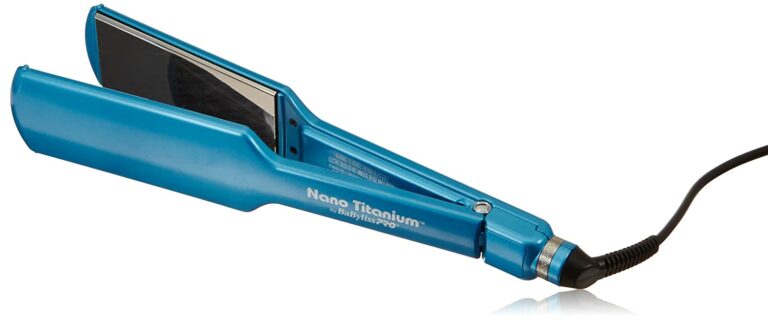 Why we like it:
Fast and powerful heat combine with 50 heat settings for precision styling unlike any other in this professional-quality flat iron.
Editor's Rating:
Quick Facts:
Max Heat: 450° F
Temperature Settings: 50
Anti-Frizz Technology: Yes
Material: Titanium
This lightweight flat iron with extra-wide and extra-long plates, a swivel cord, and 50 heat settings is everything you'd expect a salon-quality flat iron to be. It was designed for high-performance and high versatility so it's ready to take on all curl types!
Features and Technology
The titanium plates feature nanotechnology that creates a mild ionic charge to help minimize damage and fight frizz. You won't get the same shine as ceramic, but you'll get very close.
The extra-long and extra wide plate gives you more room so you can straighten larger sections of hair so that you can work quickly without sacrificing quality in the finished result. The 50 heat settings allow you to adjust the temperature in increments of 4° F so you can tailor the heat output to the exact needs of different areas of your hair.
Ease of Use and Performance
This flat iron was built for professionals and you can definitely tell. It's ultra-thin and lightweight enough that you can use it for hours on end without tiring your arm out. This makes it a great pick for your main flat ironing sessions.
It can handle the touchups as well, but it's got the size and power to straighten all your hair as efficiently and effectively as possible!
The main drawback is the cost. It's a high-end, professional styling tool and it is priced to match. If you know you'll be straightening your hair regularly, it may be worth the investment since it will last for years to come.
If you're still new to straightening your hair and not sure if it's something you'll do all that often, you might want to start with a more affordable option like the InfinitiPRO. Hold off on investing in a premium iron until you know it's something you'll use.
Pros
5" titanium plates

Nanotechnology for frizz control

50 heat settings

Thin, lightweight design
---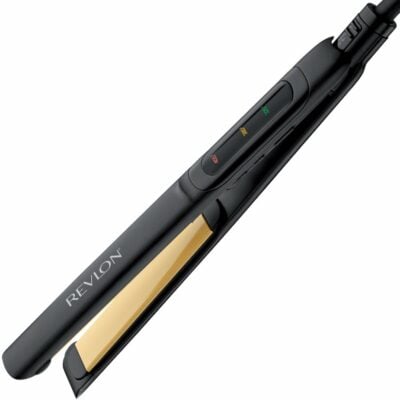 Why we like it:
This affordable flat iron features tourmaline ceramic plates for maximum frizz-control and incredible shine.
Editor's Rating:
Quick Facts:
Max Heat: 455° F
Temperature Settings: 10
Anti-Frizz Technology: Yes
Material: Tourmaline-infused Ceramic
This thin and lightweight flat iron boasts high temperatures and a dual-function design that will allow you to add a hint of waves to your hair if you want to. It also strikes a great balance of being compact while still being a practical option for longer hair.
Features and Technology
The most impressive feature of this flat iron is definitely the ceramic plate design. The plates have a triple coating of ceramic and a coat of tourmaline to create the silkiest, glossiest locks you could ever hope for. It's great for those in humid climates or who are otherwise prone to frizz.
While this iron is worth it for the plates alone, it also boasts a swivel cord, auto shut-off, and a rapid 15-second heat up time. Altogether, it's a very handy tool to have in your arsenal.
Ease of Use and Performance
While the plates are thin, they're still long enough that you can evenly apply heat to a larger section of hair so it's still a practical option for all hair lengths. It also gets hot enough to work on all curl types so this is a great choice if you personally have a couple different textures in your hair or if you're buying this for a household where more than one person will be using it.
As much as we love the extra ceramic and the glossy results, the handle is a little short. This can make it difficult to handle without accidentally burning yourself. During extended flat ironing sessions, the chances of an accidental burn increase, especially as your hand gets tired. So, we'd recommend this for doing touchups rather than doing a full straightening session.
Pros
Works for all curl types and hair lengths

Triple coated ceramic and tourmaline plates

15-second heat up time

Auto shut-off
---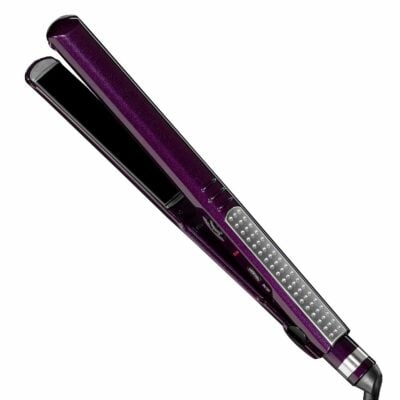 Why we like it:
Tourmaline and ceramic combine to create intense frizz-control without sacrificing the high temperatures you need to create silky straight styles.
Editor's Rating:
Quick Facts:
Max Heat: 455° F
Temperature Settings: 30
Anti-Frizz Technology: Yes
Material: Tourmaline-infused Ceramic
This InfinitiPRO is one of our favorite low-cost ceramic flat irons. It packs a high heat with a wide range of temperature settings available so you can get perfectly straight locks without having to use any more heat than absolutely necessary.
Features and Technology
Some of our favorite features on this flat iron include the extra long floating plates, the 15-second heat up time, and the ceramic features. In addition to double coated tourmaline ceramic plates, it also has ceramic heating elements which adds to the negative charge for incredible frizz-control and extra shine.
The most disappointing part of this design is that it's missing a lock button. When you set it down on the counter, it sits in an open position. Combine that with the rounded outer shell and you end up with something that is easy to bump into and accidentally burn yourself with.
If you have a metal stand or somewhere safe to put this while its hot, this won't be too big of a problem. Otherwise, you might prefer something like the Revlon, which has a lock button.
Ease of Use and Performance
The long plates make this a great pick for all hair types, even though the plates are a tad narrow. It's also a great pick for people in humid climates or with chronically dry hair that's prone to frizz. Your locks will come out silky soft thanks to all the ceramic elements built into this flat iron.
Pros
Double coated ceramic and tourmaline plates

Ceramic heating elements

30 temperature settings

Extra-long plates
---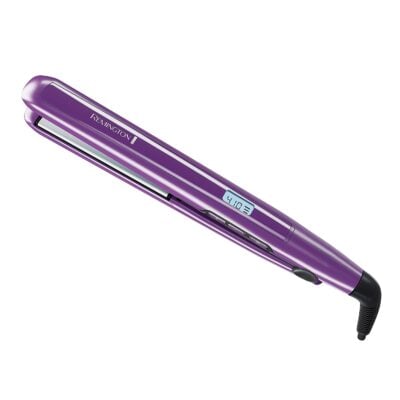 Why we like it:
The floating plates and ceramic plates give this flat iron a premium feel in spite of its very affordable price.
Editor's Rating:
Quick Facts:
Max Heat: 410° F
Temperature Settings: 6
Anti-Frizz Technology: Yes
Material: Ceramic
This low-cost option from Remington is a great option for newbies to hair straightening. The low price means you don't have to risk spending a fortune on an iron you end up only using once. Plus, all the user-friendly features make it a breeze to get comfortable with flat ironing your hair.
Features and Technology
Despite such a low price, this flat iron still has some great design elements. Our favorite features include the floating ceramic plates, swivel cord, and digital temperature display. We also like that the plates are extra-long, making this a practical pick for all hair lengths.
With a max temp of 410° F, this may not have the power to handle type 4b or 4c hair but if you go slow enough over each section, you can still get reliable results. There are techniques you can use to flat iron 4c hair at lower temperatures.
However, if you'd prefer something with more heat to get the job done faster and more thoroughly, opt for something like the Herstyler that you can crank up all the way to 500° F.
Ease of Use and Performance
The affordable price and the lower temperature make this a great option for beginners. If you're still learning the proper technique, the floating plates make this a little more forgiving. Even if you're working in too large of sections, the plates can adjust to the different thickness.
The lower maximum temperature means you'll keep damage to a minimum even if you have to make multiple passes, which is more likely when you're still getting the hang of the right speed to move the iron down your hair.
For those with more experience straightening their hair, this option might not meet your expectations. With only 6 heat settings, it doesn't have that adjustability to get the precise temperature you want. In your case, something like the HSI with its precision dial might be a better choice.
Pros
Floating ceramic plates

Swivel cord

Digital temperature display
Cons
Max temperature is too low for 4b-4c hair

Only 6 temperature settings
---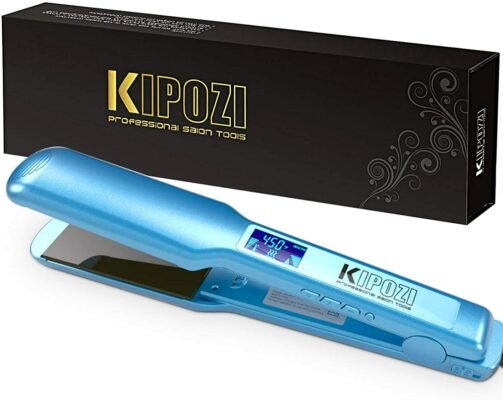 Why we like it:
The wide temperature range and helpful presets make this beginner-friendly and versatile enough for hair with more than one texture.
Editor's Rating:
Quick Facts:
Max Heat: 450° F
Temperature Settings: Precision Settings
Anti-Frizz Technology: Yes
Material: Titanium
Kipozi has done an excellent job creating a surprisingly user-friendly flat iron that includes the versatility you need to tackle natural hair. There are so many great features that beginners and experts alike will appreciate like the auto shut-off, the 8-foot cord, and the fact that the whole tool weighs in at about one pound!
Features and Technology
In addition to the long cord and other convenient features, you also get a digital temperature display, wide titanium plates, and the floating plate design that makes it easy to get consistent results throughout the styling process.
There are three preset temperatures for different hair types and then a plus and minus button for more precise temperature adjustment between 170° F and 450° F. This makes it both versatile and beginner friendly.
This is an all-around solid flat iron for the price range but those in particularly humid climates might find that the nano titanium doesn't offer strong enough frizz control to meet the demands of your climate. You'd be better off with a tourmaline ceramic iron like the Revlon, which will do more to control frizz, even in peak humidity.
Ease of Use and Performance
The plates are super smooth and won't grip your hair at all, so you get that effortless glide that makes the process a lot less tedious. Plus, the wide plates allow you to iron a wider section of hair to make the process a little faster.
It's also surprisingly lightweight and comes with a long handle and a cool tip to make maneuvering this iron a breeze. You're also less likely to deal with accidental burns.
Pros
Wide, floating plate design

Lightweight

Long handle and cool tip for easy handling

Wide temperature range
Cons
Not ideal for humid climates
---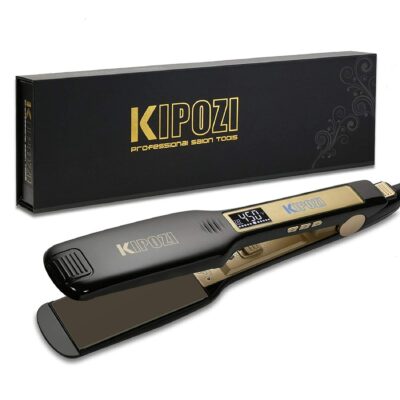 Why we like it:
The long handle, cool tip, and swivel cord make this a very user-friendly flat iron with the high heat you need to tackle any curl type.
Editor's Rating:
Quick Facts:
Max Heat: 450° F
Temperature Settings: 10
Anti-Frizz Technology: No
Material: Titanium
There are so many convenient features built into this design, you can tell it was built by a company that really understands its customers. Wide, floating plates combine with a long handle, a cool tip, and a swivel cord to give you full control and flexibility while straightening your hair.
Features and Technology
The overall design is very reliable and well-built. It's a quality iron that is meant to be frustration-free. The easy-to-read digital display tells you exactly what temperature you're using. The button placement ensures that you won't accidentally change the temperature or turn it off while ironing.
The titanium plates are floating so that they can adjust to the thickness of the hair section you put into it. Overall, you get a lot of functionality and convenience in this hot tool.
However, there is no ionic technology or other frizz-control feature. While it's great for its fast heating and high heat options, you will need to be extra diligent about using hair serums and oils to control frizz if you get this iron, especially if you live in a humid climate.
Flat irons dry your hair out and dry hair paired with high humidity is a recipe for uncontrollable frizz. If you want an iron that can help manage that, check out the HSI.
Ease of Use and Performance
You'll appreciate the user-friendly design on this flat iron. It features a long handle and a cool tip so you can handle it without accidentally burning yourself. It also has large plates so those with longer hair will be able to use this to straighten your hair in less time than it would take with many other options.
Overall, it will get the job done and it will last for years. It just won't give you any help with frizz and may, in fact, create static and frizz of its own. If you use this, make sure you follow all the steps to flat iron your hair so you can keep frizz to a minimum.
Pros
Wide plates

Cool tip

Long handle

Swivel cord

Digital temperature display
---
Why we like it:
This compact ceramic iron has ceramic plates that glide smoothly across your hair and leave your strands pin-straight and silky smooth.
Editor's Rating:
Quick Facts:
Max Heat: 450° F
Temperature Settings: Precision Dial
Anti-Frizz Technology: Yes
Material: Ceramic
Kipozi has made a lot of great flat irons that are ideal for natural hair because they typically strike that balance between high heat and gentle design. This travel-size ceramic flat iron is another great example of that balance.
Features and Technology
This dual-voltage iron is built for travel which means it's a little shorter than most. Even so, it's a high-quality design that will last for years to come so if you're on the road a lot, it's a handy tool to have with you.
It reaches up to 450° F and includes a precision dial so you can adjust to the exact temperature that works best for your curl type and hair condition. Plus, the ceramic plates help reduce frizz and add a subtle sheen to your style.
Ease of Use and Performance
The 2-in-1 design means you can straighten and curl, so you get a wide range of styling options while you're traveling. It also heats up in just 15 seconds so you don't have to waste precious vacation time waiting for your flat iron to get hot. You'll be able to stay glamorous no matter how little time you have!
The compact size is great if you have shorter hair or if you're traveling and just need something for touchups. However, this is probably too small to take on a complete flat ironing session on medium to long natural hair.
For anything more than touch ups, you'll need something larger, like the Kipozi nano titanium flat iron.
Pros
Great for short hair or for touchups

15-second heat up

Ceramic plates

Dual voltage, travel friendly design
Cons
Too small for medium to long hair
---
The Complete Guide to Flat Ironing Natural Hair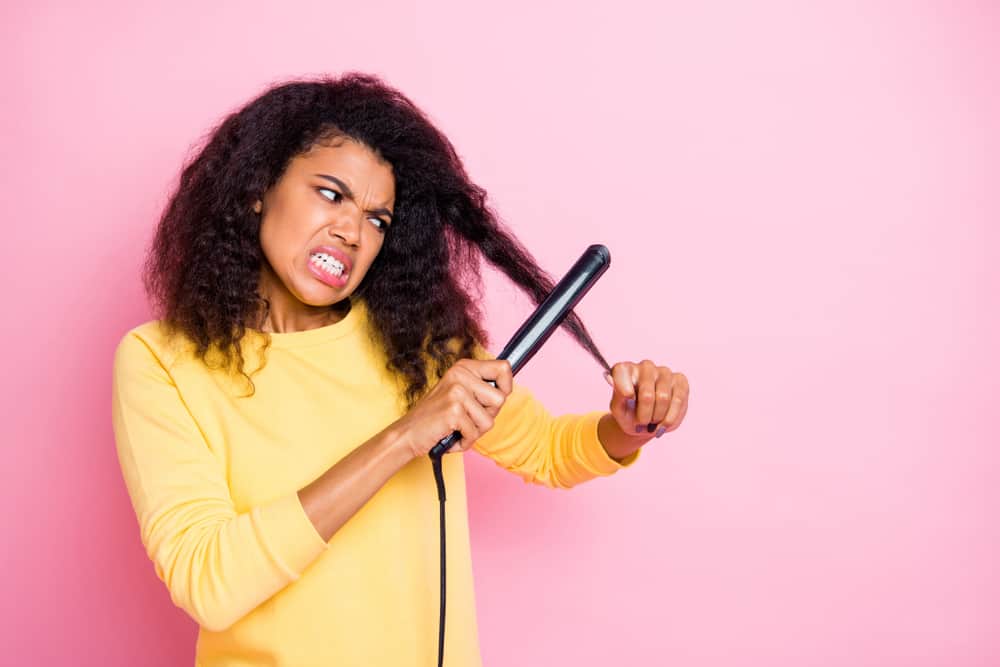 Finding a flat iron that will work on natural hair is a challenge on its own. Learning how to use it so that you get the results you want while protecting your precious locks can be even harder. In the next few sections, we'll try to help on both fronts by giving you some helpful tips for choosing the perfect flat iron as well as some advice and strategies that you can use to straighten your hair effectively, with as little damage as possible.
Tips for Choosing the Perfect Flat Iron for Natural Hair
In addition to checking the maximum heat, the number of temperature settings, and what kind of anti-frizz technology it includes, you can also consider weight and plate material to help narrow down your choice.
Weight
Straightening natural hair takes a lot longer than other types of hair, so a bulky flat iron will start to tire your arm out. While a lightweight design shouldn't trump other factors like maximum heat or temperature adjustability, it's still an important factor to consider.
Use it to rule options out. For example, if you've narrowed it down to two flat irons that both seem perfect, opt for the lighter one.
Titanium vs. Ceramic Plates
The most popular plate types you'll find on modern flat irons are titanium and ceramic. Both plate types can offer great benefits at high heat, but your preference will come down to your priorities.
Titanium irons heat up faster, but don't hold a consistent temperature as well as ceramic ones. Ceramic takes longer to heat up but, once it does, it maintains that temperature more consistently.
Here's where it gets tricky: one of the best ways to improve your straightening results is to adjust the temperature to match the needs of different areas of your hair. That means a lot of switching around between higher and lower temps.
With titanium, you'll be able to do that a lot faster but with a little less certainty that it's actually sticking to the exact temperature the whole way through.
With ceramic, you'll have to wait a minute or two after adjusting the temperature for it to actually reach that temperature, especially when you're adjusting down since ceramic retains heat so well. However, once it does hit that temperature, you can be confident that's the temperature your strands are getting from start to finish.
There's no right answer here. If you have the patience for it, ceramic will be more consistent and a little gentler on your hair. If you need convenience and flexibility, titanium is a lot more user-friendly.

How to Flat Iron Natural Hair
Natural hair takes a little more attention and a lot more time to get lasting results. While it may seem like a lot of work, taking the time to do it right means getting perfectly straight hair that lasts for weeks.
1. Wash and Deep Condition Your Hair
This is an important first step, because straightening clean, hydrated hair will work much better than straightening dirty, dry hair. Shampoo thoroughly, paying special attention to your roots. Then, leave the conditioner in for 3-4 minutes before rinsing. When you do rinse, be extra thorough about getting every last bit out.
Excess conditioner can burn in the flat ironing, causing a frying effect on your hair that you don't want.
2. Dry Your Hair Completely
You should only flat iron hair that is totally dry. Any moisture hiding in your locks will cause them to curl up again.
If the thought of painstakingly blow drying your hair right before painstakingly flat ironing your hair doesn't appeal to you, you can wait until your hair is about 80% dry and then just blow dry it the rest of the way dry. If you are going to air dry for any portion of this process, be sure to wrap your hair. This will help smooth it like blow drying does.
If you are going to blow-dry, be sure to use a hair dryer that's well suited to curly hair.
3. Use a Heat Protectant
The catch-22 with natural hair is that those tight curls need high heat in order to be tamed into sleek, straight locks. However, curly hair is also prone to dryness which makes it extra vulnerable to damage at those higher temps that you need to use.
This means a heat protectant is nonnegotiable. You need to use one or else risk frying your hair.
4. Work Slowly and in Small Sections
If you've got places to be tonight, this is not the time to flat iron your hair. The more you rush it, the less the results will last. The more you try to cram large sections of hair in between the plates, the less heat is getting to each individual strand.
So, work in small sections and go over each section slowly. Be patient! Watch TV. Listen to a podcast. Invite your friends over. Take your time. The reason for going slowly is to make sure you thoroughly straighten your hair while avoiding the need to go over the same section again.
If you go too fast, you'll have to go over it again and again. The more you go over it, the more heat you're applying. The more heat, the more damage.
5. Use the Comb-Chase Method
The comb-chase method is specifically intended for natural hair. For longer-lasting results and to avoid needing to pass over the same section again, run a comb through the section just in front of your flat iron. The comb will untangle and pull the strands straight just before the flat iron goes over them. This ensures that the plates are pressing down on straight, untangled strands so you end up with less frizz and less problem spots that just don't seem to straighten.
6. Adjust the Temperature as You Go
With natural hair, it's not uncommon to have two or three different textures of hair all on one head. Usually, hair is curliest at the roots and then gets a little looser toward the middle and end sections.
While you could blaze through the whole process at 450° F, your hair will thank you for taking the time to adjust the temperature to the needs of different hair textures.
For those curlier sections, blast it with the high heat. For the looser curls, turn it down a bit. If you take the time to do this, you'll keep frizz to a minimum while still being able to use the heat you need to tame those more stubborn areas.
7. Apply Oil After You Finish
Straightening your hair strips your hair of moisture. You don't want to apply a hair oil before you flat iron because you'll cook the oil and end up frying your hair. Instead, apply the oil immediately after to rehydrate your dried-out locks and add an extra layer of shine to your new look.
You'll need to reapply the hair oil once every 5-7 days, depending on how much natural oil your hair produces.
How to Protect Your Flat Ironed Hair From Humidity
You've just spent the better of your Saturday afternoon flat ironing your hair, only to check the weather to see 90% humidity with a high chance of frizz-causing rain. What do you do? While this is no easy challenge, here are a few tips to keep natural hair from frizzing after flat ironing:
Keep your hair moisturized. Dry locks will soak up more of that humidity than hydrated ones do, so your first line of defense is a great moisturization routine. While a quick comb through with a serum before heading out the door will help, you'll get the best results by regularly moisturizing your hair. Apply a hair oil before bed so that it can deeply hydrate your locks while you sleep.
Invest in a good flat iron. Flat irons that offer high temperatures and anti-frizz technology will create results that are already more humid-resistant than cheaper irons that can't do those things.
Invest the time in straightening. A quality flat iron can only do so much. If you aren't taking the time to thoroughly heat and straighten small sections of hair at a time, the results just won't be as permanent as they would be if you did. With less permanent results, you're more likely to see frizz and curls return at the first hint of humidity.
Wear a headwrap. If it's not just humidity but a full storm brewing outside, your best bet might be to go for full coverage. Keep your hair protected in an elegant head wrap style that will shield your hair from the weather while still allowing you to look put together.
Other Products to Make Your Flat Ironing Session More Successful
While a high-quality flat iron is key, it still needs assistance from some other haircare products to get truly straight results that will actually last. Here are a few that can help:
Final Thoughts
A quality flat iron is the key to achieving pin-straight hair that actually lasts. Whether you're looking for an extra-large iron like the BaBylissPRO that can make quick work of a full straightening session or a convenient, compact iron like the HSI that you can take with you for touchups on the go, the key is high temperatures, high quality, and frizz control!