Taming your hair can be a demanding task. Some mornings are just too short to give your hair the radiant shine you want to carry with you throughout the day. But with the right investment of time, money, and patience, you can cut out one of the most challenging hairstyling steps in your morning routine.
Hair relaxers are products that can keep your hair straight for a long time. Unlike other products, these are not designed to last a day, or a week, or even a month: a good hair relaxer can keep your hair straight for 6 to 8 weeks!
With this part of your morning routine out of the way, you can focus more on nurturing and grooming it after you already give it the shape you wanted. Not only will the hair feel relaxed, but you'll have a more relaxed lifestyle thanks to the simplified styling sessions you'll enjoy once you find the right product.
Hair Relaxer Characteristics
It is important to know that hair relaxers may not be a healthy choice for everyone. The purpose of a hair relaxer is to alter and break the curl pattern for a person with naturally curly hair. In order for such an alteration to be effective, chemicals are used in the formulas of hair relaxers. These chemicals contain all sorts of hydroxide bonds (such as lithium hydroxide, sodium hydroxide, and lithium hydroxide) that break down the hair keep it straight.
In order to cover the 10 best hair relaxers on the market today, we are going to base our choices on the following characteristics:
Base (requires applying a "base"—a protective cream before the relaxing treatments—usually done by stylists) or no base (has the protective cream built in the formula).
Lye (relaxers that contain sodium hydroxide) or no-lye (relaxers containing lithium hydroxide, potassium hydroxide, calcium hydroxide, or guanidine hydroxide).
Other Ingredients like moisturizers, proteins, and vitamins that either add to the relaxing effect of the product or protect and heal your hair and scalp.
We will also be addressing such issues as sensitive scalps, pH levels, and whether or not it is necessary to use neutralizing or clarifying shampoos to avoid hair damage caused by chemicals the hair relaxers contain.
All of the hair relaxers on this list are excellent products from companies that you can trust. There are, however, products whose chemical combination or effect on the hair can impact some more than others, whether it may be positively or negatively. You should take your personal hair and scalp needs into consideration, or even test a small strand of your hair like many experts at salons do, to decide what products are best for you.
For each product, we will explore all of their relevant characteristics, including whether they are lye or no-lye products, their ingredients and bases, their price, whether any extras are included in the packaging, and the overall reasons that they are the most preferred hair relaxers.
Top 10 Best Hair Relaxers 2023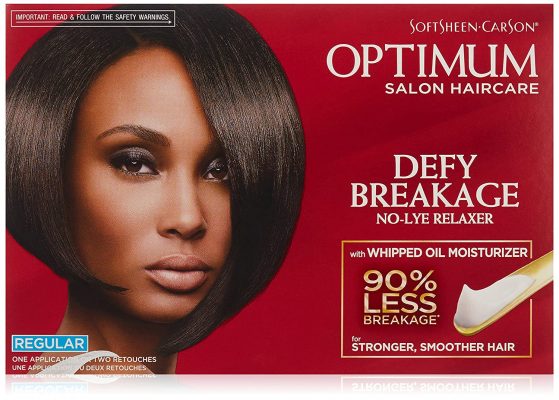 Why we like it:
Due to the fact that it generally works well without damaging your hair, it is considered the safest choice to start with when deciding upon using hair relaxers. The brand is more than 110 years old, which ensures a huge trust factor. Not only is it very affordable, but the fact that it comes with all the pre- and post-treatment products to complete the whole cycle is very encouraging.
Editor's Rating:
The Optimum No Lye hair relaxer by Softsheen-Carson is the most dependable relaxer available, and it truly delivers the results it prides itself on. This product lives up to its "90% less breakage" promise that is printed on the box, which leaves your hair strong, smooth, and healthy.
Lye or No Lye
Not only is the "90% less breakage" printed on the box no lie, but this relaxer is literally a no-lye product. While products that use lye can also out quicker, products without lye contain calcium hydroxide, which is a good choice for those who have sensitive scalps.
Ingredients
What propels this hair relaxer at the top of our list is a formula that sets it apart from other no-lye hair relaxers. It contains ceramides and coconut oil as the base ingredients. These two ingredients offer more moisture and strength to hair that is prone to feel thinner and weaker after going through a relaxing treatment.
Ceramide is a fairly new substance that works great for preventing split ends, and ensures healthier hair with remarkably reduced breakage. This feature makes the Softsheen-Carson Optimum hair relaxer a suitable choice for both semi-fine curly hair and normal hair.
The role of coconut oil is to help the fatty molecules that the hair is losing of the calcium hydroxide regenerate. The majority of the other products aren't as courteous to hair, making this offering excellent for anyone looking for a long-term hair relaxing solution.
Price Range and Extras
This hair relaxer is a tremendous budget option and offers so much more than what a product in this price range usually does. Namely, it includes 5 more items that complete this six-step relaxer treatment, plus a six-page booklet guiding you through every step. Included are a protective pre-treatment, an activating relaxer cream (plus an activator), a neutralizing shampoo, a reconstructor cream, and a leave-in moisturizer and strand-booster.
The instructions included with this product can be hard to follow, but there is a video on how to apply the Softsheen-Carson hair relaxer product correctly. Quantity-wise, the product should last for one full treatment and a couple of retouches.
Pros
Includes 5 other helpful products plus an instruction manual

Coconut oil replenishes fatty molecules the hair needs

Ceramides ensure less breakage and split ends

Great for semi-curly and normal hair

Leaves the hair healthy, strong, and nurtured
Cons
Works well on normal and semi-curly hair, but not on short, very thick, or very curly hair

The instructions aren't clearly written and you may need to have an instructional YouTube video on hand

Not recommended for sensitive scalps
---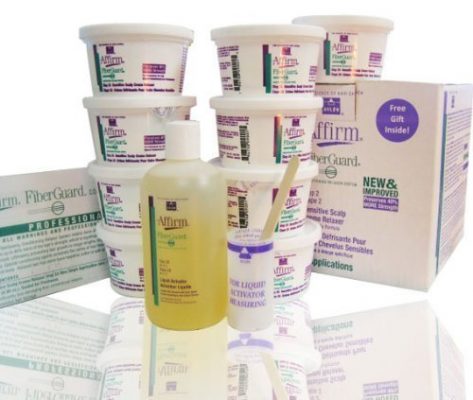 Why we like it:
The Avlon Affirm Fiberguard Sensitive Scalp Relaxer kit is a stellar choice for normal-to-medium hair, including color-treated or damaged hair. This is one of the few products that aims to also repair some of the damage its chemicals inevitably cause. It is easy to rinse out, so you won't have to worry about any leftover oil or other residue. You will need to separately purchase a reconstructing serum and a neutralizing shampoo in order for your cuticles to get realigned and your hair to look strong and shiny, but he good news is that it is compatible with any neutralizing shampoo, not only Avlon products.
Editor's Rating:
Avlon is a company that has established its name on the beauty products market since 1984, and their Affirm Fiberguard line is a trusted hair relaxer by both professionals and DIY-ers. DIY is actually a key term here, as this hair relaxer is sold as an adjustable formula, so you don't have to worry about using more than necessary. If you're looking for a quick and easy product this might not meet your needs, but if you're willing to invest some time and thought in your results than this product can't be beat.
Lye or No Lye
This lye-free product gives the best results on the more sensitive spectrum of skins and scalps. Since most no-lye products use calcium hydroxide—and this product is no exception—they leave a calcium build-up on the hair. Aside from the neutralizing shampoo that is necessary to get the product out of your hair once its effects wear off, you should also consider purchasing a chelating shampoo to completely remove all build-up: we'll have more on that further down in the article.
Ingredients
Avlon's Fiberguard Scalp Relaxer kit contains polymers that make the hair feel soft to the touch, reduce frizz, and improve hair manageability. The product's patented formula has been designed to actually leave the hair in a healthier form after it goes through the treatment, rather than stripping it of its natural oils. It protects the hair cuticles and prompts the hair to retain more moisture than most other treatments.
Price Range and Extras
If you don't have a budget restriction and are looking for the most professional and effective choice on the market, look no further. Your investment will grant+ you 9 pre-measured single application cups, as well as a liquid activator with its own measuring cup. It also comes with a mixing bottle and a pair of gloves, for safety and efficiency.
Pros
Great for damaged or color-treated hair

Can be used for 9 separate applications

Measuring cups make it easy to use

A reliable brand that rarely disappoints and cares about customer needs

The smell is somewhat sweet and fresh, unlike most hair relaxers
Cons
Much more expensive than most hair relaxers

Neutralizing shampoo and reconstructing serum must be purchased separately

Since you're buying so much, you need to make sure that your purchase isn't close to expiring
---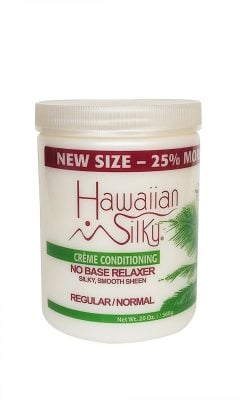 Why we like it:
After applying the Hawaiian Silky No Base hair relaxer, the hair stays smooth and silky. It also comes in Mild, Regular, and Super strength options. The jojoba and mink oils do a fine job of protecting the scalp, even compared to lye-free hair relaxers.
Editor's Rating:
Another great contender for anyone looking for a well-priced relaxer is the Hawaiian Silky. It is an affordable large no-base hair relaxer that is suitable for all hair types. Its formula contains oils and vitamins that strengthen the hair just as much as, if not more than, a no-lye hair relaxer.
Lye or No Lye
The Hawaiian Silky hair relaxer is a product that uses lye. The closer to your hair's natural state the pH level is, the healthier your hair will be. Lye products have the highest pH levels (between 12 and 14, which is the maximum) and break down the hair's bonds in order to take effect. The pH of this product is perfectly balanced by its additional ingredients, offering powerful relaxing effects without causing much harm to the hair.
Ingredients
The sodium hydroxide in the relaxer fuses with a complex of oils that protect the hair and nourish the scalp. Namely, those oils are jojoba and mink, both of which are essential for hair rejuvenation, especially when using a lye product such as this on thin hair.
Price Range and Extras
This hair relaxer is a terrific choice if you are on a budget. Not only is it effective and as healthy as any lye-containing hair relaxer can be, but you get a very large container for a reasonable price. This means you don't have to worry about the product running out too soon if your hair is long.
Pros
Exceptional value

Massive amount of product

Detangles and smooths out the hair

Works quickly

Suitable for most hair types
Cons
Neutralizing shampoo or deep conditioner sold separately

Packaging can be leak during shipment
---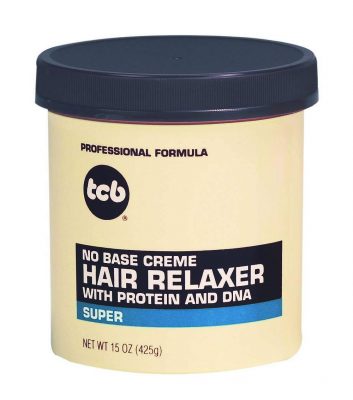 Why we like it:
It's a good thing the protective cream is built-in to the formula, because this means it doesn't require any stirring of the chemicals to unlock the relaxing properties you paid for. It's all ready to use, right after you get your hair ready for the chemical intake. Straighten your hair in sections by using the back of a comb, then after 7 minutes the product will be ready to be washed out with water and your thick locks will have been tamed.
Editor's Rating:
The TCB No Base Creme is a sound choice for more experienced hair relaxer users. This Kenyan brand has delivered results ever since 1975, so if you know your hair can endure lye, your curly hair will surrender to the touch of this no base product. The product is suitable for African hair, especially if it's thick and coarse. It is important to note that this is not a kit. It is just a tub of cream, but with a few additional products you'll have everything you need to give your hair the relaxed form you aim for.
Lye or No Lye
This product uses lye, which means it has a very high pH level (13 out of 14 units). The good thing about products that use lye is that the substance can be rinsed off much more easily and doesn't stay on your hair for too long, so if you use it properly it shouldn't damage your hair. Do make sure that you remove it in time, though, because lye-based products do have the potential to cause a lot of damage if used improperly.
Ingredients
Because this is a no-base product, it contains a protective cream that is built in the formula. The protective cream is made of petroleum jelly, so your scalp won't have to go through the burning sensation that the caustic effects may cause on your scalp. Additional natural oils also soften the hair, while the authentic African plant proteins replenish the strands and strengthen the roots.
Price Range and Extras
This is a good budget option. However, for this low price, you'll need to add a few additional products to complete your relaxing routine. The relaxer cream inside must be applied with protective gloves, and after the time stated in the directions must be rinsed out with the help of a neutralizing shampoo.
Pros
Good value for the price

Built-in protective cream

Doesn't require stirring

Has a great sweet and exotic smell
Cons
Gloves and neutralizing shampoo sold separately

Instructions are too broad and aren't very clear

Not suitable for thin, wavy, or color-treated hair.
---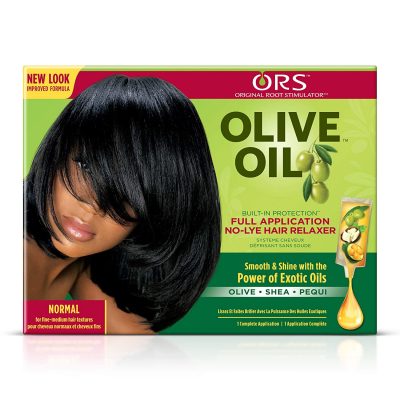 Why we like it:
This is a perfect product if you have coarse, thick, or even medium hair. The olive oil advantages really mix well with this no lye product, and leave the hair healthy and moisturized at the end of the treatment. The extra shampoo, conditioning treatment, and mousse are the frosting on the cake, making this a complete, healthy, and enjoyable treatment. It comes in two options: normal strength and extra strength.
Editor's Rating:
Whenever you hear the term olive oil, it is often associated with natural and nourishing food, skin, and health products. Naturally, ORS based a whole line of products on this wonder-making oil, to produce the best possible results in hair relaxing. One of the reasons olive oil is such a positive attribute to a good hair relaxer is that it moisturizes the hair at its roots, so that the hair look dry or overly processed. This is a perfect and healthy alternative if you have fine-to-medium hair.
Lye or No Lye
Not that products that use lye don't have their advantages as well, but ORS saw fit to make its gentle Built-in Protection Full Application hair relaxer contain no lye. It contains calcium hydroxide and guanidine carbonate, which bring the pH levels of your hair up to approximately 11 units. Normal, unprocessed hair is usually around a pH of 7 , but the pH brought by this product isn't overly high.
Ingredients
Olive oil is particularly good for the hair due to its fatty acids and vitamin E content. The fatty acids help replenish the hair strands once they dry out, whereas the vitamin E makes the hair strong and prevents hair fall and dandruff. The formula also contains African Shea oil and Brazilian Pequi oil, which further aid in the hydration of the hair and moisturization of the scalp.
Price Range and Extras
The ORS Olive Oil Built-in protection hair relaxer falls in the mid-range of affordability. What makes it worth the investment are the additional items and products that are provided with it. It contains an aloe- and olive oil-based neutralizing shampoo, a deep conditioning treatment, and a setting mousse. These products further hydrate the hair and maintain the treatment's effects, while the hair stays detangled, soft, and shiny. Additionally, it comes with a pair of latex gloves and a mixing stick, both aimed to make the mixing process easier and more pleasant. Lastly, it also comes with a step-by-step guide on how to mix the product successfully before applying it on your hair. This video might come in handy as you read and apply the instructions on the packaging.
Pros
Olive oil leaves hair soft and manageable

Won't dry out your scalp

Works great for black hair

Comes with neutralizing shampoo, conditioning treatment, and setting mousse

Includes gloves and mixing stick
Cons
Does not come pre-mixed

Is not suitable for fine hair

Might cause hair loss if not applied properly, so it is important to carefully read the instructions
---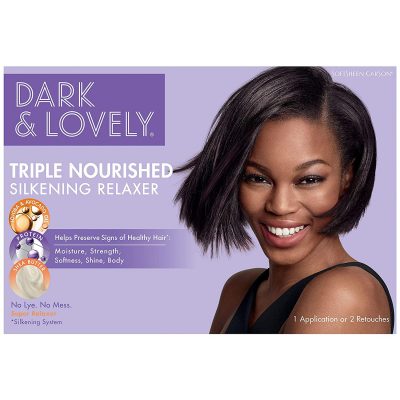 Why we like it:
The effects of the Dark and Lovely Healthy-Gloss 5 last 6 weeks—a long time considering its affordable price! Softsheen-Carson pays very much attention to the desires and issues of its users, and always produces great products that please. The use of keratin and shea butter makes this one of the healthiest hair relaxers on the market, so you don't have to worry about too much damage, if you apply it properly and follow the instructions closely.
Editor's Rating:
If you are looking for a solid product by a trusted manufacturer, Softsheen-Carson is in the top tier for those who use hair relaxers. The Dark and Lovely Healthy-Gloss 5 formula promised, right off the bat, to revolutionize hair relaxing, and quickly became one of the go-to hair relaxers, especially for black hair. Its multistep process makes it an optimum choice if you have fine to regular hair. You will notice healthier, silkier, and straighter strands after applying it to your hair.
Lye or No Lye
Just like the Softsheen-Carson Optimum relaxer, the Dark and Lovely Healthy-Gloss does not use lye. In turn, the formula contains guanidine carbonate, a substance that has a lower pH level than a product that uses sodium hydroxide (found in lye). The lower the pH level, the less corrosive the product is on the hair.
Ingredients
This is where the "5" part of the title comes in. The 5 ingredients that set this hair relaxer apart from others are as follows:
A silk keratin serum that helps strengthen and protect the hair.
A moisture conditioner that hydrates the hair up to 5 times more than other conditioners.
A moisture hair cream that provides the hair with softness and shine.
A shea butter conditioning relaxer that protects and replenishes the hair.
A cream activator that activates the moisturizing ingredients in the formula.
To keep the "5" theme going, the post-treatment results on the hair are moisture, shine, strength, body, and softness. The additional all-natural oils found in the product boost the moisture in your hair to keep it healthy and nurtured while looking straight, silky, and glossy.
Price Range and Extras
At a very affordable price, this hair relaxer provides everything you need for your hair to shine and look exactly as you envisioned it. Also provided with the relaxer kit is a neutralizing shampoo which should be used after rinsing the product out of the hair. However, it may not be enough if you have extra thick or extra long hair, so make sure you have some extra shampoo on hand, just in case.
Pros
Very affordable price

Keratin and shea butter are known to protect and replenish the hair with what it loses from the other chemicals

Comes with a bonus neutralizing shampoo

Effects last 6 weeks

Best relaxer for African-American hair
Cons
The neutralizing shampoo may not be sufficient, quantity-wise

The instructions could be clearer

Not suitable for thick or coarse hair
---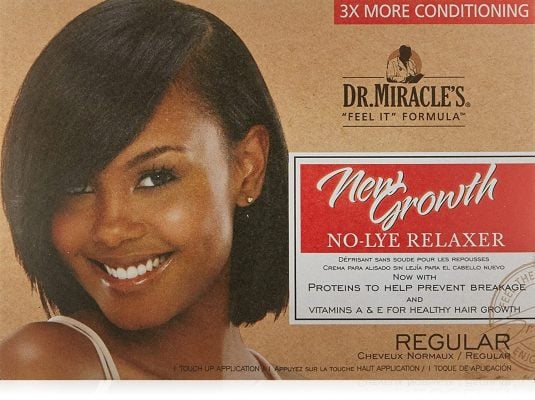 Why we like it:
This kit is very easy to mix and apply, and does wonder for new growth. The vitamins and oils that maximize moisture and strength of the strands make this a must-have product for the maintenance of your hair relaxer treatment. It is suitable for use alongside other products like neutralizing shampoos, deep conditioners, and it even comes with a moisturizing mask by Dr. Miracle that will maximize how healthy your hair can stay. It's designed for use on natural hair, but anyone looking for a lye-free hair relaxer should have great results with it.
Editor's Rating:
This is a great hair relaxer for straightening out natural curls, but it is recommended for those who are already familiar with hair relaxers. It might get tricky to obtain the full effects it can deliver if you'll be using a hair relaxer for the first time, as this is a go-to choice for those that opt for re-growth.
Lye or No Lye
Dr. Miracle's New Growth hair relaxer is a no-lye product. This comes as good news for the roots and hairline, because this product will come in closer contact with the scalp than many others.
Ingredients
This hair relaxer is designed with a no-breakage formula. For this to work, certain oils and vitamins are necessary. The New Growth Thermaceutical hair relaxer has plenty of those, each with an important role in keeping your hair healthy:
Soy protein adds strength and moisture.
Aloe vera protects delicate hair from corrosion.
Tea tree oil clarifies the hair and conditions the scalp.
Vitamins C, B, and E top off the health and strength aspect of the product.
Price Range and Extras
This is an affordable hair relaxer for those who are looking to touch-up on spots where they notice re-growth on areas they previously applied hair relaxer on. Quantity-wise, it is not enough to be applied on a full-grown long head of hair, which is why it's a better option for shorter hair, or for touch-ups after a previous application. It also includes a moisturizing mask you can apply using the relaxer and a mixing stick for easy application.
Pros
Very affordable

Vitamin and oil complex keeps the hair strong and healthy

Perfect for natural hair and use on previously-relaxed hair

Easy to mix and to follow instructions
Cons
Small package, so you may need multiple purchases for particularly long hair

Not suitable for fine hair
---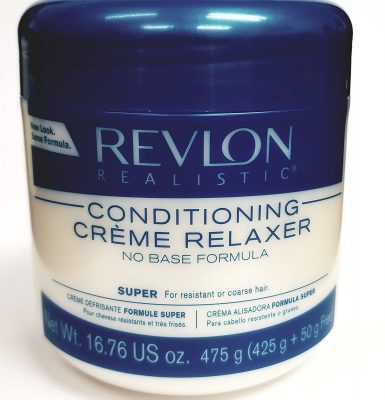 Why we like it:
Revlon's knocked it out of the ballpark with the way this cream treats your hair by causing little-to-no damage and leaving it feeling smooth, hydrated, and soft to the touch. It comes in both regular and "super" forms, so as long as you know what hair type you have, there is a suitable option for you. It also has a very pleasant smell, which most hair relaxers lack, or even have quite the opposite (usually sulfurous).
Editor's Rating:
If you have medium or coarse hair, this big tub of hair relaxer cream might be the right choice for you. Its formula is designed to apologize to the hair for the chemicals it is using to relax it, and makes up for it by smoothing and softening the hair in a remarkably fast fashion, with long-lasting effects. In as little as 6 minutes, it leaves your hair healthy and frizz- and curl-free.
Lye or No Lye
Because it has a no base formula (meaning the protective cream is built-in), this hair relaxer uses lye. The use of sodium hydroxide may not be the healthiest choice for the hair, but it delivers results faster than no lye products, and can be washed off equally fast, thus preventing long-term damage to the hair. On top of that, its inclusion of several revitalizing ingredients actually make it healthier for hair than most other relaxers—as long as you use it according to the instructions.
Ingredients
Revlon doesn't need to prove anything by advertising fancy oils and vitamins on the packaging. The company has been at the forefront of beauty products ever since its inception in 1932. In fact, on the tube, they even pride themselves on having maintained the same formula throughout their existence, only having changed the look of the packaging in over 90 years.
Price Range and Extras
This product falls is affordable, however it does not contain anything else besides the tub of hair relaxer. Neutralizing shampoo and pre-treatment products must be purchased separately, though any brand will be compatible with the Revlon Professional Super Conditioning Cream.
Pros
Good price

Pleasant, natural aroma ideal for people who are wary of chemical smells

Trusted brand

Higher-than-average quantity per unit, ensuring full coverage for long hair
Cons
Does not include neutralizing shampoo or any other related and necessary products

Not suitable for bleached or permanently colored hair
---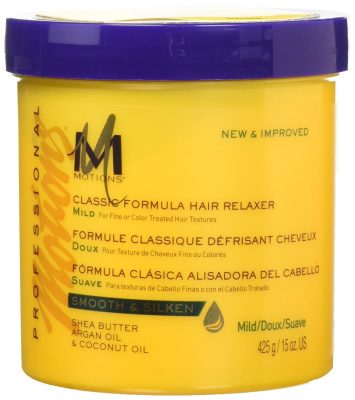 Why we like it:
This is a perfect hair relaxer for fine to medium types of hair. We like how manageable it makes hair, and how shiny it looks as it bounces on your shoulders while each strand is feeling nurtured and healthy on the inside. If hair relaxers had a soundtrack to the results they deliver, this one would scream "I Got You (I Feel Good)" by James Brown!
Editor's Rating:
This yellow tub of relaxing cream may be all it takes to make your fine or damaged hair feel straight and conditioned at the same time. Motions is a brand whose name can be read on products used by professionals at salons, so naturally the results this hair relaxer delivers are nothing short of professional-looking if applied correctly.
Lye or No Lye
Any hair relaxer that only comes in the form of a pre-mixed tub contains no base relaxer, which means it uses lye. Lye doesn't have to be considered evil for the hair as long as its used properly, and as long as its formula contains vitamins and oils that strive to rehydrate the hair and regenerate any necessary fatty acids.
Ingredients
The Motions Classic Formula hair relaxer contains three ingredients that, especially in unison, serve as a seal of approval for any hair product. Coconut oil, shea butter, and argan oil all play important roles in nourishing the hair, protecting it, and restoring its lost properties. Shea butter is especially good at preventing breakage and repairing dry hair. To top it off, argan oil gives that finishing smooth touch and shiny look to the hair.
Price Range and Extras
Motions made their Classic Formula hair relaxer affordable, so that anyone can benefit from this no-base reinvigorating cream. As is the case with most lye products, you will only receive this container, so you will have to purchase any additional products such as neutralizing shampoo separately.
Pros
Reputable and storied brand

Coconut oil, argan oil, and shea butter do wonders to replenish and moisturize the hair

Works great on fine and medium hair types

You get a large container for the price
Cons
Doesn't come with any extras

Not suitable for thick and coarse hair
---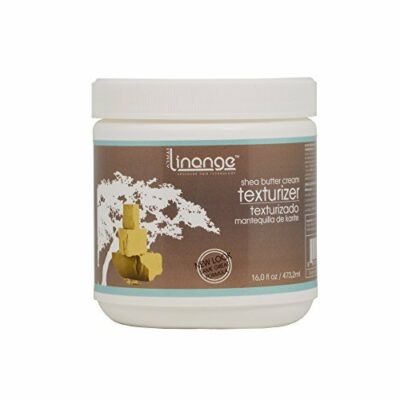 Why we like it:
This is a flexible product that brings out the best in both a hair relaxer and a retexturizer. If you've caused harm to your hair with other products, Alter Ego's revitalizing hair relaxer will bring things back to normal. Your hair will end up smooth, soft and full of life, rather than fried and stick-straight. For users with damaged hair, this is a renowned product that will save you a trip to the salon.
Editor's Rating:
Lye or No Lye
The Linange Shea Butter Cream Relaxer contains lye, but it is a low-lye relaxer that contains the lowest effective sodium hydroxide concentration possible, below 2.5 percent. Still, as with any lye product, rinsing the relaxer out with warm water and a neutralizing shampoo or a deep conditioner is essential to the process and health of your hair.
Ingredients
The key ingredient that this hair relaxer promotes is shea butter. As we now know from previous products that use shea butter, it plays a pivotal role in moisturizing your hair and preventing dryness. Since it is a no base hair relaxer, the formula comprises just enough chemicals to make your hair radiant and easily manageable, but it is still gentle on the scalp.
Price Range and Extras
This is a high-end product, so if you are new to the hair relaxer process, it might not be a good budget option to start off with. That being said, the container is much larger than most, so by the time you use it up it really won't have been more expensive than some of the cheaper-looking alternatives. The Linange Shea Butter Cream Relaxer by Alter Ego is a product that delivers great professional results, and there will always be enough so that you'll never run out of product half way through.
What We Like About It
For a product that uses lye, it is relatively mild, so the alkali residue will cause minimal damage to your scalp. The Shea butter makes sure that your hair maintains its liveliness after the treatment as well, whether you have thick or coarse hair, or fine and fragile hair. If your hair has been hurt by stronger hair relaxers, this is the best choice to whip it back into shape.
Pros
Wholesale value: 4 pounds of product!

Suitable for all hair (fragile, fine, thick, coarse)

Doesn't irritate the scalp

Mild, gentle, and repairing
Cons
It might seem expensive, but if the quantity is divided up into a "per treatment" amount it's just the initial price that seems high

The sulfrous smell isn't pleasant
---
Guide to Buying the Best Hair Relaxer
Now that you know a little bit more about what you're getting yourself (and your hair) into, let's go over some of the basics before you decide on your final purchase. These may be the top 10 choices for hair relaxers, but each one can deliver different results for different people. It is important to first know your type of hair before you pick a product. So how do you do that?
Determining Your Type of Hair
To know what products work best for you and will cause your hair the least amount of damage, knowing your hair type is essential Then you can know what ingredients to specifically look for or avoid, so that you won't be disappointed after using a product that everyone raved about but left you with damaged hair, cursing the internet.
Diameter
The diameter of the hair refers to the width of each strand. There are detailed measurements that define different hair diameters, but for most people the easiest way to determine your hair type is a lot less in-depth. To find out the diameter, do a strand test. Take a strand of your hair and lay it on a flat surface, or simply hold it in your hand.
Thin Hair
Barely seeing or feeling the strand of hair means you have fine or thin hair. Sometimes, hair can be so thin that you can hardly see a single strand. Thin hair is also easy to spot if your hair doesn't hold styling (such as curls) very well.
Medium Hair
If you can feel the hair strand, but only slightly, it means you have medium or moderate hair. People with medium hair can typically use almost any hair relaxer, but they might want to stick with those that aren't marketed towards any particular diameter.
Coarse Hair
If you can clearly see the texture of your hair strand, it is considered to be coarse hair. Coarse hair is not as good as retaining moisture as the other hair types, and is more liable to cause frizz. Having coarse hair also comes with the requirement of acquiring additional moisturizing products to further tame it.
An alternative way to test your hair's diameter is comparing it to a sewing thread. Medium hair feels almost as thick as a sewing thread. So coarse hair would be thicker than a thread, whereas fine hair would be thinner.
Density
This refers to the "population" of your hair. To test out roughly how many individual hair strands you have on your scalp, place yourself in front of a mirror and, again, take a section of your hair and pull it aside. Can you see your scalp?
Fine Hair
If you can see your scalp without a problem, then you have a thin hair density.
Medium Hair
If you can kind of see your scalp, but struggle a bit, your hair density is medium.
Coarse Hair
If you have difficulty seeing your scalp, or don't manage to see it at all, you have thick hair density.
You can have a fine hair density with a thick hair diameter, or vice versa. These factors don't always go hand in hand, and are only similar in the terms that describe their grading. The more dense your hair, the stronger (or more) product you'll need.
Porosity
Porosity is a term that refers to the hair's capacity to retain moisture or product within its pores. Back to the testing board we go! Grab a strand of hair from your brush and place it in a cup or a bowl of water.
Low Porosity
If the hair floats, your hair has low porosity. Its ability to absorb moisture or product is low, because there are fewer pores in your hair cuticles. Therefore, your hair will take longer to dry, as water or product will remain on the surface. If this is the case, make sure your hair is somewhat damp before you distribute product evenly through it. You'll need a little bit more hair relaxer if your hair isn't very porous, and you'll need to pay extra attention to washing it all out.
Medium Porosity
If the hair lowers itself in the water but doesn't quite sink all the way to the bottom, you have a well-balanced, normal porosity.
High Porosity
Gaps or tears in the hair's cuticle will make the strand of hair sink all the way to the bottom. High porosity causes the hair to absorb all the moisture, so you'll find yourself using more hair relaxer than normal. The hair dries without feeling hydrated, so avoid products that can fry your hair. Be careful not to overapply relaxers to porous hair, because it will soak it all in and might cause damage.
Shape
This is where we explore the different shapes and patterns of hair. There are 4 types, aptly named types 1, 2, 3, and 4.
Type 1: Straight
Straight hair doesn't have any creases or bends, and is therefore immune to any attempts to curl it. Straight hair is usually soft and shiny, but secretes more oils than other types, so it may feel greasy.
Type 2: Wavy
Wavy hair implies some sort of natural "S" shape in the hair's structure. It is too curly to be straight, and too straight to be curly. It is good for retaining hairstyles and is usually thick in diameter.
Type 3: Curly
Tighter curves and bigger loops in the "S" shape are indicators that the hair is curly. Curly hair is a bit difficult to straighten and gets frizzy or tangled more easily.
Type 4: Kinky
When the curls start resembling a "Z" rather than an "S", it means the hair is kinky. Kinky hair is high in density and can break more easily, without the right treatment.
As a general rule, the higher the number of your type of hair, the stronger (or more) relaxer you'll need to use. If you're having trouble figuring out which texture your hair has, this site and the below image point out the differences in each texture subcategory in a lot of detail: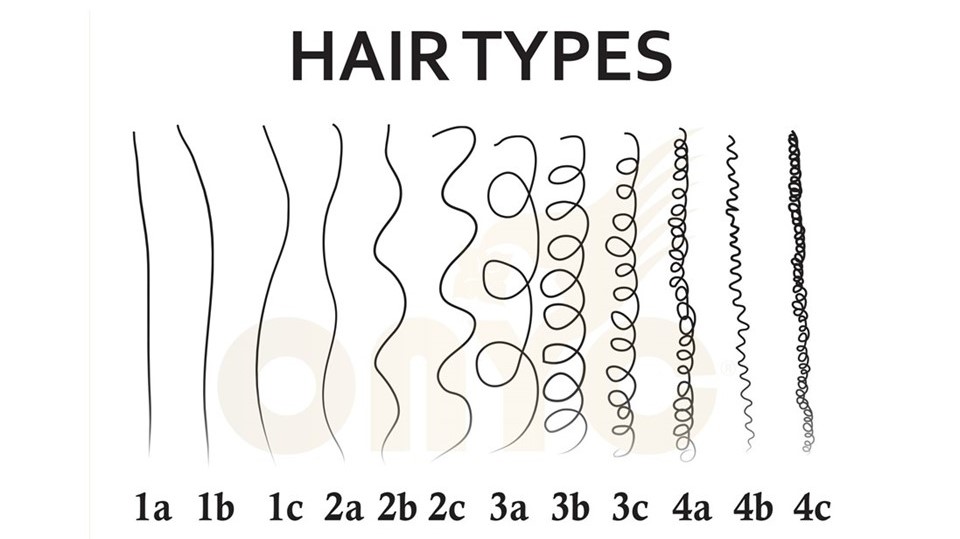 Hair Relaxers Chemicals vs. Your Hair
So what do hair relaxers actually do? Basically, a hair relaxer is a chemical product that breaks down the hair's bonds to alter its shape and texture from its natural form, by loosening or relaxing it.
Lye vs. No Lye
Although talking about the chemical bonds between ionic metals (like sodium, lithium, and potassium) and oxygen and hydrogen might be a bit too in-depth for most people in the market for hair relaxers, the composition of hair relaxers can be easier to explain.
Sodium hydroxide (the combination of sodium, oxygen, and hydrogen) is the main active ingredient in a product that uses Lye. Lye hair relaxers break down the hair's bonds the quickest, which is why professionals tend to prefer them. But if not evenly applied and rinsed out in a timely manner, a hair relaxer that uses lye can cause the most damage to the hair and scalp.
Lithium, potassium, and calcium hydroxide (sometimes guanidine, too) relaxers are the active ingredients in No-Lye relaxers. This group of ionic metals is significantly less aggressive than sodium, which means it will cause less dryness and irritation to the scalp. One of the downsides to such products is the calcium build-up they cause, which can leave the hair dry and irritating.
To prevent dryness and any form of irritation, we recommend applying neutralizing shampoos and deep conditioners to remove any unwanted calcium or alkali residue in the hair.
Sensitive Scalps
The scalp is just as vulnerable as the hair during hair relaxer treatments. It is important to be on the lookout for products that use oils and ingredients such as olive or other oils, shea butter, and aloe, as well as other components that repair the protective layer covering the scalp.
Try to keep away from excessive heat while you have a perm, as heat tends to open up the pores and causes moisture and essential fatty oils to leak from the hair, leaving it dry and prone to damage. Some safe choices for sensitive scalps are lye-free relaxers that use guanidine or calcium hydroxide as active ingredients, or quick-working lye-based relaxers with added moisturizers.
Hair Relaxer Strength
Most hair relaxers come in different levels of strength. You will see terms such as "super" or "normal/regular" on the packaging. This refers to the concentration of the active ingredient. For instance, a "super" strength relaxer may contain a higher concentration of sodium hydroxide than one that says "normal" or "regular". It will get the job done quicker, but it is ultimately more corrosive on the hair. Make sure your hair can take the maximum strength you read on a product, otherwise stick to regular but safe. Any hair relaxer, but particularly those with a high concentration of its active ingredient, should only be used for the amount of time indicated on the package.
Level of pH
This unit measurement determines the balance between acidity and alkalinity in a substance. The regular pH of hair is somewhere between 4 to 6 units, on a 0 to 14 scale. A pH of 7 and below is acidic, whereas above 7 is more alkaline. The further from this standard level any product is, the more harmful it will be on your hair if not used properly. Products without lye are normally found within 9 to 11 units on the pH spectrum, whereas lye-containing products top off the scale, ranging between 12 and 14.
To bring the hair back to a pH level of around 4.5, it is necessary to rinse out any chemical remnants with the help of a neutralizing or clarifying shampoo. These shampoos are acid-based, which evens out the balance.
Final Thoughts
If you are using a hair relaxer for the first time, we suggest going down the list, checking off what is compatible with your hair, and trying the matching relaxer. Test it out on a strand of hair, and see how it works. If it does the job well, apply it according to the instructions on the package. If you aren't completely satisfied, don't get discouraged. Try the next one. After some trial-and-error, you will undoubtedly fall in love with a product and won't want to switch to another any time soon.
Keep in mind that over-relaxing your hair is not a good idea. If it is too straight, too much product or too strong of a product was applied. This tampers with its elasticity, thins the hair, and weakens the scalp. Try using everything in a balanced and recommended quantity, and always apply a good shampoo or conditioner, before, during, and after the treatment when required. If you choose the right product and use it well, you'll find the results you seek. Treat your hair the way it deserves to be treated: like a crown.