Top Picks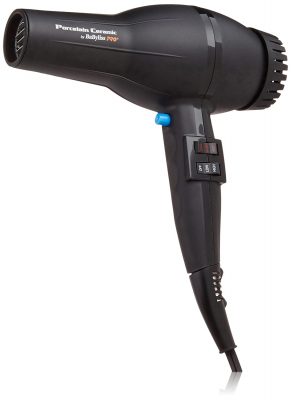 BaBylissPRO Porcelain Ceramic 2800 Dryer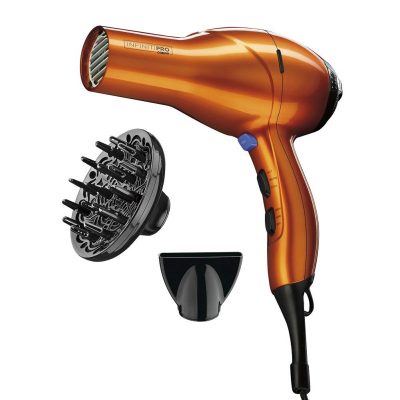 Conair Infiniti Pro Hair Dryer

Dyson Supersonic Hair Dryer
Previous
Next
If you have been blessed with a great mane of corkscrew curls, ringlets, or luscious waves, you already know how it's both a blessing and a curse. Your hair can look glamorous if handled the right way, but maintaining it that can be tiresome.
Standard hair dryers are not suited for curly hair unless you're trying to straighten your hair. These devices can turn the curls into a frizzy mess, which we're certain isn't the look you want to sport.
Additionally, subjecting your hair to harsh heat can adversely affect its quality, dry out the delicate hair strands, contribute to heat damage, and promote frizz.
Purchasing the right hair dryer might seem like a straightforward process, but it really isn't. You need to find the right tool that keeps your curls healthy and frizz-free. Along with a good hair care routine, your curly hair also deserves the best hair dryer there is.
This is why we've compiled a list of the best hair dryers that offer a combination of useful features. From ceramic technologies that add more shine, moisture, and volume to infrared heaters that prevent over-drying, we have reviewed them all.
So, let's get started!
How to Choose the Best Hair Dryer for Curly Hair
"What is the cheapest hair dryer model that I can find?" – haven't we all thought this before?
You see, whenever we set out to buy a styling tool, price is often our primary concern. However, this really shouldn't be the case; and that's especially true for hair dryers. The wrong hair dryer can cause damage to your hair that is costly and time-consuming to repair; investing in the right hair dryer from the start can actually save you money in the long run.
Instead, you'll want to focus on these aspects, and not just settle for the least expensive hair dryer you can find:
Wattage
Wattage describes the electrical power of the hair dryer, measuring how fast the motor spins to produce warm air.
Typically, a hair dryer that falls within the 1300 to 1875 watts range is best suited for thin hair, but for thick curly hair, it's better to opt for a device within the 1900 to 2200 watts range.
Always remember: the higher the wattage, the more expensive the appliance will likely be.
Technology
You should purchase hair dryers according to your hair type. After all, a single device cannot meet the needs of all hair types. For instance, a dryer meant for thick hair will not be as effective on thin hair and vice versa.
Similarly, these devices also include specific material types such as ionic, titanium, or ceramic. If you have thick curly hair, we would recommend using titanium hair dryers, whereas ceramic or ionic hair dryers work best for thin curly hair.
It's your hair type that should be the most crucial deciding factor.
Speed and Heat Settings
Generally, hair dryers have three standard speed settings: high, medium, and low. Even for heat settings, the case is similar. The idea here is to use both the settings optimally to get the best results. For instance, if you have thick curly hair, you should use a high to medium heat setting set at high speed to dry your hair without creating any frizz.
A good rule of thumb would be to buy a device that allows more airflow at small or medium heat to keep heat damage to the minimum.
Design
Hair dryers for curly hairs are available in different designs. Some models have a thin stick-type structure, while others feature a huge bottom-holding stand. Always prioritize your convenience over style and choose a design that fits perfectly in your hand.
Most hair dryers feature a cool shot/cool blast setting that allows you to add a finishing touch to your hair. Once you finish drying your hair, style it the way you want, and then use this cool shot setting all over for a long-lasting hairstyle.
Attachments
Several hair dryer models come along with different handy attachments such as a diffuser, straightening brush, or nozzle. A concentrated nozzle, for example, can be useful for directing the flow of air.
For curly hair specifically, we would recommend selecting models that have a diffuser attachment; it helps to spread out the airflow of the hair dryer by slowing down the drying process, helping to keep the curls intact.
Now that we've covered what you need to know to choose the right hair dryer for your curly hair, let's take a peek at the best ones available in 2020.
Top 9 Best Hair Dryers for Curly Hair 2021
Guide to Buying the Best Hair Dryer for Curly Hair in 2020
Buying the right hair dryer is crucial for taming and styling curly hair. The device is more like an ally that will help all kinds of hairstyles ranging from trendy and chic to classy and sophisticated – even with all your curls and coils!
Although many people don't realize it at first, all hair dryers aren't equal. Basically, something that works for your straight-haired friend may not deliver the same results in your case.
It all boils down to your hair type and the look you're trying to accomplish.
What are the Different Types of Hair Dryers for Curly Hair?
There are three main kinds of hair dryers for curly hair. Let's take a look at these options below:
Ceramic Blow Dryer
A ceramic blow dryer is coated on the inside to distribute heat evenly across the hair. It's very different from traditional blow dryers as the device can adjust the heat according to the room temperature.
Hits:
Distributes heat evenly
Causes less damage to hair
Dries hair faster
Can sense room temperature and regulate the heat accordingly
Misses:
Not very effective for frizz control
Doesn't emit as many negative ions
Steeply priced
Ionic Hair Dryer
Our hair has both negatively charged ions as well as positively charged ions. The job of an ionic hair dryer is to release more negative ions in your hair to kill the positive ions, which in turn, will keep your hair shafts intact. This also gives your hair a sleeker and smoother look. We have included several models that use ionic technology in our guide above.
Hits:
Works well even when used at a lower temperature
Helps to keep the curl shape intact
Gives more definition to curls
Reduces frizz
Misses:
Prone to over-drying the hair strands
It can have a damaging effect on hair if not used properly
Not suitable for dry or limp hair
Slightly expensive
Titanium Blow Dryer
A titanium blow dryer maintains a consistent temperature when in use, which also dries the hair faster. It's more suited for professional use and is commonly used by professional hairstylists and people who work in a salon.
Hits:
Maintains a steady temperature
Very lightweight
Commonly used by professionals
Helps to reduce frizz
Faster drying and styling
Leaves hair glossy and smooth
Misses:
Doesn't work for people with thin hair
Can adversely affect the hair if not used properly
Higher risk of heat damage when used frequently
Which Material Is Best for a Hair Dryer?
You should consider the heater before purchasing a hair dryer. At the moment, there is an increased demand for ceramic models or tourmaline-coated ceramic models. However, it can take a bit of trial and error until you find your perfect match.
What Is the Difference Between Ionic Technology and Infrared Technology?
Firstly, both ionic and infinite technology are great, so you can't go wrong with any of them.
You see, ionic technology accelerates the drying process that helps to add luster by letting your hair strands retain maximum moisture. The negative ions emitted from the appliance increases the efficiency of the product to deal with water molecules which further promotes the drying process. This also helps to decrease the risk of hair damage.
Infrared technology, on the other hand, is more gentle. If you have damaged or sensitive hair, we would recommend opting for infrared hair dryers that offer high heat levels but still manage to protect your hair against extreme temperatures.
Why Is a Diffuser Such an Important Hair Dryer Attachment for Curly Hair?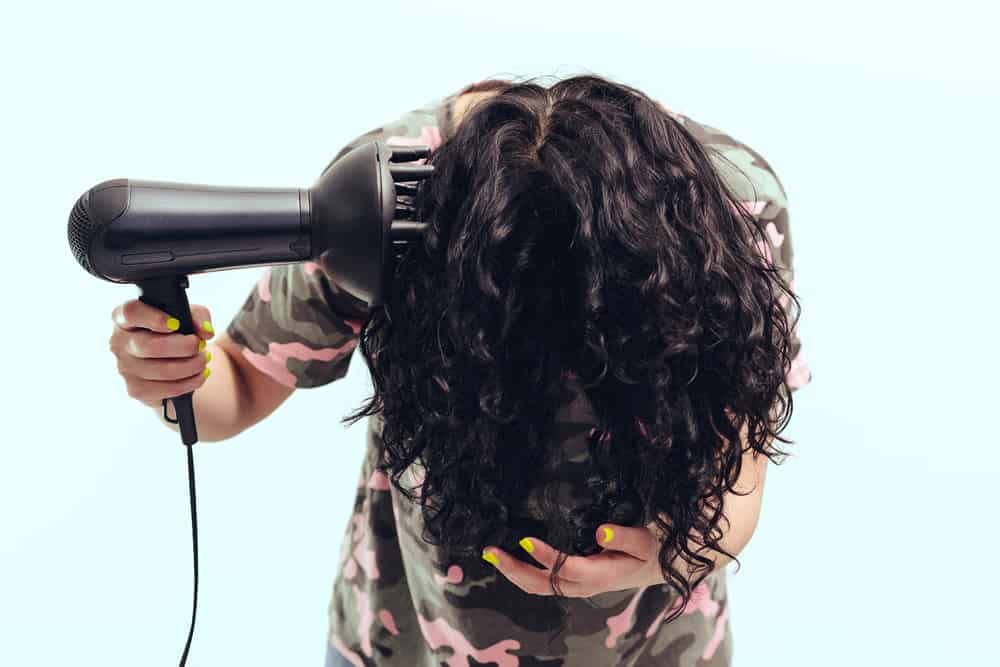 You may be surprised to learn that the most important factor in choosing the best hair dryer for curly hair isn't the dryer itself – it's the attachments.
Or to be more specific, it's the diffuser.
For curly heads, a diffuser can be the best companion that protects their curls and styles them to give them more definition.
Here's how it works: it spreads the air over a larger area, while carefully controlling the airflow. Not only does this prevent hair damage, but it also secures your curls, making them last longer.
Can You Blow-Dry Your Hair Regularly?
Yes, you can blow dry your hair regularly if you must, and honestly, we see the temptation too.
Blow drying makes your hair look more presentable in a relatively short period of time and with minimal effort. Your main concern should be to choose the best hair dryer for your curly hair and team it with a heat protectant and other hair care products to keep your mane healthy and glossy.
Will Blow-Drying Burn Your Hair?
Heat damage is one of the most common myths associated with blow-drying.
Blow-drying doesn't burn the hair – at all! You don't have to worry about your dryer putting your hair on fire. Just make sure you are using a high-quality tool that applies heat at controlled temperatures.
Air Dry or Hair Dry: Which One Is Better?
Many people, especially ones with curly hair, consider air-drying to be more effective than using a hair dryer. Not only does the former require more time and patience, but it can also weaken your hair.
You see, when you have very thick or coarse hair, it can take several hours for your hair to dry. This will weaken your hair strands from within, making them more prone to breakage. Instead, using a hair dryer with low heat settings will effectively dry your hair without causing any damage.
Plus, you can finish with the 'cool air' setting to style your hair as well.
Can a Hair Dryer Cause a Headache?
Most hair dryer models make sounds that can rival a raging tornado.
Now imagine this noise a few inches away from your ears.
There is no denying the fact that continued exposure to loud sounds can adversely affect your hearing, which may result in a ringing or buzzing sound in your ears for a couple of hours. So if you have a particularly loud hair dryer, it's highly likely that you may suffer from a mild headache if you use the appliance for a few minutes.
Do Hair Dryers Cause Hearing Loss?
As mentioned before, hearing loss is a possibility when your ears are exposed to loud sounds for extended periods. The Occupational Safety and Health Administration (OSHA) created a noise standard that states employees should establish hearing conservation programs if they are consistently exposed to loud noises.
You may be surprised to learn that modern-day hair dryers produce sounds that actually exceed OSHA's maximum standard. Salons, in particular, use powerful hair dryer models that use powerful motors of 1500 watts or more. These devices, in particular, make sounds that exceed 90 dB.
Even the Centers for Disease Control and Prevention (CDC) has maintained that repeated exposure to noises of 90 dB can lead to hearing loss. In other words, yes, your hair dryer can cause hearing loss if it's near the 90 dB mark.
How Can You Find the Quietest Hair Dryer?
If you're on a lookout for a quiet hair dryer, we would recommend looking for models that have an alternate current (AC) motor like Conair Infiniti Pro Hair Dryer and Jinri Professional Salon Hair Dryer, which are generally very quiet. Avoid models that have direct current (DC) motors as they are louder.
That being said, the noise level of a hair dryer is measured in decibels. Hence, if you have particularly sensitive ears, try to find out the noise level of the hair dryer to be on the safer side before placing your order. Anything more than 90 dB should be a strict no-no.
How to Care for Curly Hair?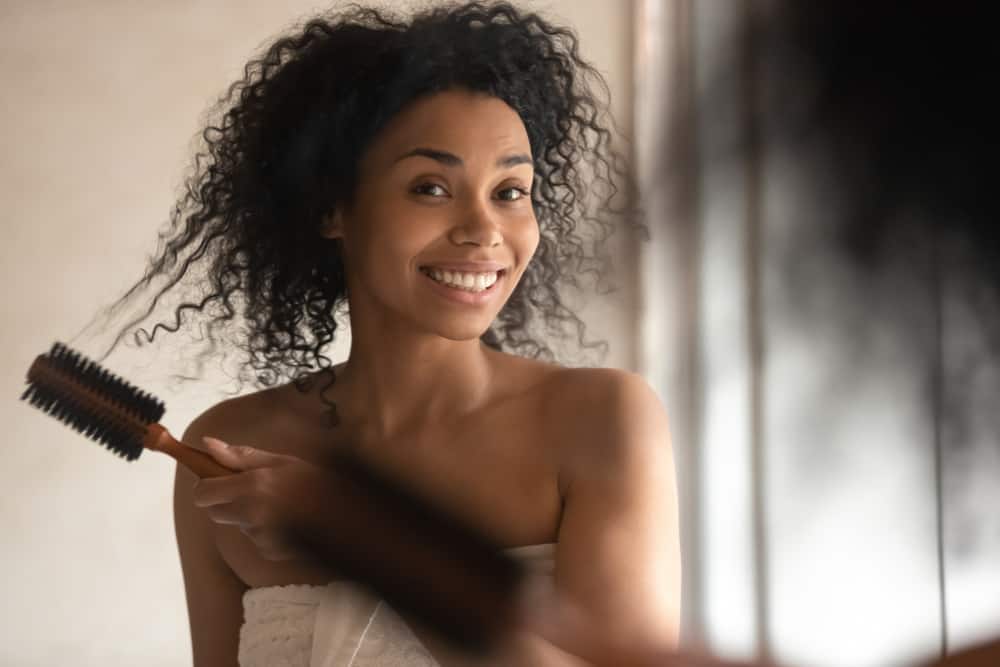 The following are a couple of guidelines to look after your curls to keep them healthy, shiny, and manageable:
Use a pre-shampoo or hair mask with conditioner to nourish your hair from the inside. Make sure you choose a formula that moisturizes, softens, and untangles the curls.
Swap your regular shampoos with a mild formula or use a cleansing conditioner to retain as much natural moisturizer in the hair as possible. Rinse with cold or cool water.
Once you are done shampooing, use a deep conditioning product. If you have dry hair, you can use a moisturizing conditioner, whereas reconstruction conditioner formulas work best for those with thin hair.
Don't shampoo regularly, and when you do, always wash your hair in sections to avoid creating more tangles.
Use microfiber towels to blot your hair dry. To avoid frizz, try the "plopping" technique. Bend forward, so all your hair gathers on the towel in front of you. Wrap the towel to create a turban around your head.
Use a high-quality comb to detangle your hair while it's damp. Take your time; always be gentle when combing your hair to avoid breakage and excessive frizzing.
Summing Up
A glowing, luscious, and healthy mass of curls is on everybody's wishlist, but only a few take the measures to work toward it. Investing in the best hair dryer can be your first step toward this goal.
For a small price and a bit of research, you can have a reliable haircare appliance that will actively protect your curls, and make it look fabulous in the process.
Curls aren't something that everyone is blessed with, so celebrate and embrace them. Get ready to steal the show!