If you have been blessed with a great mane of corkscrew curls, ringlets, or luscious waves, you already know how it's both a blessing and a curse. Your hair can look glamorous if handled the right way, but maintaining it that can be tiresome.
Standard hair dryers are not suited for curly hair unless you're trying to straighten your hair. These devices can turn the curls into a frizzy mess, which we're certain isn't the look you want to sport.
Additionally, subjecting your hair to harsh heat can adversely affect its quality, dry out the delicate hair strands, contribute to heat damage, and promote frizz.
Purchasing the right hair dryer might seem like a straightforward process, but it really isn't. You need to find the right tool that keeps your curls healthy and frizz-free. Along with a good hair care routine, your curly hair also deserves the best hair dryer there is.
This is why we've compiled a list of the best hair dryers that offer a combination of useful features. From ceramic technologies that add more shine, moisture, and volume to infrared heaters that prevent over-drying, we have reviewed them all.
So, let's get started!
How to Choose the Best Hair Dryer for Curly Hair
"What is the cheapest hair dryer model that I can find?" – haven't we all thought this before?
You see, whenever we set out to buy a styling tool, price is often our primary concern. However, this really shouldn't be the case; and that's especially true for hair dryers. The wrong hair dryer can cause damage to your hair that is costly and time-consuming to repair; investing in the right hair dryer from the start can actually save you money in the long run.
Instead, you'll want to focus on these aspects, and not just settle for the least expensive hair dryer you can find:
Wattage
Wattage describes the electrical power of the hair dryer, measuring how fast the motor spins to produce warm air.
Typically, a hair dryer that falls within the 1300 to 1875 watts range is best suited for thin hair, but for thick curly hair, it's better to opt for a device within the 1900 to 2200 watts range.
Always remember: the higher the wattage, the more expensive the appliance will likely be.
Technology
You should purchase hair dryers according to your hair type. After all, a single device cannot meet the needs of all hair types. For instance, a dryer meant for thick hair will not be as effective on thin hair and vice versa.
Similarly, these devices also include specific material types such as ionic, titanium, or ceramic. If you have thick curly hair, we would recommend using titanium hair dryers, whereas ceramic or ionic hair dryers work best for thin curly hair.
It's your hair type that should be the most crucial deciding factor.
Speed and Heat Settings
Generally, hair dryers have three standard speed settings: high, medium, and low. Even for heat settings, the case is similar. The idea here is to use both the settings optimally to get the best results. For instance, if you have thick curly hair, you should use a high to medium heat setting set at high speed to dry your hair without creating any frizz.
A good rule of thumb would be to buy a device that allows more airflow at small or medium heat to keep heat damage to the minimum.
Design
Hair dryers for curly hairs are available in different designs. Some models have a thin stick-type structure, while others feature a huge bottom-holding stand. Always prioritize your convenience over style and choose a design that fits perfectly in your hand.
Most hair dryers feature a cool shot/cool blast setting that allows you to add a finishing touch to your hair. Once you finish drying your hair, style it the way you want, and then use this cool shot setting all over for a long-lasting hairstyle.
Attachments
Several hair dryer models come along with different handy attachments such as a diffuser, straightening brush, or nozzle. A concentrated nozzle, for example, can be useful for directing the flow of air.
For curly hair specifically, we would recommend selecting models that have a diffuser attachment; it helps to spread out the airflow of the hair dryer by slowing down the drying process, helping to keep the curls intact.
Now that we've covered what you need to know to choose the right hair dryer for your curly hair, let's take a peek at the best ones available in 2021.
Top 9 Best Hair Dryers for Curly Hair 2023

Why we like it:
It offers unprecedented control and comes along with various magnetic attachments that don't fall off. This next-level engineered hair dryer includes several advanced technologies for faster and safer hair drying.
Editor's Rating:
Specifications
Number of Settings: 3 speeds, 4 heat settings, cold shot
Cord Length: 9 feet
Attachments: Diffuser, concentrator, smoother
Wattage: 1600 watts
Warranty: 2 years
The Dyson Supersonic Hair Dryer is definitely one of the most superior hair dryers for curly hair available on the market. It comes along with multiple attachments to dry and take care of your mane. However, you have to be game to make a *huge* investment in your hair.
Dyson is renowned for producing high-quality products that have a distinct design, and this doesn't change with the Supersonic. The tool has a sleek, modern look, engineered to deliver consistent heat. It has an 'intelligent heat control' feature that protects your hair by measuring airflow temperature over 20 times per second. It uses Dyson's high-velocity airflow technology for controlled fast drying, which also helps to keep your hair healthy.
The device uses a brushless digital motor v9 that makes it six times faster. We are talking 110,000rpm-propelling-13-liters-of-air-every-second fast! But the motor also tends to burn out in a couple of months, which considering the exorbitant price is a big drawback. Complementing the motor is the Air Multiplier technology that triples the overall airflow by blasting high-velocity jet air, making it suitable for long curly hair.
There are three speed settings: high, medium, and low. Additionally, you can choose among four heat settings ranging from 82°F (constant cold setting) to 212°F (fast drying without extreme heat). The 82°F cold shot setting is equally efficient to set your hair after styling.
Performance-wise, the hair dryer is incredibly easy to use and keeps hair damage to the minimum. You get magnetic attachments with the appliance that can blow-dry your hair section-by-section, without overdrying it. These attachments are fitted to its front and are easily rotatable to give you the desired angle.
Our favorite, however, is the diffuser attachment that can add excellent definition, keeping your curls shiny and bouncy. It also stays cool to the touch, which matters because you may have to hold the attachment close to your scalp at times. Using the diffuser can be time-consuming, but it's well worth the wait once finished.
Although the Supersonic is relatively quiet, it can get somewhat noisy in a high-speed setting. Also, if you have fine or shorter hair, the results won't be as prominent. For those with shorter hair, we would recommend the BaBylissPRO Porcelain Ceramic 2800 Dryer instead.
Pros
Multiple speed and heat settings for better easy adjustability and control

Very easy to use

Diffuser and concentrator nozzles attach magnetically, so they don't fall off

Fitted with advanced technologies to minimize heat damage

Makes hair smoother and shinier, while controlling any frizziness
Cons
Expensive

The motor tends to burn out within a year

The high-speed setting can be a bit loud
---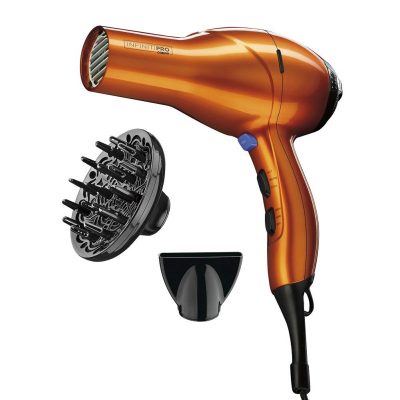 Why we like it:
With a powerful 1875W AC motor, this hair dryer infuses ionic and ceramic technology to make even the unruliest curly hair smooth and shiny. It can rival the more expensive, salon-grade models without breaking your budget.
Editor's Rating:
Specifications
Number of Settings: 2 speeds, 3 heat settings, cold shot
Cord Length: 6 feet
Attachments: Diffuser, concentrator
Wattage: 1875 watts
Warranty: 4 years
At under $50, the Conair Infiniti Pro Hair Dryer provides great value. While the easy-to-read controls make it convenient, the ceramic heating technology makes it incredibly versatile for all hair types, especially curly hair.
It's very lightweight with more power than you would initially expect. It has a 1875W motor, which may not be as powerful as some models available on the market, but it's sufficient for home use. Also, those salon-grade hair dryers are far more expensive, which honestly, makes the Conair Infiniti Pro a steal as the latter provides similar results despite the lower price tag.
The more important features, however, are the heat settings. The hair dryer offers three different heat settings, along with two different speeds. Hence, you're able to customize adjustability to get the most fitting way of hair treatment for your curly hair. A great tip would be to use the device at the lowest effective temperature when drying your hair to prevent it from getting too dry.
It uses ionic and ceramic technology to smoothen the hair strands as gently as possible while drying it within minutes. The steady flow of heat is useful for reducing frizz and adding a glorious shine.
You can use the cool shot button for a blast of unheated air to set your hairstyle. Moreover, the temperature change upon pushing the button is immediate and is indicated by a noticeable clicking sound.
The appliance has a removable endcap that lets you clean the filter and remove any lint buildup, extending the life of its motor. We liked the curved grip that makes the device easier to handle than most. So no need to worry about hand cramps anymore!
It comes with a concentrator and a diffuser that fit securely and can help you achieve smooth and textured hairstyles. That being said, we would have preferred the accessories to be a little more sturdy.
Talking about the negatives, the Conair Infiniti Pro is one of the loudest models on our list, generating around 85.5 dB at its highest operating levels. Any sound at or above 85 dB is more likely to damage your hearing over time, which is why we wouldn't recommend using the Conair Infiniti Pro regularly.
In addition to this, the hair dryer has a 6-feet long cord that restricts maneuverability. This, of course, won't be an issue if you have the power outlet close to where you generally style your hair or own an extension cord.
Pros
Ergonomic handle that matches the arc of the hand

Ceramic ionic technology that reduces frizz and heat damage

It has a powerful AC motor that delivers consistent airflow

Versatile – offers customized settings for all types of curls

Lightweight and travel-friendly design
Cons
Short power cord

The blast of heated air isn't quite strong

Very noisy – generates sounds over 85 dB
---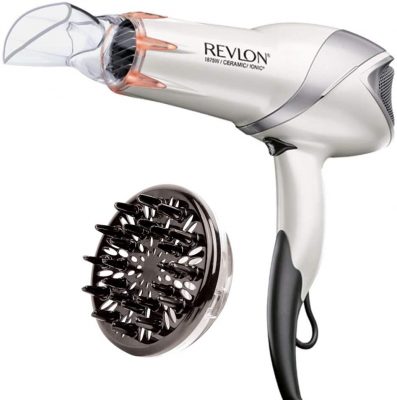 Why we like it:
Costing a tenth of the price of similar premium hair dryers, the Revlon 1875W Infrared Hair Dryer uses tourmaline ionic technology and infrared heat to de-frizz and smooth curly hair.
Editor's Rating:
Specifications
Number of Settings: 2 speeds, 2 heat settings, cool shot
Cord Length: 6 feet
Attachments: Diffuser, concentrator
Wattage: 1875 watts
Warranty: 2 years
The Revlon 1875W Infrared Hair Dryer packs a powerful punch at a super-affordable price, making it perfect for budget-challenged curly heads.
The hair dryer has tourmaline-coated ceramic elements, which typically costs a large sum of money, but Revlon makes it available to you at a lower rate. Tourmaline ionic technology promotes the production of negative ions by infusing your locks with moisture while it dries, which in turn, controls frizz, static, and flyaway hair. The infrared heat can be useful for smoothening hair and adding shine.
It has an 1875-watt motor, just like the Conair Infiniti Pro Hair Dryer, which makes it an absolute timesaver and suitable for users with thick hair. It comes along with two attachments: a concentrator and a diffuser.
The diffuser can be great for experimenting with curly styles. It features larger piercings that make room for greater airflow without blowing the curl out. The concentrator nozzle can come handy if you like to dry your hair one section at a time (and have the virtue of lots of patience).
Considering it has two heat and two-speed settings, the Revlon 1875W Infrared Hair Dryer doesn't give the same level of control as its higher-priced competitors. It does feature a cool shot button for quick styling, though.
Also, this hair dryer for curly hair is among the least durable models on our list. Nevertheless, it does a decent job of drying curly hair while it lasts, which is why we think it's a worthy addition to our list.
Pros
Very affordable

Tourmaline ionic technology for smooth and shiny hair

Diffuser permits greater airflow for beautiful curls

Powerful motor for fast drying

Creates minimal to no noise when in use
Cons
Short power cord restricts maneuverability

Only two heat and speed options available

Lower durability
---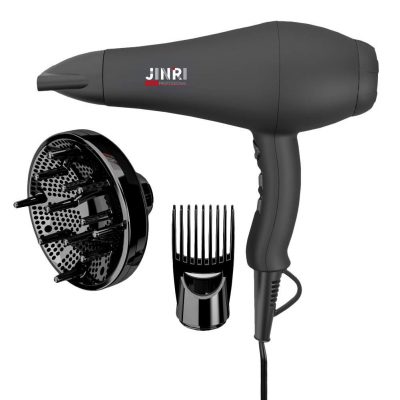 Why we like it:
The Jinri Professional Salon Hair Dryer can provide the experience of a salon at home thanks to its quick hair drying solution that is nearly 45% faster than other models. It features well-designed units with tourmaline-coated ceramic elements to dry every hair strand from the inside out.
Editor's Rating:
Specifications
Number of Settings: 2 speeds, 3 heat settings, cool shot
Cord Length: 9 feet
Attachments: Diffuser, concentrator, comb
Wattage: 1875 watts
Warranty: 2 years
The Jinri Professional Salon Hair Dryer is a five-minute quick hair drying solution for curly hair that provides a salon-level performance thanks to its 1875-watt AC motor. It dries your hair 45% faster than other similar appliances while giving it a silky-smooth texture.
The Jinri hair dryer comes fitted with tourmaline ceramic elements instead of using full tourmaline components, which helps to lower its price by nearly several hundred dollars. It emits non-damaging infrared heat that delivers a gentle blast of hot air to protect your strands from excessive heat damage and reduce any frizziness by up to 60%.
The infrared heat produced penetrates the cuticle of your hair to the cortex, drying each strand from the inside out. So not only is the heating technique safe for your hair, but it makes the whole process more time efficient as well.
The ionic technology enhances this effect even further. The dryer releases negative ions into your hair, neutralizing the positive static charge. This, in turn, will reduce any static that could potentially attract dust particles. The discharged ions work in harmony to repair every hair strand to give it a smooth and healthy texture.
It has two speed settings (high and low), along with three heat settings (hot, warm, and cool). Just like many other models on the list, this device has a cool shot button as well to help you add a finishing touch to your hair.
You get three attachments with every purchase: a diffuser, a concentrator, and a comb. While the diffuser helps to maintain and lift your waves, the concentrator nozzle gives it some serious shine. In fact, salon-like results are one of Jinri's biggest advantages. Other attributes include a removable filter that makes the appliance easier to clean.
One of the most common things expected from professional equipment is durability. Now, the hair dryer itself is made with high-quality materials, but it's the motor that has a tendency to burn out. Also, weighing nearly 1.5 pounds, the device is definitely quite heavy, and since the handle is not that comfortable, holding it can be cumbersome at times.
We would also appreciate a turn-off switch for the bright infrared light that can be very distracting, and it creates shadows as well.
Pros
Delivers fast results

Adds salon-like smoothness and silkiness to your curls

It dries the hair from the inside out that prevents it from getting dull and weak
Cons
The hair dryer develops an overheating problem after a certain period

The overall design, particularly the handle, needs more work to feel comfortable

The infrared light cannot be turned off, which can be quite bothersome
---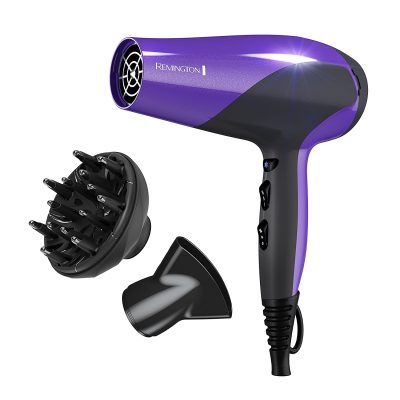 Why we like it:
This hair dryer makes managing curly hair effortless with its powerful motor and micro conditioners that add a healthy shine to the hair and protect it from heat damage.
Editor's Rating:
Specifications
Number of Settings: 2 speeds, 3 heat settings, cool shot
Cord Length: 6 feet
Attachments: Diffuser, concentrator
Wattage: 1875 watts
Warranty: 2 year
Offering a wide array of features and innovative technologies – all for less than $30 – the Remington D3190 Damage Protection Hair Dryer comes with an 1875-watt motor. The motor is weight-balanced for optimizing drying performance. While there is more than enough power to dry even the thickest mass of curls, it's a bit louder than most dryers.
It features a ceramic ionic tourmaline technology that helps fight frizz and adds shine while causing less damage than an ordinary hair dryer. In addition to this, it has two airflow speeds, three heat settings, and a cool shot button to set your waves or curls. The device also uses built-in proprietary micro-conditioner technology that helps to improve your hair quality every time you blow-dry.
You get a concentrator nozzle and a finger diffuser, along with every purchase. The finger diffuser has long "fingers" that help you separate and define every curl, giving it a long-lasting shape. The concentrator can smoothen small sections of your hair, while the air diffuser makes it voluminous. A removable filter is fitted on the back of the dryer. This lets you clean any lint and fuzz easily, which also boosts the durability of the motor.
The hair dryer looks very stylish with its black and purple accents, but the design isn't very comfortable to hold. So this may not be an ideal choice if you suffer from hand or wrist problems, or are a professional hairstylist who would use it several times a day.
The other issue with the Remington D3190 is the complicated heat and speed setting regulations. We would advise you to read the user manual to get a better understanding of how the appliance works.
Pros
Suitable for all types of curly hair

Helps to add volume and control faraway strands

Keeps hair safe from excess heating

Micro conditioner technology helps to condition and nourish the hair

Super affordable despite featuring the latest technologies and handy features
Cons
Complicated heat and speed setting regulations

It's louder than other hair dryers available on the market

Hair dryer design makes it uncomfortable to hold
---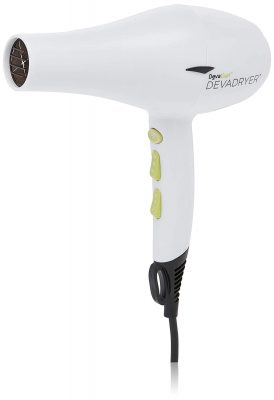 Why we like it:
Its patented, hand-shaped diffuser regulates a 360° airflow surrounding the curls, which speeds up the drying process – all the while giving it a healthy shine. This also enhances your natural curls and waves, giving them more body.
Editor's Rating:
Specifications
Number of Settings: 2 speeds, 3 heat settings, cool shot
Cord Length: 9 feet
Attachments: Patented hand-shaped diffuser
Wattage: 1600 watts
Warranty: 1 year
The high price of the DevaCurl DevaDryer Ionic Hair Dryer may be worrying when you consider its lack of durability. However, we decided to add this device to our list because of its innovative enhanced diffuser, and the fact that it's specifically designed for curly hair.
The diffuser is shaped like a hand, with each of the "fingers" having multiple holes on all sides. This design allows hot air to surround the hair, letting it penetrate deep into the curls all the way down to the roots. It also makes the drying technique more consistent and faster.
It's an excellent option for users with African-American hair. In other words, the device can be very effective for styling high volume type 3 hair and type 4 hair.
The device features three temperature settings, two-speed settings, and a cool shot function. Keep in mind that the 'hot' setting is really hot, making it suitable for type four hair. It also produces more heat than other hair dryers that can be both an advantage as well as a disadvantage; while the higher temperatures can help to cut down drying time, you may end up damaging your hair if you're not careful with the device.
We do, however, have two complaints with the product: its short-term durability and weight.
As mentioned before, the dryer doesn't last long. It stops working within a year, which is a shame considering how expensive it is. The 2.65-pound weight makes it incredibly heavy to hold the device for extended periods as well.
Pros
Suitable for tough-to-style curls and coils

Comes with an enhanced diffuser that eliminates frizz and adds shine

Ionic technology helps to regulate even heat transmission
Cons
The dryer isn't long-lasting

Extremely heavy

Steeply priced when compared to other similar products in the market
---
Why we like it:
This hooded hair dryer can be an excellent alternative for users belonging to the African-American community who generally have thick coils that take hours to dry.
Editor's Rating:
Specifications
Number of Settings: Variable temperature, timer
Cord Length: N/A
Attachments: None
Wattage: 1100 watts
Warranty: 1 year
The Pibbs 514 Kwik Dri Salon Dryer isn't exactly the first thing that pops into your mind when you're searching for the best hair dryers for curly hair. But it can be an excellent choice for people who want to enjoy some me-time while their hair dries.
This is a specialty product that can work wonders for type 3B to 4B hair, which is often difficult to style. You're supposed to sit under the "hood" while the heating element works its magic.
In comparison to the other models on our list, the Pibbs 514 Kwik Dri is rather expensive with a not-so-compact design. Still, it can be a great alternative if your hair usually takes hours to dry due to the thickness of your coils, and of course, it's a great option for salon owners too. It includes a graduated temperature dial and a timer that can be set from 0-60 minutes.
Since the hooded device dries curly hair slowly, it doesn't strip your strands of moisture or create frizz. If you want, you can use this unit to style your hair using rollers as well. Keep in mind that rollers larger than two inches won't fit under the hood, so it's better to stick to smaller sizes.
The appliance has a solid and durable construction and features an adjustable head, base, and height. Plus, you can move the hair dryer on casters.
Pros
Helps to retain moisture in hair strands

The gentle drying process prevents frizz

Features adjustable height, head, and base for utmost comfort
Cons
Rather expensive

Not suitable for people who are always on the go
---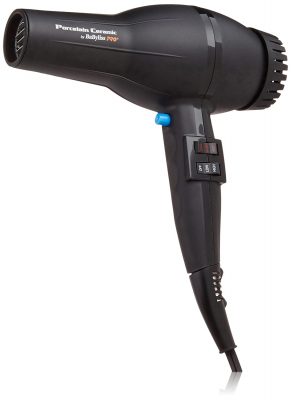 Why we like it:
It has multiple heat and speed settings that can dry even the thickest curls within minutes without creating static frizz. The ergonomically designed appliance is very sturdy too.
Editor's Rating:
Specifications
Number of Settings: 2 speeds, 3 heat settings, cool shot
Cord Length: 9 feet
Attachments: Concentrator nozzle
Wattage: 2000 watts
Warranty: 3 years
Widely considered to be the best BaByliss hair dryer, the BaBylissPRO Porcelain Ceramic 2800 Dryer will make your curly hair super smooth and shiny, while simultaneously eliminating static frizz. It combines Ionic and Porcelain Ceramic technology that aid in retaining your hair's luster, irrespective of whether it's long, short, thin or damaged.
This versatile hair dryer emits steady, non-damaging infrared heat and negative ions that dry your hair gently and neutralize any dust-attracting static charge. It's made with high-quality material that can withstand aggressive and continuous use. It has 2000 watts of power, two-speed settings, three heat settings, and a cool shot button. This wide selection of settings gives you more control over the device.
The bottom side features a removable air filter that makes sure your dryer only sucks in clean air, which is the primary reason for its enhanced durability. Interestingly, this is also helpful for keeping your hair cleaner when compared to traditional dryers because of its static charge-neutralizing ability.
It comes with a concentrator nozzle that allows styling versatility. You can use the attachment to dry specific sections of your curly hair as you wish. Plus, the removable filter makes the device easier to clean and maintain.
It should be noted how inexpensive the BaBylissPRO Porcelain Ceramic 2800 is. In fact, it's the best hair dryer for curly hair if you're looking for a tool that hits the sweet-spot combination of functionality and affordability.
If we had complaints, it would be the weight and the button positions. The BaBylissPRO Porcelain Ceramic 2800 Dryer is heavier than the other models, but since it reduces the drying time considerably, this isn't a major deal-breaker. Also, changing the position of the buttons would make it more user-friendly.
Nevertheless, the hair dryer does deliver a cutting-edge performance that makes it an excellent option for curly hair. The effective drying system can effortlessly lift your curls, add the right amount of shine and volume, and make them appear healthier and frizz-free.
Pros
Quiet operation

Ionic and porcelain ceramic technology to minimize hair damage and add a healthy shine

Affordable

Made with high-quality material that boosts durability

Features a powerful and efficient motor for faster drying
Cons
The position of the buttons isn't ideal

Heavier when compared to other models

The hair dryer tends to overheat after a short period of usage
---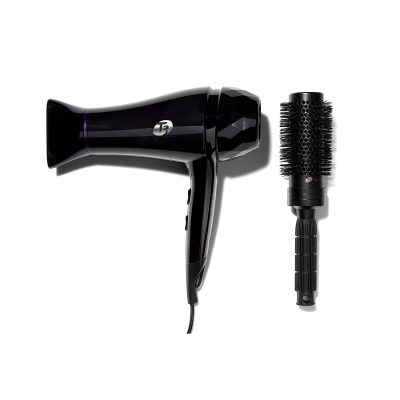 Why we like it:
This dryer is essentially a powerhouse in a small package. It uses T3's proprietary "SoftAire" technology and tourmaline heating elements that help dry curly hair, sans any static and frizz.
Editor's Rating:
Specifications
Number of Settings: 2 speeds, 3 heat settings, cool shot
Cord Length: 9 feet
Attachments: Concentrator, tourmaline brush
Wattage: 1800 watts
Warranty: 2 years
The T3 Featherweight Luxe 2I Dryer is the lighter, less expensive version of the Dyson Supersonic Hair Dryer specifically designed to suit the needs of frequent travelers. You get a powerful hair dryer that comes packed in a compact, lightweight, and ergonomically designed tool.
T3 is already a well-known name in the hairstyling industry and has come up with innovative and efficient products over the past couple of years. The T3 Featherweight Luxe 2I is no exception, having amassed a loyal fan base consisting of A-list celebrities such as Chrissy Teigan and Jessica Alba.
There are two-speed settings, three heat settings, and a cool shot button to ensure your hair looks glamorous and salon-like throughout the day. While you do get a separate tourmaline ceramic brush and a concentrator attachment, the fact that the dryer comes without a diffuser is a big disadvantage.
It's fitted with tourmaline heating elements and a proprietary tech called "SoftAire" technology that can dry your hair within a matter of minutes. In fact, it's so quick that there will not be enough time for the heat to damage your hair. It also adds smoothness and shine that lasts for days. This isn't something that you can expect from dryers with titanium or ceramic components.
Tourmaline produces abundant negative ions that help dry curly hair without causing any static and high levels of frizz. On the other hand, the "SoftAire" technology delivers a high volume of ion-enriched hair that can dry large sections of hair faster. Although the company doesn't tell you much about this tech, it works really, really well on curly hair.
Whenever you set out to purchase any product, you always want something that lasts for a long time. So, understandably, we weren't satisfied with the durability of the appliance, especially considering its premium price. This hair dryer tends to die out within a year or two – even faster if you don't take good care of it.
Pros
Delivers a customized hairstyling experience

Weighs only 20 ounces

It's the perfect travel companion

SoftAire technology reduces frizz and helps retain natural moisture
Cons
It's priced very steeply

Tends to deteriorate faster if not taken care of properly

The diffuser attachment needs to be purchased separately
---
Guide to Buying the Best Hair Dryer for Curly Hair in 2021
Buying the right hair dryer is crucial for taming and styling curly hair. The device is more like an ally that will help all kinds of hairstyles ranging from trendy and chic to classy and sophisticated – even with all your curls and coils!
Although many people don't realize it at first, all hair dryers aren't equal. Basically, something that works for your straight-haired friend may not deliver the same results in your case.
It all boils down to your hair type and the look you're trying to accomplish.
What are the Different Types of Hair Dryers for Curly Hair?
There are three main kinds of hair dryers for curly hair. Let's take a look at these options below:
Ceramic Blow Dryer
A ceramic blow dryer is coated on the inside to distribute heat evenly across the hair. It's very different from traditional blow dryers as the device can adjust the heat according to the room temperature.
Hits:
Distributes heat evenly
Causes less damage to hair
Dries hair faster
Can sense room temperature and regulate the heat accordingly
Misses:
Not very effective for frizz control
Doesn't emit as many negative ions
Steeply priced
Ionic Hair Dryer
Our hair has both negatively charged ions as well as positively charged ions. The job of an ionic hair dryer is to release more negative ions in your hair to kill the positive ions, which in turn, will keep your hair shafts intact. This also gives your hair a sleeker and smoother look. We have included several models that use ionic technology in our guide above.
Hits:
Works well even when used at a lower temperature
Helps to keep the curl shape intact
Gives more definition to curls
Reduces frizz
Misses:
Prone to over-drying the hair strands
It can have a damaging effect on hair if not used properly
Not suitable for dry or limp hair
Slightly expensive
Titanium Blow Dryer
A titanium blow dryer maintains a consistent temperature when in use, which also dries the hair faster. It's more suited for professional use and is commonly used by professional hairstylists and people who work in a salon.
Hits:
Maintains a steady temperature
Very lightweight
Commonly used by professionals
Helps to reduce frizz
Faster drying and styling
Leaves hair glossy and smooth
Misses:
Doesn't work for people with thin hair
Can adversely affect the hair if not used properly
Higher risk of heat damage when used frequently
Which Material Is Best for a Hair Dryer?
You should consider the heater before purchasing a hair dryer. At the moment, there is an increased demand for ceramic models or tourmaline-coated ceramic models. However, it can take a bit of trial and error until you find your perfect match.
What Is the Difference Between Ionic Technology and Infrared Technology?
Firstly, both ionic and infinite technology are great, so you can't go wrong with any of them.
You see, ionic technology accelerates the drying process that helps to add luster by letting your hair strands retain maximum moisture. The negative ions emitted from the appliance increases the efficiency of the product to deal with water molecules which further promotes the drying process. This also helps to decrease the risk of hair damage.
Infrared technology, on the other hand, is more gentle. If you have damaged or sensitive hair, we would recommend opting for infrared hair dryers that offer high heat levels but still manage to protect your hair against extreme temperatures.
Why Is a Diffuser Such an Important Hair Dryer Attachment for Curly Hair?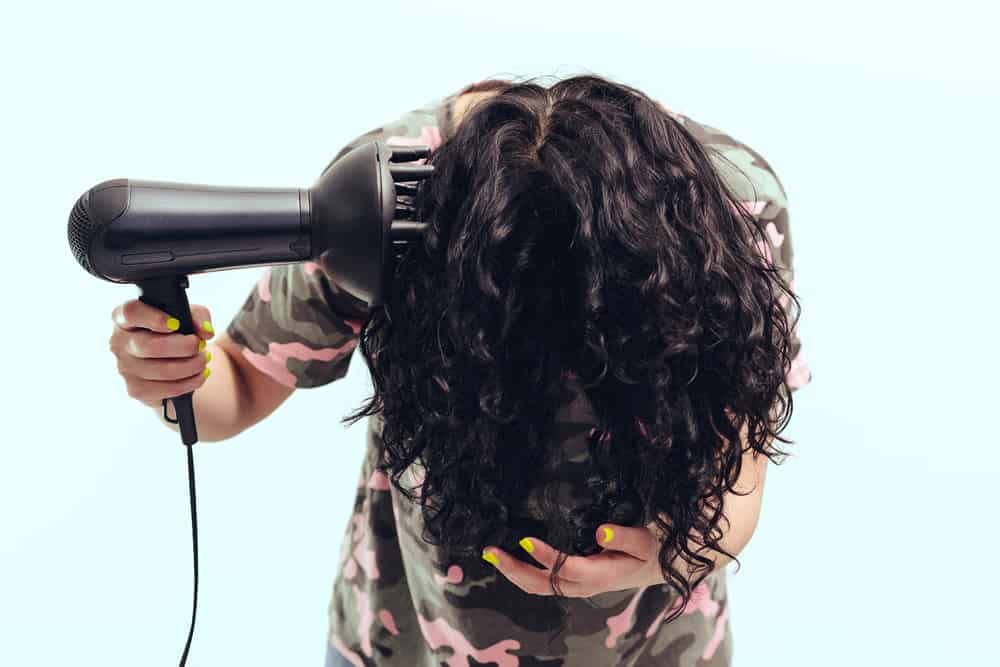 You may be surprised to learn that the most important factor in choosing the best hair dryer for curly hair isn't the dryer itself – it's the attachments.
Or to be more specific, it's the diffuser.
For curly heads, a diffuser can be the best companion that protects their curls and styles them to give them more definition.
Here's how it works: it spreads the air over a larger area, while carefully controlling the airflow. Not only does this prevent hair damage, but it also secures your curls, making them last longer.
Can You Blow-Dry Your Hair Regularly?
Yes, you can blow dry your hair regularly if you must, and honestly, we see the temptation too.
Blow drying makes your hair look more presentable in a relatively short period of time and with minimal effort. Your main concern should be to choose the best hair dryer for your curly hair and team it with a heat protectant and other hair care products to keep your mane healthy and glossy.
Will Blow-Drying Burn Your Hair?
Heat damage is one of the most common myths associated with blow-drying.
Blow-drying doesn't burn the hair – at all! You don't have to worry about your dryer putting your hair on fire. Just make sure you are using a high-quality tool that applies heat at controlled temperatures.
Air Dry or Hair Dry: Which One Is Better?
Many people, especially ones with curly hair, consider air-drying to be more effective than using a hair dryer. Not only does the former require more time and patience, but it can also weaken your hair.
You see, when you have very thick or coarse hair, it can take several hours for your hair to dry. This will weaken your hair strands from within, making them more prone to breakage. Instead, using a hair dryer with low heat settings will effectively dry your hair without causing any damage.
Plus, you can finish with the 'cool air' setting to style your hair as well.
Can a Hair Dryer Cause a Headache?
Most hair dryer models make sounds that can rival a raging tornado.
Now imagine this noise a few inches away from your ears.
There is no denying the fact that continued exposure to loud sounds can adversely affect your hearing, which may result in a ringing or buzzing sound in your ears for a couple of hours. So if you have a particularly loud hair dryer, it's highly likely that you may suffer from a mild headache if you use the appliance for a few minutes.
Do Hair Dryers Cause Hearing Loss?
As mentioned before, hearing loss is a possibility when your ears are exposed to loud sounds for extended periods. The Occupational Safety and Health Administration (OSHA) created a noise standard that states employees should establish hearing conservation programs if they are consistently exposed to loud noises.
You may be surprised to learn that modern-day hair dryers produce sounds that actually exceed OSHA's maximum standard. Salons, in particular, use powerful hair dryer models that use powerful motors of 1500 watts or more. These devices, in particular, make sounds that exceed 90 dB.
Even the Centers for Disease Control and Prevention (CDC) has maintained that repeated exposure to noises of 90 dB can lead to hearing loss. In other words, yes, your hair dryer can cause hearing loss if it's near the 90 dB mark.
How Can You Find the Quietest Hair Dryer?
If you're on a lookout for a quiet hair dryer, we would recommend looking for models that have an alternate current (AC) motor like Conair Infiniti Pro Hair Dryer and Jinri Professional Salon Hair Dryer, which are generally very quiet. Avoid models that have direct current (DC) motors as they are louder.
That being said, the noise level of a hair dryer is measured in decibels. Hence, if you have particularly sensitive ears, try to find out the noise level of the hair dryer to be on the safer side before placing your order. Anything more than 90 dB should be a strict no-no.
How to Care for Curly Hair?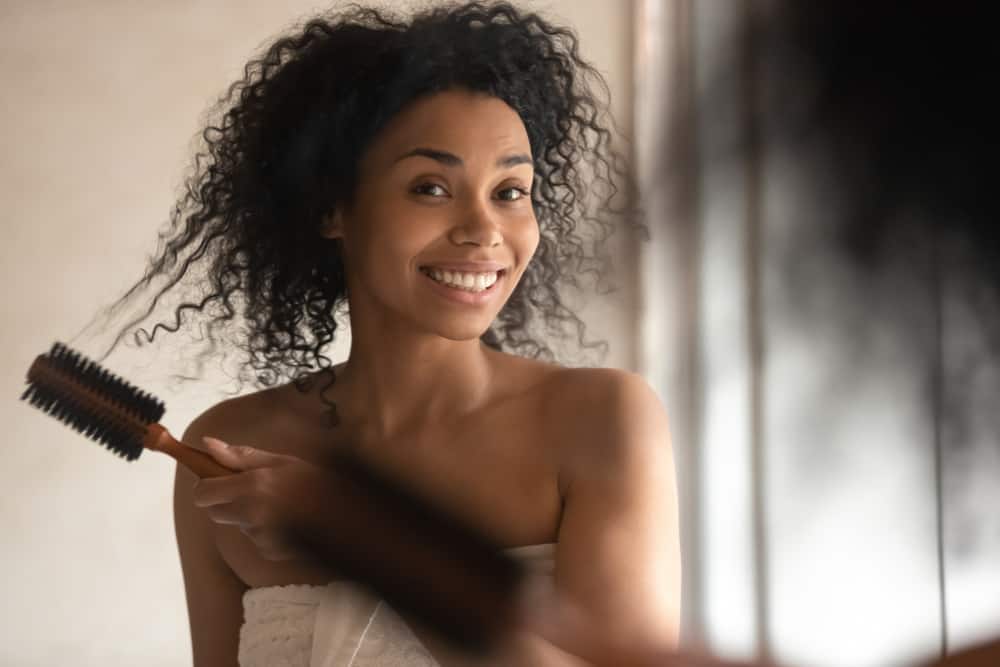 The following are a couple of guidelines to look after your curls to keep them healthy, shiny, and manageable:
Use a pre-shampoo or hair mask with conditioner to nourish your hair from the inside. Make sure you choose a formula that moisturizes, softens, and untangles the curls.
Swap your regular shampoos with a mild formula or use a cleansing conditioner to retain as much natural moisturizer in the hair as possible. Rinse with cold or cool water.
Once you are done shampooing, use a deep conditioning product. If you have dry hair, you can use a moisturizing conditioner, whereas reconstruction conditioner formulas work best for those with thin hair.
Don't shampoo regularly, and when you do, always wash your hair in sections to avoid creating more tangles.
Use microfiber towels to blot your hair dry. To avoid frizz, try the "plopping" technique. Bend forward, so all your hair gathers on the towel in front of you. Wrap the towel to create a turban around your head.
Use a high-quality comb to detangle your hair while it's damp. Take your time; always be gentle when combing your hair to avoid breakage and excessive frizzing.
Summing Up
A glowing, luscious, and healthy mass of curls is on everybody's wishlist, but only a few take the measures to work toward it. Investing in the best hair dryer can be your first step toward this goal.
For a small price and a bit of research, you can have a reliable haircare appliance that will actively protect your curls, and make it look fabulous in the process.
Curls aren't something that everyone is blessed with, so celebrate and embrace them. Get ready to steal the show!