For most makeup enthusiasts, choosing the right foundation is both essential and extremely difficult. It's the base layer that helps make your skin look flawless, so your look, whether subtle or dramatic, can shine. As it's the makeup layer closest to your skin, it needs to have a great texture and natural-looking color.
In our guide, we'll walk you through our top picks for powder foundations and help you find the one that's right for you.
Factors to Consider When Buying a Powder Foundation
Before we dive into our product reviews, here's everything you need to know to pick the best powder foundation for your needs.
Powder vs. Liquid Foundation
When you think of foundation, the first thing that comes to mind is probably a liquid. However, there are plenty of good powder options worth considering, too.
Liquid
Liquid foundation tends to go on a little thicker and gives more substantial coverage. It soaks into your skin rather than staying on the surface. This makes it great for layering with concealer and finishing with powder to cover any imperfections completely.
Powder
Powder can even out your imperfections without being as dense. While some powders are considered full-coverage, they tend to be sheerer than liquids. You can build up coverage gradually and let more of your natural tone shine through.
Powder is typically more like a veil, whereas liquid is more like a mask. But that doesn't mean you can't get adequate coverage from a powder foundation. We have some application recommendations later in the article that can help you best use powder foundation to make sure you get the level of coverage you're looking for in a foundation.
Finish
Even though powder may seem like a natural choice for oily skin, people with almost any skin type can find a powder foundation with a finish to suit their unique needs. In short, matte powder is better for oily skin, and dewy-finish powders usually work better on drier skin.
Our product reviews cover the full spectrum of finishes, including:
Matte
Demi-matte
Dewy
Semi-dewy
We have a full breakdown for matching powders to your skin type in our complete buying guide.
Shades
Just like with liquid foundation, choosing a shade that closely matches your natural skin color is one of the most important steps to good coverage. Some foundations go the extra mile and match the tone of your skin as well. Not only do they match how light or dark your skin is, but the temperature.
Is your skin warm or yellow-toned? Or is it cooler, with a pink tone? Many of the products on our list offer multiple shade choices, and we always specify when that's the case. In fact, when rating products, we take into account how many available shades there are. More subtle variations in shade mean that you're more likely to find one that suits you.
Now that you know a little bit about choosing powder foundations, we'll show you ten that are worth your time.
Top 10 Best Powder Foundations 2023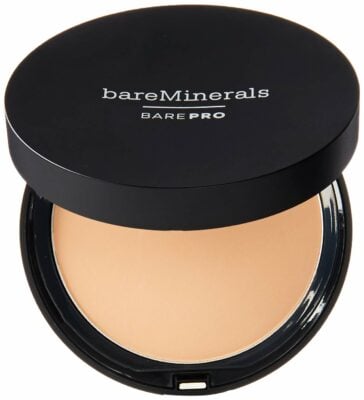 Why we like it:
With plenty of shades and silky coverage, this is a great all-around powder foundation.
Editor's Rating:
Quick Facts:
Size: 0.34 oz.
Number of shades: 30
Cruelty-free: yes
Finish: matte
Highlights
bareMinerals has become a household name for its dedication to creating high-quality clean makeup. All bareMinerals makeup is free from gluten, animal products, parabens, and other harmful additives. The bareMinerals loose powder foundation has been a cult favorite for many years, but we like the convenience of this pressed powder better.
This pressed powder foundation from the brand has a silky texture, which makes it easy to apply. Once on, it gives you a full day of coverage, but doesn't clog your pores. The coverage is buildable, which can help control shine and cover skin discoloration.
It comes in a wide range of shades that take cool and warm tones into consideration to help you get a more natural-looking match. Once blended, it gives a barely-there, natural finish.
Downsides
This product is better suited for oily skin. Dry or even combination skin may find that it can make their skin look a little flaky in patches. For dry skin, it may be better to apply over a bb cream or primer. If you're looking for a powder that offers more moisture when worn on its own, you can try this dewy finish option from Pur.
The sponge applicator included in the compact lays the foundation on a little heavy, which may not be ideal if you like to gradually build coverage or have a lighter look. Replacing it with a high-quality foundation brush may be a good move.
Who It's For
People who find liquid foundations to be heavy on their skin, but don't want to compromise on coverage, may find their ideal powder foundation from bareMinerals. It's a good choice, particularly for oily skin, and nearly anyone can find a shade that will work with their natural skin color.
Pros
Up to 12-hour coverage

Lightweight

Controls shine

Wide range of shades
Cons
May need a primer on dry skin

Sponge applies foundation heavily
---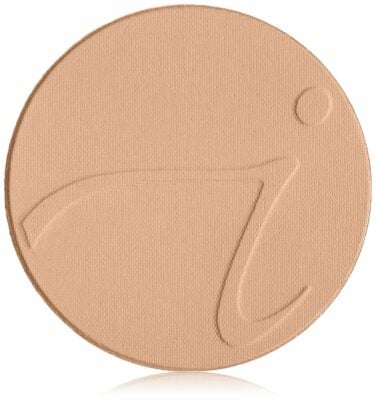 Why we like it:
This pressed powder has a few extra features that take it up a notch.
Editor's Rating:
Quick Facts:
Size: 0.35 oz.
Number of shades: 26
Cruelty-free: yes
Finish: matte
Highlights
Jane Iredale's full line of clean cosmetics has a luxurious touch. Sensitivity tested and free from synthetic additives, these products are gentle enough for almost everyone to use. That being said, this powder is one of the most expensive options on our list.
This mineral foundation does give you a lot of bang for your buck, however. It has natural mineral SPF in the formula, which protects you from the effects of sun exposure without adding another item to your daily routine. It also has a few more unusual ingredients like plankton and algae extracts. These ocean-based additives have a variety of benefits and are moisturizing, anti-inflammatory, and have anti-aging properties.
With a coverage range from sheer to full, you can apply this foundation as lightly or as heavily as you prefer. It doesn't get cakey and it stays in place all day without being overly drying.
Downsides
To get the full benefits of this product, you may have to invest more money than you expect. This powder does not come in a compact; it's sold as a "refill" for their compact, which is sold empty. This may make you wonder how someone can refill something that was never full in the first place.
And even though the recommended method of application is with a brush, it only comes with a sponge pad. They do sell a brush separately, but it may cost you more than the actual makeup.
This product also isn't very effective at hiding skin discoloration, particularly redness. While this product gives a good overall finish, our pick from bareMinerals conceals those issues better.
Who It's For
If you're looking for even coverage that gives you a silky finish, this is a good option. Those with drier skin may find the nourishing ingredients and light feel of this product will suit them better than many other powder foundations.
It's somewhat water-resistant as well, which is handy if you live in a hot or humid climate. You may need to blot, but you won't need to reapply.
Pros
Added SPF

Moisturizing ingredients

Mild water-resistance

Light coverage on dry skin
Cons
Needs separate compact and brush

Less redness coverage
---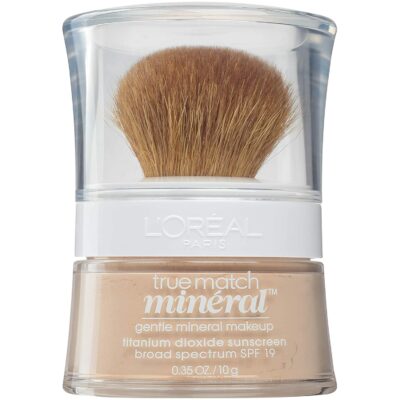 Why we like it:
This product provides sun protection and a natural finish.
Editor's Rating:
Quick Facts:
Size: 0.35 oz.
Number of shades: 11
Cruelty-free: no
Finish: matte
Highlights
L'Oreal Paris has been a staple brand for many households since the 1970s and is best known for its tagline "Because I'm worth it." The brand has used that as not only a marketing slogan but also as a company-wide philosophy about women's empowerment.
This loose powder foundation from their True Match line softly evens out your skin tone without being streaky. It also contains SPF 19 to keep you safe from sun damage as you go about your day. It's gentle enough for sensitive, breakout-prone skin and doesn't become flaky on dry skin, either.
This product complements the rest of the True Match line and can be paired with the concealer or blush to complete the look. You can also build it by adding an extra layer of powder to target spots that need extra coverage.
Downsides
The convenience of having a brush attached to your loose powder is undeniable. If only the brush was actually useful. It can be hard to shake the powder down into the brush, and the brush itself isn't very high-quality. It feels quite awkward in your hand during application, too.
While it goes on smoothly, the finish doesn't last. Oily skin, in particular, will most likely need to be blotted in the t-zone throughout the day. If your skin is too oily or wet when you apply it, it can become cakey or go on too thick.
Who It's For
People with normal or dry skin will appreciate the light finish of this powder. It doesn't look powdery or streaky but blends well with your natural skin texture. People with oily skin may have a harder time applying it, but it will give a good amount of coverage to blemishes.
You may get better results if you use a higher quality makeup brush with this, rather than the one attached to the bottle.
Pros
Mineral SPF

Good for dry and sensitive skin

Provides coverage for breakouts

Works with full True Match line
Cons
Poor quality brush

Doesn't maintain matte finish

Hard to apply to oily skin
---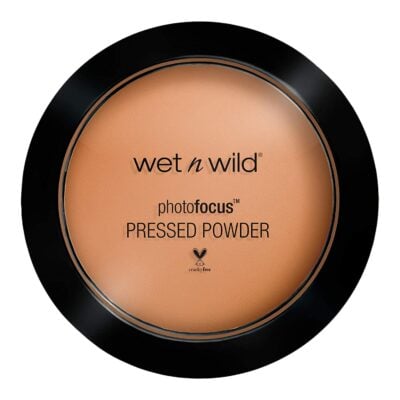 Why we like it:
This versatile and high-performing powder can't be beaten on value.
Editor's Rating:
Quick Facts:
Size: 1.44 oz.
Number of shades: 6
Cruelty-free: yes
Finish: demi-matte
Highlights
Wet n wild was the staple of many middle school girls in the early 2000s. Just like you, though, they've matured since then. They've always maintained cruelty-free standards for their products and have been named the #1 value cosmetic brand in America. The brand is even favored by professional makeup artists.
This foundation is the powdered version of their liquid Photo Focus makeup. This fine powder evens tone and can be used for light coverage or layered for a more opaque look. It doesn't mattify your skin, which is helpful if you have a drier complexion.
When applied with a brush or sponge, it softly blurs imperfections and discolorations. The powder also has a very subtle shimmer to it, which gives a slight glowing effect, making your skin look luminous.
Downsides
The fine texture of this powder makes it go on very lightly. To achieve a full-coverage effect, you may need to layer it over a primer and apply a few coats of the powder. For some users, it may be a better finishing powder than a foundation.
It doesn't maintain its finish all day the way that our pick from Jane Iredale does. You'll probably want to keep it in your bag for touch-ups. Unfortunately, though, the powder is prone to crumble and the risk can be increased by traveling with it.
Who It's For
When you want a soft, natural-looking finish, this powder from wet n wild is a great option. It's also a good choice if your skin is drier or tends to look flaky under powders. If you like to layer your makeup to create various effects, this also makes an excellent finishing powder to create a soft glow on your skin.
Pros
Fine texture

Soft shimmering glow

Good for layering

Blurs imperfections
Cons
Hard to achieve full-coverage

May need touch-ups

Powder tends to crumble
---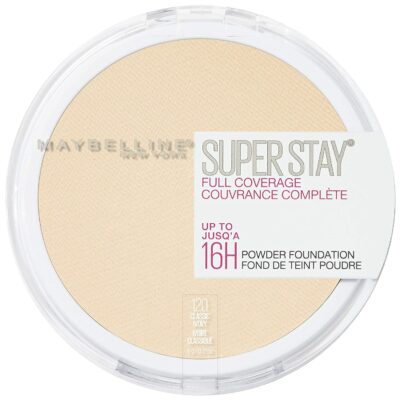 Why we like it:
It's perfect for oily skin and gives a minimum of 12 hours of wear, with no touch-ups required.
Editor's Rating:
Quick Facts:
Size: 0.21 oz.
Number of shades: 12
Cruelty-free: no
Finish: matte
Highlights
Maybelline is actually owned by L'Oreal, along with other brands like MAC. While Maybelline may be most famous for their mascaras, their foundations and powders are also notable.
Super Stay lives up to its name with this pressed powder. The light powder is easy to apply and will truly last all day. While the brand promises 16 hours of wear, it will start fading a bit for most people by hour 12. Still, that's more than a full workday for most, with no worries about touch-ups.
This powder gives a matte finish, which is ideal for oily skin, and it won't clog pores. Since this powder doesn't have shimmer, it can also be a great option for people who are looking for a subtle highlight. Simply choose a shade or two lighter than your skin tone for that application.
Downsides
For people with dry skin, this product can go on with a cakey or chalky texture if it's not applied directly on top of moisturizer or moisturizing primer. This product is intended for oily skin, so it may not blend well for most people with normal or dry skin. Our pick from wet n wild is better for coverage on dry skin.
People who are fans of Maybelline's SuperStay liquid foundation may also be slightly disappointed by the powdered version. Even though many of the shades will have the same name between the two, the colors vary, so you can't always depend on the same name to indicate an exact color match. The powder also doesn't give the same heavy-duty full coverage as the liquid.
Who It's For
Those with oily skin can rejoice. This long-wearing powder is truly made with them in mind. It's a great option if you want to simplify your routine. One product can give you enough daily coverage and won't wear off too quickly during the day.
The handy compact comes with a mirror and a foam applicator sponge, so it's great to throw in your overnight or gym bag.
Pros
Long-lasting finish

Controls oil

No shimmer
Cons
Cakey on dry skin

Doesn't match liquid version of product
---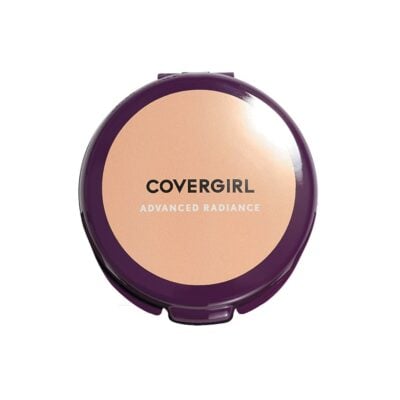 Why we like it:
A no-brainer for mature skin as it softens fine lines and goes on incredibly smooth.
Editor's Rating:
Quick Facts:
Size: 0.64 oz.
Number of shades: 4
Cruelty-free: yes
Finish: semi-dewy
Highlights
Covergirl was founded in the United States in 1961 by Noxzema. They quickly distinguished themselves from their parent brand's blue jars of medicated cleansing cream by focusing on fresh cosmetics for the "girl-next-door." They've been changing and modernizing in recent years, notably going cruelty-free with all their products and even changing their classic slogan.
The Advanced Radiance line by Covergirl focuses on supporting the needs of mature skin and helping it look its best. This pressed powder is packed with conditioning and brightening ingredients to help restore your glow if your complexion feels dull.
The texture is somewhat creamier than your average powder, helping it glide over fine lines without emphasizing them. The creamy texture and gentle ingredients also make this suitable for people with dry and sensitive skin as well.
Downsides
Despite Covergirl's reputation for diversity, this product is only available in a limited range of shades. Specifically, fair to medium shades. Accessibility is a big factor in our ratings, so it's hard to be a five-star product with such a limited range. If you can't find your color in this product, our pick from bareMinerals offers an impressive range of colors in a very high-quality formula.
The powder is also very fragile, prone to breaking in the palette, which makes it a little harder and messier to apply. It also doesn't do much to reduce shine, so if you have oily or combination skin you may prefer something geared towards oil control like our pick from Maybelline.
Who It's For
Skin that's drier or starting to show signs of age needs more moisture than most powder foundations can offer. This silky smooth pressed powder is one of the best options for skin that needs that little bit extra to stay radiant. If you can find a good color match in their somewhat limited range, this product is a good choice that won't emphasize fine lines.
Pros
Conditioning and brightening

Smooth application

Softens fine lines

Good for dry skin
Cons
Limited shades

Fragile powder

No oil control
---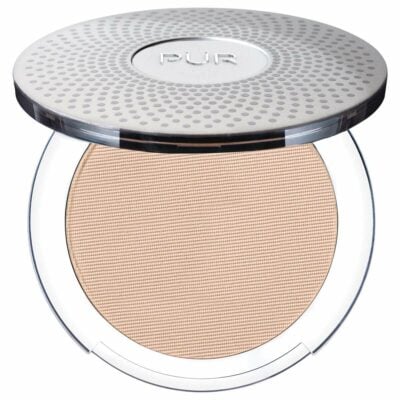 Why we like it:
This powder contains ingredients to help beautify your skin even after your makeup is off.
Editor's Rating:
Quick Facts:
Size: 0.28 oz.
Number of shades: 24
Cruelty-free: yes
Finish: dewy
Highlights
Pur likes to call itself the "complexion authority." Pur infuses its products with ingredients to treat your skin so that over time, it develops a healthier, smoother look. The idea is, it's makeup that helps you look better even when you're not wearing it.
Their pressed powder includes a number of these complexion improving ingredients. Retinol, a synthetic form of vitamin A has been infused into this product. Most commonly, retinol is found in anti-aging creams and treatments to reduce the appearance of scars.
It also contains mineral SPF to protect you from sun damage. Interestingly, shea butter and vitamin E also appear in the ingredients. These moisturizing ingredients help give your skin a more natural, dewy finish, which is very unusual for a powder foundation.
Downsides
While this powder may be well suited to dry skin because of its moisturizing ingredients, on many people it can have a slightly oily finish that develops throughout the day. It also tends to settle into fine lines and wrinkles, which can emphasize their appearance. Covergirl's Advanced Radiance powder does a much better job of smoothing over the lines that appear on more mature skin.
Some people may also have concerns about using retinol. While vitamin A is found naturally in many plant sources, retinol can be dangerous and too much vitamin A can be toxic. When applying it to your skin, it can be hard to know how much you're absorbing. During pregnancy, it can be especially risky to use and vitamin A can interact with certain medications.
Who It's For
For a dewy natural finish that you just can't get from other powder foundations, Pur offers a solution. The formula feels light on the skin and comes in a good range of colors that will cater to most people.
If you've been thinking about adding a retinol cream to your skincare routine anyway, this foundation may eliminate the need for that. You can get the skin-perfecting benefits of retinol without buying an expensive cream on top of your other products.
Pros
Improves the look of skin

Dewy natural finish

Mineral SPF
Cons
Retinol can have negative health effects

Not suited for oily skin

May settle in fine lines
---
Why we like it:
The unique baking technique gives this powder a smooth texture.
Editor's Rating:
Quick Facts:
Size: 5.12 oz.
Number of shades: 9
Cruelty-free: yes
Finish: demi-matte
Highlights
Laura Geller, both the woman and the company, became famous on QVC for mineral makeup. Even though it started off as something your mother might impulse-buy late at night, the brand offers some high-quality products made in a unique way.
Balance-N-Brighten foundation is a baked powder with marbled pigments. Besides looking cool, the blend of pigments helps this product look more natural on the skin, by offering slight variations in tone to better match your skin and correct any discoloration.
The coverage level is full without being too heavy or cakey, and the demi-matte finish is designed to let your skin look more luminous, according to the company.
Downsides
Perhaps due to the pigment swirls of this product, it can be a little inconsistent. Sometimes a shade will have too many streaks of one color through it, which can make it hard to get an exact match from batch to batch. Particularly with the lightest shades, there can be a varying amount of deeper pigments that can darken the overall product too much.
While the powder has a good texture and offers fuller coverage than some, you may need to blot or reapply throughout the day to control shine and prevent fading. The performance is fine, but it doesn't distinguish itself as much as you might hope for a product costing considerably more than another luminous finish foundation like Photo Focus by wet n wild.
Who It's For
If you want a luminous finish, but want to completely avoid shimmer in products, this might just be what you're looking for. The mixed pigments can help even tone while softly blurring imperfections. It also has the added benefits (and potential downsides) of retinol and jojoba oil in the formula to smooth and perfect skin similar to our pick from Pur.
Pros
Tone correcting

Natural demi-matte finish

Full-coverage, but feels light

Skin perfecting additives
Cons
Inconsistency in shades

Not as long-lasting

High price for average performance
---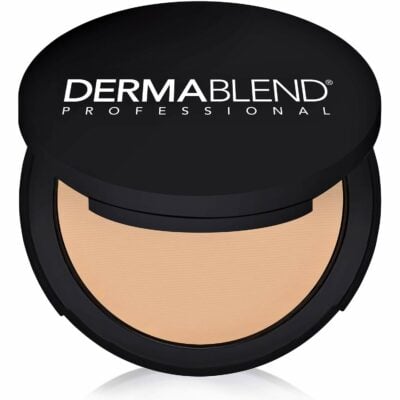 Why we like it:
This makeup is highly-effective at covering imperfections and it won't cause irritation.
Editor's Rating:
Quick Facts:
Size: 1.76 oz.
Number of shades: 14
Cruelty-free: yes
Finish: matte
Highlights
Dermablend is a dermatologist-created line of beauty products designed to be suitable for even very sensitive skin. Irritating additives are left out, making this a good option for people prone to breakouts and allergic reactions. This foundation is non-comedogenic, meaning it won't clog your pores.
The intense concentration of pigments in this product makes it ideal for covering up redness, discoloration, and blemishes. It has some of the strongest coverage out of all the foundations on our list, but it's gentle enough that your skin can heal without further irritation.
It has a strong mattifying effect as well, making it ideal for oily skin. It can also smooth over the look of large pores, for a more flawless look.
Downsides
Despite the intense coverage level, this product can be a little challenging to use. It's hard to get an even application. The powder can look a little streaky and be challenging to blend. It can also settle into fine lines, particularly around the eyes, which can be aging to your look.
It's also not very long-wearing. While it mattifies the skin initially, after a few hours shine and oil can return, and coverage can fade. For a true long-wearing experience, our pick from Maybelline is much more effective.
Who It's For
When sensitive and oily skin collides, it can be hard to find products that work for you. A powder foundation may seem like the more obvious choice since they tend to have more of a matte finish, but many can have ingredients that might irritate you. If that's been your experience, you might be discouraged. This might just be the best choice to help cover up your imperfections without breaking you out.
Pros
Gentle and non-irritating

Intense coverage pigment

Smooths and mattifies
Cons
Hard to apply

Settles into fine lines

Not long-wearing
---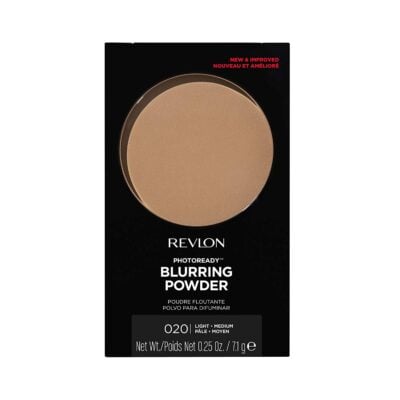 Why we like it:
This Revlon product combines a matte finish with a subtle shimmer to reflect light in a flattering way, even in harsh lighting.
Editor's Rating:
Quick Facts:
Size: 0.25 oz.
Number of shades: 4
Cruelty-free: no
Finish: matte
Highlights
Revlon became a major beauty leader when it launched the first opaque nail polish on the market in 1932. Since then, Revlon has continued to release innovative products like the ammonia-free Colorsilk home hair dye line. Revlon has a wide range of cosmetics, though, including their PhotoReady line.
This PhotoReady powder foundation combines a matte finish with a subtle shimmer to reflect light in a flattering way. It was designed to help your skin look its best, even in harsh lighting due to this diffusing effect.
Light diffusion helps to "blur" or soften the look of imperfections and gives a more natural glow to your skin. This formula can also cover large pores without looking too heavy.
Downsides
Since accessibility is such an important factor for us to consider, we were a tad disappointed at how few shades there are available for this makeup. Only four shades are available, and one is a translucent setting powder. That means that this product is off the table for many people and even if your skin is in the tone range available, fewer shades make it harder to find that perfect match.
Unfortunately, this product isn't long-wearing, either. It can come off or fade after a few hours and oil can start to peek through again as well. It can also settle into any lines and creases in your skin and the shimmer may draw extra attention to them.
For a luminous finish powder that skips the shimmer for a more natural finish, you may want to try our pick from Laura Geller.
Who It's For
Maybe you need to be photo-ready for that video chat meeting in your bedroom or to take a selfie in the new hat you knitted yourself. No matter the lighting conditions you find yourself in, this powder will softly diffuse the light and help you look better in person or on camera. If you need a basic powder foundation that offers medium coverage with a little extra blur for good measure, you may like this one from Revlon.
Pros
Light-diffusing shimmer

Softens the look of imperfections

Lightly covers large pores
Cons
Very few shades

Not long-wearing

Can emphasize creases and lines
---
Getting the Most Out of Your Powder Foundation
No matter whether you opt for a pricier powder foundation or a budget option, you want to get the best possible experience. We put on makeup to look and feel good, so make the most of it.

Choosing a Powder for Your Skin Type
The first step is to make sure the powder you choose is a good match for your skin type.
Oily
Matte finish powder tends to be better for controlling oil, so many people with oily or combination skin may find that powder keeps their skin looking fresher for longer. A long-wearing matte powder can keep shine away for hours.
Dry
Dewy-finish powders have creamier textures and added moisturizers that work better with dry skin. This prevents chalky and flaky textures that those with dry skin can experience, even with some liquid foundations.
Mature
A powder foundation that offers smooth, full-coverage to glide over fine lines is best for mature skin. Choosing something more moisturizing will also help keep your skin from looking chalky, which can enhance the look of wrinkles.
Applicator Tools for Powder Foundation
There are a few things to consider even after you've chosen the right powder foundation for you from our product review list. We want to make sure you use it the right way.
Some powder foundations will come with a tiny brush or an applicator sponge. Many come with nothing. Either way, you probably want to invest in a good brush or sponge to achieve the best application.
Here are the best ways to use both sponges and brushes with your powder. Either one can work, depending on what effect you're looking for. Just don't use your fingers. Not only with this deposit bacteria and oils on your face, your fingers just don't blend powder well.
Brushes
Brushes can vary greatly. Foundation brushes tend to be tighter and flat on top. This allows them to be used with both liquid and powder foundations. It makes for a thicker coverage, depositing more product on a smaller area. For a lighter application, you could use a traditional choose one of the best traditional kabuki brushes, with a full, rounded head. This kind of brush helps spread a soft and even dusting of powder across your face, without streaks.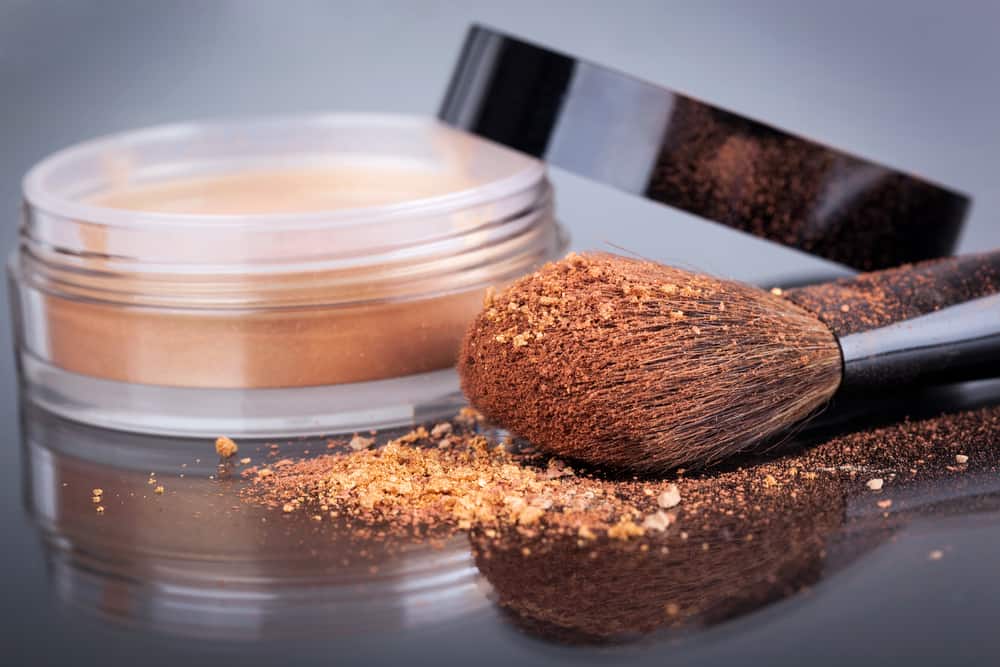 Sponges
Using a sponge, or more accurately, a beauty blender can work with most powder foundations. A sponge will give you more coverage than a brush typically can. If you feel like your powder goes on too dry or cakey, a slightly damp beauty blender can help give you a smoother application.
You can use a sponge to layer up powder in areas that need more coverage, and gently blend them to look more natural.

Application Techniques
Whether you choose a sponge or a brush, there are a couple of ways to apply your powder foundation for maximum impact. Here are some suggestions for how to combine it with other makeup to give you your best look.
For a Soft Natural Glow
If you want a barely-there makeup look, you should apply your powder with a brush. You can prepare the skin with concealer first if you have any serious color correction to do. A light top-layer of powder evens everything out, then. Adding a cream blush on top will keep your skin from looking too dry and will give a slightly dewy finish to your cheeks.
You can also add a touch of mascara to make your eyes pop if you want. This is a simple 5-minute routine that will leave you glowing.
For Subtle Contour
You can use a powder foundation to help create a subtle highlight/contour look. Apply a liquid foundation in a shade that matches you well. Then use a powder foundation one to two shades lighter and dust it on the key spots you want to pop, like your cheekbones. A powder with some shimmer adds just that extra bit of oomph in this situation.
For a Flawless Finish
If you're looking to turn heads with a bold look, you can utilize your powder foundation. Start by priming your skin with a water-based primer. Depending on whether you have blemished skin or discoloration, you may add some concealer into the mix. Use a light liquid foundation to cover your whole face, and then top with powder foundation to seal everything with a matte finish. On that smooth and perfect canvas, you can build any dramatic eye or lip look you want.
Final Thoughts
At the end of the day, powder foundations are very versatile. No matter your skin type or makeup preferences, you can find one to work into your routine. They're fast, fun, and easy to use. We hope that our list has encouraged you to take the plunge with powder foundation, or if you're a veteran powder-user, maybe we've helped you find a new favorite.