Top 10 Best Keratin Treatments for Hair 2023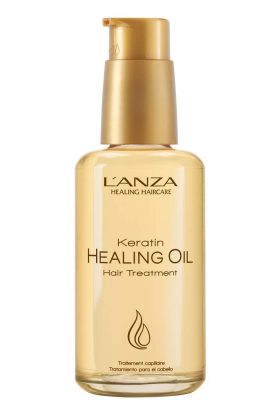 Review: Just as the name suggests, this keratin treatment is truly healing for your hair. Even long-haired folks will discover that the ends of their hair feel nourished and hydrated after just a single use. While it isn't exactly cheap, the investment is most definitely worth it. Dry hair, especially, will easily absorb this oil, and therefore will look smoother, shinier, and healthier as a result.
Moreover, this fragrant oil treatment is pretty versatile. Whether you massage in a pea-sized drop or a quarter-sized dollop doesn't matter; your hair will absorb it just as well, and all without leaving it looking stringy or greasy. Moreover, its Phyto IV Complex blend of natural botanical oils is good for all hair types with varying levels of damage. Acai fruit and coffee seed oil rejuvenate your strands with antioxidants, while babassu kernel oil softens and moisturizes your hair. You can also apply this treatment to wet, damp, or dry hair, and only need to wear it for around ten minutes or so before going about your day, making this treatment easy to incorporate into your daily routine.
While some find that this product produces less-than-desirable results for the price, most respond well to this keratin treatment, and it's definitely worth a shot if you have the money to spare. Plus, it smells great, which is another major plus in its favor!
---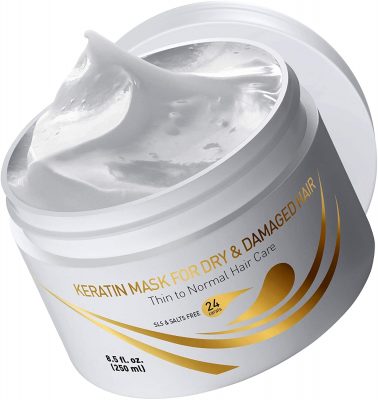 Review: Few hair masks do more to restore your hair than this one. The keratin smoothes split ends and hair cuticles to control unwanted frizz and volume while the sunflower seed oil simultaneously adds shine and bounce. Hair will be soft to the touch after just a single use, and may even replenish it to the point where it feels thicker.
In addition to its all-natural ingredients, there are some other chemical compounds in this mask that have a surprisingly nourishing effect on your hair. Stearyl alcohol and cetyl alcohol, two compounds on the ingredient list that are a part of a larger subgroup known as long-chain fatty alcohols, are plant-based humectants, meaning they have a significant hydrating effect on hair.
This nourishing hair mask is a great maintenance product to use in tandem with intensive at-home keratin treatments like the Lasio One-Day Formula.
Thankfully, the long-chain fatty alcohols in this hair mask mean you'll deeply hydrate your hair without weighing it down. Not only that, but you'll also improve the texture of your hair and leave it feeling clean. However, the smell can be a bit harsh – though the fact that you only have to leave it in for ten minutes makes it easier to bear.
---

Review: This restorative leave-in keratin treatment nourishes hair and brings it back to life, and achieves results similar to the Vitamins Keratin Hair Mask. Infused with jojoba and argan oils, you'll see noticeable smoothing and defrizzing without weighing your hair down. However, using too might make your hair greasy – a little goes a long way. The general rule of thumb for this product is a quarter-sized dollop for longer hair.
You're likely to see softer, smoother, and silkier hair even just after one use. This product will also restore your hair's natural elasticity. The thermal protection provided by this product also means you can use your blow dryer or hair straightener without doing too much damage. In fact, the heat may even help your hair absorb the treatment better; flat ironing or blow drying your hair after application can help the keratin bond with your hair cuticles better.
Some find that the results are not worth the price. However, investing a little in a DIY keratin treatment can help you maintain salon treatment results in between the treatments themselves. People with ultra-frizzy hair will respond especially well to this product.
---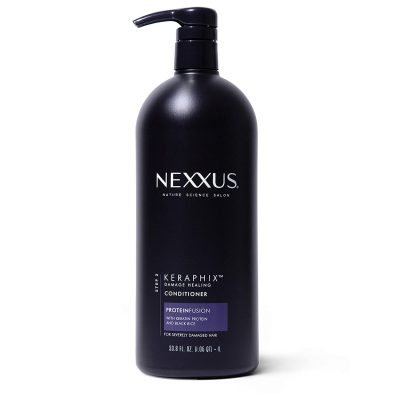 Review: The secret ingredient in this conditioner is black rice. Rice water has been used to fortify hair for quite a long time, with accounts of its use for maintaining healthy hair stretching back for centuries in both Japan and China. Japanese researchers decided to test this theory out in the lab, and discovered that inositol, a chemical compound found in rice water, had a strengthening effect on hair during a visual simulation.
Still, not enough evidence exists yet to rule one way or the other. Even though the verdict is still out on the scientific findings of rice water's effects on hair, a healthy tradition of anecdotal evidence suggests promising results.
This salon-grade conditioner's gentle detangling effects will leave hair soft and easy to brush. You'll also get smoother, shinier hair after just a wash or two, which might be enough to make you never want to go back to your old hair care regimen. Its effects are enhanced even more when used with its counterpart, Nexxus Shampoo for Damaged Hair.
However, this product makes normal hair a bit greasy, causing a filmy product buildup that is cumbersome to wash out. That being said, this conditioner works very well on dry, frizzy, or damaged hair. Those with normal hair should look for a conditioner with a more lightweight formula.
---

Review: Just as the name suggests, all you need is two minutes to get your hair looking healthier and fuller. While the ingredient list is fairly comparable to those in the Vitamins Keratin Hair Mask, this product also boasts green tea extract, which contains chemical compounds called polyphenols that are known to nourish the scalp and hair follicles, as well as slow hair loss. This protein-enriched deep conditioning treatment works wonders on curly, chemically-damaged hair, and you'll be able to tell the difference almost right away.
Like other keratin treatments, applying heat to your head during the application process will maximize the benefits of this reconstructor. Furthermore, if you've ever damaged your curls to the point where they were no longer curls, this deep conditioning reconstructor will help them bounce back–literally.
Some people might be put off by the parabens in the formula, but this is justified by the superb blend of natural ingredients found in there, too. Coarse, frizzy, or chemically-damaged hair will respond best to this treatment. However, people with other hair types may find that this product does little to improve their tresses. Moreover, using this product too often will damage your hair, too.
---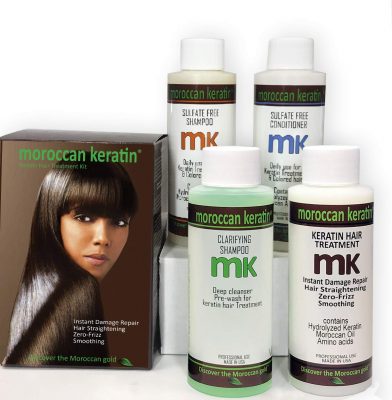 Review: The Moroccan 4-in-1 Keratin Treatment Set's sophisticated four-step process produces stronger, shinier, and overall healthier hair. The clarifying shampoo strips it of any impurities before applying the treatment itself, which uses Moroccan oil, hydrolyzed keratin, and amino acids to tame and fortify the hair.
The sulfate-free, formaldehyde-free, and Argan oil-infused shampoo and conditioners will help maintain your new, healthy sheen anywhere from three to seven months. The conditioner, in particular, will help restore your hair's flexibility and elasticity, thereby reducing the risk of damage and breakage.
For a 4-in-1 at-home keratin treatment, this product is both relatively inexpensive and easy to apply. If you don't have the time or money for the Lasio One-Day Keratin Treatment, this 4-in-1 treatment is a great alternative.
Blow drying your hair after the treatment might release some strange fumes, so stick to flat-ironing if you want to boost the effectiveness of your keratin treatment sans the smell. Frizzy, virgin hair that has never been dyed or treated with chemicals will respond especially well to this treatment; it will only add to the already good health of the hair.
---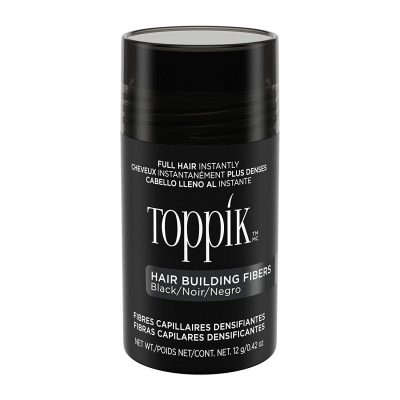 Review: This product is a bit of a mixed bag. On the one hand, it does a great job of covering up thinning patches of hair, but only if there's hair there already. Nearly bald people won't have much luck with these all-natural keratin fibers, as there won't be much natural hair for them to hold onto. Fortunately, good candidates for Toppik's hair-building keratin fibers can choose between a wide selection of natural hair colors, including brown, black, red, and blonde.
While it is sweat, rain, and wind resistant, be careful to not overdo it or rub your head on any light-colored surfaces; the Toppik fibers may smudge. Moreover, this product is more suited for occasional use, as frequent use tends to clog the pores on the scalp; make sure to keep some deep-cleansing shampoo on hand. It wouldn't hurt to invest in some holding spray, either, just to make sure those fibers stay where they're supposed to.
Also, those with sensitive skin may want to steer clear of this product altogether. Two of its ingredients, phenoxyethanol and chlorphenesin, are both linked to dermatitis and allergic reactions. Moreover, the former has also been linked to nervous system malfunction in infants. While you probably won't lose a limb if you use this product a few times, beware of becoming too dependent on it.
Despite this product's drawbacks, though, this product works wonders for smaller thinning hair patches that still have a good amount of hair for the keratin fibers to bond with.
---
Review: You'll wear this treatment in your hair for exactly 24 hours, an admittedly long process that yields pretty amazing results; you'll be hard-pressed to find another at-home keratin treatment that matches a salon treatment's results this closely. This treatment delivers smooth, manageable, frizz-free hair that has garnered an impressive number of faithful users over the years. Its amber extract acts as a gentle conditioner, so you actually hydrate your hair throughout the treatment.
However, this product does have a few significant drawbacks. For one, the price is pretty close to an in-salon treatment, so it's not recommended for keratin treatment seekers who are on a budget. Furthermore, the tedious treatment process–from the cumbersome application to the rinsing after a long 24 hours–may deter those looking for a simple, quick fix.
Nevertheless, if you're willing to invest both your time and money in this treatment, you're guaranteed great results. Chemically-damaged and curly hair alike will respond well to this treatment, and it may even stimulate your hair follicles to grow more quickly.
Your hair will also benefit from its gentle formula, which includes amber extract and antioxidants, doing away with the harsh chemicals commonly found in most keratin treatments. However, it does contain formaldehyde-releasing compounds.
---
9.

Best Keratin Shampoo and Conditioner Set

Puretanica Cool Bliss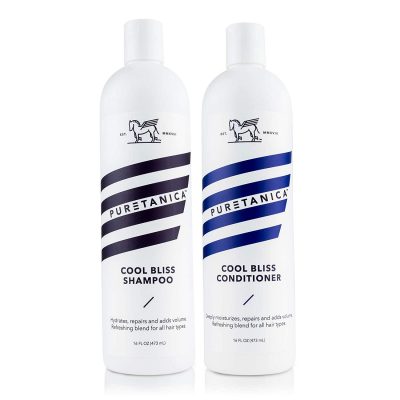 Review: This shampoo and conditioner boasts a lot of natural ingredients, including peppermint oil, aloe vera, tea tree oil, cedarwood oil, almond oil, and argan oil. The bevy of natural essential oils calm and rejuvenate your scalp, all the while fortifying hair follicles to help you produce stronger, healthier strands. Moreover, these essential oils may have a calming effect on your nerves, turning shower time into a trip to the spa.
The "clean" ingredient list may be this set's strong suit. Free of the standard chemicals you would find in other keratin treatments, you can rest easy knowing your shampoo and conditioner are made of non-toxic materials that will nourish not only your hair, but your skin as well.
However, all-natural ingredients don't necessarily translate to a stellar product. Despite the spa-like experience you'll get using this shampoo and conditioner, the shampoo is a bit runny and the conditioner is much thicker than the Nexxus Conditioner for Damaged Hair and therefore harder to get it out of the bottle. Moreover, these products may leave color-treated hair drier and frizzier than before, so dye fiends beware.
---
Review: Frizzy hair will find favor with this daily keratin treatment. It softens and smooths frazzled strands without weighing them down. A little goes a long way, too; just use a pea-sized droplet to tame your entire head of hair. Daily Keratin recommends that you use this treatment every time after you shampoo to gain maximum control over your frizz.
This product may also help you cut down on primping time in the morning. You'll spend less time blow drying, flat ironing, or styling your hair thanks to its renewed health and increased manageability. Your color job will also be safe with this daily treatment, as its argan oil not only acts as an antioxidant, but a sunblock as well, too.
The only caveats are the slightly smelly formula and general cost-ineffectiveness; you should be getting more product for what you're paying. Furthermore, ultra-frizzy hair may still puff up in humid weather no matter whether you use this on it or not. Because of this, it's better to use the CHI Keratin Silk Infusion for ultra-frizzy hair instead.
Despite these disadvantages, though, you can't take away the fact that this lightweight, daily keratin treatment will help maintain the manageable, silky shine that keratin treatments give your hair.
---