We've all seen those shampoo commercials where the protagonist flails their hair around as if it were choreographed by someone at Cirque du Soleil. Have you ever asked yourself "How does the hair end up in the same state that it started, with the same shine, same volume, and with zero frizz?" Sure, every individual's hair texture plays a big role, but the biggest thing that contributes towards hair looking like it belongs in a commercial is a good straightening shampoo.
Grooming your hair is a ritual that requires more concentration than other menial tasks you do in a day. There are beauty products involved, which need to be used properly to really infiltrate the hair follicles. There is hair straightening involved where you have to be careful not to burn your hair. The shampooing stage is an integral part of helping your hair be more cooperative with the other nurturing processes.
There is no one-size-fits-all solution when it comes to straightening shampoos, since there are a wide variety of formulas designed to nurture different types of hair. However, some of these formulas are better at making hair feel like a luxurious accessory, rather than something to covered with a hat.
We've selected ten shampoos that use the best formulas for straightening and are trusted by salon experts. Any of these shampoos will save you trips and money that you would spend by opting for salon treatment. You can give yourself the look you aim for and deserve, in your own time, whenever and wherever you need it.
How Does It Work?
If you decided that using a straightening shampoo is a good idea for you, then let's take a look at how they work.
Firstly, a hair straightening shampoo will not be able to replace a flat iron. It will help the session go smoother, it will partly tame the frizz and natural curls, and you get to keep the shine the shampoo provides prior to ironing it out. However, a straightening shampoo won't straighten your hair all by itself. Hair drying and a flat iron need to be applied afterwards for the best results.
Hair straightening shampoos create a coating for your hair shafts and seal them from the inside and outside. A lot of heat-activated substances are found in these shampoos so when you use a flat iron it is more effective. Conditioning agents are another integral part of every shampoo's formula. Their purpose is to deal with frizz and flyaway hair.
The formula combined creates a microfilm that locks moisture in and seals hair cuticles. Additionally, it also prevents surrounding moisture from being absorbed by the hair. If you live in a humid area, a hair straightening shampoo can go a long way to protecting your hair against the environment. Furthermore, the microfilm smooths the hair and makes it shinier and more vibrant. The thorough lubrication prevents the hairs from getting tangled.
The microfilm improves the effect your hair dryer or flat iron have on your hair. Due to the shampoo and how it reacts with heat, it increases the amount of time the hair stays straight and reduces the amount of time it takes to straighten it.
As a reminder, a straightening shampoo is not the sole solution for straightening your hair. It is a step into making the process much faster and healthier. Hair straightening shampoos are becoming increasingly popular due to the protection they provide for the hair while you straighten it. We chose the best 10 straightening shampoos on the market. Each of these choices will make your hair feel ready for the heat treatment it will receive from your flat iron.
Top 10 Best Straightening Shampoos 2023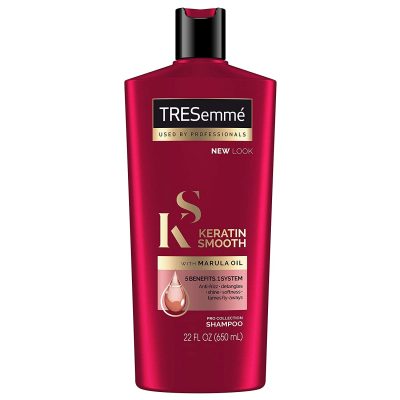 Why we like it:
The marula oil and keratin combination rarely fails, especially when they are both bottled by a respectable brand such as Tresemme. Its strong and pleasant fragrance will surely spruce up the atmosphere anywhere you go.
Editor's Rating:
There are few straightening shampoos that help the hair grow while keeping it shiny and healthy. The Tresemme Keratin Smooth shampoo is one of those, and it is capable of doing all that for up to 48 hours after every wash. It creates a hefty amount of lather, due to the sulfates it contains.
Ingredients
This is a keratin based shampoo with a formula that also uses marula oil. Marula oil is not only renowned for its conditioning and hydrating properties, but it is also good at sealing the hair shaft, which is primarily how a straightening shampoo works. When keratin and marula oil work together, frizz gets taken out of the equation and the hair shaft is sealed and protected from external moisture.
For a 22 oz bottle, this shampoo is very affordably priced. In addition to it being an effective hair straightening shampoo, it also comes in 3 sizes you can choose from. There are also two versions of the bottle – with or without a pump.
Pros
Smoothens the hair

Removes frizz

Marula oil and keratin combination

Affordable

Lathers well
Cons
Contains sulfates

The smell can be a bit pungent

Not good for colored or chemically-treated hair
---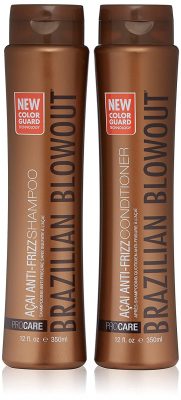 Why we like it:
For this budget, using small portions of this shampoo goes a long way. It does not lather much, but the amount that it does is effective. One time shampooing is enough to leave your hair feeling smooth. The Açai Anti-Frizz Shampoo cleanses the hair thoroughly and provides optimal smoothness while still maintaining your treatment and color intact.
Editor's Rating:
Another Keratin based shampoo. This Brazilian formula infusion guarantees that the keratin process will last as long as possible. While other brands that are used on keratin-processed hair tend to leave the hair feeling dry, the Acai Anti-Frizz Brazilian Blowout shampoo keeps the hair moisturized and smooth.
Ingredients
It contains no sodium chloride (as none of the Brazilian Blowout products do). Additionally, they are also sulfate-free. This exclusive Brazilian Super-Nutrient Complex feeds the hair with amino acids that help strengthen it, while locking in moisture and preventing humidity.
It comes as two 12 oz bottles. One is the shampoo, and one is the conditioner that highlights and maintains the effects of the shampoo. The bottles are thin and tall and the reduced diameter of the bottles' bases means they can fit on a crowded shower shelf.
Pros
No sulfates, no sodium chloride

Works on keratin-treated hair

Strengthens the hair due to the amino acids
Cons
Only comes sold as a pair with the conditioner

High-end price
---

Why we like it:
The It's a 10 Miracle shampoo has an advantage of conquering humidity, so you'd need not look further for another option if you know you are traveling to - or live in - a humid region. It exudes a fresh, clean, and invigorating scent.
Editor's Rating:
You may think this is a bold name for a product, but it lives up to it. The It's a 10 Miracle shampoo does an amazing job at healing split ends, while managing to preserve color and keep frizz away. It's good at defending hair from high humidity in the atmosphere too. It also protects the hair from the sun and ultraviolet rays. Its consistency is thick, heavy, and creamy.
Ingredients
Like most of the products we chose in this article, this shampoo also depends on keratin to deliver effective results. Happily, it does not contain sulfates and parabens, so it is a great fit for sensitive hair as well. This shampoo is suitable for damaged hair, colored hair, and even chemically-treated hair. The formula in this shampoo relies on creating a microfilm around each hair shaft. Other ingredients used in its formula are acai fruit, noni fruit, vitamin C, comfrey, sunflower extract, red tea extract, and ginger.
This is a mid-range shampoo that offers good value for money. Due to its sulfate-free recipe, it still manages to produce a rich enough lather, so you don't have to use too much every time you wash. A little bit will deliver noticeable results, so the bottle will last you a long time. It is conveniently available in different sizes.
Pros
No sulfate

Keratin-based formula

Affordable

Long-lasting

Defies humidity
Cons
Its consistency is a bit heavy for some

The smell could come off as unpleasant

If applied excessively, hair could feel sticky and oily
---

Why we like it:
As some satisfied customers have observed, it takes a very small amount of shampoo to have effect on your hair. So besides being affordable, it is long-lasting and effective, even on thick, colored or dry hair. The 33.8 oz bottle can last one person an entire year!
Editor's Rating:
Professionals in the industry regard Matrix as one of the most trusted brands in the business. It is no surprise that the Total Results Mega Sleek edition is one of the best at tackling frizz and preparing the hair to be straightened with ease. If you have medium or coarse hair, this is an ideal choice.
Ingredients
The main ingredient in the Matrix Total Results Mega Sleek shampoo is shea butter. This ingredient moisturizes hair strands and keeps them healthy and shiny. The formula also includes a group of lipid molecules called ceramides, which help repair damaged hair in the cuticle layer. When shea butter and ceramides join forces, hair has no choice but to remain smooth and frizz-free, thus helping the hair stay softer for a longer while.
This shampoo comes in three sizes: a travel size at 1.7 ounces, a regular size at 10.1 ounces, and a quantity that should save you shipping on three separate regular sizes, at 33.8 ounces.
Pros
Shea butter and ceramides fight humidity and frizz

Affordable

Requires usage in small amounts, so it lasts longer

Pleasant smell
Cons
Can leave the hair oily

Contains sulfate
---

Why we like it:
Besides its versatility with split ends, colored hair, and frizz, the John Frieda Frizz Ease Flawlessly Straight shampoo is capable of holding styles in place for long periods of time. If you use it just often enough and in moderate portions, you'll avoid sticky hair and won't worry about it feeling greasy and dirty. Plus, its smell has a floral hint which smells lovely. Who doesn't like flowers?
Editor's Rating:
Another keratin-rich product, the John Frieda Frizz Ease Flawlessly Straight Shampoo will increase moisture for dry damaged hair, as well as even out textures of the hair where needed.
If split ends and frizz were bothering you before, this shampoo will put an end to them. It even works on colored hair.
Ingredients
The main protein used in this shampoo is keratin, which is used in the best straightening shampoos. This protein is a major building block of human hair so using a keratin shampoo helps keep your hair healthy.
The way it works is it coats the hair shaft with keratin, which in turn blocks off the porous portions of the hair shaft. This is how a microfilm is created around the entire shaft. The resulting microfilm holds frizz under control and makes the hair smooth and shiny.
By using the John Frieda matching conditioner right after applying this shampoo on soaking wet hair, you will get the best results. There is also a matching hair serum if you want to get really fancy and collect the whole set.
Pros
Keratine

Affordable

Smells flowery

Holds styles well

Handles frizz, split ends, and colored hair well
Cons
Container leaks sometimes

Contains sulfates
---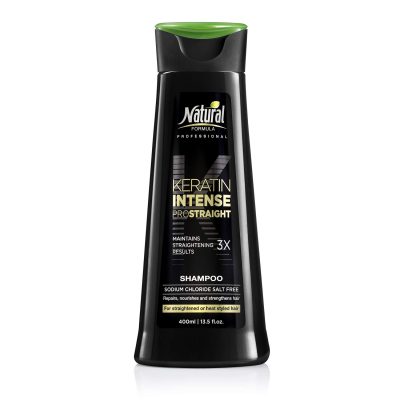 Why we like it:
We think of this shampoo as the shoulder to cry on for damaged hair. This shampoo will build its spirits right back up, rebuilding the interior of the hair and forming the external protective microfilm around it.
Editor's Rating:
The Keratin Intense Shampoo by Natural Formula is specially tailored for hair that has been previously damaged by different straightening techniques. Problems such as weak hair, loss of moisture and shine are resolved by gently massaging the shampoo into your hair while it is wet, and smoothly working it into a lather. This shampoo is ideal for rebuilding and restoring the structure of the hair, its elasticity, and its shine and softness.
Ingredients
Not only does this shampoo also rely on keratin, but it also contains pentanol, which helps enhance the effects of keratin. This increases the hair's durability, so that heat, breakage, and chemical damages will be considerably reduced. A chemical it does not contain is sodium-chloride, so that the life of hair-straightening treatments is extended, and it won't cause dryness to the hair.
Pros
Its keratin-based double formula helps rebuild damage hair

No sodium-chlorate

Pentanol helps keratin do its magic
Cons
A bit costly

Contains sulfate

Doesn't have the prettiest of scents
---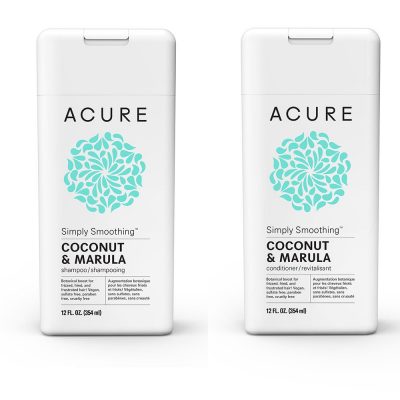 Why we like it:
It is a versatile straightening shampoo that works well on color-treated hair, as well as hair that is regularly straightened, blow-dried, and styled. None of the ingredients used are cheap fillers, so there should be no worries about damaging substances entering the hair.
Editor's Rating:
For those who regularly use hair dryers, styling tools, or flat irons, the solution is the Coconut & Marula Simply Smoothing shampoo by Acure Organics. Looking at what extracts this shampoo uses is like reading the smoothie menu at a Jamba Juice stand: it contains acai, blackberry, rosehip, and pomegranate, so that will also ensure your hair will smell as refreshing as it will look.
Ingredients
As its name suggests, the shampoo works based on a formula that contains marula oil and coconut water. Both of these hydrating ingredients help lock in moisture, making your hair shinier, softer, and less frizzy. Other than these, it mostly uses natural ingredients, thus making it a vegan-friendly product. That means no sulfates, phthalates, silicon, and parabens. We recommend getting the accompanying conditioner for added effect.
Pros
Vegan-friendly, contains all natural products

Marula oil & coconut water ensure hydration

No sulfates
Cons
Must be used with care by people with dry and brittle hair (the shampoo takes away natural oils from the hair)

Not suitable on keratin-treated hair
---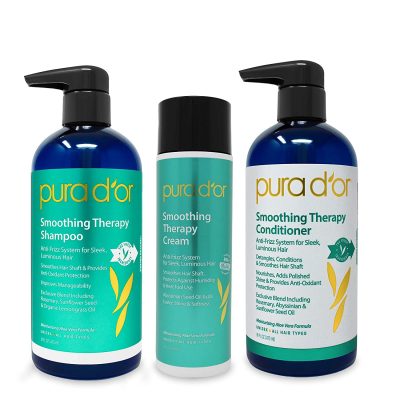 Why we like it:
Aside from being all natural, the shampoo also has a lovely lemony and licorice smell. This product has no sulfates, parabens, or silicones. It is good to use on colored, chemically treated, and even damaged hair. No side-effects will occur.
Editor's Rating:
Pura D'or came up with not only a great shampoo, but a whole hair therapy system that entails a shampoo, a conditioner, and a cream. What's even more impressive is that they went for all natural ingredients that still deliver the best results. Prepare to be amazed at how good the results of an all-natural formula can be.
Ingredients
The products found in this shampoo are free of artificial chemicals. The formula mainly revolves around ingredients like chia seed and linseed extracts, geranium oil, lemongrass oil, rosemary oil, and aloe vera. The seed section extracts is responsible for fighting frizz and adding shine and volume to the hair. The oils serve as supplement for the hairs' natural oils, thus conditioning and moisturizing the hair. Moisturization considerably improves appearances, making your hair look more vibrant and voluminous.
For a mid-range price you get not just one but three bottles to complete the full therapy system. The shampoo weighs 16 oz, the conditioner bottle weighs 18 oz, and the cream container weighs 8 oz. Experts recommend you use smaller amounts than what you may use with other products. In fact, the design is even topped with a pump, to carefully measure each amount you use, so that none of it goes to waste.
Pros
All natural ingredients (no sulfates, parabens, silicones)

Comes with a satisfaction guarantee

Smells nice

Has a pump, does a lot with small portions
Cons
Shampoo is not sold separately form the conditioner and cream, in case your budget only allows for a mid-range shampoo

Due to the all-natural ingredients, the effects may take a little longer to be noticeable

Doesn't lather much, due to lack of sulfates
---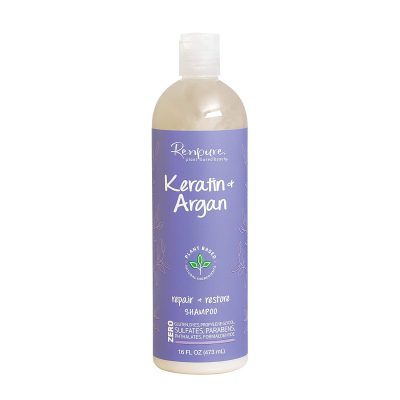 Why we like it:
Renpure donates personal care products to homeless shelters and people affected by natural disasters. It's a great bonus to an already excellent product.
Editor's Rating:
If you're looking for a natural, clean beauty product to use on your hair, this product is excellent. It works on keratin-based treatments, colored hair, split ends, and its nourishing effect can last for up to 48 hours.
Ingredients
The two main ingredients in the Renpure Keratin Argan Straightening shampoo are – get ready – keratin and argan. Keratin makes hair smoother and straighter, while argan oil has a ton of healing properties, as well as lots of vitamin E, antioxidants, and fatty acids. These ingredients are perfect for hydrating and refreshing your hair. Because Renpure prides itself for releasing an all-natural shampoo, it contains berries, apples, and desert lily. It does not contain sulfates, phthalates, dyes, parabens, gluten, or propylene glycol. All those fruity ingredients give this shampoo a spectacular smell.
Pros
Keratin and argan combination heal and smoothen the hair

No sulfates or other toxic chemicals

Fruity composure

Pleasant smell

Affordable
Cons
May leave the hair feeling greasy

Can leave the hair dry

The fragrance can be a tad strong for some
---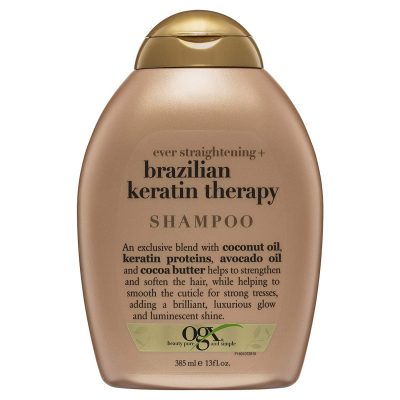 Why we like it:
Some good shampoos only use one of the ingredients found in this one, but coconut oil, avocado oil, cocoa butter, and keratin proteins all in one? That's a catch, and a very affordable one at that.
Editor's Rating:
Not only will this shampoo leave your hair soft and silky, but it is one of the best smelling shampoos on the market! This might not seem like a big deal, but if you knew how difficult it is to create a formula that nurtures your hair, contains all the chemicals and conditioning agents and still smell wonderful while still being good for your hair, then it's an impressive achievement.
Ingredients
As its name suggests, this shampoo is comprised of keratin proteins, as well as coconut oil, avocado oil, and cocoa butter. This blend of keratin and coconut oil is rich in antioxidants and will be sure to strengthen and soften your hair when applied. The avocado oil and cocoa butter add glow and luminescent shine to the hair by smoothing its cuticles. Also, one of the reasons we put this on the list is that the OGX Brazilian Keratin Therapy is sulfate-free!
It comes in various bottle sizes, including containers small enough for travel. It works much better with the conditioner set, but that's unfortunately quite a bit more expensive. Additionally, you don't need to use a lot to see effects, so even a small bottle can last you longer than you would expect it to.
Pros
4 ingredients that help strengthen and smooth the hair

No sulfate

Affordable

Smells nice
Cons
Is a bit drying for some hair
---
Got My Shampoo. What's Next?
First, let's recap on how to apply the shampoo. Aside from the steps below, here is a good video on how to properly use your brand new straightening shampoo.
Make sure the temperature of the water is lukewarm.
Squeeze a fairly small quantity of shampoo on the palm of your hands, and rub them together to create some lather.
Evenly distribute the shampoo through your hair using a wide-tooth comb.
A great shampoo is only the first step into making sure you have a manageable and shiny mane. To help keep your hair straight and silky for longer, there are a few more additional phases to go through.
Conditioning
Most shampoos are either sold as a pack with the conditioner or, if not, we strongly recommend you purchase is it as well. This is because conditioning the hair plays a major role in straightening the hair.
When in the shower, use a comb to thoroughly spread the conditioner through your hair strands. This will keep the hair straighter and less tangled once it is dry. After you finish the shower, rinse your hair under cold water for 30 seconds. The cold temperature causes the cuticle to close and keeps your hair smoother and straighter.
Additional Treatments
Besides the shampoo and conditioner, there are other treatments that enhance the effects of the straightening session. An at-home hair mask or oil treatment are useful if applied either before or after you shower (depending on the instructions). These help by adding an extra moisture boost, which in turn helps repair damaged strands. Doing this at least once a week is good enough.
Keep Frizz and Heat Away
You might also want to consider straightening serum. There are many derivative serums made by your chosen shampoo brand, designed specially to complete your treatment. Either a few drops of straightening serum or a tiny amount of balm applied on wet hair helps the hair stay shiny and smooth as it dries. The most effective serums have an anti-frizz formula. You can distribute it evenly by either using a brush or your fingers. Before using a hair dryer, adding some mousse to the hair also helps.
Hair Drying
There are two ways to dry your hair: by hand, or with a hair dryer. If you opt for naturally drying your hair by hand, take off the excess water gently. It is best to use an old cotton t-shirt or a towel made of microfiber, rather than any towel that is lying around. This will help to prevent frizz.
If you're using a blow dryer, be sure to set it at the lowest temperature possible. Don't keep the dryer directed in the same direction for too long. Move its air flow from side to side as you work through the hair, to decrease damage and flyaway hairs. Point the dryer away from your roots and down the strands to straighten your hair as you go.
When using a brush, either choose a round one made from nylon, or with boar bristles, or a combination of the two. Once the hair is dry, set the dryer's temperature on a low, cold air setting. This improves glossiness and smoothness.
Flat Iron
The toughest part in straightening the hair is flat ironing it properly. Firstly, make sure your hair is dry, then apply a heat protecting product on it to prevent potential heat damage.
Straightening small sections of hair at a time is the way to go. Between one or two inches at a time is good, or even less in case you have course or thick hair. Separating your hair using hair clips accelerates the process and makes the hair easier to handle. Start with the layers underneath and finish with the top section of hair, working your way up.
Maintenance
The best time of the day to straighten your hair is right before you go to bed at night. It is not a good idea to exit the house shortly after you finish drying it, as it cannot completely dry in a short amount of time, and humidity will take its toll.
After straightening, you can add a little smoothing oil to the mid-sections and ends to tame flyaways and help keep frizz away. To make sure it distributes evenly, add a spritz of light-hold hairspray and brush it through.
Improve Your Straightening Treatment Today
To get an even better idea about the whole straightening process, here are two other videos that will guide you through all the steps to obtaining the straight hairs you desire. In the first video, The First Shampoo mentions some tricks you can use on your own such as hair clips and how to properly portion your hair after it is dry. The second video is by a company mentioned above, TRESemme, and is narrated in real time by a salon professional.
With these tips in mind, and with the information about hair straightening shampoo that you now possess, you should enjoy the best results your hair has experienced so far. It will attract all the looks, you'll be a guru among your friends regarding beauty and health techniques, and life in general will get a little bit more enjoyable for you. We hope you enjoyed the guide and enjoy the list of best hair straightening shampoos that we've put together for you.