Top Picks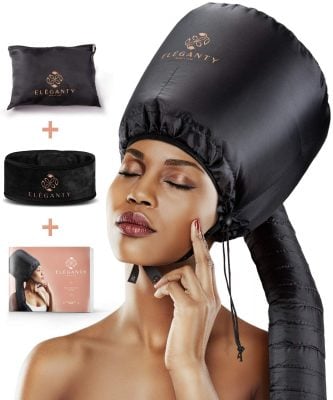 Elegantly Soft Hood Bonnet Dryer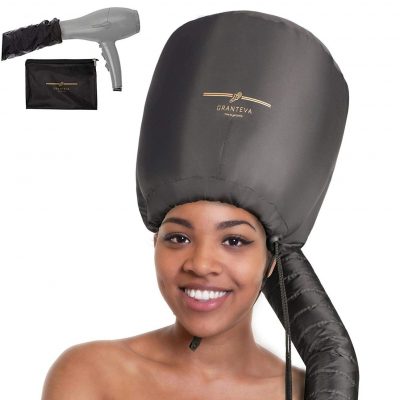 Granteva Hood Bonnet Dryer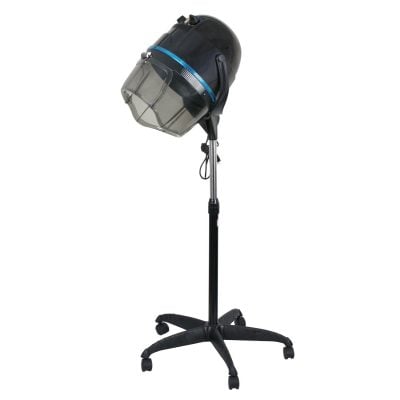 Nova Professional Hooded Bonnet Dryer
Previous
Next
Once a staple found in any 1950s salon, the bonnet hair dryer has been experiencing a resurgence of popularity in recent times. The convenient hands-free design allows you to multitask – you can dry your hair while reading a book or doing your makeup. Plus, bonnet dryers are better for your hair. The unique circulatory design allows warm air to flow evenly over your tresses, reducing frizz and adding shine.
Bonnet dryers can have hard or soft bonnets, be portably or stationary, and come in at all ends of the pricing spectrum. With so many different types available today, it can be hard to know what to look for when you set out to purchase a bonnet dryer.
To help you out, we've gathered a list of the best bonnet dryers available today and broken down what makes them so great. Read on to start learning which product suits your hair the best.
What Is a Bonnet Hair Dryer?
A bonnet hair dryer consists of a cap (the bonnet) and a heating element. For soft bonnet dryers, the cap is made of heat-proof plastic or nylon material, and there is a tube that attaches either to a hair dryer, or is built into a motor that controls the heat.
Hard bonnet dryers feature a plastic cap with small holes covering the inside that allow heat to escape. The cap is held standing upright by a plastic support where the controls are also located.
When turned on, warm air will fill the inside of the hard cap or plastic bonnet and evenly distribute across your hair. This is known as indirect heat, which is safer and less damaging than using a regular hair dryer.
Bonnet dryers can help reduce frizz in curly styles, and speed up the processing time for hair treatments such as dyes and deep conditioning. For more information about the benefits of bonnet dryers, check out our complete guide.
Things to Consider in a Bonnet Hair Dryer
Bonnet dryers come in a variety of shapes and sizes. In order to find the best one for you, there are some things you need to consider.
Your Hair Type
Hair type is an important factor in selecting a bonnet dryer. If you have long hair, you want a bonnet that can incorporate all of your hair without flattening it. If you regularly use rollers, you want to make sure the bonnet will be big enough to fit them underneath (for roller styles, we suggest the Conair Soft Bonnet Dryer, and suggest that you check out our guide to the best hot rollers available).
For more information on finding your hair type, see our guide below.
Hard vs Soft Bonnet Dryers
There are two main types of bonnet dryers. Hard bonnet, like the one in Nova's Professional Hooded Bonnet Dryer, and soft bonnet.
Hard bonnets are more likely to be found in salons and professional environments. You sit underneath them instead of putting your hair up inside of them like you would for a soft bonnet. They are typically better for very long hair or if you are applying a treatment to your hair.
Soft bonnet dryers have a hood made of heat-proof and sometimes water-proof (like the bonnet on Granteva's Soft Bonnet Dryer) materials. They are perfect for drying hair in rollers or speeding up your drying time.
Price
Another important factor to consider is affordability. Bonnet dryers can range from cheap to a more expensive, premium price depending on the style of dryer and any accessories that are included.
Portability
While not portable in the past, today's bonnet dryers can be surprisingly versatile. Many act as hair dryer attachments, so you can sit and blow dry your hair anywhere your hair dryer plugs in. You can also purchase hard bonnet dryers that can be carried around and folded into themselves for storage – our best hard bonnet pick Conair Hard Bonnet Dryer is a great example of this.
If you are going to purchase a bonnet hair dryer that serves as an attachment, be sure to pair it with one of the year's best hair dryers.
Now that you have a good idea of what to consider in a bonnet dryer, let's head straight into our top 10 picks!
Top 10 Best Bonnet Hair Dryers 2020
Your Complete Guide to Bonnet Hair Dryers

If you still have burning questions about bonnet hair dryers and their uses, don't worry – we've got a full guide ready for you. Read on to discover the benefits of bonnet dryers, find your hair type, and learn some pro hair drying tips!

Finding the Right Bonnet Hair Dryer for Your Hair Type
In order to know how to properly style your hair, you should know what your exact hair type is. This information will help you select products and creams that work with your hair to give you the best locks of your life.
Type 1 Hair
Type 1 hair is straight and typically very shiny. Styling this type of hair requires the use of shape-defining products to get it to hold. Most bonnet hair dryers that aren't made for a specific type of hair, including our top overall pick, do well with type 1 hair.
Type 1A: Thin, fine, soft hair. Fairly straight.
Type 1B: Medium textured hair, has a bit more body and volume.
Type 1C: Straight, but with a coarse texture. Requires lots of extra strength products to keep a style.
Type 2 Hair
Type 2 hair is wavy. It has a slight S pattern that places it right in between straight and curly type hair. There is a little bit of a shine to it, and styling it either straight or curly is pretty simple to do. It does frizz easily, and can benefit from the use of anti-frizz products (including use of a bonnet dryer made for frizz control).
Type 2A: Finely textured, may be on the thin side.
Type 2B: Defined, face-framing waves
Type 2C: Coarse texture, easily frizzes
Type 3 Hair
This hair has a tighter S shaped pattern or a loose coil pattern. It is springy, tends to snap back into place when pulled, and may or may not have a visible shine. Frizz is definitely present here. If you've got curly hair, you need a bonnet dryer equipped to handle everything you can throw at it like the Revlon Ionic Soft Bonnet Dryer.
Type 3A: Loosely curled. Typically has the most natural shine out of the type 3 hairs.
Type 3B: Ranges from loose spirals and ringlets to tighter corkscrew curls. Becomes dry fast, so products with hydration are a good choice.
Type 3C: Tight curls, usually about pencil-width. Benefits from moisturizing products and defining creams.
Type 4 Hair
Very tight curl patterns are present in this hair type. Textures can be anywhere from fine and soft, to coarse and wiry. The curls are defined by a coily S shape or a Z-shaped zigzag pattern. It requires a lot of moisturizing products and shrinks when wet. Not all bonnet dryers work well with type 4 hair, but some, like the Granteva Hood Bonnet Dryer are specifically designed to bring out its best qualities.
Type 4A: Denser S shaped curls, but still soft and pliable
Type 4B: Z-shaped coil pattern. Denser and thicker.
Type 4C: Z-shaped pattern. Very thick and prone to breakage. Leave-in conditioner is a must for this type.
Want to know more? Use this chart of hair types for help understanding your hair.
Benefits of a Bonnet Dryer
Bonnet dryers use indirect heat to dry your hair, as opposed to the direct heat used by regular hair dryers. Direct heat dries out the hair and causes long-term damage if used regularly. Conversely, indirect heat is not applied directly to the hair, it is applied all around the head. This is where the bonnet design comes in; it traps the heat in around your hair.
Bonnet dryers are used on low heat settings, allowing your hair to dry without damage and without losing moisture. They are also more convenient to use since you can put your hair up to dry in the bonnet, leaving your hands free to do your makeup or simply relax while your hair dries.
Bonnet Hair Dryers Are Multipurpose
Beyond just drying hair, bonnet dryers can be used for a variety of styling needs. You can use them with rollers to dry your hair into a curled style, or to aid a deep conditioning treatment. They cut down the average air-drying time of hair from 2 to 3 hours, to somewhere between 10 minutes and an hour.
Can I Use a Bonnet Dryer Every Day?
Any amount of heat is enough to damage your hair, but the low heat method of drying your hair with a bonnet dryer is considered much less damaging and safe enough for daily use. Of course, this is only true if you are using them on a low or medium heat setting and not cranking it up to the highest heat possible every time.
Always take care to monitor your hair's condition, and if it starts to feel damaged or dry, take a break from using heat to dry and style your hair.
How Long Does Bonnet Drying Take?
The time your hair takes to dry depends heavily on the type of bonnet dryer you are using and your specific hair type.
For instance, if you are using something like the Hot Tools Bonnet Dryer, your hair might dry within 30 minutes. On the other hand, if you are using a dryer with a lower heat setting, such as the Andis Ionic Dryer, your hair might take an hour to fully dry.
Hair that is being styled with rollers underneath a bonnet dryer should be left to dry between 20 and 30 minutes (look back at the Conair Soft Bonnet Dryer for a dryer great with rollers). If you are deep conditioning your hair, you will be under the dryer for anywhere between 15 and 30 minutes.
As a general rule, you only want to stay under the dryer until your hair is about 70-80 percent dry. This helps you avoid frizz and maintain bounce and shine in your style as your hair air dries the rest of the way. Average drying time can take 10 to 45 minutes, depending on the type and thickness of your hair.
How to Tell If Your Hair Is Damaged
Constantly using heat styling tools such as curlers and hair dryers puts your locks at risk for damage. Excess heat can burn the strands, and repeatedly forcing your hair into either curly or straight shapes destroys the hair fiber over time, leaving you with dull, lifeless hair.
If you suspect your hair is damaged, but want to know for sure, there are a few tests you can try out to tell.
Take a small piece of hair and hold it between two fingers. Gently pull it out. If your hair is healthy it will stretch out and snap back into place once you let go. If your hair is damaged, it will either snap off or stay stretched out without returning to its original length.
Separate an inch-wide section of hair and carefully pull your fingers down it. Healthy hair should feel smooth all the way down. If the surface is uneven, snaps off in any place, or feels excessively dry, your hair is probably damaged.
Deep Conditioning Treatments and You
Do you keep hearing about deep conditioning treatments, but you aren't sure what they are? Have no fear, because we're here to give you all the information you need to know about these popular hair treatments.
What Are They Good For?
There are two kinds of deep conditioning treatments – protein-based and moisturizing. Both have the ability to begin repairing and nourishing hair after the first use, but there are some differences.
Protein-based treatments strengthen the hairs and prevent breakage. These are great for use on heat damaged or chemically damaged hair.
Moisturizing treatments hydrate hair and leave it feeling soft. They also help bring shine back to the hair.
The Application Process
Deep conditioning treatments should be applied after shampooing your hair. The shampoo cleans the follicles and leaves them open to absorbing the nutrients deposited by the treatment.
After shampooing, work the treatment into your hair. Focus on the ends and areas that are prone to breakage. If possible, use a wide-toothed comb to brush it through your hair and ensure total coverage.
Deep conditioning treatments work the best when used with heat. Heat speeds up the process and expands the hair follicle even more, allowing the maximum amount of benefits to be absorbed. We recommend the Nova Professional Hooded Dryer for use with these treatments.
If you don't have a bonnet dryer just yet, you can cover your head with a plastic cap instead. The heat from your scalp will be contained in the cap and help speed up the processing.
After you have allowed the treatment to stay in your hair for the recommended amount of time, wash it out thoroughly. You can now style and dry your hair.
Things to Keep in Mind
While deep conditioning treatments can be very good for the hair, you don't want to overuse them. For very damaged hair, you can use them every two weeks; for regular maintenance, once a month is perfect.
If you have loose curly hair or tighter kinky curls, select a treatment with shea butter in it. It will deeply moisturize your hair without weighing it down.
If you have wavy hair or hair on the straighter side, coconut oil is a great lightweight ingredient that will leave your hair feeling soft after treatment.
Pro Tips for Hair Drying
Always use heat protectant on your hair when styling it with heat tools. This includes the use of bonnet dryers.
Use moisturizing shampoos, conditioners, and leave-in creams if you know you will be applying lots of heat to your hair
If you are using rollers on your hair, section out small pieces before rolling the hair up. This will ensure even drying all around your head.
When using any kind of heat styling tool, make sure your hair is not soaking wet when you start using it. Applying heat to soaking wet hair can burn the outside of your hair and damage it. Try to let your hair lightly air dry and rid it of excess moisture before blow drying.
Discovering the Best Bonnet Dryer for You
Deciding which bonnet dryer suits your lifestyle isn't an easy process. There are so many things to consider, from hair type, to the style of bonnet, to the affordability of the dryer. Hopefully, with our list you have gained a better idea of what to look for in a bonnet dryer and your decision will be that much easier. All you have to do now is purchase your favorite product and start your journey to salon-quality hair at home.