Editor's Note: Thick hair isn't something that I've been gifted with in this life, but I have plenty of friends who know the struggle of trying to flat iron or curl their locks, only to be met with a lengthy process and lots of arm pain as they struggle to get the achieved look in their hair. Fortunately, there are several flat irons on the market today that are designed specifically for individuals who are struggling with keeping their thick hair styled. Just make sure that you're using plenty of heat protectant on your locks once you finally choose the best thick hair flat iron for your needs!
People with thick hair who have a hard time taming their "mane". It's both a blessing and a curse. While thick hair can look great when well maintained, the opposite is also true. If you have thick hair, you need a great flat iron.
And this is where we come in. The bad news is that there isn't a holy grail of flat irons. The good news is that there are ten for you to choose from! We have carefully selected ten of the best flat irons currently on the market, to help you in your quest to give your hair the perfect look no matter what the circumstance.
First, let's consider some criteria that is crucial in choosing the right flat iron for you. You won't be able to get away from some of these technical specs, so we'll try to be as succinct as possible and only provide you with what you really need to know.
Let's go over the basics of flat irons:
The ideal temperature range for thick hair is between 375 and 450 degrees Fahrenheit. (the best flat irons have at least 2 settings between these two temperatures)
The recommended plate type is either titanium, or tourmaline-covered ceramic. The longer and thicker your hair, the wider the plates should be. Otherwise it will take you longer to straighten your hair with a small, 1" wide plated iron.
The technologies that are prone to deliver the best results are ionic (the release of negative ions to reduce frizz and static) and infrared heating.
As  technology keeps evolving, hair straighteners become better and better. Companies listen to what users have to say about past products and try to implement the best changes, so that consumers are happy, and the companies keep thriving. We compiled a list of the most advanced forms of hair straighteners on the market today, the ones that are worth your time and investment. This list of the 10 most popular flat irons on the market will surely make you think about how often you use the flat iron, in what transportation and usage circumstances, and how much you really want to save on trips to a professional salon.
Top 10 Best Flat Irons for Thick Hair 2023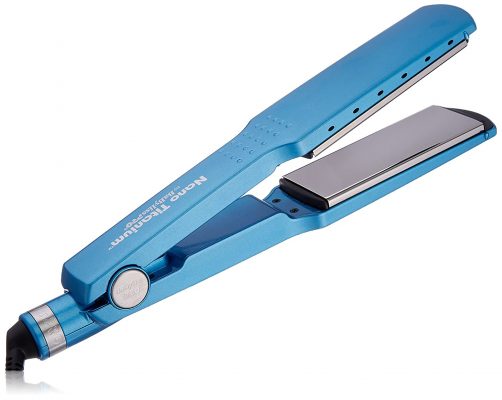 Why we like it:
A classic all-round flat iron from one of the top names in the industry means your guaranteed to get amazing results.
Editor's Rating:
Overview
This is a lightweight flat iron that is preferred by users with a tiny bathroom or multiple roommates. Of course, its small dimensions and ease of usage are only an added bonus on top of its useful abilities and features. With its 50 heat settings for hair types of all shapes, styles, textures, and colors, it is one of the most versatile hair straighteners in the industry. The classic Nano works the best on short or medium-sized hair, as the smaller plates will glide through it easier, but it is also available in 1.5 and 2-inch plate models.
Plates
The BaByliss Pro Nano Titanium Straightening Iron uses titanium plates, which conduct high levels of heat in a short amount of time. Each plate has built in Nanotechnology, which is an innovative technology that keeps frizziness and static away. Titanium also acts as a barrier from rusting, so your hair straightener will look just as new for years to come.
Temperature
The BaByliss Pro Nano Titanium Straightening Iron has a maximum temperature of 450° F, which is the recommended starting temperature for thick hair. You will need to try out different temperature settings (as they are not pre-set like the CHI G2) to find the fitting temperature for your hair. You can either keep it at 450 degrees for the whole session, but in order to prevent damaging your hair, we encourage you to decrease the temperature throughout. Some larger flat irons are good at maintaining the heat even at 370 degrees, but because the BaByliss Nano is a bit smaller, it needs to be kept at 400 degrees to maintain the heat.
Technology
This flat iron uses infrared heat technology to penetrate the hair follicles. Thanks to this technology, hair gets straightened gently from the outside in, causing less damage to the hair. Aside from the titanium plates in the BaByliss Pro Nano, it also features a unique ceramic heater inside the handle, enabling it to heat up faster.
Dimensions
The BaByliss Pro Nano Titanium Straightening Iron is the lightest hair straightener. It weighs just over 1 pound, and measures 12 x 2 x 3.5 inches. If you are constantly on the go or travel often, this meets the criteria of your lifestyle perfectly, while delivering results that look great. It could even make a good "second straightener" if you want to leave your heavier and larger primary flat iron at home.
Price
The features that make it one of the best on our list and on the market, basically pay for themselves, and this will become obvious after the very first time you use it. Not only is it a delight to use wherever you find yourself, but it delivers splendid results in a very short time. Its multiple temperature settings make it very versatile and you get to customize it to your individual needs, rather than buying a more limited hair straightener. The color is really cute too, and the ceramic heater inside the handle is great for when it comes to comfort and effectiveness.
Pros
50 heat settings

Great for short / medium length hair

Titanium plates

Lightweight and ultra-thin design

Good travelling companion

Infrared heat technology
Cons
No pre-set heat settings (although for some users, this is a good thing)

The heating elements can become faulty after a while

Expensive
---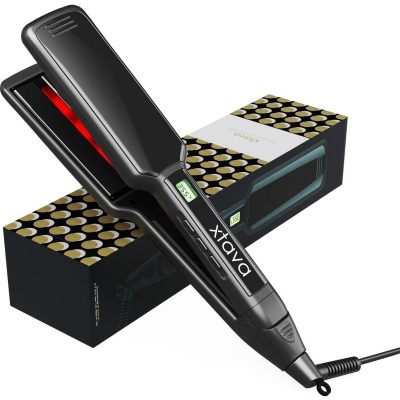 Why we like it:
From the wide moving plates, to the infrared technology and rapid heating technology, this flat iron practically begs to be your thick hair's best friend. At its affordable price, it also has an auto shut off feature which kicks in after 60 minutes.
Editor's Rating:
Overview
The fine people at Xtava have designed a device that promises no damage to the hair. The Xtava Infrared will leave you with silky. shiny, straight, and most of all healthy strands of hair. Due to its extra wide ceramic tourmaline plates and a wide choice of temperature settings, you can expect to see the Xtava Infrared on a friend's nightstand, as well as on a hair salon table.
Plates
The extra wide plates are made of tourmaline-coated ceramic, making it easier to cover more locks and reducing styling time. The floating plates move along with your hair, so there is a reduced risk of snagging, and the movements happen more smoothly. What makes this flat iron ideal for thick hair are the 2-inch wide plates.
Temperature
The Xtava Infrared has 10 temperature settings which range from 265 to 445 degrees Fahrenheit. The chosen temperature setting is displayed on an easy to read LCD digital display. It also has built-in ceramic heaters which enable the flat iron to reach a maximum temperature within seconds. This turns thick frizzy hair straight in just minutes.
Technology
This hair straightener features Xtava's unique infrared technology, meaning it has an advanced microprocessor controller that regulates heat. This type of technology heats hair strands from the inside out, which, as all good flat irons do, causes less damage to the hair. The negative ions will lock in moisture and leave the hair hydrated and shiny.
Dimensions
The Xtava Infrared measures 11.6 x 2.1 x 1.5 inches and weighs 2 pounds. Albeit a bit wider and heavier than other flat irons on the market, it comes with a 360 degree 8-foot swivel cord that makes it very easy to operate.
Price
This is a very affordable and yet solid product. It also comes with a 2-year warranty.
Pros
Extra wide tourmaline-coated plates

Infrared technology

360 degrees swivel cord

Affordable

2-year warranty
Cons
A bit heavy

Takes a few passes on each section of hair to straighten it

Buttons are in the way of the handle
---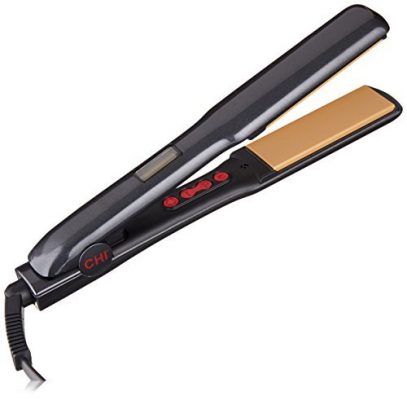 Why we like it:
CHI is one of the go-to brands in the industry. A temperature display, auto-off feature and ceramic plants infused with high grade titanium made this an excellent flat iron.
Editor's Rating:
Overview
The CHI G2 is not only a favorite for home-users, but also for professionals. It delivers salon-quality results in the comfort of your own home, and in no time. While other CHI models come in different cool colors, the G2 keeps an elegant aspect, making your hair look and feel just as classy.
Plates
An interesting and rare combination, this flat iron features ceramic plates that are infused with high-grade titanium. Aside from the increased durability and longevity, the titanium also reduces snagging and makes the styling experience faster and overall smoother. Because titanium also resists rust well, the CHI G2 will keep its out-of-the-box aspect for many years.
Temperature
When we say professional, we mean professional! This Ceramic and Titanium flat iron has a built in innovative, color-coded LED display that lets you comfortably scour through temperature settings. The settings correspond to certain temperature ranges designed especially for your specific hair type. Blue is ideal for fine, thinning, or fragile hair and ranges from 0 to 370 degrees Fahrenheit. Green is the choice for wavy or medium textured hair, ranging between 375 and 395 degrees F, while red is the perfect setting for coarse, high curl, and thick hair. This ranges between 400 and the maximum of 425 degrees Fahrenheit.
Technology
CHI's G2 Ceramic and Titanium Flat Iron works on ionic technology. Some of the other CHI products of the same price range also include infrared technologies, so regardless of your decision, CHI makes the best choices in integrated technology.
Dimensions
The dimensions of the CHI G2 are 1 x 0.6 x 3 inches, but it only weighs 15.8 ounces. It is very lightweight, ergonomically practical, and easy to work with.
Price
Of course, for a salon-level performance, a matching price has to justify its impeccable results. It  also comes with a 2-year warranty, in case anything goes wrong with it…which will most likely not be the case, but it's reassuring nevertheless.
Pros
Light

Durable

Color-coded temperature settings

1-hour shutoff

2-year warranty

Ceramic and titanium plates
Cons
Doesn't heat up very quickly

Watch out for fakes on the market (tip-off: two pronged plug as opposed to the three pronged plug in a ground fault circuit interrupter with a reset button)
---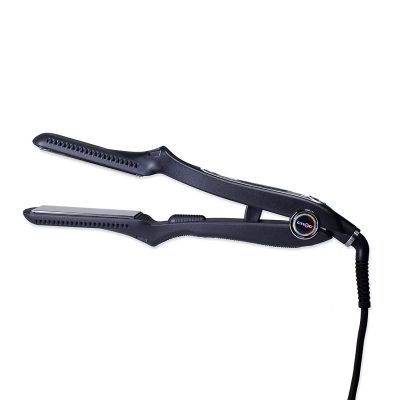 Why we like it:
From its digital screen to display temperature, 40-minute auto shut off safety feature, This feature-rich titanium plate flat iron will keep your thick hair looking great.
Editor's Rating:
Overview
No more worries about your hair straightening routine taking too much time to sustain. The Croc classic only requires one pass over each section of hair to get the beautiful results it promises to deliver. This is a great flat iron for thick hair types, because it has the perfect combination of plates and technology being used, and it never feels like it is frying or damaging your hair. You won't have to go over the same piece of hair more than once, and that's all it takes for the magic to happen.
Don't get too frightened by the Croc Classic's shape, which uncannily resembles a small crocodile's snout. Ergonomically, it is designed to please. It has a thumb grip that makes it easy to hold and an extra long swivel cord to enable you to style your hair in any position. From the ability to do Keratin treatments at home to the ease of controlling the heat settings, this device comes with all the features that make a flat iron perfect.
Plates
1.5-inch wide titanium moving plates are used to make this flat iron the best it could be. It has a perfect combination of speed and durability. The negative ions and infrared rays balance the impact of the plates' strength. The plates are smooth and clamp down tightly. You can effortlessly pass it through your hair without worrying about it snagging.
Temperature
The Croc Classic features a wide temperature range with 17 heat settings that start at 270 degrees and goes up to 450 degrees Fahrenheit. Not only is the heat range a generous one for a flat iron, but its heat goes high enough to seal Keratin in, making it also ideal for Keratin treatments.
Technology
This flat iron provides an extra dose of protection by utilizing negative ions, which seal in natural moisture, close the cuticle layer of hair, and prevent static electricity from causing hair to frizz. Due to its effective ionic technology, the hair remains frizz-free even when exposed to high humidity levels.
Dimensions
Weighing in at one pound, the Croc Classic measures 12.4 x 4.4 x 2.7 inches. It is a lightweight flat iron that is designed to make your hair feel soft and shiny without having to make too much effort to maneuver it.
Price
It's not the cheapest flat iron out there, but imagine how many trips to the professional salon this will save you, let alone getting back your money's worth.
Pros
Heats quickly and stays hot

Titanium plates

Automatic shutoff feature

Swivel cord

110V-240V

light
---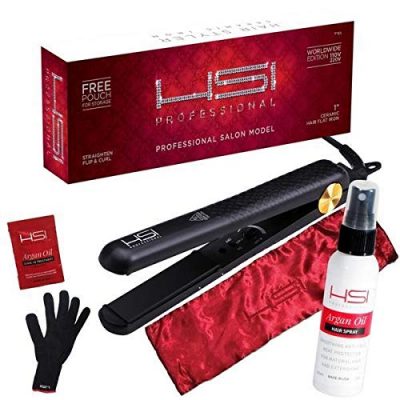 Why we like it:
This is as professional as a flat iron of its price range can get.
Editor's Rating:
Overview
The HSI Professional is used by professionals as well as amateurs and is one of the most popular models on the market. It has a super-sleek design with a matte finish that makes it easy to grip.
Plates
This iron operates with tourmaline-coated ceramic plates. The plates transfer heat evenly onto the hair, while the tourmaline releases an army of negative ions to combat frizz. Moisture is also locked in the hair, so if you have afro-textured hair, it will suit you perfectly.
Temperature
The temperature control ranges from 240 to 450 degrees Fahrenheit. It is suitable for all hair textures. One of the neatest features this flat iron has to offer is the 8 HeatBalance micro-sensors that regulate the temperature and distribute the heat evenly. The HSI Professional doesn't need too many passes through your hair to make it silky and smooth.
Technology
The hybrid ionic/infrared technology this hair straightener uses will transform curly, frizzy locks into sleek and straight tresses in a very timely manner. The HSI Professional heats up very quickly with only a slight heat increase on the dial. It is a super affordable tourmaline ceramic flat iron and it comes with many goodies that enhance the styling experience.
The 8 HeatBalance micro-sensory technology makes it stand out from the rest, and provides thick hair with the nourishment it deserves. The wide heat range is very useful in finding your preferred temperature, especially because it heats up very fast at 450 degrees so you can decrease from there until it is just right.
Dimensions
While it isn't the lightest of its kind at 1.7 pounds, it more than makes up for the minuscule strain the extra 0.7 pounds can cause your arm. It has worldwide dual voltage (110-220V) and a long 360 degrees swivel cord that will make its maneuvering seamless.
Price
Not only does the HSI Professional only cost $40, but it is also sold with a selection of goodies to make your hair straightening experience more enjoyable. Included in the packaging are a small bottle of argan oil conditioner to keep your tresses healthy and moisturized, a heat-proof pouch and a heat glove. Basically it protects everything from your hands to the furniture you place it on, making it very safe to use.
Pros
Ionic technology fights frizz

High temperature of 450 degrees F

Comes with goodies, including heat-proof glove and bag

Affordable
Cons
Slightly heavier than other models

No shutoff feature
---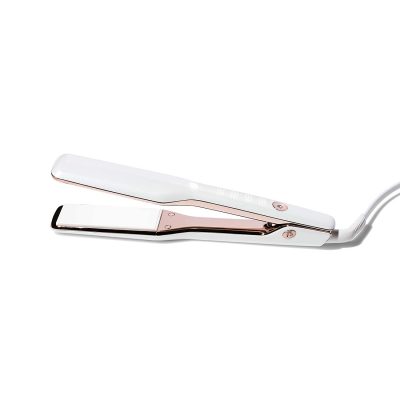 Why we like it:
It is the Rolls Royce of hair straighteners, and you can take it with you anywhere in the world.
Editor's Rating:
Overview
The T3 Micro Single Pass Flat Iron was specially designed to tame thick and coarse hair. It features an innovative system called SinglePass X that is sure to straighten even the thickest of hair. This is a high-end, luxurious hair straightener that looks like it was made for the royal family and delivers matching results.
Plates
You know a flat iron is top notch when it has three features – hence the name – that increase shine and hair health with each use. Two of these features are found in the plates. The plates in the T3 model are 1.5" wide and coated with tourmaline, which helps with smoothing curly, unruly, and even previously damaged hair. Beneath the tourmaline, the plates are made of ceramic that adds shine to enhance the overall look of straightened hair for a healthier gloss.
Temperature
The maximum temperature the T3 can reach is 410° F. It also has an auto shutoff feature to prevent damage or overheating. In fact, the device will audibly let you know when it is time for it to rest, through visual cues and sound alerts. The shutoff feature kicks in after one hour of non-use.
Technology
The third feature that makes it a T3 rather than just a T2,  is its innovative SinglePass technology. This flat iron guarantees results with just one pass, unlike other hair straighteners that require multiple swipes. Consistent heat is maintained throughout the entire plate, making it capable of straightening all hair types with one glide. It operates on ionic technology, so the negative ions it emits reduce frizz and static.
It also has worldwide voltage of 100 volts to 240 volts. It has a custom blend ceramic barrel that eases the glides, and 5 heat settings for you to choose from. Its tourmaline coating and the SinglePass technology make this iron deliver the best results in half the time it takes other flat irons.
Dimensions
The T3 measures 10.3 x 1.8 x 2.2 inches and weighs just over a pound. Not only is this hair straightener not going to cause wrist strain, but it also comes with a 360 degree 9-foot swivel cord to ensure that your hands get a break when styling your hair.
Price
Since this is one of the most high-end products on our list and on the market, it is not a surprise that it's so expensive. The price is justified because it comes with a variety of bonus add-ons. It comes with 2 ultra-strong pro sectioning clips, a heat-resistant mat, and a 2-year warranty.
Pros
Innovative SinglePass technology

Audio and visual interfaces

Lightweight design

Tourmaline, ceramic, and ionic plates

Comes with pro sectioning clips, heat-resistant mat, and 2-year warranty
Cons
Expensive

Only heats up to 410 degrees F, as opposed to others that go up to 450.

The plastic is not of the best quality
---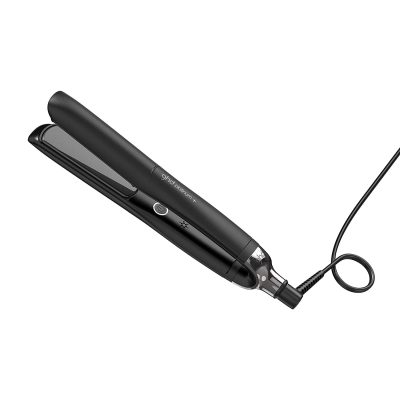 Why we like it:
It has everything you could ask for in a flat iron. The ultra-zone technology acts like a therapist to your hair, understanding its problems in real time and providing it with the treatment it needs.
Editor's Rating:
Overview
If you're looking to invest in the cream of the crop of flat irons, look no further. The GHD Platinum+ is and has been Sephora's best hair straightener for a while, having won many beauty awards along the years. It is GHD's first SMART styler, which means it recognizes certain features of your hair and adjusts to it.
Plates
The plates are made of ceramic and are 1" wide. The device is designed with a wishbone hinge in order for the plates to be perfectly aligned, giving you more control over how you style your hair. These floating plates have a high spec gloss finish and look as good as they perform.
Temperature
The GHD Platinum+ maintains a constant temperature of 365 degrees Fahrenheit, which the research department at GHD claims is the ideal temperature to keep hair healthy. This is where the AI comes in: it reads the thickness of the sections you apply it on so it can adjust the amount of power it operates with. All the sections are kept evenly heated and straight without causing damage to the hair. It takes only 20 seconds to heat up, and then all you have to do is just glide through your hair.
Technology
The groundbreaking ultra-zone technology is what makes this flat iron the creme de la creme.  It predicts the fine zone for your hair, so the plates stay at that temperature until your hair feels soft and silky. It also has a 30-minute shutoff feature, in comparison to most others that turn off after twice as long.
Dimensions
This hair straightener measures 11 x 1.6 x 1.8 inches and weighs one pound. It comes with a 9-foot 360 degree swivel cord that makes the styling experience a smooth one throughout.
Price
The advanced technology alone is worth what you invest in the GHD Platinum+. However, it's the most expensive flat iron on our list. Nevertheless, you won't need another one after you purchase this. It also comes with a heat resistant plate guard, and a whopping 3-year warranty to put your worries to rest.
Pros
30-minute auto shut off

It can be used without heat protectant

Automatic temperature heat control

Includes heat resistant plate guard
---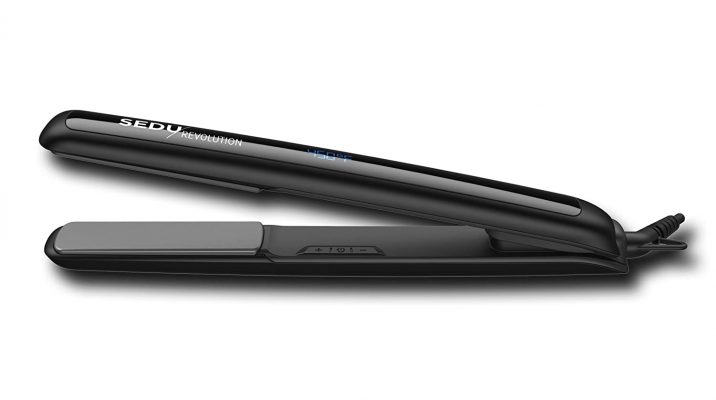 Why we like it:
We recommend this flat iron for the same reason professionals recommend it: the advanced heat recovery technology allows the plates to maintain temperature from root to ends.
Editor's Rating:
Overview
Thanks to its revolutionary technology, this is one of the bestselling styling tools used by professional stylists. Not only does it look elegant, but it also has a non-slip grip that ensures ease in usage.
Plates
The plates are 1 inch wide, 3.5 inches long, and are made of tourmaline-covered ceramic. With one smooth pass of these plates through your hair, you'll get instantly smooth results in half the time it takes other flat irons to style.
Temperature
The temperature range is between 180 degrees to the maximum heat of 450 degrees Fahrenheit. Incorporated in the design is a color-coded light which lights red when it heats up, blue when it cools down, and blinks red or blue when it is ready to use.
Technology
The FreeStyle Guiding System that makes it such a good choice for thick hair prevents the hair from slipping out of the iron. In turn, you will have full control over the strands of hair that you straighten, because the anti-slip edges manage to capture all the strands within the plates.
Dimensions
It is not a large hair straightener but it does weigh more than one and a half pounds. Luckily, the 360 degree swivel cord makes it a breeze to hold and style your hair.
Price
The Sedu Revolution is one of the more expensive items on the list. It comes with a 2-year warranty and a heat-proof pouch.
Pros
Non-slip handle

FreeStyle Guiding System

360-degree swivel cord

Comes with 2 year warranty and heat-proof pouch
Cons
No auto shutoff feature

Pretty expensive

Temperature settings buttons not strategically placed on handle
---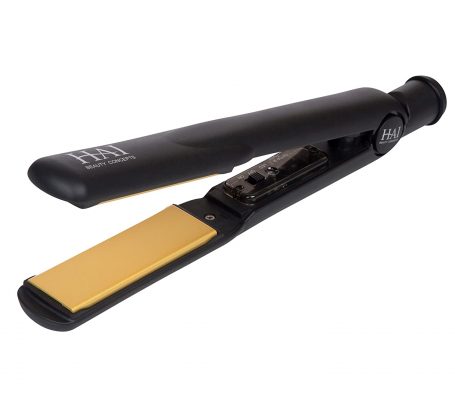 Why we like it:
Its advanced heat technology makes this iron great for any form of styling - from straightening to curling - and is easy to handle. The maximum temperature is what is most commonly recommended for thick hair.
Editor's Rating:
Overview
Due to its 1.25″-wide specially-coated ceramic plates and far infrared heat technology, this flat iron is perfect for thick hair. It is gentle and safe, providing you with a damage-free hair that is – as Adam Sandler's character in Zohan would say – silky smooth. It is not only good for straightening, but you can also curl, flip, and make your hair wavy by using the HAI Convertable.
Plates
This hair straightener has specially-coated ceramic plates that are 1.25″ wide and 3.5″ long. All it takes is one pass through each strand of hair and you will see and feel the change you were aiming for. The plates have beveled edges, which makes it just as good for curling your hair as it is for straightening.
Temperature
The range of this HAI Convertable is from 170 to 390 degrees Fahrenheit. Once turned on, the iron automatically heats up to 170 degrees. Some may find a setback in the fact that the maximum temperature is a little lower than other powerful irons. It uses moisturizing heat elements to balance the lower temperature in comparison with other, more powerful flat irons.
Technology
It uses a hybrid of infrared heat and ionic technology. The technology is conceptualized to seal in moisture and shine, and to prevent static. You will enjoy a frizz-free head of hair, which will be much easier to manage. Due to its rapid heating capability, the consistent heat distribution in this flat iron is powerful enough to flatten even the most unruly strands of hair.
Dimensions
An easily manageable flat iron, it weighs one pound and measures 11 x 1.5 x 2.5 inches. The plates are an odd 1.25 inches wide, but the ergonomic design enables the iron to deliver the best results.
Price
Luckily, this is another one of the few more affordable irons on our list. It isn't cheap, but it doesn't surpass the 3-digit threshold.
Pros
Auto 60-minute shutoff feature

Infrared head and ionic technology

Affordable

Good for both straightening and curling
Cons
Maximum temperature is not very high

The grip could be tighter
---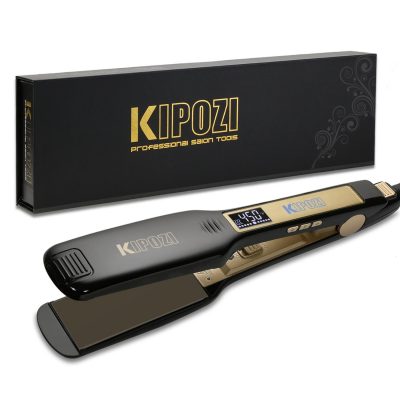 Why we like it:
It gets the job done on thick hair in less than 10 minutes, often with only two passes. That is quite impressive for a flat iron in this price range. It also has a 60-minute auto shut off feature
Editor's Rating:
Overview:
If you want to go for something similar to the Xtava Infrared in terms of build and price range, an  excellent choice would be the Kipozi Professional Titanium Straightener. The wideness of the plates is beneficial for thick hair in terms of speed. Design-wise, it comes in a standard black and gold color combination. The handle is a bit longer, so it is easier to hold the flat iron while doing your hair.
Plates
The Kipozi Professional has 1.75-inch floating nano-titanium plates. The dimensions and material of the plates help make every glide through the hair an effortless and smoother one. Titanium also helps distribute heat evenly and presses hair tightly for more effective use.
Temperature
The heat settings on this device range from 170 degrees to 450 degrees Fahrenheit. The adjustment can be done using the LCD digital display. 350°F are recommended for hair which has been colored or damaged, whereas 410°F is best for healthy hair.
Technology
Ionic technology is what the Kipozi professional bases its process on. Its handle is durable and sturdy enough to keep your hand away from heat.
Dimensions
The Kipozi professional is slightly heavier than most others on the list. It weighs 1.6 pounds, but the 8-foot long swivel cord makes it very easy to maneuver.
Price
Its low price makes this hair straightener almost a steal. It includes a velvet pouch to use for traveling, and is suitable for worldwide usage due to its auto world voltage (110 – 240V).
Pros
Great price

Longer handle

Wider plates

Auto shut off feature.

LCD digital screen.

Long swivel cord

Comes with accessories such as a travel pouch
Cons
The wide plates may be harder for those with shorter hair to use.

Not built to last for years on end
---
Buyer's Guide
Let's take a more in depth look of what features to look for when choosing your flat iron from the list above.
Plates
The heated plates a flat iron uses are different in how they iron out the kinks in individual strands of hair. However, some cheaper materials are worth avoiding altogether.
Avoid
Silicon/rubber
Teflon
Metal or glass
Metal or glass plates should be avoided as much as possible. The lower quality straighteners use them, and the unpleasant results shouldn't be surprising, as these materials cause the plates to generate heat spikes or burnt hair, and they break easily. Teflon is better than the metal and glass types, but it flakes off easily. Plates that are covered with silicon and rubber are useful for sorting out hair when it is being pulled through iron, but none of the trustworthy brands use these materials, and for just a bit more, you can invest in something that is of much superior quality. After all, it is your hair that you are nurturing.
Look For
Titanium
Ceramic
Tourmaline-coated
Tourmaline-covered plates are made of a certain crystal that releases negative ions easily, which makes for quicker heating of the plates, and straightens the hair in a much smoother manner. It usually covers ceramic plates and prevents the hair from getting damaged or caught in the plates. Ceramic is not the same as "ceramic-coated". The "coated" part means they have metal underneath, rather than pure ceramic, which means they can heat up quickly but not stay as hot as a pure ceramic plate.
The most trustworthy types are ceramic and titanium. Titanium is an extremely strong but light type of metal. Out of all flat irons, titanium-plated ones heat up the fastest, so they are the best choices for thick hair.
Temperature
Thick hair will require a flat iron that heats up to high temperatures. Due to the thickness of the hair, it takes more heat to be able to penetrate the hair follicles, and for the hair itself to start being "tamed" by the iron. According to AdoreBeauty, the ideal temperature for thick hair starts at a heat of 450 degrees Fahrenheit, then gradually turning it down to 370 degrees.
Technology
The two types of technology used in flat irons are ionic and infrared. The infrared technology penetrates the hair at lower temperatures and dries it from the inside out. Ionic straighteners emit negative ions, which eliminate frizz and static and neutralize the hairs' atoms. The ions interact with the water molecules in your hair and break them down while enabling the hair to retain moisture. This technology minimizes static and boosts the health and shininess of your hair. Titanium and ionic technologies are the perfect combination for thick hair.
Weight/Size
The less the flat iron weighs, the less the chances of your arm hurting while ironing the hair. Because thick hair requires you to hold the device in your hand for a long time, you want it to be as light as possible. This minimizes fatigue and other potential issues.
How to Use Your Flat Iron
If you will be using a flat iron for the first time after reading this, here is an instructional video on how to properly style thick hair on your own.
Dos
Use a heat-protective spray on your hair before turning on your flat iron. Thick hair tends to go dry quickly, making it prone to heat damage. A good heat-protective spray (say, made with argan oil) removes the risk of heat-damage and makes it healthier.
Segment your hair before straightening it. You can do this while your flat iron is heating up. Then you can style each segment at a time. You can also add extra volume by not getting the iron too close to the roots of your upper sections. A segment of hair is also good for testing out the temperature initially.
Avoid combs once your hair is dry and ready to be styled. Because combs cause frizz, it can make the straightening process near impossible. Only use combs while the hair is still wet, otherwise revert to brushes.
Choose the right hair care products. This means not using products like conditioners, shampoos, and any other hair-nurturing substances in excess.
Don'ts
Don't forget to clean your flat iron before and after every use. Use a damp cloth to wipe any hair remnants or other build up. Do so while the appliance is unplugged.
Don't disregard drying your hair It would be a shame to undergo permanent hair damage that can be caused by the iron's heat combined with moisture.
One of the main reasons for hair damage is holding the hair straightener in the same spot for too long. Make your passes in determined and steady movements. If the segment doesn't feel straightened yet, wait for a bit, then take another pass on that segment.
Wrapping It Up
This list is comprised of the current most dependable and capable flat irons on the market. Some may seem more suitable for your personal needs than others, and some may be easier to choose based on their price range. Regardless, all of these flat irons are fantastic for those with thick hair. Taming your thick hair will no longer seem like a daunting task, and if you treat your hair right throughout the process, get ready for jealousy and disbelief about how good it will look.