Top Picks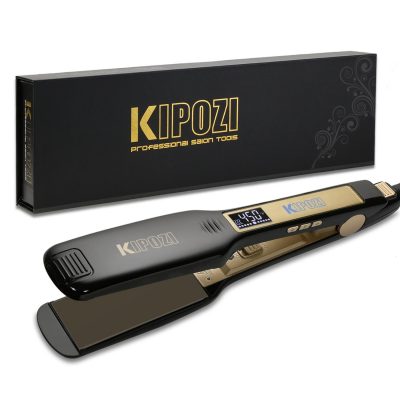 KIPOZI Professional Titanium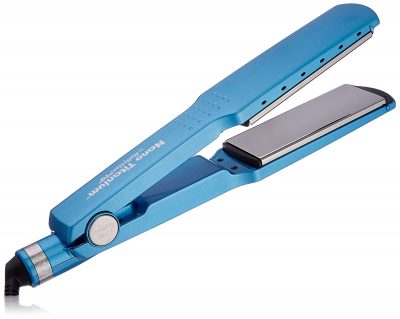 BaBylissPRO Nano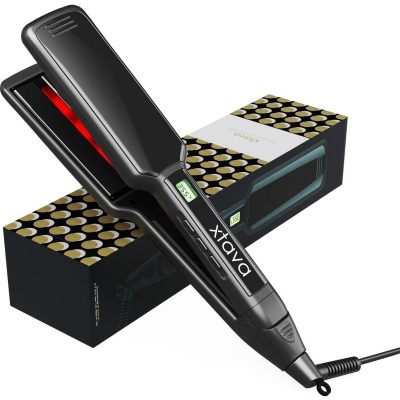 Xtava Infrared
Previous
Next
People with thick hair who have a hard time taming their "mane". It's both a blessing and a curse. While thick hair can look great when well maintained, the opposite is also true. If you have thick hair, you need a great flat iron.
And this is where we come in. The bad news is that there isn't a holy grail of flat irons. The good news is that there are ten for you to choose from! We have carefully selected ten of the best flat irons currently on the market, to help you in your quest to give your hair the perfect look no matter what the circumstance.
First, let's consider some criteria that is crucial in choosing the right flat iron for you. You won't be able to get away from some of these technical specs, so we'll try to be as succinct as possible and only provide you with what you really need to know.
Let's go over the basics of flat irons:
The ideal temperature range for thick hair is between 375 and 450 degrees Fahrenheit. (the best flat irons have at least 2 settings between these two temperatures)
The recommended plate type is either titanium, or tourmaline-covered ceramic. The longer and thicker your hair, the wider the plates should be. Otherwise it will take you longer to straighten your hair with a small, 1" wide plated iron.
The technologies that are prone to deliver the best results are ionic (the release of negative ions to reduce frizz and static) and infrared heating.
As  technology keeps evolving, hair straighteners become better and better. Companies listen to what users have to say about past products and try to implement the best changes, so that consumers are happy, and the companies keep thriving. We compiled a list of the most advanced forms of hair straighteners on the market today, the ones that are worth your time and investment. This list of the 10 most popular flat irons on the market will surely make you think about how often you use the flat iron, in what transportation and usage circumstances, and how much you really want to save on trips to a professional salon.
Top 10 Best Flat Irons for Thick Hair 2021
Buyer's Guide
Let's take a more in depth look of what features to look for when choosing your flat iron from the list above.
Plates
The heated plates a flat iron uses are different in how they iron out the kinks in individual strands of hair. However, some cheaper materials are worth avoiding altogether.
Avoid
Silicon/rubber
Teflon
Metal or glass
Metal or glass plates should be avoided as much as possible. The lower quality straighteners use them, and the unpleasant results shouldn't be surprising, as these materials cause the plates to generate heat spikes or burnt hair, and they break easily. Teflon is better than the metal and glass types, but it flakes off easily. Plates that are covered with silicon and rubber are useful for sorting out hair when it is being pulled through iron, but none of the trustworthy brands use these materials, and for just a bit more, you can invest in something that is of much superior quality. After all, it is your hair that you are nurturing.
Look For
Titanium
Ceramic
Tourmaline-coated
Tourmaline-covered plates are made of a certain crystal that releases negative ions easily, which makes for quicker heating of the plates, and straightens the hair in a much smoother manner. It usually covers ceramic plates and prevents the hair from getting damaged or caught in the plates. Ceramic is not the same as "ceramic-coated". The "coated" part means they have metal underneath, rather than pure ceramic, which means they can heat up quickly but not stay as hot as a pure ceramic plate.
The most trustworthy types are ceramic and titanium. Titanium is an extremely strong but light type of metal. Out of all flat irons, titanium-plated ones heat up the fastest, so they are the best choices for thick hair.
Temperature
Thick hair will require a flat iron that heats up to high temperatures. Due to the thickness of the hair, it takes more heat to be able to penetrate the hair follicles, and for the hair itself to start being "tamed" by the iron. According to AdoreBeauty, the ideal temperature for thick hair starts at a heat of 450 degrees Fahrenheit, then gradually turning it down to 370 degrees.
Technology
The two types of technology used in flat irons are ionic and infrared. The infrared technology penetrates the hair at lower temperatures and dries it from the inside out. Ionic straighteners emit negative ions, which eliminate frizz and static and neutralize the hairs' atoms. The ions interact with the water molecules in your hair and break them down while enabling the hair to retain moisture. This technology minimizes static and boosts the health and shininess of your hair. Titanium and ionic technologies are the perfect combination for thick hair.
Weight/Size
The less the flat iron weighs, the less the chances of your arm hurting while ironing the hair. Because thick hair requires you to hold the device in your hand for a long time, you want it to be as light as possible. This minimizes fatigue and other potential issues.
How to Use Your Flat Iron
If you will be using a flat iron for the first time after reading this, here is an instructional video on how to properly style thick hair on your own.
Dos
Use a heat-protective spray on your hair before turning on your flat iron. Thick hair tends to go dry quickly, making it prone to heat damage. A good heat-protective spray (say, made with argan oil) removes the risk of heat-damage and makes it healthier.
Segment your hair before straightening it. You can do this while your flat iron is heating up. Then you can style each segment at a time. You can also add extra volume by not getting the iron too close to the roots of your upper sections. A segment of hair is also good for testing out the temperature initially.
Avoid combs once your hair is dry and ready to be styled. Because combs cause frizz, it can make the straightening process near impossible. Only use combs while the hair is still wet, otherwise revert to brushes.
Choose the right hair care products. This means not using products like conditioners, shampoos, and any other hair-nurturing substances in excess.
Don'ts
Don't forget to clean your flat iron before and after every use. Use a damp cloth to wipe any hair remnants or other build up. Do so while the appliance is unplugged.
Don't disregard drying your hair It would be a shame to undergo permanent hair damage that can be caused by the iron's heat combined with moisture.
One of the main reasons for hair damage is holding the hair straightener in the same spot for too long. Make your passes in determined and steady movements. If the segment doesn't feel straightened yet, wait for a bit, then take another pass on that segment.
Wrapping It Up
This list is comprised of the current most dependable and capable flat irons on the market. Some may seem more suitable for your personal needs than others, and some may be easier to choose based on their price range. Regardless, all of these flat irons are fantastic for those with thick hair. Taming your thick hair will no longer seem like a daunting task, and if you treat your hair right throughout the process, get ready for jealousy and disbelief about how good it will look.