We've all been there: you sleep through our alarm, and suddenly you find yourself with 10 minutes to get ready for work in the morning. There's no way around it: you're going to have to skip your morning shower, but your hair looks disgustingly greasy and it's obvious from the sweaty stench coming from your head that you haven't bathed. What to do?
Dry shampoo to the rescue! With dry shampoo, you can have a head of hair that feels fresh and clean, even when you don't have time for a shower. The problem is that most dry shampoos are terrible for both your hair and the environment. This is where organic dry shampoos come into play.
How to Choose the Perfect Organic Dry Shampoo
When you're shopping for the perfect organic dry shampoo for you, there are a lot of factors to consider and information you need to have so you can make the right choice. Here are some of your most pressing questions answered.
What Is Dry Shampoo and How Does It Work?
Dry shampoo is any kind of "shampoo" that can be used to clean or freshen up your hair and scalp without the use of water. Dry shampoos usually come in spray or powder form, and contain starchy ingredients that dry up the extra grease, oil, and sweat in your hair. This gives your hair a clean look, even when you haven't washed it.
We'll tell you more about specific ingredients that each of our picks contains to do this, but every dry shampoo on the market will contain some sort of ingredient – like cornstarch, baking powder, or more premium ingredients like arrowroot powder or clay – to serve as an oil absorbent.
On top of making your hair look clean, dry shampoo also helps your hair to smell clean; no one wants their hair to have that musty, sweaty pillowcase smell. Dry shampoos are scented, so that you smell fresh and no one finds out you didn't have time to wash your hair this morning.
What Are Some Things to Look for in an Organic Dry Shampoo?
Now that you know what dry shampoo is used for, you need to know what to look for when you're choosing the best organic dry shampoo for your hair. While shopping, keep an eye out on the following:
Ingredients
Obviously, we're talking about our favorite organic dry shampoos, so all of the dry shampoos on our list contain natural, organic ingredients wherever possible. Even though many of the dry shampoos we've chosen share similar ingredients (for example, cornstarch, baking soda, arrowroot powder, or even clay, all of which can help absorb grease and oil), there are a few that have special extra ingredients to nourish your hair and scalp.
We'll let you know what the primary and special ingredients are in each of our dry shampoos so you can make your own decision. Some things that might be important to you are whether the ingredients (and product as a whole) are cruelty-free and vegan (spoiler alert: almost all of our chosen products are), and whether the product is naturally fragranced, if you're sensitive to that.
There are certain ingredients that you should always avoid when shopping for dry shampoos, especially if you're concerned about putting toxic chemicals into your hair and skin. Some of these are:
Talc: Talc powder has been shown to have cancer-causing Although the ingredients in talc have changed in recent years, experts say that if you're really worried about cancer, avoid talc until more research has been conducted to prove its safety.
Alcohol: Alcohol can dry out your hair and cause damage.
Liquid Petroleum Gas, Like Butane and Propane: This is what makes aerosol sprays work; aerosols are super harmful to health and the environment.
If it wasn't already obvious, almost none of the products on our list include any of these ingredients (one product does include alcohol), so you can feel safe with any of our picks.
Residue
The one major thing that every dry shampoo user knows can be a downside to using dry shampoo is that it can often leave white or powdery residue in your hair. Since dry shampoos use some sort of powder to soak up the extra oil and grease in your hair, sometimes that powder leaves a white residue – not a good look, especially for people with dark hair.
Look for organic dry shampoos that boast that they don't leave a residue. Some dry shampoos even use ingredients – like cocoa powder or charcoal – to tint the powder a darker color, making the residue harder to see. We'll let you know which of our picks do the best job at this.
Packaging
This may not matter much to everyone, but some people may prefer certain types of packaging or bottling. We'll let you know how each product is dispensed; most of the products on our list come in a shake-out bottle, but there are also products included that come with a brush, that come in a foam dispenser, and that come in a non-aerosol spray bottle.
Cost
We get it – we're not made of money either. Like all beauty products, organic dry shampoos come in a range of prices, but in general, products using organic ingredients are pricier than those that don't. Since we know how important it is to get good quality products at a value, we'll describe the cost range of each product on our list. If you're willing to splurge on higher quality ingredients, go for it – but our budget picks are also excellent and all-natural options.
For your reference:
$: Less than $10
$$: $10-$25
$$$: Over $25
Without further ado, here are our top 10 picks for the best organic dry shampoos on the market.
The 10 Best Organic Dry Shampoos 2023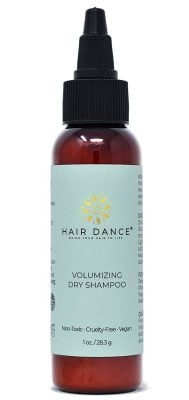 Why we like it:
This organic dry shampoo has it all: unique and nourishing organic ingredients like olive leaf, and the use of oatmeal and rice powder to tone down the bright white color, which makes it good for all hair types - and all at a super affordable price. This excellent and extremely popular dry shampoo powder from Hair Dance is our best overall pick for a reason: the organic ingredients they've decided to include are so unique and great for all hair types that we're shocked that this dry shampoo is so affordable.
Editor's Rating:
Quick Facts:
Cost: $
Packaging: Shake-out bottle with twist-off cap
Ingredients
This excellent volumizing dry shampoo from Hair Dance uses all natural, vegan, and cruelty-free ingredients. The primary ingredient in this dry shampoo, which serves to soak up the oil on your scalp, is organic rice powder – an excellent alternative to cornstarch or baking powder, which many dry shampoos use because it's cheaper. This is why it's so shocking that this dry shampoo is so affordable!
Additional organic ingredients this dry shampoo boasts are organic oatmeal, lavender essential oil (the only ingredient used for fragrance), and organic olive leaf – all super nourishing, natural ingredients that are great for your hair.
Residue
This dry shampoo is great for all hair colors – blonde, brunette, red hair, or even black hair. This is because rather than the starched white color that most non-organic dry shampoos are (due to the baking powder or cornstarch contained within them), the rice powder and oatmeal in this dry shampoo from Hair Dance gives it a cream color which turns translucent when shaken into the roots of your hair.
If you have super dark, thick hair, you might have to work a little harder to blend it into your hair. After shaking it in, we suggest using a makeup or hair brush to blend it in. If that's not enough, you can massage it in further with your fingers. It's totally worth the effort for the fantastic results!
If you have black or very dark hair, you can try a tinted dry shampoo like  our pick from Two Goats Apothecary in Ravn.
Pros
Affordable price

Unique organic ingredients; no baking soda or cornstarch included

Rice powder and oatmeal make it cream-colored and translucent
Cons
Requires more blending in very dark, thick hair
---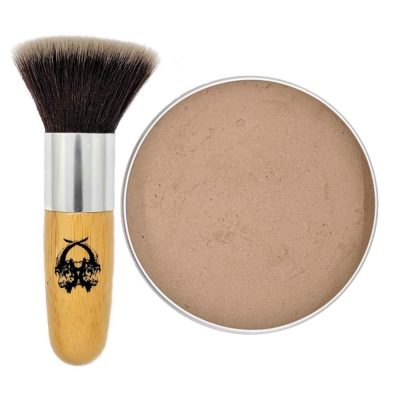 Why we like it:
This dry shampoo, which comes in 100% recyclable packaging with its own applicator brush, does the best job at delivering a product that doesn't leave any white residue. Some people might find it annoying or difficult to figure out how to shake a just right amount of dry shampoo powder into their hair. For those, this powder from Two Goats Apothecary is an excellent option: it comes in a container with a powder brush, so you can easily pouf it into your roots: it's as easy as dusting your face with foundation.
Editor's Rating:
Quick Facts:
Cost: $$
Packaging: Powder in recyclable container with brush
Ingredients
This organic shampoo, much like the other products on our list, includes very simple and all-natural ingredients: no impossible-to-pronounce chemical names here. In fact, some might find it a little too simple, as it only uses cornstarch and baking soda as its oil-absorbing ingredients.
The dry shampoo comes in 4 different colors – which we'll talk more about below – and each of them is scented with different essential oils. For example, their Glyden color uses blood orange and lemongrass essential oils, while Ravn uses fir needle and peppermint essential oils. All of the fragrances are all-natural; no artificial fragrance included here.
All of the ingredients are vegan, and the product is hand-made in the U.S.A.
Residue
One of the best things about this organic dry shampoo is the several standout features it has to minimize residue on every shade of hair.
First, the dry shampoo comes in four – four! – different colors, each including a different ingredient to help it blend in with the hair color it's designed for. For example, Glyden mentioned above, designed for blonde hair, includes chickpea flour. Ravn, for black and dark brown hair, has organic coffee and activated bamboo charcoal powder to give it a deep, dark color that won't leave white residue in black hair.
Secondly, the dry shampoo is the only one on our list that comes with an applicator brush. This means that instead of trying to desperately knead white powder into your scalp, you can lightly brush your roots with the perfect amount of dry shampoo. Voila! Perfectly refreshed hair, with no residue.
Pros
100% recyclable packaging

4 different colors for different hair colors

Includes its own applicator brush
Cons
Only baking soda and cornstarch are used as oil-absorbing ingredients
---

Why we like it:
This scalp-nourishing organic dry shampoo from Briogeo is made of wonderful and healthy organic ingredients like rice starch and bamboo powder that not only refresh your hair but give your scalp a nutritious boost, too. It's great for your hair to look clean, but what about what's going on underneath? This dry shampoo not only gives your hair the appearance of freshness, but goes underneath the roots of your hair to nourish your scalp with healthy, organic ingredients.
Editor's Rating:
Quick Facts:
Cost: $$
Packaging: Non-aerosol spray
Ingredients
This dry shampoo from Briogeo is a great option for those who want to treat their scalp to nourishing and all-natural ingredients. Briogeo uses rice starch for its primary oil-absorbing ingredient, but also includes tapioca starch, bamboo powder, biotin, witch hazel, and charcoal powder for extra scalp-nourishing benefits and absorbency. After using this dry shampoo, it's a near guarantee that your head will feel refreshed and healthy.
For fragrance, Briogeo uses mostly natural ingredients – orange peel oil and peach fruit extract – but those sensitive to artificial fragrances should be aware of the fact that "fragrance" is noted as a separate ingredient, as well. This product is certified cruelty-free, gluten-free, and vegan.
Residue
This dry shampoo won't leave as white of a residue in your hair as ones that use baking soda. Plus, the inclusion of charcoal powder gives it a very slight gray tint, making it much easier to blend into dark hair than other dry shampoo powders that come in a pure white.
Pros
Great organic ingredients for your scalp

Very little white residue
Cons
Includes artificial fragrance
---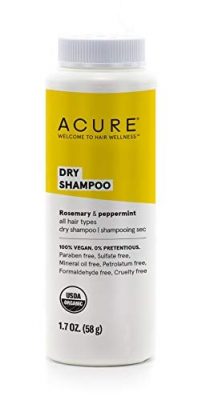 Why we like it:
Acure's organic dry shampoo delivers on quality, organic ingredients for half the price of some other options on our list. Not all of us have the money to splurge on the fanciest organic dry shampoos, but it's still important to us to stick true to our values and not buy products with harmful chemicals. If this sounds like you, try our best budget pick from ethical beauty company Acure.
Editor's Rating:
Quick Facts:
Cost: $
Packaging: Shake-out bottle
Ingredients
The primary oil-absorbing ingredient in this excellent budget pick is organic corn starch; however, it's important to note that it does also include non-organic (but still chemical-free) arrowroot powder, kaolin clay, and baking soda to help boost its absorbency factor. Arrowroot powder in particular is an excellent oil-absorbing ingredient that's often used in the best natural dry shampoos and deodorants, and combined with the other ingredients here, there's no doubt that this affordable dry shampoo goes a long way in refreshing oily hair.
The only other two ingredients that exist in Acure's dry shampoo are organic rosemary oil and organic peppermint oil, which are used for a light, refreshing, and all-natural fragrance. All of Acure's products are certified cruelty-free and vegan.
Residue
Both cornstarch and baking soda can leave a slight white residue for people with dark roots. However, if you're used to using non-natural dry shampoo sprays, which aren't that much cheaper than this excellent affordable option from Acure, it shouldn't leave any more residue than what you're used to, especially once you've brushed it in. If you're really worried about it, try Drop Dead Gorgeous' dry shampoo for brunettes, which contains ingredients that specifically help it blend in with dark hair.
Pros
Super affordable price for similar ingredients as other picks

Natural essential oils for light fragrance that's safe for even sensitive noses
Cons
May leave white residue, especially in brown hair
---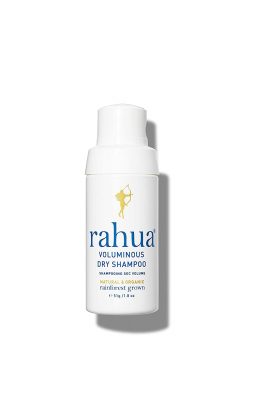 Why we like it:
Although it's a bit of a splurge, Rahua delivers quality for price with organic ingredients like cassava root and other ingredients sourced from the Amazon rainforest. If you're willing to spend a little extra on premium ingredients, this dry shampoo from Rahua is an excellent organic and plant-based option; it also does a fantastic job at styling your hair and giving it a lot of extra volume.
Editor's Rating:
Quick Facts:
Cost: $$$
Packaging: Non-aerosol squeeze/spray bottle (can be tricky for first-time users to figure out)
Ingredients
The ingredients in this luxury dry shampoo are 100% natural and sourced from the Amazon rainforest. Instead of talc or baking soda, Rahua uses natural clay and organic tapioca starch (cassava root) for their oil-absorbing properties – both premium ingredients. Although most other dry shampoos on this list complement special ingredients with cornstarch and baking soda (which are cheaper), you won't find any cornstarch in this premium dry shampoo, which makes the high price worth it.
This volumizing dry shampoo also contains anise and is only scented with all-natural vanilla. All of Rahua's products are cruelty-free and vegan.
Residue
As we stated above, this dry shampoo from Rahua contains all-natural clay as its main ingredient, which is unusual. People who've never used a clay-based powder before might be surprised to find that the powder isn't as fine as other dry shampoo powders you might be used to, and might leave clumps in your hair if you don't use it sparingly.
On top of that, the dry shampoo is a white color; although it blends in easily to most hair colors, people with very dark hair may find that it leaves a white or gray residue.
Pros
Premium ingredients like cassava root

Plant-based ingredients are sourced from the Amazon rainforest
Cons
Expensive

Clay powder may clump up in hair
---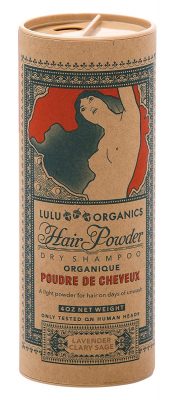 Why we like it:
This all-natural dry shampoo comes in so many different scents, so every person is bound to find a scent they like. And none of them include any artificial fragrances! Like we said in the beginning, one of the best things about dry shampoo is that it not only makes you look clean, but it makes you smell clean, too. This organic dry shampoo from Lulu Organics is offered in 5 different scents, each created from combinations of natural essential oils and as pleasing to the nose as the next.
Editor's Rating:
Quick Facts:
Cost: $$$
Packaging: Shake-out bottle
Ingredients
This dry shampoo powder from Lulu Organics contains organic corn starch and horsetail powder to absorb oil naturally. Horsetail has many medicinal properties, and has been used as a natural diuretic – a much healthier and more natural alternative to talc. On top of the cornstarch and horsetail powder, this organic dry shampoo also includes clay and baking powder.
The best thing about this dry shampoo powder is the variety of natural scents it comes in. The complete list of the natural scents available are: Lavender + Clary Sage, Jasmine, Vetiver + Black Pepper, Patchouli + Amber, Geranium, and Rose Musk. All of these fragrances are naturally created with essential oils only.
Like most others on this list, this organic dry shampoo powder is vegan and cruelty-free.
Residue
Lulu Organics boasts that their dry shampoo is great for both light and dark hair. Because of its ingredients, it blends in beautifully, even into dark hair. However, because it includes both cornstarch and baking powder, it wouldn't be surprising if it left a slight white residue. If you're looking for a slightly tinted organic dry shampoo that won't leave white residue, try Beauty by Earth's dry shampoo.
Pros
An extensive variety of great, all-natural scents

Horsetail Powder is a unique alternative to talc
Cons
Cornstarch and baking soda are primary ingredients, which may leave a white residue
---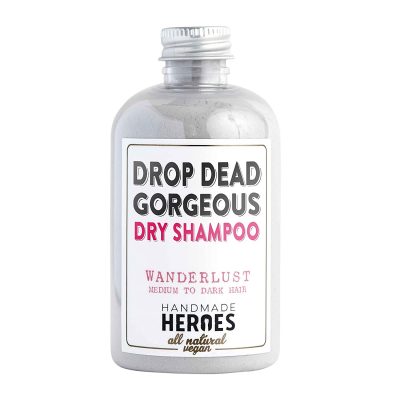 Why we like it:
A couple of the options on our list have special versions for people with dark hair, but this option from Drop Dead Gorgeous is the only one for dark hair that is priced affordably. This super-popular and affordable dry shampoo powder comes in two versions: one is for light blonde hair, and the other is for everyone else. This makes sure that people with medium to dark hair aren't getting stuck with starch-white powder residue that they need to ceaselessly rub into their scalp until it goes away.
Editor's Rating:
Quick Facts:
Cost: $
Packaging: Shake-out bottle
Ingredients
Shockingly for the price, this dry shampoo doesn't include any cornstarch or baking soda; instead, it uses rice powder and kaolin clay as its primary oil-absorbing ingredients. It doesn't include any artificial fragrances, and is instead scented with a refreshing cocktail of natural essential oils, including lavender oil, peppermint oil, eucalyptus oil, and geranium oil. Yes, that's a lot of oils – people who are sensitive to scents may have a hard time with this one.
This product, like most others on our list, is certified vegan and cruelty-free.
Residue
Drop Dead Gorgeous also has a dry shampoo that's meant for light hair, but this version is specifically designed for brunettes. This means that they've included cocoa powder and organic coconut charcoal to make sure that the product is tinted perfectly not to leave any residue at all on dark hair.
Pros
No cheap ingredients like cornstarch or baking soda

Tinted with cocoa powder and charcoal for dark hair

Affordable price
Cons
Scent may be overpowering for sensitive noses
---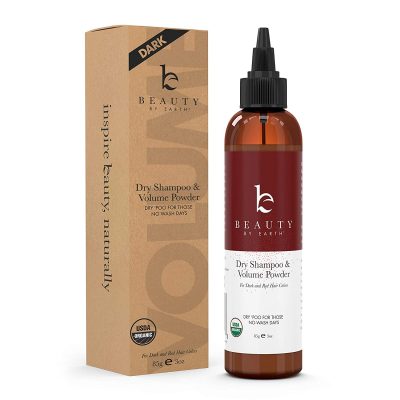 Why we like it:
This all-natural dry shampoo not only does a great job of making hair look and smell clean; it also does a wonderful job of giving some volume to your strands while also being slightly tinted to blend perfectly with dark hair. One more benefit to dry shampoo: that some can lift up your hair at the roots, creating instant volume and refreshing even the most limp, fine hair. Although many of our picks are volumizing to some degree, this option from Beauty by Earth does the best job of lifting up your strands and giving your look that oomph you're looking for.
Editor's Rating:
Quick Facts:
Cost: $$
Packaging: Shake-out bottle
Ingredients
This product by organic beauty company Beauty by Earth combines all the natural dry shampoo regulars – like cornstarch, baking powder, arrowroot powder, and clay – so you can be sure that you're getting all the extra oil out of your hair. It's fragranced naturally with lavender essential oil, and includes no chemical ingredients. However, if you're looking for a dry shampoo with unique or extra-nourishing ingredients, try our premium pick by Rahua.
As a bonus point, because the ingredients in this dry shampoo are so simple, you can also shake it into your hair when it's still damp – then, without any additional products or complicated teasing method, your hair will naturally have more volume. This product is certified 100% organic and cruelty-free.
Residue
The only additional ingredient in this organic dry shampoo, besides those listed above, is organic cocoa powder in the version they have for dark hair. This gives the powder a slight brown tint, making it super easy to blend into dark hair without leaving a white residue. This makes it one of the few options on our list that have special considerations specifically for people with dark hair – something that brunettes everywhere can appreciate!
Pros
Can be used as a volumizer when added to damp hair

Cocoa powder makes it blend into dark hair
Cons
No unique or special ingredients to nourish hair
---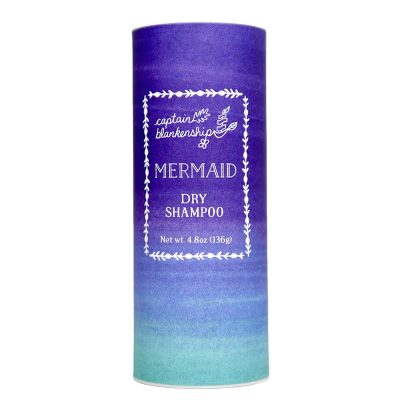 Why we like it:
Getting the grease out of your hair is great and all, but this "Mermaid" dry shampoo provides the perfect texture to unwashed hair - plus, it comes in sustainable glass packaging. Every woman's dream is to have mermaid hair: perfectly wavy hair that makes you look like you've just casually stepped out from taking a dip in the ocean. For this, you need your waves to have some texture - and this dry shampoo powder from Captain Blankenship is the perfect crossover between absorbing oil and giving you those mermaid beach waves.
Editor's Rating:
Quick Facts:
Cost: $$
Packaging: Shake-out bottle; sustainable glass packaging
Ingredients
This dry shampoo powder includes many of the ingredients commonly found in other organic dry shampoos: the main ingredient used is arrowroot powder, followed by kaolin clay and baking soda to round it out. Something unique that is included in this dry shampoo is lactobacillus ferment – yes, a probiotic! Although we couldn't find any research, this presumably helps with scalp health, and makes it less likely that your scalp will break out with the accumulation of dry shampoo in your hair. On top of this, the product is certified vegan and cruelty-free.
Because it's mermaid hair, after all, this dry shampoo also smells like the ocean: it's naturally scented with rose geranium and palmarosa essential oils to make you not only look but smell like you just got home from the beach.
Residue
Because it contains more arrowroot powder than baking soda, this dry shampoo doesn't leave as intense of a white residue on hair as some others. However, it still does, especially if you need a lot of it – and especially if you have dark hair.
Pros
Sustainable glass packaging

Texturizes waves and scented so you feel like you've just had a beach day

Probiotic ingredient
Cons
Leaves white residue on dark hair

Lactobacillus is the only "unique" ingredient
---

Why we like it:
We love that this is the only organic dry shampoo that comes in a foam dispenser, doing away with the need to pour a bunch of dry powder onto our scalp. Some people don't like the feeling of powder all over their head. For those people, there is the Innersense Organic Beauty Refresh Dry Shampoo. While it shares fantastic natural ingredients with the other picks on our list, this dry shampoo is the only pick that comes in a foam dispenser, making it feel like more of a mousse or styling cream.
Editor's Rating:
Quick Facts:
Cost: $$$
Packaging: Foam dispenser
Ingredients
This water-based foam "dry" shampoo has the longest ingredient list out of all of our picks, but shockingly, they are almost all organic and natural. We're not going to list every single one of our ingredients here, but we'll tell you about some of the standouts: this dry shampoo includes witch hazel, cornstarch, and tapioca starch, which are the things that help soak up oil in your hair.
In addition to these things, the foam also boasts organic honey, organic eucalyptus leaf extract, and organic ginkgo leaf extract to add shine and fragrance to hair. It's important to mention that because of the honey, this is the only product on our list that isn't vegan; it is, however, cruelty-free.
These ingredients all sound fantastic, but we also found lots of ingredients that we couldn't pronounce on Innersense's ingredient list – although they do state that their product is free of parabens, phthalates, sulfates, silicones, synthetic fragrances, and a whole host of other harmful products. The foam does include alcohol as an ingredient, which is known to dry out hair.
Residue
Because this is the only product on our list that is water-based rather than made solely of dry powders, it won't leave a white residue in your hair. However, it is wet, so it can sometimes cause build-up of product.
Pros
Foam means no dry powder residue
Cons
Includes lots of hard-to-pronounce ingredients, as well as alcohol

Use of honey means it is not vegan
---
Everything You Need to Know About Dry Shampoo
Now that you've chosen which organic dry shampoo fits your needs best, we're here to answer all of the remaining questions about dry shampoo: how to use it, why to use it, and everything else you want to know.

Why Should I Choose an Organic Dry Shampoo?
Something you'll notice about most of the organic dry shampoos on our list is that they cost more. They're sometimes double or triple the price of non-organic dry shampoos that you can find at drugstores. This might make you wonder: why should I spend so much on an organic dry shampoo when I can buy a regular, non-organic dry shampoo for half the price? Don't they do the same thing?
Yes, organic and non-organic dry shampoos are technically designed for the same purpose: to freshen up your hair without needing to use water. The reason why most people are willing to spend the money for organic, all-natural dry shampoo is basically the same reason people are willing to shell out for organic anything: they're free of harmful toxins. Especially when it comes to the health of your scalp and hair, you don't want to be pouring chemicals all over it – research has shown that this can lead to damaged hair and even cause hair loss (although, to be fair, using even natural dry shampoo too frequently can be harmful, too – everything in moderation). Trust us: your hair will thank you.
On top of bad for your hair, non-organic, aerosol dry shampoos are also really bad for the environment. To put it as simply as possible, the chemicals that aerosol sprays include have been shown to be harmful for our precious ozone layer and are even contributing to climate change by affecting rainfall. You don't want to pollute the planet just so your hair will smell good; stick to these organic, all-natural dry shampoos and get the same effect without the environmental damage.
What Is the Point of Dry Shampoo?
That sounds great and all, but you might be wondering, why not just wash my hair with regular shampoo? Well, there are lots of reasons why people might prefer dry shampoo on some days over a regular wash in the shower.
One of the primary reasons people love dry shampoo is that it saves time. Those with long hair especially know how much more time it takes to wash your hair in the shower than to just give your body a quick rinse. Dry shampoo can save you so much time on days when you're too rushed to go through the whole process of washing your hair, but still need a freshening up. Dry shampoo is also great for camping, travel, mid-day workouts, or any other situation in which you might not have easy access to a shower.
Many professionals also say that washing your hair every day isn't actually a healthy habit unless you have really, really, really oily hair – it strips natural oils away from your scalp and can cause hair breakage. Dry shampoos can help save your hair's health by skipping a few days between washes without making you feel like a greasy dirtball.
How to Use Dry Shampoo
The good thing is that there's not really a wrong way to use dry shampoo, but we'll give you some tips anyway. Non-organic dry shampoos often come in the form of an aerosol spray, so you just hold it a few inches away from your scalp and spray.
Organic dry shampoos that use natural ingredients, like all of the ones on our list, often come in a loose powder or powder spray. This makes it a little more complicated to use, but still easy (and either way, totally worth it so that you aren't putting toxic chemicals onto your scalp). Just shake a little bit of powder into the roots of your hair; a little usually goes a long way. Using either your fingers or a brush, massage the powder into your hair until it no longer looks white. Use a little at a time, and add more until your hair looks fresh and clean.
There are a couple of exceptions from our list; the dry shampoo powder from Two Goats Apothecary comes with a brush, so you can easily just use the brush and apply the powder to your roots, just like you would apply powder foundation to your face. The dry shampoo by Innersense is the only one on our list that comes in a foam; simply massage the foam into your scalp.
Is It Better to Use Dry Shampoo or Wash Your Hair?
There's not a one-size-fits-all answer to this question, because it greatly depends on your hair type: how oily it is, how fine it is, and a bunch of other factors. Generally, experts recommend that a small group of people with very oily hair can get away with washing their hair every day because their scalp produces a lot of natural oils as it is, but that people with dry or thick hair should only be washing their hair every 2-3 days. This is because regular shampoo, especially when it's not organic and contains a lot of chemicals, can strip your hair and scalp of the natural oils that it needs to stay healthy.
At the same time, you can't just never wash your hair; remember that dry shampoo doesn't actually clean your hair, so the excess build-up of grease and sweat isn't good for your scalp, either.
The best answer to this question probably is, as with so many things in life, a balance. Neither option is "better" inherently for your hair. Don't solely depend on either washing or dry shampooing your hair. Wash your hair (with water and shampoo) around every 2 to 3 days, and feel free to use dry shampoo in between, especially if it's organic and doesn't contain harmful chemicals, like every single dry shampoo on our list.
How Often Should You Use Dry Shampoo?
In general, experts recommend that you don't use dry shampoo more than 2 days per week. This is because the ingredients found in non-organic aerosol dry shampoo, like alcohol and talc, can severely dry out your hair and scalp, causing irritation and possibly even hair loss. Nobody wants that!
With the natural dry shampoos on our list, though, you can trust that you're not putting toxic chemicals on your scalp. At the same time, you should probably stick to 2 days in a row using dry shampoo. We'll say it again: remember that dry shampoo doesn't actually clean your hair and scalp (just gives the miraculous impression that it does), and having dirty hair for long periods of time can cause scalp breakouts, acne, and even infections that can eventually lead to hair loss.
Don't forego washing your hair with water altogether, although you don't need to be as afraid (compared to non-organic dry shampoos that are filled with drying ingredients) that organic dry shampoos will damage your hair.
Is Dry Shampoo Bad for Your Hair?
Non-organic, aerosol dry shampoo sprays are incredibly bad for both your hair and your scalp, not to mention the environment. We've talked about why non-organic dry shampoo is bad for you in detail already in our section on why you should choose an organic dry shampoo, so we won't go through all the information again – but the short answer is: it can be, and if you're not being very careful about the ingredients you're choosing, then yes, it probably is.
The good news is that we've done all the hard work for you, and you can trust that every single option on our list is free from harmful chemicals or ingredients like talc and parabens. We've got your back so you can breathe easy knowing that if you choose a dry shampoo from this list, you're safe from these ingredients that can really damage your scalp and hair.
However, as we said before: everything in moderation. If you use dry shampoo too much, even if it's organic, this can be bad for your hair, and more importantly, your scalp. This is because dry shampoo doesn't actually clean your hair of bacteria and dirt, which can cause breakouts and infections on your follicles. You can probably imagine that a follicular infection isn't great for your hair health. Although none of the ingredients in our organic options are inherently bad for your hair, make sure you wash out the build-up every now and again.
Treat Your Hair to Organic Dry Shampoo
Everyone loves a good hair day. With these organic dry shampoos, every day can be a good hair day without having to damage your hair with toxic chemicals. Whether you're a dry shampoo veteran or you're just looking to try it out, make sure you go organic for both your health and the environment. One of our picks is bound to be the perfect organic dry shampoo for you!