Texturizing spray is a handy product to have in your bathroom for everyday looks and more casual styles. Texturizing sprays use gentler and lighter formulas than full hair sprays, so they're less damaging to your hair while still providing a light to medium hold that can control frizz and add definition to your look.
In this guide, you can read about what a texturizing spray does to your hair and how to choose the right one for your needs. Then, browse through our favorite texturizing sprays for 2021.

Features to Consider in Your Texturizing Spray
At first, it might seem like all texturizing sprays are created equal. That's not the case. There are a variety of ingredients, from salt to beeswax, that can create texture in your hair. Different formulas can create different finishes and each comes with their own set of benefits and tradeoffs. Before you start shopping, take a look at some of the things you'll want to think about when choosing a texturizing spray:
Finish: Matte vs. Gloss
Texturizing sprays will either add a glossy sheen to your hair or create a more matte finish depending on which ingredients they use to add texture. Here's a quick breakdown of the pros and cons of each option:
Gloss Finish
A gloss finish can make your hair look healthy and luscious. It also tends to combat frizz better and provides a more polished look that might be more suitable for work or professional events.
The tradeoff for that glossy, polished finish is the weight. The wax or oil-infused formulas that are used to create this look tend to be a little heavier. They're still lighter-weight than a hairspray, but for especially fine hair, they might still be too heavy.
This could result in a style that looks great when you leave the house but falls flat by the end of the day. For that reason, the glossier sprays are best for those with thick or curly hair. The added frizz control will be a major perk for curly or thick hair.
Matte Finish
A matte finish helps create that windswept, "just back from the beach" look. It also creates a more voluminous and effortless style that works well for your weekend or after-work looks. Another advantage of matte sprays is that they tend to fight excess moisture which prevents your hair from getting weighed down by humidity, sweat, or natural hair oils.
This makes it the best choice for fine hair or those with hair that gets especially oily in between washes. Those with curly hair might find matte texturizing sprays too drying, leading to frizz and breakage.
Type of Texturizing Spray: Salt vs. No Salt Formula
Salt-based formulas are popular among texturizing sprays because the salt provides that beachy texture. They offer a number of benefits that help combat the problems that flat, lifeless hair struggles with. Those benefits include:
A coarse finish that makes lasting volume and texture possible.
High-absorbency to suck moisture, like sweat and oil, out of your hair so that it stays light and dry all day.
Salt adds the illusion of thickness to fine hair by creating a coarse grip that binds strands together
For all its benefits, there are also some drawbacks to using salt spray. It can dry out your hair if used too often. The coarse grains may also strip away protein from your hair if you spray it on too liberally. These drying and protein-stripping effects are very mild, and if you're only using the salt spray three or four times a week, you likely won't notice any change.
If your hair is already damaged or dry, however, even using it just a few times a week can lead to brittle strands. In that case, you want to look for a salt-free formula like this Amika spray which uses a mineral-based formula to create similar results to salt with fewer drying effects.
You can also find texturizing sprays with no salt or other minerals at all. Sprays like this one from Boldify offer a more glossy, soft finish compared to the matte finish of a dry texturizing spray. They're also less drying and damaging. However, for days when you want that matte finish, you'll need a salt or other mineral-based spray.
Strength
Most texturizing sprays provide a light hold. In some cases, you might find a medium hold formula. However, if you want a stronger hold, you won't find it in a texturizing spray. When comparing strengths in texturizing sprays, you're mostly looking at its frizz-control or curl-defining capabilities. Look for hairspray for strong hold or a mousse for volumizing hold.
Extra Benefits
Since texturizing sprays are designed to be used daily or near-daily, choosing a formula that promotes hair health rather than harms it is a good idea. Many texturizing sprays also offer other benefits, including:
Moisturizing ingredients
UV protection
Anti-fade formulas to extend and enhance color in dyed hair
Absorbable vitamins and minerals to strengthen hair
Volumizer
Not every benefit is ideal for all hair types. Texturizing sprays with moisturizing formulas, for example, should only be used by people with thick or coarse hair. They'll usually be too heavy for fine hair.
Similarly, volumizing formulas should be, for the most part, avoided by anyone with thick or curly hair since they can create a frizzy, out-of-control look. They're more suited to fine hair.
Now that you've read about what a texturizing spray can do and how different features of the formula will affect the results you get, take a look at some of the best texturizing sprays on the market in 2021:
Top 10 Best Texturizing Sprays 2023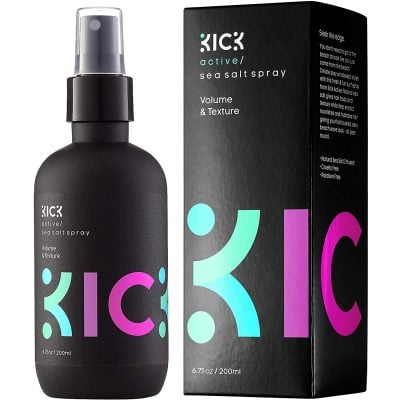 Why we like it:
With UV protection and antioxidant infusion, this sea salt spray nourishes your hair while adding volume and texture.
Editor's Rating:
Quick Facts:
Type of Spray: Salt Spray
Finish: Matte
Hair Type: All Hair Types
KICK Sea salt spray is a great all-purpose texturizing spray that protects color-treated hair and provides essential amino acids and minerals to lift and defines your locks. Its alcohol-free formula is less drying, making it a great choice for all hair types.
Style and Texture
This sea salt spray creates lots of volume without looking bushy or frizzy. The proprietary formula relies on salt as its main texturizing ingredient but then balances out the damaging effects by depositing a blend of amino acids and magnesium into the shaft of each strand.
The result is thicker, stronger strands of hair that are more flexible and responsive to your styling efforts. This nourishing blend also means more frizz control without the sticky residue that tends to be left behind from harsher formulas.
Despite its hair strengthening and frizz-fighting formula, it doesn't provide a lot of hold, even compared with the already lightly-textured product category of texturizing spray. So those looking to define curls or who have stick straight hair but want beach waves, this one likely won't be strong enough to give you the look you want.
For a texturizing spray with a bit more hold, this texture tease spray might be a better choice.
Hair Type
The powerful volumizing capabilities of this spray make it a great pick for fine hair since it's a lightweight, water-based formula. It can be especially beneficial to thinning hair as the amino acid formula adds protein to strengthen your locks. The paraben-free, sulfate-free spray is safe for all types of hair and offers UV protection and anti-fade technology that works well on dyed and chemically treated hair.
Pros
Instant and long-lasting volume

Amino acids help strengthen the strands of your hair

Magnesium and antioxidants thicken and nourish damaged hair

Lightweight formula works on all hair types
---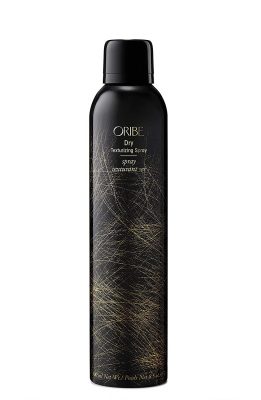 Why we like it:
This texturizing spray works just like a dry shampoo but with better frizz control and a vitamin-infused formula that conditions your hair while adding volume.
Editor's Rating:
Quick Facts:
Type: Salt-Free
Finish: Gloss finish
Hair Type: Damaged hair
This salt-free spray uses zeolite crystals to provide a similar absorbing function to eliminate oils, dirt, and odors from your hair. Where most dry texturizers like this would dry out your locks, this one is infused with vitamins, aloe vera, and other ingredients that strengthen and hydrate your hair, making it one of the best texturizers on the market.
Style and Texture
Oribe works like a dry shampoo and medium-hold hair texturizing spray combined. It creates instant volume that lasts all day, absorbs moisture and oil for a refreshed look between washes, and sets curls and waves with a flexible hold bond.
For fine hair, you can get even more body by spraying this on wet hair and blow-drying it with medium or high heat. For dry or damaged hair, the aloe and other botanical extracts help tame frizz and remoisturize your strands for a fuller, more textured look.
Hair Type
This formula is designed to be powerful yet healing for damaged hair. It's free of parabens and sulfates and loaded with different botanical extracts that help strengthen your hair, creating thicker, healthier locks in the long term.
Those same ingredients make it effective for thicker hair as well. The floral and mango extracts will smooth down frizz and provide a strong enough hold to keep unruly hair in place without that crunchy feel.
Such a powerful yet soothing formula does not come cheap, unfortunately. For something a little more budget-friendly, you might prefer the texture spray from Garnier Fructis.
Pros
Great alternative to dry shampoo

Packed with botanical extracts that repair damaged hair

Medium hold formula provides all-day volume and texture
---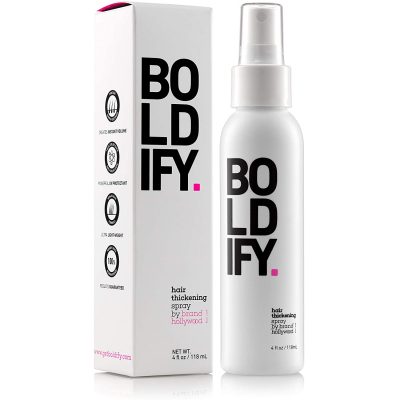 Why we like it:
This spray thickens your strands as it lifts them so that your hair looks and feels stronger.
Editor's Rating:
Quick Facts:
Type: Salt Spray
Finish: Gloss finish
Hair Type: Fine or Thinning Hair
For those who want the incredible texture that a salt spray offers but with a more polished and frizz-free finish, this unique formula from BOLDIFY is a great choice. It's lightweight, water-based formula adds definition without leaving a residue or overly drying your hair.
Style and Texture
The special algae-infused salt spray deposits minerals and other nutrients onto the shafts of each strand to instantly thicken your hair while lifting it at the root. It's a lightweight formula that will add blowout quality volume and create the appearance of thicker hair, while also providing long term hair strengthening benefits.
The special non-stick formula keeps fine hair residue-free, but the tradeoff for leaving out those sticky ingredients is less hold. For thicker hair that needs something more heavy-duty to maintain long term lift, this spray might not feel like enough. It also isn't going to do much in the way of setting curls or holding beach waves unless your hair already has some natural wave to it. For something strong enough to handle thicker or coarser hair, try this spray from Moroccanoil.
Hair Type
The thickening and volumizing spray was designed specifically for thinning or fine hair that needs a little boost. It strengthens each strand with a proprietary nutrient-rich formula featuring algae and kelp extract so that your hair is stronger than it was before the spray. While it's intended for fine or thin hair, it's just as safe and nourishing on other hair types.
Pros
Instant, salon blowout volume

Thickening tonic helps naturally strengthen thin hair

Algae and sea kelp infused formula nourishes hair
Cons
Not a strong enough hold for thick hair
---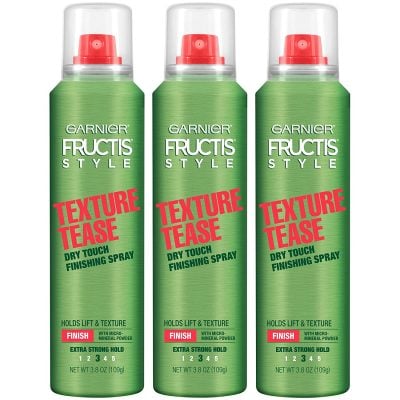 Why we like it:
Garnier Fructis offers a medium hold texture spray at a surprisingly affordable price for better frizz control without sacrificing volume.
Editor's Rating:
Quick Facts:
Type: Salt-Free
Finish: Gloss finish
Hair Type: Thick or curly hair
This frizz-fighting formula lifts your hair at the roots while binding your strands together for a lush, voluminous look that's also polished and totally touchable. With three bottles in the pack, it's one of the best ways to style your hair on a budget.
Style and Texture
The salt-free spray uses a mineral alternative to mimic the unique texturizing effects of salt without the risk of damaging your hair after repeated use. The minerals attach to the strands of your hair, making it more manageable as you try to style it. When applied to your roots, it creates instant lift and all-day bounce. The finish is soft, flexible, and frizz-free.
Hair Type
Texture tease works best on thick or curly hair. The mineral formula will disappear into thicker hair and help curls cling together to preserve definition. However, on fine or thinning hair, that mineral formula won't disappear as easily and could leave an unappealing ashy cast over your hair.
This is especially true if you use it on freshly cleaned fine hair that won't have as much oil or dirt for the minerals to absorb into. For a formula that won't leave residue on fine hair, try this thickening spray from Boldify.
Pros
Makes thick or curly hair easier to style

Good dry shampoo alternative

Gentler mineral formula is safer for long term use
Cons
May leave a residue on fine hair
---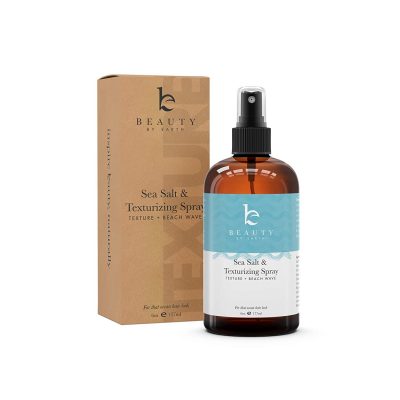 Why we like it:
This salt spray is infused with aloe vera and green tea extract for a hydrating yet weightless formula that adds texture without damaging your hair.
Editor's Rating:
Quick Facts:
Type: Salt Spay
Finish: Gloss finish
Hair Type: All Hair Types
This all-natural formula is safe for all hair types. It offers both volume and frizz-control in a nourishing formula that won't damage your hair, even if you use it every day. The hydrating ingredients are water-based alternatives to the usual oils and moisturizers so it's still lightweight enough for fine hair.
Style and Texture
This sea salt spray is surprisingly gentle and powerful. The sea salt is strong enough to add volume and texture to all types of hair. Because the salt absorbs moisture, it keeps your hair weightless and bouncy all day long. It can create beach waves or just add a little more texture to dull hair. With the unique blend of aloe and other lightweight hydrating ingredients, it can also control frizz and define curls without leaving a sticky or crunchy residue.
Hair Type
This nourishing yet lightweight formula is safe for any hair. The sea salt is strong enough to add volume and texture to both fine and thick locks while argan oil and coconut pulp are great for coarse or curly hair.
The extra hydration offered by the aloe, shea, and other natural ingredients is incredibly beneficial for your hair. However, these ingredients mean that it won't work as a dry shampoo substitute.
If you're looking for a quick refresher to your hair in between washes, the moisturizing ingredients in this spray can end up making your oily, unwashed hair look even more greasy. It's better to use it on clean hair. For a better dry shampoo substitute, you'd probably prefer a dry texture spray like this one from Oribe.
Pros
Ideal for all-day texture

Lightweight, moisture-absorbing formula stops your hair from falling flat

Packed with nourishing ingredients like aloe, coconut, and argan oil

Strong enough for all hair types
Cons
Not a good substitute for dry shampoo
---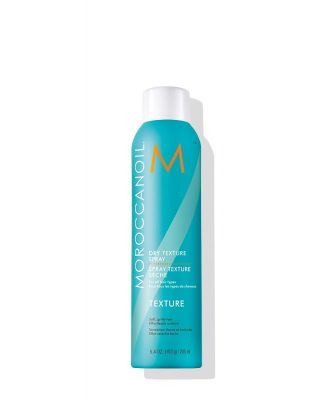 Why we like it:
For those with thick hair that are looking for movement and texture more than volume, this hydrating dry texture spray from Moroccanoil is a great pick.
Editor's Rating:
Quick Facts:
Type: Salt Free
Finish: Matte finish
Hair Type: Thick or coarse hair
With the argan oil infusion that is a signature of Moroccanoil products, this dry texture spray is great for thick hair that tends to become frizzy or dry with other dry texture sprays. You'll still be able to get that matte finish that is usually only possible with the more drying formulas, although the formula hydrates more than holds.
Style and Texture
This dry texture spray works like a dry shampoo, complete with the matte finish. It's a strong enough formula to provide all-day volume and texture but not so over-powered that it'll leave your hair stiff and brittle. It also works well as a pre-styling spray to help extend the life of curls and updos.
Hair Type
The Moroccanoil formula was made for thick, unmanageable hair. It leaves behind a soft but gritty texture on the shafts of your hair that makes it more cooperative for braids, buns, and other styles. The argan oil helps counteract some of the drying effects of the dry texture formula while also helping to smooth down frizz and define curls. Overall, it's the ideal formula for thicker hair.
That means it won't work as well on fine hair. The formula is a little too heavy for thinner strands and would likely cause your look to fall flat if your hair is not thick enough. For something lightweight enough to work on fine hair, try this salt-free spray from Amika.
Pros
Helps thicker hair become more manageable

Great for texture and definition

Works as a pre-styling spray

Argan-oil infused to treat dry hair
Cons
Not suitable for fine or thinning hair

Can give hair a gritty texture
---

Why we like it:
This dry volumizer helps create lasting volume in fine hair while also providing UV protection.
Editor's Rating:
Quick Facts:
Type: Salt Free
Finish: Matte finish
Hair Type: Fine or Chemically Treated Hair
This is one of the few dry texturizing sprays that won't damage your dyed or chemically treated hair. It's a salt-free formula that will add airy volume to fine hair without absorbing moisture or stripping protein away from your locks.
Style and Texture
This powerful dry texture spray is a quick way to add volume and bounce to flat or lifeless hair while also keeping frizz fully under control. It's lightweight enough to not weigh your hair down like a hairspray, but it still offers medium-hold. The result is a voluminous look that lasts all day and still leaves your hair feeling touchable and soft.
Hair Type
The volumizing power in this formula was designed to revive flat fine hair. It's also designed to be safe for dyed or chemically treated hair. It won't fade your color or undo permed or relaxed hair. However, this is primarily a volumizing spray that may take things a little too over-the-top on thick or curly hair.
The synthetic formula is alcohol-based and contains some harsh chemicals. Those harsh chemicals are part of the reason Living Proof can offer such incredible texture without frizz but they do make it less suitable for daily use. It can dry out or damage your hair over the long term.
For something gentler on your hair but still offering above average hold, check out the texturizing spray from Sun Bum.
Pros
Long-lasting volume

Lightweight formula is ideal for fine hair

Safe for dyed or chemically treated hair

Great frizz control
Cons
Harsh chemicals can damage hair with frequent use
---

Why we like it:
For a salt-free formula that still mimics the grease-fighting and texturizing effects of a salt spray, Amika is the brand of choice.
Editor's Rating:
Quick Facts:
Type: Salt Free
Finish: Matte finish
Hair Type: All hair types
With frizz control and salt-like texturizing power, Amika has created a unique spray that has something to offer to all hair types. You'll get body, multi-dimensional styles, and frizz-free definition.
Style and Texture
Amika uses zeolite, a unique alternative to salt, that works similarly but isn't as harsh on your hair. You'll still get the moisture-absorption that helps revive oily hair between washes. You'll also get all the touchable texture and body that a normal salt spray would provide.
This makes it great for beach waves as well as adding a little more dimension to straight hair. It's a non-stick formula that won't leave any residue on your hair. It dries fast and as soon as it does, it doesn't feel like there's anything there: just gorgeous texture and a natural, matte finish.
For those with very fine hair or others looking for maximum volume, Amika might feel a little underwhelming. It does add some lift, but if you need a powerful boost, you might be better off with a stronger volumizer like the Living Proof dry texture spray.
Hair Type
This non-stick formula works well for all hair types. It won't leave a residue on fine hair, and it won't dry out thick or curly hair. The sea buckthorn berry infusion provides a full range of vitamins and collagen-promoting fatty acids that will add strength and flexibility to your locks.
Pros
Gentler salt-free formula that works like a salt spray

Ideal for beach waves and curl definition

Sea buckthorn berry infusion promotes collagen production
---
9.

Best Texturizing Spray for Damage Prevention:

Sun Bum Sea Spray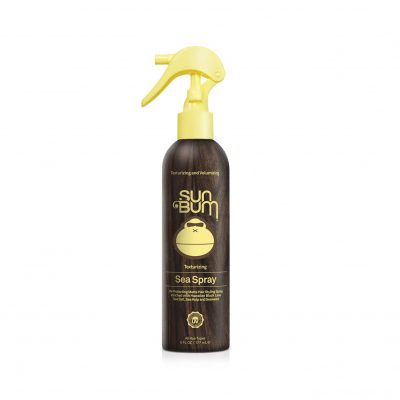 Why we like it:
With UV protection and an argan oil infusion, this Sun Bum sea salt spray provides equal parts protection and texture to your hair.
Editor's Rating:
Quick Facts:
Type: Salt spray
Finish: Matte finish
Hair Type: All Hair Types
Sun Bum has created a versatile spray that offers frizz-free texture and medium hold. The infusion of argan oil, sea kelp extracts, and sunflower seed oil make this nourishing enough to be your go-to styling spray for everyday looks.
Style and Texture
This is a classic salt spray that uses a special black lava sea salt to create great volume and lightweight texture. It's also a light hold formula that will help lock in that bounce and body all day long. It works great for those messier casual looks like beach waves, messy buns, and textured braids or ponytails. It has a matte finish that will make it look there's no product in your hair at all, just all-natural texture and movement.
Hair Type
Sun Bum uses a lightweight formula that is safe for all hair types. It's not going to weigh down fine hair and it's not going to turn thicker hair into a tangled, crunchy mess. More importantly, its loaded with damage-preventing ingredients include a UV blocker that will protect your hair from sun damage and a color-safe formula that helps preserve the vibrancy of dyed hair for longer.
Because of the UV blockers in the formula, you need to be careful about how much product you apply. It can quickly go from gorgeous beach waves to greasy mess if you use too much of it. So if you need something that can build up better without getting greasy, try this aloe-infused sea salt spray instead.
Pros
UV protection

Color-safe ingredients

Unique black lava sea salt formula

Great for all hair types
Cons
Becomes greasy if you use more than a few spritzes
---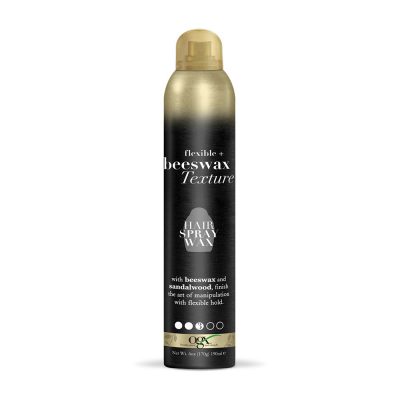 Why we like it:
This beeswax-based formula is uniquely designed to add definition and texture to thick or curly hair without the drying effects that most texturizing sprays come with.
Editor's Rating:
Quick Facts:
Type: Salt Free
Finish: Gloss finish
Hair Type: Thick or curly hair
For a head of unruly curls, you need something that will keep them under control without drying them out. This beeswax and sandalwood formula was designed to do just that. It creates a touchable hold that nourishes your curls while it defines them.
Style and Texture
The special wax-based formula is great at controlling frizz and defining curls or waves without leaving a sticky or crunchy residue. You get a medium hold without any of the harsh or residue-leaving ingredients that are normally used to create that hold. As a result, you're left with a flexible, textured look that feels like there isn't anything in your hair.
Hair Type
The salt-free formula won't dry out your curls, which is an important feature since curls are much more prone to becoming dry. In addition to ditching the drying ingredients that are normally found in texturizer spray, this formula will actively hydrate your curly or coarse hair. The hydrating formula nourishes your hair while the beeswax locks in moisture.
While the wax-based spray is incredible on thick or curly hair, it's just too heavy for fine or thinning hair. Any volume or texture you do create will likely fall flat in a few hours. If you have fine hair, you need a more lightweight formula like this moisture-absorbing salt spray.
Pros
Moisture-locking formula great for dry hair

Wax-based spray ideal for curly or coarse hair

Salt-free texture and definition
Cons
Formula is too heavy for fine or straight hair
---
Getting Down to It: Everything You Need to Know About Texturizing Spray
Texturizing sprays are a lighter and less obtrusive way to get hold without the sticky, shell-like effects of traditional hairsprays. For this reason, the inexpensive haircare product continues to be a beauty staple in the haircare routines of many. Learn more about texturizing sprays below:

What Can a Texturizing Spray Do for My Hair?
Texturizing sprays use specialized ingredients like salt, minerals, or waxes to add texture to your hair. They often also offer a light to medium hold so they can be used like hair spray on more casual hairstyles. Here are some of the main reasons you might use a texturizing spray:
Adding Dimension to Flat Hair
The main purpose of a texturizing spray is to add texture. Texture provides a multi-dimensional appearance that makes your hair look lush and lively. While that's a great look on curly and straight hair alike, it makes the most dramatic difference on stick straight hair that tends to lie flat on the head.
Defining Curls
When curls get frizzy or dry, they can go from gorgeous to a bushy mess in a heartbeat. A texturizing spray is a gentler, more lightweight solution to the problem than a stronger hairspray.
You can control frizz and redefine your curls without using harsh alcohol-based formulas that end up drying out your curls even more in the long run. In fact, some texturizing sprays, like this unique beeswax formula from OGX add definition with nourishing, hydrating ingredients that will promote the health of your hair rather than dry it out.
Adding Volume
A texturizing spray also makes for a great volumizer. When applied directly to the roots, it can lift them up without adding frizz or leaving a sticky residue. The lightweight formula is gentle enough to keep that volume in your hair all day long, with no need for a midday boost.
The best texturizing sprays for adding volume use a salt-based formula like this KICK sea salt spray. The salt not only adds texture but absorbs moisture like sweat and natural oils that would otherwise weigh down your hair.
This makes it more effective than even the lightest weight hairspray since it's not just holding your hair in place. It's also actively combatting some of the most common reasons your hair goes flat by the end of the day.
Creating Waves
Getting effortless beach waves can sometimes feel like hard work. Most hairsprays tend to be too heavy-duty for the job. Instead of flowing, gorgeous waves, you could end up with a stiff, brittle helmet of tangled hair.
This is why texturizing spray is usually a better choice for the job. The lightweight formula provides just enough hold to preserve the wave look without being so strong that your "casual" look no longer has that effortless feel.
If your hair already has some natural wave to it, texturizing spray is the best way to accentuate them without overworking them. If your hair is straight, texturizing spray prevents your curling iron created waves from falling flat by providing that light hold but also by being lightweight enough that it won't fall down by the end of the day.
Frizz Control
When all you want to do is tame that frizz and fight fly-away strands, going for hairspray can feel a bit like overkill. Instead, you can use a texturizing spray. These products provide a similar frizz-fighting effect but are less likely to leave a residue or make your hair feel crunchy or stiff.
If frizz control is your primary concern, you can even find texturizing sprays like this Moroccanoil formula that help balance out the texturizing effects of the dry ingredients with a frizz-fighting and hair-nourishing argan oil.
How Do You Use Texturizing Spray?
Texturizing spray is a useful tool to have on hand for quick styles or to add that finishing touch that makes an otherwise dull or boring hairdo look elevated and put together. Here are some easy techniques you can use along with a few tips for getting the most out of your new texturizing spray:
Quick Root Lift
Texturizing spray is a great way to add life to fine hair in between washes. When your hair starts to look a little flat from the weight of its natural hair oils, lift small sections to spritz a small amount of texturizing spray directly on your roots. This will get you through to your next wash day without having to deal with flat, stringy hair.
Add Volume to Buns and Ponytails
Use the same quick root lift technique described above before pulling your hair into a bun or ponytail to give it a little more life and dimension. For ponytails or buns where your ends are exposed, spray a little texturizer on your fingertips and scrunch it into the ends of your hair.
This treatment of your ends will add texture to your entire look and transform that "lazy hair day" look into something more refreshed and stylish. If you're looking to maximize the volume of a particular hairstyle, though, a hair-volumizing mousse could be a good option.
Easy Beach Waves
For effortless beach waves that don't require damaging hot tools, use a combination of braids and texturizing spray. Pull your hair into a braid. Spritz it with your texturizing spray. Let that dry while you go about the rest of your morning routine. If you're short on time, go over it with a blow dryer (check out our favorites here) to speed up the drying process.
Once it's dry, let out the braids. Do another light spritz of texturizer and scrunch your hair. Enjoy your new curling iron-free beach waves! For even better results, braid your hair the night before and sleep on it.
Make Curls Last
Texturizing spray is a great alternative to hairspray for a lightweight hold that's not as damaging or drying as most hairsprays are. Separate a curl from the rest of your hair. Hold the bottle underneath it and gently spritz upward to get a light coating over the lock. Scrunch it gently and hold it for 8-10 seconds. Let it fall. Repeat with each of your curls.
This technique adds definition to your curls and provides hold without weighing them down so they won't disappear as quickly. It works better on thicker hair or hair that already has some natural curl or wave in it. For fine hair, you might need something stronger than texturizing spray.
Tips for Using Texturizing Spray
You can do much more with texturizing spray than the ideas described above. Take time to experiment with different looks and techniques to see what you can achieve. As you try out new styles, keep these tips for using texturizing spray in mind to make sure you get the best possible results no matter what look you're going for:
Work in Small Sections
Texturizer spray won't do much if you use it like a finishing spray. Instead of doing an all-over coat, separate individual sections of hair and lightly spritz each one. This method helps that texture and volume develop by encouraging distinct layers to form.
Applying spray to one layer at a time also ensures that you apply spray evenly and thoroughly throughout your hair. People with thick hair are especially liable to miss whole sections, particularly the bottom layers, if they don't take the time to separate out smaller sections.
Scrunch Your Hair
After applying the spray, scrunch the freshly coated strands. Scrunching just means gathering that lock of hair into the palm of your hand and closing your fingers around it lightly to encourage waves and multi-dimensional texture.
This is a great technique to use on those "messier" looks like beach waves, messy buns, or loose braids. Texturize and scrunch your hair before styling them into those buns and braids to create a more interesting look to the finished style.
Apply It Before Styling
For gorgeous results that require less hairspray, gel, or other harsher products, a little texturizing spray at the beginning can make a huge difference. A light coating of texturizer will encourage your strands to respond better to curling, straightening, or even just styling. It helps it become a little more malleable and cooperative without going flat and lifeless.
Apply It to Damp Hair
To get a salon-fresh blowout look, you can apply texturizing spray to your wet hair before you blow-dry it. The combination of texturizer and the heat from the dryer will create luscious, texturized locks without the frizz or tangles.
When using this technique, make sure your hair isn't soaking wet. Pat it dry with a towel to remove excess moisture. Once your hair is no longer dripping, it's ready for the texturizer spray. Remember to work it through your hair in small sections.
Sleep on It
To save time on styling in the morning, you can create textured waves overnight. Spritz some texturizer into your hair before pulling it into a braid. Sleep with the braid in. Overnight, the texturizer will encourage your hair to hold the shape of the braid.
When you remove the braid in the morning, your hair will maintain those waves. Just wake up your roots with a little spray massaged into them, and you're ready to go.
Can You Use Texturizing Spray on Straight Hair?
You absolutely can use texturizing spray on straight hair. It's not just for "beach waves" even if many of the brands advertise that as their chief benefit. If your hair is stick straight and prone to going flat, this kind of lightweight spray is exactly what you want to use.
It can lift up your roots and create some texture for a more interesting look, even in hair that stubbornly refuses to hold a curl or even a wave.
If you have straight hair, make sure to look for a lighter formula without oils or other moisturizers in it. Since your hair naturally wants to flatten out, you don't need any extra weight holding it down. Dry texturizer sprays like this Living Proof spray will produce the best results on straight hair.
Does Texture Spray Damage Hair?
The answer really depends on which product you choose. Some sprays use harsher, more drying formulas than others. Even so, texturizing sprays are usually gentler than hairsprays, mousses, or gels. They are naturally more lightweight than these stronger hold products and less likely to absorb into hair.
If you are still concerned about damage or you already have brittle, dried-out hair, you just need to look for a more nourishing and hydrating formula like this KICK sea salt spray or opt for something with more natural ingredients like this spray from Beauty by Earth.
Wrapping Up
Texturizing spray is a great way to add instant life and definition to your hair. It's a great volumizer in between washes and can add dimension and flair to simple ponytails, buns, or waves. When choosing the best texturizing spray for your needs, think about what your primary goals are.
For adding volume or creating "effortless" looks, you probably want a dry texture spray like this one from Living Proof. For defining curls and creating frizz-free movement, you might prefer a more satiny formula like this OGX wax spray. Whatever look you're going for, a quality, lightweight texturizing spray is a great go-to product to keep in your haircare arsenal.