When you want to remove pesky hairs from your face, there are several options out there. You can pluck, shave, and wax or you can go with a more modern (and less painful) route and try out a facial hair removal cream. Known sometimes as "depilatory" creams, facial hair removal creams are designed to tear down the keratin binding that helps to connect body hair to our skin. These sorts of creams work astoundingly well, and there are even some designed to be used almost anywhere on your body! This article, however, focuses specifically on facial hair removal creams.
Choosing the Best Facial Hair Removal Creams
Look, we know what you are thinking. Facial hair removal creams sound scary, right? Don't worry, knowledge is power! The biggest thing to keep in mind with these sorts of products is… natural ingredients are generally the better purchase. Quite simply, chemical-based creams are more liable to cause problems down the line, such as forming blisters, rashes, and bumps, and even really heinous conditions like skin peeling! This is mostly due in part to one's skin genetics, and is not a universal rule.
Another thing to keep in mind is, your price is generally going to amount to a better deal if you buy these sorts of facial hair removal creams in bulk. Most good brands vary anywhere between $5 to $20 a bottle/container. Your skin is a precious investment, keep it well-maintained and don't be afraid to splurge a little bit extra on something that is going to keep your skin healthy and fresh in the long run.
Another really good thing to keep a lookout for are value packs of facial hair removal creams that come paired with some kind of soothing balm or lotion that is specifically to be used after your hair removal process. These sorts of useful additions help keep your skin from breaking out into bumps, or just getting irritated in general. If you see these sorts of dual packs available within your budgetary range, jump on the chance!
Now that we have a general overview of the purchase of these depilatory creams, we can move on to the reviews so you can make the best possible choice for your skincare needs.
Top 10 Best Facial Hair Removal Creams 2023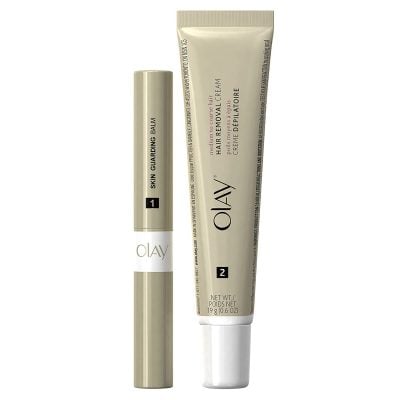 Why we like it:
This product is a good entry-level venture into the realm of facial hair removal creams. With its built-in safety precautionary balm along with its long-lasting effects once the cream is removed makes it one of safest, most efficient facial hair removal creams out there!
Editor's Rating:
When it comes to facial hair removal, Olay Smooth Finish Facial Hair Duo is, as the product name suggests, a two-step process. The first thing you do is coat your face with a special protective balm. Once fully embedded in your skin, it has a shielding function that protects the skin from any of the chemicals within the facial hair removal cream along with any potential for burning or stinging pain that the cream might induce.
Once this process is finished, you can apply the cream to the areas needed. The entire process is painless! This is easily one of the safest, most entry-level facial hair removal creams out there, and you can be assured that your upper lip won't be on fire once you're finished with this product!
Bear in mind though, this is much more expensive than other options out there. If you're budget-conscious, check out one of the other creams on our list.
Our Verdict
Olay is a huge name in the skincare industry, and easily one of the most trusted out there. If your budget calls for it and you care about high-visibility brand name quality, this product could potentially be your one-stop-shop for your facial hair removal needs!
Pros
It doesn't burn at all!

It comes with its own container of protecting balm to be used before the hair removal process.

It has a long-lasting hair-removal outcome, keeping you from having to repeat the process on a frequent basis.
Cons
Olay Smooth Finish is good for all kinds of hair except very thick, coarse hair types.

For the general customer, this product is a bit more expensive than many others.

You have to be diligent about time utilized when applying this product. Anything over 8 minutes of usage is potentially hazardous.
---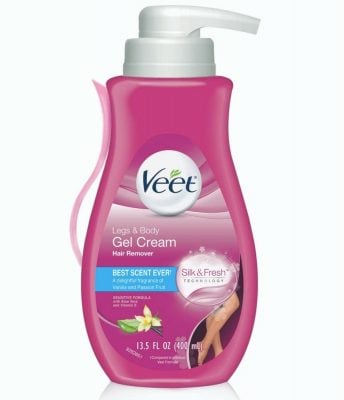 Why we like it:
Veet's sensitive formulation of their famous hair removal cream works quickly and effectively, and its dermatologically-tested to ensure that it leaves your skin moisturized and soothed.
Editor's Rating:
Composed of both aloe vera as well as vitamin E, Veet's facial hair removal cream for sensitive skin is designed specifically for those of us that experience "the burn" in a stronger way than others! Veet's cream also has another distinct advantage… quantity. This is easily one of the best buys when it comes to the sheer volume of product in regards to price. The cream also works fast… you can usually finish up a session in 3 minutes.
There are some downsides to this cream, though. It's known to leave leftover residue in the applied area after usage, making it much more difficult to effectively clean up. Additionally, the smell of Veet's cream is often considered to be quite pungent and not very fragrant at all.
Our Verdict
When you take into consideration the amount you get per bottle along with the price per ounce, Veet's facial hair removal cream is a great deal… especially if you think that you might need lots of cream throughout the year. Despite a lack of ointment provided with the kit, the aloe vera and vitamin E, ultimately, help to soothe your skin. When you add all of this on top of the fabulous value you get with the overall volume in the container, you're looking at a pretty good deal.
Pros
It's dermatologically tested, so you don't need to worry about your skin being harmed in any way.

It comes in a large container that will last you multiple uses. Best bang for your buck!

It works fast. In around 3 minutes or so, you're completely done with your hair removal session.
Cons
It doesn't really have the greatest smell out there.

No soothing balm or ointment provided for post hair removal use.
---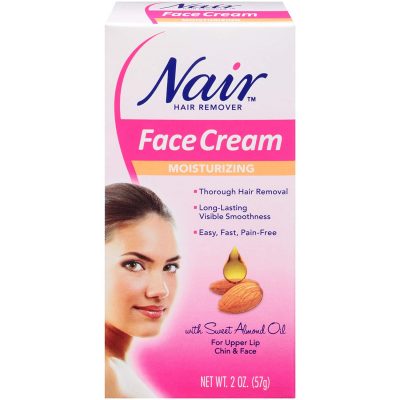 Why we like it:
Nair's Hair Remover Face Cream takes just five minutes to fully remove facial hair and contains a healthy portion of sweet almond oil to keep your skin smooth and healthy.
Editor's Rating:
Nair Hair Remover Face Cream comes mixed in with Sweet Almond Oil, which helps to keep skin smooth as can be. An extra bonus of the oil is that it will keep your face silky and moist after a hair removal showdown… which ends up keeping irritation at bay as well. This formula also works pretty fast, one session with this particular depilatory cream should only last you a grand total of just 5 minutes… quick and easy!
One of the biggest negatives we can find with this product is, if left on longer than the intended 5 minute time period, it's pretty much assured that you're going to get some form of burns on your face. Knowing this, it's absolutely crucial that you take good care of keeping proper time when applying this product, especially when it's on your face!
Our Verdict
Nair Hair Remover Face Cream does what it sets out to do. It removes facial hair in a speedy manner for a very low price. Just be aware that there is some potential for skin burning here, but it shouldn't be too big of a deal if you're cautious and pay attention to what you are doing.
Pros
Sweet Almond Oil base helps keep your skin silky smooth and moist, even a while after applying the cream.

Facial hair removal sessions will only take you around five minutes. This is one of the faster depilatory creams out there.
Cons
Not a good choice for people with thick or coarse hair.

It can burn some users if the product is left on longer than normal. Be sure to read your instructions thoroughly!
---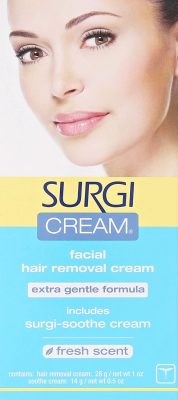 Why we like it:
Jam-packed full of ingredients that nourish your face, this gentle yet effective hair removal cream is perfect for anyone with sensitive skin.
Editor's Rating:
This facial hair removal cream's claim to fame is that it works on all skin types, including extremely sensitive skin. Additionally, it has been proven to be very effective on individuals sporting coarse or thick hair… this is a really important distinction as many hair removal creams have difficulty removing extremely coarse facial hairs and require multiple sessions in order to get your face to 100% smoothness. What a chore!
Sporting a whopping ingredient list, Surgi Cream's hair removal product consists of cucumber, aloe vera, and vitamin B12, which all promote the softening of the skin. Additionally, the cream comes with a soothing ointment that has olive, papaya and citrus extracts. These extracts assist in keeping the hair from growing back so quickly on the applied areas and can effectively keep hair regrowth from occurring up to a whopping two weeks. Now that is awesome!
The only real downside to this cream that we could find is, the spatula that you use to apply the cream to your face is rather large… which is fine for parts of the face that have a bigger surface area, such as the cheek area. For more detailed spreading work, however, it finds itself lacking.
Our Verdict
This is absolutely one of the best facial hair removal products on the market. It seems to hit every niche required of it… it has a fantastic price, quality ingredients that work on all skin types, and it seems to accommodate all hair types in the process! This would make an excellent all-purpose hair removal cream for any potential user.
Pros
One of the top products in the hair removal cream market for people with sensitive skin!

It is also one of the best facial hair removal creams out there for people with coarse hair.
Cons
The spatula provided is large and bulky, and not conducive to finer detail work.
---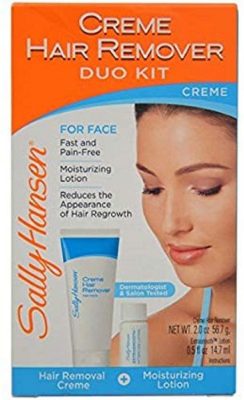 Why we like it:
Not only does the Sally Hansen Creme Hair Remover Duo Kit get rid of unwanted hair, but it prevents it from regrowing quickly in the future, making it great for anyone who wants long-lasting results.
Editor's Rating:
Composed to both willow and extracts of pumpkin seed oil, this facial hair removal cream aims to not only remove pesky, unwanted hair, but also keep future hair growth from being as much of a problem down the line. Additionally, the cream has a good amount of Vitamin E, which helps to foster smoother skin.
Dermatologically tested, the cream was designed specifically to be as pain-free as possible. Also, the kit comes with a special kind of lotion that is to be used after the hair removal process in order to provide cool, soothed skin if any irritation from a session has occurred.
Something to be aware of is, if you have hair on the rougher spectrum, this product might not work well for you. It would, ultimately, require repeated uses in order to fully work, and that might be just a bit too rough on your skin!
Our Verdict
It's safe, It's relatively fast, it's tested and approved dermatologically, and it's exceptionally easy on the wallet. While it may not be the best product for individuals with thick hair, we'd like to think Sally Hansen's facial hair removal cream is a quality purchase for any prospective buyer, for the most part… especially if you take the extremely low price into consideration.
Pros
It removes hair fast and is dermatologically tested, ensuring you will have a safe experience.

Sally Hansen products are known for being one of the more pleasant, pain-free creams you could use.

It comes with a special kind of lotion to be used after hair removal treatment to sooth your skin.

Easily one of the cheapest facial hair removal creams on the market. You can't beat the price!
Cons
Not really the most efficient product to use if you have coarse/thick facial hair.
---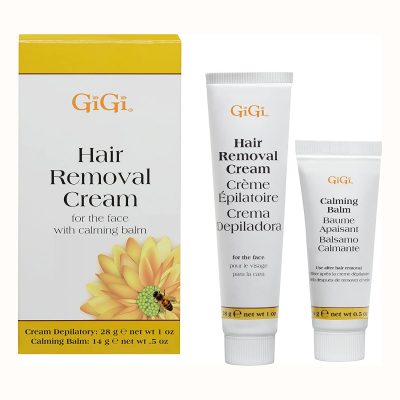 Why we like it:
Anyone who suffers through pain, irritation, and redness after using hair removal creams would love this set—it combines a hair removal cream with a calming balm that restores your skin to its natural tone and moisture.
Editor's Rating:
Gigi Facial Hair Removal Cream was developed for individuals who have serious issues with sensitive skin. This is a duo pack item, which means it also happens to come with a balm that is to be used after a facial hair removal session in order to cool off and heal up any irritated skin (thanks to the balm's infusion of aloe vera). The balm also contains papaya which can assist with keeping hairs from coming back as quickly.
Another awesome trait with this product is that the cream is pretty much without any kind of odor… which is a very rare occurrence when it comes to depilatory creams on the market!
One of the cons is that your facial hair can come back faster than anticipated, but it's not always the case. Don't worry too much though, the cream is so good on sensitive skin, a few more hair removal sessions won't end up hurting or irritating you.
Our Verdict
Based on the price alone, Gigi Facial Hair Removal Cream is a great choice for people who are concerned with their sensitive skin causing them problems. That, on top of its utter lack of odor makes this a great purchase, despite it not having lots of bells and whistles that other products do.
Pros
Works on sensitive skin in a tender manner.

It comes with a post-removal balm that removes any kind of irritation that may occur due to a hair removal session.
Cons
Hair tends to grow back quickly with this product.

There's not as much in each tube in terms of quantity compared to some other brands.

The cream has to be left on for at least 8 minutes at a time, so don't expect quick in-and-out results with this brand.
---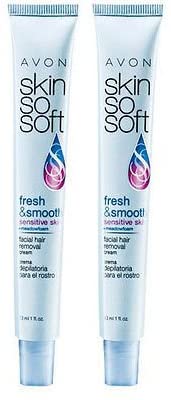 Why we like it:
Through the unique choice to include antioxidant-rich meadowfoam oil into this product, Avon has created one of the most moisturizing and rejuvenating hair removal creams on the market. This all-natural hair removal product actually uses sugar and tea tree oil to remove facial hair.
Editor's Rating:
Just a quick glance at this hair removal cream and you'll notice immediately a huge level of thought has been put into the packaging and design. Everything comes off as sleek and professional… the only glaring issue is that there seems to be just a small amount of product in each tube, which might turn off some shoppers looking for more of a quantity as opposed to quality.
When it comes to the cream's ingredients, the product continues to shine even further. Avon's cream is composed of all-natural ingredients, such as soothing aloe, that won't cause any harm or discomfort to your skin… period! Additionally, this cream has a component called meadowfoam oil mixed into it, which is an organic carrier oil that helps to moisturize your skin, as well as provide antioxidant properties.
The only real issue with Avon's hair removal cream is its scent. It is absolutely terrible to take a whiff of! However, despite this setback, the product only requires a whopping two minutes to do its job, so you won't have to suffer through the harsh smells for very long at all!
Our Verdict
This is easily one of the quickest-acting facial hair removal creams out there. After application of the product you are literally finished and free to do whatever after just a mere two minutes! So, if you're a person that is constantly on the go, but has strict beauty requirements (or a pesky mustache that you're always trying to keep in check!) this is absolutely the product for you. While it's a little skimpy on contents, the overall quality and price point make up for it in the long run.
Pros
Works really well for sensitive kinds of skin, as indicated by the title of the product!

It is a good choice for practically all types of skin.
Cons
The small amount of actual product in the container might insult a cost-conscious buyer.

The tropical smell isn't the most fragrant scent on the market.
---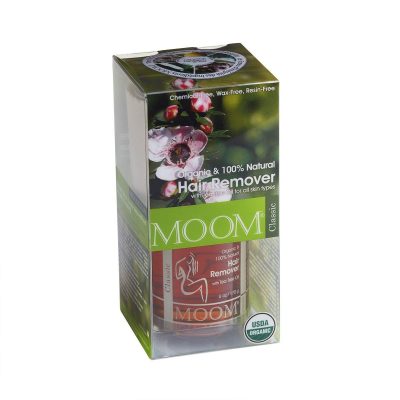 Why we like it:
While you'll need to use a bit more of it than you would a traditional depilatory cream, it's amazingly skin-safe and long-lasting.
Editor's Rating:
One of the most environmentally-conscious facial hair removal products on this list, the Moom Organic Hair Removal Kit isn't like the rest of the products described here… it's actually considered to be a sugar wax as opposed to a depilatory cream. What this essentially means is once you apply this product to your skin, be prepared to use strips to literally "strip" the hair off your skin! Do you think you can handle that?
On that note, there are many positives with this depilatory product. It smells incredible thanks to the tea tree scent. It's also verified by the USDA as an organic product… so if you like to do things the natural way, and take the health of the planet into consideration, this depilatory is definitely for you. Something else that is crucial to note is that it's also great at removing thick/coarse hair, which at times not many of these kinds of facial hair removal creams are efficient at doing!
There are a few cons to the Moom Organic Hair Removal Kit, however. The first is the actual volume of product in the container is rather small. You maybe are provided with enough sugar wax for anything between 4 to 6 hair removal sessions… so if you partake in facial hair removal on a regular basis, you're bound to run out of wax relatively fast.
Our Verdict
If you're cool with an organic product that doesn't have a lot in the quantity realm, but a considerable amount in the quality realm, then Moom's Organic Hair Removal Kit might just be the product for you. It's not what we would call an "entry-level" facial hair removal product, but if your values align more towards a more holistic approach to your beauty and skin needs, then it's a no-brainer purchase for you.
Pros
It is a 100% all-natural product that has never been tested on animals.

It works on absolutely all kinds of skin.

It can keep your skin ridiculously smooth for up to 8 entire weeks.

The product even works well on coarse/thick hair!
Cons
Doesn't fully loosen hair enough in one session, forcing you to redo the process potentially.

Very low volume of actual product compared to other brands out there.

Quite difficult to wash off.
---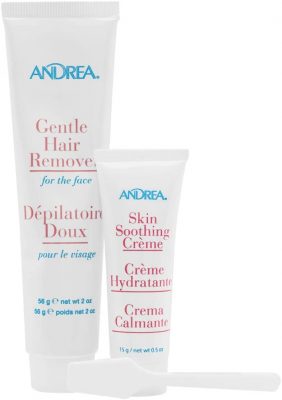 Why we like it:
Formulated not only for fine facial hair but also able to tackle thick, coarse hair (and even body hair), this product from Andrea is a great all-purpose hair removal cream.
Editor's Rating:
This particular depilatory cream is a double whammy of a product. Though it is specifically designed for facial hair, it absolutely can work well with body hair removal as well. Not only that, but it also is wicked strong when it comes to removing thicker, coarser strands of hair. It's impressive to find a facial hair removal cream to be able to do all of these things so effectively!
There's no such thing as a truly perfect product, though, and this cream is no exception. It does come with an aloe-based balm that soothes the skin after the application of the cream, however the cream itself has just a small bite to it. It's not painful, and it doesn't cause any burns… but it's still not a 100% pain-free process.
Our Verdict
When you take the low price point into consideration along with the versatility of the cream when it comes to treating both body and facial hairs, you've already got a strong reason to purchase this cream. However, its ability to be efficient with all kinds of hairy types just adds more icing to this already tasty cake of a depilatory cream!
Pros
It can be used to remove both facial hairs as well as body hairs, but it's specifically designed for removing the peskiest facial hairs.

This depilatory cream absolutely takes out all kinds of hair, from the thinnest to the most coarse. It's really that strong!

It comes packaged with an aloe-based balm to be used after your initial hair removal session.
Cons
This product is not recommended for sensitive skin at all.

It has a really strong smell.
---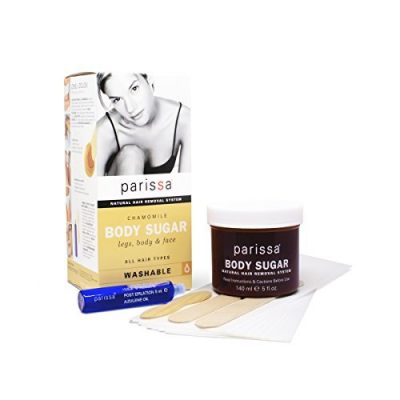 Why we like it:
Parissa has infused their popular hair removal wax with chamomile extract, which provides a lovely scent and a powerful calming effect to the skin after use.
Editor's Rating:
Body Sugar Chamomile isn't a depilatory cream at all, but a sugar wax. Don't be concerned if you think that you don't have what it takes to apply this sort of product on yourself… you don't need a beautician's background in order to use this highly potent facial hair removal wax.
You've probably seen scenes on television or in the movies about how painful waxing body hair can be, and obviously, this would seem doubly so for facial hair, right? Wrong! This particular product has an extremely smooth, soothing extract of chamomile added to it which keeps the process easier and more laid-back than a traditional waxing session would be! It also helps that each bottle comes with 6 ounces of wax, which combined with the retail price is an incredible deal when it comes to quantity.
There are some negatives to this product, however. The wax can be used at any kind of temperature, but it is found to be more effective slightly warmed up, which can be a bit of a pain. Additionally, people with thicker or rougher kinds of hair might be forced to redo a session, which is a typical trait of sugar waxes.
Our Verdict
Body Sugar Chamomile is a good depilatory to purchase if you want to go a more au naturel path when it comes to your facial hair removal needs. It comes with a lot of wax for the price, and also provides you with everything you need in order to do whatever it takes to get the troublesome hair off your face… but with fewer frills than other facial hair removal depilatories.
Pros
The package comes with the essential strips (made out of fabric) and a spatula for the application of the material.

It comes in a six-ounce container, which is quite a bit of product for the price!

It's 100% composed of nothing but natural components!
Cons
The strips that come with the set are quite thin and can tear easily.

Different results can occur based on the temperature of the wax itself. Your mileage may vary.

People with thicker hair are going to have problems with this wax.

Way messier than typical facial hair removal creams.
---
An Expanded Guide to Buying Facial Hair Removal Creams
Here are a few facts on facial hair removal creams to give you a general overview of what you should be looking for when interested in purchasing a particular kind of cream.
Issues With Skin
If you have any pre-existing skin conditions, facial hair removal cream might cause you some discomfort. For example, if you have any kind of open wound or scarring, any kind of hair removal cream is going to end up seriously irritating the affected area, and it is highly advised that you don't use such a product if you have these skin conditions!
Hair Type
The quality of your hair can also be a factor in whether or not a facial hair removal cream would work best for you. Individuals can have coarse hair, fine hair, or some level in between. Be sure to check to see if the product treats your hair type before purchasing, otherwise, you might end up with a cream that is unsuitable for you.
The Packaging
Lots of these kinds of facial hair removal creams come in small little tubes that are fantastic for travel kits, purses, suitcases and many other carry-all sorts of cases. Something to be extremely careful about is not biting off more than you can chew when it comes to the amount of cream you end up purchasing. If you've never tried out a particular product before, it's a good idea to purchase one of the smaller bottles of cream first for the purposes of testing. You don't want to be caught with a large amount of facial hair removal cream if the particular cream you just bought ends up irritating your skin!
Treatment Duration
What this amounts to is how long, ultimately, you are sitting around waiting for your hair removal treatment to be completely finished. Different kinds of brands have different lengths of time for the treatment, which can be anywhere from 5 to 10 minutes per session. Check the waiting time on the product's packaging, and be aware of it… otherwise, you could risk leaving the cream on your skin for far too long, which could potentially cause some kind of skin irritation/damage.
Ingredients
Not all facial hair removal creams are created equal! Many are created with chemical components that can easily leave your skin irritated at best and burned at their very worst. Natural and/or organic-based products will provide a more moisturizing sort of experience, and it is generally considered to be a better solution to your depilatory needs as opposed to raw chemical products.
The ingredients in the cream should always be as close to gentle as humanly possible! They should also be able to deal with a variety of hair coarseness types, and they also should set up a cycle of growth reduction in the areas the cream is used on… skin that remains smooth, after all, is the ultimate end goal of such a treatment!
If you're a more conscientious buyer when it comes to the ingredients in your beauty products, consider buying facial hair removal creams that are balms to your skin and that have effective, natural properties. Some of the best examples of these kinds of ingredients to look out for are:
Aloe Vera: Great at cooling down the skin and assuaging any sort of irritation from the hair removal process.
Green Tea: A long-regarded for its anti-inflammatory properties, green tea can reduce redness and help to soothe inflamed skin.
Vitamin E: Provides a hydrating effect, which can help to calm reactions in individuals that suffer from sensitive skin related problems.
Smell
If the product's smell is a key factor for you, then it's important to note that many facial hair removal creams are quite pungent. Some even border on the extremely noxious side of the olfactory spectrum! If you're really sensitive to powerful scents, though, don't be too alarmed. Many manufacturers of these products either make them without the rotten smell or with a particular scent that is more pleasing to our noses!
Side Effects
Compared to other more hands-on methods, the various kinds of facial hair removal creams out there provide a relatively simple and stress-free alternative for your skincare needs. However, it's crucial to note that lots of chemical-based facial hair removal creams have some kind of side effect.
To add complexity to the situation, these side effects generally differ from product to product. Most of the time you're going to be (possibly) dealing with irritation, red bumps but sometimes some more serious side effects can occur, such as skin peeling or even burns. For this reason alone, natural facial hair removal creams are the most optimal choice for reducing potential side-effects.
If you are absolutely unsure about moving forward with a facial hair removal cream, get in contact with a dermatologist and ask them what kind of creams they recommend for your skin type. The skin on your face is far more sensitive than on any other area of your body… if you're not certain about a certain cream or product, leave it to a skincare professional in order to help give you the peace of mind you deserve!
Quick Tips on Applying Facial Hair Removal Creams
Facial hair removal creams should generally be safe to use, for the most part, however it's best to be knowledgeable on how to do a small test run before committing 100% to a full facial of a particular cream in question. Here are some preparatory steps to test out your new cream:
Skin Patch Test First! Before putting the hair removal cream on your face, test it on another portion of your body and wait for several minutes after it is applied. As stated above, facial skin is far more sensitive than other areas of the body, so if the applied cream causes your skin to react, you can be assured that the reaction will be far worse if applied to your face! Otherwise, if you don't have any burning/stinging/itching, you should be able to use the product without any worries.
It's Go Time! If the skin patch test didn't cause you any undue grief, put on the facial hair removal cream with your hand or the spatula-like item provided with your tube of cream. Be sure to leave it on for the time designated in the instructions, and not any longer! (set a timer!) You increase the possibility of negative reactions if you keep these sorts of creams on your skin for too long!
Remove It! Use a clean pad made of cotton, or a clean washcloth and wipe your face off well, making absolutely sure not to get any cream in your eyes! Proceed to then wash the applied areas with room temperature water, and either lightly pat your face dry or let it air dry.
There are a few pretty standard tips that need to be said… if your face feels any sort of burning or stinging sensations prior to whatever timer you are using going off, get the cream off of your face ASAP. Also, there's no need to use hair removal creams every day… it's very rough on your skin. Leave at least a few days in between each session for optimal results. Also, ladies… your bodies are way more sensitive to these sorts of products when you're actively having your period. It's best to leave these sorts of creams alone until your period has ended.
Final Thoughts
We hope you enjoyed our guide to the best facial hair removal creams on the market today. All of these creams will give you the confidence of silky smooth skin that looks and more importantly feels great. Just make sure to get a cream that's suitable for your hair thickness and skin sensitivity and you'll feel radiant in no time at all.