Top Picks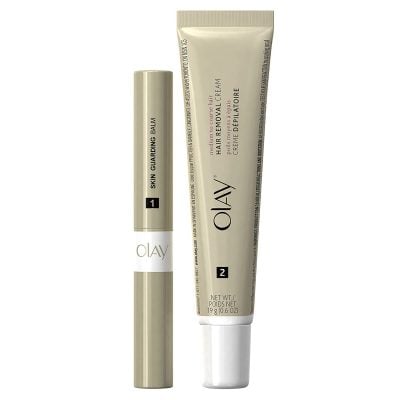 Olay Smooth Finish Facial Hair Removal Duo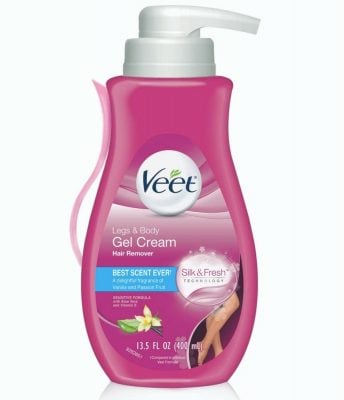 Veet Gel Hair Remover Cream Sensitive Formula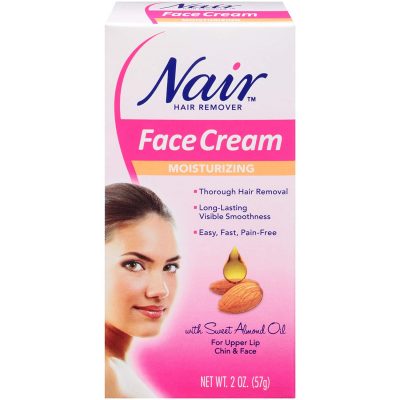 Nair Hair Remover Face Cream
Previous
Next
When you want to remove pesky hairs from your face, there are several options out there. You can pluck, shave, and wax or you can go with a more modern (and less painful) route and try out a facial hair removal cream. Known sometimes as "depilatory" creams, facial hair removal creams are designed to tear down the keratin binding that helps to connect body hair to our skin. These sorts of creams work astoundingly well, and there are even some designed to be used almost anywhere on your body! This article, however, focuses specifically on facial hair removal creams.
Choosing the Best Facial Hair Removal Creams
Look, we know what you are thinking. Facial hair removal creams sound scary, right? Don't worry, knowledge is power! The biggest thing to keep in mind with these sorts of products is… natural ingredients are generally the better purchase. Quite simply, chemical-based creams are more liable to cause problems down the line, such as forming blisters, rashes, and bumps, and even really heinous conditions like skin peeling! This is mostly due in part to one's skin genetics, and is not a universal rule.
Another thing to keep in mind is, your price is generally going to amount to a better deal if you buy these sorts of facial hair removal creams in bulk. Most good brands vary anywhere between $5 to $20 a bottle/container. Your skin is a precious investment, keep it well-maintained and don't be afraid to splurge a little bit extra on something that is going to keep your skin healthy and fresh in the long run.
Another really good thing to keep a lookout for are value packs of facial hair removal creams that come paired with some kind of soothing balm or lotion that is specifically to be used after your hair removal process. These sorts of useful additions help keep your skin from breaking out into bumps, or just getting irritated in general. If you see these sorts of dual packs available within your budgetary range, jump on the chance!
Now that we have a general overview of the purchase of these depilatory creams, we can move on to the reviews so you can make the best possible choice for your skincare needs.
Top 10 Best Facial Hair Removal Creams 2021
An Expanded Guide to Buying Facial Hair Removal Creams
Here are a few facts on facial hair removal creams to give you a general overview of what you should be looking for when interested in purchasing a particular kind of cream.
Issues With Skin
If you have any pre-existing skin conditions, facial hair removal cream might cause you some discomfort. For example, if you have any kind of open wound or scarring, any kind of hair removal cream is going to end up seriously irritating the affected area, and it is highly advised that you don't use such a product if you have these skin conditions!
Hair Type
The quality of your hair can also be a factor in whether or not a facial hair removal cream would work best for you. Individuals can have coarse hair, fine hair, or some level in between. Be sure to check to see if the product treats your hair type before purchasing, otherwise, you might end up with a cream that is unsuitable for you.
The Packaging
Lots of these kinds of facial hair removal creams come in small little tubes that are fantastic for travel kits, purses, suitcases and many other carry-all sorts of cases. Something to be extremely careful about is not biting off more than you can chew when it comes to the amount of cream you end up purchasing. If you've never tried out a particular product before, it's a good idea to purchase one of the smaller bottles of cream first for the purposes of testing. You don't want to be caught with a large amount of facial hair removal cream if the particular cream you just bought ends up irritating your skin!
Treatment Duration
What this amounts to is how long, ultimately, you are sitting around waiting for your hair removal treatment to be completely finished. Different kinds of brands have different lengths of time for the treatment, which can be anywhere from 5 to 10 minutes per session. Check the waiting time on the product's packaging, and be aware of it… otherwise, you could risk leaving the cream on your skin for far too long, which could potentially cause some kind of skin irritation/damage.
Ingredients
Not all facial hair removal creams are created equal! Many are created with chemical components that can easily leave your skin irritated at best and burned at their very worst. Natural and/or organic-based products will provide a more moisturizing sort of experience, and it is generally considered to be a better solution to your depilatory needs as opposed to raw chemical products.
The ingredients in the cream should always be as close to gentle as humanly possible! They should also be able to deal with a variety of hair coarseness types, and they also should set up a cycle of growth reduction in the areas the cream is used on… skin that remains smooth, after all, is the ultimate end goal of such a treatment!
If you're a more conscientious buyer when it comes to the ingredients in your beauty products, consider buying facial hair removal creams that are balms to your skin and that have effective, natural properties. Some of the best examples of these kinds of ingredients to look out for are:
Aloe Vera: Great at cooling down the skin and assuaging any sort of irritation from the hair removal process.
Green Tea: A long-regarded for its anti-inflammatory properties, green tea can reduce redness and help to soothe inflamed skin.
Vitamin E: Provides a hydrating effect, which can help to calm reactions in individuals that suffer from sensitive skin related problems.
Smell
If the product's smell is a key factor for you, then it's important to note that many facial hair removal creams are quite pungent. Some even border on the extremely noxious side of the olfactory spectrum! If you're really sensitive to powerful scents, though, don't be too alarmed. Many manufacturers of these products either make them without the rotten smell or with a particular scent that is more pleasing to our noses!
Side Effects
Compared to other more hands-on methods, the various kinds of facial hair removal creams out there provide a relatively simple and stress-free alternative for your skincare needs. However, it's crucial to note that lots of chemical-based facial hair removal creams have some kind of side effect.
To add complexity to the situation, these side effects generally differ from product to product. Most of the time you're going to be (possibly) dealing with irritation, red bumps but sometimes some more serious side effects can occur, such as skin peeling or even burns. For this reason alone, natural facial hair removal creams are the most optimal choice for reducing potential side-effects.
If you are absolutely unsure about moving forward with a facial hair removal cream, get in contact with a dermatologist and ask them what kind of creams they recommend for your skin type. The skin on your face is far more sensitive than on any other area of your body… if you're not certain about a certain cream or product, leave it to a skincare professional in order to help give you the peace of mind you deserve!
Quick Tips on Applying Facial Hair Removal Creams
Facial hair removal creams should generally be safe to use, for the most part, however it's best to be knowledgeable on how to do a small test run before committing 100% to a full facial of a particular cream in question. Here are some preparatory steps to test out your new cream:
Skin Patch Test First! Before putting the hair removal cream on your face, test it on another portion of your body and wait for several minutes after it is applied. As stated above, facial skin is far more sensitive than other areas of the body, so if the applied cream causes your skin to react, you can be assured that the reaction will be far worse if applied to your face! Otherwise, if you don't have any burning/stinging/itching, you should be able to use the product without any worries.
It's Go Time! If the skin patch test didn't cause you any undue grief, put on the facial hair removal cream with your hand or the spatula-like item provided with your tube of cream. Be sure to leave it on for the time designated in the instructions, and not any longer! (set a timer!) You increase the possibility of negative reactions if you keep these sorts of creams on your skin for too long!
Remove It! Use a clean pad made of cotton, or a clean washcloth and wipe your face off well, making absolutely sure not to get any cream in your eyes! Proceed to then wash the applied areas with room temperature water, and either lightly pat your face dry or let it air dry.
There are a few pretty standard tips that need to be said… if your face feels any sort of burning or stinging sensations prior to whatever timer you are using going off, get the cream off of your face ASAP. Also, there's no need to use hair removal creams every day… it's very rough on your skin. Leave at least a few days in between each session for optimal results. Also, ladies… your bodies are way more sensitive to these sorts of products when you're actively having your period. It's best to leave these sorts of creams alone until your period has ended.
Final Thoughts
We hope you enjoyed our guide to the best facial hair removal creams on the market today. All of these creams will give you the confidence of silky smooth skin that looks and more importantly feels great. Just make sure to get a cream that's suitable for your hair thickness and skin sensitivity and you'll feel radiant in no time at all.