Top Picks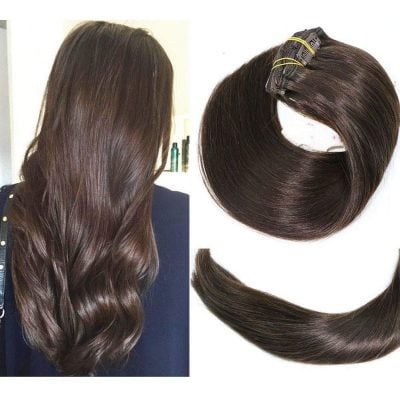 Vario Clip-In Extensions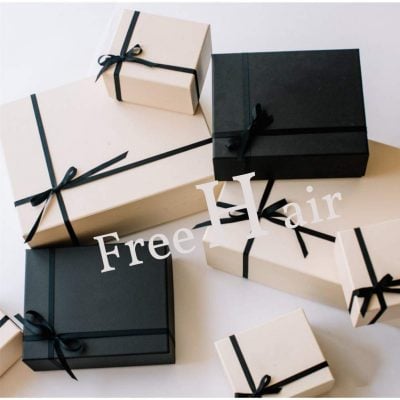 Hetto Clip-Ins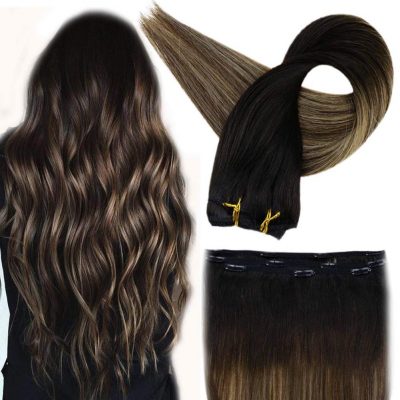 Fullshine Clip-In Hair Extensions
Previous
Next
We all know the feeling of wanting long, luscious locks or thick curls. Maybe you've tried taking vitamins, using special shampoo, or going to a dedicated stylist. Despite your best efforts, your hair just won't cooperate. If you're looking for a way to get gorgeous hair without all the work, cost of maintenance, or weaves, then clip-in hair extensions might be just what you're looking for.
What's in a Mane? Choosing Your Clip-In Hair Extensions
If you enjoy watching people on the red carpet or scrolling through Instagram, you may wonder how on earth celebrities and influencers can go from a stylish bob to waist-length beach waves just months apart. The key to this transformation is, frequently, hair extensions.
Extensions are almost exactly what they sound like. They are hair accessories that you can wear hidden in with your own hair to increase the volume or length of your own hair or add a fun color or highlight. Extensions can be made of real, human hair or synthetic material. They can be long or short, curly or straight, and natural or dyed.
This article will focus on one of the most versatile options: clip-in extensions. These extensions are easy to use, non-permanent, and simple to care for, making them a really great all-around option.
REMY Hair and Pricing
The highest quality of human hair is REMY virgin hair. REMY hair is human hair that has its cuticles intact and facing the same direction. It has never been dyed or processed, meaning that it is healthy, and its proteins have not been stripped or damaged.
Every stylist who's worked with actresses and models knows that price is a major factor in getting natural, authentic hair which hasn't been acquired unethically. For hair that is 100% virgin REMY, has consistent quality, and is acquired ethically, prices will almost always be over $100, with some of the highest quality extensions running upwards of $400.
That said, you can still get excellent hair extensions at affordable prices from online retailers; they just won't be the exact same kind your favorite celebrity wears. For more information about pricing and quality concerns, we have a more in-depth explanation of the fake hair market below.
Key Factors to Consider
Whether you're new to the extensions game or a connoisseur of hair enhancement, there are some great options out there for you. Online retailers offer great entry-level options alongside higher quality, more intensive-use products. Keeping that in mind, choosing which extension to buy can be daunting. There are a lot of options out there, and not all of them are worthy of purchasing. When choosing your extensions, you'll need to keep a few things in mind: quality and realism, texture and color, and cost.
Texture and Thickness
Unless you're looking for a total transformation, you want the extension's texture to match your own. Textures range from Straight to Kinky/Coily, with the corresponding classifications of 1a to 4c. For a great, in-depth explanation of hair texture, this article can help you find yours. We'll also give a brief overview in our texture guide.
The thickness of your hair and the extensions is also very important. Extensions should weigh up to 100 grams for fine hair, up to 150 grams for medium hair, and no more than 220 grams for thick hair.
We will make sure to note the textures offered for each product in our list, as well as the thickness and weight.
Quality and Realism
If you're just looking for a costume piece or a festival look, you may not need a high-quality, $50 set of extensions, but if you want extensions for daily use that will last you a year or more, you're going to need to buy something higher end. Synthetic hair tangles easily, doesn't style or color, and tends to break down quickly. Authentic hair can last years with proper care and is as easy to care for as your own hair.
Style Options
Just like texture, color and length are key to achieving your desired look. You may want to have a crazy color-pop and an explosion of length, or you might prefer to stay natural. We'll make sure to note the color and length ranges of each product.
Ease of Use
Extensions should be easy to use and easy to maintain. If they are not comfortable, tangle, or cannot be maintained easily, you won't get your full use out of them. When discussing ease of use, we'll look at lifespan, intended purpose, comfort, and maintenance requirements. For a closer look at caring for your extensions, stick around after our roundup and check out our hair care tutorial.
Whether you're looking to add volume, get the length you've always dreamed of, or give your look a fresh update, we've got an option for you in our top-ten list. Without further ado, let's jump in!
Top 10 Best Clip-In Hair Extensions 2020
Your Guide to Getting the Most Out of Your Extensions
Now that we've taken a look at some of the best options, it's time to figure out what extensions are right for you. In our guide, we've gathered all the information you need to get started, and even some extra pro-tips that even extension experts might be surprised to learn. We'll get started with a little bit of information about the hair market, but if you want to jump right into picking out your extensions, skip on down to our step-by-step guide!
Hair Trading, and Why it Matters to You
As we mentioned in our overview, there is a wide range of quality and cost for hair extensions. You may want the same extensions that Zendaya wears, but to get celebrity level hair can be expensive. This is partly because of quality, and partly because celebrities can't afford to get caught in the drama of purchasing unethically sourced extensions.
The human hair market is a complicated one. Western sources of hair tend to treat their hair with chemicals, dye it, and bleach it, meaning that most hair purchased in the United States and Europe is no longer virgin hair, and its structure has been damaged.
As a result, most hair retailers purchase hair from Brazil, Vietnam, China, and India to get truly pure hair. This market is easy to abuse, so super cheap hair claiming to be REMY virgin hair is likely to either be fake or acquired unethically. Some women are fairly compensated for their hair, but there have been cases of women attacked in the streets for their hair or being forced to sell a prized part of their identity by their husbands or families.
Celebrities and their stylists don't want to perpetuate any abuse of the men and women who sell their hair, so they are willing to pay more money for truly high-quality hair, trusting that reputable companies pay a fair price to the original owners and don't coerce vulnerable donors.
Companies like Bellami Hair, Hidden Crown, Remy Hair, and True Indian offer excellent high-end hair for professional stylists and celebrities, but they can be very expensive.
However, this doesn't mean that all cheap extensions are the product of bad labor practices. Usually, hair that claims to be REMY at low prices is mixed with synthetic or animal fibers, or they are human hair that has been damaged in some way, making them no longer true REMY quality.
What Exactly is "REMY" Hair?
So, what's all the fuss about this REMY virgin hair? Why is everybody so obsessed with it? REMY hair is important if you want realistic, durable extensions that can be styled and dyed.
REMY hair is gathered in such a way that the cuticles of the hair remain undamaged. We all know that hair is made of protein, but a single hair actually has a complex structure, made up of layers and layers of proteins. The outside of the hair is called the cuticle, and as it grows, it overlaps the next layer.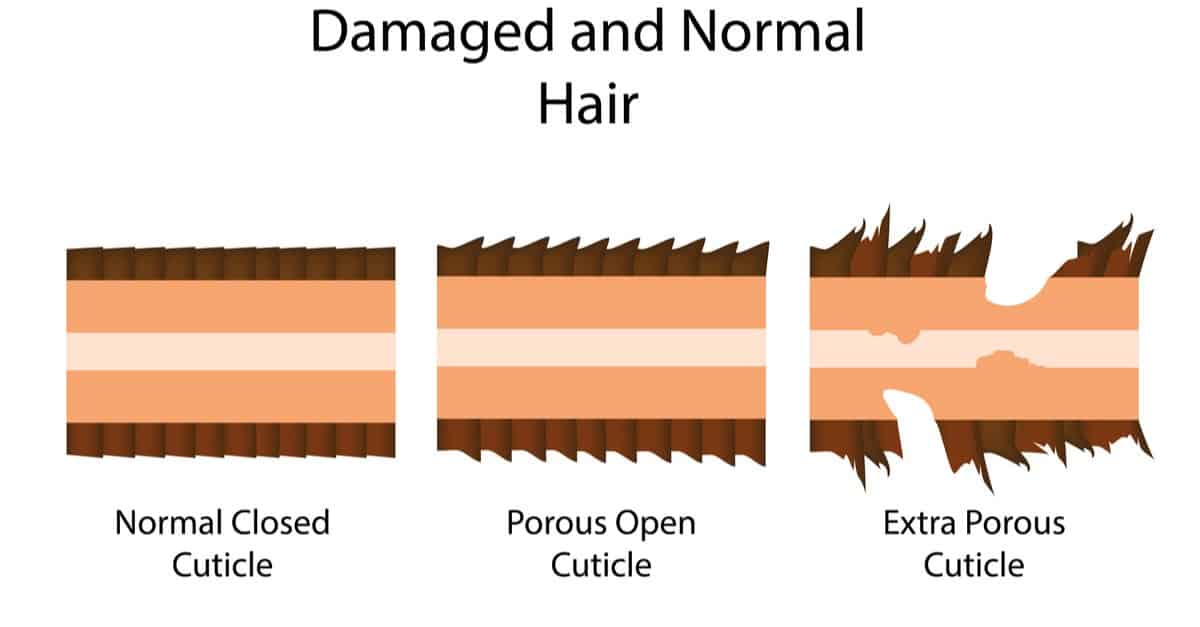 If hair is mistreated in transit or undergoes chemical dyes and harsh cleaners, the cuticles will be damaged, leading to rough, dry, lackluster hair. If the cuticles aren't aligned, the hair won't be smooth, and you'll end up with frizz, fly-away strands, and shedding.
REMY hair has to be carefully removed, cleaned, and treated to stay high quality. If a hair mill simply tosses its latest batch of hair into a bin to be washed, it will be nearly impossible to gather the hair back so that the cuticles are all aligned.
Truly high-quality REMY hair is treated gently, and each set is kept together to prevent any reversed cuticles.

How Do I Know My Hair Is Real Hair?
If you buy low-price extensions, you may be purchasing real hair that isn't REMY quality, or you might be buying a blend of human hair with synthetic hair or animal hair. The simplest way to check what kind of hair is in your extension is to do a strand burn test.
Human hair will burn, but synthetic hair will melt. Take a strand of your extension and hold it over a lighter. If it blackens and crumbles, the extension is real hair. If it shrinks and melts, you know it's synthetic.
It can be very hard to tell the difference between human hair and animal hair. Generally, manufacturers will mix human hair with yak hair, sheep hair, or horsehair, which has been treated to make it soft, clean, and easy to style. If you feel strongly about having only human hair in your extensions, you may have to pay for luxury extensions.

Choosing Your Extensions
Now that we've discussed hair quality, it's time to get into picking out your extensions. There are a lot of options in beauty stores and from online retailers. The extensions we've recommended won't break the bank, but they're not cheap either. You'll want to make sure you're picking out the perfect extension for your needs.
Picking a Type
There are many different types of extensions:
Clip-in extensions: strips of hair attached to hair clips
Hidden crown extensions: sheets of hair attached to a thin elastic band that you wear like a headband
Tape-in extensions: strips of hair with lines of glue that a stylist attaches along your scalp.
Keratin extensions: thin strands that your stylist heats and glues to strands of your own hair
I-Tip extensions: strands of hair that your stylist crimps to your own hair with a microbead
Sew-in extensions: strands of hair that your stylist sews into your braided hair with a needle and thread.
If you're looking for something permanent, a stylist can help you with higher-commitment extensions. For the average extension-wearer, however, you want something low-commitment and easy to use. This narrows it down to hidden crown extensions and clip-in extensions.
Hidden crown extensions are easy, but they tend to be heavier and harder to customize. They also only offer coverage on the lower back area of your hair and can't be styled like clip-in extensions.
Picking a Material
As we noted above, extensions come in pure REMY, mixed human hair, and synthetic materials. Which kind you want depends on how often you intend to use your extensions, what dyeing and styling you plan on using, and how convincing you want your extensions to be.
The more often you use your extensions, the hardier they will need to be. Pure REMY is the least damaged, so it will last the longest. Synthetic material, like the hair on the Reecho Clip-in, is also fairly durable. Unfortunately, over time, you might find the feeling of the material irritating. There is also a plasticky texture to any synthetic hair, that collects static and can get caught in rough materials.
If you want to dye and style your hair, you'll want to avoid synthetic hair. Non-REMY hair can still be bleached and styled, but because there are no guarantees of quality, you may end up with breakage and damage to the extensions. Synthetic hair, for the most part, cannot be heat-styled. Too much heat will melt it and make the hair unusable.
As you might expect, synthetic hair isn't terribly realistic. It is often shiny or plasticky. The colors may not look natural, and they may be hard to blend with your own hair. If you're a stage performer, realism may not be an issue, but if you plan to wear your extensions to work or out and about, you might prefer human hair extensions like the Fullshine Clip-ins or the Vario Extensions.

Picking Texture and Thickness
The texture you choose depends entirely on what look you're going for! If you've put your hair into braids and are planning to use extensions as a full head of hair, your texture options are limitless! If you're looking to enhance your current hair, however, use this hair chart to identify your type.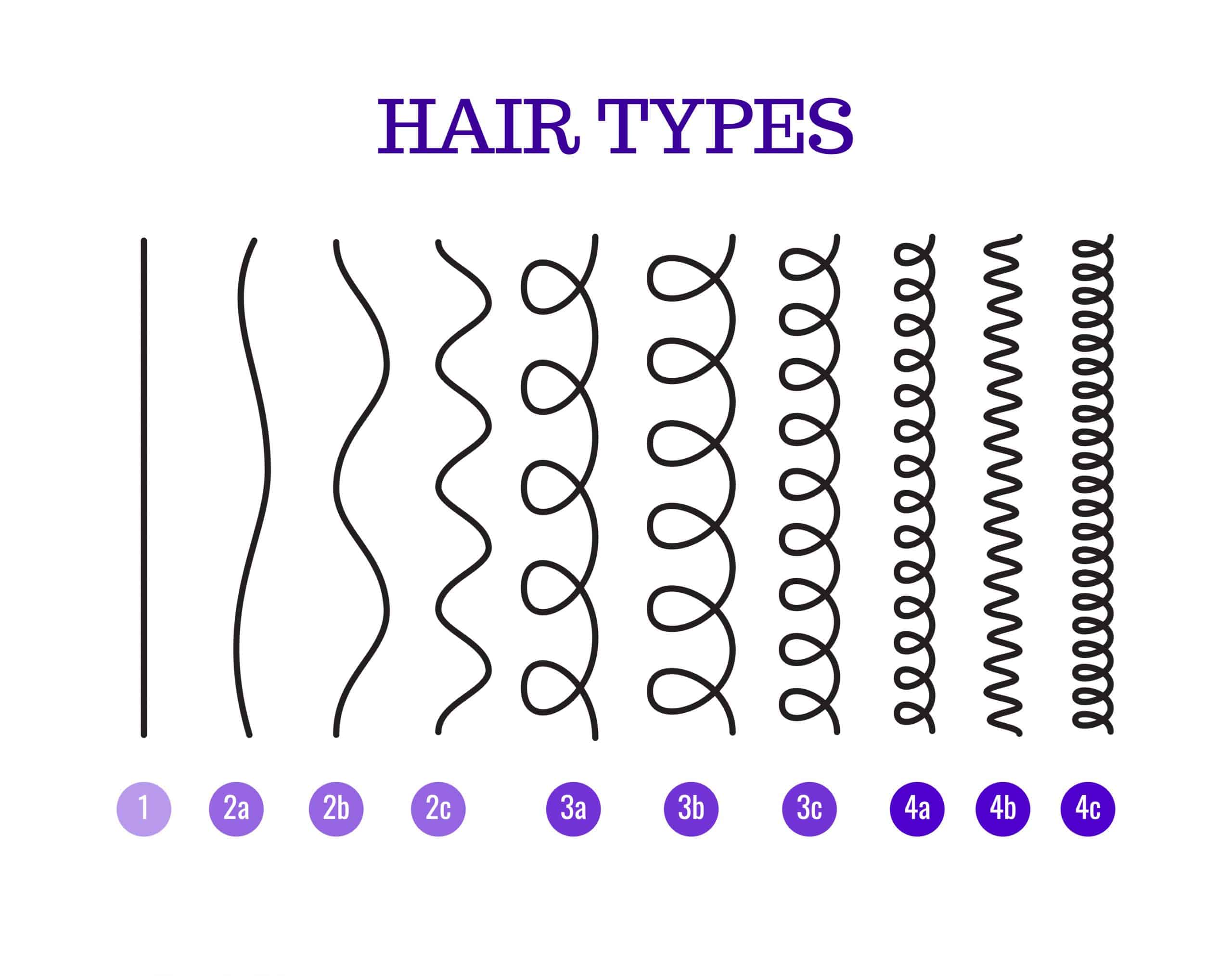 Many extensions have limited texture options, and expect you to style your extensions to match your hair, but for curly, coily, and kinky extensions, it's good to know what type will best suit your hair. Both Hetto and Caliee offer great texture varieties for women with natural hair.
When choosing a weight, you'll need to keep in mind how strong your own hair is. The heavier an extension is in grams, the more stress it puts on your own hair. You'll want up to 100 grams for fine hair, up to 150 grams for medium hair, and no more than 220 grams for thick hair. Geelook offers a great option for fine hair, while Goo Goo offers a great option for thicker hair.
Selecting a Length
When choosing a length, it's always better to go long than go short. You can cut your extensions to match your own hair length, or you can move them higher or lower on your head. Generally, shoulder-length hair is about 12 inches, while 24 inches is waist length.
It's important to keep in mind, that curly hair loses about two inches of length when coiled.
Pro-tip: Take your extensions with you to your next salon appointment. Your stylist can advise you on placement and cut your extensions to frame your face.
Picking a Color
When picking a color, you want as near a match as possible to create a more realistic look. Generally, extensions can match with colors that aren't the exact same shade, because they are generally worn mixed in with your own hair. However, extensions with highlights are generally the easiest to match, as there is variation in color and shade already built into the hair.
Most extension-sellers have a color-match service, so you can feel confident in your selection. Take a picture of your hair in good lighting and send it to the seller so they can recommend the best shade to match yours.
Wearing Your Extensions
The first thing you should do when you receive your extensions is to rinse them out in clean water. While most hair sellers are reputable and clean, washing the extensions will help avoid any chemical residue from cleaning. There have also been rare cases of lice nits making it through quality control. By taking the time to rinse your extensions, you can avoid any unpleasant surprises.
Placement
To clip your extensions in, you'll want to layer in each piece, or weft, with your own hair.
Step one: Brush out your hair and clip sections up off your head.
Step two: Decide where you want to place your first set of extensions, then let down the layer of your hair that's below that point.
Step three: backcomb or tease the lower layer of your hair up to the roots to create a secure hold for the extension clips.
Step four: Open the clips and slip them onto the lower section of hair. Close the clips and make sure each extension is secure.
Continue with this process, until you have layered in all of your extensions. For a more detailed guide, you can watch videos based on your hair type and style goals.
Clip-in extensions come in packs of one, three, five, and seven wefts, with various widths. A one-pack, like the Reecho, will have multiple clips on one weft, or strand of hair, while packs with more wefts come in various widths so you can place them wherever you would like more volume.
Styling
To get a natural blend between your own hair and your extensions, style them together, so that the strands mix.
Our favorite styles include updos, wet-look curls, and braids, but extensions can look gorgeous un-styled as well. Running your fingers or a brush through your hair and clip-ins will help mix them together and create a gorgeous look with both volume and length.
Pro-tip: When washing your extensions, use the drying period as a no-heat styling opportunity. Braiding or arranging your extensions to dry in a certain position will encourage your extensions to maintain this position when dried.
Dyeing
If you decide to dye your clip-ins, your best option is to bring them to your stylist. They can help you safely dye them and get exactly the right color. If you decide to dye at home, remember, only dye lighter to darker. Buying the platinum blonde color of most of these extensions should give you a great base to work from.

Caring for Your Extensions
Most extensions are just like your own hair. They need to be washed, detangled, conditioned and brushed when dirty. After wearing your extensions, close all clips, gently brush them with a boar bristle brush, then store them in a dry location away from direct sunlight to prevent fading.
REMY hair and non-REMY human hair should be shampooed and conditioned a little less regularly than your own hair if you wear them every day. Once your hair has a build-up of product, that is the time to wash them. The best way to keep your extensions in working order is to use the sandwich method: condition, shampoo, condition.
Fill up your sink with warm water and gently work through them as you apply product. At the end, rinse your extensions with cold water to lock in moisture.
When drying your extensions, pat them dry with a microfiber towel. Do not heat dry or scrunch your extensions. Damp extensions can be hung up to airdry.
Synthetic extensions can be washed with regular shampoo, but to get the most use out of your extensions, consider purchasing specific synthetic shampoo. When washing your synthetic extensions, soak them for five minutes in a solution of water and shampoo. Rinse them and squeeze out excess water. Apply a leave-in conditioner, avoiding the roots and the ends, and allow to air dry.
For all extensions, applying oils like argan oil, coconut oil, and jojoba oil can help lock in moisture.
Best Products
For REMY and human hair avoid shampoos with alcohol and sulfates in them. These ingredients can dry out hair extensions and shorten their lifespan. Consider hydrating or detangling shampoos and conditioners for simpler care. For example, Korean shampoos often avoid alcohol and sulfates and are good for moisturizing hair.
For synthetic hair, items like this Revlon Synthetic Cleaner can help you protect the quality of your extensions. Synthetic hair tends to gather static when brushed, so detangling brushes like the Wet Brush are a great option.
Final Thoughts
Extensions are a great way to get the look you want without waiting for your hair to grow or for a miracle product to have an effect. Whether you're new to extensions or you're looking for a fresh update, there are great options out there for all hair styles and all budgets. It's important to take care of your hair and your health while also feeling confident in your style and appearance. We hope this guide has helped you in your journey to your perfect hair.