Top 10 Best Clip-In Hair Extensions 2023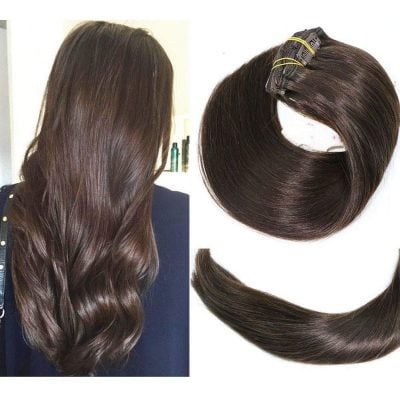 Quick Facts
Texture: Straight, 1a
Thickness: 120g
Quality: 99%+ REMY
Review
All online retailers can be somewhat sketchy in terms of what percentage REMY hair they offer. Vario hair styles well and retains color, suggesting that it has a high percentage of authentic human hair. The company states that it is guaranteed 99%+ REMY. The hair itself is thick, meaning you shouldn't need to purchase extra packages to get the volume you desire. With seven pieces and seventeen clips, it offers significant coverage at a solid price.
Style
Vario Clip-Ins offer a great range of colors and lengths. There are six natural shades from jet black to natural blonde, six highlighted shades, and five ombre shades. The platinum blonde is also light enough that you can take it into your stylist to be dyed, either to match your shade more closely, or to offer a pop of color. It's available in five different lengths, 14, 16, 18, 20, and 22 inches.
Ease of Use
Vario extensions are a solid choice for daily users who want to style their hair and use them regularly. It has a lifespan of twelve months or more, so long as you maintain the hair regularly. Vario is also one of the few brands to offer silicon-coated clips, for increased comfort and a stronger grip on your hair. As REMY hair, it is fairly easy to maintain, requiring only regular shampooing and brushing. When it arrives, be sure to rinse it before styling to prevent damage.
---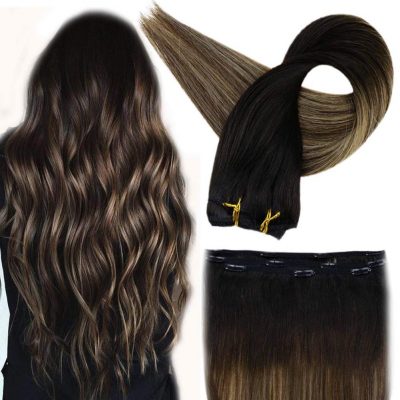 Quick Facts
Texture: Straight to loose waves, 1a to 2a
Thickness: 120g
Quality: 100% REMY
Review
These extensions are on the pricier end, but they are soft and silky, and they respond well to toner, dye, and heat-styling. Stylists have given it a mark of approval in the salon, and the double-weft design offers thicker coverage.
Style
With 33 color options and six lengths, Fullshine clip-ins fall short only in the texture department. Fullshine offers the same number of options as Hetto but lacks its dazzling array of textures. However, with beautiful ombré and solid color options in rich shades, it might be worth the work to curl and style these extensions and get the colors you want without an expensive salon trip.
Fullshine also has the advantage of offering a variety of clip-types. As you check different style options, you can decide whether to order 3-piece extensions, 5-piece extensions, or 7-piece extensions. 3-piece extensions are about half the price of 7-piece extensions and come with roughly half the amount of hair.
Ease of Use
Fullshine suggests that the lifespan of these extensions is twelve weeks, but with proper care they can last far longer. REMY hair should be treated gently, but it is far less fragile and frizzy than synthetic hair. They can be worn for long periods of time, and the hair has a gentle wave when airdried. Fullshine hair is known for being extra shiny, so to get a better blend, be sure to wash the extensions gently before wearing them out.
---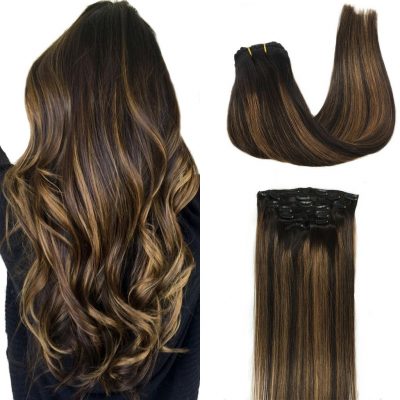 Quick Facts
Texture: Straight, 1a
Thickness: 120g, depending on length
Quality: Mostly REMY hair
Review
These extensions offer a silky texture and airdry into soft waves when washed. They are advertised as 100% REMY, but the advertiser's recommendation against heat styling casts doubt on this claim. REMY hair should not have a problem heat styling, but extensions with synthetic hair in the mix will react poorly to heat styling. However, the coverage on these clip-ins is thick, so if you are fine with loose waves or straight extensions, you may not need to heat style to get the look you want.
Style
While the color quality of Goo Goo's extensions is rich and natural, they only offer six color options. Unlike other options, there is no solid platinum option, so you will not be able to take these extensions to the salon to be dyed. There are six length options, from 14 inches to 24 inches, with prices varying widely depending on the length you choose
Ease of Use
Goo Goo Clip-In Extensions are good for everyday use, and have a lifespan of two to three months, which is much shorter than most other extensions. Proper care may extend this life span, so be sure to care for these extensions regularly. The balayage and highlight patterns should blend well with similar hair colors, making close color matching less of a necessity.
Like the Fullshine Clip-ins and the Vario Clip-ins, you will need to wash these before using to ensure they style correctly.
---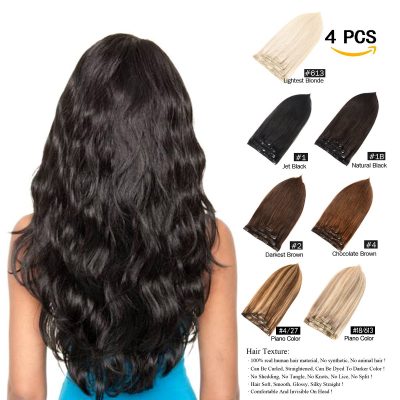 Quick Facts
Texture: Straight, 1a,
Thickness: 70g
Quality: 100% REMY
Review
Geelook clip-ins aren't professional level. They lack the premium qualities of Fullshine's extensions, but they are soft and durable. Geelook extensions have no issues with dyeing and heat styling, meaning that they are made of high-quality hair. At 70g per pack, this model is great for wearers with thin hair, but anyone with thicker hair may need to buy multiple sets to achieve the volume they desire.
Style
These extensions offer two shades of blonde, three shades of brown, and two shades of black. This is a fairly basic range, but the palest blonde shade is light enough that you can dye these extensions to any color you'd like for a closer color match or for a highlight that pops.
This model is offered in 14, 16, 18, and 20-inch lengths. For hair that just reaches the shoulders, the 14-inch option will give you about two inches of clearance past the shoulders, so you can trim it to your ideal length.
Ease of Use
These extensions are a budget-friendly option for anyone looking to wear their extensions regularly. They have a lifespan of six to 12 months with appropriate care. Because the packs are thin, the strands of hair do tend to clump together. Be sure to style your hair with the extensions or brush them together with a wet brush for a more natural blend.
---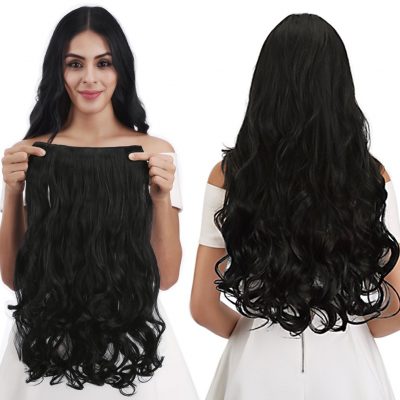 Quick Fact
Texture: Loose waves, 2a
Thickness: 130g
Quality: Heat-friendly Synthetic
Review
Reecho gets bonus points for being honest about the material it is made of. Many synthetic extensions claim to be real human hair, when in fact, they are mixed with artificial or animal hair. (We've got out eye on you, Goo Goo!)
That being said, Reecho hair is a heat-friendly synthetic material, meaning you can cut and style it with regular salon tools. Synthetic hair does tangle and clump over time, however, and it tends to look shinier than pure REMY hair.
Style
Reecho is brilliant as far as colors go. With 41 color options, you can get natural solid colors, from ash blonde to black, a rich wine-red, ombré patterns in both natural and bright dye colors. Because the hair is synthetic, you cannot home dye or salon dye these extensions, but the color range is broad enough that there should be an option for most shades of hair here.
The Reecho is offered in four lengths, 14, 16, 18, and 20-inches.
Ease of Use
Reecho extensions are a little limited, simply because they are a one-piece clip-in. Therefore, getting a realistic blend may be more difficult, as you won't be able to vary and stagger clips as needed. Because it is synthetic, you will want to be careful using heat tools. Spray it with water and heat protectant prior to curling or straightening.
You will need to brush it out with a water brush fairly regularly and use a spray bottle to avoid static build-up in the hair.
Pro-tip: If you like the Reecho, buy a second set and cut it at even intervals between clips to make smaller extensions to place with more freedom.
---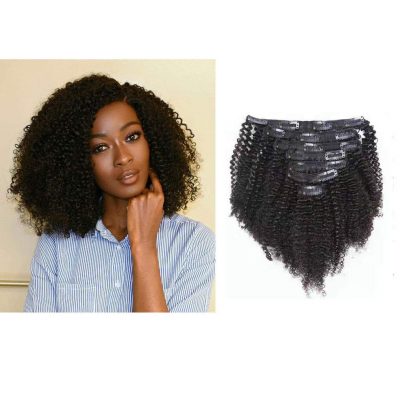 Quick Facts
Texture: Kinky-Coily, 3c to 4a
Thickness: 120g
Quality: 100% REMY
Review
These extensions are soft and keep their curls. They don't have shedding issues and so long as they are maintained, frizz is minimal. The 100% REMY hair means that it will take heat well. To add volume or for a bun or ponytail, one pack does the trick. For a full head or to use with a protective style, you may need to purchase two packs.
Style
Caliee extensions only come in natural black, but come in five textures and six great lengths. It offers afro curly, jerry curly, kinky curly, kinky straight, and yaki straight. It's available from 10 to 20-inch lengths.
Ease of Use
These extensions are intuitive to use and offer seven pieces for an even look and custom placement. The jerry curly model looks great with the wet-look, and the yaki straight can be ironed and bantu knotted. With proper care, these extensions have a lifespan of six months. You will need to condition and care for them to keep the texture healthy. If you decide to dye the hair, do so with care to avoid breakage and shedding. Bleaching the hair will get it to color #27. Caliee also offers this style in ombré colors.
Pro-tip: Purchase these clip-ins in a variety of lengths to achieve a layered shape.
---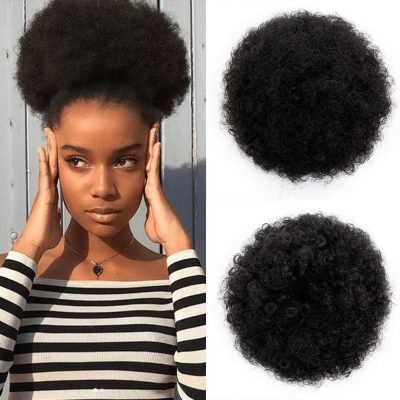 Quick Facts
Texture: Afro, 4c
Thickness: 200g
Quality: Synthetic
Review
This synthetic afro puff cannot be dyed or styled, but it definitely doesn't need any custom work to look stylish and convincing. The fibers are durable and resistant to heat. The synthetic hair has a realistic, soft texture, and the clips and drawstring style are secure and stable.
Style
These puffs are offered in three sizes: medium, large, and extra-large. Medium is offered in jet black, natural black, dark brown, and medium brown. Large is offered in black, blonde, strawberry-blonde, and purple. Extra-large is offered in two shades of black.
Ease of Use
When you receive the puff, shake it out to decompress it after shipping. It is easy to apply securely, with two clips and an adjustable drawstring. Simple put your own hair in a small bun, place the puff over it, clip, and tighten. This puff does require extra care, including regular shampooing and conditioning with a detangling product. If it starts to look lackluster, you may need to use jojoba oil on the puff extension.
---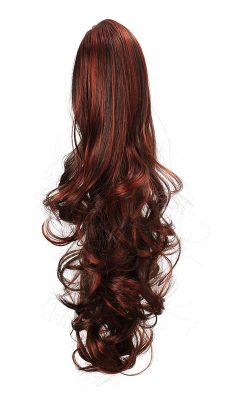 Quick Facts
Texture: Smooth, wavy
Thickness: 190g
Quality: Synthetic
Review
This synthetic hair is lightweight, smooth, and holds its style and shape well. For synthetic hair, it is decent quality, with low-frizz, low-tangle technology. While some may appreciate how thick and long the piece is, it is rather obviously an extension and doesn't look perfectly natural. It also tends to look shiny in the light, which is another giveaway that it isn't natural hair.
Style
With 13 colors, the OneDor Ponytail Clip comes in a wide range of natural colors. The red clip is deeply unconvincing and has an awkward, uneven blend of darker colors with red. Most of the other colors are even in tone. It cannot be dyed and only comes in a 20-inch length.
Ease of Use
The jaw clip and drawstring offer easy attachment, and with a gentle wash and brushing it should stay in decent condition.
---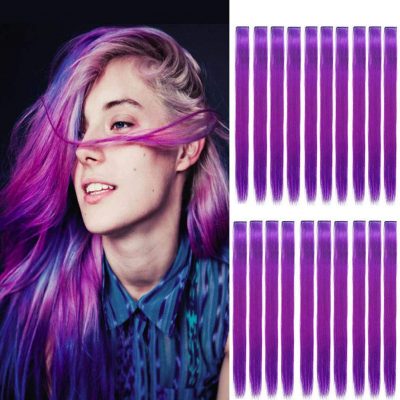 Quick Facts
Texture: Straight, 1a
Thickness: N/A
Quality: No-Heat Synthetic
Review
These clip-in extensions aren't exactly premium, but they make a great accessory for anyone looking for a no-commitment colorful hairstyle. The synthetic fibers will burn if used with heat-tools, but they hold their style if curled or straightened using a straightening brush or wet-curl method.
Style
With 36 cute color strands in both solid color and gradient color, you can have a vibrant hairstyle in no time. These strands only come in straight texture, but styling can help them blend with your natural hair. At 22 inches long, these pieces are a great length for anyone looking for a dramatic, accented look.
Ease of Use
With small strands and one clip, these extensions are easy enough to apply if you only plan to use a few. If you plan to use the entire package, they may become heavy or uncomfortable, and application might be difficult. To maintain these extensions, wash with shampoo and brush with a wet brush to avoid tangling and static build-up. Do not sleep in these extensions.
Pro-tip: Clip in an extension, and braid it into your hair for a subtle, realistic accent.
---
10.

Best Clip-In Extensions for African Americans

Hetto Clip-Ins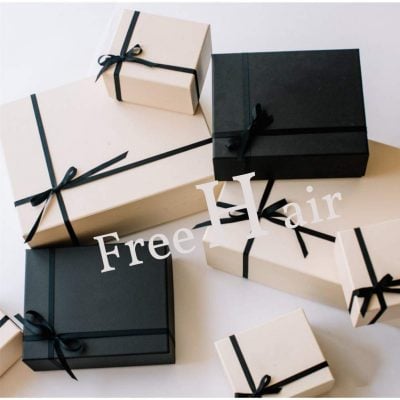 Quick Facts
Texture: Straight to Kinky/Coily, 1a to 4c
Thickness: 100g
Quality: 100% REMY
Review
These extensions stand out for being pure REMY hair at an affordable price. They are thick, can be heat-styled and dyed, and retain their texture after styling. Each strand has been meticulously aligned to curl in the same direction to prevent frizz and split ends.
Style
With 33 color and texture options, the Hetto Clip-Ins have the widest variety of texture options on our list. It offers a similar natural texture range as Caliee Extensions, but has a wider range of colors and extends into 1a and 2a textures.
The style options are well-suited to women with natural hair, but Hetto also offers loose curls, body-waves, and straight hair for women of any hair texture. Hetto clip-ins are also available in yaki kinky hair, for women looking to add volume to their textured, blow-out style hair.
There are nine length options, from eight inches to 24 inches. The blonde extensions can be dyed and they hold color well, but there are options in black, brown, and mixed highlights to save the hassle.
Ease of Use
Hetto Clip-Ins are great for daily, extended use. They are good at holding heat, so styling these extensions is simple. Even after washing and styling, they return to their original texture. You will need to buy a size or two longer than you would if buying straight extensions, however, as curly extensions are measured by their stretched-out length. Unfortunately, because curly hair can be hard to care for properly, the lifespan is not guaranteed.
---