Top Picks

L'Oréal Paris True Match Lumi Foundation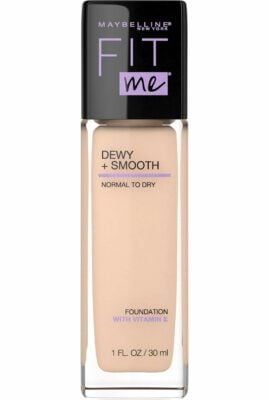 Maybelline Fit Me Dewy Foundation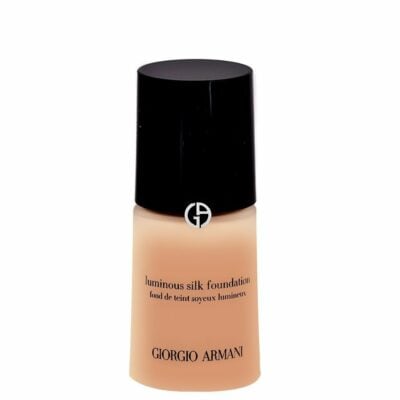 Giorgio Armani Luminous Silk Foundation
Previous
Next
Achieving radiant, glowing, dewy skin isn't easy. You have to maintain a meticulous skincare routine, and with priorities coming at you from every direction, that can be a bit challenging.
Fortunately, you can still get that lustrous "glowing from within" look simply by having an impeccable dewy foundation in your makeup arsenal. That's not to say that you no longer have to work hard on getting healthier skin—you should definitely keep doing that—but at least you can look the part while you wait for the fruits of your labor.
We know makeup shopping can be a drag, so we've rounded up a selection of glowy, illuminating foundations to help you find the best dewy foundation for your skin.
Features to Consider in Finding the Best Dewy Foundation
When you have so many options to choose from, it can be hard to determine which dewy foundation is best for you. To narrow down your options, compare the products according to the attributes below.
Skin Type
The first thing you need to consider when looking for the best dewy foundation is your skin type. Foundations, whether matte, dewy, or otherwise, aren't made the same way nor with the same ingredients. They can have different effects depending on your skin type, so it's important that you get one that's suitable for your skin.
You'll typically see what skin type a product is well-suited for on the bottle or tube, so finding one for your skin type shouldn't be hard at all. If you don't know your skin type, farther down the article is a section explaining the different types.
Shade
Foundations typically come in a variety of colors, with some products coming in at least 15 shades. Usually, the more shades the better, since it means you're more likely to find a shade that'll match your skin color. But when you have over 10 shades to choose from, finding the right one can be tricky and time-consuming. Even if you pick a shade that looks similar to your skin color, it could still end up being the wrong shade.
To avoid picking the wrong shade, you should figure out what skin color and undertone you have. Later in this article, you'll see a guide to picking the right shade.
Dewiness
Since you're getting a dewy foundation to get a radiant glowing look, you have to make sure to pick a foundation that will actually give you that intended effect without sacrificing other desirable features.  What you particularly want to avoid is a foundation that makes your face so oily you could almost fry an egg on it. Dewy skin doesn't equate to oily skin: dewy skin is moist, isn't too shiny, and looks fresh.
The perfect example is L'Oréal Paris True Match Lumi Foundation. It has all the great features of a dewy foundation despite being an inexpensive drugstore pick.
Weight
Weight in foundation refers to how it feels on your skin. Ideally, you should get a lightweight foundation that feels as if it's not there at all. The heavier a foundation is, the more uncomfortable it is—heavy foundation is a nightmare to wear, and you'll even notice it clogging your pores.
Coverage
What coverage you want depends on whether you have anything you want to conceal, and how much of it. Many dewy foundations offer medium coverage and can conceal things like redness, wrinkles, scars, and other blemishes.
If you want a perfectly flawless look, however, you might want to get a foundation that offers full coverage, like Catrice HD Liquid Coverage Foundation. But if you are blessed with unblemished skin or want your distinctive marks like freckles to come through, pick a foundation that has light coverage.
Longevity
It's rare for a foundation to last 24 hours even if it says it will, especially when you consider things like skin type, sweat, temperature, humidity, and dirt. But some of the best dewy foundations can last through the day and still look good, like L'Oréal Paris Infallible Pro-Glow Foundation.
Sun Protection
Sun damage is a real threat, which is why the Skin Cancer Foundation advises the public to wear sunscreen every day. If you're not keen on including a facial sunscreen as part of your daily routine, you might want to pick a foundation with a broad-spectrum formula with an SPF value of at least 15, as recommended by the Food and Drug Administration (FDA) to help protect you against the sun.
Now that you know what to look for in a good dewy foundation, it's time to take a look at our top picks and see why they stand out from the rest.
Top 10 Best Dewy Foundation 2021
Guide to Buying the Best Dewy Foundation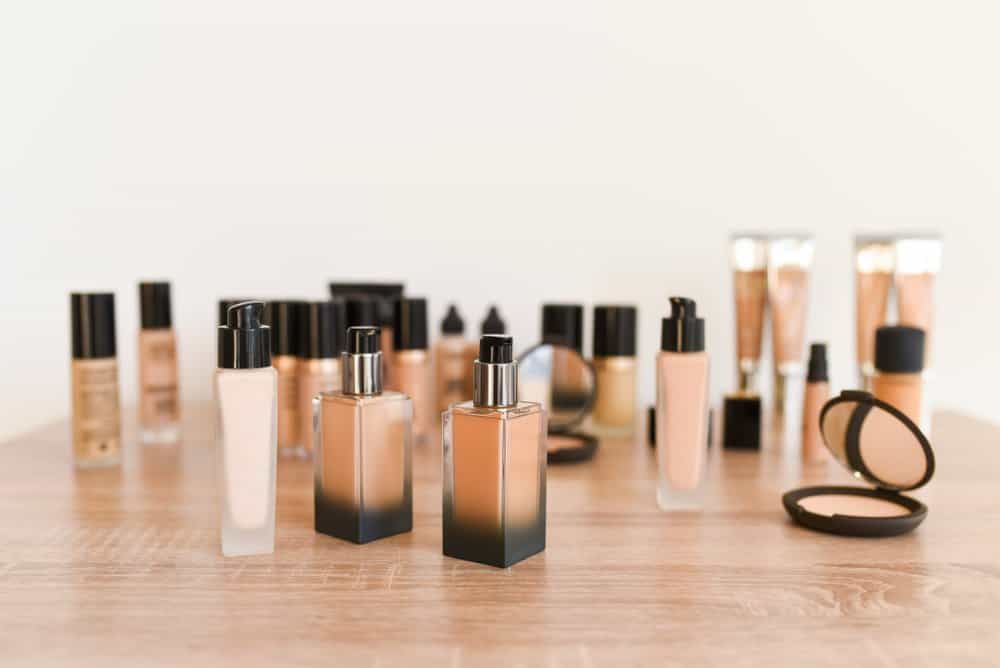 From determining your skin type and finding the right foundation shade to learning how to use dewy foundation, this guide is packed with all the information you need to achieve that beautiful, natural-looking glow.

The Different Skin Types
According to Dr. Leslie Baumann, a dermatologist and the author of the "The Skin Type Solution," most people don't know their true skin type, especially when it comes to whether it's oily, dry, or sensitive.
And since skin type can change depending on various factors like hormones, diet, and season, figuring out your skin type can get really tricky. If your skin type changes with the season, you might want to get a foundation that's suitable for all skin types, or get two or three foundations that you can use throughout the year.
Below are the different skin types and their description. If none of the sections describe the condition of your skin, you most likely have the normal type, which in this case just means your skin is healthy and can tolerate a lot of things without any adverse reaction.
Dry
You have dry skin if you have a dull, rough complexion that lacks moisture. This is caused by a lack of sebum, which is an oily substance secreted by the sebaceous glands.
Depending on how dry your skin is, you may have red patches on your skin or may notice scaly or flaky patches that look like dandruff. Other indications of dry skin include less elastic skin, more visible lines, and tiny pores.
Go for bareMinerals Complexion Rescue Cream if you have dry skin as it has the most hydrating formula out of all the best dewy foundations.
People with dry skin should also be sure to use high-quality facial moisturizers, since treating the skin's problems at the source over time is always a good idea.
Oily
When the sebaceous glands produce more sebum than normal, the result is oily skin. Large pores are usually what's responsible for this—the bigger the pores, the more active the oil glands. If you feel a thick, oily film on your skin throughout the day and are prone to blemishes like blackheads or pimples, then you have oily skin.
You should be sure to pick a foundation that doesn't clog pores so you don't break out—something like Clinique Even Better Glow Foundation. And just like dry-skinned people should choose a moisturizer made for their unique skin, people who deal with oily skin should buy an oily-skin-specific face wash.
Combination
If your skin is oily in some areas of your face like the T-zone (forehead, nose, and chin) where there are more oil glands and dry in others, you have combination skin. You should get a foundation that caters to combination skin or all skin types.
Sensitive
Your skin is the sensitive type if it tends to react to many of the products you use on your face. Common signs include redness, burning, itching, and inflammation. Sometimes, overreactions are caused by specific ingredients in a product, so it's important to know what ingredients your skin is intolerant to.

How to Find Your Foundation Shade
To find the right shade for your skin, you first have to determine the color of your complexion. After that, you'll need to figure out your skin's undertone. Once you're done with these steps, you'll be able to find the shade closest to your skin color more easily.
Complexion
What complexion you have depends on the amount of melanin present in your skin. Melanin is the pigment that gives your skin color. The less melanin your skin has, the lighter it is. When you start shopping for the best dewy foundation, you'll see that many products will indicate whether it's for light, medium, or dark/tan skin.
If you already know your complexion, then you can skip ahead to undertones. Otherwise, read the sections below to determine what it is.
Light
Those with light skin usually hail from or are the descendants of those who hail from northern European countries that don't get much sun. They are extremely sensitive to the sun and burn really easily. If they spend long amounts of time in the sun without wearing sun protection, they'll turn red as a lobster.
Medium
People of Southern European or North Asian descent typically have a medium complexion. Their skin has a neutral beige appearance and tans a lot better than light skin. When exposed to the sun, their skin becomes more brown than red.
Dark
Dark-skinned people usually originate from places with the most exposure to the sun, including India, Africa, and the Middle East. They're a lot less likely to get sunburnt, but that doesn't mean they won't.
Skin color can also change as seasons change, so the best foundation shade for your skin might be different depending on whether it's summertime or wintertime.
Your Skin's Undertone
Undertone refers to the underlying hue of your skin. While your complexion may change with sun exposure, the underlying hue of your skin should stay the same.
Cool
Red and blue hues are characteristics of a cool undertone. Those with cool undertones generally look better wearing blue, purple, and emerald green clothing or accessories. Silver jewelry compliments their skin better than gold jewelry as well.
If your skin burns easily in the sun and the veins underneath your skin appear blue or purple, you have a cool undertone.
Warm
Those with a warm undertone have yellow or golden hues underneath their skin. They look best in red, orange, or yellow clothing, and look better with gold jewelry than those with a cool undertone. Their skin rarely gets sunburnt, and their veins appear green or greenish-blue.
Neutral
If you can't tell what color your veins are, or if you look good in pretty much every color you wear, you most likely have a neutral undertone.
If you're not sure what your skin color and undertone are, it's best to buy your foundation at a store that will allow you to test the products. To do the test, you'll only need to put a little bit of foundation at the jawline then blend it in. If the foundation blends with your skin color, you've found the one!
Foundation Brushes vs. Sponges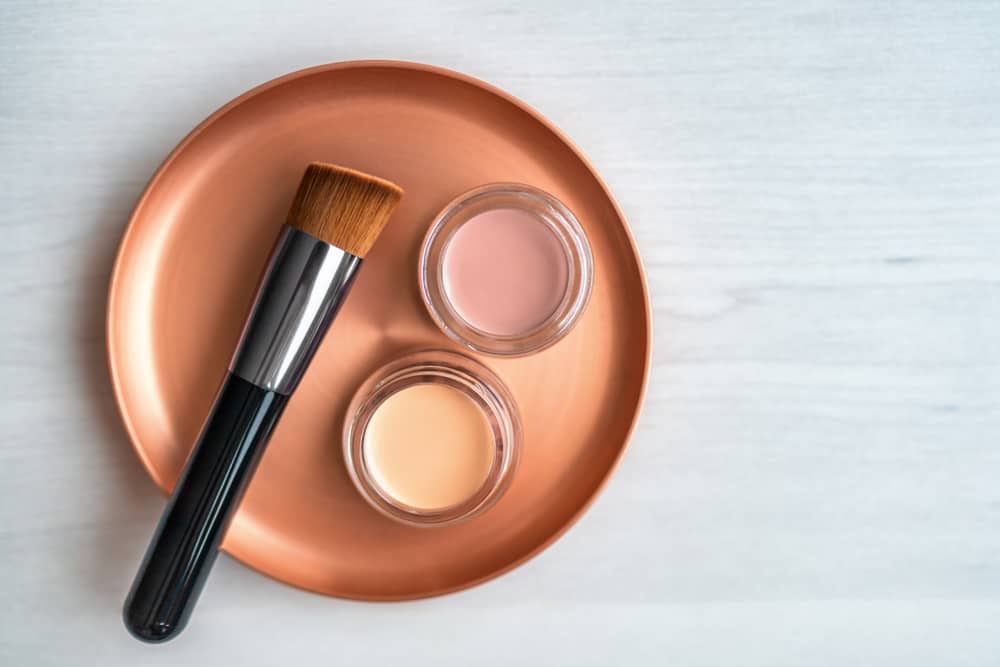 Since all of the dewy foundations in this article are of the liquid/cream variety, you'll need to learn how to apply liquid foundation. But first, you have to decide whether you want to use a foundation brush or a sponge.
Brush
There has been an ongoing debate among makeup artists and gurus between using a brush and using a sponge when applying liquid foundation. It's really hard to know which one is objectively better, and it pretty much comes down to your own preference.
But if you were to ask makeup expert Samantha Freda, brushes are good for really concentrated placement. They are good for building coverage, and are the ideal option for achieving a full-coverage airbrush look.
They're also less likely to introduce oil and bacteria to your face. And if you get a synthetic brush, your foundation will last longer since synthetic brushes won't absorb it as much.
Sponge
Also called makeup sponge, blender sponge, or Beautyblender, the sponge used in applying liquid foundation is typically tear-shaped. It glides easily, and the shape lets you reach into the nooks and crannies of your face, which means less pulling, which in turn means less damage to your skin.
Since the sponge blends liquid foundation really well, you can get full coverage without looking like you have theater makeup on.
The main drawback of the sponge is that it tends to soak up the product, so you'll run out of your foundation faster. They also trap moisture, which can attract mold.
Maintaining Your Applicator
No matter which type you choose, it's important to wash your applicator with soapy water so it doesn't become a breeding ground for bacteria. Dermatologists recommend cleaning foundation brushes once a week at the minimum, while sponges should be washed and dried every day.
If you use your brush or sponge regularly, you should also replace it every three to four months.
How to Apply Dewy Foundation
Now that you know how to find the best dewy foundation for your skin and have an idea as to what applicator to use, it's time to learn how to apply dewy foundation.
Prep
You should try to prep your skin when you can if you want the best results. If you don't prep your skin, you could end up with patchy, uneven coverage. It sounds like a lot of work, but once you get into the habit of prepping, it'll get easier and faster.
The first step in prepping is to clean your face so there's no dirt, oil, or makeup left on the surface. Next, moisturize your face then apply sunscreen if you want to. The last step is priming your skin with a nourishing primer to even out the texture of your skin.
Application
Applying liquid foundation with a brush is different from doing it with a sponge. The video below will teach you how to apply liquid foundation using the two applicators.
Setting
Setting your makeup is a must if you have trouble getting your makeup to stick or last all day. To set your makeup, you'll need to apply translucent powder to your face after your foundation application, or spray your face with setting spray once your makeup look is complete. This article has a lot of information about setting your makeup if you need more.
Final Thoughts
With so many great options on the market, finding the best dewy foundation can be confusing and exhausting. But since you already know what criteria to judge a dewy foundation on, you should be able to find the perfect one for you in no time. As long as you get the best one for your skin type and color, achieving that beautiful natural-looking glow you've always wanted will no longer be just a dream.