Top Picks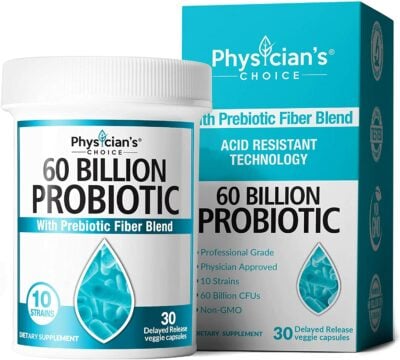 Physician's Choice 60 Billion CFU Probiotic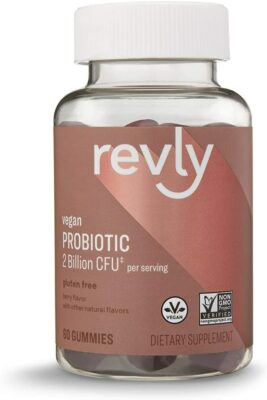 Amazon Brand Revly Probiotic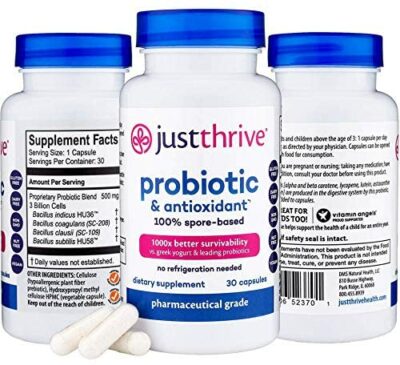 Just Thrive Probiotic and Antioxidant
Previous
Next
Did you know that there are as many bacteria living in and on our bodies as there are our own cells? Some are good, some bad, but together they form a micro-environment that contributes to our overall health. This is especially true in our gut, where an imbalance can lead to all sorts of issues. We get most of these good bacteria, which are known as probiotics, from our diet, though those of us who are vegan may be lacking in this area.
Probiotic supplements are becoming more and more popular these days and claim to help maintain gut health with lead-on effects such as boosted mood and higher energy levels. This is an attractive prospect to many, though there are a number of properties to be aware of when deciding which probiotic supplement is worth your time and money.
Read on, and we'll outline what you need to know to make the big decision on which vegan supplement is right for you and your family.
Choosing the Right Probiotic Supplement for You
As mainstream popularity in probiotics has surged, a huge number of supplement options have appeared on the market, each trying to carve their own unique niche with different benefits and properties. It may seem overwhelming at first, and you may not know how each differs from the other, but there are a few characteristics to bear in mind.
We will focus here on what you need to look for in specific supplement products when deciding to buy, but if you are interested in reading further on the general issues and benefits surrounding probiotics, we recommend you read our in-depth guide here.
Are Probiotic Supplements Vegan?
As with most dietary supplements and similar products on the market, buying probiotics can be a minefield when it comes to vegan suitability. Thankfully there are many vegan options, but it does require a close eye on the ingredients to make sure none of them are sourced from animal products. A hidden danger here is often the capsules that the bacteria are contained in, as they can often contain gelatin.
It is also worth noting that some of the bacteria themselves can be derived from dairy sources, but this is not always the case. Lactobacillus is a common probiotic and may sound as though it is cultured in dairy, but it can also be sourced from fermented rice, making it vegan-friendly.
All the products on this list have been determined to be vegan, but if you shop around you should keep the above issues in mind. Additionally, there are many vegan food sources of probiotics, which we will cover in some detail later.
Colony Forming Units (CFU)
One of the primary properties a probiotic supplement advertises is the number of colony-forming units, or CFUs, it supplies per capsule. This is a term used in microbiology and refers to the number of viable, or living, bacterial cells in a sample. What this translates to is the higher the number of CFUs in a capsule, the more likely it is that some will survive the trip through your stomach to form colonies, or grow, in your gut. At least, that is what many brands claim.
CFUs range from 1 billion to 60 billion and, while there is no specific research to say more is better, many products advertise this as true. This article from Harvard states that 1 to 10 billion CFU is ideal but, again, your mileage may vary. It may be worthwhile trying supplements of varying strength to determine what is right for your body as, unfortunately, individual reactions can be unique.
Probiotic Bacterial Strains
There are a large number of naturally-occurring bacteria that benefit our health when part of our gut micro-flora and a number of these are used in probiotic products. Three main species stand out for their claimed benefits, and these are:
Lactobacillus, which produce lactase and lactic acid. This may have the benefit of controlling the population of bad bacteria in your gut and promoting the absorption of minerals.
Bifidobacteria, which is thought to support the immune system, limit the growth of harmful bacteria and also help with mineral absorption.
Bacillus Coagulans, which is widely-studied and may help with gut issues such as bloating or diarrhea.
The larger the number of bacterial species and strains a product contains, the broader its array of potential benefits, which is something to bear in mind when browsing.
Additional Ingredients
There are a few additional extras that some products offer to set them apart from others, and these are worth looking for.
Primarily, some supplements may offer prebiotics. These are non-digestible food ingredients that will provide nutrients specifically for the good bacteria in your gut to promote growth. This may promote colony formation so it is an attractive addition to any product.
There may also be some dietary extras included in some supplements, such as vitamins or botanicals that help with overall health. While not necessary, they may be convenient.
Now that we have laid out the basics of what to look for in a probiotic supplement, let's take a look at ten of the best vegan options on the market today. We have provided a broad selection of unique products that we hope will be suitable for your needs or, if not, at least provide a basis from which you can further research the subject.
Guide to the Best Vegan Probiotic Supplements in 2020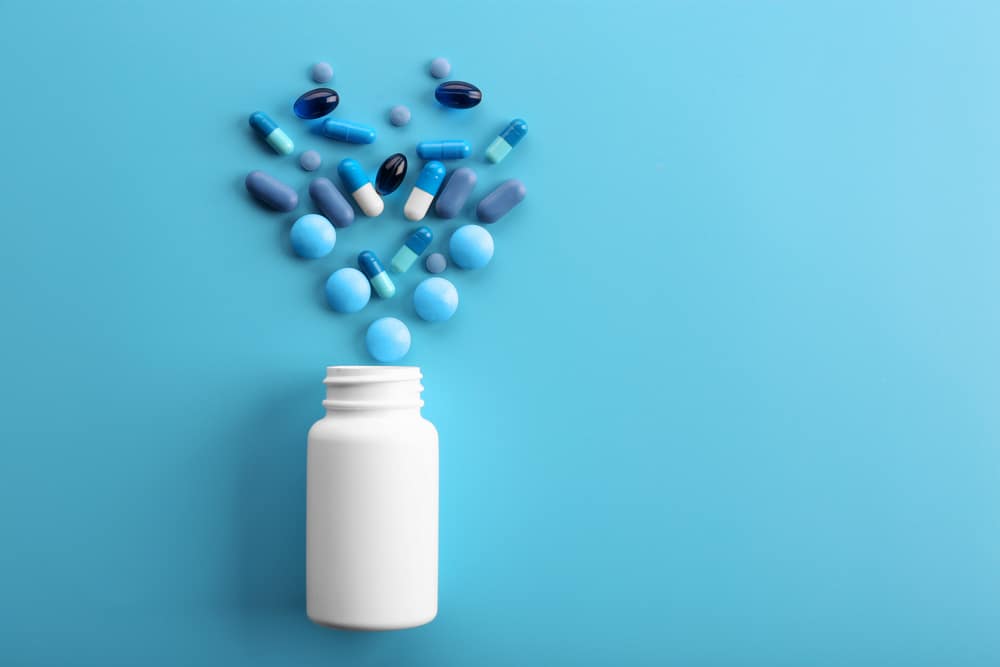 Now that you've seen some of the best vegan probiotic products on the market today you may still have some lingering questions before you make the decision to buy. Here we'll try to tackle some of the big issues surrounding the topic to give you a broader perspective that will help you choose.
What are Probiotics?
We have touched upon this subject briefly, but it is worth reiterating in detail. Probiotic, meaning 'for life,' refers to beneficial microorganisms that live inside your body and support your overall health. These are often bacteria, but also include yeasts. Their presence is completely natural and can be encouraged by eating certain foods. Most are located within your gut and digestive tract, but also may be present in other areas.
The population of microorganisms, both good and bad, is known as your microbiome, or microflora. Upsets to this microbiome caused by illness, poor diet or antibiotic use can result in negative effects on health. This may manifest as bloating, diarrhea, low energy and poor mood, or even yeast infections in women, to name a few. Studies show that these symptoms can be helped by a diet rich in probiotics.
This informative article by the National Institutes of Health tackles the subject in some detail, including some of the research into the health benefits probiotics offer. It is also available in a form written for healthcare professionals, which goes into more extensive detail that may be illuminating for those not afraid of technical language.
Benefits of Probiotics
The claimed benefits of probiotics are numerous and, while the science has yet to fully catch up, there is already evidence supporting these assertions. Probiotics may help:
Ease symptoms of poor gut health such as diarrhea, discomfort, and even illnesses such as IBS.
Improve some mental health conditions such as depression, anxiety or autism. You may also be interested in checking out Ashwagandha, a vegan-friendly herb that has been shown to support mental health.
Lower cholesterol.
Reduce the severity of allergies.
Weight loss.
For a complete list with cited sources we recommend checking out this article by Healthline. In general, however, probiotic products should be seen as a supplement to good health and not a cure for disease.

Vegan Sources of Probiotics
The majority of probiotic intake comes from having a healthy, varied diet. Yogurt is a major source for most people but is, however, off-limits for vegans. Thankfully, many fermented foods are rich in good bacteria, and plenty of these do not contain animal products. Below is a short list of a few stand-outs that you may want to incorporate into your diet.
Pickled Vegetables – This includes dishes such as sauerkraut or kimchi, though make sure the kimchi you buy is a vegan variety, as many are made with fish or seafood.
Vegan Yogurt – Yes, vegan yogurt also contains probiotics, even though it lacks in dairy.
Miso – A versatile, fermented food that can be used in salad dressings, soups and more.
Sourdough Bread – The dough of this bread is fermented so it is rich in good bacteria, though be aware that many are killed during the baking process so do not rely on it as a sole source.
Kombucha – A fermented tea that has a very low alcohol content but is also high in beneficial bacteria.
Supplements – Of course, these are an attractive option for an easier and more direct source of probiotics, especially for those  with a limited diet.
These are just a few options and we encourage you to keep a varied diet to help support overall health.
Should I Take Probiotic Supplements?
This is a question that does not have an easy answer. The benefits of a healthy gut microflora are numerous, and dietary probiotics are highly encouraged, but there are some issues that arise when it comes to supplement pills specifically.
The evidence for the beneficial action of supplements is limited currently and the mechanisms of action are not entirely understood. The general consensus is that, in a generally healthy person, probiotic products will do no harm and may provide a number of possible benefits. However, there are many probiotic strains on the market and, while many have been studied, there are some that have not.
An additional concern is that probiotic products are currently classified as dietary supplements and not drugs, so the FDA does not monitor their manufacture. As such, lower-quality products may not even contain the bacteria they claim to, so it is worth sticking to quality brands, like those in our product review list.
This article from Harvard covers the topic well, and also suggests that those with impaired immune systems may want to speak to their doctor or pharmacist before taking probiotics.
Overall, the benefits have the potential to be numerous, but you will want to make your own decision and, if you do decide to purchase supplements, we advise that you buy quality, well-known products.
Good Health
We've come to the end of the guide, and we hope that by now you're well-informed of the issues and aware of the choices out there. Our list contains a number of some of the highest-quality vegan probiotic supplements on the market, so you can be confident you'll find something suited to your body's unique needs.
We hope whatever you purchase will serve you well and keep your gut happy.
Until next time – good health!