Top Picks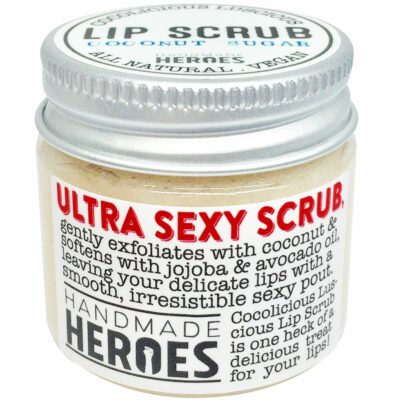 Handmade Heroes

Revlon Kiss Exfoliating Balm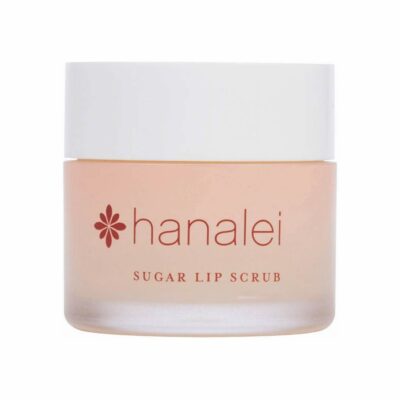 Hanalei Sugar
Previous
Next
When your lips become dry and chapped, the lipid layers become unbalanced. Different areas of skin will begin to flake and peel off, and you'll end up with rough, cracked lips. The longer that you leave your lips alone, the worse they may become. Dry, chapped lips are exposed to environmental elements that may penetrate into deeper layers of the skin and cause even more damage.
A lip scrub could be all that you need to heal your lips. This exfoliant will remove chapped, dead skin, so the moisturizing elements in your lip balm can further penetrate deeper into the skin for a more intense hydration effect. After using a lip scrub, you'll be on your way to healthy, soft and smoochable lips!
A good lip scrub can also prevent premature aging and give your lips a more youthful complexion. It can create a smooth canvas for lipstick, lip gloss and other lip products.
How to Choose the Best Lip Scrub
Choosing the best lip scrub is a piece of cake once you know what to look for. While there are many factors that you should take into consideration, the three main factors that you need to consider include the ingredients that are inside the lip scrub, its fragrance and scent and whether it has any notable features.
Ingredients
When choosing a lip scrub, the most important thing is the ingredients that are inside the scrub. Most lip scrubs are made with three different types of ingredients: emollients, humectants and exfoliates.
Emollients, which will soften, smooth and moisturize your lips, are the creamy or oily base of the scrub. It's essentially the foundation that every other ingredient is layered on top of. Choose an emollient that's hydrating, moisturizing and soothing on your lips. There are many options to choose from. For example, avocado oil is really nourishing for your lips; however, if you have latex allergies, there's a higher chance that you're allergic to avocado oil, so you'll have to be more cautious. Coconut oil has a higher chance of clogging your pores than avocado oil, but it has antibacterial and antifungal properties!
Humectants are ingredients that promote moisture retention by attracting water to your skin's surface. These ingredients further moisturize and nourish your lips.
Exfoliates are tiny abrasive ingredients that scrub off dead skin. It's always better to look for gentle exfoliators that are natural, as they are less likely to irritate the skin.
Emollients
Humectants
Exfoliates
●  Avocado oil

● Cocoa butter

● Coconut butter

● Coconut oil

● Grapeseed oil

● Jojoba oil

● Shea butter

● Vitamin E oil

● Aloe

● Glycerin

● Honey

● Brown cane sugar

● Coarse oats

● Coffee grounds

● White sugar
Ingredients to Avoid
Not all ingredients are good for your lips, especially if they're chapped. If you want to heal chapped lips, some ingredients may irritate and dry out your lips, causing them to become even more chapped. According to the American Academy of Dermatology Association (AAD), you'll have a difficult time hydrating your lips and getting rid of flaky skin if the lip scrub you use contains ingredients like:
Camphor
Eucalyptus
Cinnamon
Citrus extracts
Fragrances
Lanolin
Menthol
Mint extracts
Octinoxate or oxybenzone
Peppermint extracts
Phenol (or phenyl)
Propyl gallate
Salicylic acid
If the lip scrub you use has any of these ingredients, you'll want to be more cautious. Make sure that you're not experiencing any irritation or dryness after applying the product.
Flavor and Scent
Most lip scrubs will have unique flavors and scents even if they are made from natural ingredients. Some of the emollients, humectants and exfoliates will naturally have a scent or flavor to them. For example, the Handmade Heroes All Natural Lip Scrub will naturally smell and taste like coconut, and it's delicious. You can also find this product flavored with matcha powder or pina colada!
If you have sensitive skin, avoid artificially-scented and flavored products. In particular, you'll want to avoid any products that have 'fragrances' in their ingredient list.
Notable Features
Look for products that have that extra WOW power! These products may be able to condition your lips in addition to exfoliating them. They may have SPF protection in them. The packaging can also be a notable feature. The Revlon Kiss Exfoliating Balm comes in a tube-like lipstick, which makes it a lot easier to apply.
With these three key factors in point, let's take a gander at some glorious lip scrubs you can get a hold of today and cure those cursed, chapped lips.
Top 10 Best Lip Scrub 2021
A Complete Guide to Lip Scrubs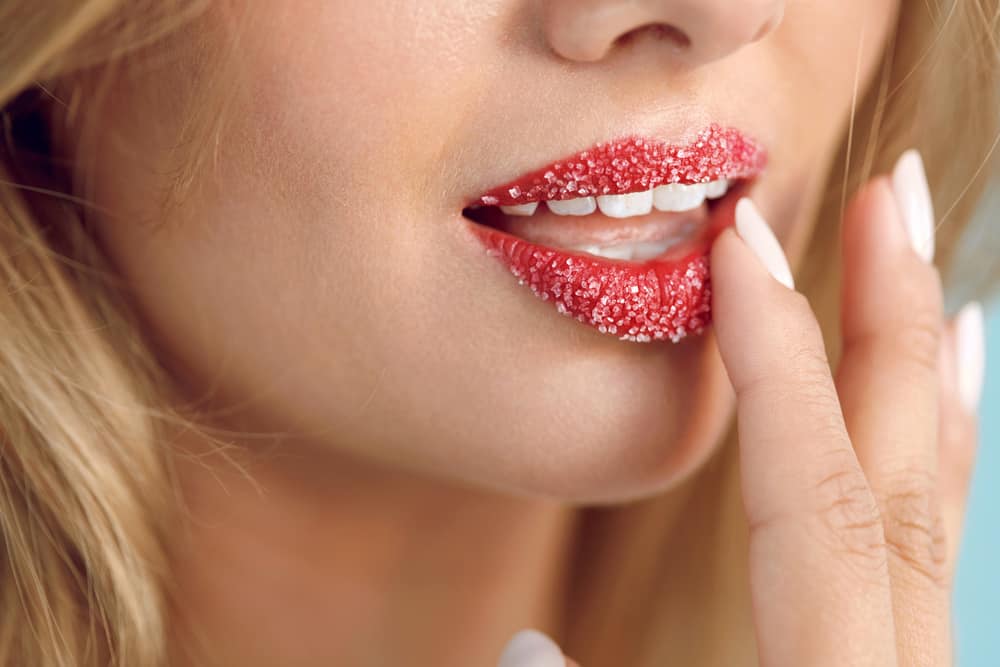 Lip scrubs are wonderful. They can transform dry, chapped lips into plump, luscious ones within minutes. Best of all, their effects last! Using a lip scrub twice a week can make a huge difference in the condition and health of your lips. You'll notice that they'll stay smoother and more hydrated throughout the entire week.
A good lip scrub does more than just exfoliate. It will also moisturize and condition your lips and repair any damage that may have been caused by exposure to the sun or aging. It'll create a smooth canvas for you to apply lip products on and will get rid of flaky, dead skin that's causing your lips to look lumpy.
Other Factors to Consider
While the ingredients, flavor and scents and notable features are really important, there are many other factors that you also need to take into consideration when narrowing down your options. These factors should not have as much of an effect on your purchasing decision. Nonetheless, we've gone into detail below.
The Intensity of the Exfoliation
Most lip scrubs will fall under the category of gentle, medium or deep exfoliation. Knowing the product that'll work best for you is important. In general, most people should start off with a gentle exfoliator. These are less likely to irritate your lips and will give you that beautiful glow that you're looking for. You can also use a gentle exfoliator more frequently. If, however, you have a lot of dead skin on your lips, you might want to kick it up a notch and get a lip scrub that offers medium or deep exfoliation instead.
Shelf Life
Every lip scrub should have some information on the back on how long the product will last. As many of these products contain 100% natural ingredients, you'll want to make sure that they have some type of preservative that will prevent it from going bad. Some ingredients, like the honey used in this Burt's Bees scrub, are natural preservatives.
The Intensity of Moisturizing Effects
If you're looking for a lip scrub, then chances are that you have dry lips. Consider how moisturizing the ingredients in the lip scrub can be. Some people find avocado oil more moisturizing than coconut oil. Different ingredients work better for different people.
Ease of Use
Last but not least, consider how easy it is to use the product. If you're buying a potted lip scrub, like this one, look for one that comes in a shallow pot. It'll be much easier to scoop out as much product as possible. Consider the length of time that you need to keep the lip scrub on for, how easy it is to apply and how easy it is to wash off. Some lip scrubs don't need to be washed off.
9 Tips on How to Heal Dry, Chapped Lips
If you have dry, chapped lips, using a good lip scrub will help, but it won't solve your problems for good. You should also consider implementing some of the 9 tips that we've listed below. If you do, you should notice a huge improvement in your lips within 2 to 3 weeks!
Tip #1. Stop Licking Your Lips
"Though it may sound counterintuitive, when you lick your lips, which are more sensitive than other parts of the skin, the saliva evaporates, leaving them drier than before."
When your lips are dry, you might be tempted to lick them, but this will only make the problem worse in the long run. Saliva can be very dehydrating, and can cause your lips to crack or even peel, so try to stop licking your lips even when you feel that they're very dry. Your saliva may also contain a lot of enzymes that will break down the cells on your lips even further.
Tip #2. Do Not Pick or Peel Off the Dead Skin
It's also very tempting to pick or peel off the dead skin on your lips, but this is also something that you should avoid doing at all costs. Picking or peeling off the dead skin can remove healthy skin as well. This can lead to cuts and sores that take a long time to heal. These damages will also worsen the condition of dry, chapped lips.
If the flakiness is really bothering you, use a lip scrub! You can even consider wetting a soft toothbrush and manually exfoliating off some of that dead skin.
Tip #3. Use Moisturizing Lip Products
The type of products that you use can make a huge difference, so make sure that you choose lipsticks and lipglosses with moisturizing ingredients in them. Avoid matte lipsticks whenever possible. Although they may look very chic, they're super drying.
The best thing to do is to wear lip balm more frequently. We have a full article about them that you can check out. Even with lip balm, there are some ingredients that are better than others. Look for products that contain natural oils, like almond oil, coconut oil and jojoba oil. These lip balms can lock in moisture and penetrate deep into your lips. Avoid ones that have menthol or mint extracts in them, as these ingredients tend to be drying.
If the lip products that you put on your lips ever sting or feel uncomfortable, you need to stop immediately. It may be an indication that you have a sensitivity to one of the ingredients in the formula.
Tip #4. Use a Humidifier
Dry skin and dry air come hand in hand. If you install a humidifier in your home, you are adding more moisture into the air, which can keep your lips feeling more hydrated and supple, especially through cold, winter months. A humidifier will be especially helpful if you tend to breathe out of your mouth when you sleep.
Tip #5. Stay Hydrated
This follows the same logic as using a humidifier. Have you ever noticed that your veins lie flat against your skin when you're dehydrated? When you don't have enough fluids in you, your lips are also prone to getting dry. Stay hydrated throughout the day, and you'll notice a significant difference in the plumpness of your lips!
Tip #6. Avoid Holding Metal Objects with Your Lips
This is a funny one, but you should also avoid holding metal objects, like paper clips, spoons and forks, with your lips. The metal can irritate sensitive lips and cause them to be more prone to dryness.
Tip #7. Choose Products that Are Fragrance-Free
Fragrances can lead to irritation. It can also cause your lips to dry up even quicker. Look for products that are fragrance-free and hypoallergenic if you have dry, chapped lips. You also need to be careful with the ingredients that are in each formula. Oftentimes, manufacturers may add peppermint oil, cinnamon and other extracts to a product. While these may not be 'fragrances', they do add to the scent of a product. These ingredients also tend to be very drying.
Tip #8. Apply a Sunscreen
You apply sunscreen to your face and all over your body, so why don't you apply sunscreen on your lips? This is one of the most common areas that are forgotten. Consider looking for lip products that contain SPF30.
You should also look for lip products that contain either titanium oxide or zinc oxide. These two ingredients are effective at blocking out the sun as well. The sun can dry out your lips and cause them to age.
Tip #9. Be Careful When Applying Other Skincare Products
When applying face creams or using exfoliators on your face, it's easy to accidentally smudge a little bit of those products onto your lips. While those products may be excellent for your face, they may irritate your lips, as they are significantly thinner. Be very careful when applying any chemical exfoliators, especially ones containing glycolic acid or salicylic acid, or retinol-based products on your face. Try to avoid as much of your lips as possible.
Frequently Asked Questions
If you've never used a lip scrub before, don't fret. Although this is highly recommended by dermatologists, not many people make a habit of using a lip scrub. They only remember to use a lip scrub once their lips have become unbearably dry. Some people aren't even aware that lip scrubs exist. Below are the answers to some of the most frequently asked questions surrounding this product.
Can I Use a Facial Scrub as a Lip Scrub?
It's not a good idea to use a facial scrub on your lips because a facial scrub may be too aggressive and abrasive for your lips. The skin on your face can be up to 16 cells thick, but your lips are much thinner and only about 3 to 5 cells thick. If you use a facial scrub on your lips, you could end up damaging them instead.
How Often Should I Use a Lip Scrub?
Lip scrubs exfoliate your lips to make them plumper, smoother and healthier; however, if you use a lip scrub too often, it can irritate your lips. Exfoliate your lips using a lip scrub twice a week at most, so it has plenty of time to heal.
What's the Best Way for Applying a Lip Scrub?
Before applying a lip scrub, wet your lips. This will prevent the scrubbing from being too abrasive, as excessively aggressive scrubbing can damage your lips and cause them to peel. Next, apply the lip scrub onto your lips with your fingers using small, circular motions for about 30 seconds. Make sure that you get the corners as well. If you're using a brush, sponge or a tube, use short, light strokes. Finally, rinse off the product with lukewarm water or wipe it off with a damp cloth or tissue. You should avoid using a lip scrub if there are any open cuts or sunburned areas. Try to be as gentle as possible. You don't want to overdo it!
Is There Any Aftercare that I Need to Be Aware Of?
Exfoliation is only one step in getting moisturized lips. After using a lip scrub, follow up your routine by applying a repairing lip balm, lip conditioner or moisturizer. You can even use pure petroleum jelly to seal in some of that moisture.
Over and Pout
To get dry, healthy, kissable lips, you'll need to make sure that you also apply a lip balm, moisturizer or conditioner overnight. These products are intensely moisturizing and will keep your lips feeling supple, soft and smooth.
A lip scrub with all the right ingredients will make a world of difference. You'll get good results quickly, and if you keep up that routine, you'll find that your lips will stay nourished, moisturized, plump and soft for even longer. Make using a lip scrub a habit and you'll never have to worry about dry, chapped lips again!