Kabuki brushes, once alien to a western audience, have proven themselves a versatile addition to anyone's makeup collection. If you're looking for the best kabuki brush for your buck, you'll find a great selection on this page, but before we get to the products, you may wish to brush up on your makeup history.
What You Need to Know About Kabuki Brushes
We've got you covered with all the most important facts and factors to know before you select your own perfect kabuki brush.
The History of Kabuki Brushes
The first makeup brushes as we know them today are often linked to the invention of the mirror back in 1835 in Germany. As such we often associate the invention of makeup brushes to be in Germany where some of the best brushes were produced in the last century.
You may be thinking though – surely there must have been some form of a brush prior to that! Afterall you could argue that makeup is as old as humankind. And you'd be correct. Some of the earliest brushes date back to the Saxons, and were buried with people as their most valued property. This may give ideas to some makeup fanatics here — being buried with their beloved makeup brush set, ensuring you look good even in the afterlife.
What about the kabuki brush specifically, where did this brush come from?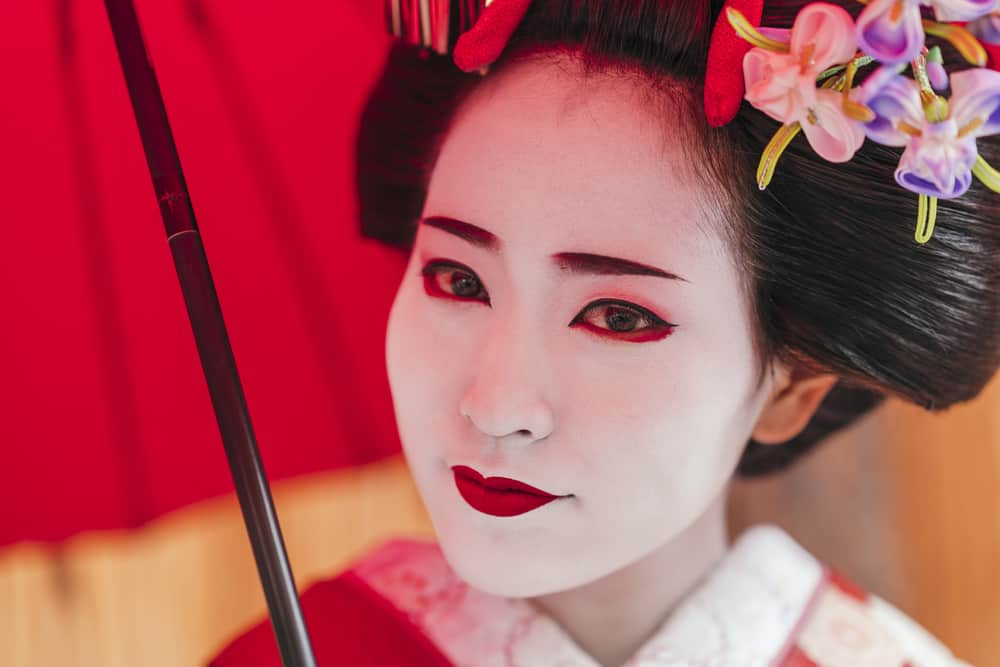 What Even Are Kabuki Brushes?
The kabuki brush is named after the traditional Japanese Kabuki theatre founded back in 1603. Men (this theater was seen as too erotic for women to perform in) would apply white rice powder to their faces with dense brushes that provided a natural finish that is full coverage at the same time. Centuries later these brushes still exist, and are more popular than ever, being manufactured not only in Japan, but Korea and China as well.
The Anatomy of a Kabuki Brush
No matter what the brush is, there are some common elements in how the brush is structured. Starting at the top, you've got the tip of the brush with the ends of the bristles with which you buff and blend your makeup. The bristles are tied together and glued into the ferrule which is the metal ring between the brush head and the handle.
So What Makes a Kabuki Brush Different?
The type of brush depends on the shape of the ferrule, amount and length of the bristles, and the length of the handle. The kabuki brush is easy to identify by the super dense brush head and the very short handle.
The bristles are densely packed and usually shaped to give a domed or a flat tip. The ferrule and handle are round and quite large in diameter compared to even a large powder brush, allowing for a large amount of bristle to be packed together and providing a dense, yet fluffy, brush.
The base of the handle is flat so it can be put down with bristles facing up, instead of dusting the surface every time you put the brush down.
How to Identify a Good Quality Kabuki Brush?
Several different factors contribute to the overall quality of the brush such as:
How are the bristles shaped?
What materials are used?
How well is the brush put together?
The manufacturing process greatly impacts the brush quality with the highest quality brushes being handmade, and the lowest quality ones being mass manufactured. Of course, you can still find great quality brushes at an affordable price, as long as you keep in mind that some corners have to be cut somewhere to bring down the price.
Natural or Synthetic Bristles?
Traditionally brushes were made of animal hair until synthetics came into play providing a cheaper, and arguably more environmentally friendly, product. We say arguably because it's a personal decision whether you want to avoid plastic at all costs.
Unfortunately, both natural and synthetic bristles come with their pros and cons, and which one you want to pick will ultimately depend on your ethical values.
The full breakdown of the advantages and disadvantages of different materials can be found at the end of the article.

Shaping of the Brush
How the actual brush head is shaped also gives away the quality, there being two methods of shaping – cutting and molding. The inferior method is cutting the bristles to shape the brush, resulting in a cheaper and poorer quality product. By contrast, using a mold in the desired shape and letting the tip of the bristles adopt that shape results in a nicer, softer feeling brush.
This stark difference is due to the shape of the bristle, particularly when it comes to animal hair, however, this can also apply to synthetic fibers as the manufacturers try to mimic the natural hairs as much as possible.
Now that you're full of kabuki brush knowledge, let's jump into the best kabuki brushes on the market today.
Top 10 Kabuki Brushes 2023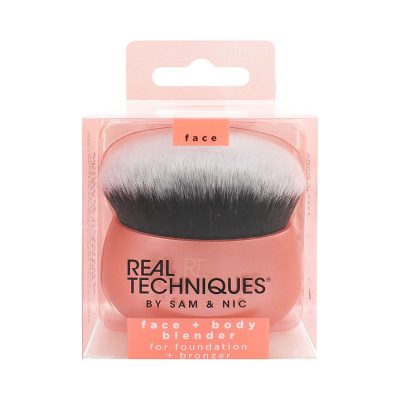 Why we like it:
As a modernized kabuki brush, it has all the traditional elements that make it great, without the downsides of using animal hair. You get amazing quality for a price you can't beat.
Editor's Rating:
Type of bristle: Synthetic
Real techniques really is one of the most prominent, and one of the best, makeup tool companies. The kabuki style brush, or in this case "blender brush," is available in two sizes, one for face and one for the body. This is an amazing modern brush that's also cruelty-free.
Materials Used
The bristles are made out of synthetic material that's super soft, while the handle is lightweight aluminum. All the materials being synthetic, the product is labeled as cruelty-free unlike the kabuki brush by Keshima.
The density and softness provide for very easy distribution of both liquid and powder makeup. The synthetic bristles are easy to maintain and won't absorb the product like a beauty blender would.
Build of the Brush
Both the face and the body brush have the same shape and bristle density and only differ in size – the body brush being roughly twice as large as the face brush.
The sizing of the two brushes isn't very explicit though and can be quite confusing – the 212 brush is the larger version and the 213 is smaller. If you intend to use the brush for your everyday makeup the smaller one is much better. If, however, you specifically want a kabuki to apply body makeup, then the larger brush is really nice to have.
Similarly to the Daubigny Flat Top Kabuki Brush, this one also has an oval shape which allows for a more precise makeup application.
Pros
Cruelty-free

Available in two different sizes

Great shape and construction
Cons
Sizing of the brush can be confusing
---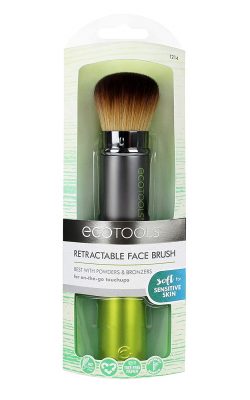 Why we like it:
This is the perfect solution for people on the go, as it's specifically designed to keep the brush clean and in good shape while it rattles around in your purse.
Editor's Rating:
Type of bristle: Synthetic
EcoTools live up to their name and create products that are both cruelty-free and environmentally friendly, while also focusing on creating quality brushes. This kabuki brush is specifically designed to fit into your purse and stay clean because of its retractable handle.
Materials Used
The bristles are synthetic, very soft yet dense, and the bristles are hand-cut. While it is better to avoid cutting the bristles, as it is a synthetic brush, it's not as much of an issue.
The ferrule is made from recycled aluminum making the brush very lightweight.
Build of the Brush
It features a retractable tube that you push up to bring the bristles together to allow you to put the lid on with no issues. As the tube is quite tight it will stay in place where you want it to, meaning that you can push it up a little to "shorten" the bristles and create a super-dense precise brush.
Pros
Cruelty-free

Soft, dense bristles

Made from recycled materials

Great, travel-friendly packaging
Cons
Can be too small for some
---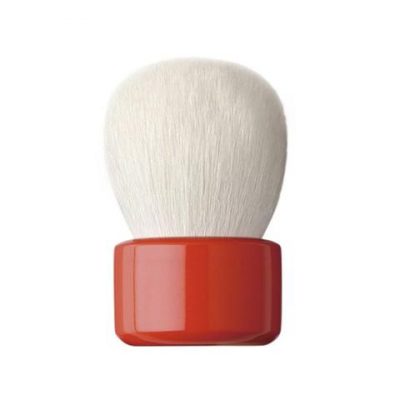 Why we like it:
Straight from Japan, this brush is luxurious in every way, including the bristles. It's one of the few options you have if you're specifically after animal hair.
Editor's Rating:
Type of bristle: Goat and synthetic
If you're after luxury, the highest quality, and getting your hands on an original kinoko brush then this product is for you. It's designed and made in Japan, in the same region the very first brushes were made centuries ago. It is an extremely expensive brush, but then this is the Chanel of the brush world.
Materials Used
The brush head is made up of a mix of goat hair and synthetic fibers which are used to stabilize the quality of the brush while maintaining the performance natural hair gives. The brush is nice and dense and is best suited for mineral makeup due to the natural hair.
The handle is made out of wood which has been lacquered bright red – distinctive to all Hakuhodo brushes.
Build of the Brush
The build of this brush is unquestionable, as it's designed and manufactured at the birthplace of the idea of kabuki brushes. These brushes are crafted by hand and are a joy to use if you're willing to part with a sizable sum of cash.
Pros
As original as a kabuki brush can get

Fantastic quality

Manufactured in Japan
Cons
The price

Not for liquid products
---
Why we like it:
People on a budget definitely don't need to sacrifice quality in this case, as you get a lot of soft and dense bristles for your money.
Editor's Rating:
Type of bristle: Synthetic (Taklon)
E.l.f. doesn't mess around and time and time again comes out with affordable, great quality products. This is no exception as they've stuck to the traditional short handle design in almost every way while keeping the brush cruelty-free.
Materials Used
The brush in its entirety is made out of plastic, from bristles to handle, which is both good and bad. The synthetic bristles are used to ensure the brush is cruelty-free and vegan, which is great; however, plastic isn't the most environmentally friendly handle option. Using a bamboo handle such as in the Matto makeup brush set would be great, but also could cost a little more.
Build of the Brush
The handle is round, stout, and short with a perfectly flat bottom letting the brush be stood up and without letting the bristle touch the table surface. As such it's compact and perfect for travel as long as you find a suitable way to keep it clean in your purse.
Pros
Cruelty-free and vegan

Affordable

Traditional flat handle design
---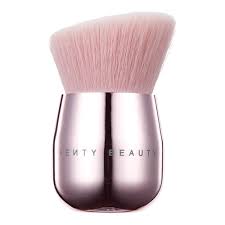 Why we like it:
It's Rihanna's favorite brush out of the FENTY brush line. With dense bristles and a cute aesthetic, surely it will become your favorite brush too.
Editor's Rating:
Type of bristle: Synthetic
Rihanna's line of makeup and brushes is thoroughly loved by many – regardless if you're her fan or not. FENTY beauty is a great quality brand that is cruelty-free, and is also made by women, for women. The brand color is a nice pale pink color; however, this may not be to everyone's liking.
Materials Used
The synthetic bristles used are super soft, yet the brush is dense enough to effectively apply and blend powders, creams, and liquids. Just like the IT cosmetics brush, this one also has an angled brush head for precise application.
Build of the Brush
The quality of this FENTY brush is great, with a round handle that's easy to use, and a flat bottom to put it down. The kabuki brush is available in two sizes – standard and mini; however, the mini one truly is mini!
The standard size is suitable to use on both face and body, but it can be a little difficult to reach areas around the eyes and nose due to the larger size.
Pros
Cruelty-free

Great for all formulas

Great for both face and body
Cons
Not everyone will be into the pink color
---
Why we like it:
With a longer handle this brush, this brush is easier to use at your dressing table while still sporting the benefits of a dense, flat brush head.
Editor's Rating:
Type of bristle: Synthetic
The flat top kabuki from Lamora is extremely similar to the Keshima brush; however, this one is vegan and cruelty-free. The manufacturer doesn't openly disclose the country where it's manufactured, which is weird but not exactly bad.
Materials Used
The bristles used are synthetic and most likely cut to shape, yet they're super soft and will blend liquid, cream, and powder makeup perfectly.
The brush head is glued into a copper ferrule, which is a nice touch over the standard aluminum. The handle is wooden and painted, providing you with a choice of color.
Build of the Brush
Just like the Keshima kabuki brush, this one also has a long handle with a rounded end, meaning you can't stand up the brush, but it may be easier to use for some people.
Overall the build quality is great, but beware of harsh soaps when you wash your brush! The vegan glue used can be weaker and dissolve more quickly if you're not careful, leaving you with a mess of shredded bristles.
Pros
Vegan and cruelty-free

Copper ferrule

Long handle

Soft bristle
Cons
The vegan glue can be weak

Not the easiest to travel with
---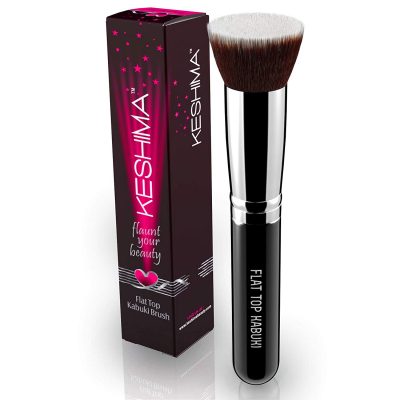 Why we like it:
An affordable choice that will buff your makeup flawlessly, whether it's liquid or powder.
Editor's Rating:
Type of bristle: Synthetic
Keshima has its own take on the traditional kabuki brush with the construction and shape of this brush. Regardless, the brush maintains the kabuki features of a dense brush-head that will blend and buff makeup flawlessly.
Considering the pride companies have when they're cruelty-free, making sure you know it, it's safe to assume this company, hence this brush, is not cruelty-free.
Materials Used
The bristles of the brush are synthetic, and while the manufacturer doesn't disclose how the bristles are shaped, they're likely cut. Nevertheless, the synthetic bristles are soft and will do well with both liquid and powder makeup.
The brush uses an aluminum, round ferrule, and a wooden handle, both of which are quite long for a traditional kabuki brush, resulting in the overall brush length to be a little over 5.5 inches.
Build of the Brush
The build quality is solid providing for many years of use. Although it's not a traditional short handle kabuki brush, this is a great option for people who want to have a nice dense bristle but prefer a longer brush handle. As the handle is rounded at the end, it's impossible to stand the brush up if you'd wish to do so.
Pros
Longer handle

Solid build quality

Soft synthetic bristle
Cons
Not cruelty-free

Can't stand the brush upright
---
Why we like it:
A very elegant looking brush that is quite traditional looking, and comes with its own sturdy carry case.
Editor's Rating:
Type of bristle: Synthetic
This brush by Daubigny is an elegant take on the traditional kabuki brush design, keeping the handle stout and flat, yet creating an oval distribution of bristles rather than a round one.
It's a great alternative to the retractable EcoTools retractable kabuki brush as it does come with a handy travel case, which keeps your brush hygienic on the go.
Materials Used
Just like the e.l.f. brush this one is also fully synthetic – including the handle. The bristles are very dense and soft, and the handle does feel nice in the hand despite being plastic.
This kabuki brush is great for both powder and liquid makeup, and the dense bristles ensure a streak-free finish.
Build of the Brush
The oval shape of the bristles created by the handle can be much nicer to use than the round one, as you can be a little more precise with your makeup application, easily reaching around your nose and chin.
However, the brush doesn't feature a separate ferrule; instead, the brush head is directly glued into the handle, which may become an issue when using liquid makeup and washing often.
Pros
Nice oval shape for precise application

Comes with a travel case

Elegant design
Cons
No ferrule, brush directly glued into the handle
---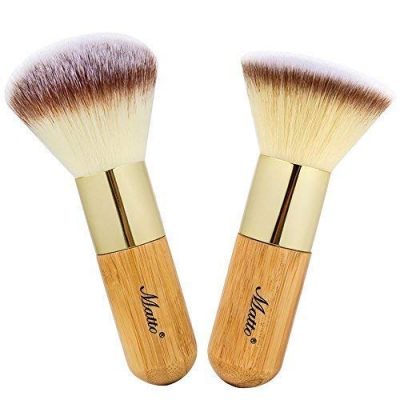 Why we like it:
You get two brushes in the set which is great if you want a flat top and a round kabuki brush to use with your liquids and powders.
Editor's Rating:
Type of bristle: Synthetic
If you can't decide whether you want a flat kabuki or a round one, or use both liquid and mineral makeup, this set is really great to experiment with. The set is affordable and great for travel as the brush length is a little over 4 inches.
Materials Used
The brush hair is synthetic which is easy to care for and super soft. Maybe a little too soft in this case, as the brushes are not as dense as some of the other options on this list such as the FENTY brush. The bamboo handles also are more environmentally friendly, without driving up the cost.
While the softness is great if you're using these as finishing brushes, the lack of density can feel a little disappointing if you really like to buff your makeup in.
Build of the Brush
The quality of this set is amazing, especially considering the price. The bamboo handles are longer than a traditional kabuki brush handle, but much shorter than a standard length handle which can be a bit awkward to use initially.
The handles are also rounded at the bottom which means you can't stand them up to keep the bristles nice and clean.
Pros
You get two brushes

Cruelty-free

Nice bamboo handles
Cons
A little too soft for proper buffing

Rounded bottom handle
---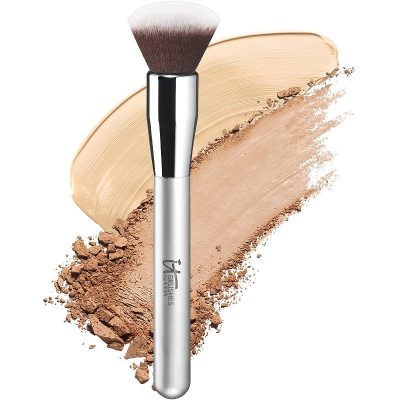 Why we like it:
The soft angled brush head is perfect for liquid and cream makeup, including contour and bronzer. It won't absorb a lot of product, and you will be able to be more precise with your application.
Editor's Rating:
Type of bristle: Synthetic
IT cosmetics has a pretty great drugstore range of brushes that is great quality, affordable, and ready to pick up at your local Ulta. Whether you're an IT cosmetics fan or not, this brush range is worth checking out.
Materials Used
The synthetic bristles on this brush are soft and great for buffing in liquid makeup, but the density of the brush could be improved. As this brush isn't super dense, buffing in mineral makeup could be a little cumbersome.
Build of the Brush
The size and shape of the brush make it ideal to throw in your purse – as long as you have a container to keep it clean. The angled brush head can be much easier and more precise to use for some people, making it ideal for finishing powders, bronzers, and blush. The round flat handle-base allows you to stand the brush up when not in use.
Pros
Angled brush head for easy application

Can be used for both liquids and powders

Soft bristles
Cons
Only available at Ulta

Not dense enough for mineral makeup
---
Ultimate Guide to Kabuki Brushes
To help you choose and care for your next kabuki brush, here is some background into the more technical aspects of their manufacturing, as well as some tips to help ensure the health of your skin and your brushes.
How Should I Use a Kabuki Brush?
Originally kabuki brushes were made out of dense animal hair in order to apply powder that would result in medium to full coverage. Although the vast majority of brushes are no longer made of animal hair, this style of the brush is still best to use with powders and mineral makeup.
While liquid foundation and cream can also be buffed into the skin for streak free finish, the buffing motion required may not be the best thing for people with dry skin as it can make skin flake and dry patches worse.
Application Method
The application method will depend on the makeup you want to apply – if it's liquid, cream, or powder.
Usually with liquid makeup it's best to apply the foundation to the back of your hand first, then either apply it to the face with your fingers or with the brush, and follow with buffing the foundation in with the brush.
If you want to apply powder or mineral makeup, following bareMinerals' advice to swirl, tap, and buff.
Kabuki Brush Care
Regardless of the brush you get, proper care will not only keep it in good shape, but also be good on your skin too. Although it's natural for us to cherish the most expensive brushes we own, treating them like royalty, taking care of the cheapest brushes will also be worth it.
Keeping Your Kabuki Brushes Hygienic
Regular cleaning of the brushes will not only extend the lifespan of the brush, and improve its performance, but most importantly your skin will thank you for it. Using a brush for foundation day in and day out without cleaning it will inevitably result in a gross tool, caked with makeup that is the perfect breeding ground for bacteria.
Quite often people complain about getting breakouts from using makeup, and they never seem to find the holy grail foundation because of it. While different people can have different reactions to the stuff they put on their face, two other factors are extremely important – how you apply the makeup, and how you remove the makeup.
Applying Makeup
Most importantly you need to use clean tools to apply the makeup, regardless if it's your fingers, a beauty blender, or a brush. Makeup brushes should be washed before their first use to remove any manufacturing dust, as well as on a regular basis – roughly once a week as recommended by the American Academy of Dermatology.
Makeup should also be applied to a clean and prepped face – as much as a brush deposits makeup on your face, your face deposits previous products and dirt onto the brush. If you use your brushes on dirty skin, all that dirt will become a breeding ground for bacteria in the brush, which then has a pretty high chance of causing a breakout the next time you use it.
Removing Makeup
Just like in the application of makeup, what you do to your skin is just as important as what you do to your brushes. Correct removal of makeup from your skin and tools is crucial in maintaining good hygiene and healthy skin.
Proper, double cleansing of the skin will remove all of the makeup off of your skin, hence removing an environment that bacteria love to breed in. The same applies to your tools. If you regularly remove the dirt and grime from the brushes, the lesser the chances you will be depositing pathogens onto your skin.

How to Wash Your Kabuki Brushes
Now that we all are sufficiently grossed out by dirty tools, here are some tips to keep your brushes nice and clean. The American Academy of Dermatology has a great guide to cleaning the brushes without any fancy equipment or soaps.
Some Tips
Avoid using harsh soaps and shampoos as this will only dry out your brushes and damage the bristles. Use gentle or clarifying shampoo instead.
When washing the brush, point the handle up and the tips down, to avoid water running into the ferrule. Water in ferrule will not only weaken the glue but also make the brush difficult to dry.
Squeeze out excess water before leaving the brushes to dry – this way your brushes will dry much quicker.
Don't fall for fancy machines that claim to make washing brushes faster or better. Not only is it wasteful for the environment and for your pocket, but such gadgets can shorten the lifespan of the brush by being too aggressive. In the end, it's much easier and faster to regularly wash the brushes at the sink.
Kabuki Brush Storage
As part of brush maintenance, the brushes should be stored in a way that keeps them clean and in shape.
At Home
For the brushes that live at your dressing table, it's a little easier to keep them clean and the bristles well maintained. Either laying them flat or keeping them upright will maintain the shape of the brush head but the cleanliness of the storage space needs to be considered.
Make sure the surface on which the brushes lay is clean, and if you want to protect them from dust and the aerosols you spray in front of the mirror, cover them up with a clean cloth or have a dedicated drawer for storage.
If you like to keep all your brushes upright, do be aware that they are exposed to dust, anything you spray, and pets (if you have any). Although it looks cute to have brushes on display, it may not be the cleanest option.
On the Go
Taking brushes with you poses its own set of potential issues such as bristles getting crushed or the brush gathering grime from your makeup bag or purse.
If you're someone who doesn't carry all their makeup and tools with them at all times, but wants to have an option of a quick touch up, then getting a retractable brush such as the EcoTools retractable kabuki can be a great option to simply throw in your purse.
If however you don't want to have a separate brush just for your bag, then having a sturdy protective case for the brush of your choice will be the best option to keep the bristles in shape and clean.
For the people who do want to carry multiple brushes with them, investing in a brush roll such as this iMe YLX pouch will be the most economical option to protect the brushes and keep them hygienic.

Should My Kabuki Brush Have Natural Hair or Synthetic?
There are pros and cons to both natural and synthetic hair. Here we'll give you a little insight into what the different materials actually are, and what are the corresponding advantages and disadvantages, allowing you to make the best decision for your needs.
Natural
Animal hairs are the true OG of the brush world. Used for centuries both in art and makeup, their performance and quality is being matched by synthetics only in the last decade. What makes animal hair special is the structure which is able to pick up pigments and deposit them exactly where you want it.
Different animal hair is used for different purposes based on their characteristics such as softness. For example, squirrel hair is some of the softest, being used in makeup brushes in the past, while boar hair is stiff and still used in hairbrushes. With many benefits in terms of performance, from pigment distribution to oil-wicking properties, animal hair has been well studied.
Coming to the Negatives…
Nowadays these benefits are outweighed a lot of the times by the downsides that come along with a natural product. More often than not animal hair can cause allergies, and it's not the most hygienic product to use. The hair structure with its cuticle holds well not only onto pigments but also oil and bacteria, meaning they're a breeding ground for pathogens, potentially causing breakouts.
All the pretty selfish downsides aside, the biggest issue is the potential animal cruelty that comes with obtaining animal products. One would hope the hair is a byproduct of the meat industry, or comes from cruelty-free farms; however, this isn't the case, especially if you buy from large international companies.
Synthetic
Technological developments continue to provide us with better materials that mimic natural fibers, and sometimes even exceed them in performance, while being much easier to clean and maintain. DuPont is at the forefront of developing recyclable synthetic fibers, with the goal of taking what nature gives us and improving on it.
As these materials are being constantly developed, unfortunately, we can't know the long-term impact on the environment; however, using these newer materials is still oftentimes better than the old-fashioned alternatives such as nylon or polyester.
Taklon
To avoid the cruelty issues associated with obtaining animal hair, DuPont was the first to invent the process of making Taklon which was to mimic the characteristic of sable fur. This synthetic material is extruded from polyester-like fibers and tapers to a point just like natural hair.
Taklon is soft, and the diameter of the fibers can be varied to obtain a softer or stiffer brush, with larger diameters being able to mimic even boar bristle. As it doesn't have any protein components like animal hair does, it's great for people with allergies and vegans.
Currently, the process rights to make Taklon is owned by a Japanese company.
Sorona
The newest development by DuPont, the Sorona fibers are anti-allergenic, anti-viral, and recyclable. They further improved their manufacturing process, ensuring the components come from sustainable sources and are environmentally friendly.
As this fiber is brand new to the market, makeup brushes with these bristles are not that common just yet, with Taiki being one of the first to use modern synthetics, but you can be on the lookout for more as this development becomes more popular.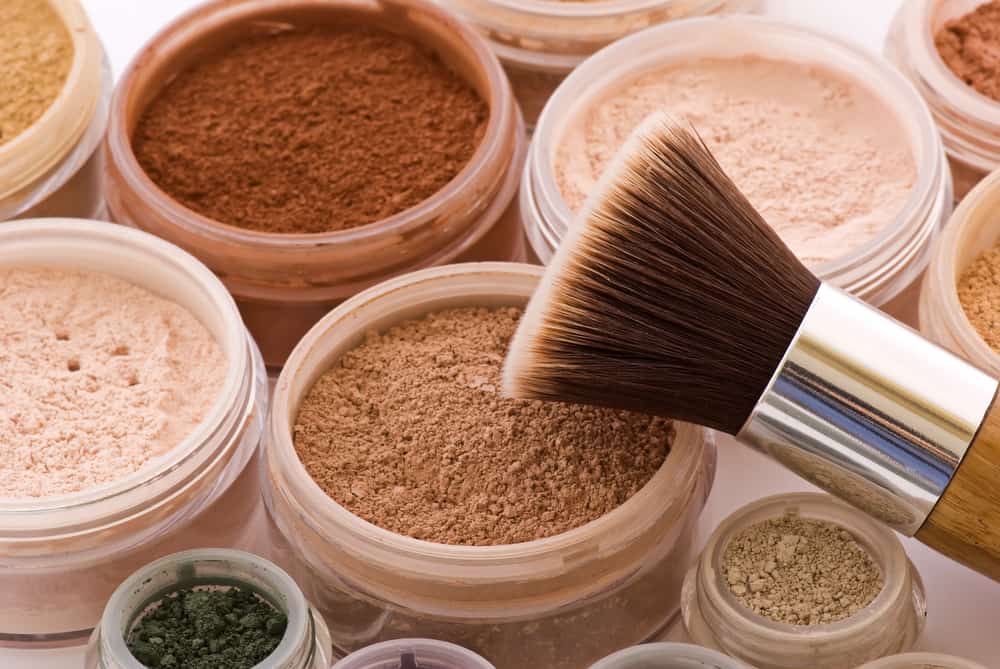 How Are Kabuki Brushes Made?
The general steps taken to create a brush are pretty much the same, regardless of where the brush is made. This process however can be fast and sloppy resulting in a mass-manufactured, poor quality mess, or great care can be taken at every step to give you a high-quality brush, regardless of the materials used.
Step 1 – Importing the Hairs
Whether natural or synthetic, the bristles need to be obtained and transported to the factory where the process can begin.
Where the manufacturer obtains the bristles will impact the quality of the brush as well as the cruelty-free status of the product. While synthetic bristles are most likely going to be cruelty-free, the natural hair poses more of an ethical conundrum.
Manufacturers are often not willing to disclose how they obtain the animal hair for their brushes, and will only assure you that the hairs are of fantastic quality. While we all want to believe that animals are cared for and brushed or shaved for their hair, more often than not this is not the case. In the end, you have no idea how the hair was obtained, whether from fur farms, as a byproduct of the meat industry, from cruelty-free sources, or a mix of all of the above.
Step 2 – Selecting the Hairs
The higher quality brushes will have a solid process of removing inferior hairs, for example, if they're damaged or bent. Due to the nature of this process, it involves human labor and their judgment to bring you the highest quality product.

Step 3 – Shaping of the Brush Head
As mentioned at the beginning of the article, the brush head can be shaped either by using a mold or by cutting the bristles. It's extremely common to cut the synthetic brushes to shape as they don't share the same properties as animal hair, being nonporous and tapering off at the tip.
Animal hair on the other hand is prized for their performance due to the tapering, fine tip, and most importantly the cuticle that is able to hold on to pigment really well. Cutting off those tips will ultimately defeat the point of using animal hair in the first place.
Step 4 – Inserting Into the Ferrule
Depending on the method of shaping and the quality of manufacturing, the hairs will be either tied together and then glued, or simply glued together. This brush head unit can then be inserted and glued into the ferrule which will prevent the brush from shedding and deforming.
If poor quality glue is used, the brush head will most likely come loose after several washings, rendering it useless. To avoid the misfortune of this happening, correct washing of brushes is advised.
Step 5 – Attaching the Handle and Inspection
All the manufacturers will be sure to mention that their products are inspected to give you a high-quality product. Though sometimes we all do wonder if the product was actually inspected or not, and it's good to become familiar with the return policy before your purchase.
A Kabuki Brush May Become Your Favorite Tool
When you find the right kabuki brush for you, you may also quickly realize it's your favorite brush in your arsenal. Their dense, soft bristles can make applying your foundation or powder a luxurious, pampering experience. Get ready to take your makeup routine to the next level — and make getting ready one of the best parts of your day.