Top Picks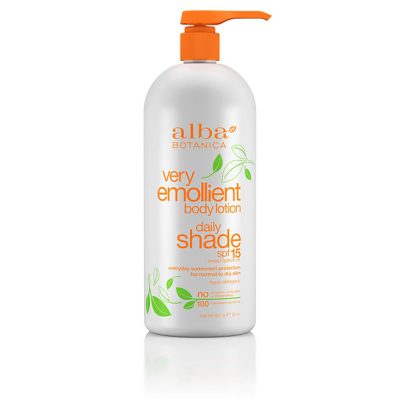 Alba Botanica Very Emollient Daily Shade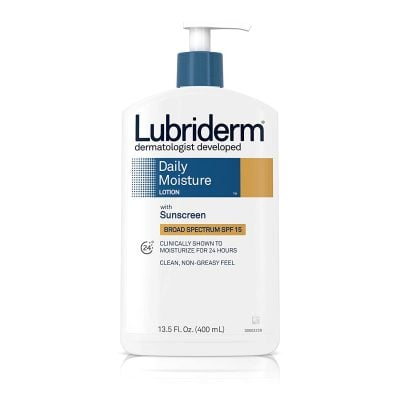 Lubriderm Daily Moisture Lotion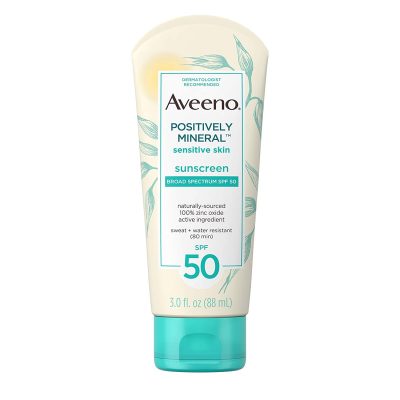 Aveeno Positively Mineral Sensitive Skin Sunscreen
Previous
Next
From contouring creams to toning moisturizers, there's no shortage of products that promise to nourish your skin. Despite what cosmetic manufacturers want you to believe, though, you don't have to apply half a dozen topical ointments to achieve a truly radiant glow. In fact, as long as you lead a healthy lifestyle, all you really need is a good body lotion with SPF.
The right formula will hydrate your skin while blocking harmful UV rays that cause cancer, not to mention fine lines, wrinkles, and discoloration. To help you find the perfect product for your skin type and lifestyle, we've compiled a list of the best body lotions with SPF that are on the market today.
What Should You Consider Before Buying a Body Lotion with SPF?
When choosing a body lotion with sun protection, make sure to consider the following. SPF lotions vary immensely in their formulas, and different skin types, activities, and personal preferences call for different kinds of ingredients. We've factored all such variables into our selection process, and we've compiled a list of suitable lotions for virtually every combination.
Sun Protection Factor
Lotions with a higher sun protection factor, or SPF, block more UVB rays. Products that are labeled "broad spectrum" also block UVA rays.
Since both UVA and UVB rays are dangerous—the former cause burns, fine lines, and wrinkles, while the latter play a critical role in the development of skin cancer—dermatologists advise everyone to look for a lotion with broad spectrum protection that has an SPF of at least 15. While an SPF lower than 15 will prevent burning, it won't protect against skin cancer or premature aging.
If you review our guide to SPF, however, you'll see that most people could benefit from a much higher SPF. Those who spend a lot of time in direct sunlight, for example, need considerably more protection, as do those who have fair skin and are prone to burning.
Skin Type
Different skin types will respond differently to the same body lotions. As such, it's important to determine whether you have dry, oily, or combination skin before selecting a body lotion with SPF. If you're unsure of your skin type, we've included a simple test for determining it below.
Ingredients
If you have dry skin, you should look for a lotion that contains emollients. These clinically proven moisturizers form an oily layer on top of the skin that traps and holds moisture. Our two most hydrating picks—Eucerin's Daily Hydration Cream and Aveeno's Mineral Sunscreen are loaded with emollients.
If you have oily skin, on the other hand, you'll want to avoid lotions that contain additional oil and will therefore exacerbate the issue. Instead, opt for a non-greasy, non-comedogenic formula that won't clog pores, like Neutrogena's Age Shield Face Sunscreen. Although this is marketed as a face lotion, you can apply it to other areas of your body that are prone to breaking out, like your back.
Longevity
When it comes to water resistance, cosmetic manufacturers must toe the line between breathability and longevity. Lotions that can withstand total submersion for hours might feel like shellac when applied. Those that are too lightweight, however, will rinse away at the first sign of a sweat.
If the thought of narrowing down the various body lotions with SPF is overwhelming, never fear! We've done our research, and we can say with confidence that you'll find the perfect product for your needs and budget among those listed here.
Top 10 Best Body Lotions with SPF 2021
Guide to Buying the Best Body Lotion with SPF
Buying the best body lotion with SPF for your needs—and then applying it diligently—will help you maintain soft, supple skin while also reducing your risk of skin cancer. And doing some research before making your selection will ensure you choose the right one for your skin type and lifestyle. To help you get started, we've compiled this list of everything you need to make an informed decision right here.

What Is My Skin Type?
The easiest way to determine your skin type is with blotting papers. After washing your face thoroughly with a gentle cleanser and patting the skin dry, apply a blotting paper to your forehead, nose, cheeks, and chin. Inspect it after you've touched each portion of your face.
If the sheet picked up little to no oil anywhere, you have dry skin. If it picked up some oil after touching the forehead and nose, you have normal skin, or what's often called combination skin. If the blotting paper is saturated, you have oily skin.
Dry Skin
If you don't have any blotting papers, wash and dry your face, leave it bare, and inspect it closely about 30 minutes later. If your entire face feels tight or parched, you have dry skin and should try something like the Eucerin Daily Hydration Cream.
Oily Skin
If your forehead and nose are shiny, you have combination skin. If your cheeks are also shiny, you have oily skin, and the Neutrogena Age Shield Face Oil-Free Sunscreen would likely be your best bet.
Combination Skin
We made sure to include at least one product for each skin type on this list. We've also included a few products that are gentle enough for all skin types. If you want to share the lotion with other members of your household—or you have combination skin—opt for a product that's classified as "universal," like Aveeno's Daily Moisturizing Lotion.
Sensitive Skin
It's important to note that regardless of whether you have dry, oily, or combination skin, you may also have sensitive skin. Sensitive skin is skin that's prone to irritation and inflammation, especially when exposed to certain cosmetics or environmental factors.
If you have sensitive skin, you'll likely notice the best results with products that are dermatologist-recommended and contain clinically proven ingredients. For this reason, we've included a number of products from dermatologist-developed or approved brands, like Lubriderm's Daily Moisture Lotion.
What Ingredients Should I Avoid?
Regardless of your skin type, try to avoid lotions that contain parabens, para-aminobenzoic acid, or oxybenzone. Parabens are popular additives that extend the shelf life of cosmetics, but they may have adverse effects on the body—primarily in the endocrine system—in large quantities.
Para-aminobenzoic acid, or PABA, is a UVB filter that can cause stinging, burning, and irritation, especially on sensitive skin. What's more, it also appears to disrupt the endocrine system.
Oxybenzone, on the other hand, doesn't appear to be harmful to humans, but it can be toxic to marine life. Research indicates it's especially dangerous to coral reefs. As such, some of the most popular vacation destinations in the world have banned sunscreens that contain oxybenzone and are therefore "reef-safe."

How Much SPF Do I Need?
A sun protection factor of 15 is the absolute minimum that dermatologists recommend because it's the lowest SPF that can prevent skin cancer. The SPFs of the products we've chosen range from 15 to 110. Before purchasing one of these lotions, we encourage you to consider your lifestyle.
If you work in an office building, for example, Alba Botanica's Daily Shade body lotion, which has an SPF of 15, may provide all the protection you need. If, on the other hand, you're a lifeguard, you'll want something that's considerably more powerful, like Neutrogena's Beach Defense Sunscreen Lotion.
Your pigmentation will also influence the total sun protection factor you need. If you have relatively fair skin, for example, you should look for products with a higher SPF because you have a higher risk of skin cancer. For example, check out Neutrogena's Age Shield Face Sunscreen, which has an SPF of 110.
While those with darker complexions should still shield their skin from UV rays, they're not as vulnerable to skin cancer. If you have darker skin, you may get all the protection you need from lotions with lower SPFs, like the Hempz Yuzu & Starfruit Daily Herbal Body Moisturizer, which has an SPF of 30.
Do You Have to Reapply Body Lotion With SPF for All-Day Protection?
If your body lotion is not exposed to water or sweat, it should theoretically last all day. For example, if you apply Lubriderm's Daily Moisture Lotion in the morning and then head to work, where you sit at a desk in an air-conditioned office, it's reasonable to assume your skin would still have some level of sun protection when you clocked out at the end of the day.
Do You Have to Reapply Body Lotion After Swimming?
You'll need to reapply any non-waterproof body lotion after swimming, but while we didn't prioritize water resistance for every pick on our list—many of these lotions are designed for daily wear, after all, and you generally don't have to worry about excessive sweating or swimming as you go about your day—we offer a few options for those who lead more active lifestyles.
For example, Neutrogena's Beach Defense Sunscreen Lotion can withstand about 80 minutes of submersion.
If you'll be swimming in a natural body of water, opt for one of our reef-safe picks, like  Alba Botanica's Sensitive Sunscreen or Coppertone's Glow With Shimmer Sunscreen Lotion.
Does Body Lotion With SPF Expire?
It's important to remember when you actually buy your body lotion because its active ingredients can weaken over time. The Food and Drug Administration requires sunscreen formulas to remain at full strength for at least three years. Beyond that, however, there's no guarantee that the products you purchased will continue providing the protection they promise.
Since all the products on this list are gentle enough for daily use, you should theoretically use them up before the expiration date has passed. For liberal, all-over coverage when you're at the beach, experts recommend using about an ounce of sunscreen, which would fill a standard shot glass to the brim. While you won't need to apply nearly as much when you're not at the beach, chances you'll still use up your lotion in a matter of weeks.
Should you purchase different SPF products for different situations, though, you may end up putting some lotions away at the end of the summer. Make sure to review their expiration dates before you do. If it turns out they'll expire before the following summer, try to use them up instead. If they won't expire before you need them again, you can ensure their longevity by storing them in a cool, dry area away from direct sunlight.
Is Body Lotion With SPF Safe for Babies?
It's okay to apply SPF products to babies once they reach six months of age. Prior to that, parents should use other means to limit sun exposure, like protective clothing, wide-brim hats, and umbrellas.
If your baby has especially sensitive skin by the time he or she is six months old, ask your pediatrician what kind of SPF products you should use. Otherwise, dermatologists generally recommend formulas that contain zinc oxide, like Aveeno's Mineral Sunscreen, for babies.
Are There Any Other SPF Products I Should Wear Daily?
Most people are surprised to learn that their skin isn't the only organ that can develop melanoma. For example, did you know the conjunctiva is also vulnerable to skin cancer? This is the clear, thin membrane that covers part of the front of the eye and the inside of the eyelid. Melanoma can also develop underneath the fingernails and toenails.
As such, applying body lotion with SPF diligently is just one component of preventing skin cancer. You should also don sunglasses that wrap around the sides of your temples whenever you go out during the day. Look for a pair that has a special lens coating that blocks both UVA and UVB rays.
As for protecting your fingernails, there's not much you can do short of wearing gloves, which is impractical during the warmer months. You can protect your toenails all year round, however, by wearing closed-toe shoes.
You should also purchase a lip balm that has an SPF of at least 30. Keep some in your car or purse, and apply it every two hours or so when you're out. Both sweat and saliva can make lip balm rinse away fairly quickly.
Nourish & Protect Your Skin
While everyone should protect their skin from the sun's UV rays, there is no single body lotion with SPF that's suitable for all skin types and scenarios. Instead, there are hundreds of varieties with dozens of active ingredients to choose from.
To keep you from getting overwhelmed, we've compiled 10 exceptional products with 10 totally unique formulas that meet 10 different needs so you can choose the perfect one for you with confidence.