Top Picks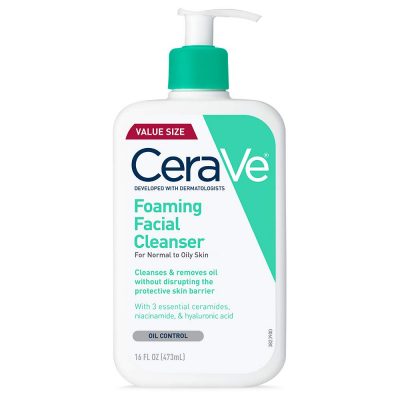 CeraVe Foaming Facial Cleanser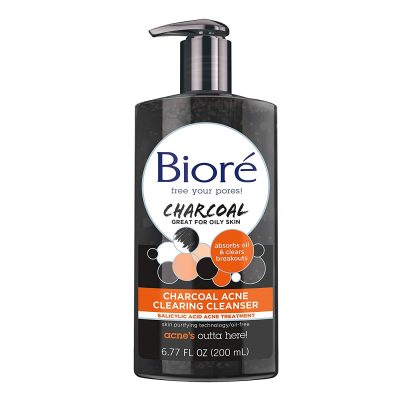 Bioré Charcoal Acne Clearing Facial Wash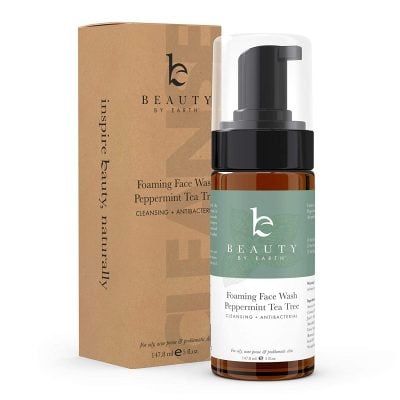 Beauty by Earth Organic Face Wash
Previous
Next
Looking after oily skin requires military precision. You must carry out extensive research for any product that comes into contact with your skin, cleanse like it's your obsession, and live in fear of future breakouts.
Unfortunately, oily skin isn't just a curse that hangs over us during our teenage years and disappears the second we turn 20 — it's prevalent among people of all ages. But that doesn't mean there's nothing you can do about it! Whether you're 16 or 60, there are plenty of research-backed products out there to prevent the over-production of oil and keep clogged pores at bay.
How to Choose the Right Face Wash
We know oily-skinned folks are discerning about the products they use. So they should be — the skin is the body's largest organ, and facial skin is particularly thin and delicate. Protect it at all costs!
To figure out which facial wash is right for you, here are some elements you should consider.
Types of Facial Washes
In day-to-day life, most people use the terms "facial wash" and "facial cleanse" interchangeably. Some brands even name their products "facial cleanser washes" for added confusion. But we like to be precise — there are some differences between these two products.
Facial washes are harsher, gel-like products that produce foam. Despite having the word "clean" in the name, a facial cleanser is less thorough at cleaning than a face wash. It's a lighter, creamier lotion that produces minimal foam, or no foam at all.
Use a cleanser to get rid of makeup and dirt and a facial wash to entirely strip your face of unwanted oils and impurities.
Foaming gels (facial washes) are generally best for oily skin since they have a mattifying effect and dissolve oil. However, for anyone with sensitive or combination skin, it's best to look for a gentler facial wash that produces less foam.
Check out our advice for looking after sensitive skin and combination skin.
Ingredient Quality
A few people in the world win the genetic lottery and can do no wrong with their skin. No matter how many harmful chemicals they expose their skin to, it remains smooth and flawless. Sickening, isn't it?
Those of us with oily skin can't afford to take such liberties, so paying attention to the ingredients list isn't just a sensible idea — it's a must. Harsh ingredients like parabens, sodium lauryl sulfate (SLS), and soap can cause irritation, especially if your skin is sensitive.
Other ingredients that help keep the skin moisturized and minimize oil production are hyaluronic acid, salicylic acid, and niacinamide.
We're just skimming the surface here. To clue yourself up, read our breakdown on ingredients to enjoy and ingredients to avoid.
Non-Comedogenic
Don't be scared off by the big word. Non-comedogenic (or non-acnegenic) skincare products don't cause comedones, more commonly known as pore blockages and breakouts. If an item is non-comedogenic, the label will say so.
Most often, scientists test whether a product is non-comedogenic by examining how much it irritates a rabbit's ear on a scale of one to five. There's a tradeoff between ethics and safety.
Just because a product doesn't have a non-comedogenic label, it doesn't mean it's necessarily bad for the skin; maybe the brand doesn't condone animal testing. Likewise, some "non-comedogenic" could cause acne in special cases. Everyone is different! But if you suffer from frequent breakouts and want to play it safe, non-comedogenic is the way to go.
Sensitive Skin
If your skin is oily and sensitive, you'll need to take extra care to avoid breakouts. Even minor stressors like temperature changes can be problematic — never mind products with harsh ingredients.
As well as choosing a gentler, lightly foaming facial wash, you might want to look out for special ingredients like micellar water. We also have a special guide to looking after sensitive and oily skin.
Dermatologist Approved
All commercially available cosmetic products are subject to FDA regulations. You're not going to find a facial wash sold in a shop that's made by someone's little sister in a messy kitchen that destroys your skin. At least, we hope not.
But just because a product is safe, it doesn't mean it has much scientific basis to prove it will help control oily skin. Look out for items dermatologists have tested if you want a product that goes the extra mile — this demonstrates that medical professionals approve.
Scent
If you don't like the smell of a facial wash, you're not going to want to lather it all over your face every day. But smell isn't just a trivial matter of personal preferences.
Added fragrances can cause allergies or inflammation, so a fragrance-free option is the safest bet for anyone with sensitive skin.
Cruelty-Free
Even if you're not a vegan, you might not want to support companies who harm animals to create their products.
You may notice some brands say they avoid testing on animals "where possible" or do it only when "required by law." Unfortunately, this doesn't mean the brand is cruelty-free. Mainland China is one region where animal testing is a legal requirement, so major beauty companies like L'Oreal that sell there must carry out the practice.
Be warned: unless an item has a cruelty-free stamp, the company is probably carrying out animal testing.
We believe people with high-maintenance skin deserve to enjoy life just as much as anyone else. So, we've compiled a list of the best facial washes to help them.
Top 12 Best Face Washes for Oily Skin 2021
Complete Guide to Face Washes
Still not figured out which facial wash is right for your skin? Here's some more detailed information to help you make the call.

Ingredients to Look For
We've already seen a range of products with great ingredients. If you'd like to get into the nitty-gritty of why certain items help tackle oily skin, you're in the right place.
Ceramides are fatty acids that hold the skin together and keep it hydrated, locking in moisture. This might not be top of your priority list if you have acne, but ceramides also stop the bad stuff getting in, like impurities from the air. They occur naturally in the skin's protective barrier. There are various types of ceramides — CeraVe uses the three essential ceramides 1, 3, and 6-II.
The body also produces hyaluronic acid naturally to retain moisture. Feeding your skin more of the acid boosts hydration without increasing oil production. CeraVe is also high in hyaluronic acid.
Niacinamide is a form of vitamin B3 known for protecting the skin and helping it produce hyaluronic acid. It also reduces inflammation and limits the overproduction of oil; great news for oily-skinned folk. Many high-quality face washes, including La Roche-Posay Toleriane Face Wash, include this excellent ingredient.
Salicylic acid is an organic compound found in a few fruits and vegetables that can penetrate pores and help unclog blackheads. It even tackles inflammation, exfoliates the skin, and reduces oil secretion. However, it may be overly drying for anyone with sensitive or combination skin. If you're struggling with acne, though, getting something high in salicylic acid like Neutrogena Oil-Free Acne and Redness Facial Cleanser could be exactly what you need.
Lactic acid is a less common and more gentle acid — ideal for those with sensitive skin. It also has the added benefit of tackling acne scars. It's great if you've got acne issues but your face doesn't play nice with salicylic acid, and it's the key ingredient in gentle washes like PCA Skin Facial Wash.
Glycerin, an important part of La Roche-Posay Toleriane Face Wash is a moisturizing ingredient that helps keep your skin hydrated.
You'll also find a few ingredients with familiar-sounding names that can help tackle oily skin. Charcoal can remove excess oil and impurities from your skin, while aloe vera absorbs oil. These are two of the most natural remedies for oily skin.
Finally, antioxidants and vitamins also aid moisturization, especially Vitamin C. Whew! That's a lot of good ingredients.

Ingredients to Avoid
What about the ingredients you should avoid? Not everyone believes the ingredients listed below are especially harmful, and lots of mainstream products contain them. However, if you have sensitive skin, you've previously had problems with skincare products leading to breakouts, or you want to err on the side of caution for your long-term health, it's wise to avoid them.
Parabens are artificial preservatives that stop products biodegrading. Sounds fair enough, but studies suggest they could interrupt natural hormone functioning, or even cause cancer or infertility. Not everyone agrees with this analysis, but they're certainly a cheap and mostly unnecessary ingredient.
Sodium lauryl sulfate (SLS) is another big one you've probably heard of. It's a fairly harsh cleaning agent that manufacturers like to use because it makes products foam when they come into contact with water. It's not ideal for anyone with sensitive skin since it's so strong, but any links with cancer are unclear.
Then there's soap. The purpose of a facial wash is to clean your face, so it sounds counterintuitive to skip the soap, but there are some good reasons to do so. Soap is harsh, and it's also extremely alkaline. It's better to use something more gentle and acidic.

How to Care for Sensitive Skin
Caring for sensitive and oily skin might sound like a handful, but it's a battle many people face. You'll face problems from two directions. Sensitive skin is more susceptible to everyday stressors like pollution and temperature, and this can cause breakouts. Your skin will also be more sensitive to harsh products, which can also provoke breakouts.
This is why following a good skincare routine is so important — you'll minimize the impact of stressors. You should also keep your skin hydrated to make it as resilient as possible.
Lighter ingredients like micellar water or prebiotic thermal water can help boost the skin with antioxidants and soothe it instead of stripping natural moisture. The Clean & Clear facial wash is a great option.
Makeup for Sensitive Skin
If you suffer from sensitive skin, there's more you can do to protect it than trying to repair it with facial washes. You can try to prevent the damage from occurring in the first place. Eat a healthy diet, get plenty of rest, and try to stay out of the sun, but also avoid using makeup products that are going to harm your skin.
To make that a bit easier, we've rounded up the best eyeshadows for sensitive skin available today. We also have reccomendations for skin-safe makeup remover wipes that won't cause your face to break out.
How to Care for Eczema and Acne-Prone Skin
If you have acne or eczema, it's essential to take all the necessary precautions not to irritate your skin. Above all, avoid harsh products. And once you find something that works, stick with it — inconsistency and exposure to too many new ingredients can be overwhelming and overstimulating.
It's also a great idea to apply sun lotion each day to stop the sun from causing a breakout.
If you're following a perfect skincare routine and still suffering, consult a dermatologist or medical professional.

What to Do if Your Skin Is Oily and Dry
Oily and dry skin might sound a million miles apart, but that's not strictly true. It's perfectly possible to have skin that is sometimes oily and sometimes dry, often called combination skin.
The solution to both oily and dry skin is often the same: protect your natural barrier and keep your skin moisturized. Hydration is a direct remedy for dryness and a less direct way to stop your body from producing excess oil.
How to Use a Facial Wash in Your Skincare Routine
Now you know how to find the perfect facial wash for your skin, it's time to think about using it properly. The golden rule of skincare is to cleanse, tone, and moisturize. But what does any of this actually mean? If you're new to the world of skincare, it can feel like a minefield.
Looking after your skin is essential for maintaining its pH and natural protective barrier. The ideal pH of the skin is around 5 (that's slightly acidic if you've forgotten the scale from science class), but external substances like air pollution and sweat can interrupt that balance.
As for your skin barrier, we're talking about a protective layer that stops external microbes from getting in and water getting out (which causes sensitivity and dryness). To protect this natural barrier, we must stay hydrated — no matter how oily your skin is. Here's how to do it.
Using Skincare Products
Before applying any products to your face, apply lukewarm water, and dry it with a clean towel. Then, it's time to use your shiny, new facial wash.
Facial washes are often alkaline, so it's best to follow up with a toner to rebalance your skin to its original pH and minimize irritation.
After toning, follow up with moisturization. Don't be scared of adding more moisture just because your skin is oily — if your skin lacks hydration, it will only produce more oil. Yikes!
You can repeat this process once, but the American Academy of Dermatology recommends only washing your face twice a day and after sweating.
An optional further step is using a facial scrub. The aim of scrubbing your face is to exfoliate it and remove dead cells to make your skin smoother. It won't help to tackle your oily skin though, and you shouldn't use a facial scrub when you're having an acne breakout — unless you want to kill your skin in the process!
Some people like to use a facial wash, cleanser, and scrub in their routine, but others find this is too harsh on their skin and prefer to keep things simple. There's no one-size-fits-all solution, so experiment and see what works best for your skin.
Face Wash FAQs
Why Use a Facial Wash?
Using a facial wash is an essential part of a good skincare routine. It removes dirt and impurities built up over the day. If you wear makeup or have sensitive or oily skin, a face wash is especially important.
Can I Use Facial Wash Every Day?
Experts recommend using facial wash every day in the evening to remove the impurities built up during the day. Some people also use it first thing in the morning, since you may pick up bacteria from your pillow — especially if you want to apply makeup.
Can Facial Wash Expire?
Like most products, facial washes eventually expire. Active ingredients (like natural extracts) expire first after around six months, which will make the rest of the product degrade too. However, if you're using your face wash every day like recommended, you'll easily use it up before the expiration date.
Can Face Washes Cause Acne?
Choosing a face wash with harsh or comedogenic ingredients may cause acne. Still, you can easily avoid this by choosing a facial wash designed for oily or acne-prone skin.
Is Face Wash Safe for Pregnancy?
During pregnancy, you'll experience hormonal changes, which affect the skin and its oil production. Some pregnant women suffer from acne breakouts or find their usual face wash irritates their skin. If this happens to you, opt for a face wash with gentle ingredients.
Time to Kiss Oily Skin Goodbye
Oily skin is difficult to manage, but you don't have to let it control your life. Taking some time to find the right facial wash to maintain your skin will pay dividends.
If you try out a product and it doesn't work for you immediately, don't panic. Oily skin isn't a problem you can fix overnight, and you may need to trial a few different products until you find the one for you.
Besides, oily skin may be a blessing in disguise. Establishing the perfect skincare routine and looking after yourself will keep your skin looking fantastic well into old age. Every cloud!