For women, thinning hair can be an alarming, surprising, and often upsetting experience. But you're not alone—around 50% of women experience thinning hair in their lifetimes, for a vast number of different reasons.
In this guide, we've unpacked why it happens, what you can do about it, and many of the products you might want to consider using. Worried about thinning hair? Not for much longer!
Why Do Women Suffer From Thinning Hair?
Many women suffer from thinning hair. It's probably happened to a few women in your life, even if you're not aware of it. If it's now happening to you, here are some possible reasons why.
Thinning hair is often a simple downside of getting older, especially if you're going through menopause.
If you've just had a baby, it might be postpartum hair loss.
Hair loss can be a side effect of stress.
You might be suffering from alopecia areata.
It's a common side effect of chemotherapy.
It can be the result of over-bleaching or of pulling the hair into very tight hairstyles.
How to Hide Thinning Hair — 6 Simple, Easy, Affordable Ways
There are many reasons why thinning hair happens, so you're absolutely not alone. Thankfully, there is also no shortage of solutions to the issue.
Cut It Shorter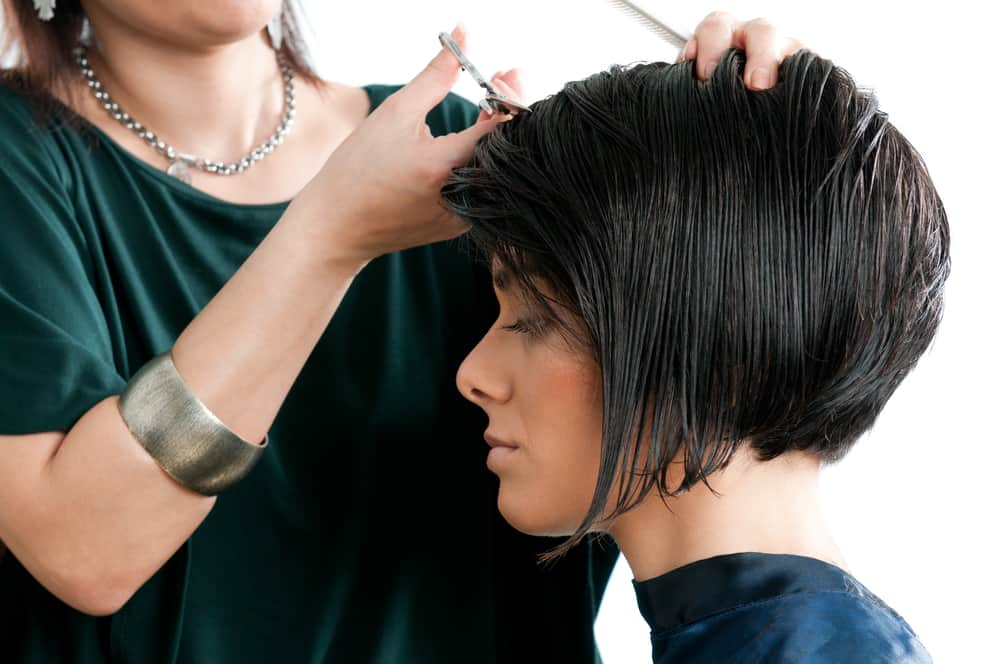 This might seem pretty illogical, but it really works. If you chop a few inches off your hair, you can give the illusion of more volume—and if you give the illusion of more volume, your hair will look thicker, bouncier and more voluptuous. Longer hair is gravity's best friend, as it's heavier. When it gets pulled down, it takes on a flatter appearance.
When you cut your hair shorter, get lots of layers and textures, and the illusion will be even better. Speak to your stylist about your thinning hair, and they'll be able to shape it in a way that better hides the sparse parts.
You'll be hugely surprised and impressed at the difference a shorter hairstyle can make.
Use Volumizing Products
There are many products you can use to make your hair fuller, bouncier, and thicker (or at least offer the illusion that your hair is those things):
1: Volumizing Shampoo
A volumizing shampoo can massively help your hair look thicker. Something like this Mokita Naturals Volumizing Shampoo is an excellent choice that'll help your hair achieve a more voluminous look.
2: Volumizing Mousse
Similarly, a mousse can hugely help your thinning hair. This John Frieda mousse is great for bulking up the strands and giving the hair a lift, but there are many other excellent products on the market. If your hair gets a little oily, a great dry shampoo can offer similar results while also absorbing excess oils from your hair.
3: Hair Building Fibers
Products like Toppik are fantastic if you're dealing with hair loss at the part of your head or if you're losing hair in patches. The fibers in the product match your hair color, and coat the scalp to hide any sparse areas.
4: Hair Dye
If you dye your hair, you can give the illusion of thickness. By adding some highlights and lowlights, you will give your hair the illusion of texture and fullness, and any overall loss of density won't be as apparent.
Effective Blow Drying
Manyf people don't know how to properly blow dry their hair. Because they don't blow dry properly, they don't get the results they want. But you can use a blow dryer to add thickness and volume to your hair—all you need is a good blow dryer and a good round brush.
Going section by section, pull up a clump of your hair using your brush, then blast it with hot air in the opposite direction to which it naturally falls. When it's dry, give that same section of hair a quick blast of cold air, which will help to add volume and reduce frizz.
Do each section of hair in turn, and you'll have much more voluminous hair. This takes quite a while, but it's definitely worth the results.
In this video, a stylist with thin hair teaches you how to blow dry for volume. Perfect!
Weaves, Wigs and More
Way more women use weaves, wigs and hair extensions than you think. And many women use these accessories to cover up thinning hair, so don't be shy about joining them.
Hair toppers are great if you're thinning on top, hair extensions are great if you want general volume, and wigs are good if you're thinning everywhere and you don't want to spend time on maintenance or upkeep.
Speak to Your Stylist
Speak to a good, reputable, trustworthy stylist. They'll be able to look at your hair and ask you questions about your lifestyle and your hair care regimen. They'll be able to give you bespoke advice according to your age, your hair type, your hair color, your lifestyle, and more.
The best advice is always customized, so speaking to a stylist can massively improve your thinning hair.
Talk to Your Friends and Family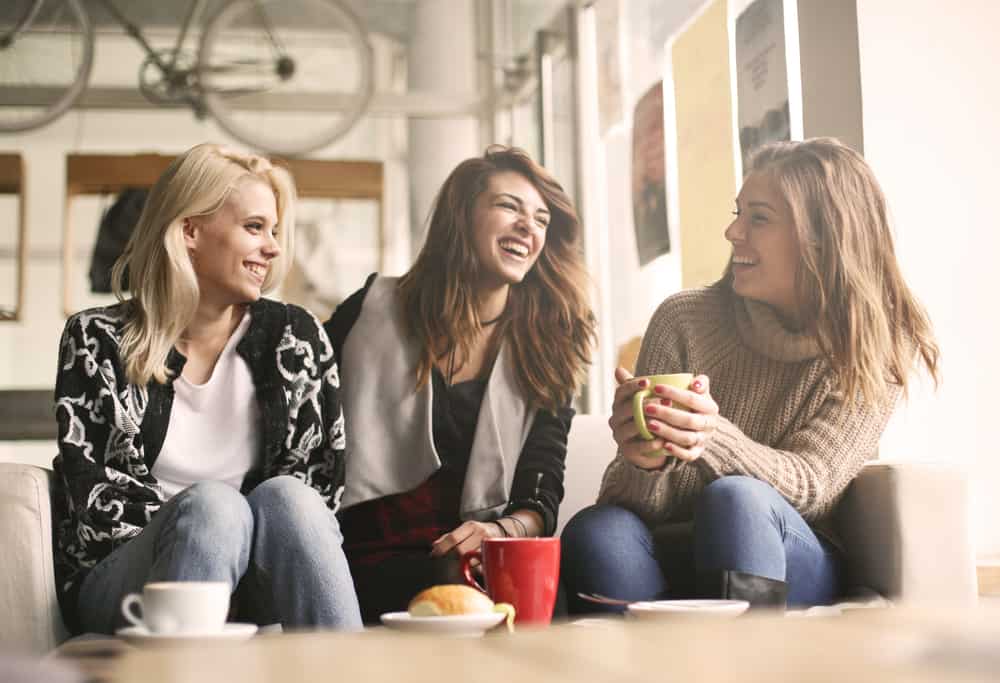 This will be happening to some of your friends too. Without doubt, other women you know will also have thinning hair. Firstly, speaking to your friends will make you feel better, as you'll realize you're not alone. Secondly, your friends might have some more tips or they might be willing to help you style your hair.
More Pro-Tips for Hiding Thinning Hair
Here are some other small hacks, tips and pointers you can also try for hiding thinning hair.
Embrace the grays. Gray hair is actually thicker than other hair, so don't be tempted to cut or pluck it out. You can either dye your hair to cover the grays, or just go gray gracefully. Gray hair means thicker hair!
Be gentle with your hair. Don't be aggressive when you towel-dry your hair, don't have mega-hot showers or baths, and don't tie your hair too tight when you have it in a bun or ponytail.
Play with different partings. Zig-zag partings and side partings can often better hide thinning hair than straight center partings. Experiment with different types of partings to see which ones make your hair look fuller.
Consider only washing your hair with filtered water. In some regions, sanitation systems aren't great, and there are lots of metals and pollutants in the water. Using poor water on your hair can cause it to thin out, while minerals can weigh it down and make it look flat.
Consider wearing hats and headdresses. This can temporarily disguise the issue.
Avoid stress. Stress is a major cause of thinning hair. Reduce stress from your life and things might get better. And even if they don't—hey, at least you're less stressed.
Don't panic! This happens to lots of women every day. The more you stress about it, the more you'll be stressed, and the more the stress might affect your already-thinning hair.
Final Words
There you have it—everything we know about how to hide thinning hair. With the tips and help above, you can prevent your hair from thinning, treat it to make it thicker, and hide how severe your hair loss is.
If you've always had thin hair, you could also try these tips on how to increase the natural thickness of your hair. Those tips are a little more long-term than the ones in this article, but they might be helpful if you're committed to boosting the volume of your hair.