Top Picks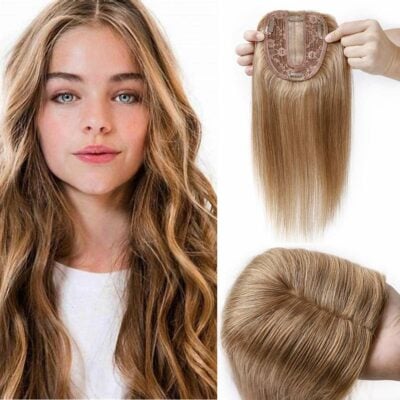 SEGO Dense Hair Topper With Human Base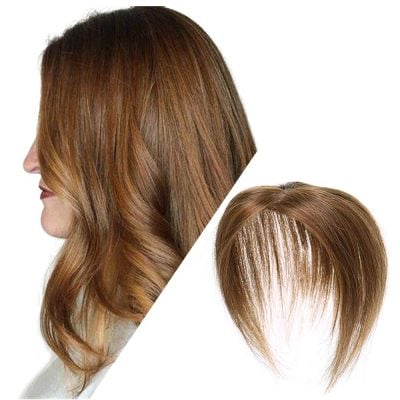 Hairro Clip-in Hair Topper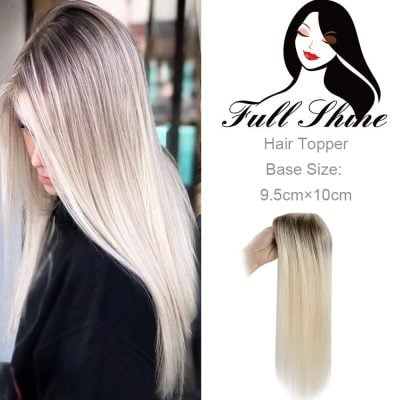 Full Shine Long Straight Human Hair Topper
Previous
Next
A hair topper is the perfect solution to thinning hair for women. The term refers to a clip-on wig intended to conceal balding or thinning spots by blending in with your natural style and color. Having beautiful hair can do wonders for anyone's self-confidence, and using a hair topper is an affordable and simple way to help your hair look exactly how you want it to.
Since we all know that the quality of any hairpiece can make or break a look, shopping for hair toppers is a massive decision that you might never be truly ready to tackle on your own. It's not impossible for anxiety to set in and prevent you from making clear, objective decisions, and navigating the vast world of different hairpieces is often intimidating.
Luckily, you don't have to face it alone—we've created a complete buyer's guide for finding out what hairpiece makes you look more youthful, confident, and beautiful. You'll also learn to discern between the various hair toppers available on the market.
Keep reading for the best advice on purchasing hair toppers like an expert.
Factors to Consider When Choosing a Hair Topper
Personal preference plays a large role in choosing the right hair topper for you, but there are also several other factors that you should consider when looking for the perfect product.
Color
The goal is to find a hair topper that closely resembles the color of your natural hair. If you can't seem to find one that matches your hair, you can opt to bleach or dye your wig to adjust the tone. You'd typically want to purchase a wig that comes in the right color, though.
Length
It's up to you to choose the hair length that best suits your preferences. If your hair is particularly thin, you might want to use longer hair toppers with thicker tops. Those with thicker hair are freer to explore shorter hairstyles. Most hair toppers come in lengths of 8, 12, 16, and 18 inches, though smaller and larger sizes do exist.
Pro Tip: You can cut most hair toppers just like you can real hair, so if you're unsure, it's safest to choose a larger size.
Material
You have two options for strand: synthetic or natural human hair. Synthetic fiber is produced using artificial products while the latter is made of real human hair (often donated)—usually outsourced from various institutions. Synthetic fiber is cheaper and easier to maintain in the long run, but it rarely looks as realistic. Hair toppers made of natural human hair blend better with biological hair, and offer more versatility when it comes to styling, too.
Hair Style
What hairstyle do you dream of pulling off? You can choose between straight, curly, center-parted, and air bangs, among others. If you can't decide between straight and curly, opt for straight hair toppers made of long, natural hair. You can just curl or straighten those strands as needed.
Top 9 Best Hair Toppers 2021
Everything You Need to Know on How to Find the Perfect Topper
Delving into the many options for the hair topper color and length you want is exciting, but finding the perfect hairpiece goes beyond aesthetic factors. In this section, we'll be covering everything that buyers should know when shopping for these hair topper wigs.
Synthetic vs. Real Human Hair: Which Should You Choose?
Synthetic Hair
Is synthetic fiber bad? There are people who completely ignore hairpieces made of synthetic hair and prefer 100% human hair.
Synthetic hairpieces aren't as terrible as many advertisers claim, and technological advancements have allowed hairpiece producers to vastly improve the range on offer. The synthetic hair available today in products like the SEGO Dense Hair Topper is exponentially better than the products that were available a decade ago, for example.
What makes synthetic hair toppers so appealing is the fact that it needs little to no maintenance. You can even use some pieces right out of the box. Wigs made of human hair require a good deal of styling and care before you can wear it out in public.
Synthetic fiber feels a lot more comfortable than real hair, but when it comes to appearance, human hair has synthetic fibers on the back foot. Making synthetic options look natural isn't hard, though.  It already looks and feels as close as possible to the real deal, and you can only tell the difference through a side-by-side comparison of synthetic fiber and real hair.
The downside of using synthetic fiber is that it doesn't offer as much versatility. Most options aren't made for ironing, curling, dyeing, or bleaching, for example. The next best option is to purchase a synthetic hair topper that already has the style you want.
Natural Human Hair
Hairpieces made of natural human hair have always been a favorite among wig proponents. It has a glossy, smooth texture that blends perfectly with your real hair. Why shouldn't it blend well when it is made of 100% human hair?
Apart from the seamless, natural look that human hair toppers like the Hairro 100% Human Hair Wigs provide, wearers have the freedom to style it and change it. You can cut, trim, bleach, dye, iron, curl, or straighten the strands, which allows you to sport multiple hairstyles using only one hair topper.
It's no doubt that wigs of human hair are often superior to synthetic hair, but it has disadvantages, as well. Wigs made of 100% natural hair are expensive—depending on the length of the hair topper, the price can spike above a hundred dollars apiece.
It also requires a ton of maintenance—you'll have to wash, condition, clean, and style the strands on a daily basis. Some people enjoy this type of treatment, with the freedom of being able to control the way the hair topper looks, but others will need to consider the alternatives.
Your Step-by-Step Guide in Buying a Hair Topper
Step 1: Assess Your Hair Loss Problem
The first thing you need to do is assess the condition of your hair loss.
Knowing the stage you're at will help you find out the perfect base. There are three stages of hair loss:
Beginning: The scalp may not be visible yet, but you'll notice unusual hair growth at the tip of your crown. Those with mild balding should choose small-base hair toppers—a larger one will be too bulky and look unnatural.
Progressive: As the balding worsens, the scalp becomes more visible through the thin areas of your hair. Women at this stage of balding will need a medium-to-large base hair topper.
Advanced: At this stage of hair loss, you will need the largest bases available. In the worst case, some might have no choice but to wear a full wig.
Step 2: Accurately Measure Your Bald Spot
Measuring your bald spot is fairly simple, using a measuring tape to scale the widest points of your bald spots.
Pro Tip: Do this in between two mirrors so that you can see your crown from all possible angles.
Step 3: Select Your Preferred Base Type
Here are the three most common base types you'll see on different hair toppers:
Silk
A silk-based hair topper such as the SEGO Dense Hair Topper is perhaps one of the most popular options in the market. Customers love it for its natural aesthetic. The knots are perfectly hidden, so you're free to sport whatever hairstyle you like, and you can even add emphasis to your hairline without worrying about it being obvious.
Silk is also soft and comfortable to wear, and resistant against sweat, bacteria, and hair fall.
The only disadvantage of silk-based hair toppers is that you can't easily lay it flat on the scalp, especially if you've been wearing it all day. You might notice the crown becoming bulkier at times. Silk also gets hot during the summer.
Monofilament
Monofilament base types, which are more rare but are present in options like the YoungSee Mono-Based Hair Topper, look similar to a natural scalp, which makes it an ideal option for women who want to part hair strands to the side. The reason it looks so natural is that every strand of hair is hand-tied to the soft, fine mesh material on top of the base.
Mono bases are generally comfortable. You can wear one for extended periods without feeling itchy, but it is not as breathable, so you might end up sweating more.
Step 4: Decide on Your Hairstyle
When choosing a hairstyle, consider the length and shape of your hair topper:
Oval-Shaped: Women born with an oval-shaped face are lucky enough to pull off any look—whether it is a pixie cut or a long, layered hairstyle. Those who want to try sporting longer hairstyles should wear curled hair toppers, though. The strands don't further elongate the face.
Heart-Shaped: What is a heart-shaped face? It features a larger-than-average forehead that drops directly down to a narrow chin and jawline. To make the most of your natural face shape, try increasing the width on the lower half of your face while simultaneously reducing the top half. One of the hairpieces you can use to do so is a bob cut hair topper—sweep the bangs to the side and let the strands drop down on the sides of the face to reduce the emphasis on your forehead.
Rectangle-Shaped: Women with rectangular faces should go for a long, layered hairpiece that softens the corners of the face without blocking the cheekbones. You can try wearing bangs, but not square ones. Instead, opt for curtain bangs with rounded fringes that slightly disguise the forehead so that it doesn't elongate your face.
Square-Shaped: If you have a square-shaped face, your goal should be to soften your strongest features: cheeks, forehead, and jawline. Those with long hair can use thick-topped wigs and sport a side-parted style. The strands will fall on the sides and naturally curve the sharp edges of the face. Women who want a short hairstyle can try a bob cut hair topper with flexible bangs.
Diamond-Shaped: Women with a diamond-shaped face should try to reduce the emphasis on their sharp edges. For example, a long, layered hair topper widens the appearance of your jaw and offsets the sharpness of your cheekbones. Add a deep side parting and broaden your forehead.
Triangle-Shaped: Triangle-shaped faces are characterized by bottom-heavy features that drown out the size of the forehead. If you have a triangle-shaped face, reduce the emphasis on the lower half of your face. One way you can do so is by using hair toppers that finish somewhere around the eyes rather than the cheekbones. The strands drop a little higher, reducing the sharpness of your jaw and cheeks.
Round-Shaped: Round faces tend to make one look fat—it's why you should aim to add more features and sharpness to your face if you have a round, chubby face. Generally, women with round faces look best in pixie cut hair toppers, which highlight all the features of the face. Paired with a contour and makeup, you'll be able to achieve that rough, sexy look right away.
Step 5: Choose What Color to Use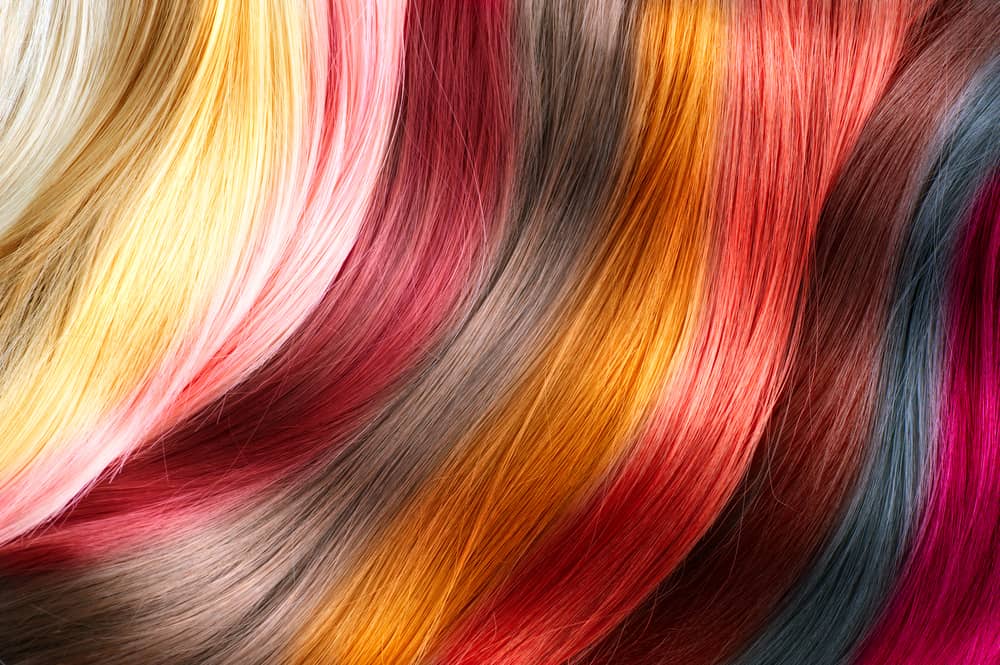 A quick way to find out what hair color suits you is by assessing your skin type and color.
Warm Skin Tone
Women with a warm skin tone tend to lean toward yellow, golden undertones.
Fair Skin: A golden-brown hair topper would complement your features perfectly.
Dark Skin: Try warm brown hair toppers that'll go well with your skin tone and color.
Both fair- and dark-skinned women can try warm shades of red but should avoid gray, purple, and blue hair toppers.
Cool Skin Tone
A woman with a cool skin tone may notice hints of blue, red, or pink.
Fair Skin: Ash-blonde hair toppers would highlight white, pinkish glowing skin.
Dark Skin: Women with cool, dark skin have the freedom to explore louder colors, such as burgundy, blue, and red.
Both fair- and dark-skinned women can try lighter versions of their natural hair color but should avoid yellow and orange hues in the hair toppers.
Neutral Skin Tone
A neutral skin tone is a general mixture of cool and warm skin features. Generally, women with a neutral skin tone will look good in any hair color.
The best way to maximize your facial features is to choose hair toppers that complement the eyes instead of the skin tone.
Hazel: Auburn, light brown, hazelnut hair toppers will make hazel eyes pop.
Brown: Dark brown, golden-honey, deep red, ash blonde, and light brown hair toppers will make brown eyes pop.
Green: Red, strawberry blonde, auburn, jet black, platinum blonde, and brown hair toppers will make green eyes pop.
Blue: Golden-brown, platinum blonde, honey blonde, burgundy, and chestnut brown hair toppers will make blue eyes pop.
Final Thoughts
That's everything you need to know when shopping for a hair topper. Our top overall pick is the SEGO Dense Hair Topper. It's perfect as a starter hair topper, silky smooth, versatile, comfortable, and available in a range of different colors, but others with more specialized needs may prefer other toppers.
Perhaps the best parting advice is to take your time in browsing your options. Check all the features, styles, and designs available and ease into a decision that suits your needs—for coverage, style, maintenance, tone, and comfort.