One of the most popular – and most effective – ways to save time, dry shampoos are a fantastic product to add to your hair taming collection. Whenever you need to skip wash day or just plain don't have time for a full hair-wash routine, dry shampoo is there to soak up any excess oil or dirt and give your hair a new life.
There are many different formulas of dry shampoo available today that promise benefits ranging from refreshed non-greasy hair, extra volume, nourishing ingredients, and irresistible fragrances. Some dry shampoos will even be tinted to give your hair an extra boost of mattifying color.
With all these dry shampoo options available, it's understandable if you don't know where to start looking. Fortunately, we've created a list of our favorite top 10 dry shampoos to help get your search started!
What You Should Know About Dry Shampoo
Before we get to our list, there are a few things you should know about dry shampoo that will help you evaluate each product.
Dry Shampoo Powder vs. Spray
There are two main formulas of dry shampoo – powder and an aerosol spray. Powders are typically applied directly to the scalp with hands and brushed through. They are slightly more absorbent than sprays, but can also be much messier.
Most of the products on our list are aerosol sprays. They are usually cheaper and easier to use, though the aerosol may not be the best choice for the environment or for asthma suffers.
Ingredients
Dry shampoos consist of many absorbent ingredients that work to soak up oil and dirt in your hair. Look out for these ingredients in your product to determine if it will work for you.
Rice Starch: Rice starch can improve damaged skin and will soak up extra oil.
Corn Starch: Similar to rice starch, corn starch absorbs grease and provides a matte effect to hair.
Argan Oil: Argan oil is a popular conditioner used in some formulas. On our list it can be found in Moroccanoil Dry Shampoo Light Tones.
Biotin: Perfect for nourishing hair, biotin improves overall hair shine and texture.
Consider Avoiding
Certain ingredients in dry shampoo can do more damage than good to your hair overtime. Consider avoiding these ingredients for healthier hair.
Talc: Potentially carcinogenic, some forms of talcum powder contain asbestos, which can be harmful for your lungs.
Alcohol: Used to help dry out oil in hair, alcohol may be too drying for those us with curly hair or sensitive scalps.
Aluminum: Aluminum functions as a pigmenting and thickening agent, but may also be a neuro-toxin when used repeatedly.
Added Benefits
In addition to basic oil-absorbing ingredients, some dry shampoos may feature ingredients that are intended to soothe sensitive scalps or are designed to work well with curls.
You can also find formulas that add volume to hair and ones that leave a completely irresistible fragrance on your hair (or ones that do both like Drybar Detox Dry Shampoo).
Color
Many brands of dry shampoo offer formulas with a tint to them. This tint gives your hair a shot of color that mattifies your locks and leaves your hair looking fresh and clean. It also provides an alternative to dry shampoos that may leave a white residue.
Colors for dry shampoo typically come in "light" or "dark" varieties. While there isn't a lot of specific color diversity, most light or dark formulas fit a wide range of hair colors and are buildable if you need a deeper color. A great product line for tinted dry shampoo is found in our best overall pick.
Now that you know what to look out for in a dry shampoo, let's head straight into our list of the best products available!
Top 10 Best Dry Shampoos 2023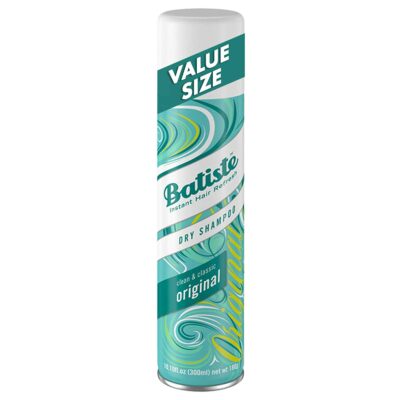 Why we like it:
Batiste's Dry Shampoo works well for all hair types and comes in a variety of colors and fragrances, earning it a place at the top of our list.
Editor's Rating:
Batiste's Dry Shampoo is one of the most versatile on the market. It efficiently absorbs both oil and dirt, and leaves hair looking supremely refreshed. It is great for all hair types and works especially well on naturally oily hair. As a bonus, the dry shampoo comes in 3 different color tint variations, making it a good choice for someone who wants to add extra matte to their hair.
This dry shampoo can be purchased in regular or value size bottles. Value size bottles are perfect for anyone with longer or thicker hair that regularly uses dry shampoo. Batiste is also available as a waterless foam. The foam acts the same way as a dry shampoo and works to refresh hair in between washes. It is a good choice for someone who does not like using aerosol sprays.
Unfortunately, while some residue may be expected with dry shampoos, the original colorless version of this product does tend to leave behind a large amount of white residue. This may be an annoying drawback for some who may choose a guaranteed residue-free formula like the one in amika's Perk Up Dry Shampoo.
Pros
Also available as a foam

3 different colors

Value size and regular size bottles

Great for all hair types
Cons
Leaves a lot of white powder behind on hair
---

Why we like it:
This premium product expertly eliminates dirt, oil, and grease in order to revamp hair at a moment's notice.
Editor's Rating:
Living Proof's Perfect hair Day Dry Shampoo utilizes a patented Healthy Hair Molecule. This allows the shampoo to quickly absorb and eliminate dirt, grease, and oil. Once applied, this shampoo will continue to repeal any dirt or oil from accumulating. Plus, it leaves hair feeling clean and soft without any sort of powdery stickiness.
The formula of this product is both silicone and paraben-free. It is safe for chemically treated hair and hair that has been colored. If you are looking for a dry shampoo to stand by you as you experiment with your hair, this product is a great choice.
Because this is a more premium product, it is a little higher in price. The bottle is also a little smaller than what you would get with other dry shampoos. However, for those who don't mind a little bit of a splurge, it is not a bad buy.
Pros
Silicone and paraben-free

Eliminates and repels dirt, grease, and oil

Safe for chemically treated hair

Leaves hair feeling soft and clean
---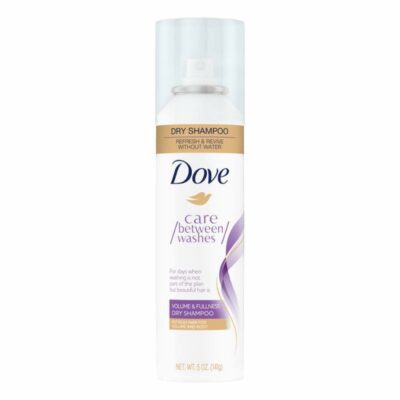 Why we like it:
Providing prime oil absorption at an affordable price, Dove's Care Between Washes is a perfect budget buy.
Editor's Rating:
Dove's Care Between Washes Dry Shampoo is a very affordable product. The can of product itself is a good size, and for under $10, it can last a long time. It makes this a good option for anyone who is shopping on a budget.
There are 2 different formulas for this product; one is more volumizing and the other is a traditional dry shampoo. Both formulas work great on thin or fine hair and are not too heavy. And if you like the idea of a lightweight dry shampoo, we suggest also checking out Aveeno Rose Water and Chamomile Dry Shampoo.
For anyone who suffers from asthma or is otherwise sensitive to strong fragrances, this product might not be the best option. Both formulas feature a strong floral scent that lingers and can be incredibly overpowering. The product itself may also leave a sticky film on hair if you use too much.
Pros
Affordable

2 different formulas

Works great for fine or thin hair
Cons
May leave a film on hair

Very strong fragrance
---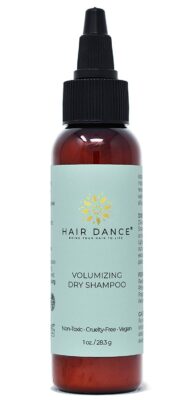 Why we like it:
Hair Dance Volumizing Dry Shampoo is completely organic and features a non-aerosol formula for those of us who are environmentally concerned.
Editor's Rating:
The non-aerosol formula on this product makes a great choice for anyone who is sensitive to aerosol products or someone who prefers environmentally conscious products; this dry shampoo is applied directly to the roots of your hair in its powder form. It works on all hair types and colors.
Hair Dance is completely composed of organic ingredients. Everything in the product is certified cruelty-free and vegan, making it a good choice if you prefer natural products. The ingredients list is gentle and can work well for sensitive skin. And you are interested in a gentle dry shampoo that is also a spray, we recommend looking at Klorane Dry Shampoo with Oat Milk.
Since this product is not a spray, it can be harder to apply to your hair. The packaging is difficult to open, and while it may come with holes in the lid to let the product out, this can be a little messy. The best way to apply this powder it to shake some out onto your hand, dip a clean, fluffy makeup brush into the product and then apply it to your roots.
Pros
Organic ingredients

Certified cruelty-free and vegan

Works on all hair colors

Non-aerosol formula
Cons
Hard to apply

Difficult to open packaging
---
Why we like it:
OGX's Biotin and Collagen Dry Shampoo nourishes hair while removing unwanted dirt and oil.
Editor's Rating:
Hair nourishing ingredients such as biotin and hydrolyzed wheat protein leave your hair looking and feeling its best. Collagen improves hair strength and promotes hair growth, which is a bonus if you have damaged hair. Overall, this product can improve your hair's shine and health with each use.
There are multiple varieties of this product available. Each formula is tailored to a specific hair need and enhanced with plant ingredients such as tea tree oil, argan oil, and charcoal. If you enjoy having a wide range of products to choose from, it is worth looking into the OGX dry shampoo brand.
This product can leave hair looking stiff, especially if you have naturally dry or fine hair. It is also not very volumizing and can take a lot of product to achieve significant volume, increasing any unpleasant texture on the hair. And if volume is what you're looking for in a dry shampoo, make sure to look at Drybar Detox Dry Shampoo as well.
Pros
Contains hair nourishing biotin

Collagen improves hair strength

Multiple varieties available

Improves hair's shine and health
Cons
Not very volumizing

Can leave hair looking stiff
---

Why we like it:
Amika's Perk Up Dry Shampoo delivers a residue-free formula that works well for curls and coils.
Editor's Rating:
For anyone with curly or coily hair, the recommend dry shampoo directions to brush through hair and get rid of residue once the product is applied can be a nightmare. Thankfully, amika's Perk Up Dry Shampoo has a residue-free formula that doesn't need to be brushed out, so curly gals and guys can enjoy the benefits of dry shampoo without ruining their locks.
Sea buckthorn is an essential ingredient in this product that delivers multiple vitamins to hair including vitamin C and vitamin E; these vitamins improve hair's health and elasticity, leaving you with stronger, softer hair over time.
The nozzle on this product can be a little hard to push down, making the spray itself hard to apply evenly. The can of dry shampoo is also on the smaller side, and while it makes a good travel size option, it is not the best option if you are a regular dry shampoo user or have very thick hair.
Pros
Works well for curly and coily hair

Residue-free formula

Sea buckthorn delivers vitamins to hair
Cons
Hard to push down nozzle

Small size
---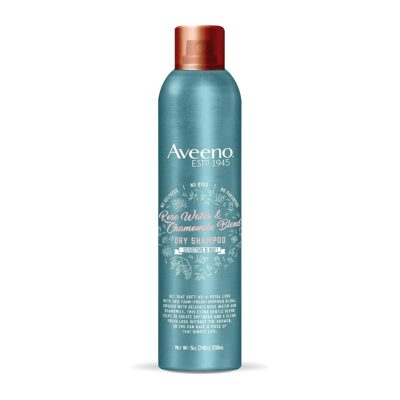 Why we like it:
The lightweight formula of Aveeno quickly absorbs oil without making hair feel heavy and dull.
Editor's Rating:
Aveeno's Rose Water and Chamomile Dry Shampoo features a lightweight formula that doesn't leave hair feeling heavy or stiff. It is good for thinner and fine hair types, and also works well for dry hair that doesn't need a heavily absorbent dry shampoo.
The chamomile in this formula is great for soothing any itchiness on the scalp that may be a result of dirt or oil build up. The product is also free of dyes, sulfates, and parabens, making it a good choice for someone who wants a lighter, gentler product.
Unfortunately, the scent of this product can be very unpleasant to some. It is flowery, and while not too strong, can be sickly sweet and stays in hair for a long time. If you are looking for a lightly scented product that is not too overpowering, we suggest Drybar Detox Dry Shampoo instead.
Pros
Lightweight

Chamomile soothes scalp

Free of dyes

Works well for dry hair
---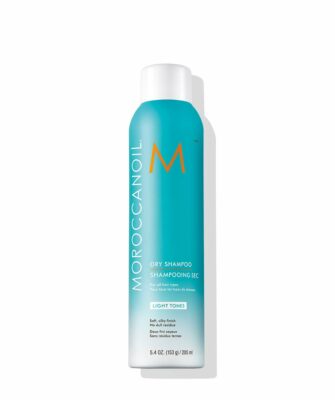 Why we like it:
Moroccanoil's Dry Shampoo features a light violet tint that enhances blonde hair and provides UV protection.
Editor's Rating:
The formula of Moroccanoil's Dry Shampoo is enhanced with a subtle violet tint. This coloring reduces any brassiness in hair, provides UV protection, and works to boost the overall appearance of any light toned hair. For users with dark hair, a similar product is available.
The star of this shampoo is argan oil, which conditions hair and leaves it soft with each use. The formula also absorbs odor that lingers in the hair along with the dirt and oil, leaving behind a light jasmine scent. It is a good choice if you have drier hair that you want to be soft and lightly scented after use.
The spray nozzle of this product tends to clog easily, making it hard to apply the product. You can clean the nozzle with a small object such as a pin, or you could invest in an easier applied dry shampoo like Batiste's Dry Shampoo.
Pros
Stops brassiness in hair

Argan oil conditions

Absorbs odor

Provides UV protection
---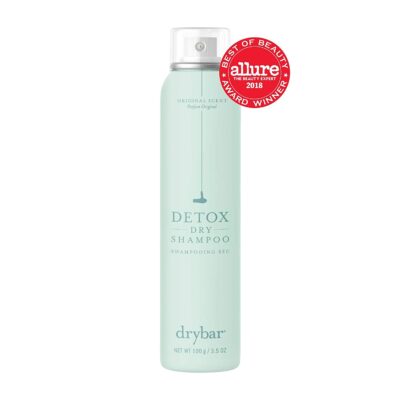 Why we like it:
Enhanced with plant extracts and available in a range of light scents, Drybar's Detox Dry Shampoo is fantastic for volumizing the flattest of hair.
Editor's Rating:
If you have naturally oily or flatter hair, this product is a great choice for you. Micro-fine rice powder provides the perfect amount of lift right at the roots of hair as it absorbs excess oil or dirt. This powder also turns translucent as it is absorbed into hair, leaving you without any unwanted white powdery flakes or sticky residue.
Golden root extract is blended into this product to prevent hair dryness and breakage. This means that with each use of the dry shampoo, your hair is protected from potential damage. Additionally, this product is available in a range of light scents that are perfect for anyone who likes variety in the smell of their dry shampoo.
On the downside, this product can easily build up on your scalp, leading to itchiness or irritation after just one use. To avoid this, try to use the product sparingly and hold the can a good distance away from your head when applying to ensure an even distribution of product.
Pros
Great for oily or flat hair

Available in a range of light scents

Golden root extract prevents hair breakage

Micro-fine rice powder provide volume at the roots
Cons
Easily builds up on scalp
---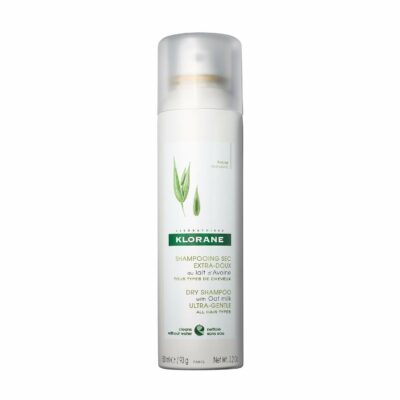 Why we like it:
Klorane features a gentle formula blended with oat milk that is perfect for sensitive scalps.
Editor's Rating:
The formula of this dry shampoo is great for anyone who has a sensitive scalp or is prone to allergies. The formula is designed to be ultra-gentle and uses plant-based ingredients to lightly absorb oil and dirt, leaving hair looking and feeling cleaner.
Soothing oat milk is blended into this product; it is organically harvested and leaves your scalp feeling less itchy and well-conditioned. Oat milk can also protect your scalp from future irritation due to dirt or oil accumulation. If you have dry hair or usually have itchy hair after missing a wash, this product is a good choice for you.
This product is not the best for use with dark hair since it tends to leave a very prominent white residue or powder on the roots that is hard to get rid of. You must also use a lot of this product on any hair type to get results, which makes it less economical than its competitors. For a cheaper product that can last longer, check out Dove Care Between Washes Dry Shampoo.
Pros
Great for sensitive scalps

Blended with soothing oat milk

Gentle, plant-based formula
Cons
Not great for dark hair

Must use a lot of product for results
---
Full Guide to Selecting a Dry Shampoo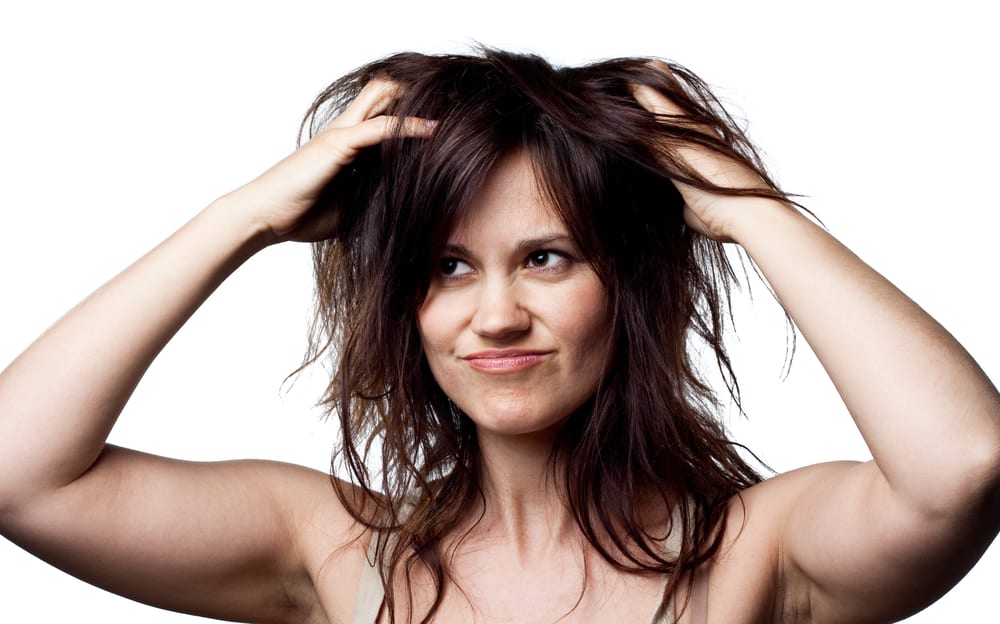 Want to know more about what dry shampoo can do for you? Read our full guide to discover all the ins and outs of selecting and using a dry shampoo.
Benefits of Dry Shampoo
Dry shampoo can deliver a number of benefits to your hair that extended beyond simply refreshing hair and absorbing oil.
Stop Itching
Greasy hair may leave you with an itchy scalp. Once a dry shampoo absorbs excess oil from your hair, chance are any itchiness will disappear with it. For an extra scalp soothing product, we recommend Klorane Dry Shampoo with Oat Milk.
Stress Less and Save Time
Whether you woke up too late to shower or simply can't be bothered, a dry shampoo can help you stress less over how to style your hair. It's good for mid-day touch-ups and for a hair refresh after a long workout session. Plus, you'll be able to go a longer time between washes, saving you time throughout the week.
Boost Volume
Hair that is bogged down with oil and dirt can become fairly limp and lifeless. A dry shampoo, especially one like Drybar Detox Dry Shampoo that has volumizing ingredients, can dry out hair and bring life back into those strands.
Texturize Hair
As dry shampoo dries out your hair, it will often add texture into it. This can enhance the overall stylishness of your hair, giving you a freshly washed look.
Refresh Protective Hair Styles
If you usually wear your hair in a protective style such as box braids, cornrows, or two-strand twists, a dry shampoo can help refresh your scalp without you needing to take out your style or wash your hair. Carefully applying dry shampoo to the roots of your hair will absorb excess oil and allow you to rock your protective style even longer.

How to Apply Dry Shampoo
Applying dry shampoo may be a little confusing at first, but you will find it easy to get the hang of using this helpful hair product.
Start by brushing through your hair to remove tangles (finger comb if you have curls) and separate your hair into sections.
Hold the dry shampoo about 8 to 12 inches away from your head and spray it onto your roots.
Continue like this section by section, making sure to lift the top part of your hair and spray underneath it for full coverage and volume.
Wait a few minutes for the dry shampoo to fully dry and then massage your scalp, working the product fully into your roots.
If you notice after massaging that there is too much residue in your hair, you may want to take a wide toothed comb and move it through your hair, root to tip. This will help disperse the product evenly and remove any white flakes.
Keep in mind when applying dry shampoo that you should only target the very greasy or oily areas on your head and keep the amount sprayed to a minimum. This will lead to less product buildup and fresher looking hair.
Is Dry Shampoo Bad for Hair?
If used correctly, dry shampoo is not inherently bad for hair. However, if you are using dry shampoo instead of actually washing your hair or if you are applying too much product with each use, dry shampoo can cause significant product buildup leading to itchiness or dandruff. It may also make your hair more vulnerable to breakage.
Can You Use Dry Shampoo Every Day?
Technically, you can use dry shampoo every day, but from a hair health standpoint, you really shouldn't. Dry shampoo should only be used a maximum of two days in a row.
This is because absorbing too many of your hair's natural oils can weaken the hair, leading to frizz, hair breakage, or a product buildup that can irritate your scalp.
You should always remember to wash out your dry shampoo within a day or two after applying it.
Pro Tips for Using Dry Shampoo
Whether you're a veteran of dry shampoo usage or a total beginner, these pro tips can help spice up your application process and leave you looking absolutely flawless.
Use a Sweeping Motion
When applying your dry shampoo, try not to keep the spray directed constantly in one spot. It is a good idea to use a sweeping motion as you work through each hair section. This will stop the product from clumping up in one area and creating residue.
Less Is More
You should attempt to use as little dry shampoo as possible with each application process. Not only will this make your can of product last longer, but it will also leave your hair with just the right amount of oil absorption and a lower risk of weighing hair down with too much product.
Shake Before Use
Every time you use your dry shampoo, you should be shaking the bottle up. This helps to evenly mix and distribute the starchy formula inside of the can, so when you spray it on your hair, you get a perfect mix of all the beneficial ingredients.
Purchase With Caution
When selecting which dry shampoo to purchase, make sure to take care when ordering products online. Many times, aerosol products can not be returned due to their flammability, so it is a good idea to seek out a tester or a trial product before committing to a more expensive, full-sized product you might not like and can't return.
Can Dry Shampoo Be Used at Night?
Dry shampoo can, and in many cases, should be used at night! For users with extra oily hair or those of us who know we aren't getting up in time for that morning shower, nighttime dry shampoo application is a great idea.
When you apply dry shampoo at night, your hair has a much longer time to absorb the product. It also stops your hair from becoming even more greasy or tangled as you sleep. In the morning, you can massage your roots and brush out any potential residue, and you'll be good to go. You can also do the massaging process upside down for extra volume.
How Long Does Dry Shampoo Last in Hair?
Dry shampoo can stay in your hair providing benefits between 2 to 3 days. You shouldn't try to push this limit much longer or apply another round of dry shampoo after the first one has lost its touch. Doing this can lead to hair damage, hair loss, or an irritated scalp.
Homemade Dry Shampoo
Not in the mood to make a final product selection right now? Try out a homemade dry shampoo before committing to the real thing.
At its heart, dry shampoo is a starch that can be used to absorb excess grease and oil from hair. At home, all you need to make this happen is cornstarch or blended oatmeal. You can apply these powders directly to your hair using a large powder brush or a kabuki brush and massage it in like you would a store-bought dry shampoo.
For an added bonus, you can combine natural coloring powders such as cinnamon, coffee, or cacao to give your hair a tint. You may even want to add a few drops of essential oil to provide a light fragrance or hair benefits. Check out this guide to learn about all the potential ingredients you can combine.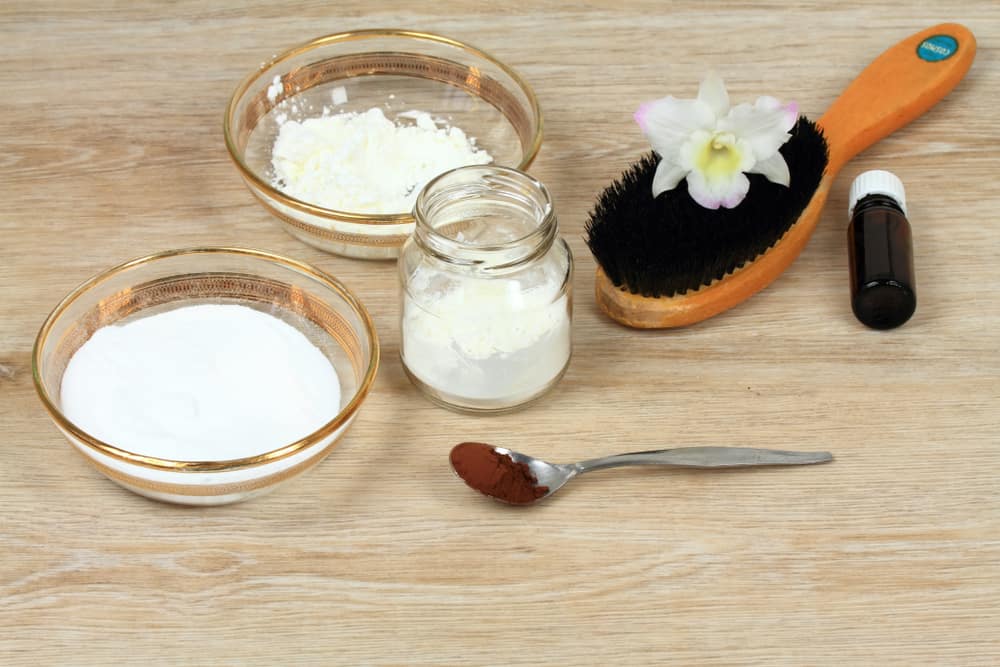 Tips for Fixing Greasy Hair
In addition to store-bought and homemade dry shampoos, there are several other remedies that you can use to help fix your greasy hair between washes.
Rinse Your Hair
Rinsing your hair with cool water and nothing else between washes can remove any built-up dirt or grease. Cool water can also add a little bit of shine to your hair and stop your scalp from overproducing oil.
Try Hair Accessories
A well-placed headband, head scarf, or set of pins can hide any greasy roots you may have and let you rock a new style all at the same time.
Try Oil Blotting Sheets
Typically intended for use with makeup, oil blotting papers are a great option for when you need to dab off any excess oil around your roots. Once you pat the sheet along your scalp, flip your hair upside down and ruffle it a bit to add some volume.
Texturizing Spray
A texturizing spray works similarly to a dry shampoo in that it absorbs extra moisture in your hair. This allows the spray to transform your lank locks into a volume-full matte style while providing a light hold. Texturizing sprays are a good alternative to dry shampoos if your hair is not naturally super oily.
Carefree Styled Hair
Whether you're always on the go or looking for an easy way to touch up your hair between washes, dry shampoo is the perfect styling product to add to your routine.
Dry shampoo can bring greasy or oily hair back to life, saving you both time and stress while giving you the carefree styled hair of your dreams.