Over recent years, Tarte's Shape Tape concealer has risen to impressive popularity, wowing consumers with its lightweight formula, durability, and coverage. However, the Shape Tape concealer also comes with a somewhat hefty price tag and is notorious for selling out on a regular basis. In cases like these, many consumers turn their focus to finding a perfect dupe for Shape Tape – a product that will give all the benefits of the original at half the cost.
In this article, we will be discussing what makes Tarte's Shape Tape concealer so popular and desirable among beauty enthusiasts. Then, we'll give you a roundup of our favorite Shape Tape dupes, so you have plenty of options to choose from when picking your new favorite concealer.
What Makes Tarte Shape Tape So Desirable?
Tarte's Shape Tape originally hit the markets in 2016, quickly rising to fame among beauty bloggers and brand enthusiasts. The product was touted as a "holy grail" of concealers. It can be used for everything from covering up dark spots and undereye bags to highlighting and contouring cheeks.
The Shape Tape formula includes ingredients such as mango seed and shea butter, which help to make the concealer glide onto the skin smoothly and leave it feeling soft, despite the high-coverage and matte finish.
Today, the original Shape Tape concealer is sold in 35 different shades, and Tarte recently released a reinvented version of the concealer that features a super-hydrating formula, packed with ingredients such as prickly pear and hyaluronic acid. Needless to say, consumers loved the ultra-creamy version too, and it immediately rose to fame for those with especially dry or mature skin.
One drawback to Tarte Shape Tape, however, is the price. It is on the expensive end for a concealer, often clocking in at around $27. Despite their love for the product, many have complained that this isn't a sustainable price for regular users.
Additionally, certain shades tend to sell out quickly, so some users may find themselves in a pinch when they're out of their favorite product with nowhere to pick up a refill. Fortunately, this is where the search for dupes comes in, and our complete list of the best dupes is sure to help you out.
Below, we list the most popular and easily accessible dupes for Tarte's famous Shape Tape concealer.
Top 5 Best Tarte Shape Tape Concealer Dupes 2023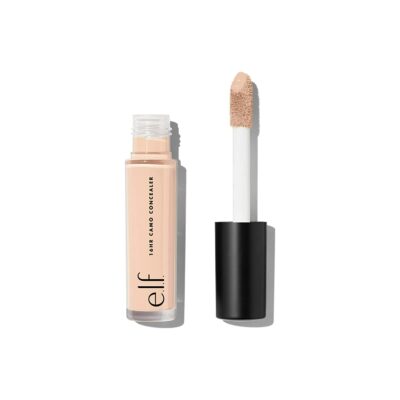 Why we like it:
One of the most popular Shape Tape dupes, the E.L.F. Camo Concealer features a similar smooth formula and flawless matte finish.
Editor's Rating:
The E.L.F. Camo Concealer has earned its reputation as one of the most impressive and similar dupes for Tarte's Shape Tape Concealer. The applicator on this product has a similar shape to Shape Tape's, featuring an angled tip that helps the concealer go on smoothly and without needing multiple swipes of the makeup.
The formula of this product has a lightweight feel, much like Shape Tape, but it also creates a smooth, matte finish with the perfect amount of coverage. It is a great dupe choice for someone who loves the original Tarte formula but wants to pay less than half the price. Plus, E.L.F. is a certified vegan and cruelty-free brand, so you can shop with confidence.
On the downside, this product can be a little hard to blend once it is applied. It tends to set very quickly, which means you need to move fast if you want to get it smooth and blended before it dries. You may also need to use a setting powder over the top of it to prevent creasing, especially if you have mature skin, as it doesn't quite have the staying power of the original Shape Tape.
Pros
Applicator is similar to the Shape Tape's

Lightweight formula

Creates a smooth, matte finish

Vegan and cruelty-free brand
Cons
Can be a little hard to blend

May need setting powder to prevent creasing
---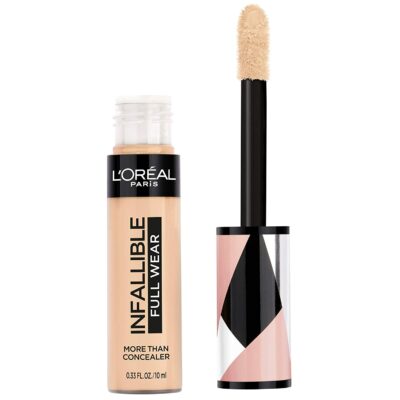 Why we like it:
L'Oréal's Infallible Concealer provides impressive full coverage and long-lasting wear.
Editor's Rating:
Similar to Tarte's Shape Tape, the L'Oréal Paris Infallible Full Wear Concealer provides an impressive amount of coverage with a matte finish. It is great for use even on the darkest of undereye circles and can be a perfect choice if you have lots of blemishes or dark spots on your skin to cover up. As a bonus, the formula is waterproof, making it a long-wearing option, just like Shape Tape.
Even though the formula of this product is fairly similar to Shape Tape, some users may find it a little bit too thick, and it can be hard to thin out the concealer to create lighter coverage. Also because of this thicker formula, the product tends to settle into wrinkles and fine lines and can crease easily. This can be a serious drawback for those with more mature skin (we recommend Maybelline's Instant Age Rewind if you are looking for a concealer for more mature skin).
Pros
Full coverage similar to Shape Tape's

Great for very dark undereye circles

Waterproof and long-lasting
Cons
It creases easily

Some may find the formula too thick
---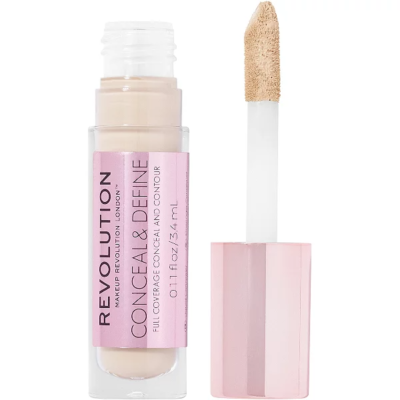 Why we like it:
With 42 different shades available, Makeup Revolution's Conceal & Define concealer gives Shape Tape a serious run for its money.
Editor's Rating:
If you are a fan of Tarte's wide range of shades that come with the Shape Tape concealer, you will love the many different shades offered by Makeup Revolution. The brand's Conceal & Define concealer gives users a choice of 42 different colors, all with different undertones, so you can find your perfect matching color.
The formula of this concealer is highly pigmented, much like Shape Tape, and a little bit does go a long way, which makes this a great choice for someone who likes to get the most value out of their concealer. As an added bonus, most users find the formula of this concealer fairly gentle, making it a good choice if you have skin on the more sensitive side.
One drawback of Makeup Revolution's concealer is that it can be difficult to find exactly the right undertone. While the shades are highly pigmented, some of them are not as true to color, and it may take a couple of tries to find the perfect match for your skin tone. Additionally, the formula is a little thinner, which can leave users with less coverage than Shape Tape would provide.
Pros
42 different shades available

Highly pigmented concealer

A little bit goes a long way

Good for sensitive skin
Cons
Can be difficult to find the right shade undertone

Formula is on the thinner side
---

Why we like it:
Perfect for more mature skin and hiding fine lines, the Maybelline Instant Age Rewind Concealer is an easily-accessed Shape Tape dupe.
Editor's Rating:
The Maybelline Instant Age Rewind Concealer is a prime choice for those who loved Tarte's Shape Tape but need something a little more suited to mature skin. This concealer hides both fine lines and dark spots on the skin, giving skin a flawless natural look with a soft satin finish.
There is a sponge applicator tip built into this product which allows you to swipe on the concealer with ease. It also makes it simple to perform touch-ups or spot correct areas on your face. Plus, the softness of the sponge helps you to blend the makeup smoothly, leaving the concealer looking virtually undetectable.
Unfortunately, the coverage on this product is not as full as with the Shape Tape. It can be a little on the sheer side and is difficult to build up to reach a fuller coverage. Additionally, while the sponge applicator tip is great for easy application and blending, it can be difficult to get product out of it in the first place, adding more time to your routine.
Pros
Great choice for mature skin

Hides fine lines and dark spots

Easy applicator tip

Blends smoothly
Cons
Coverage isn't as full as Shape Tape's

It can be hard to get product out
---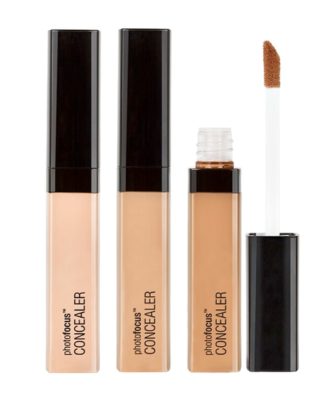 Why we like it:
This drugstore dupe is easily found and extremely budget-friendly, making it one of the top dupes for Tarte's Shape Tape.
Editor's Rating:
The Wet n' Wild Photo Focus concealer is a great choice for anyone who is on a budget but wants a concealer with the same staying power and coverage as Tarte's Shape Tape. The product goes on smoothly and blends easily, offering buildable coverage so you can wear the concealer as heavily or lightly as you like. As an added bonus, the Wet n' Wild concealer can easily be found in any drugstore or chain retailer, making it an easily accessible purchase for when you're in a pinch.
However, compared to Tarte's Shape Tape, the shades of the Wet n' Wild Photo Focus are limited and don't offer many colors with varying undertones or on the deeper end of the tone range. The formula also tends to dry out quickly, giving the potential for your skin to be a little dry or cakey looking after application.
Pros
Great drugstore dupe

Very budget-friendly

Offers buildable coverage
Cons
Shades can be limited

May leave skin looking dry
---
Your Full Guide to Tarte Shape Tape Concealer Dupes
This full guide to Tarte Shape Tape concealer dupes can help you compare new products to the original and make informed decisions when it comes to finding your new favorite dupe.
Shades Available
Tarte's Shape Tape concealer has 35 shades available, all with different undertones so you can pick the color that matches your skin perfectly. It's important that you find a dupe that has a wide enough shade range so you can find one to fit your skin color and tone, as this will give you the best results when using the product.
From our list, we recommend Makeup Revolution's Conceal & Define, which comes in 42 different shades.
Texture
Shape Tape is formulated with a creamy formula that glides over the skin smoothly and blends out with ease but eventually sets down all on its own. A good dupe will have the same texture that makes it so easy to apply. Take a look at the Makeup Revolution Conceal & Define Concealer if you are looking for a dupe with such a similar texture.
Coverage
Tarte's Shape Tape concealer offers full coverage. It's enough to cover up the darkest of undereye bags, in addition to doubling as a contour stick. Any dupe product that you select should be able to provide you with total coverage of all blemishes and dark spots, making your skin look flawless. We recommend E.L.F.'s Camo Concealer for a concealer with comparable coverage.
Finish
The finish of Shape Tape is matte and can appear very natural-looking. To find a dupe that is very similar to Tarte's product, you will need to select a concealer with a matte finish that doesn't crease or settle deeply into any lines around your eyes or on your face. Stay away from dewy finishes, as these products won't give you the same effect as the Shape Tape concealer.
Price
For many, the price of the original Tarte Shape Tape concealer is a little on the exorbitant side, coming in at around $27 per bottle; this price is made worse if you are a regular concealer user and repurchase your products every few months.
A good dupe should come in at less than the price of the original product, and fortunately for you, every product on our list is at least half the cost of the Shape Tape concealer. This makes them fantastic choices if you need a similar product while on a budget.
Is Tarte Shape Tape Cruelty-Free?
Cruelty-free is an important topic in today's beauty market, and thankfully, the Tarte brand does have a cruelty-free promise and is certified by PETA as cruelty-free. Many of the brand's products are also vegan, though Tarte is not a completely vegan-certified brand.
If cruelty-free is something that you value, then you should double-check with a manufacturer's standards before purchasing a dupe product. From our list, E.L.F., Wet n' Wild, and Makeup Revolution are certified cruelty-free brands, and E.L.F. is also a vegan-certified brand.
How to Properly Apply Concealer
Whether you're new to using concealer or you want to ensure your technique is one point, this quick step-by-step tutorial can help you understand how to best apply concealer.
Before applying concealer, you should first apply the rest of your face makeup. This includes things like tinted moisturizers, BB creams, or foundations. Adding your concealer on top of the rest of your face makeup instead of underneath can help create a more blended, natural look.
For a full-coverage look, take your concealer and draw an upside-down triangle underneath each of your eyes. This method allows you to brighten up the entire undereye area, doubling as a highlight. The triangle's tip should stop around the top of your cheek.
After you have applied the concealer, use your fingers or a concealer brush to blend the triangles out, gently dabbing until the concealer is uniform and blended with your foundation. Don't smear or drag the concealer across your face, as this will cause a streaky look.
Use your concealer to touch up any dark spots or blemishes that are showing through your foundation. Apply a spot of concealer lightly on the area in question and then dab gently, blending the product in.
Once you've covered up any dark spots, you are done applying concealer. You may want to use a translucent setting powder on your face, as this will help your foundation and concealer stay in place, making for a long-lasting look.
If you need more help understanding how to apply concealer, you can check out this video.
Your Search for the Perfect Dupe
Finding the perfect dupe for Tarte's Shape Tape concealer may be difficult, but it's not impossible. There are many great alternatives to Tarte's famous concealer out on the market today, and many of them are less expensive buys, making for the perfect budget-friendly investment. When searching for a dupe, just remember to compare coverage, available shades, and formula, and you should have no trouble finding the perfect alternative product.