Hair mousse? Really? Your mother's favorite hairstyling product she tossed in the trash with her oversized shoulder pads and spandex workout ensemble circa 1988? "Mousse Mania" is admittedly deader than disco, but the 80s haircare staple is making a comeback. Today's hair mousse is reformulated with modern tastes in mind – Mousse 2.0 adds volume and thickness without leaving your hair stiff and crunchy. As they say, "Everything old is new again."
Factors to Consider in a Great Hair Mousse
So why use hair mousse? Hair mousse's advantage over gels, sprays, and other hair-styling products rests in its adaptability. Regardless of your hair length, type, or texture, there's a mousse out there for you. In addition to volumizing your hair, holding it in your favorite style, and increasing bounce and height, the best products also boast heat protection, anti-humidity properties, and add shine and definition.
Volume
Farrah Fawcett-esque big hair isn't exactly the look du jour, but you can still volumize your hair without seeming like you just walked out of an 80s themed costume party. Mousse 2.0 lifts hair at the roots, improving height and adding bounce while leaving your hair soft to the touch. Most mousses create volume through distributing coating agents throughout your hair; as your hair dries, those coating agents push hair strands outwards, leading to the appearance of a thicker, fuller head of hair.
Hold
Mousse 2.0 doesn't offer the strong, long-lasting hold provided by hair gel, but compensates by providing greater flexibility while still preserving the integrity of your chosen hairstyle. Mousse-treated hair also looks and feels softer than hair styled with gel, with none of the stickiness and stiffness characteristic of the latter.
Extras
Mousse 2.0 is a multifaceted cosmetic. Besides volumizing and holding, modern mousses typically have secondary benefits. Most of the mousses on our list include some combination of conditioning ingredients, anti-heat or humidity protections, hydration properties, and more.
They are the basics of the new world of hair mousse, you can find more information in our main guide, but now, let's prep for the ultimate night out and get a hair mousse that gives your hair the oomph you crave.
Top 10 Best Hair Mousses 2023

Why we like it:
Our top pick accomplishes everything a good mousse should – it adds volume and thickness to your hair, and holds styles in place without leaving any stickiness after it dries.
Editor's Rating:
Best For: Sensitive scalps and hot climates
Volume
Living Proof Full Thickening Mousse's proprietary polymer-based formula delivers thickening agents along each strand of hair, creating volume and fullness all over. This even distribution also builds body and creates the illusion of added length. Note that this product works with all hair types – even very fine, very thin hair.
Hold
This lightweight mousse enables you to style your hair as desired and holds it in place while still retaining some natural texture and flexibility.
Extras
Living Proof Full Thickening Mousse includes conditioning agents and features heat and humidity resistance properties – perfect for people living in hot climates. The silicone-free formula won't irritate sensitive scalps. While it's not cheap, a little bit of this mousse goes a long way, so you'll get a lot of mileage from each bottle.
Pros
Polymer-based formula volumizes and thickens every strand of hair

Requires a smaller amount of product per use than competitors

Heat and humidity resistance
Cons
Expect to pay at least $5 per ounce
---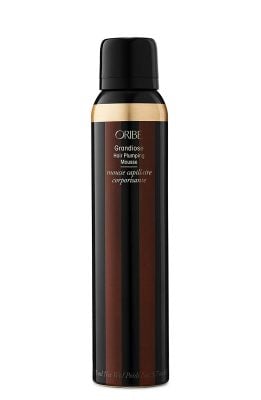 Why we like it:
Although it's the most expensive mousse on our list, Oribe Grandiose is worth the splurge. This pleasantly scented mousse adds major, long-lasting volume as well as heat protection and conditioning.
Editor's Rating:
Best For: Thin hair and all-day wear
Volume
Oribe Grandiose comes at a hefty price – nearly $7 per ounce – but its volumizing effect is even heftier. Starch polymers fortified with panthenol thicken the hair big time, and the effect lasts most of the day. Hair starting to flatten out? Just plump it up with your fingers and you'll get the volume right back.
Hold
Oribe Gradiose claims to provide all-day flexible hold, and while it mostly delivers on that promise, it does so with some shortcomings. Although not nearly as crunchy/sticky as its 1980s mousse forebears, Grandiose does weigh down the hair with product buildup. Not a huge problem to be sure, but certainly not a plus.
Extras
This mousse includes vitamin E, sunflower oil, and glycerin, a trio of moisturizing and conditioning ingredients that nourish and soften hair. It's also heat-protected and color-safe.
Pros
Adds all the volume you could want from a mousse

Moisturizes and conditions the hair

Pleasant aroma, color safe, and heat resistant
Cons
Expensive

Leaves noticeable buildup/residue
---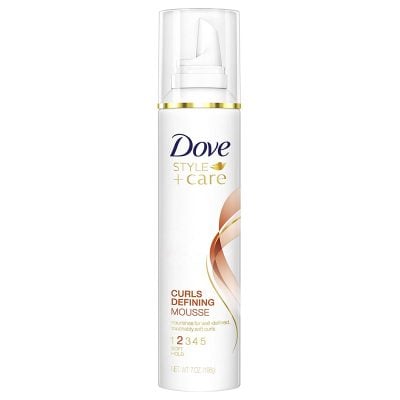 Why we like it:
It's hard to beat a quality mousse this cheap. At under a dollar an ounce, this is probably the most affordable (good) mousse on the market.
Editor's Rating:
Best For: Dry or brittle hair
Volume
Dove's lightweight formula delivers manageable volume and definition and leaves the hair feeling especially soft and clean. With a texture reminiscent of whipped cream, this mousse is perfect for people with dry or brittle hair. Expect Dove Style + Care to leave your curls/waves irresistibly soft to the touch and without a hint of frizz.
Hold
While it does provide a certain degree of flexible hold, Style + Care is a bit too light to hold your style all day. Anticipate using more of this product than you'd like to get the desired results – although it's cheap enough that you may not see that as much of an issue.
Extras
Other than fragrance and basic conditioning properties, this mousse doesn't offer any extra benefits.
Pros
Virtually unbeatable price point

Fresh scent

Softens and conditions hair
Cons
The lightweight formula won't give you as much volume or hold as other brands

Doesn't have as many extra benefits as other products on this list
---

Why we like it:
Thickens and protects damaged hair strands while preventing breakage. This mousse can't work miracles, but it does strengthen aged and damaged hair.
Editor's Rating:
Best For: Damaged hair and short-term use
Volume
Alterna's so-called "Marine Pumping Complex" uses omega-3 fatty acids, sunflower seed oil, kelp extract, algae extract, and other ingredients to fortify damaged hair, boost thickness, and limit breakage. We'll understand if you roll your eyes at this laundry list of buzzword cosmetic ingredients, but rest assured that they do work – this mousse is particularly effective with thinning and/or fine hair, but will increase hair strand diameter and volume across the board. Smells amazing too. However, as you might anticipate, a mousse formulated for damaged hair doesn't do much for "regular" hair.
Hold
Hold isn't quite as important for damaged hair as it tends to be for other hair types, and this is an admittedly lightweight formula, but you can be confident that Alterna Caviar Mousse will preserve your favorite hairstyle – but maybe not all day.
Extras
This mousse is a bit sparse when it comes to additional features, as other than being moderately friendly to colored hair, it doesn't have much in the way of extras.
Pros
Formulated to heal and protect aged, damaged hair

Adds thickness and prevents breakage

Smells nice
Cons
There's no real reason to use this over other products if you don't have dry, damaged hair

Not many additional benefits
---

Why we like it:
Adding volume to fine hair can be a tricky procedure, but Joico JoiWhip makes it a cinch. It builds plenty of body without weighing down your hair or leaving it oily.
Editor's Rating:
Best For: Oily and fine hair
Volume
Joico JoiWhip can transform even the finest of hair into thick hair and adds definition and bounce to natural curls. Oiliness can be an issue for folks with fine hair, as that hair texture necessitates a judicious use of hairstyling products, lest you be left with a head full of grease. That's not a problem with this mousse, especially since it's a concentrated formula you won't need to use much of.
Hold
It's even in the name – Joico JoiWhip Firm Hold Mousse is specifically designed to hold your hairstyle in place without weighing it down. It mostly achieves this goal – expect a mere dab of JoiWhip to prove sufficient to preserve your style all day, but don't be surprised if it leaves a stiff, even crispy layer behind.
Extras
Kukui nut oil moisturizes the hair and adds an attractive shine while fatty acids from primrose oil pull conditioning duties. The formula also includes heat resistant ingredients.
Pros
Grants great volume even to very fine hair

Highly concentrated

Conditions and moisturizes the hair

Heat resistant
Cons
Great for fine and curly hair, but not as useful for other hair types

Can stiffen hair after drying
---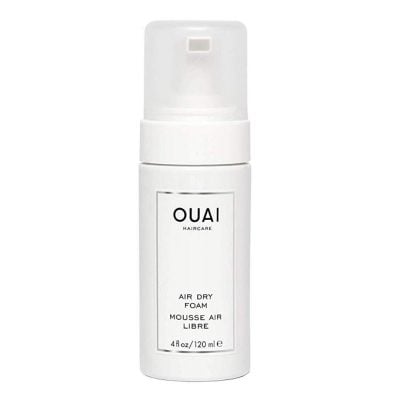 Why we like it:
Ouai Air Dry Foam enhances and protects wavy hair without bringing about the dreaded frizz.
Editor's Rating:
Best For: Frizzy hair that has curls or waves
Volume
Ouai Air Dry Foam is a planet-friendly product you can utilize to augment your natural waves and obtain that enviable, wind-swept appearance. The formula includes kale extract and carrot extract, which – respectively – defines waves and curls, and eliminates frizz. And despite the name, don't be afraid to break out the blow dryer – you'll get great results with it.
Hold
While lighter than a face cleanser, Ouai Air Dry Foam nonetheless manages to amplify and preserve waves and curls while keeping the hair soft and pliable. Panthenol is a key ingredient here – it's a B5 provitamin that moisturizes and softens hair but doesn't impede Air Dry Foam from holding styles in place.
Extras
Free from parabens, sulfates, and other mean, hair-hating ingredients. Includes a floral fragrance. Artichoke leaf extract protects against heat while tamarind seed extract promotes hydration.
Pros
Helps consumers boost the waviness (or curliness) of their hair

Anti-frizz

Moisturizes and softens hair
Cons
Ouai Air Dry Foam is intended for people with wavy or curly hair, and won't do much for anyone else
---

Why we like it:
Straight hair doesn't mean boring hair – and Redken Stay High Mousse proves just that by adding body and volume to not just straight hair, but fine and wavy hair as well.
Editor's Rating:
Best For: Straight hair and long-term hold
Volume
Redken advertises this player in its haircare lineup as a hybrid of the best qualities of both gels and mousses, and remarkably manages to fulfill that promise – Stay High Mousse adds mousse-like volume and bounce to straight hair while also holding your chosen style in place nearly as securely as a gel would. (More on that later). Keep in mind that this mousse is best for straight or fine hair – the curlier your hair is, the less you'll gain from it.
Hold
Redken Stay High Mousse is advertised as "high-hold," and lives up to that promise. While technically a mousse, Redken intended this product to carry certain qualities of gels as well – hence it's unusually strong holding qualities for a mousse.
Extras
This mousse shouldn't pose a problem for anyone with color-treated hair – it might not be as effective for you as ColorProof LiftIt Mousse, but it's a good choice nonetheless.
Pros
Volumizes straight and fine hair

Holds styles much better than most mousses

Won't harm color-treated hair
Cons
Not a good choice for folks with curly or natural hair
---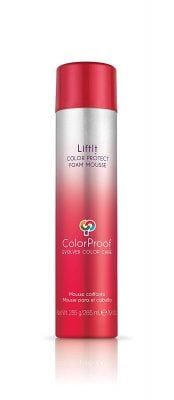 Why we like it:
A hardy mousse that provides hair lift and bounce and is especially suited for people with color-treated hair.
Editor's Rating:
Best For: Colored hair and hot climates
Volume
The ideal mousse for anyone with mature, and/or dyed hair, ColorProof LiftIt Mousse is a lightweight formula, but nevertheless adds significant body. The formula's effectiveness hinges on Panthenol, which as we've discussed in this review, moisturizes and softens hair. You should apply this product at the scalp to get the most lift.
Hold
Expect ColorProof LiftIt Mousse to maintain the lift it gives your hair throughout the day, and without much buildup. Still, despite the aforementioned benefits in volume and hold, why would you choose this product over any others if you don't color your hair? You shouldn't – another item on our list will do you better.
Extras
In this case, "color-treated hair friendly" isn't an extra, it's the point. Additionally, this mousse boasts heat protection and humidity resistance.
Pros
Great choice for anyone with color-treated hair – it won't conflict with your favorite color

Panthenol moisturizes and softens hair

Heat and humidity protection
Cons
No reason to use this if you don't have color-treated hair
---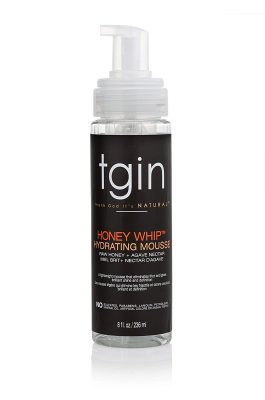 Why we like it:
Honey is the signature ingredient in this pro-curl, anti-frizz hair mousse.
Editor's Rating:
Best For: Using with rollers and other hairstyling tools
Volume
We've previously covered the basics of curly hair maintenance and keep in mind that some – although not necessarily all – of those principles may apply here. tgin Honey Whip uses the eponymous ingredient as well as coconut oil and argan oil to soften and volumize kinky/coily hair, leading to manageable curls without any frizz. Hair treated with this mousse is particularly amenable to manipulation by rollers, flexi-rod sets, and other hairstyling tools.
Hold
Curly/natural hair craves moisture much more than holding properties. tgin Honey Whip foots that bill by hydrating the hair with coconut and argan oil.
Extras
Honey and coconut oil enhance shine, in addition to their other uses here.
Pros
Volumizes and moisturizes natural hair

Core ingredients prevent frizz

Aids styling with tools such as roller, etc.
Cons
Not the best choice for straight/fine/wavy hair
---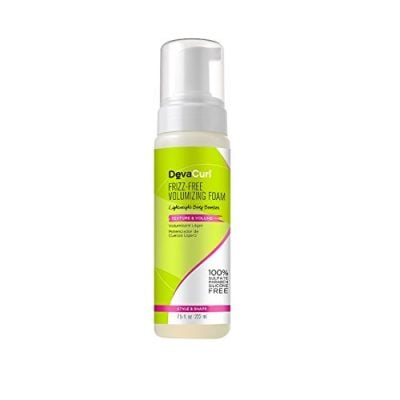 Why we like it:
The perfect product for styling curly hair, DevaCurl maximizes curliness while preventing frizz and pumping in extra moisture.
Editor's Rating:
Best For: Curly hair that lacks life or is dry
Volume
Those of us with curly hair are all too aware that "volume" often translates to "big frizzy mess." The key ingredient in the internet-famous Curly Girl/Guy Method, Deva Curl Frizz-Free Foam lives up to the inherent promise in its name by adding definition and shine to your curls while smiting evil frizz. However, we can't in good conscience recommend any Deva Curl products without noting the recent accusations that they cause scalp irritation and hair loss (!) in some people. If you're concerned, then tgin Honey Whip is a good choice.
Hold
When it comes to curly hair, "hold" really means "moisturized." There's not much worse than stepping out the door in the morning with perfectly styled curly hair and realizing at noon that your formerly luscious locks are drier than Jonah Hill's in Superbad. Deva Curl reduces the probability of this potential disaster by avoiding common hairstyling ingredients that simply don't work for curly hair – alcohol, parabens, sulfates, etc.
Extras
Deva Curl Frizz-Free Foam includes lemongrass and sunflower seed oil, which add a touch of shininess to your hair.
Pros
Defines and enhances curls while protecting against frizz

Alcohol-free formula preserves moisture – an essential for curly hair

Lemongrass and sunflower seed oil add moisture, shine and volume
Cons
May cause hair loss – use with caution

Not applicable for hair types other than curly/wavy/natural
---
The Complete Guide to Hair Mousse

While hair mousse, like deodorant, is useful for pretty much anyone, you can't use different brands of hair mousse and expect the same results from each. Your hair type, hair texture, styling preferences, and other factors are all things to keep in mind when selecting your ideal hair mousse. Still uncertain hair mousse beats your favorite gel or spray? We'll discuss that as well. Mousse Mania is back, and we're here to help you navigate it.

Hair Type & Texture
Hair type comes down to your hair's natural curl pattern. Curl patterns are influenced by the shape and size of hair follicles and are pretty much unchangeable – you can straighten curly hair temporarily but doing so won't alter your curl pattern. There are four primary hair types – straight, wavy, curly, and coily – and each can be further divided into subtypes. Like most things, curl patterns are genetically predetermined.
While a multitude of genes influence hair types, the TCHH gene – so called because it produces trichohyalin (TCHH) proteins – deserves most of the credit (or blame, if you hate your hair.) TCHH bind with each other and keratin molecules into cross-links; layers of these cross-links form the backbone of the molecular networks that shape hair follicles into curl patterns.
TCHH polymorphisms are responsible for the differences in typical hair types between ethnic groups. The genetic basis for hair shape formation isn't perfectly understood – scientists are investigating the roles of TCHH polymorphic variations as well as other genes in determining hair type. And some of those other genes may be receptive to epigenetic management, so there's hope for people who worry that even when styled with Mousse 2.0, their natural hair shape is simply not good enough for the Gram.
Straight Hair
Straight hair might be the "universal" western hair type if there is such a thing. While it lacks natural curls and waviness, straight hair is a resilient curl pattern that's easy to style to your preferences. Because it's easy for natural oils from the scalp to spread through the individual hair strands, straight hair tends to stay hydrated, but may get too oily. Consequently, you'll want to avoid hair products that contain too much oil – we suggest Redken Stay High.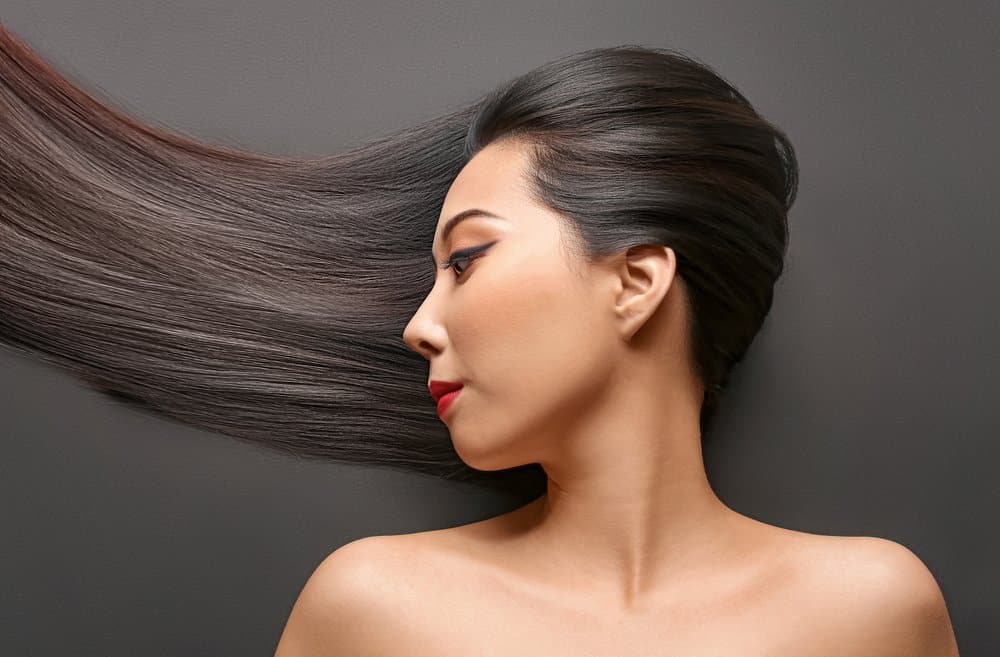 Wavy Hair
As the name suggests, wavy hair naturally falls into ripple-like patterns with bends and waves, with a distinctive S-pattern near the crown. Follicles in this curl pattern vary from fine to coarse, and some people with this hair type have thicker waves more susceptible to frizzing. Our favorite mousse for wavy hair is Ouai Air Dry Foam.
Curly Hair
Naturally curly hair ranges from large, loose loops to tight, densely packed coils. Although all curly hair is predisposed to frizziness, this is especially a problem for folks with very tight curls. People with this hair type will want to use a moisturizing, anti-frizz mousse like Deva Curl.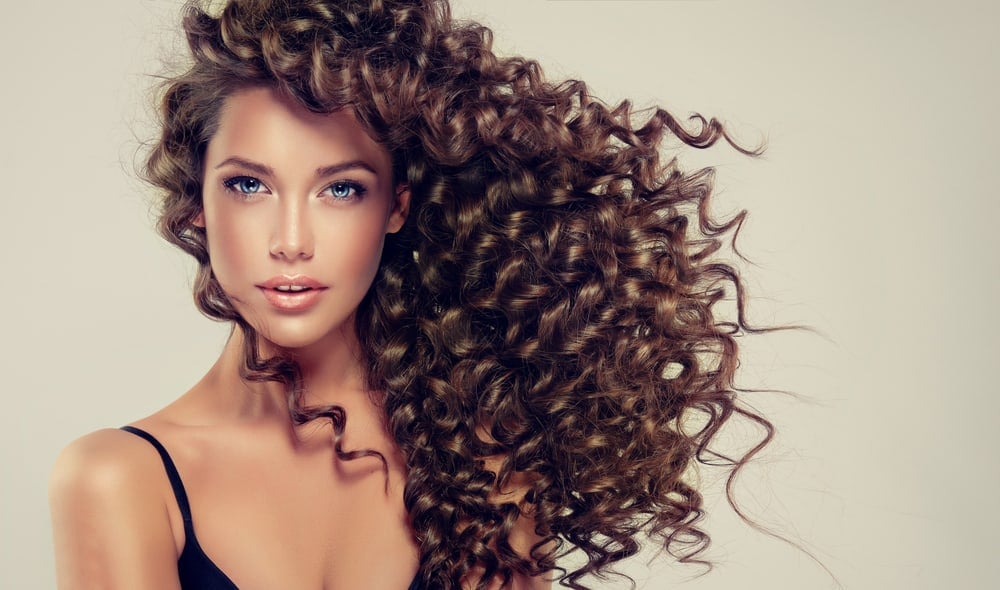 Coily Hair
Also called "Natural Hair," coily hair is dry and springy and arranged in very tight, zig-zagging curls. This hair type is the most fragile curl pattern, as it has fewer protective cuticle layers than other hair types. Natural hair is particularly vulnerable to shrinkage and dryness, so we recommend a nourishing mousse that provides extra definition. Our favorite is tgin Honey Whip.
Hold & Volume
While hair products vary in their specific effects on hair texture and appearance, the expectation is that they provide some degree of styling utility and holding properties. Hair volume is, in a nutshell, the appearance of additional bounce, height, fullness, and thickness in hair.
As discussed earlier, hair products volumize via the distribution of polymers and related compounds along the scalp and individual hair strands. The polymers fuse into a film that adds shine and thickness. Polymerization also triggers a seam welding mechanism that creates stiffness, and therefore hold. Hair mousse formulas in general concentrate on providing high volume and moderate hold.

Additional Benefits
Hair mousse formulas usually include ingredients that provide side benefits in conjunction with their primary tasks of styling, volumizing, and hold. We've mentioned that most hair mousses contain conditioning agents, hydrating properties, and heat and humidity resistance.
Throughout our list, we've included details on the specific extras each mousse has. These extras are one of the prime advantages mousses have over gels or sprays, neither of which have anything of the kind.

Difference From Other Styling Products
We've discussed the pros and cons of hair mousse earlier in this article, but let's restate them briefly. Mousse 2.0 contrasts with the classic 1980s version by boosting volume without excessive stiffness or stickiness. Modern mousse doesn't hold hair as well as the original – or hair gel – but offers a good deal of thickness, fullness, and bounce as well as flexible hold. Mousse is by far the most versatile hairstyling product on the market – its multitude of applications and wealth of secondary benefits ensure it will remain a cornerstone of cosmetics for years to come.
Hair Gel
Like mousse, hair gel utilizes polymerization to achieve hair volumizing and hold. However, gel formulas contain a greater amount of polymer fixative agents such as polyurethane, leading to significantly longer-lasting hold. Hair gel's holding properties are useful for certain looks, but hair mousse presents much greater style flexibility.
Hair Spray
Hair spray is best employed as a preliminary or finishing product rather than the sole actor in your hairstyling lineup. While it lacks the volumizing or holding capabilities of mousse or gel, hair spray is perfect for augmenting the effectiveness of your chosen style agent – for example, ensuring that your carefully cultivated curls remain in place from morning until midnight. Just keep in mind that regular use of hair spray leads to buildups, so you'll need to wash your hair frequently.
How to Use Hair Mousse
Like any other cosmetic, there are right ways and wrong ways to use hair mousse. (Or at least better and worse ways). In this section, we'll outline how you can get the best results from your mousse of choice.
A crucial first step is to, well, wash your hair. There's no point in styling your hair, if the hair you're styling is dirty. Always, always, always begin with clean hair. Follow the directions on your chosen product – they're there for a reason, and that reason is not for show.
Apply hair mousse when your hair is damp – right when you've gotten out of the shower and toweled off. Be sure to use a small amount – Mousse 1.0 is anathema in the 21st century not least because it leaves your hair feeling gross and crunchy. If you have long hair, blow dry it, but only with the appropriate attachment – hit curls or waves with a diffusor, and straight hair with a concentrator nozzle.
Obviously, if you have very short hair, then blow drying is the last thing on your mind. Instead, focus on massaging your favorite mousse across your scalp and into the roots – there's no reason short hair can't be volumized hair.
Final Word on Hair Mousse
Wavy hair? Curly hair? Any other hair? Hair Mousse is a superb alternative to other style products. It offers great hold and volume and allows you to do more dramatic styles with your hair thar other types of products. The trade-off is a more "noticeable" product, but to achieve particularly extreme styles, hair mousse is a superb way to go about it. The key is to identify which mousse works for your hair type, and to pin down your styling objectives. Once you've done that, you can review our list and find the best mousse for you.