Top Picks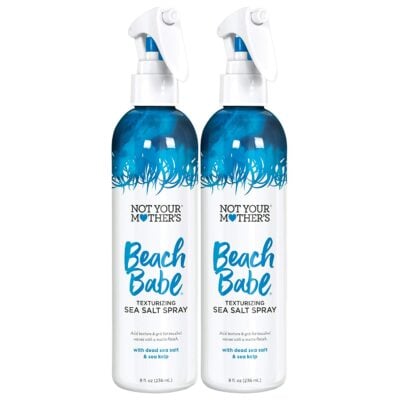 Not Your Mother's Beach Babe Sea Salt Spray

John Frieda Beach Blonde Sea Waves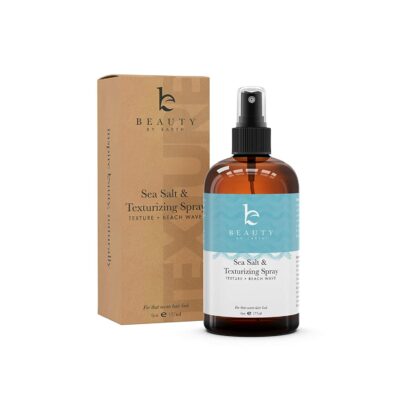 Beauty by Earth Sea Salt Spray
Previous
Next
For many, the best part of visiting a beach is the perfect, effortlessly styled beachy waves you get after spending time in the ocean. Sea salt is a wonderful stylist that brings out the best in our hair, but it can be bittersweet to leave behind once your day at the beach is over.
Fortunately, with the help of sea salt sprays, flawless beachy waves aren't just for summer any more. A quality sea salt spray can help you add texture and volume to your hair, all while creating natural-looking waves.
With the abundance of sea salt sprays available today, it can be hard to select the one best for your hair. To help you out, we've gathered a list of our favorite products and complied a guide about everything sea salt sprays so you can make an informed decision.
Why Use Sea Salt Spray?
Sea salt spray is hair styling tool that has gained popularity in recent years. It is a fantastic product for help you achieving voluminous, wavy hair that looks as if you just came back from a day well spent at the ocean. It can also help you define natural curls and waves or add texture to thin or fine hair.
Ingredients to Look Out For
Sea salt sprays can be created with a number of different formulas and ingredients. There are several things you should look out for that determines if a spray is a good choice or not.
Sea Salt: The most important ingredient in a spray; you should make sure your product has a quality mineral sea salt included.
Vitamin E: This ingredient can improve overall hair health and add strength and shine.
Seaweed: Seaweed contains collagen and vitamins A and C, increasing hair's hydration and thickness.
Sea Kelp: This high-iodine ingredient thickens hair and prevents breakages.
You can also look for things such as essential oils that enhance the benefits of a sea salt spray or natural fragrances.
Consider Avoiding
When adding any product to your hair, you want to make sure it is not too drying or damaging. You should consider avoiding excessive alcohols, added chemicals, colors, preservatives, and sulfates, as all of these ingredients can dry out and damage hair over time. A great product to look into without these ingredients is the Beauty by Earth Sea Salt Spray.
Top 10 Best Sea Salt Sprays 2021
Your Complete Guide to Sea Salt Sprays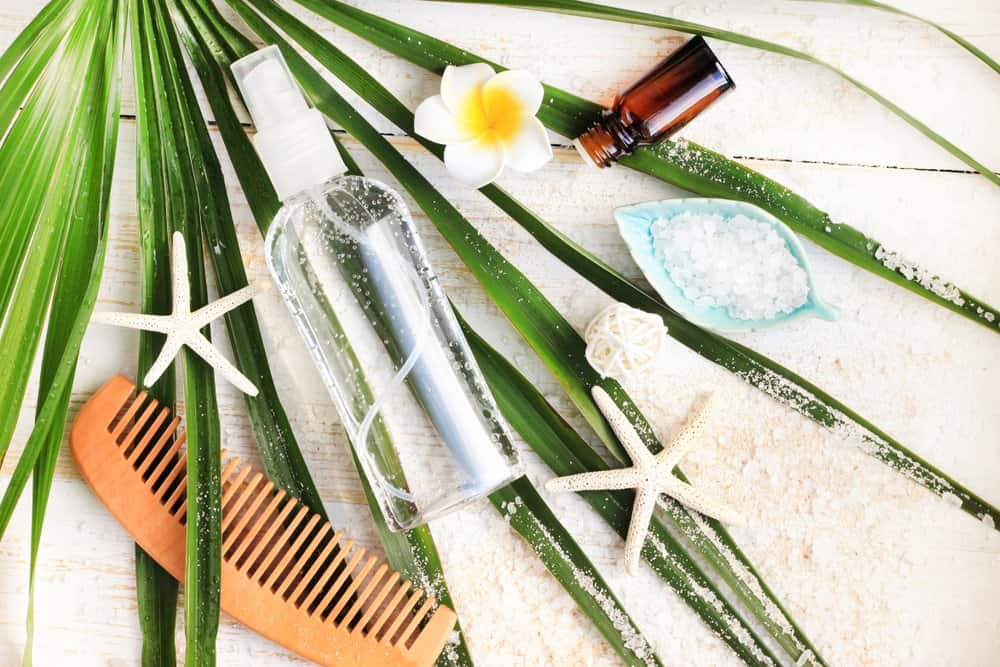 Want to know more about sea salt sprays? Read on to have all your questions answered in our full guide.
How Does Sea Salt Spray Work?
Sea salt sprays are essentially salt water in a spray form. When applied to hair, the salt has a dehydrating effect and adds texture and wave to any type of hair. This mimics the effect of swimming in the ocean or any other body of salt water.
Today's sprays consist mostly of sea salt but have additional ingredients that help them to add volume to hair, create a shine or matte effect, and provide long-lasting hold to those beachy waves.
Benefits of Using a Sea Salt Spray
Anyone can use a sea salt spray and receive the many benefits the product brings. These benefits may show up differently on different hair types.
Straight Hair
On straight hair, a sea salt spray can give texture and create large, loose beach waves on long locks. The spray can be used just as well on short straight hair, adding dimension and volume to shorter styles or shag cuts.
Curly or Wavy Hair
If you already have naturally curly or wavy hair, a sea salt spray can help define your natural hairstyle. Depending on the ingredients of the product, it may also help fight frizz and give your hair a softer, smoother appearance.
Oily Hair
You may have noticed that salt water helps oily hair last longer between washes. That's because salt can absorb the excess oil in your hair, making it appear less slick and masking grease. Sea salt spray may make this type of hair easier to style, because it will be drier and more manageable.
Thin or Fine Hair
For thin and fine hair, sea salt spray will make your locks appear thicker and add natural looking volume. It will help you style your hair and can prevent your hair from falling flat over the course of a day. A fantastic product for fine hair can be found on our list.
Thick Hair
With thicker hair, a sea salt spray can help lay the foundation for styling. The spray will add texture and hold into the hair which allows you to manipulate it more easily and create your desired look.
Can Sea Salt Spray Thicken Hair?
While sea salt spray can't literally thicken hair, it can make your hair appear thicker. The salt in the spray grips onto hair and gives it a gritty texture, which can appear to boost your hair's volume and thickness. It can also make it easier to style.
Additionally, you can choose a spray like Brickell Men's Texturizing Sea Salt Spray that has ingredients that improve hair thickness and strength over time. Every time you use the spray, your hair will benefit from the additional ingredients.
Is Sea Salt Spray Bad for Hair?
Depending on your hair type, sea salt spray may not be the best styling product for your hair. It can be very drying, since the salt draws moisture out from the hair. Salt can also pull out proteins, leaving your hair brittle and prone to breakage.
If you already have dry hair, damaged hair, or naturally curly or coily hair, sea salt spray could be bad for your hair if you use it often enough.
The best way to combat any negative effects of sea salt spray is to follow up each use with conditioning. You may also want to consider using a protein hair treatment or hydrating hair mask once a month to ensure hair stays strong and healthy.
Can You Apply Too Much Sea Salt Spray?
It is possible to apply too much sea salt spray at once. This is often indicated by hair becoming very heavy or sticky feeling. It could also be crunchy in texture or seem heavy. If you have accidentally applied too much spray, wash it out as soon as possible. Try and comb your hair while it is wet to make sure every strand is getting separated and cleansed.
Can You Use Sea Salt Spray Every Day?
You can technically use sea salt spray on a daily basis, but it may dry out your hair or damage it, especially if you have naturally curly hair, which is already fairly dry. If you plan on using sea salt spray regularly, try to purchase one that has hair hydrating ingredients in it like Beauty by Earth Sea Salt Spray.
How to Use a Sea Salt Spray
There are different ways to use sea salt spray, depending on the look you are going for. Below, we have some basic tips on how to get the most out of your spray.
Wet Hair
You can apply sea salt spray to wet hair if you are going for a more full-bodied, overall wavy look. Using it on wet hair can also give you a bigger boost of waves once the hair dries.
After washing your hair, towel dry your locks until they are just slightly damp. You don't want your hair to be dripping wet. Apply your spray, working from the roots to the end until all of your hair is coated. You can choose to work the product through your hair with your hands if you prefer a more casual looking beach style or comb it through for a shaper style.
Let your hair air dry, trying not to touch it. The more you touch your hair while its drying, the more frizz will appear. Alternatively, you can use a blow dryer if you are looking for increased volume.
Dry Hair
On dry hair, sea salt spray can be used to increase volume, define natural curls, and create a matte effect (and if you like matte finishes, go back and check out Davines This Is A Sea Salt Spray).
Simply apply your spray across your hair and work it in with your hands if you are trying to increase volume. You can comb it through if you want to get the most matte effect possible; combing will make your hair appear more purposefully styled and slightly flatter, as opposed to a larger casual wavy look.
Styling Pro Tips
These pro tips can help you effortlessly obtain that wind-blown beach look you desire.
Scrunch Your Hair
When applying sea salt spray to wet hair, don't forget to scrunch your hair. This can help distribute the product evenly and will allow your hair to begin forming a loose wave shape that gets more defined as it dries. You can even scrunch the product into dry hair to provide extra definition.
Lasting Beach Waves
To create a beach look that lasts, you can lightly curl your dry hair in different directions with a curling iron. Once the curls are cool, apply sea salt spray all over them. Follow up with finger combing and scrunching, then allow the hair to completely dry. You will be left with natural-looking waves and curls that last all day. And if you are looking for a sea salt spray that is guaranteed to hold, we recommend KICK Sea Salt Spray.
Increase Volume
If you're looking to achieve maximum volume with your sea salt spray, flip your hair upside down before applying the spray. Squirt the product closer to the base of your roots and follow up with a blow-dry. You can also look for an extra volumizing sea salt spray like L'ange Hair Sea Salt Spray.
Spot Treat Hair
When you want to create a perfectly messy look, don't be afraid to spot treat your hair with sea salt spray. To increase volume and give lift to your hair between washes, apply the spray to the roots and middle of hair, scrunching up to create definition.
If you want to add a subtle amount of wave without too much volume, apply the spray to the middle and ends of hair, scrunching as it dries.
Using Sea Salt Spray While You Sleep
Another way to perfect your beach waves is to apply sea salt spray in your hair and let it work its magic overnight. This allows you to wake up with readily styled waves in the morning. There are two main ways to style your hair overnight.
Use Braids
Braiding your hair is one of the best ways to achieve a wavy look. Apply your sea salt spray into wet hair, then braid it before bed. One large braid will give you longer loose waves, while a French braid can give you more volume and waves that start near your roots. If you want tighter waves, create several smaller braids.
Overnight your hair will dry and the sea salt spray will hold the style in place. Take your braids out in the morning and finger comb through them to style. You can opt to add in a styling product such as Moroccan argan oil to tame any frizz.
Tie It Up
If you're not a fan of sleeping on braids, there is another option you can take for overnight styling. After applying your sea salt spray to wet hair, scrunch your locks and tie your hair up into a pineapple – a ponytail on the top of your head. This will keep your hair out of your way while it dries overnight.
In the morning, you can let your hair down and finger comb it if necessary; your hair will have more of a bed head messy wave look.
Making Your Own Sea Salt Spray
It may seem complicated in theory, but it is possible to make your own sea salt spray. If you are a fan of DIY, then you may enjoy this economical way to beach-ify your hair.
You Will Need
To craft a homemade sea salt spray, you will need:
A spray bottle (preferably plastic)
One to one and a half cups of warm water
One teaspoon of coconut, olive, or avocado oil (choose your favorite)
Anywhere between 2 teaspoons and a tablespoon of sea salt. The more salt you use, the more textured (and potentially dry) your hair will become.
A couple drops of essential oil for scent (optional)
You may also want to add a little bit of leave in conditioner into your spray, especially if you choose to include a higher amount of salt. This can help keep hair feeling soft and prevent too much loss of moisture.
The Recipe
The process for creating the spray is easy enough. Simply combine all the ingredients in a large bowl until the salt and all oils are thoroughly dissolved. You can then pour this mixture into your spray bottle and start using it. This recipe can be adjusted if you want softer hair (add more leave-in conditioner), more curl definition (use the larger amount of salt), or extra hair benefits (add vitamin E oil into the mixture).
Be sure to shake the bottle before each use because the oil can separate from the water. Your spray will last up to four months.
Can You Use Regular Salt?
You can use regular table salt to create a sea salt spray, but it may not give you a dramatic beachy hair effect since it is not as mineral-laden as sea salt is. If you want seriously defined beach waves, it is better to opt for a quality mineral sea salt.
More Techniques for Beachy Waves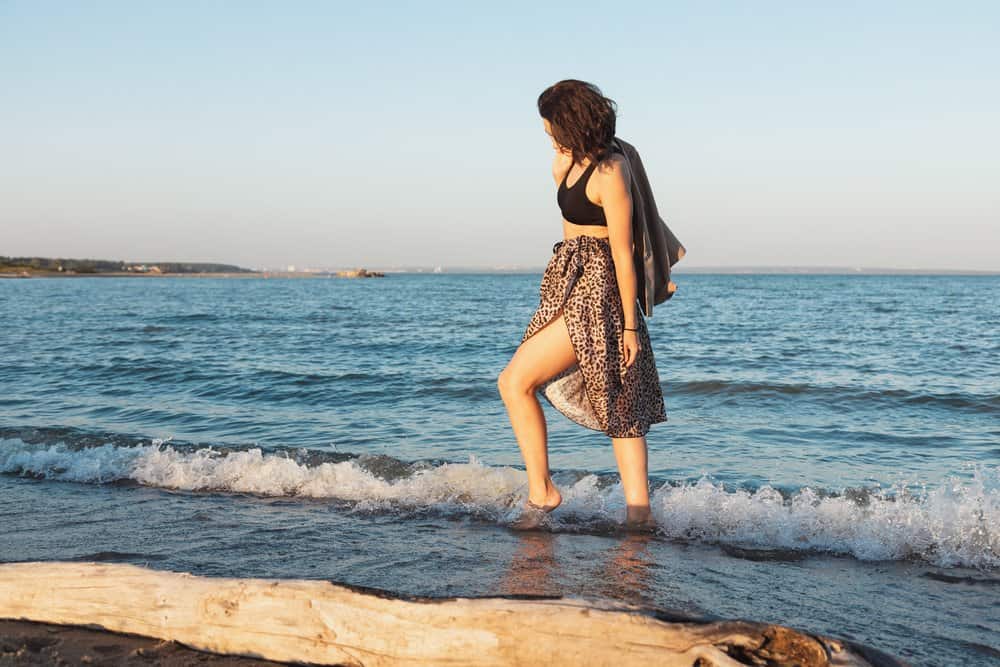 In addition to using sea salt spray, there are several methods you can try out to create flowing beach waves.
Use a Curling Iron or Curling Wand
To make beach waves using a curling iron or curling wand, wrap the middle section of your hair loosely. Don't curl too tight, and try not to curl the ends. Once you have curled all of your hair in the same fashion, lightly finger comb through your hair, fluffing out the curls and creating waves. This method works best with straighter hair.
Braid Your Hair
One of the best hair styles for creating beachy waves, the braid can help style your hair even without the help of a sea salt spray. For this method to work, your hair should be damp, but not soaking wet. Flip your hair upside down, separate your hair into three sections and braid your hair.
In the morning, you can shake out your hair and apply a smoothing oil or a gel to hold the style into place. The upside-down braid gives you loose waves that add volume without being too messy or tangled.
Use a Flat Iron
Similar to using a curling iron, you can take a flat iron and use it to create large beachy waves. Simply clamp a section of hair in the flat iron and then twist the iron as you move it down your hair, creating a crimped look.
This method works on both curly and coily hair, and you can check out this video if you want a visual of how it's done.
Use a Headband
If you're not a fan of using heat styling tools on your hair, you can easily create beach waves using a headband. For this method, put a headband on top of your dry hair. Then, section out your hair and spritz each section with water. Twist the section and then curl it around the headband, holding it in place. Continue like this until all your hair is curled.
Once your hair is fully twisted, spray it with hairspray then begin taking it out of the twists. After it is all loose, brush through your hair. You can apply a hair gel or styling oil if you choose. This video can show you how to perfect this look.
Obtaining Beach Perfect Style
Beach perfect hair is something we all dream of obtaining. Thankfully, with the help of sea salt spray, our daydreams of flawless wavy hair can become a reality. When choosing the best sea salt spray for your hair, keep in mind your hair type and the style of wave you are after. Doing this will let you find a perfect product that can help you create the beach hair of your dreams.