Top Picks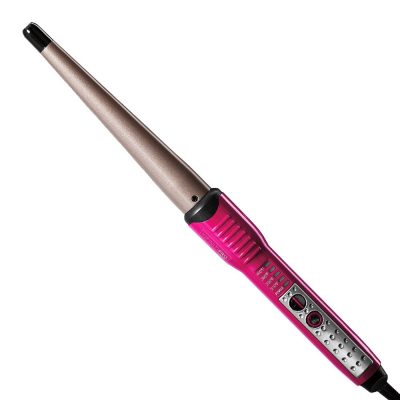 INFINITIPRO by Conair Tourmaline-Ceramic Curling Wand
AMTOKO by Homitt 5-in-1 Curling Wand Set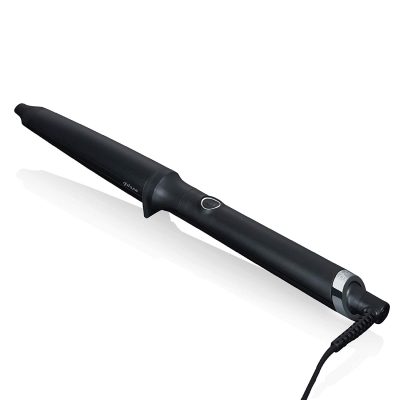 GHD Curve Creative Curling Wand
Previous
Next
Who knew there were so many things to keep in mind while shopping for a curling wand? Not only do you have to choose what material your curling wand is made from, but you also need to take into account what type of hair you have and what curl you're hoping to achieve. Today, we're here to talk about all the factors you'll want to consider while shopping for a curling wand. The last thing we want you to do is unwittingly fry your hair, thereby giving you less hair to work with.
Factors to Consider When Buying a Curling Wand
Material
While stylists typically prefer ceramic and titanium curling wands, there are a few other great materials some wands are made of. For example, you can also find a wide selection of gold-plated and tourmaline curling wands. Interestingly, each material boasts different benefits for different hair types.
Ceramic curling wands – are the best for spreading heat evenly and smoothing the hair, and they're also great for thin, delicate hair that doesn't hold up well under high temperatures.
Tourmaline curling wands – help fight dull, frizzy hair by emitting negative ions. This also makes them great for thicker and more unmanageable hair types.
Gold-plated wands – are a good choice if you have coarse or thick hair; they can tolerate high heat settings for a long period.
Titanium curling wands – are also great for thicker hair and can also tolerate high heat settings for an extended time, but they're lighter weight and more durable than their gold-plated counterparts.
Barrel Size
The material from which your wand is made isn't the only aspect worth mulling over, though; different barrel sizes (i.e., how wide or narrow the wand is itself) will yield different types of curls, and you'll want to choose the right one according to your hair length and type.
¾-inch barrel size – best for tight ringlets on short or fine hair. These wands will also boost volume for already curly hair.
1-inch barrel size – if you're looking for more of an all-purpose curling wand that will work on various hair lengths and textures, opt for this size.
1½-inch barrels – 1½-inch to 2-inch barrels are best for long hair, as a wider barrel allows heat to be more evenly distributed to the hair and is also ideal for achieving loose waves.
Heat Setting
The heat setting of your curling wand may be the most important thing to consider, as the heat plays a large role in determining how long your curls will hold. The trick is finding the right balance of heat that will neither fry your hair nor make your hair go limp just hours after styling it. While some materials distribute heat more evenly across the curling wand, they may not come with as many heat settings to choose from.
380 to 450 degrees Fahrenheit – curly, coarse, and thick hair handles heat the best, and you can curl it on settings as high as 450 degrees Fahrenheit. However, just because these hair textures handle heat well doesn't mean heat protectant isn't needed; studies show that using a heat protectant while curling your hair helps prevent damage.
300 to 380 degrees Fahrenheit – virgin and medium-thick hair will get the best curls from heat settings within this range. You should definitely use a heat protectant on virgin hair since it's suffered little damage in comparison.
300 degrees Fahrenheit and below – heat settings for fine or chemically-treated hair should never go higher than 300 degrees Fahrenheit, as it's the most vulnerable to damage. You may even want to look for special curling wands that cater specifically to fine or chemically-treated hair.
Shape
Like barrel sizes, curling wands also come in a variety of shapes that cater to different hair textures and yield different types of curls.
Standard curling wands – these have a clamp which holds your hair in place as you roll it up the hair shaft.
Clampless curling wands – with this type of wand, you manually wrap the hair around the barrel itself. These wands are better for hair with split or damaged ends, as they won't have to be exposed to overly high heat since they'll remain unwrapped.
Cone-shaped curling wands – these work similarly to clampless curling wands (i.e., you'll have to manually wrap the hair around the barrel). They yield curls that are looser at the root and tighter towards the ends.
Multi-barreled curling wands – believe it or not, there are some curling wands with two or more barrels, which are great for creating soft, beachy, S-shaped waves.
With all that in mind, let's jump in and check out the best curling wands on the market today.
Top 10 Best Curling Wands 2021
Guide to Buying the Best Curling Wands for 2020
Choosing a fantastic curling wand isn't as simple as it may seem. For instance, a high price doesn't necessarily indicate a great curling wand. In fact, some of the best options are quite reasonably-priced, like the Conair Tourmaline-Ceramic Curling Wand.
However, it can be difficult to comb through all of the available wands on the market. How do you know if the wand you're buying will heat the hair evenly or produce curls that hold for a long time? While it's generally a good rule to trust products by brands like L'ange, Conair, and Remington, even some of their wands can underperform, too. Let's talk a little bit about what you should keep an eye out for when shopping around for a new curling wand.
Temperature Adjustment
Some newer models, like the FoxyBae Titanium Curling Wand and Remington Pearl Ceramic Curling Wand have digital temperature displays, which takes the guesswork out of exactly how hot your curling wand is.
Others, like the Remington Keratin Therapy Curling Wand use a temperature wheel which only gives you an approximation of how hot the wand is.
Aside from the temperature display, check out how many heat settings a curling wand has. The more settings the wand has, the more likely it is to work on different types and textures of hair. Avoid wands with fewer than three temperature settings; depending on your hair type, you might end up with hair that's more damaged than curled using one of these wands.
Hair Type
Consider your hair type while shopping for a wand as well. Thick, coarse hair fares much better on 1 to 1½-inch barrels with temperatures above 400 degrees. Thinner, more delicate hair responds better to lower temperatures and thinner barrels, making the AMTOKO 5-in-1 Curling Wand Set and HOT TOOLS 24K Gold Marcel Wand a better choice for people who fall into this category.
The general rule is the less hair you have, the thinner the barrel and lower the temperature you'll need. Those with dyed or chemically-damaged hair may also want to stay on the lookout for wands that are specially-designed for such manes, as others could inflict even more damage on them.
Beginner Friendliness
There's no denying that some curling wands are more difficult than others to use. For example, two of our picks, the Bed Head Rock 'N' Roller Curling Wand and the HOT TOOLS 24K Gold Marcel Wand are geared more towards experienced curling wand users.
If you're just starting out, you'll want to stick to a wand that is simpler and more straightforward, like the Alure Three-Barrel Curling Wand.
Return Policies
Surprisingly, not all curling wands come with return policies. For example, perhaps you've found the easiest wand to use that comes with all the bells and whistles like auto shutoff, LCD temperature display, and multiple heat settings. None of this will mean much, though, if the wand dies on you unexpectedly and you can't return it. To be on the safe side, it's best to purchase a wand with a good return policy.
Fortunately, most of the wands mentioned in our top ten list except the Remington Pearl Ceramic Curling Wand are returnable. Return policies are not listed for the GHD Curling Wand and Alure Three-Barrel Curling Wand.
Voltage
People who frequently travel across the globe may want to consider purchasing a curling wand that has dual voltage, as these will be the only kind that are compatible with non-American outlets. Moreover, wands with dual voltage are compatible with non-American outlets.
The Bed Head Rock 'N' Roller Curling Wand and AMTOKO 5-in-1 Curling Wand Set are two dual voltage options from our top ten list.
Frequently Asked Questions
How Do I Clean My Curling Wand?
Just like flat irons, curling wands build up residue, too. However, you clean your sticky curling wand a little differently than your flat iron, but it can be done in three easy steps.
Step one: heat up your curling wand for one minute before unplugging it again; this will heat up any residue on the wand and make it easier to wipe off.
Step two: take a solution of one part hydrogen peroxide and two parts baking soda to the wand. Brush it on the wand and let it sit for 15 minutes–this will dissolve the residue. Pro tip–use your fingers (check the heat first!) to brush the solution on ceramic barrels and a gentle brush for metal or titanium barrels.
Step three: wipe off the residue and your curling wand will be as good as new.
What Products Can I Use on My Hair While Curling It?
Heat protectant is a go, but hairspray is not. While the former is designed to protect your hair from heat damage, the latter may actually dry out and fry your hair if you use it while curling.
Some people are very accustomed to using hairspray while curling their hair, but skipping the hairspray here is a good thing. Since it makes hair more brittle, it'll make it much more vulnerable to heat damage or breakage.
Do I Even Need a New Curling Wand?
Perhaps you don't want to give up your old curling wand, but the fact is they may not heat up adequately and confuse you as to how much time you really need to spend curling your hair. Nevertheless, any wrong guesses about how long it takes to curl your hair while using an old curling wand will lead you down one of two roads: under-curled hair or fried, damaged hair. If you've owned your wand for more than two years, do both you and your mane a favor by investing in a new one.
The Right Curling Wand Can Make Styling a Breeze
Between materials, barrel sizes, and wand shapes, it can be hard to choose a curling wand that's right for your hair. When you bring warranties, heat settings, and safety features into the mix, too, it can be downright overwhelming. However, there's a bevy of product information in our guide that can help you make a smart, informed decision. Don't rush through and choose like your hair's on fire; take your time when it comes to your tresses–we guarantee it will be worth the payoff.