You don't need us to tell you that blue eyes are special. You're probably used to compliments about your eye color! Putting on makeup, though… that's a different story. Whether you want to get creative or just make your blue eyes pop, figuring out the right colors isn't always easy.
We put together this article, starting with a quick guide to help you understand what to look for in eyeshadows, followed by reviews of the top 10 best eyeshadows for blue eyes.
Finally, we added a thorough guide that'll help you select your dream shadows and inspire you to wear them.
How to Choose a Great Eyeshadow for Blue Eyes
Consider these factors when choosing your eyeshadow! Some of them are specific to your eye color and personal preferences, but others are universal questions of eyeshadow quality.
The Right Format for You
Do you prefer single eyeshadows or palettes? Do you like to take your time blending different powders together or do you prefer a one-and-done cream? There are no wrong answers!
To give you options, we reviewed different kinds of eyeshadows. If you're not sure which is right for you, we discuss this topic in more detail below.
Shadows That Make Blue Eyes Pop
Copper, coral, peach… these are the complementary colors that make blue pop! We focused on these flattering shades throughout the reviews, but we also included palettes with other color stories to give you different options.
We also made sure to include both matte and shimmer shadows for every style and occasion. If you'd like to learn more about how different eyeshadow colors work with blue eyes, jump on down to our color theory section.
Great Pigmentation
Most makeup lovers want an eyeshadow with high pigmentation that covers the lid in just one swipe! However, those new to makeup might be intimidated by such strong formulas, and some shoppers simply prefer really soft washes of color.
We included eyeshadows with both high and medium levels of pigmentation, so look out for the ones that'll suit your taste!
Easy to Use
No one wants to fuss or struggle when applying eyeshadow! You want a buttery shadow that glides over the lids and blends out easily.
Your style and experience level will also influence which shadows you'll find easier to work with, so we'll discuss that in more detail in the reviews. Packaging can also play into this, so we'll review it when relevant.
Cruelty-Free and Vegan
For many shoppers, it's important to only use cruelty-free products, while others look specifically for vegan formulas. We'll let you know about that in the "Quick Facts" section of each review. If you're a vegan, you'll want to check shadow ingredient lists for carmine, which is a commonly-used red pigment.
With the basics out of the way, have a look at our gorgeous selection of eyeshadows for blue eyes!
Top 10 Best Eyeshadows for Blue Eyes 2023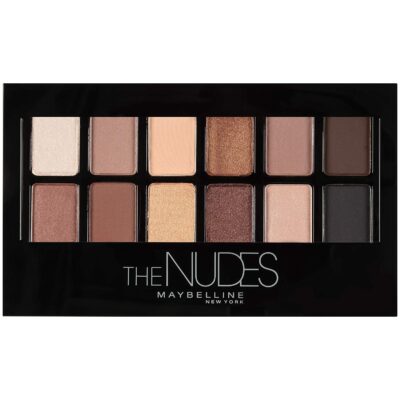 Why we like it:
This versatile palette is filled with warm-leaning nudes and universally-flattering earth tones that subtly enhance blue eyes. It's affordable, well-made, and can be used in dozens of different ways to fit every occasion.
Editor's Rating:
Quick Facts:
Format: Powder
Shades in Palette: 12
Color Story: Warm-Leaning Nudes
Finish: Varied
Pigmentation: Medium and High
Cruelty-Free/Vegan: No
Every blue-eyed beauty needs a warm, nude eyeshadow palette in their makeup bag, and this one is the ideal choice!
The palette has 12 eyeshadow shades that go together easily in hundreds of different ways, so you can create eyeshadow looks to fit every situation. You can use it for natural-looking makeup, smokey eyes, and soft-glam looks. Because of the versatility, it's great for travel, and since it's affordable, it's not a big deal if it gets lost.
The best shades in here for enhancing blue eyes are warm gold, peachy champagne, and bronze, while taupe, black, beige, and gray are perfect for deepening the crease or adding a smokey effect. There is also a Blushed version of this palette with a cool, pink-leaning color story that looks softer against blue eyes.
Some of the matte shades in this palette are not extremely pigmented, but they're still workable and beginners will find them forgiving. If you're a fan of intensely dark, matte looks then we'd suggest picking up the Milani Most Loved Mattes Palette, instead.
If you prefer traditionally flattering and easy beauty looks, this will be the only palette you'll need. If you also like to experiment, you can supplement it with single eyeshadows or with a colorful palette like the NYX Ultimate Brights Palette.
Pros
Comprehensive neutral palette

Excellent for travel

Can create soft or dramatic looks

Decent color payoff for an affordable price
Cons
Matte shades have lower pigmentation
---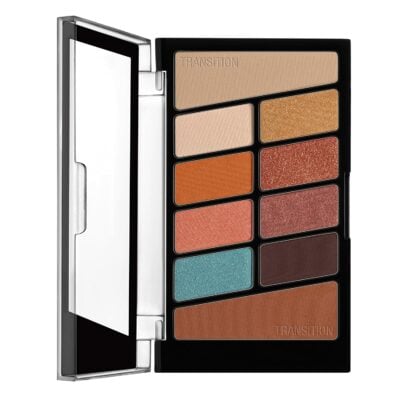 Why we like it:
This fun palette enhances blue eyes with peachy shades, and adds a unique touch with a vibrant blue. It's also extremely affordable with surprisingly nice pigmentation, especially for the matte shades.
Editor's Rating:
Quick Facts:
Format: Powder
Shades in Palette: 10
Color Story: Warm Nudes, Peaches, and Blue
Finish: Varied
Pigmentation: High
Cruelty-Free/Vegan: It's Complicated/No
This is a quintessential eyeshadow palette for blue eyes, but with a really fun twist. Palettes like Maybelline's The Nudes are an easy and safe choice for anyone, but there's something exciting about an affordable, wearable palette like this one that does things a little differently.
This palette includes the basic matte nudes for a no-makeup look, stunning mattes and frosts in the orange/peach family for colorful looks that bring out blue eyes, and the pièce de résistance: a shimmery blue-teal that mimics your eye color, adds refreshing contrast to a warm eyeshadow, and makes your entire look more compelling and unique.
We love that Wet n Wild took into account how eyeshadow colors are actually used! The medium transition shades, which normally get panned a little faster than vivid colors, come in larger sizes! The deeper transition color could easily double as a bronzer for some shoppers, which is a nice bonus.
The brand took the same approach with their more neutral-cool Rose in the Air and classic nude Nude Awakening, which have the same high-quality formulation but with more traditional color stories.
One thing to note is that the frost shades are a little fussier than the mattes, so we suggest using a tightly-packed brush or even fingers to get the nicest coverage out of them.
If you'd prefer a more subdued little palette that's still affordable, you might prefer the Revlon Colorstay Quad, instead.
Pros
Wearable yet unique color story

Super affordable

Larger pans for transition shades

High-quality matte shades
Cons
Shimmer shades a little fussy
---

Why we like it:
This is a great eyeshadow palette for blue eyes and fair skin with cool undertones. It's incredibly well-made, with a sophisticated color story that's especially suitable for professional settings.
Editor's Rating:
Quick Facts:
Format: Powder
Shades in Palette: 16
Color Story: Cool and Neutral
Finish: Varied
Pigmentation: High
Cruelty-Free/Vegan: Unclear/No
Not many brands can beat Lorac for eyeshadow quality. With any of their eyeshadow palettes, you know you will receive buttery and pigmented shades that will be incredibly easy to blend or buildup.
This palette has a color story based on cool and neutral shades, so it's a little softer against blue eyes. This makes it very easy to work with if your skin also has cool undertones!
The shade that excites us the most is Rosé, a soft golden-pink shade that has the same brightening effect on blue eyes as a copper, but without that ultra-warm intensity that can clash against cool skin. Half the palette is frosted for a touch of glam while the other half is matte. There are some fun but easily wearable colors in the mix, like plum, jade, and navy.
If you like to go smokey, the palette includes deep shades like black and charcoal, and there are a few earth tones for natural, no-makeup looks. If you're serious about your eye makeup, we know that you'll love this palette because there's a lot of room to play.
As a major bonus, the palette also comes with Lorac's fantastic eyeshadow primer, which we think adds a lot of value to this premium purchase.
The only shade that's missing for us here is a dark chocolate brown or espresso, although others might wish for more highlight shades. It probably won't work as the only palette in your arsenal the way Maybelline's The Nudes could, but it's a very sophisticated addition to an existing eyeshadow collection.
If you're a premium shopper looking for a more basic eyeshadow palette for blue eyes, Lorac's Unzipped or the original Pro Palette might be more to your liking.
Pros
Impeccably buttery eyeshadows

Sophisticated cool/neutral color story

Comes with excellent eyeshadow primer
Cons
Not great for beginners

Better as a supplemental palette
---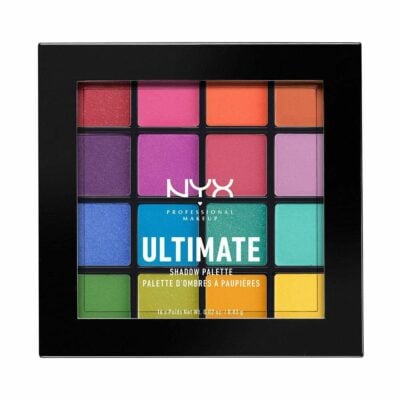 Why we like it:
Brightly colored, vivid eyeshadows can be a lot of fun! This palette offers a great range of vivids and allows you to get creative without breaking your bank.
Editor's Rating:
Quick Facts:
Format: Powder
Shades in Palette: 16
Color Story: Vivid Colors
Finish: Matte and Satin
Pigmentation: High
Cruelty-Free/Vegan: Yes/No
Anyone can rock bright and colorful eyeshadow, including those with blue eyes! Throughout this article, we mostly focus on conventional colors that make blue eyes pop, but we wanted to give you the option to go all-out with color as well.
This palette offers all of the bright eyeshadow you could possibly want without being overwhelming the way a Morphe palette can be, and with very consistent quality for each shade.
Some of the brights in this palette are more matte while others have a subtle satin sheen. It's not too detectable on the eyes, but we like that it gives the shadows a bit more dimension. If you blend them out a little, they soften up nicely and can look great with more metallic shades without a massive contrast in texture.
There are so many ways to use this palette, whether alone or with other palettes, to create anything your heart desires. You can add just a pop of neon to a neutral look with a palette like Maybelline's The Nudes, create a vivid rainbow look, or go for an editorial monochromatic look. We're getting excited just talking about it! The NYX Instagram page is a fount of inspiration if you want more ideas.
As is true for many other more affordable eyeshadows, we do find that these don't work great over bare skin. You have to use them over an eyeshadow primer to get maximum intensity and pigmentation.
Pros
Vivid colors spark creativity

High-quality, pigmented shadows

Satin finish adds dimension
Cons
Must be used with eyeshadow primer
---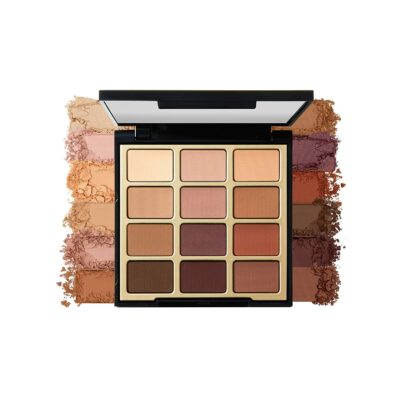 Why we like it:
This well-pigmented, matte palette is extremely wearable, and it'll be especially nice for those with mature skin who would like to avoid shimmery shadows.
Editor's Rating:
Quick Facts:
Format: Powder
Shades in Palette: 12
Color Story: Cool & Warm Earth Tones
Finish: Matte
Pigmentation: High
Cruelty-Free/Vegan: Yes/No
Before we start recommending this palette, we want to make a very clear caveat: just because your eyes are starting to show signs of your wisdom, it doesn't mean that you have to do your makeup a certain way–as long you have fun with it, you'll look gorgeous!
However, with age, you might find yourself contending with a few added concerns: you might want to obscure fine lines or to stick to more subdued colors that won't raise an eyebrow at the office.
We picked this palette because matte eyeshadows are less likely to emphasize a "crepey" eyelid texture compared to their frosty counterparts. The shades in it are earthy but not overly neutral and they're incredibly wearable.
The range features plums and pinks for softly flattering looks, as well as peaches and burnt oranges that emphasize blue eyes. The only complaint we'd have (and it's minor) is that we wish the palette included a few more light shades that could work for highlighting.
All of the shadows in the palette are well-pigmented, which is rare with mattes, especially at this price point. Just as importantly, they have a very soft, creamy texture that's more appropriate for mature skin which tends to be more delicate.
Finally, you don't have to have mature skin to rock matte eyeshadows! This matte palette can be awesome alone, or you can use it to round out makeup looks with shimmers or other textures.
Pros
Interesting yet wearable color story

Matte finish helps obscure fine lines

Creamy and pigmented
Cons
Could use more light shades
---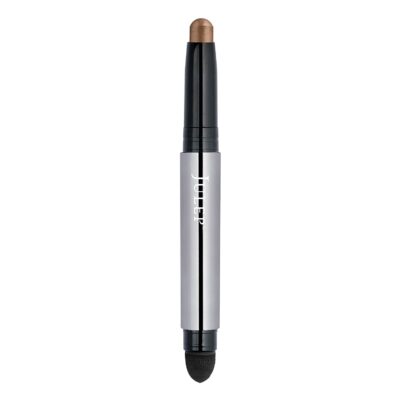 Why we like it:
These pretty, blendable cream shadow sticks are perfect for busy lifestyles and makeup minimalism. They impart a pretty wash of color in seconds, and can be used anywhere.
Editor's Rating:
Quick Facts:
Format: Cream-to-Powder Sticks
Shades in Palette: Singles (24 Shades)
Color Story: N/A
Finish: Varied
Pigmentation: Medium
Cruelty-Free/Vegan: Yes/Depends on Shade
Powders are what usually comes to mind when we think of eyeshadow, but cream eyeshadows also deserve some attention! These sticks are a fantastic choice if you lead a busy lifestyle and want to glam yourself up quickly.
Their pigmentation isn't intense, which is nice for a softer makeup look. You can build them up with added layers, but when you're in a rush it's convenient since you won't have to blend much (if at all). However, if you want a creamy eyeshadow with the intensity of a powder, you'll prefer the L'Oreal Infallible 24HR Shadows, instead.
They come in 24 shades, with both shimmer and matte options. Copper Shimmer is our favorite for blue eyes because it has that orangey tone that emphasizes like no other. Champagne and Warm Gold are two other lovely options for highlighting blue eyes, while matte neutrals like Putty are universally flattering.
The longevity of these eyeshadow sticks is quite good, although it also depends on your point of comparison. If you compare them to wearing powder eyeshadow alone, they hold up significantly better, but they don't beat the longevity of a primer and powder combination.
Since they're super effective as eyeshadow primers, they have added utility. They can also double as eyeliners, especially if you want a soft smokey look.
The packaging is perfect to use on the go! The pencils have a shiny finish that looks luxurious, and they roll up on their own, so you don't need to fuss with a sharpener. The end has a smudger that you can use to blend or smoke things out.
Pros
Very quick and easy to use

Convenient for using on the go

Great range of colors

Can be used as shadow primers
Cons
Not very dramatic

Mediocre longevity
---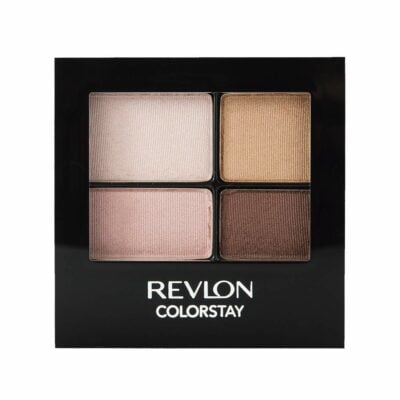 Why we like it:
This is a great mini-palette for casual makeup wearers or beginners. It's easy to use and gives a gorgeous polished look. The color story is soft and just right for slightly emphasizing blue eyes.
Editor's Rating:
Quick Facts:
Format: Powder
Shades in Palette: 4
Color Story: Neutral
Finish: Frost
Pigmentation: Low
Cruelty-Free/Vegan: No
We think this is a fantastic eyeshadow choice for anyone with blue eyes who is new to makeup, although pros might find it disappointing. The little compact comes with 4 powder eyeshadows that have a pretty frost finish.
The color story is quite light, with two highlight shades, a gold shade that's perfect for the lid, and a medium brown that's an easy choice for the crease. Most of the shades in this palette are neutral so they can be worked into any number of makeup looks, but the gold is quite warm and will do a wonderful job of softly emphasizing blue eyes.
This palette is not as dramatically blue-enhancing as the warmer Wet n Wild Not a Basic Peach, so it's a better choice for those who prefer more subtle looks.
Because the colors are frosted, this quad won't work for a totally natural makeup look, but the shades don't have enough color payoff to create a dramatic effect. It's the kind of palette that adds a bit of "oomph" and polish without ever veering into boldness. The colors come together easily, and they can be used to create a few different looks, from soft smokey eyes to classic eyeshadow shapes.
Newcomers to makeup often struggle with over applying and blending. Thankfully, the low pigmentation makes these shadows impossible to overapply and very forgiving of inexperienced blending. If you're new and still a little nervous about working with eyeshadow, or if you're looking to gift makeup to someone in such a situation, this is an excellent choice.
Pros
Simple, easy to combine color story

Gold shade enhances blue eyes

Excellent for beginners
Cons
Not enough pigmentation for makeup pros

Not the most dramatic eye-enhancing effect
---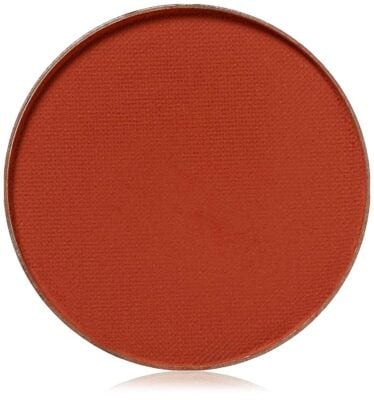 Why we like it:
If you have specific tastes, these are the best eyeshadow singles for creating your own color story. They are buttery and pigmented, with many shades that flatter blue eyes.
Editor's Rating:
Quick Facts:
Format: Powder
Shades in Palette: Singles
Color Story: N/A
Finish: Varied
Pigmentation: High
Cruelty-Free/Vegan: Yes/Depends on Shade
The Anastasia Beverly Hills eyeshadow singles are not very famous, especially if we compare them to iconic products like the brand's Modern Renaissance Palette (which almost made it on this list). What many don't know is that the eyeshadow singles are often the same shades found in the palettes!
Palettes offer better value, but sometimes you'd rather spend a little more to get exactly what you want. If that's your situation, we think these are the best eyeshadow singles you can find.
They're not cheap–a single shadow costs about the same as some of the budget palettes on this list, but their quality is immense and consistent. The matte shades stand out in particular. It's usually difficult to find pigmented and blendable matte eyeshadows, so they are truly unique.
Realgar is a special favorite because it's almost a neutral brown, but with a strong orange undertone that complements blue eyes and that pairs well with other flattering shades like peach, or rose gold. However, you can't go wrong with any of the colors!
Just be aware, these are technically eyeshadow refills that are meant to be pressed into an existing palette or compact. It's very eco-friendly, but it's not convenient if you don't have a refillable or magnetic palette like this one.
Pros
Buttery and pigmented

High-quality matte shades

Gives you room to mix and match
Cons
A little expensive

Comes without compact
---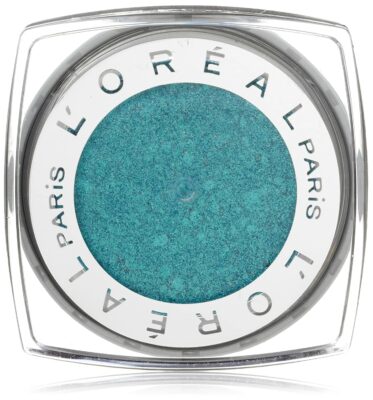 Why we like it:
These intensely pigmented cream shadows come in an incredible range of shades, to spark your imagination. They're not the easiest to work with, but they have impressive longevity and a dramatic look.
Editor's Rating:
Quick Facts:
Format: Cream
Shades in Palette: Singles
Color Story: N/A
Finish: Varied
Pigmentation: High
Cruelty-Free/Vegan: No
This is a slightly more intense cream eyeshadow option for those with blue eyes. Calling them "cream eyeshadows" is not quite right, since the formula is a true powder-cream hybrid (more so than the Julep Eyeshadow 101 Sticks).
The formula is incredibly soft and velvety, but not overly creamy. The shadows dry down and self-set beautifully, so they have better longevity than the Julep sticks.
Endless Sea is the standout color in the range. It's the kind of iridescent teal that's very striking as an accent on blue eyes, especially as a cool touch when the rest of the eyeshadow is warm-toned. We suggest applying it with a thin angle brush, like eyeliner!
There are other shades here that suit blue eyes particularly well, like the coppery Amber Rush and Glistening Garnet which is a warm magenta.
Aside from pigmentation, the major difference between these shadows and the Julep Sticks is the application method. Since the 24HR Shadows come in a jar, they're not as quick or easy to apply. The best way to apply them is directly with fingers or with a very firm brush, and while they blend easily, they do require a bit more effort than the Julep sticks.
In general, we find that all of the metallic shadows in this range are stunning, while the matte shades are a little harder to work with. Their texture is a little too dry, so they're difficult to build up and blend.
Pros
Creamy, pigmented metallic shades

Lots of colors that flatter blue eyes

Excellent longevity

Can double as eyeliners
Cons
Require a bit of work to apply and blend

Matte shades are mediocre
---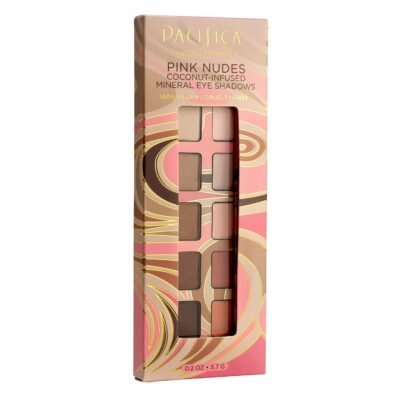 Why we like it:
If you prefer clean beauty or vegan products, this eyeshadow palette is a standout. It has cool pink and earthy shades that come together nicely, and the formula itself is vegan and talc-free.
Editor's Rating:
Quick Facts:
Format: Powder
Shades in Palette: 10
Color Story: Cool Nudes and Pinks
Finish: Matte and Satin
Pigmentation: Medium
Cruelty-Free/Vegan: Yes/Yes
Vegan eyeshadows are hard to find, especially if you're looking for a palette with warm tones that'll emphasize blue eyes. This palette from Pacifica is the best option we've seen. It'll also appeal to clean beauty lovers since the formula is free from talc and other controversial ingredients.
As you can tell from the name, pink shades rule this palette, although there are also two earthy peaches that are great with blue eyes. Makeup minimalists will really like the neutral browns in this palette, which could work well to fill in the eyebrows. This palette can be used for no-makeup makeup, ethereal, and matte glam looks without any issue, and it'll be nice both for beginners and for those with a bit more experience.
As can be expected from a clean formula, the pigmentation on these shadows is a little low. You can build them up for more drama, but none of the shades have that easy one swipe opacity that most of the other shadows on our list have. The texture is a little chalky, so you'll also have to be careful when applying not to end up with fallout under the eyes. For many, it's a small price to pay for a clean, vegan formula.
If you also want some frosted eyeshadows with a formula that's true to your ethos, check out the Crystal Matrix palette from the same range. The color story isn't as cohesive, especially for those with blue eyes, but we think it complements the Pink Nudes palette quite well.
If you're strictly interested in vegan eyeshadows, but ingredients like talc aren't a concern and you'd rather have fierce pigmentation, then quite a few of the ABH Eyeshadow Singles are vegan, though you'll have to check each color's ingredient list to verify.
Pros
Clean, vegan formula

Soft, pretty color story

Neutral browns great for eyebrows
Cons
Relatively low pigmentation

Chalky powders can cause fallout
---
Deep Dive Into Eyeshadows for Blue Eyes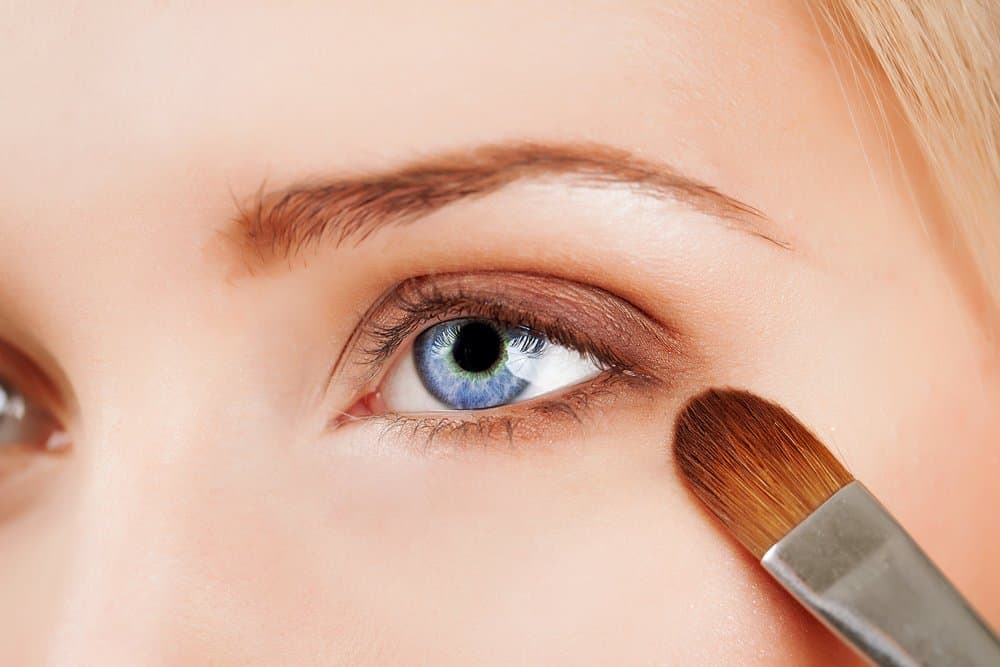 Still not sure which eyeshadows to choose? Let's figure it out! In this section we break down eyeshadow types and get into a little color theory to help you figure out which shadows appeal to you the most!

Eyeshadow Types
You can buy eyeshadows individually or in palettes, and you can choose from creams or powders. Let's see what makes each of these formats unique!
Powders
Powder eyeshadows are the most common and by far the most popular. They can be used for anything from natural looks to intricate, dramatic looks. Their color payoff can be immense, but they can also be a little difficult to work with.
They're best applied over an eyeshadow primer, otherwise they can fade or crease very quickly. To get a precise application, make sure to use good shadow brushes.
Creams
Cream eyeshadows are much easier to work with! You just swipe them on, and you're done. They come in jars, like the hyper-pigmented L'Oreal Infallible 24HR Shadows, or in stick format like the Julep 101 Sticks. They blend easily, and they're especially convenient for one-shadow looks. They're also smoother over dry skin.
They don't offer as much control or precision as powder eyeshadows, although it's possible to add them into powder shadow looks as accents. They can double as excellent eyeshadow primers!
Palettes
With eyeshadow palettes, you can get a bunch of colors all at once for a consolidated price, and usually, all of the shades go well together! That's why palettes are so popular these days (much more so than single shadows), and why they rule our list.
Singles
Sometimes you only want to buy one eyeshadow. It might be a very specific color that you want to add to your existing collection or maybe you want to customize a color story. You might also enjoy single-shadow makeup looks! Buying single shadows costs more than buying palettes, but if your tastes run specific, it's less wasteful.

Eyeshadow Colors for Blue Eyes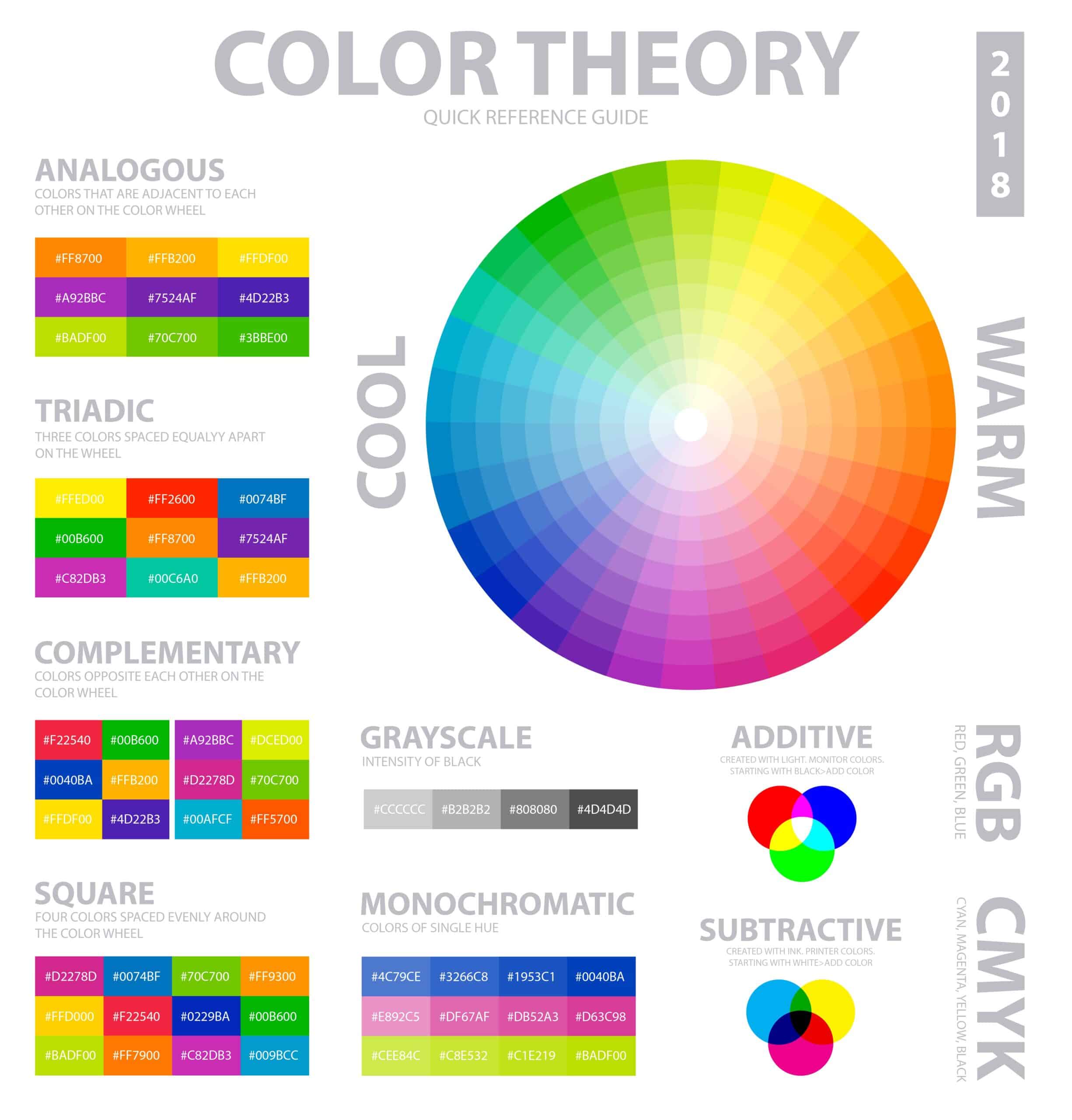 No colors are off-limits when you have blue eyes, but understanding a bit of color theory can help you put together stunning eyeshadow looks.
Oranges and Warm Shades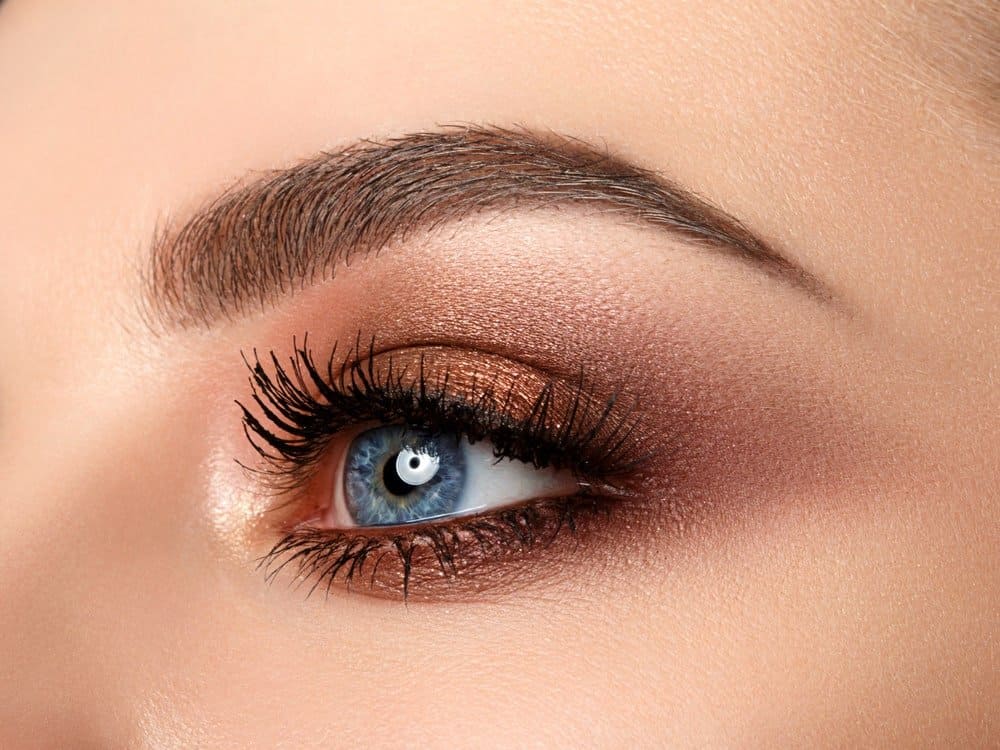 The easiest way to make blue eyes pop is to use eyeshadow in a complementary shade. If you look at a color wheel, the blue family sits across from orange, which means that orange and blue are complementary colors.
Pure orange is a little too intense for most of us, especially for day-to-day, but as long as a shade has some orangeness to it, it'll still intensify blue eyes. This gives you a lot of options! Coral, rose gold, brick red, copper, and even bronze and gold all have this warm base, and they fit easily into all kinds of different beauty looks. Some earthy browns can have an orange undertone, and those are great for deepening the crease or lining the eyes.
To rock these complementary tones, check out Wet n Wild's Not a Basic Peach which is full of flattering warm shades. Maybelline's The Nudes Palette also contains warm, flattering shades, but neutrals are a little more dominant.
Neutrals and Smokes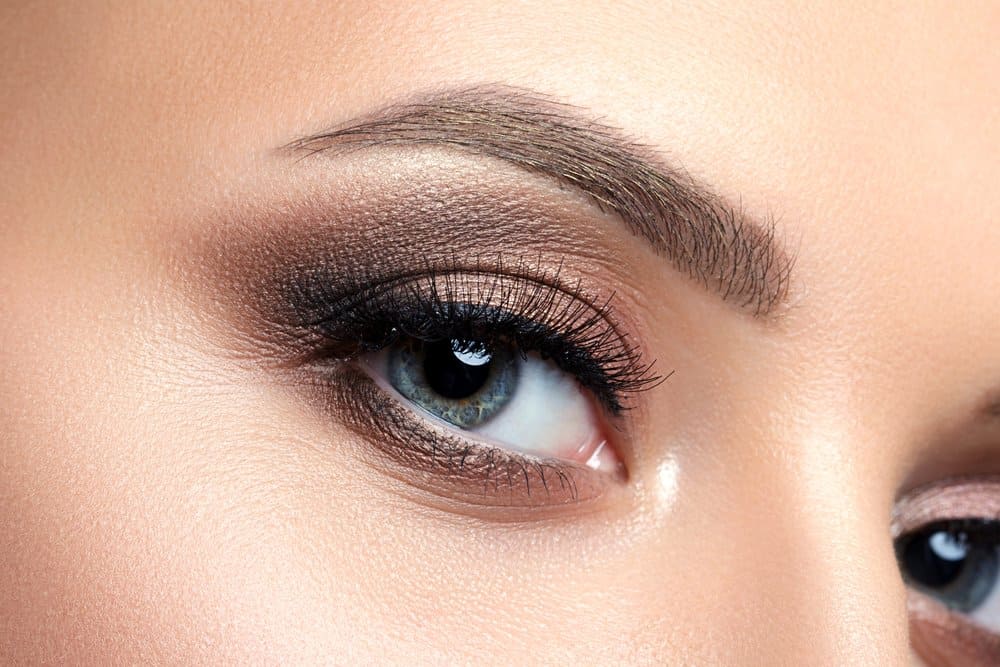 Everyone looks good in neutral eyeshadows that don't lean too cool or warm, like the champagne and shimmery brown in the Revlon Colorstay Quad. You can wear them alone or combine them with orange-based shades for complex and flattering eyeshadow looks.
Smokey shades like black, charcoal, and taupe also count as neutrals, and you can use them for a sultry smokey eye. You can find lots of those smokey shades in the LORAC PRO Palette 2 Eyeshadow Kit palette.
Cool Pinks and Purples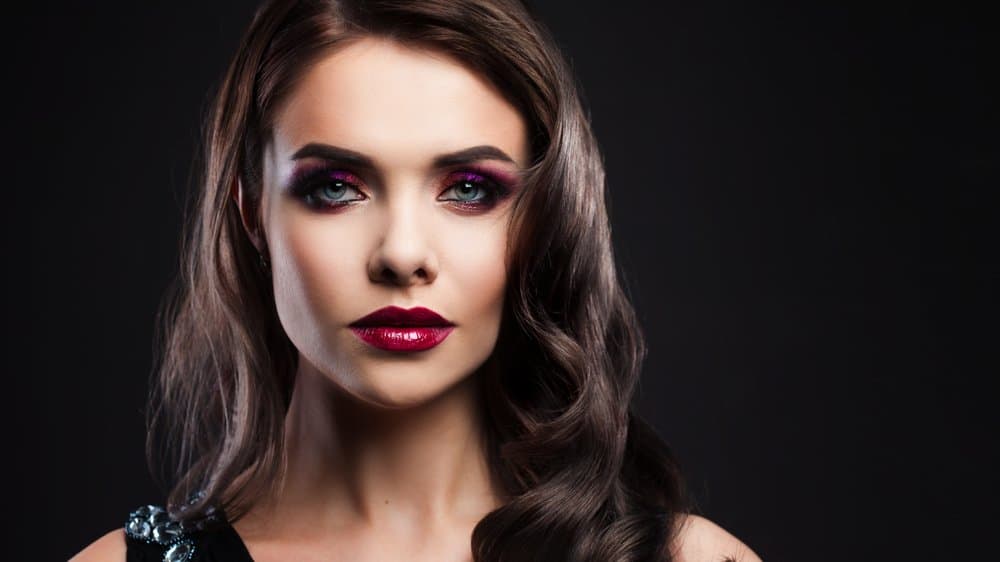 The next series of shades we love on blue-eyed beauties are pinks, mauves, and plums, all of which have slightly red-undertones. When those with blue eyes wear cool eyeshadow, the eyes don't quite pop, but that doesn't mean the makeup doesn't look beautiful. It can look very soft or sultry!
If your eyes are a blue-green, red-leaning purple shadows will subdue the blue tones and bring out the green tones instead. We especially recommend the Pacifica Pink Nudes Palette or the Blushed version of Maybelline's The Nudes Palette.
Multi-Color Looks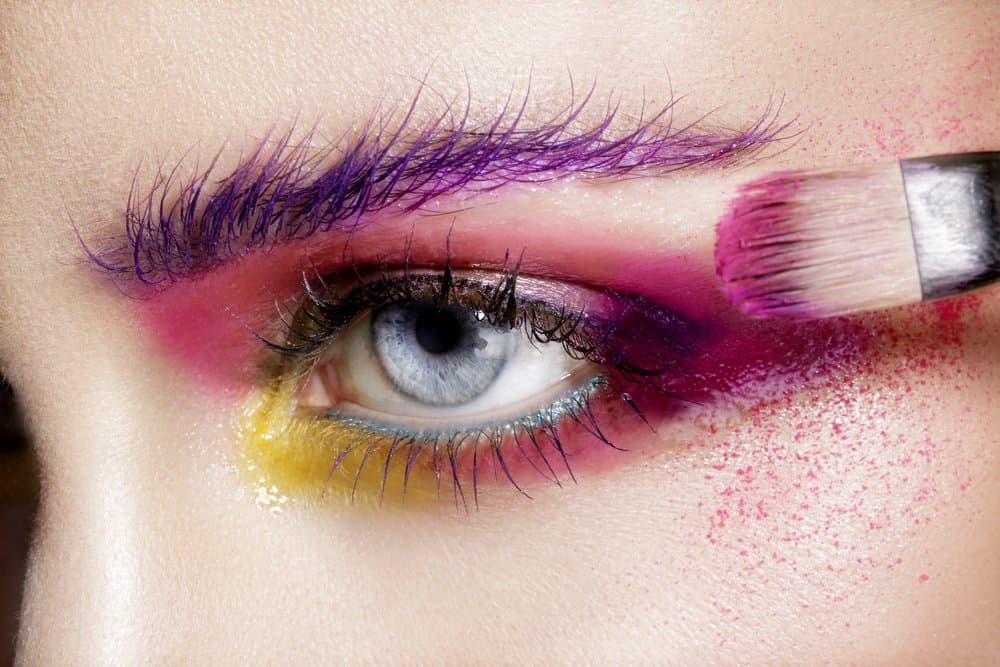 Things can get a little more complicated when you stray from monochromatic or neutral eyeshadow looks. Vivid multi-color palettes like the NYX Ultimate Brights Palette allow you to play around, but they also force you to understand how different colors come together. Remember that with any eyeshadow look you create, blue also becomes part of the color story.
For instance, if you want to wear green eyeshadow, you can add a bit of teal to make the entire look analogous with your eyes, or you can add a pop of pink for a split-complementary look.
Blue on Blue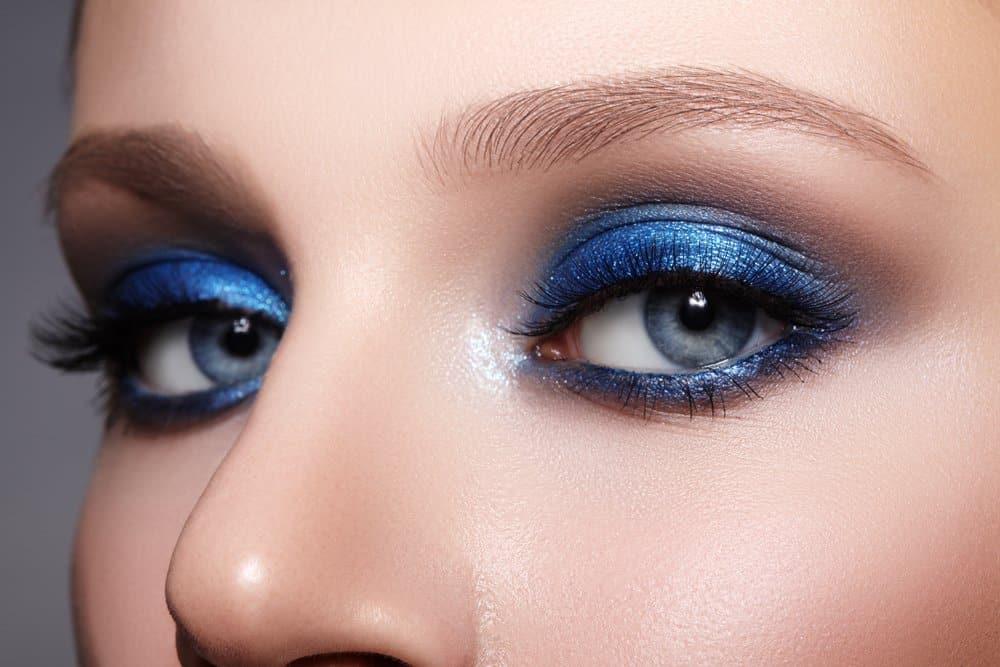 Pairing blue eyeshadow with blue eyes can be complicated. Your eyes and eyeshadow will have a monochromatic effect which can be nice, but it won't emphasize your eye color–it will likely do the opposite. That's why we prefer refreshing pops of blue added warmer looks, instead of a totally blue look.
It's also worth keeping in mind that unlike other shades, blue eyeshadow, especially if it's more vibrant, comes in and out of style.
Matte vs. Shimmer
Most eyeshadow palettes contain both mattes and shimmers so you can have the best of all worlds!
Shimmery or frosty eyeshadows are more reflective, so they look glamorous, and they also act as a bit of a highlight even if they're darker. Matte shadows have an elegant appeal, and when darker, they're great for deepening the outer corner or the crease.
However, some people love the look of one over the other. Shimmers can also sometimes emphasize loss of tone around the eyes, so those with mature skin often opt for all-matte shadows like the Milani Most Loved Mattes Palette.
Get Shady!
Having blue eyes doesn't restrict you from getting creative with your makeup! Your baby blues just add one more color element to any look you try. Whether you want to stick to soft and natural makeup, get really dramatic, go somewhere in between, or all of the above, there's an eyeshadow or a palette that will make your makeup dreams come true!