Top Picks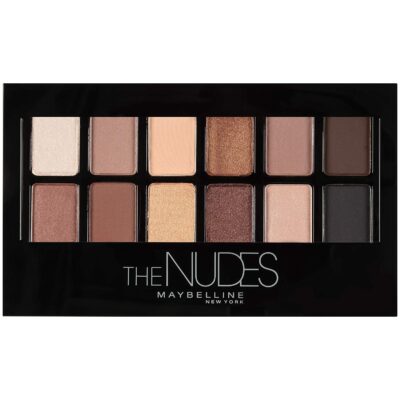 Maybelline The Nudes Eyeshadow Palette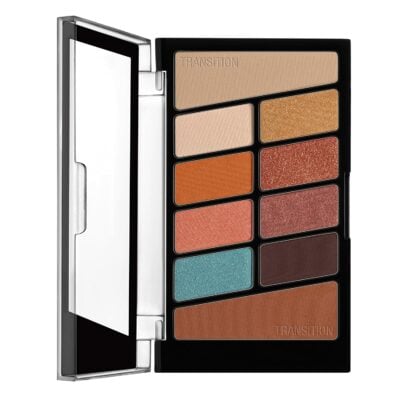 Wet n Wild Not a Basic Peach

LORAC PRO Palette 2 Eyeshadow Kit
Previous
Next
You don't need us to tell you that blue eyes are special. You're probably used to compliments about your eye color! Putting on makeup, though… that's a different story. Whether you want to get creative or just make your blue eyes pop, figuring out the right colors isn't always easy.
We put together this article, starting with a quick guide to help you understand what to look for in eyeshadows, followed by reviews of the top 10 best eyeshadows for blue eyes.
Finally, we added a thorough guide that'll help you select your dream shadows and inspire you to wear them.
How to Choose a Great Eyeshadow for Blue Eyes
Consider these factors when choosing your eyeshadow! Some of them are specific to your eye color and personal preferences, but others are universal questions of eyeshadow quality.
The Right Format for You
Do you prefer single eyeshadows or palettes? Do you like to take your time blending different powders together or do you prefer a one-and-done cream? There are no wrong answers!
To give you options, we reviewed different kinds of eyeshadows. If you're not sure which is right for you, we discuss this topic in more detail below.
Shadows That Make Blue Eyes Pop
Copper, coral, peach… these are the complementary colors that make blue pop! We focused on these flattering shades throughout the reviews, but we also included palettes with other color stories to give you different options.
We also made sure to include both matte and shimmer shadows for every style and occasion. If you'd like to learn more about how different eyeshadow colors work with blue eyes, jump on down to our color theory section.
Great Pigmentation
Most makeup lovers want an eyeshadow with high pigmentation that covers the lid in just one swipe! However, those new to makeup might be intimidated by such strong formulas, and some shoppers simply prefer really soft washes of color.
We included eyeshadows with both high and medium levels of pigmentation, so look out for the ones that'll suit your taste!
Easy to Use
No one wants to fuss or struggle when applying eyeshadow! You want a buttery shadow that glides over the lids and blends out easily.
Your style and experience level will also influence which shadows you'll find easier to work with, so we'll discuss that in more detail in the reviews. Packaging can also play into this, so we'll review it when relevant.
Cruelty-Free and Vegan
For many shoppers, it's important to only use cruelty-free products, while others look specifically for vegan formulas. We'll let you know about that in the "Quick Facts" section of each review. If you're a vegan, you'll want to check shadow ingredient lists for carmine, which is a commonly-used red pigment.
With the basics out of the way, have a look at our gorgeous selection of eyeshadows for blue eyes!
Deep Dive Into Eyeshadows for Blue Eyes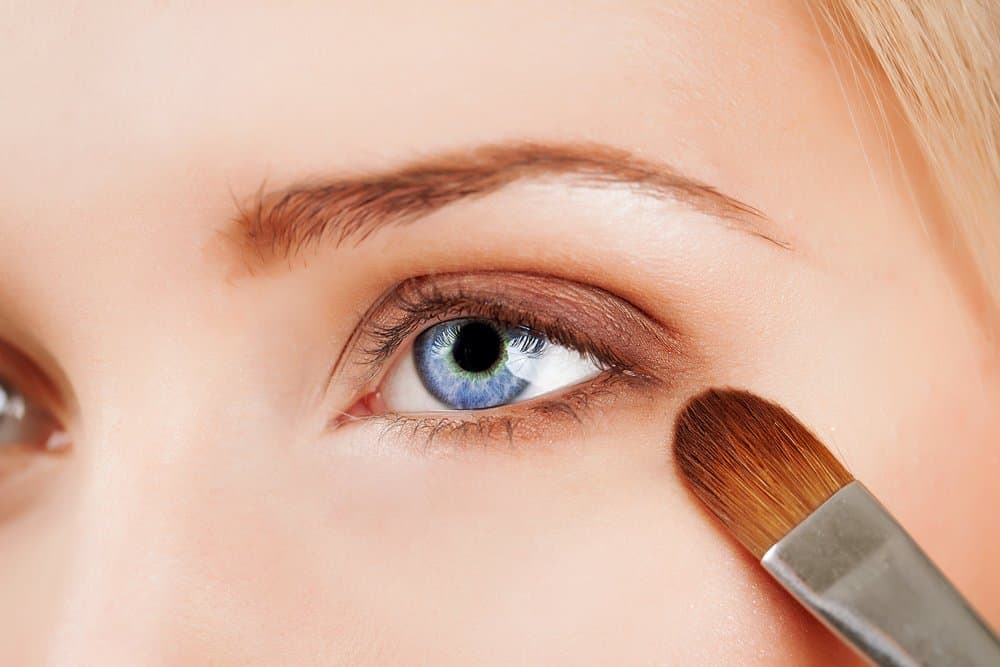 Still not sure which eyeshadows to choose? Let's figure it out! In this section we break down eyeshadow types and get into a little color theory to help you figure out which shadows appeal to you the most!

Eyeshadow Types
You can buy eyeshadows individually or in palettes, and you can choose from creams or powders. Let's see what makes each of these formats unique!
Powders
Powder eyeshadows are the most common and by far the most popular. They can be used for anything from natural looks to intricate, dramatic looks. Their color payoff can be immense, but they can also be a little difficult to work with.
They're best applied over an eyeshadow primer, otherwise they can fade or crease very quickly. To get a precise application, make sure to use good shadow brushes.
Creams
Cream eyeshadows are much easier to work with! You just swipe them on, and you're done. They come in jars, like the hyper-pigmented L'Oreal Infallible 24HR Shadows, or in stick format like the Julep 101 Sticks. They blend easily, and they're especially convenient for one-shadow looks. They're also smoother over dry skin.
They don't offer as much control or precision as powder eyeshadows, although it's possible to add them into powder shadow looks as accents. They can double as excellent eyeshadow primers!
Palettes
With eyeshadow palettes, you can get a bunch of colors all at once for a consolidated price, and usually, all of the shades go well together! That's why palettes are so popular these days (much more so than single shadows), and why they rule our list.
Singles
Sometimes you only want to buy one eyeshadow. It might be a very specific color that you want to add to your existing collection or maybe you want to customize a color story. You might also enjoy single-shadow makeup looks! Buying single shadows costs more than buying palettes, but if your tastes run specific, it's less wasteful.

Eyeshadow Colors for Blue Eyes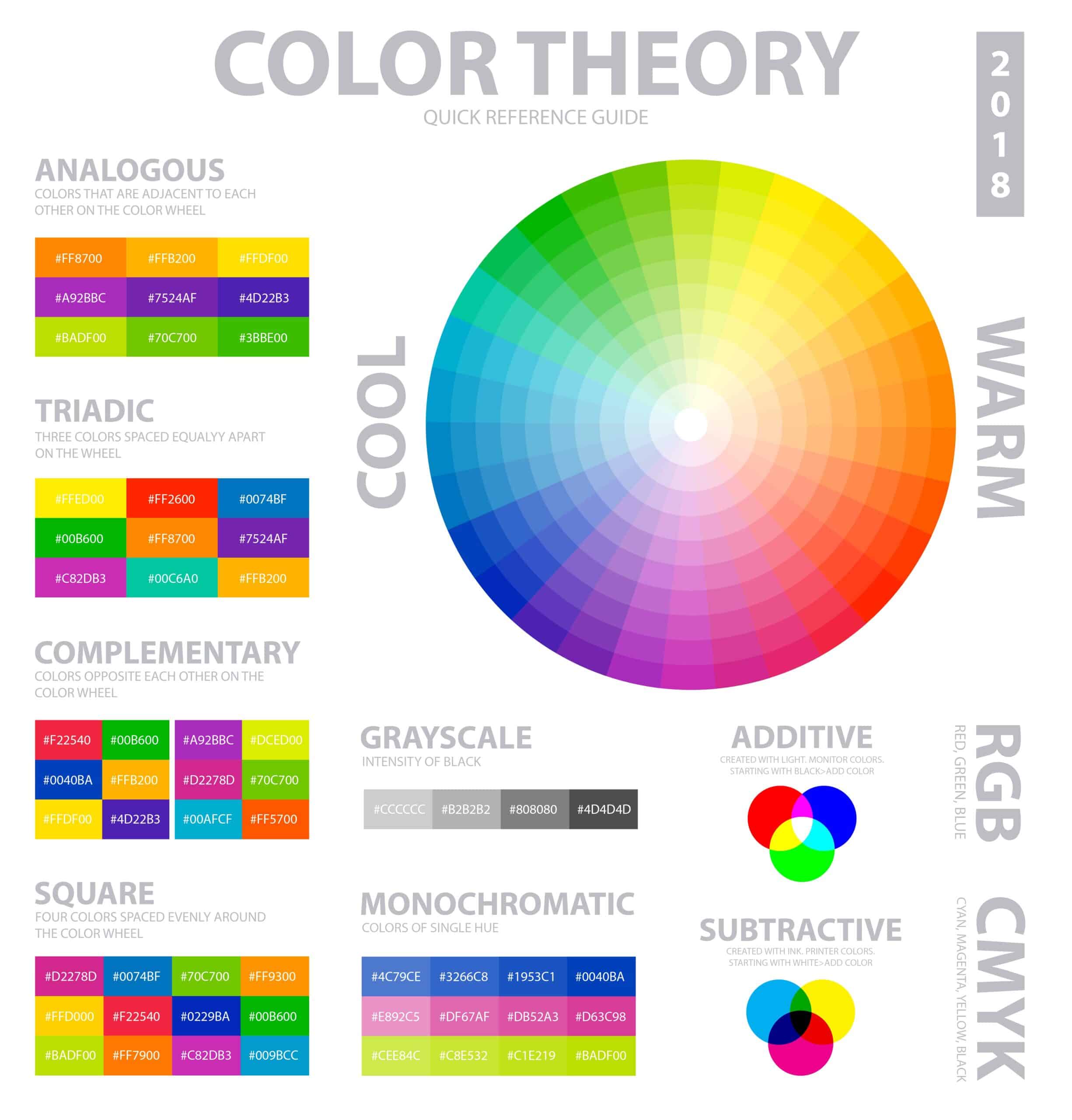 No colors are off-limits when you have blue eyes, but understanding a bit of color theory can help you put together stunning eyeshadow looks.
Oranges and Warm Shades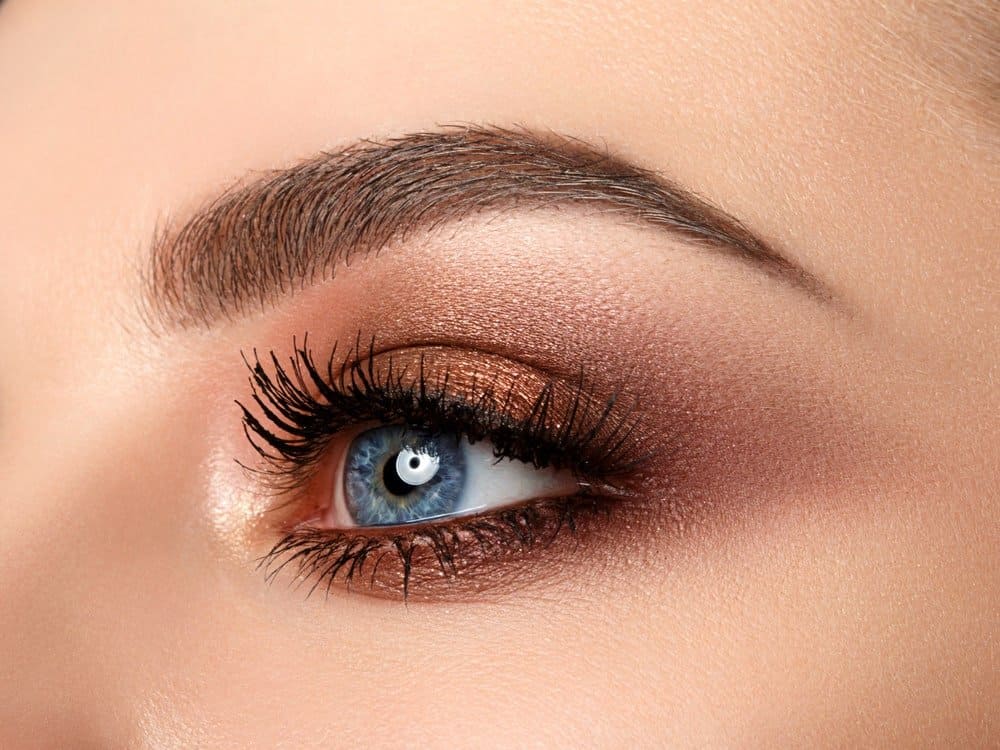 The easiest way to make blue eyes pop is to use eyeshadow in a complementary shade. If you look at a color wheel, the blue family sits across from orange, which means that orange and blue are complementary colors.
Pure orange is a little too intense for most of us, especially for day-to-day, but as long as a shade has some orangeness to it, it'll still intensify blue eyes. This gives you a lot of options! Coral, rose gold, brick red, copper, and even bronze and gold all have this warm base, and they fit easily into all kinds of different beauty looks. Some earthy browns can have an orange undertone, and those are great for deepening the crease or lining the eyes.
To rock these complementary tones, check out Wet n Wild's Not a Basic Peach which is full of flattering warm shades. Maybelline's The Nudes Palette also contains warm, flattering shades, but neutrals are a little more dominant.
Neutrals and Smokes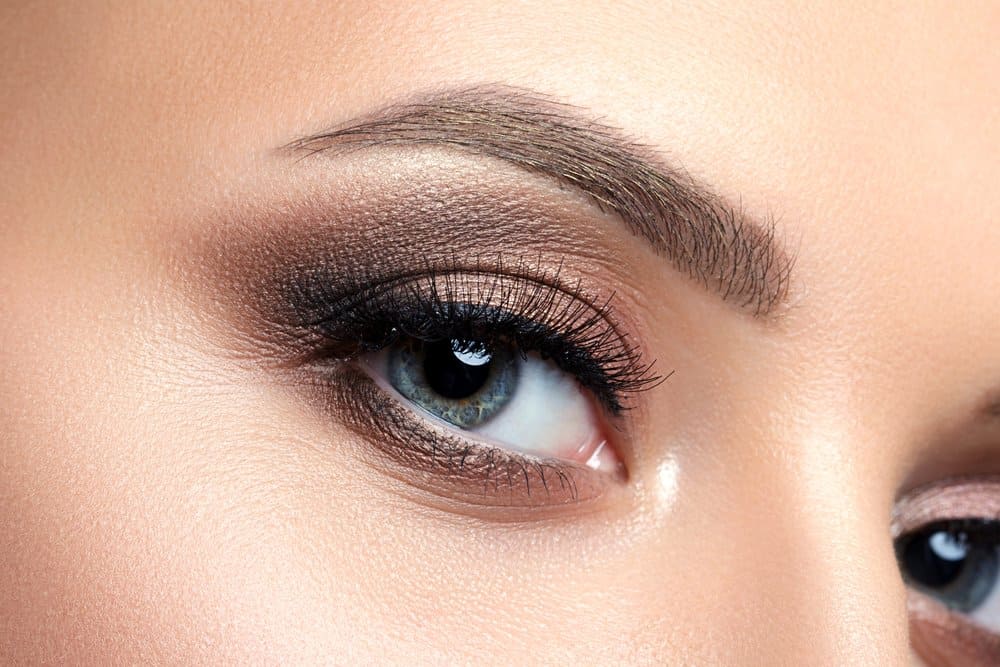 Everyone looks good in neutral eyeshadows that don't lean too cool or warm, like the champagne and shimmery brown in the Revlon Colorstay Quad. You can wear them alone or combine them with orange-based shades for complex and flattering eyeshadow looks.
Smokey shades like black, charcoal, and taupe also count as neutrals, and you can use them for a sultry smokey eye. You can find lots of those smokey shades in the LORAC PRO Palette 2 Eyeshadow Kit palette.
Cool Pinks and Purples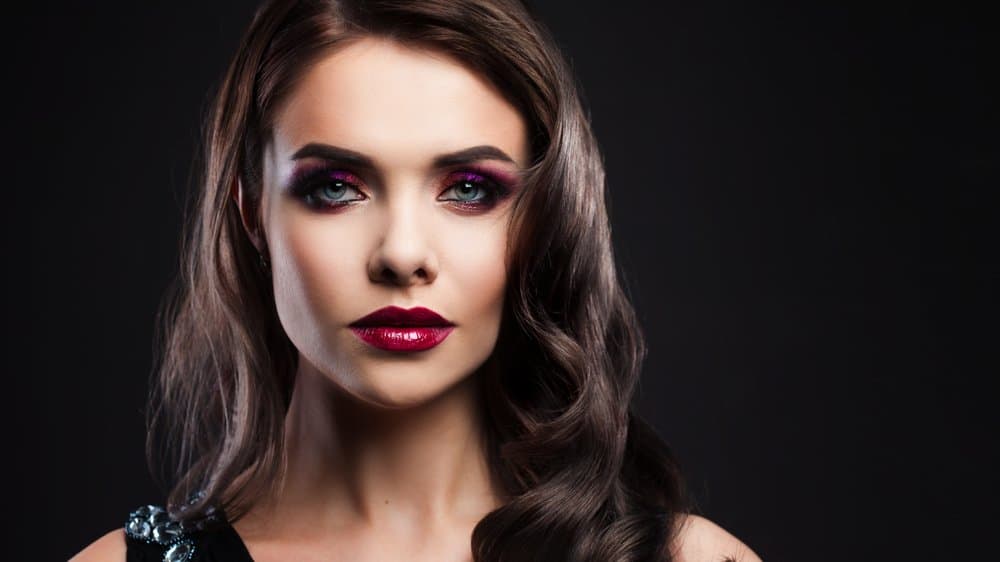 The next series of shades we love on blue-eyed beauties are pinks, mauves, and plums, all of which have slightly red-undertones. When those with blue eyes wear cool eyeshadow, the eyes don't quite pop, but that doesn't mean the makeup doesn't look beautiful. It can look very soft or sultry!
If your eyes are a blue-green, red-leaning purple shadows will subdue the blue tones and bring out the green tones instead. We especially recommend the Pacifica Pink Nudes Palette or the Blushed version of Maybelline's The Nudes Palette.
Multi-Color Looks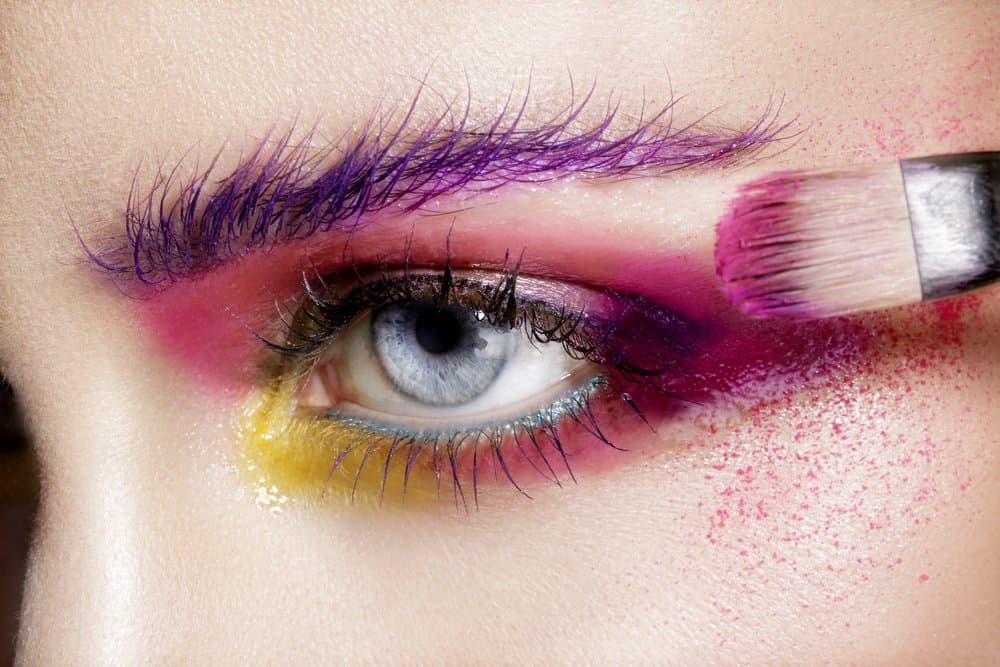 Things can get a little more complicated when you stray from monochromatic or neutral eyeshadow looks. Vivid multi-color palettes like the NYX Ultimate Brights Palette allow you to play around, but they also force you to understand how different colors come together. Remember that with any eyeshadow look you create, blue also becomes part of the color story.
For instance, if you want to wear green eyeshadow, you can add a bit of teal to make the entire look analogous with your eyes, or you can add a pop of pink for a split-complementary look.
Blue on Blue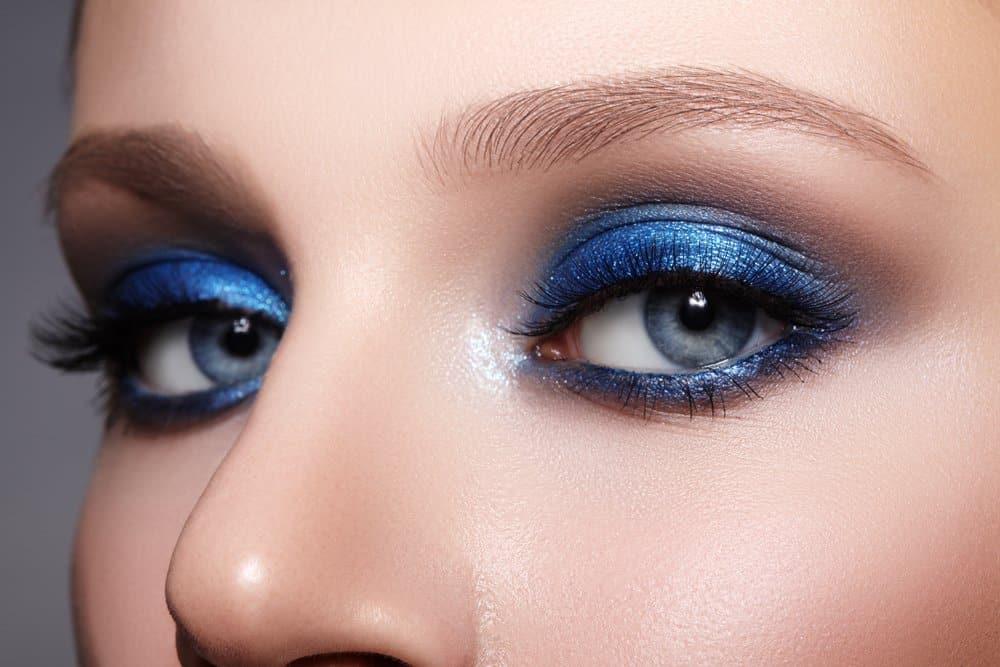 Pairing blue eyeshadow with blue eyes can be complicated. Your eyes and eyeshadow will have a monochromatic effect which can be nice, but it won't emphasize your eye color–it will likely do the opposite. That's why we prefer refreshing pops of blue added warmer looks, instead of a totally blue look.
It's also worth keeping in mind that unlike other shades, blue eyeshadow, especially if it's more vibrant, comes in and out of style.
Matte vs. Shimmer
Most eyeshadow palettes contain both mattes and shimmers so you can have the best of all worlds!
Shimmery or frosty eyeshadows are more reflective, so they look glamorous, and they also act as a bit of a highlight even if they're darker. Matte shadows have an elegant appeal, and when darker, they're great for deepening the outer corner or the crease.
However, some people love the look of one over the other. Shimmers can also sometimes emphasize loss of tone around the eyes, so those with mature skin often opt for all-matte shadows like the Milani Most Loved Mattes Palette palette.
Get Shady!
Having blue eyes doesn't restrict you from getting creative with your makeup! Your baby blues just add one more color element to any look you try. Whether you want to stick to soft and natural makeup, get really dramatic, go somewhere in between, or all of the above, there's an eyeshadow or a palette that will make your makeup dreams come true!