Back in the day, purchasing hairdryers used to be a much simpler task. They were only required to expel hot air to tame our lovely manes. Sadly, using these old dryers often resulted in hair drying out and breaking apart over time.
Fortunately, haircare technology has made amazing progress ever since. You can now find cost-effective hairdryers that cater to your every need. However, this leap in progress came with a caveat. With so many hairdryers available on the market, finding the right fit for you can be a daunting task. Additionally, you'll run into words and measurements you've never seen before when you search for them online.
With this in mind, we've compiled a list of the best hairdryers on the market to help you avoid the lengthy process of finding one on your own. If you want to know which hairdryer is best for you, keep reading.
Features to Consider in Quality Hairdryers
Here are some of the features you should take into account when picking, buying, and using a hairdryer.
Potency
This is one of the most important features of a hairdryer. The more powerful it is, the faster you can style your hair. If you want to get the best out of your hairdryer, it should have a potency of at least 1800 Watts.
Weight
This is a more significant feature than you might imagine and is why many brands develop lightweight product lines. A good hairdryer should be light and preferably weigh between 1.2 to 1.8 pounds. That way you'll be able to use it for a long time without getting tired.
Heating Element Materials
In simple terms, dryers blow air through a hot metal coil to produce the heat needed to dry your hair. As technology has developed, the metal coil has been coated with different materials to achieve different outcomes. For that reason, we suggest choosing materials that fit your type of hair.
If your hair is fine and straight, you'll likely get better use out of ceramic and porcelain hairdryers. They excel at controlling heat, so they'll quickly dry your hair without damaging it. For those with thick and wavy hair, we recommend using tourmaline or ionic hairdryers instead. Even though they're sometimes named differently, they have the same purpose, removing all the water from the washing while still retaining moisture. The negative ions will also combat the positively charged ions found in dry, frizzy hair.
There are also heating elements made of titanium. They're good for people with a lot of hair, but you should avoid them if your hair is dry or damaged.
Attachments
Whether it's diffusers, concentrators, or combs, attachments are never a bad thing to have when it comes to hairdryers. They do an amazing job at facilitating the styling of certain types of hair.
Speed and Heat Settings
No matter how potent it is, a good hairdryer should allow you to control the airflow speed and the heat it produces. This way you can choose the correct temperature for your hair and the hairstyle you want to achieve. The hairdryer gets bonus points if it also has a cooling feature.
Cord Length
The longer it is, the better. Short cords will restrict your movement while you dry your hair and have the potential to make you feel uncomfortable.
Top 10 Best Hairdryers 2023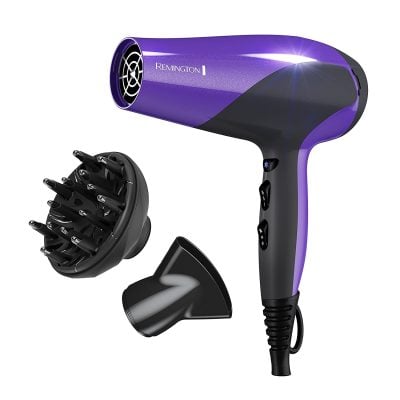 Why we like it:
The Remington D3190 offers far more to consumers than other hairdryers in its price range. It's also specially made to protect hair.
Editor's Rating:
Overview
The Remington D3190 combines ceramic, tourmaline, and ionic technologies to help reduce frizz and static. With its 1875-watt motor, this product has enough power to dry your hair in a good amount of time. This model also includes three heat and two speed settings, a cool shot button, a removable filter for easy cleaning, a concentrator nozzle, and a diffuser.
According to the manufacturer, this hairdryer provides three times more protection than other Remington hairdryers. This is due to the fact that its unique grill is coated with micro conditioners. Whenever the hairdryer is turned on, the micro conditioners are released into the airflow and continuously transferred into your hair. Together with the emission of negative ions, this feature helps prevent damage as well as enhancing the appearance of your hair.
Performance
The Remington D3190 delivers exactly what it promises: fast hair drying sessions that will leave your hair looking both shiny and healthy. The included attachments allow you to style your hair in any way you want. Because of its lower price, however, there are some noticeable differences between this product and the others on this list.
The results you achieve with this hairdryer will depend on your type of hair. On one hand, people with curly hair will find the dryer's power isn't high enough and that the heat settings aren't much different from each other. On the other hand, if you have straight or wavy hair, you'll find this hairdryer perfect for your needs.
Putting aside the issues in terms of consistency, the Remington D3190 offers a low-cost alternative to every other professional hairdryer in the market.
Design
It has an elegant purple design that's bound to catch anyone's eye. There is one big issue with this hairdryer, and that's the short cord length. If you're someone who likes to move or dance as they dry their hair, this might not be ideal.
Pros
Affordable

It's not noisy

Diffuser included

Ideal for people with straight and wavy hair

It has a cool shot button

Lightweight
Cons
Short cord length

Not powerful enough if your hair is too thick
---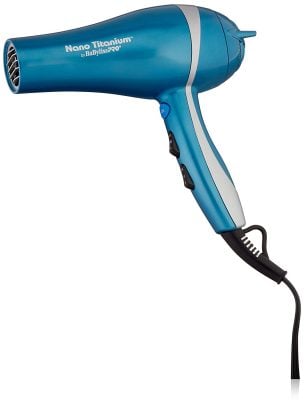 Why we like it:
The BaBylissPRO is powerful, versatile, and straightforward. It's the perfect hairdryer for people with healthy, strong hair.
Editor's Rating:
Overview
The BaBylissPRO Nano Titanium is a top-notch hairdryer. Not only will it leave your hair soft and shiny, it'll also decrease the amount of time you spend getting ready. This hairdryer has a potent 2000-watt motor. Despite having less wattage than the TREZORO hairdryer, the BaBylissPRO is still one of the most powerful hairdryers in the market.
This hairdryer has three speed settings and three heat settings, as well as a titanium heating element that distributes heat evenly. The heating element also emits negative ions, producing smoother, sleeker results.
The BaBylissPRO comes with a concentrator nozzle. BaByliss also sells universal diffusers but you have to buy them separately.
Performance
Since its heating element is made of titanium, the BaBylissPRO gets hot very quickly. This will cut down your hair drying time without exposing your hair to heat longer than necessary.
It's worth noting that if your hair is dry or damaged, you should never use the max settings for speed and heat as that can cause your hair to deteriorate even further. No matter what type of hair you have, we recommend mainly using a lower speed and heat setting over time to minimize the risk of damage.
With these preventive measures, one could argue that this hairdryer's power is its biggest drawback. However, that isn't true. The BaBylissPRO is the ideal partner for people whose hair strands are in good shape. Its titanium core and ionic features can turn your unkempt locks into a frizz-less, glossy hair.
Design
This lovely blue dryer weighs 1.8 pounds, so it's very easy to handle. Additionally, its cord is almost 9 feet long.
Pros
Its titanium core makes it very durable

Long cord

Ionic technology

Perfect for people with thick, wavy hair

Cool shot button

It gets hot very quickly
Cons
Not recommended for those with damaged hair or sensitive scalps

It's expensive

Doesn't add much volume
---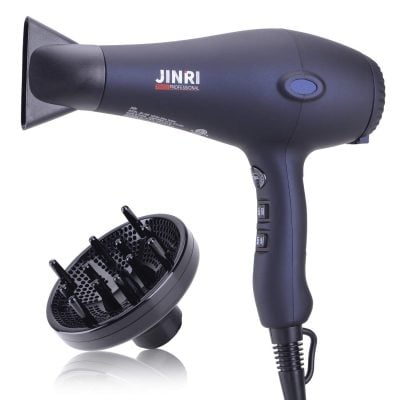 Why we like it:
This is the Swiss army knife of hairdryers. It excels at drying any type of hair and achieving every hairstyle you can think of.
Editor's Rating:
Overview
JINRI's professional hairdryer dries your hair fast and is infused with tourmaline and infrared technology. These technologies ensure your hair is defended from the harsher effects of heat exposure.
This hairdryer's package comes with not one, not two, but three different attachments that can help you create any hairstyle. The first is a concentrator nozzle that adds volume to straight and flat hair. The second is a comb nozzle that prevents flyaway hairs and gives a smooth finish. The third and final attachment is a diffuser nozzle, which dries curly hair without disturbing its natural curl pattern.
The Salon Grade hairdryer by JINRI has a total of five settings – three heat and two speed settings – and a cool shot button, which allows you to rapidly cool hair to seal the cuticle and help set your chosen style. This allows you to customize your hair drying session in any way you like.
Performance
This dryer is very fast, incredibly durable and very quiet. The infrared technology dries your hair inside out while the tourmaline-coated heating element infuses your hair with negative ions. These ions help get rid of the frizz and static in your hair.
Because the included diffuser attachment keeps your hair in place while drying it, having this hairdryer is a must if you have curly hair. The diffuser is also pretty big in terms of size compared to that of other brands.
Overall, the Salon Grade Hairdryer by JINRI is an all-in-one package that's well worth its competitive price.
Design
The hairdryer's frame is made from high-quality plastic. Mind you, this is not the standard polycarbonate builds seen in other cheaper products, so it's remarkably durable. This material also makes it very comfortable and easy to hold for a long while.
A long cord and light frame make this hairdryer easy to maneuver. If there's one thing that holds it back, then that is its button placement. You'll find yourself pressing some unwanted settings by mistake when gripping the handle.
Pros
Incredibly cheap for what it offers

Fast-drying even for thick, coarse hair

Its ionic technology reduces frizz

It comes with three different attachments

Long cord

Durable
Cons
Bad button placement

Sometimes the attachments don't click into place, so you have to be careful when placing the dryer on a hard surface to prevent them from falling off
---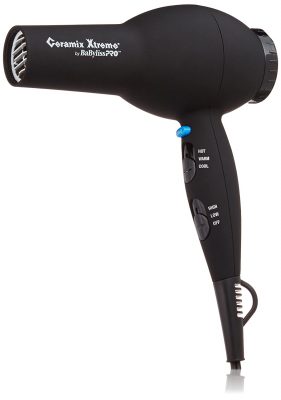 Why we like it:
This hairdryer offers fast drying times while keeping your hair healthy. It has built-in ceramic infrared technology that lessens the impact heat has over your hair.
Editor's Rating:
Overview
The BaBylissPRO Ceramix Xtreme Dryer is a powerful ceramic hairdryer. It has a 2000-watt motor, three heat and three speed settings, a cool shot button, and a removable filter to ease maintenance. The Ceramix comes with just one attachment: an 8mm concentrator nozzle for focused airflow.
This hairdryer emits infrared heat, meaning it'll dry your hair inside out. On top of that, the heating element in this product is coated with ceramic. Together, these qualities result in an extra gentle and consistent heat that prevents strong hair from getting damaged.
Like other BaBylissPRO products, this hairdryer uses ionic technology. Negative ions will refresh and nourish your hair during every hair drying session.
Performance
Are you looking for a really hot hairdryer with a strong airflow? Look no further, the Ceramix Xtreme Dryer is the perfect fit for you. There's no doubt you'll be able to dry your hair fast with this dryer.
Much like the other BaBylissPRO dryer on this list, the Ceramix can get extremely hot. This is especially true if you keep it in one spot for more than a few seconds. Mind you, this isn't a problem if you have long, thick hair. But for those of you that don't, we advise putting the nozzle at a safe distance or pushing the cool shot button now and then to avoid doing damage to your hair.
Despite these positives, this hairdryer isn't the most durable and the quality of the build can be under par. Don't fret though, if the product you receive doesn't meet your standards, BaByliss offers a 3-year-warranty on this product.
Design
The Ceramix Xtreme has a unique design accompanied by a 9 feet cord. Its frame is coated with a black rubber-like material that keeps it from getting too hot. This coating also protects the dryer if you drop it. If there's a downside to this product, it's the buttons. They can be difficult to manipulate under certain circumstances.
Pros
Very strong and powerful airflow

Long cord

It has a cool shot button

Works with any type of hair

Protects hair from heat damage

Lightweight

Mid-level price
Cons
It's so powerful you have to learn how to direct the nozzle to not blow your hair around like crazy

Can have a burnt smell with use
---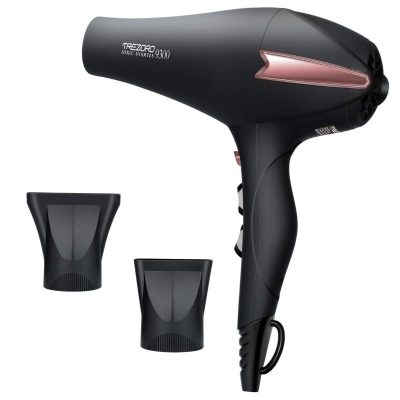 Why we like it:
This hairdryer is the perfect tool for both consumers and professional hairstylists. Powerful, fast-drying, and suitable for any type of hair.
Editor's Rating:
Overview
Even though it's small and lightweight, TREZORO's ionic hairdryer packs a powerful punch. It has several features that are rarely found in compact dryers, including a 2200-watt motor, ceramic and tourmaline coating, three heat settings, a cooling button, and two speed settings. It also comes with two concentrator attachments to style different types of hair.
One of the key aspects of this hairdryer is its top-of-the-line ion generator. It enhances the production of ions and transfers them to your hair quickly. These ions remove static, dryness, and frizz from your hair, resulting in a silky-smooth finish.
Performance
Whether you're a regular consumer or a professional hairstylist, TREZORO's ionic hairdryer is made to withstand your daily hair drying needs. Despite having a 2200-watt engine this product is far more silent than other hairdryers in the market.
Even though this dryer has three heat settings (low, warm, and hot), the highest setting isn't as hot as you might expect. This product doesn't rely on heat as much as it does on airspeed. It offers a consistent stream of air that'll get your hair dry in no time.
The concentrator nozzles can handle all types of hair regardless of length and texture. You can also use the attachments to direct the millions of ions exactly where you want them.
Design
This hairdryer is simply beautiful. It has a black-colored frame highlighted with tasteful bits of rose gold. Its premium body also contains an easy-to-clean removable filter. Thanks to its curved handle, this ergonomic hairdryer is easy to hold. It only weighs 1.5 pounds, so you won't have to strain your arms whilst using it.
Pros
Decent price

Powerful motor

Cool shot button

Top-notch ionic technology

It can be used on any type of hair

It isn't loud
Cons
It has a 6 feet cord. Using it might be tricky if the outlet is far away

The heating element can occasionally become a problem after a few months of use
---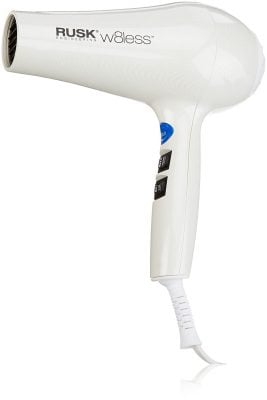 Why we like it:
This is a professional, high-quality hairdryer that doesn't weigh much in your hand.
Editor's Rating:
Overview
The Rusk W8less offers most of the features found in other hairdryers on this list. This product is powered by a 2000-watt motor and its heating element has been infused with ceramic and tourmaline gemstones. It also comes with a concentrator nozzle.
This hairdryer does many things whenever you use it to dry your hair. It starts by directing infrared heat to the deepest layer of the cuticle, drying hair faster without causing frizz. The tourmaline follows up by emitting negative ions that facilitate the styling process, and the ceramic controls the heat so it doesn't damage hair. Overall, the technologies found in the Rusk W8less will give you shinier, softer, and fuller hair.
Now, there's one thing that's confusing about this hairdryer. It advertises seven settings despite only having six total. There are two fan speeds, three heat settings, and a cool shot button. You can choose the settings separately by using the toggle switches located on the handle.
Performance
The Rusk W8less works fast. Even if your hair is thick and coarse, this hairdryer can handle it. It gives an all-round high-end experience that you would expect from a product with the word professional in its name.
Without a doubt, the Rusk W8less is designed for comfort. The motor is fairly quiet, and the dryer is as light as it gets. Sadly, there's one minor flaw. The switches to change the settings are inside the handle. Yes, this is common for hairdryers, but the Rusk W8less in particular has switches that are easy to bump into while you're gripping the appliance. The accidental change in settings can cause a careful drying session to go awry, so be careful.
The Rusk W8less is certainly able to improve the overall health of their hair, but it's probably not a good dryer for people with fine hair. This is due to the 2000-watt motor in the hairdryer.
Design
The Rusk W8less has an elegant white frame that weighs just 1 pound. It comes with an 8-foot cord and a removable rear filter for cleaning. The design of this product would be flawless if it wasn't for those easy-to-flick switches on the handle.
Pros
Very strong and powerful airflow

Long cord

It has a cool shot button

Works best with thick hair It's quiet

Super lightweight
Cons
The switches get bumped all the time

Numerous reviews have stated the concentrator comes loose

Might not be fit for fine hair
---

Why we like it:
If you're looking for a more unique and premium option, the Dyson Supersonic offers a luxurious user-friendly drying experience.
Editor's Rating:
Overview
The Dyson Supersonic is vastly different from traditional hairdryers. This is because the motor is not located at the top but inside the handle, allowing for a different design that's both eye-catching and alien-like.
The one-inch wide V9 motor has a certified power of 1600 watts. It also has built-in ionic features that reduce static and frizz. This hairdryer is packed with three speed settings and four heat settings, including a continuous cold option. It comes with three magnetic nozzles designed for different purposes. A concentrator to style your hair, a narrow nozzle make your hear appear smooth, and a diffuser.
Performance
The 1600-watt motor might look weak at first glance, but it's backed by an air multiplier technology that triplicates the airflow as it exits the amplifier. The Dyson Supersonic also has a self-measuring system built in to ensure the dryer doesn't overheat. Even though this feature was explicitly made to prevent hair damage, it's not always as effective as you would hope, so you should still exercise caution.
While it has a unique design which is packed with features, the Dyson Supersonic does very little to stand out from its peers in terms of performance. The strongest argument to buy this hairdryer is that it offers many quality-of-life features that make for a user-friendly experience.
With these things in mind, does this hairdryer even justify its hefty price tag? The answer might be a little different depending on who you ask. If you love having the latest and greatest, and are appealed by the specific features offered, then this hairdryer has plenty of offer. However, if you just want a great hairdryer, the money could be better spent elsewhere.
Design
There's nothing like the Dyson Supersonic. It has an otherworldly appearance that appeals to both professionals and regular consumers. This dryer's shape makes it easy to handle, and the machine itself is practically weightless. The heaviest part of this hairdryer is the cord.
Pros
Fantastic airflow.

Quieter than the other hairdryers on this list.

User-friendly technological features.

Long cord.

Lightweight.

The attachments are magnetic, so they won't pop out.
Cons
Can cause hair damage despite its claims.

Highly expensive.

Its thick cord might be bothersome at times.
---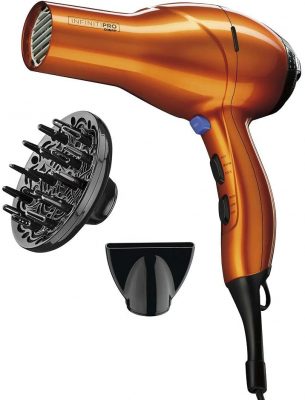 Why we like it:
A cheap and cheerful hairdryer that does the job better than you might expect.
Editor's Rating:
Overview
The InfinitiPRO has an 1875-watt motor that's powerful enough for domestic use. This hairdryer is backed by ceramic and ionic technology. It also has three heat settings, two airspeeds, and a cool shot button to help you find the best possible heat-to-speed ratio for your hair.
This product comes with two attachments: a concentrator and a diffuser. The diffuser is small compared to other brands, but it still does an amazing job.
Performance
This hairdryer has decent enough features to rival some of the high-end dryers in the market. However, the InfinitiPRO is lacking in certain aspects. On one hand, this hairdryer seems to do wonders for people with fine hair. It can contribute to drastic changes in terms of shine and volume.
The InfinitiPRO seems to underperform on people with thicker hair strands. Even though hair eventually does get dry, this hairdryer isn't strong enough to get the job done quickly. Fortunately, this product works well for those who are somewhere in between these two hair types.
There is one thing you must keep in mind if you're eyeing up this option: this hairdryer is very loud. If you can't tolerate the sound of a jet engine going off in your ear, you're better off avoiding this product.
Overall, this hairdryer is superb value, but the low price does come with some significant drawbacks.
Design
The design of this hairdryer's frame is pretty good. The InfinitiPRO orange edition is cheaper than the other available colors. The cord is very small, measuring at 5 feet, which can be a major issue.
Pros
Affordable

Its AC motor makes it very durable

Lightweight

It dries fast depending on your hair type

Cool shot button
Cons
The highest heat setting isn't hot enough for some people

It's too noisy

Short cord
---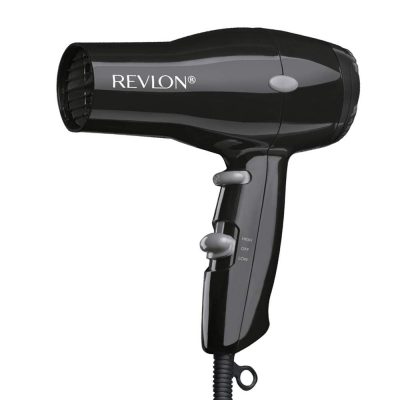 Why we like it:
This hairdryer is both a compact and powerful styling tool from an excellent brand.
Editor's Rating:
Overview
The built-in features of this product are pretty straightforward. It has an 1875-watt motor and two shared settings for heat and speed. It also has a cool shot button to ensure long-lasting results.
Performance
The price of this hairdryer might be cheap, but its performance isn't. The Revlon Compact is suitable for any kind of hair. However, it needs a little bit of help to achieve fast drying times. Get rid of excess moisture in your hair before using this product.
Although this is an excellent travel companion, the Revlon Compact is unable to withstand the wear and tear stemming from daily use. If you want a hairdryer you can use every day, this isn't the one to go for.
That said, it's good quality and durable and makes an excellent on-the-go hairdryer for a vacation or if you regularly travel for work.
Design
The Revlon Compact has a gorgeous black frame and is, as you might expect, compact. The cord is also short, which can make it a bit problematic to do heavy or extended styling with, but it's natural considering its portability.
Pros
It's very cheap

As its name entails, it's both compact and lightweight

It gets hot enough to deal with thick hair

It has received a great number of positive reviews

It's easy to use
Cons
This product doesn't have any warranty

It's not dual voltage, so you might need a converter

It gets hot. Maybe too hot at times

It has a 4 feet cord
---
Why we like it:
This hairdryer's ion generator can be switched on and off.
Editor's Rating:
Overview
This is another affordable product designed by Revlon. It has an 1875-watt motor, a total of five settings, a removable filter, and a cool shot button. What sets this hairdryer apart from other products in this list is that you can turn the ion generator on and off. This is a feature that's rarely seen in other hairdryers in this price range.
Other than that, the Revlon Volumizing hairdryer has a standard ceramic coated heating element to control heat. It comes with two attachments. A concentrator nozzle and a diffuser.
Performance
The Revlon Volumizing Hairdryer seems to perform well in most areas. It comes with several features and attachments that allow you to customize your experience. It also has a built-in ion generator that you can turn on and off. This is ideal for people who are worried the ions are not suitable for their hair.
The build quality isn't quite as good as others on this list, however, and it lacks the reliability that you get from other hairdryers which are available.
Design
The Revlon Volumizing Hairdryer has a cool design. It has a shiny silver frame that's contrasted by dark, black colors on the back. The product weighs 1.74 pounds and it has a 6 foot cord.
Pros
It is cheap

It's easy to use

It has a switch to turn the ionic generator on and off

It comes with a diffuser

It has a decently sized cord

Dries hair at a decent pace
Cons
The product might not last very long

It's not dual voltage, so you might need a converter

Sometimes the attachments don't fit
---
Guide to Buying the Best Hairdryer
If you haven't made up your mind, here's a step-by-step approach to buying a hairdryer that might help you reach a final verdict:
Set a Budget Range
Before you spend hours trying to find the perfect dryer for your blow-dry sessions, you should set a budget range. Hairdryers on the low-end cost around $20-$40, a mid-range one might go up to $100. If you see any dryers above $100, they are probably professional hairdryers.
Choose Carefully
Once you've decided how much money you're willing to invest in a hairdryer, make a list of the features you'd like in it. We recommend prioritizing preventive features over those that focus on style. It's also important that a hairdryer is easy to use, comfortable to hold, and lightweight.
Don't Let Marketing Buzzwords Misguide You
Most hairdryers have built-in technologies that help you achieve certain results depending on your type of hair. Some brands have fancy names for these technologies, but they are almost never proprietary. In other words, you can probably find that technology on an alternative hairdryer.
Take ionization, for example. While it's true ionic generators can make a difference, they're very common. Most of the products on the list above emit negative ions in one way or another. Unfortunately, that doesn't stop brands from trying to sell it to you as a one-of-a-kind technology no one has access to.
Hair Type
Hairdryers are often marketed as suitable for different hair types and capable of achieving different effects. Consider what type of hair you have and how it might synergize with a particular hairdryer. The more powerful the hairdryer, both in terms of heat and airflow, the more likely it's going to be able to deal with very unruly hair that is thick or coarse. Equally, these powerful hairdryers are less suitable for fine hair. Most top-of-the-range hairdryers are adjustable in terms of heat and airflow, but it's worth keeping in mind the ranges your chosen product can operate in and how suitable that is for your hair.
Final Words
We hope you've enjoyed our guide to hair dryers and feel more confident about what you're looking for. Whether you have a small or big budget, you can certainly improve your hair drying experience with one of the fantastic hairdryers we showed you in this list.