Top Picks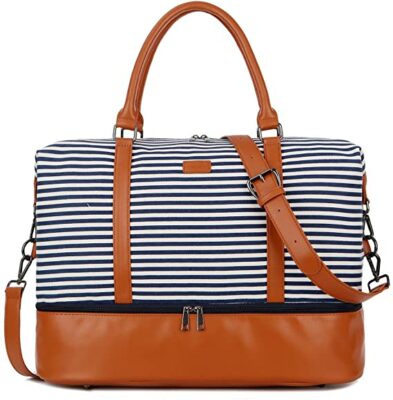 BAOSHA Weekender Bag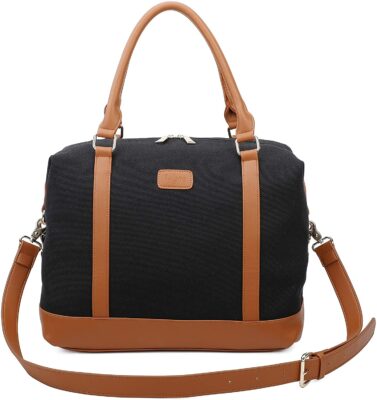 Ulgoo Travel Tote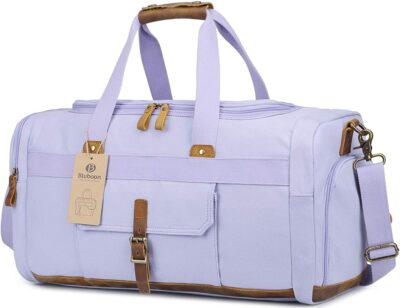 BLUBOON Weekender
Previous
Next
Picking out a new travel tote can be one of the hardest parts of preparing for a trip, especially if you're shopping online. When you're still in the planning phase, It can be hard to know what kind of space you need and what you're looking for in terms of pockets and features. Whether you're a seasoned pro at travel tote shopping or this is your very first time, we've made it easy for you to pick out the tote of your dreams.
What to Consider in a Travel Tote
No matter what kind of trip you're packing for, there are aspects of each tote that will help you determine what's right for your vacation needs. We'll be going over each one of these factors later in our product reviews.
Size
The dimensions of the bag you choose are important. A bag that is too small will not be able to hold all your essentials, but one that is too large may not fit in the places you need to stow it away.
Weight
Weight dictates how much the bag weighs by itself when empty. This is especially good to know if you have a lot to pack but have a weight limit.
Bag Material
Bag material is what the entire outside of the bag is made of. This will play a major role in determining how durable a bag is, so we'll go into more detail for each product in its "Durability" section.
Zipper Material
Zipper material will either be metal or plastic. For pros and cons of both, check out our guide.
Lining Material
This talks about what the entire inside of the bag is made of, which can be an indicator on how easy it is to clean if you need to.
Convenience
This part of each review will go into how easy the bag is to travel with and what features make travel easier.
Security
Security features can range from the very simplistic internal zipped pocket to the more advanced slash-proof fabric technology. Regardless, we'll discuss the features of each product in this section.
Durability
This is mainly going to be in reference to the material and hardware of the bag, but durability features can also be noted here.
Now that you know what you're looking for, you're ready to peruse the best travel totes available.
Top 10 Best Travel Totes 2021
Guide for Buying the Best Travel Tote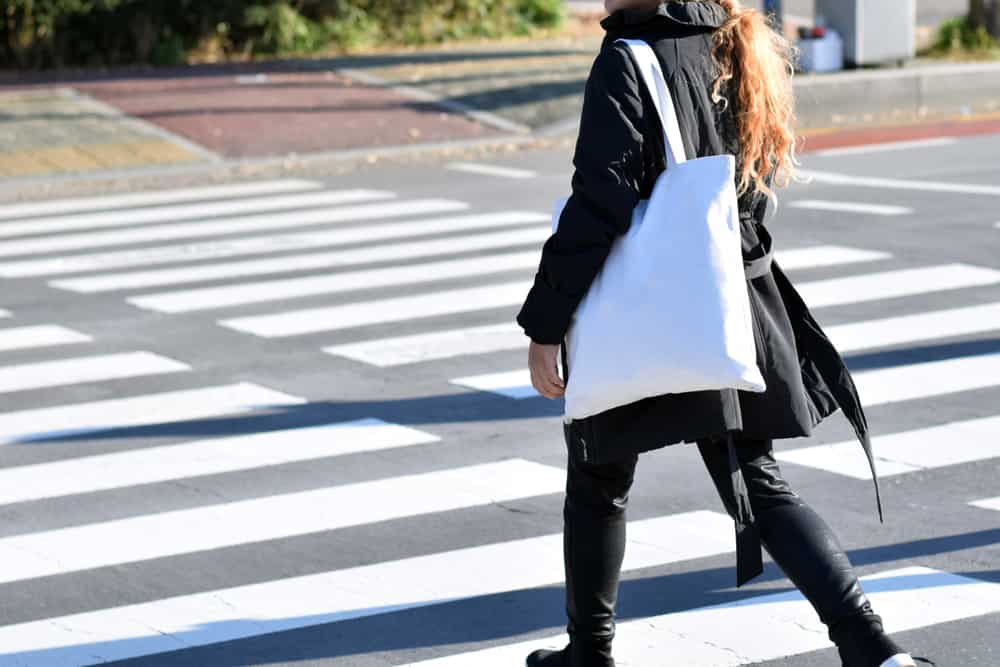 Plans for Use
You probably already have an idea for what you're going to be using your new tote for, but it may be helpful to take a second and think about what you plan on storing in the bag. You can even go so far as to make a list. If you're looking to replace an old travel bag, ask yourself what features from that bag really worked and what you'd like to do without.
A big thing that shoppers often forget is to double-check the size of your laptop if you plan on bringing it. Travel totes range greatly in size, so not all laptops will fit all of them.
We talk about it in the features to look for but think about whether you're looking for a color that will stand out so you can spot it at the airport or something that won't stand out while you're traveling.
Bag Types
There are a few different types of bags that fall under the "travel tote" umbrella, so let's take a look at the differences:
Traditional Tote Bag
A tote bag doesn't have a crossbody strap, like the CHICECO Travel Bag. Tote bags tend not to have a lot of pockets, so items may not be as easily accessible.
Weekender
A weekender is bigger than a traditional tote but smaller than a duffel bag. It's meant to carry a weekend's worth of clothes as the name suggests. Most of the products on our list qualify as weekenders.
Duffel Bag
Duffel bags are known for their round sides and large size. They're best as a carry-on, but smaller duffels like the Jadyn Duffel Bag are great for doing it all.
Rolling Bag
A rolling bag has a handle and wheels, like the Kenneth Cole Runway Tote. They're good for keeping the bag weight off your body completely and usually have lots of space.

Materials
The biggest thing you may have in mind while you're shopping for a bag is what the bag itself is made of, so let's look at the differences.
Split Leather
Split leather is also known as suede, which is soft and great as an accent. It's just as strong as leather, but it's not waterproof at all.
Synthetic Leather
Synthetic leather is also known as faux leather or pleather, a plastic imitation of leather. It's usually found on bag accents as it's weatherproof but not quite as durable as other fabrics. Synthetic leather is often marketed as a sustainable alternative to leather, but this is not always the case.
Canvas
Canvas, a heavy-duty cotton, is known for its strength and durability. Canvas that isn't blended with another fabric isn't waterproof, but it can be made waterproof with a canvas wax like this.
Leather
Leather is another material known for durability, but full-leather bags tend to be very heavy and too small to use as travel totes. We do like this one if real leather is something you'd prefer.
Nylon
Nylon is a relatively new synthetic fabric that balances heartiness with weatherproofing. It's also very light to carry.
Polyester
Polyester, another newer fabric, is even more waterproof than nylon and super durable, that's why most bags are made from polyester or a polyester blend. Polyester is also difficult to stain.
Features to Consider
The type of traveling that you do and what you're looking for in a travel bag will correlate strongly with the types of features that you'll want to keep an eye on. Though there's some overlap, we've determined that features typically fall into three categories: Durability, convenience, and security.
Durability features help ensure longevity in your bag, the convenience makes the bag easier to travel with, and security features help protect you and your belongings from pickpockets.
Durability Features
Arguably, the most important durability feature is what the bag is made of. Waterproof material is especially key, but the strength of the material is also important. For more on tote materials, check out our guide.
A popular durability feature on travel totes is the presence of metal feet, which will prevent wear and tear to the bottom panel. As a side convenience feature, the feet will also make the bag able to be stood upright without falling over.
Convenience Features
A big convenience feature is external pockets. This is because being able to reach your necessary items without digging around too much can be a huge help. A bottle holder on the side will keep your beverage within reach. Shoe compartments will keep your shoes separate from your clothes.
A trolley slot will make carrying easier, as you won't have to balance it on top of your suitcase, but you also won't have to carry it in your hand. Crossbody straps are another convenient fix, because they distribute the weight of the bag more evenly.
A key tether attached to an internal zipper, like on the CHICECO Travel Bag will keep your keys from getting lost in the bottom of your bag.
Security Features
Internal zippered compartments will make it more difficult for pickpockets. Every bag we've listed has at least one.
Higher-tech security solutions like RFID blocking pockets will protect your passport and credit card information. Slash proof material, seen on the Travelon Anti-Theft Tote will keep your bag safe if the worst happens.
If you're putting your bag in an overhead compartment or taking a bus and storing it in cargo, an obvious coloring/print will be good to ensure no one else runs off with it. However, getting a loudly printed bag will make you stand out if you plan on using it as a regular bag on the go, so keep that in mind when you're selecting your colors.

Plastic vs Metal Zipper
Metal zippers tend to be less flexible than plastic ones. Plastic zippers have a smoother glide while opening and closing, because of their flexibility.
When shopping for a tote that you plan on stuffing, it makes sense to seek out a metal zipper but there actually isn't any hard evidence proving that it makes a difference. Even though they can take more of a beating than a plastic zipper, horizontal pressure will damage a metal zipper just as often as a hearty plastic one.
Overstuffing your bag can be a problem, not only for the zipper but for the seams around it. If you know you tend to stuff your bag full, it might be a good idea to look at something a little bigger to give you more breathing room.
Travel Tote Storage Tips
Using a purse support to keep the bag full will go a long way in keeping it from getting wrinkled and losing shape. Tissue paper also works for this.
A dust cover, like this one by MISSLO, will keep your bag clean and keep moths out, which will preserve it for even longer.
Ready for Take-off: Final Thoughts
Whether you're heading out of town for a weekend or planning a longer and more elaborate venture, a good travel tote can make your vacation so much easier. Modern travel bags have so many features and styles that picking one suited to your exact needs can be a fun way to get your brain ready for vacation mode.