Organic body butters are a richer, more nourishing alternative to standard lotions because they are richly textured, made with natural ingredients, and free of artificial additives. But there's so many different ingredients and blends to choose from, it's hard to know what does what.
In this guide, we'll talk about what organic ingredients do for your skin and give you some tips for choosing a formula that best matches your skin type and needs. We'll also give you our top 10 recommendations for the best organic body butters to buy in 2022!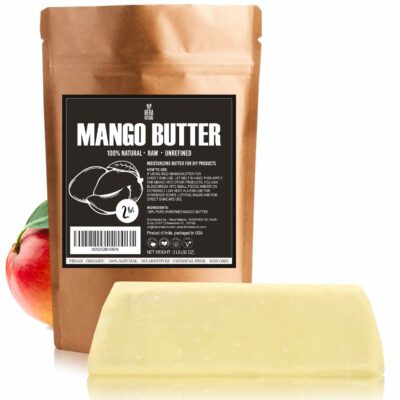 This pure, raw mango body butter is sourced straight from Organic Artisanal Farmers in India, and its unrefined, creamy texture means you can apply it straight to your skin for unbeatable moisture - without any greasy residue. Its high levels of antioxidants, as well as vitamins A, C, and E, work together to reduce wrinkles and fine lines, combat free radicals, and soothe irritated skin. Plus, you can easily add it to your favorite DIY body butter recipe!
View on Amazon
How to Choose the Best Organic Body Butter
When choosing an organic body butter, the most important things to consider are the ingredients it contains and how they will help your skin. You also want to think about how you plan to use it and understand how the butter might react with your skin type. In this section, we'll take a quick look at how each of those considerations will influence your decision.
The Benefits of Organic Ingredients
Where lotions use artificial ingredients to simply hydrate skin, body butters use natural ingredients that actually nourish and repair skin, providing long-term results.
This is an important distinction. With lotion, your skin stays moisturized for a few hours after application but, eventually, returns to its original condition once the lotion wears off. With body butter, your skin is receiving essential fatty acids and other ingredients that improve its ability to keep itself healthy and moisturized, even after the butter has worn off.
The more you use body butter, the healthier your skin gets.
As wonderful as these organic ingredients are, they can come with some drawbacks. The biggest one is the application process. Without artificial softeners or dilution, many organic ingredients like shea or mango butter are solid and hard to scoop out of the container or spread on your skin.
Some formulas, like the whipped Argan Oil, address that by whipping the butter to pull air into it, making it fluffier and lighter. Others, like Burt's Bees, blend the organic ingredients with some naturally-derived chemicals to soften it, creating something that is a sort of hybrid between butter and lotion.
For more on the advantages of organic body butters, see our comparison of butter and lotion in the buyer's guide below.
Skin Type
If you don't plan to use the body butter on your face, skin type won't be a major concern except for skin sensitivity. You don't have to worry about pore-clogging as much. Instead, you'll think more about the purpose of the body butter. We'll talk about that more in the next section.
For those who are planning to use this as a face moisturizer, you need to keep your skin type in mind.
Certain ingredients used in body butters can clog pores while others won't. There are even some, like this Neem Butter that can control oil production, which can be a huge benefit for oily or acne-prone skin.
Here's a general breakdown of which ingredients will work best for which skin types:
Oily Skin: oil regulating ingredients like jojoba, neem, or rose.
Combination Skin: non-drying, non-comedogenic ingredients like argan oil, rose, mango, shea butter, honey, or jojoba.
Dry Skin: hydrating, non-comedogenic ingredients like shea butter, mango butter or neem.
Normal Skin: non-comedogenic ingredients like shea butter, argan oil, mango butter, or honey.
Purpose
All body butters are designed to deeply moisturize and soften your skin. However, most ingredients used offer other perks in addition to just moisturization. If you have any other skin concerns, make sure you get a body butter that can also help with that.
In this section, we'll go over some of the skin concerns that a body butter can help with and which ingredients are best for each purpose:
Prevent Stretch Marks: Cocoa Butter, Coconut, Argan Oil
Soften Callouses: Shea Butter, Cocoa Butter, Neem, Coconut
Treat Eczema or other inflammation: Neem, Rose, Aloe, Jojoba, Honey
Heal Dry, Cracked Skin in Winter: Shea Butter, Neem, Coconut, Cocoa Butter
Heal Sunburns: Aloe, Neem, Coconut, Cocoa Butter
Prevent Razor Burn: Jojoba, Honey, Neem, Mango Butter, Rose, Shea Butter
With your skin type and intended purpose in mind, start browsing through some of our favorite organic body butters on the market in 2022:
Top 10 Best Organic Body Butters 2023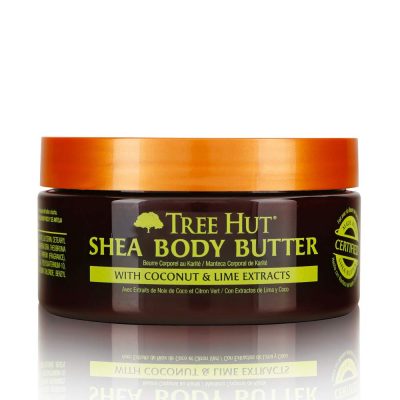 Why we like it:
This unique formula blends coconut and lime extracts into the shea butter to create an antioxidant-rich body butter that absorbs more quickly into your skin.
Editor's Rating:
Quick Facts:
Main Ingredient: Shea Butter
Skin Type: Normal to Dry
For those in search of a body butter that has more of a lotion feel in terms of absorbing quickly, this shea butter from Tree Hut is a great pick. It hydrates and nourishes your skin as deeply as any body butter but doesn't risk clogging your pores or leaving your skin greasy for hours.
Formula
The shea butter has been diluted with water and infused with coconut and lime extracts. The water helps thin out the butter, making it feel more like a lotion and allowing the product to sink into your skin much faster.
The coconut extract gives you all the benefits of coconut without the pore-clogging drawbacks of a pure coconut oil.
While we find the coconut and lime formula to be the most nourishing for your skin, Tree Hut offers eight other luscious blends, tailored to different skin types. So we recommend exploring the other formulas to help find the one that will work best on your unique skin.
Uses
This is an excellent body butter for normal or dry skin. Because it absorbs quickly, you can use it in the morning right after your shower, and feel confident that it will soak in before you get dressed.
While it's great to use as a body butter, we don't recommend applying this to your face due to its heavily-hydrating formula. Unfortunately, while this does have plenty of wonderful organic ingredients, it also has some additives. Most of those ingredients are in the butter to help it absorb faster and have a longer shelf life.
They are all generally safe for most skin types but may cause irritation in those with sensitive skin. If you're concerned about potential irritation or looking for something safe to use on your face, you might prefer this pure shea butter.
Pros
Deeply nourishing shea butter

Coconut and lime infusion provide a boost of antioxidants

Formula spreads on and soaks in more like a lotion
Cons
Includes some filler ingredients

May cause irritation with sensitive skin
---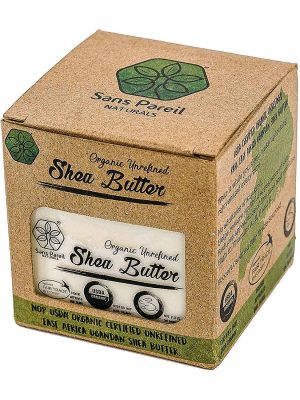 Why we like it:
With just one ingredient, you can use this shea butter with confidence, even if you have especially sensitive skin.
Editor's Rating:
Quick Facts:
Main Ingredient: Shea Butter
Skin Type: All
When you're shopping for organic body butter, it's hard to beat a pure shea butter product like this. It's made from the highest quality shea nuts, sourced from a fully organic farm. This quality and purity make it great for all skin, no matter how sensitive.
Formula
This is 100% shea butter. It's all organic, cold-pressed, and unrefined. Sans Pareil also sources all of their shea butter from East Africa. The variety of shea nuts native to East Africa are typically richer in fatty acids and nutrients than those grown in West Africa.
In addition to sourcing high-quality shea butter, this brand is also committed to transparency. All of the shea butter you buy from them is responsibly sourced from a fair trade farm in Uganda. Their fair trade certified farm uses part of its profits to donate soap, mosquito nets, and other essentials to the local community.
This is the shea butter to get if you want your purchase to make a positive impact on the world as well as premium quality, affordable prices, and
Uses
Because this is pure shea butter and nothing else, you can use it everywhere. Shea does not clog pores, so it's safe to use on your face. It's also a great raw ingredient for your DIY skincare products. Make hair masks, face masks, lip balm, or even your own deodorants, using this nourishing and potent shea butter as your base.
As wonderful as this nourishing shea butter it is, the unrefined and undiluted form does make it a little tricky to use. It will be solid most of the time, except perhaps in the heat of summer.
To combat this, we recommend scooping out the portion you want to use and then letting it rest in the palm of your hand for 10-15 seconds so that your body heat softens it. After that, you can start application.
Pros
100% organic pure shea butter and nothing else

Fair-trade certified

Cold-pressed and unrefined to increase potency of nutrients

Great for all skin types, including sensitive skin

Can be used on its own or blended into DIY skincare treatments
Cons
Unrefined shea butter needs time to soften before use
---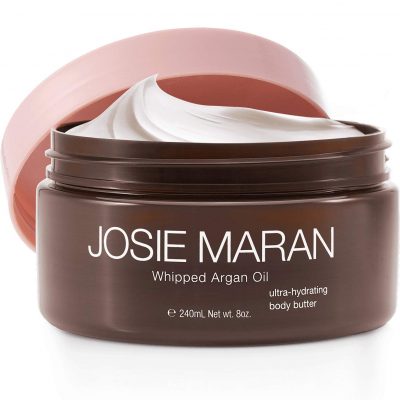 Why we like it:
This whipped argan oil feels absolutely luxurious and works wonderfully as your nightly body moisturizer.
Editor's Rating:
Quick Facts:                                       
Main Ingredient: Argan Oil
Skin Type: Oily, Combination, Normal, Dry
This premium formula has an equally premium feel thanks to the unique whipped texture. Argan oil and the other nourishing ingredients in this formula have been whipped into a light, airy cream that glides on effortlessly.
Formula
Josie Maran uses a blend of argan oil, aloe, shea, and various fruit extracts. This provides tons of antioxidants, fatty acids, vitamins, and minerals that help promote collagen production, reduce the appearance of wrinkles, and calm inflammation.
Uses
The rich formula has been whipped into a cloud-like cream that goes on incredibly smooth. You don't have that normal struggle of trying to scrape your body butter out of the tub and waiting for it to soften before massaging it in.
This makes it a convenient option for daily use. It absorbs a little faster than other body butters as well so you can use it in the morning without having to deal with greasy skin while you're trying to get dressed for work.
While it is primarily argan oil which is non-comedogenic and normally safe to use on your face, the other ingredients make it less ideal for facial use. The avocado oil will clog pores so it's best used from the neck down.
For a body butter that is safe to use as your face moisturizer, try this mango butter.
Pros
Goes on like lotion

Aloe and fruit extracts calm irritation

Rich in antioxidants

Absorbs faster than other body butters
---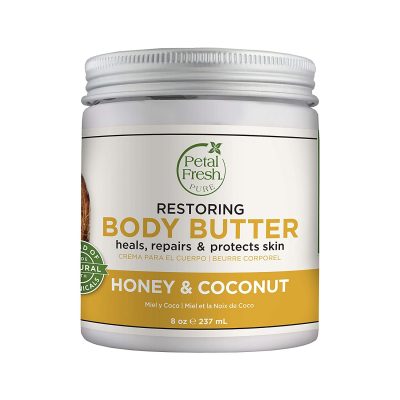 Why we like it:
With a powerful antimicrobial like honey, this coconut oil blend is great for oily or combination skin.
Editor's Rating:
Quick Facts:
Main Ingredient: Coconut Oil, Honey
Skin Type: Oily, Combination, Normal
This blend of coconut oil and honey is packed with antimicrobial power making it a great way to moisturize while also providing protection for your skin. This formula is ideal for use at night to cleanse and repair skin while you sleep.
Formula
Both honey and coconut oil are naturally antimicrobial and help strengthen your skin's natural barrier. The coconut oil also provides much-needed fatty acids to heal dry skin.
Uses
This is a great option for oily, normal or combination skin. The honey will cleanse and restore while the coconut hydrates and promotes collagen growth. Use this as your regular post-shower moisturizer to maintain consistently healthy and hydrated skin.
We don't recommend this formula for sensitive skin due to the presence of preservatives. While these preservatives are naturally sourced, they may still be irritating to sensitive skin.
Pros
Naturally antimicrobial

Great night moisturizer

Long-term repair for dry skin
Cons
Can irritate sensitive skin

Can irritate sensitive skin
---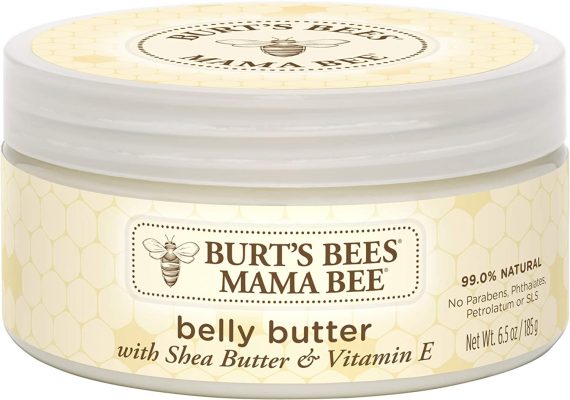 Why we like it:
This rich formula is packed with essential fatty acids that can help repair wrinkles, stretch marks, or general dryness.
Editor's Rating:
Quick Facts:
Main Ingredient: Coconut Oil, Sunflower Oil
Skin Type: Normal to Dry
Formulated specifically to prevent stretchmarks during pregnancy, this blend of rich, nourishing oils can repair skin while it moisturizes. It goes on smooth and feels soothing as it soaks into your skin and smooths out uneven texture.
Formula
This is a blend of so many rich, restorative oils and butters that it seems like it can do just about anything. The formula is primarily coconut and sunflower oil but it's also infused with jojoba, shea, and cocoa butters for added healing power.
As luxurious as this formula feels, it's surprisingly affordable. That's what Burt's Bees is known for: great, organic products at affordable prices.
Uses
With oils as rich and full of fatty acids as coconut and sunflower, this is a great formula for dry or damaged skin. It can restore moisture, reduce fine lines, and promote collagen production. That's precisely why these ingredients were chosen for a "belly butter" intended for use during pregnancy to prevent stretch marks, although it's one of our favorite body butters for everyone, not just mothers.
With that in mind, a formula as rich as this is not safe for your face or for oily and acne-prone skin. It will clog pores and can contribute to breakouts. If you breakout anywhere else aside from your face, such as on your back, we recommend not applying this body butter to those areas either.
For a body butter that is better formulated for oily or acne-prone skin, consider this rose body butter instead.
Pros
Healing blend of coconut, shea, jojoba and more

Full of fatty acids and essential nutrients

Great for repairing damaged skin

Great for everyday use
Cons
Not suited to oily or acne-prone skin
---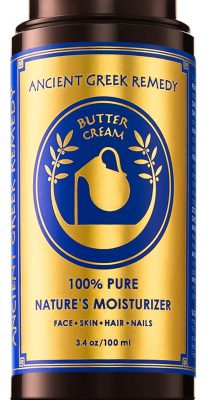 Why we like it:
Inspired by the Ancient Greeks, this all-natural and organic formula offers deep hydration and tons of antioxidants.
Editor's Rating:
Quick Facts:
Main Ingredient: Olive Oil, Lavender
Skin Type: Normal, Dry, Sensitive
This blend of olive, almond, lavender, and other rich, healing oils comes in an airy cream form that feels buttery smooth on your skin. This formula also works as a hair treatment to restore shine and health to dry locks!
Formula
The Ancient Greeks used to anoint themselves from head to toe in olive oil multiple times a day, especially after baths. They weren't crazy, and olive oil has numerous benefits for the skin. This herb-infused olive oil gives your skin all of the nutrients it craves.
This organic and all-natural blend of oils and extracts is one of the most nourishing and hydrating formulas on the market. The whipped format makes it much easier to use than it would be in its original oil form.
Uses
This organic formula is safe for use all over, from head to toe. It's even a great hair treatment for those with dry, damaged, or curly hair. For an all-purpose butter that can heal and nourish your face, hair, and body, this is a great choice.
For those with acne-prone skin, however, we don't recommend using it as liberally. While it's not as pore-clogging as other products, the formula may still be too rich for your skin type. If your skin is known to break out at the slightest provocation, then limit your use of this formula to your hair and body.
If you need something that is safe for acne-prone skin, try this Aloe Body Butter.
While the cream format is meant to make it easier to use, it does reduce the amount of product you get in the bottle. The non-whipped oil that they sell is denser and, therefore, gives you more product for your dollar.
Pros
Great for both hair and skin

Easier to use than other body butters

Rich, luxurious blend of organic oils

Absorbs faster than other body butters
Cons
Not recommended for acne-prone skin

Whipped format decreases volume of product provided
---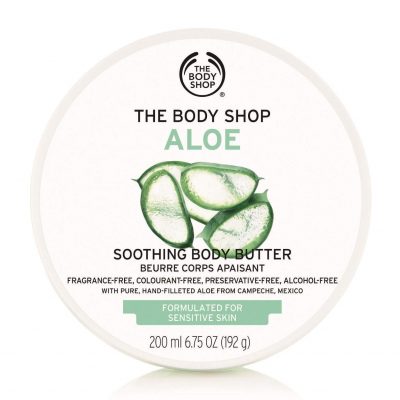 Why we like it:
With calming aloe and nourishing shea, this body butter is great for sensitive or damaged skin.
Editor's Rating:
Quick Facts:
Main Ingredient: Shea Butter, Aloe
Skin Type: All
Your sensitive skin will appreciate the healing presence of aloe and the soothing shea butter. It's a gentle formula that's been whipped into a light, fluffy cream for easier application and faster absorption.
Formula
This shea and aloe blend is a great option for those with sensitive skin, but it's incredibly soothing for all skin types. Aloe has long been used to heal damage from sunburns, rashes, and other forms of inflammation.
Shea can also help calm inflammation at the same time as providing deep, long-lasting moisturization.
Uses
This is great for both face and body as it can calm and moisturize without clogging pores. It's not as greasy as body butters usually are since the aloe absorbs quickly and helps the shea absorb faster as well.
As much as we love the formula and the wide variety of uses, the container this comes in is on the smaller side. If you were just using it as a face moisturizer, it's fine. But if you're using it as a full-body moisturizer, you're going to run through this tub quickly.
Unfortunately, The Body Shop does not offer the aloe formula in any larger size so you'll just have to buy multiple small containers. For a body butter that won't run out as quickly, consider Tree Hut.
Pros
Great for calming inflammation

Aloe and shea blend is soothing for all skin types

Can be used for both face and body
Cons
No large container options
---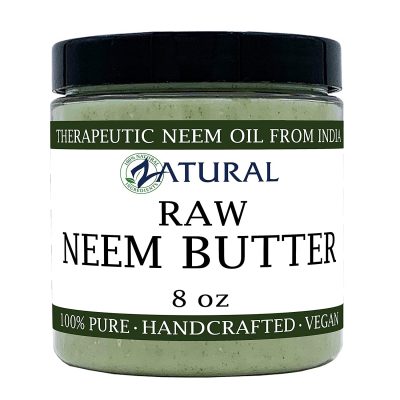 Why we like it:
The healing powers of neem are blended with the deep hydration of organic coconut oil for a soothing body butter that repairs as it moisturizes.
Editor's Rating:
Quick Facts:
Main Ingredient: Neem, Coconut Oil
Skin Type: All
Neem is a well-known herb in India that provides a lot of incredible benefits for skin of all types. It can moisturize while also regulating oil. It can heal damaged skin and smooth out uneven texture. It's a powerful treatment that also works as your everyday body butter.
Formula
The formula uses coconut oil as its base. That oil is infused with high concentrations of neem seed oil, neem leaf, and a couple of herbs that provide additional healing properties while also helping compensate for the somewhat odd smell of neem.
Uses
This is incredible for all skin types but especially recommended for oily skin and sensitive skin. For oily skin, the neem will help regulate oil production and cleanse skin of bacteria that can clog pores. For sensitive skin, the healing powers of neem will help calm inflammation, repair damage, and prevent future flare-ups or irritation.
The one drawback of neem is the unusual scent. It's been described as somewhere between sulfur and licorice. Fortunately, once the butter has absorbed into your skin, the smell goes away. But while you're applying it, be prepared for an odor.
For this reason, we don't recommend it as your morning moisturizer. It can take some time to soak in and in the meantime, it smells weird. It's much better to use it at night before bed.
If you'd prefer something with a more pleasant aroma, you might prefer this honey and coconut blend.
Pros
Helps regulate oil production

Heals inflammation and damage

100% organic and all-natural formula

Prevents future skin irritation
---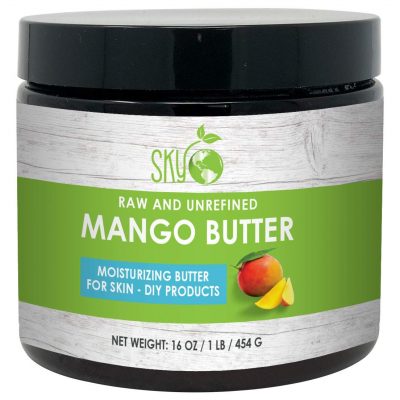 Why we like it:
100% organic and 100% mango, this body butter is a great alternative to shea if you're looking for an extra boost of natural antioxidants.
Editor's Rating:
Quick Facts:
Main Ingredient: Mango seed butter
Skin Type: All
This pure mango butter is packed with antioxidants, fatty acids, and other essentials that will provide long-term nourishment and healing for your skin, no matter what skin type you have. It's safe to use on your face and body.
Formula
This unique product is made of 100% organic and unrefined mango butter. Like shea butter, mango butter is obtained from the seed of the plant. It's cold-pressed and undiluted so you can use it just as you would shea butter, which is to say: everywhere.
Mango seeds are rich in antioxidants and other nutrients that heal skin while also delivering fatty acids that plump and restore moisture.
Uses
With no other ingredient, this mango butter is a great all-purpose body butter. It won't clog pores so you can use it for deep hydration from head to toe. You can also use it as a base for your DIY skincare products!
Because it's a raw, unrefined seed butter, it does come in a solid form. This can make it a little difficult to use. We recommend using a spoon or butter knife to scrape a portion out of the jar and then letting it warm in your hands for a few seconds before applying.
For a body butter that spreads easier, consider Ancient Greek Remedy.
Pros
100% Organic, unrefined mango butter

Rich in antioxidants and fatty acids

Safe for use on face and body

Great for all skin types
---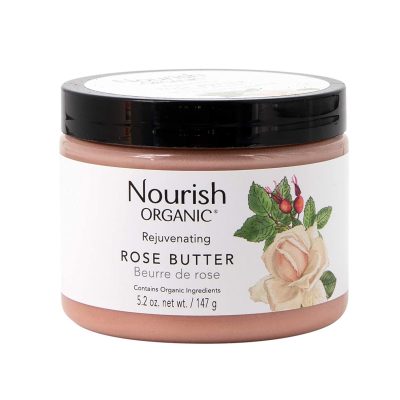 Why we like it:
Rose seed oil calms inflammation and smooths out uneven texture in this nourishing shea butter blend.
Editor's Rating:
Quick Facts:
Main Ingredient: Shea Butter, Rose Seed Oil
Skin Type: Sensitive or Acne-Prone Skin
This gentle body butter is soothing on irritated or inflamed skin. The shea butter also provides deep hydration without clogging pores so you can use it as your regular day or night moisturizer for your face and body.
Formula
Rose seed oil is great for inflammation and damaged skin. The lack of comedogenic ingredients combined with the anti-inflammatory and restorative properties of rose seed oil allow this to heal skin without causing further irritation or clogging pores.
Uses
The blend of shea and rose make this a great option for all skin types but especially sensitive or acne-prone skin. You can even use it on your face because shea doesn't clog pores and the rose seed oil can help calm redness, smooth wrinkles, and generally repair damage or inflammation.
As with other organic formulas, this body butter is solid when in the jar so it's difficult to scoop out and you may need to use a spoon or butter knife to do so.
If you have some extra containers, one solution you could try is softening this in the microwave and scooping all of it into the bowl of a cake mixer. Whisk it until it looks like whipped cream. Then put it into some spare containers. This will prevent you from needing to scrape it out with utensils every time you want to moisturize.
If you'd prefer a body butter that's already been whipped for you, you might prefer whipped argan oil.
Pros
Safe for face and body

Rose seed oil calms inflammation and helps minimize acne and wrinkles

Safe for sensitive skin
---
Frequently Asked Questions About Organic Body Butter
In this section, we'll answer some of the most common questions people have when shopping for organic body butter:

Which Is Better? Body Lotion or Body Butter?
Both lotion and body butter offer moisturizing features, but they tend to work in different ways and come with different pros and cons. The better choice for you depends on what kind of features you're looking for.
To help you make that decision, let's look at some of the key pros and cons of each one.
Body Lotion
Body lotion is a thinner formula that soaks in faster but doesn't really provide long term repair or nourishment. They also tend to use synthetic formulas that may not be safe for all skin types, especially if you need something suitable for the face.
Pros
Lightweight
Absorbs immediately
Non-greasy
Better hydration
Cons
Often use synthetic formulas
Can irritate sensitive skin
Usually only provides short term relief from symptoms
Body Butter
While lotion hydrates, body butter nourishes. The most common ingredients found in organic body butter, including shea or cocoa butter, are full of essential fatty acids. Rather than just adding water to your skin, body butter adds actual fatty acids that promote collagen growth and provide a deeper level of moisturization.
Pros
More nourishing
Little to no synthetic ingredients
Long term repair
Safer for sensitive skin
Cons
Some ingredients can clog pores
Greasy
Slow to absorb
What Are the Best Body Butters?
When shopping for organic body butters, the key is to make sure that the formula is free from any kind of chemical softeners, preservatives, or other artificial ingredients that irritate your skin.
Ingredients to Look for
Once you've eliminated products that have artificial ingredients, think about what kind of features you want your body butter to have. Different natural ingredients offer different benefits. Depending on your skin type and your particular concerns, some ingredients might be more appealing than others. Here's a quick look at some of the ingredients commonly found in organic body butters:
Shea Butter
Shea butter has been used for millennia in Uganda, Senegal, and other parts of East Africa to hydrate and heal dryness as well as treat damaged skin. The high concentration of fatty acids along with the natural sources of vitamins make it a great moisturizer and anti-inflammatory ingredient for all skin types.
Some research shows that it can also promote collagen production, which can help minimize wrinkles and the appearance of cellulose.
When it's pure form as in the Sans Pareil body butter, it's safe to use on your face and other sensitive areas. It won't clog pores and it absorbs well.
In any form, it's safe and deeply nourishing for your entire body. However, be careful when using any kind of shea butter blend on your face as some of the other ingredients may clog pores.
We recommend this for all skin types from normal skin all the way to skin so sensitive that it seems to get irritated by everything. With regular use, you can smooth out imperfection, even skin tone, and add a healthy glow to your skin.
Just make sure to massage it in thoroughly. Shea butter tends to be solid at room temperature and if it doesn't adequately heat up, it can end up sitting on top of your skin for ages. Make sure you both warm it up and rub it thoroughly onto your skin.
Cocoa Butter
Cocoa butter is one of the best options you could choose for body butter. It's deeply hydrating but also helps improve blood flow to the skin, protect against sun damage, and heal damaged skin.
It can also help reduce the appearance of stretch marks, making it a good choice as a belly butter during pregnancy.
While this makes a fantastic body butter from your neck down, it's not suitable for the face, no matter what your skin type. Cocoa butter does clog pores so it has the potential to cause breakouts.
However, you can apply it everywhere else, preferably twice a day, to keep your skin nourished, hydrated, and happy.

Coconut
Coconut oil is deeply hydrating and provides natural antibacterial and antiviral properties. This makes it great for all skin types, but especially dry or aging skin. It's packed with essential fatty acids that help plump up skin and add a gorgeous glow.
Because of its natural cleansing properties, it also works as a powerful makeup remover that won't dry out or irritate your skin. We don't recommend leaving it on the face, though. It does not absorb quickly and can clog pores which means it can lead to breakouts, especially on acne-prone skin.
To use as a makeup remover, massage it into your skin and rinse it off with warm water. Then, wipe clean with a warm damp washcloth.
Argan Oil
Though the word "oil" might make people with oily or acne-prone skin immediately skip ahead to the next option, this ingredient can actually help control oil production. It has anti-sebum effects and helps lock in moisture to prevent the need for your body to produce more oil.
It also contains oleic acid, so it absorbs into your skin faster and helps other nourishing ingredients absorb as well.
Because it absorbs quickly, controls oil, and provides deep hydration, an argan oil butter like Josie Maran makes a great morning moisturizer to use before you start your day.
Aloe
Aloe has been used for centuries to heal wounds, treat sunburns, and calm other painful issues related to damage or inflammation. This makes it one of the best ingredients to look for if you have sensitive skin or a condition that features periodic flare-ups like rosacea, eczema, or psoriasis.
Just make sure to get aloe in an organic body butter blend like this aloe body butter. A lot of the aloe-containing products blend the healing ingredient with preservatives, dyes, and other additives that can worsen irritation.
Rose
Rose petals are packed with vitamins and minerals that can help repair damaged skin, soothe inflammation, and smooth out uneven texture. It's a great pick for oily skin, acne-prone skin, or combination skin but it's safe to use on all skin types.
Rose-infused body butters like this one from Nourish Organic are one of the best choices to use as a nightly moisturizer for the face, neck, and body. Due to the often higher concentration of antioxidants, we don't recommend using it in the morning as it can temporarily make your skin more sensitive to sunlight.
Mango
Mango is packed with nutrients including vitamin A, beta-carotene, and minerals. This makes them great to eat but also great when applied directly to your skin. Vitamin A and other antioxidants can help minimize the appearance of fine lines and prevent skin damage from occurring.
This makes mango butter like this one from Sky Organics a great choice for dry or aging skin but it works just as well on normal skin.
Neem
Neem is an herb native to India where it's long been used as a treatment for a variety of skin conditions. Research shows that it is a powerful medical treatment for inflammation and infection when applied topically and other conditions when eaten. But don't eat the neem body butter!
It's best known for being a natural source of fatty acids that help plump up skin and heal wounds. It also has anti-inflammatory properties that can help reduce redness, dryness, and itchiness.
This makes neem-infused body butters like Zatural a great choice for the especially tough to shop for skin types like:
Sensitive skin
Acne-prone skin
Rosacea
Eczema
Psoriasis
It can help reduce acne and heal any open acne scars without drying out your face like salicylic acid and other acne-fighting products usually do. It's best to apply to a freshly cleansed face at night.
Honey
Honey is a natural antibacterial and antiviral ingredient. This makes it a great choice for acne-prone skin and sensitive skin that easily gets inflamed or breaks out in response to unfriendly bacteria.
Because of its natural cleansing abilities, it makes a great post-shower moisturizer or night cream for your face. With a honey-infused body butter like Petal Fresh Pure, you'll lock in moisture while killing any remaining contaminants that weren't washed away during your cleansing routine.
Jojoba
Jojoba is a great ingredient for all skin types. It helps your skin absorb the body butter faster so that you spend less time feeling greasy. It helps slow the production of sebum (your natural body oils) making it a great pick for oily skin or acne-prone skin. It also protects against sun damage and calms inflamed skin.
If you're looking for a body butter that can be used as a daytime moisturizer, a jojoba-containing formula like the one in this Burt's Bees body butter is a great option.
Is Body Butter Good for Your Face?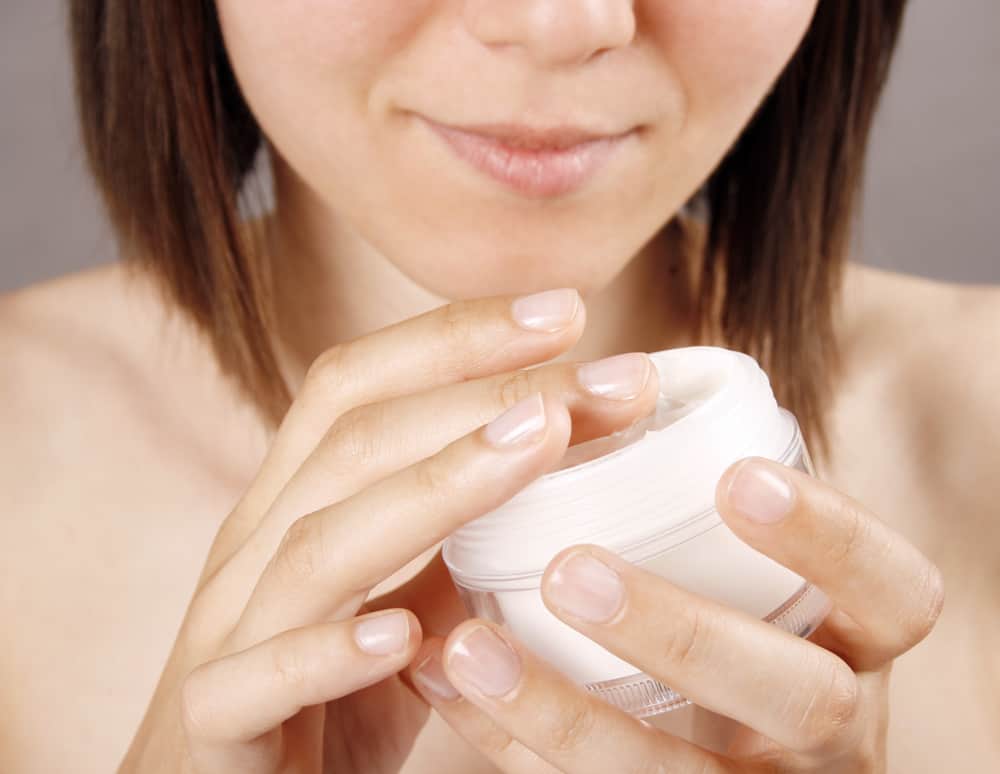 As you saw in the ingredient list above, some are great for your face while others might lead to breakouts. If you plan to use this body butter on your face, be sure to get something that won't clog pores.
The reason some body butters are safe to use on your body but not on your face is because the skin on your face is thinner and more porous. Even if you have the tiniest pores possible, they're still larger than the pores on your arms and legs. When these pores clog, they're likely to react by getting inflamed and forming into pimples.
A pure shea butter like or a non-comedogenic blend like Nourish Organic feature ingredients that are safe to use on delicate facial skin as they absorb better and don't just pool inside your pores and stay there. They also provide calming anti-inflammatory effects that can prevent that acne-breakout response.
Other Great Options for Your Skin
Body butters are ideal for providing deep moisturization and actual repairing damage. However, there other products that can help with specific areas or specific issues. To provide complete care for your skin, check out these other options:
Organic Body Lotion: for the convenience of a fast-absorbing lotion without all the harsh synthetic ingredients, organic body lotion is the way to go.
Organic Face Wash: before you apply any moisturizer to your face, it's important to start with a clean slate. A gentle yet effective organic face wash is a great first step for your skincare routine.
Organic Moisturizer. If you want something that is specifically formulated for the fragile skin on your face, a face moisturizer targeted to your skin type can make all the difference.
Final Word
Unlike lotions that use artificial ingredients to soften skin, organic body butters use natural ingredients which means they also provide nutrients, antioxidants, and essential fatty acids to nourish instead of just hydrate.
That means choosing the right body butter comes down to figuring out what kind of nourishment your skin would benefit from most. Using this guide, you can narrow down which ingredients would work best for you, then find the formula that best addresses the unique needs of your skin.