Top Picks

Alba Botanica Very Emollient Unscented Body Lotion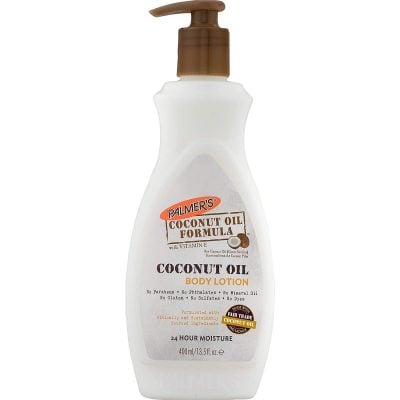 Palmer's Coconut Oil Formula With Vitamin E Body Lotion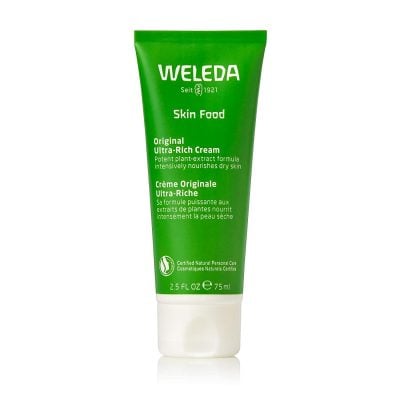 Weleda Skin Food Original Ultra-Rich Body Cream
Previous
Next
Nature's bounty is exquisite! From botanical oils rich in healthy fatty acids to plant extracts loaded with antioxidant compounds, there is truly no reason why you have to use synthetic products to care for your skin. When your skin starts feeling dry or itchy, a natural or organic body lotion will do an incredible job of restoring your skin with nourishing agents for a soft and supple feeling.
How to Select a Great Natural Body Lotion
The natural beauty industry can be a little confusing, so there are some things you should know before delving into the product research. After the reviews, we discuss this topic in more detail and include a guide to help you choose the right lotion for you.
Types of Body Lotions
The term "body lotion" can encompass a few different types of products. In our reviews, we'll let you know exactly what type each body lotion falls into, and we'll help you choose the best one for your skin type further below. From thinnest to thickest in texture, our list includes:
Lotions are light and less viscous, so they penetrate into the skin quickly and don't leave a residue. They are best for hydrating the skin.
Creamy Lotions are a little richer so leave the skin feeling silky and hydrated but not greasy. They have both water and oil ingredients to hydrate and moisturize.
Creams contain a few more oils, so they moisturize the skin more thoroughly and leave behind a dewy protective layer.
Body Oils are quite rich, creating a protective layer over the skin and helping to lock moisture into place.
Features to Look For
Not all natural body lotions are made equal! These are the features that are most important to consider when looking for a great organic or natural body lotion.
Moisturizing
It might seem obvious, but a body lotion has to moisturize the skin thoroughly! As some lotions sold don't actually have the proper makeup of ingredients to keep your skin moisturized, we looked for a healthy mixture of humectant (i.e. water-attracting) ingredients like glycerin and occlusive (i.e. moisture-locking) ingredients like oils in each ingredient list. This way, we can verify that each lotion will truly moisturize the skin.
Actually Natural
Greenwashing is a big problem in the beauty industry. It's very common for products to be marketed as "natural" because they contain a single drop of aloe vera, while actually having a synthetic-laden formula. This is why we thoroughly checked each body lotion's ingredient list: a close analysis helps to ensure it's truly a natural product and made with a significant amount of naturally-derived botanical oils and extracts. We'll later discuss the ingredients that we love to see in natural body lotions in a bit more detail.
Free From
For a product to be considered natural, what it doesn't contain is just as important as what it does. Some readers might be looking for formulas truly free of all synthetics, while others might be okay with some inert, non-natural ingredients. That's why our selection is diverse, and we'll let you know exactly how natural each formula is. As a rule, our selection is entirely free of the more controversial ingredients, like parabens, formaldehyde-donors, and phthalates. We go into detail about what makes these ingredients controversial further on.
Good Value
Body lotion is one of those products that you can go through faster than you realize! After all, you use it to cover the entire body at least a few times a week. Because of that, the expense can pile up, so we favored affordable body lotions. We accept that natural products are often a little more expensive than mainstream ones, but that doesn't mean they have to break the bank. Judging value takes more than just looking at the price, so we focused on the amount of lotion you get in each bottle as well.
Pleasant Texture
The texture of a body lotion is extremely important. It's not fun to try and rub a very greasy or thick product into the skin, especially if it leaves you feeling sticky or clammy afterward. While the range of textures on our list varies to suit all different skin types, we still made sure that all of the products had a texture that would be pleasant to use.
Cruelty-Free
Chances are that if you have a strong preference for natural products, you also care about animal welfare. That's why we made sure to only recommend natural and organic body lotions that are guaranteed to be cruelty-free. All of the products on our list are vegetarian-friendly, and we'll let you know in the reviews which lotions are vegan-friendly as well.
Scent
Natural body lotions are never made with synthetic fragrances, but that doesn't mean that they don't have a scent. They are usually fragranced with essential oils extracted from different plants or with essential oil constituents. We focused on body lotions with a pleasant, natural fragrance, but also included a few that were totally scent-free, for those with sensitive skin or noses. We'll let you know exactly what kind of fragrance you can expect out of each body lotion so you can make a selection based on your preference.
Now that you know what goes into choosing a great natural body lotion, have a look at the top 10 moisturizers we selected!
Top 10 Best Natural & Organic Body Lotions 2021
In-Depth Guide to Natural and Organic Body Lotions

The way natural ingredients can be transformed into skin-loving body lotions is incredible! Keep reading to learn more about what goes into organic and natural body lotions, as well as how you can choose the best one for your skin.
What Are the Differences Between Organic and Natural Cosmetics?
The terms natural and organic are both complex, and there are a few different standards out there.
Organic
Organic is easier to explain because it's more rigid: an organic body lotion is made primarily with ingredients that have been certified organic (meaning that they are farmed in pristine conditions and without pesticides or genetic modification). For a product to claim to be organic or made with organic ingredients, it has to have been certified by an accredited body. There are organizations like the European Ecocert that certify entire products, while in the US, the USDA certifies individual ingredients that will be marked as organic in the ingredient list (usually via an asterisk).
Natural
If the majority of ingredients in a product have been certified organic, chances are it can also be considered a natural product. The problem with the term natural product is that different brands and organizations define it differently. It's almost impossible for a body lotion to be 100% natural because in order for it to be effective and safe it has to include emulsifiers (ingredients that allow water and oil to blend together) and preservatives (ingredients that prevent bacteria, yeast, and mold from growing in your cream).
For us to consider a body lotion "natural," more than 80% of its ingredients have to be natural or naturally-derived, and it had to be free of any of the ingredients in the following section.

Ingredients to Avoid
These are the ingredients commonly found in mainstream body lotions that we made sure to exclude due to the safety risks associated with them. Although you'll find some of these in conventional products, and although some are widely considered safe, none of our products contain these ingredients
Parabens
Parabens used to be the most common preservatives in cosmetics, but with the rise of natural and clean beauty, we are starting to see them disappear. The Safe Cosmetics Campaign lists their main risks as endocrine disruption, cancer, and developmental and reproductive toxicity.
Formaldehyde-Donors
Formaldehyde-donors are another category of preservatives worth avoiding. They usually show up on ingredient lists as quaternium-15, DMDM hydantoin, imidazolidinyl urea, or diazolidinyl urea. They preserve lotions by releasing formaldehyde into the cream, which is a carcinogen.
Petroleum-Derived Ingredients
Ingredients like mineral oil and petroleum jelly are byproducts of the petrol industry, and they're a big no-no in natural body lotions. In the past, they used to pose a health risk because of contamination, but these days cosmetic-grade mineral oil gets purified. However, they're still byproducts of the harmful fuel industry. In natural cosmetics, botanical oils are an eco-friendly replacement that comes with an added benefit: they contain vitamins and phenolic compounds that soothe the skin and protect from premature aging.
Phthalates
In cosmetics, phthalates are used as fixatives, solvents, or plasticizers. They are often a part of synthetic fragrance blends, although they're becoming less common. Like parabens, they also raise concerns as endocrine disruptors and potential carcinogens. They first became a major concern as an ingredient in plastic children's toys, but these days many also choose to avoid them in their skincare.
A Note on Phenoxyethanol
The most common alternative to parabens and formaldehyde-donors in natural cosmetics is phenoxyethanol, a germicidal alcohol that preserves lotions even at a very small concentration. While phenoxyethanol does occur naturally in some plants, the version used in cosmetics is usually lab-made. According to the Campaign for Safe Cosmetics, this ingredient can cause contact dermatitis and if ingested by infants it can hurt their nervous system.
Some natural beauty advocates choose to avoid it altogether – if that's the case for you, consider one of the phenoxyethanol-free lotions we've recommended, like The Honest Company Purely Sensitive Body Lotion and Weleda Skin Food. However, it's one of the most effective ways to keep a natural product shelf-stable.

What's the Best Lotion for You?
When it comes to moisturizers, our body is generally not as picky as our face. Our bodies can handle fragrance and heavy textures without as much risk of irritation, and in general, there are fewer concerns. With that in mind, we have some tips to help you select the right body lotion based on your skin condition.
Normal Skin
When it comes to the body, most people have normal skin, even if the skin on their face is dry or oily. This term means that your skin is neither overly oily nor particularly dry. If that describes you, choose a natural body lotion that'll maintain the condition of your skin, especially in the winter or after a shower when your skin is at risk of dehydration.
Aim for a light lotion that won't feel greasy on your skin and that will effectively hydrate with a lot of water, extracts, and humectants. We particularly like the Love Beauty & Planet Body Lotion for offering that balance. If you'd prefer something a little more rich, Palmer's Coconut Oil Body Lotio has the perfect creamy lotion texture.
Dry Skin
For some of us, dry skin is a constant problem, while for others it's seasonal. It might also be caused by external factors, like if you've gone swimming in a chlorinated pool or if your new cleanser is way too stripping. Either way, you'll know your skin is dry if it feels tight, rough to the touch, flaky, or just plain uncomfortable.
Weleda Skin Food or Burt's Bees Mama Bee Oil will do the best job of sealing moisture into your skin after a shower. The rest of the time, it's important to use a traditional body lotion with humectants, in which case the Alba Botanica Unscented Body Lotion is a perfect choice.
Pro Tip: For the maximum amount of moisture, you can even try layering a lighter lotion followed by heavy cream or oil.
Sensitive Skin
If you have sensitive skin, whether that means eczema or just a lot of skin allergies, you need to be a little more careful with natural body lotions. That doesn't mean they're off-limits! In fact, lots of natural ingredients do an amazing job of calming the skin and easing inflammation. However, you need to be careful to avoid organic compounds that might disrupt the balance of your skin. Fragrances are common irritants, but sometimes the irritant can be unexpected: you might respond poorly to a plant extract or a natural preservative!
In general, we recommend sticking to fragrance-free formulas like the Alba Botanica Unscented Body Lotion or The Honest Company Purely Sensitive Body Lotion. You can also look for additional soothing ingredients, like calendula or chamomile. Some people with sensitive skin don't have a problem with fragrances, in which case lavender essential oil can actually have a calming effect on the skin, so you might like the Love Beauty & Planet Body Lotion.
Pro Tip: Before using a new body lotion all over your body, test it on a small area of skin for a few days. If all goes well, you can proceed!
Oily or Acne-Prone Skin
Having oily skin on the body is relatively rare, but it's not unheard of. Some people find that specific parts of their bodies, like their chest or back, are a little more oily or prone to breakouts, while elsewhere their skin can be dry or normal. You still want to moisturize your skin if that's the case, but you'll want to opt for body lotions that contain lighter oils in a low concentration. Also look for hydrating agents that add water to the skin without adding oils.
Our favorite body lotion for such a purpose is The Honest Company Purely Sensitive Body Lotion, because it's light enough for both the face and body and it contains calendula which can soothe the redness and swelling associated with acne. The Juice Beauty Firming Body Moisturizer is another wonderfully light choice and it has anti-aging effects as a bonus.
Pro Tip: You can turn your natural body lotion into an acne-fighting treatment by adding a couple of drops of tea tree oil in the palm of your hand right before massaging it into your skin. According to research, 5% tea tree oil is the magic number for reducing breakouts!

What Are the Best Ingredients for Body Lotion?
You may have noticed that when we talked about lotion ingredients in our reviews, we largely ignored the ones that were hyped up in the product names or descriptions. That's because those ingredients are often only used in small concentrations and then made out to be the "stars" because they sound more exotic. We don't fall for those marketing traps. Instead, we focus on the ingredients that are used in higher concentrations, since those are the ones that truly impact each formula.
Plants Butters and Oils
Plant butters and oils are an extremely important part of any natural moisturizer! They are responsible for the moisturizer's protective and moisture-sealing effects, and by doing so they also promote skin healing.
All botanical oils are composed of different fatty acids like ultra-moisturizing oleic acid (i.e. omega-9), soothing linoleic acid (i.e. omega-6), or anti-inflammatory lauric acid. These fatty acids are emollients, so they fill in any gaps in the top layer of skin to lock moisture in place and makes the skin feel oh so soft.
These plant butters and oils have additional benefits! Almost all botanical oils contain a respectable amount of antioxidants, which are compounds like vitamin E or vitamin A that have the ability to neutralize external aggressors that cause premature aging. Some of the best oils we've seen in natural moisturizers include sunflower oil, shea butter, coconut oil, almond oil, and safflower oil.
Extracts
Plant extracts are water-based, so they hold all of the beneficial compounds from the plant that aren't oil-soluble. In skincare, they help to hydrate the skin but they also have antioxidant and anti-inflammatory properties. The antioxidants they contain are materially different from the ones in oil, so the skin ends up benefitting from more comprehensive anti-aging protection.
We especially love when they're used instead of water in a formula, as is the case with the Juice Beauty Firming Body Moisturizer. The best extracts for soothing the skin are calendula and chamomile, while green tea extract has anti-aging effects.
Humectants
Humectants are the ingredients that ensure that your moisturizer hydrates your skin. They're like little sponges that absorb water, so without them, extracts and water wouldn't be able to actually absorb into the skin. The humectants used in natural skincare are usually plant-derived, like vegetable glycerin, yeast-derived hyaluronic acid, and beet-derived betaine.
How Do You Use a Body Lotion?
The most important time to apply body lotion is immediately after stepping out of the shower. The reason for this is that when you shower, your skin takes in all of that water and becomes plump and hydrated. However, the second you step out, that water begins to evaporate, and within a few minutes, all of it is gone and your skin is drier than it was at the start. If you apply a moisturizer, it'll act like a sealant and keep all of that water in your skin!
This process is so important that it's even recommended by dermatologists as an eczema treatment. To actually apply the body lotion, you simply need to massage it in with circular or up and down motions. You can also apply a body lotion whenever your skin feels dry – since most lotions are made with water, humectants, and oils, they will still add water to the skin all on their own.
Final Words
You don't need to compromise with a natural or organic body lotion! They come in all kinds of textures, scents, and price points to suit every preference and lifestyle. You can give your skin all of the love and care it deserves while upholding your principles and avoiding harsh synthetics. So let your skin shine, the natural way!