More and more, people are becoming interested in living healthier and more naturally. They're also realizing that putting something on your skin is just like eating: your body absorbs and processes any creams or makeup and passes it into your bloodstream. So you don't want to ruin a clean and healthy diet with less-than-clean skincare products.
Natural and or organic skincare products are also great if you have sensitivities to certain additives and preservatives. Still, there's a wide range of products that call themselves "natural" or "organic," so we'll help you figure out what it means and share some of our top product choices.
What You Need Know About Organic Moisturizers
Before you choose the right organic moisturizer for you, let's examine some of the most important things you need to know before you decide.
What Makes Something Natural or Organic?
Most body products don't have a USDA organic certification. Organic labeling is complicated and excludes some ingredients, but for the most part, it's a designation for consumable products. Only one item on our list is USDA certified. Many face products include too many non-consumable ingredients, which can make it harder to be certified. Most moisturizers labeled as organic will consist of a large percentage of organic ingredients without being organically certified.
Natural is a broad term, which typically means that most of the ingredients in the product are naturally derived. There is a range there too, however. Some products will only use things like plant extracts to provide certain compounds. Others will use compounds that are found in nature but are synthetically recreated for their recipe.
It's a complicated task to evaluate precisely how natural or organic these products are. Fortunately, we're here to help. Our guide will explain what the key ingredients are in a product and let you know if there are any potentially problematic additives included in a formula.
Active Ingredients to Consider
There are a variety of ingredients that may be in your organic or natural moisturizer, and which ones you should select depend on what you most need it to do. Vitamin C can help brighten your skin, retinol can improve skin texture, hyaluronic acid can lubricate your skin, and green tea offers therapeutic properties. We make sure and list the active ingredients in each product below. For an even more thorough look at what these ingredients do, check out our detailed guide.
Know Your Skin Type
There are several basic skin types, and each has its own set of needs. Throughout our guide, we've labeled moisturizers with the skin type they work best with to help you find one that will suit your skin.
Normal
If you have normal skin, you're pretty fortunate. Your skin is already reasonably balanced. It may still feel a little dry in the winter or have the occasional hormonal breakout. A light moisturizer will help it stay radiant and undo any day-to-day environmental damage.
Oily
People with oily skin tend to have a shiny complexion with more frequent breakouts. It can be tempting to think that you don't need moisturizer but neglecting to nourish it can cause your skin to over-produce oils and worsen the problem. A light, non-comedogenic moisturizer will help balance your skin.
Dry
Dry skin can cause redness, rough patches, and a tight feeling in your face. Too much sun or indoor heating can make it much worse. People with dry skin should find a moisturizer that deeply hydrates their skin. It may be advisable to moisturize twice a day, both in the morning and at night, and any time after you wash your face, you should follow it up with a moisturizer.
Sensitive
You may experience itching, redness, dry patches, and rashes if you have sensitive skin, and certain ingredients in skincare products may easily trigger these reactions. Skin can also be sensitive because of conditions like eczema or psoriasis. Choosing a gentle but nourishing moisturizer that is free from allergy-triggering ingredients will help you manage your condition.
Aging
While most aging skin also falls under one of the previous categories, it deserves special attention. Aging skin may start to lose plumpness and elasticity. Fine lines and wrinkles will begin to form, and your skin may become more sensitive or dry than it was before. Choosing a moisturizer with some extra benefits, such as one with retinol or hyaluronic acid, can help your skin repair itself and minimize the signs of aging.
Vegan and Cruelty-Free Certifications
Beyond the quality of the ingredients, you may be concerned about the ethics of a company. Companies that seek out cruelty-free certification and must pass a rigorous evaluation to gain a stamp of approval. Cruelty-free products are not tested in any way on animals.
Vegan products don't use any animal-derived products in their recipes. While many manufacturers highlight this fact on their packaging or website now, if we notice an ingredients list is entirely free from animal products, we'll note it in our product stats.
Ingredients like honey and beeswax are skin-nourishing natural compounds that many people enjoy using, so not every product on our list is vegan. But there are many great all-natural vegan options.
Next, we'll show you our top ten picks for the best natural and organic moisturizers.
Here's our list of ten products that offer a range of options depending on your skin type, budget, and preferences.
Top 10 Best Natural and Organic Moisturizers 2023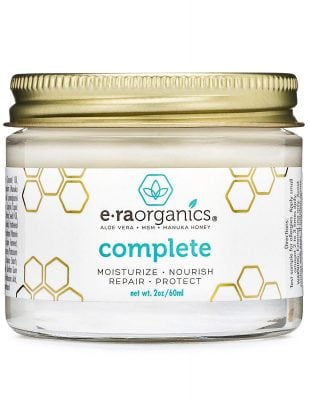 Why we like it:
This cream uses a unique cocktail of nourishing ingredients to help even sensitive or troubled skin.
Editor's Rating:
Quick Facts:
Skin Type: Sensitive, Combination
Main Ingredients: Aloe, Manuka Honey, Hemp Seed Oil
Vegan: No
Cruelty-Free: Yes
By calling itself a "complete" moisturizer, Era-Organics sets a high bar for their product. Their unique formula packs a real punch of skin-balancing nutrition to back that claim up, though.
The ingredients for this product look like a health food store shopping list with minerals, plant oils, and seaweed. Together, they create a very balanced formula that can help soothe several skin conditions. The company recommends this product for those with sensitive skin suffering from acne, eczema, and dermatitis.
Without any common irritants like parabens, alcohol, or fragrances, it's a good option for people who tend to be sensitive to a lot of products.
Downsides
While this product works for many with sensitivities, there are still some natural
ingredients that can cause irritation. Many people are sensitive to aloe vera without realizing it, and this product uses that ingredient heavily. Aloe can cause feelings of burning in those who are allergic. For an aloe-free moisturizer, check out this one from BeeFriendly later on our list.
This product has also undergone some formula adjustment over the past several years. Die-hard fans of the original formula may find the newer version to be a little denser and waxier than the previous recipe. It takes a moment to absorb after applying because of its thick consistency.
Why It Stands Out
Just a small dab of this cream will give long-lasting moisture to your skin. Its combination of soothing ingredients can provide relief from dryness and irritation.
If you suffer from sensitive skin, this product avoids many ingredients that trigger rashes and flare-ups from certain conditions. And if you find yourself suffering from the perplexing combination of breakouts and dry patches, this moisturizer can help restore your skin's balance by nourishing it.
It's an excellent overall choice for anyone looking for relief from sensitive or combination skin.
Pros
Deep moisturizing recipe

Balances combination skin

Can be useful for those with sensitive conditions

Only need a small amount per application
Cons
Thick and slow to absorb

Not suitable for those with an aloe sensitivity
---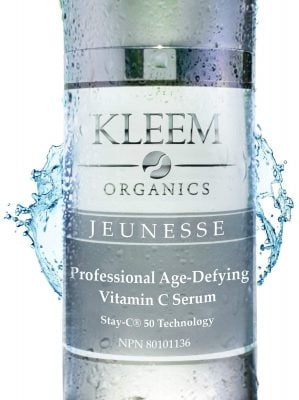 Why we like it:
By using this Vitamin C serum, you can encourage your skin to heal itself better to help undo years of damage.
Editor's Rating:
Quick Facts:
Skin Type: Aging
Main Ingredients: Hyaluronic Acid, Vitamins C and E
Vegan: Yes
Cruelty-Free: Yes
At a higher per-ounce price than other products on our list, this serum has a lot to live up to. You can use it alone or as a complement to another moisturizer to add an extra boost to your skin.
The recipe focuses on Vitamin C and hyaluronic acid to do most of the heavy lifting. It also adds other natural moisturizing ingredients like jojoba oil and aloe vera. While hyaluronic acid may sound like something from a chemistry experiment, it's a naturally occurring compound with many benefits. The details of this ingredient and others are covered later in this article.
Downsides
While this product promises to help reduce discoloration and dark spots on your skin, results may vary for individuals. Some users simply won't see a significant difference in that regard despite other potential benefits.
This serum is also sold in a one-ounce size, which may run out quickly if you rely on it as your primary moisture source. Since this product has a higher price tag, to begin with, it might be frustrating for it to run out after only a couple of weeks.
Why It Stands Out
With its concentration of hyaluronic acid, this formula encourages your skin to heal itself. Hyaluronic acid can help reduce the appearance of aging and other damage. It can also improve brightness and the overall texture of your skin after a few weeks.
By using natural compounds, Kleem's serum can help aging skin maintain its firmness and overall appearance. It's a great choice for those who want a little boost if they've noticed their skin beginning to lose luster as they get older or want to soften fine lines and acne scars.
Pros
May soften fine lines and scars

Brightens skin tone

Firms skin
Cons
May not lighten dark spots as promised

Runs out quickly
---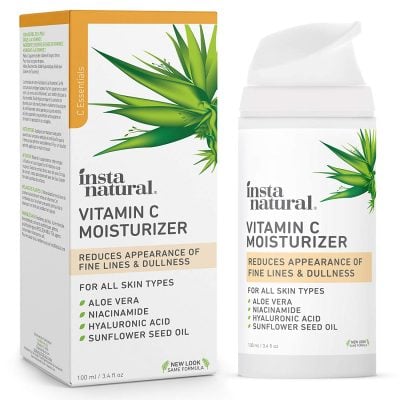 Why we like it:
You don't have to pay a premium to get a sophisticated formula in this moisturizer.
Editor's Rating:
Quick Facts:
Skin Type: Normal, Dry
Main Ingredients: Vitamin C, Hyaluronic Acid, Shea Butter
Vegan: Yes
Cruelty-Free: Yes
The price per-ounce of this product makes it one of the best values on our list, but that doesn't compromise its quality. This lightweight moisturizer has the consistency of lotion more than a cream.
It combines shea butter, sunflower oil, safflower oil, as well as avocado and jojoba oils to deliver a potent moisture cocktail to your skin without being too heavy. Soothing and brightening plant extracts also pepper the ingredients list to add extra benefits.
Downsides
This product uses mandarin orange peel oil as one of its sources of vitamin C. Some people find the fragrance is too strong to use on their face or do not like the way that it interacts with their natural skin oils, which may change the scent. Citrus oils can also increase your photosensitivity, so you must remember to wear sunscreen outdoors while using this product.
With a combination of quite a few different plant oils in the recipe, it may also be a poor choice for oily and acne-prone skin. This moisturizer is a better choice for dry or normal skin that needs or can tolerate more oils.
Why It Stands Out
For dry, sensitive skin, it can be hard to find a deeply nourishing moisturizer. Beyond nourishment, this product also adds in a boost of vitamin C. Don't let the citric acid in the ingredients list scare you off; this is a naturally derived Vitamin C extract you'll find in most fruit juices as well. Skin naturally tends to be acidic, and vitamin C has many benefits.
This lotion absorbs quickly and can brighten your complexion over time. It may even help soften and lighten skin discoloration and reduce redness. If you enjoy a mild citrus scent, you may also like the way this product smells.
Pros
Lightweight and easy absorbing

Uses plant extracts and naturally derived vitamin C

May brighten skin and reduce discoloration
Cons
Citrus ingredients can smell too strong and increase photosensitivity

Can be too oily for acne-prone skin
---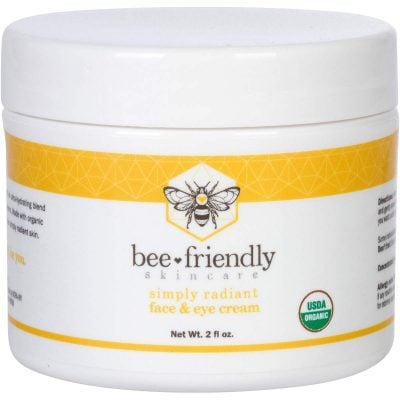 Why we like it:
With a pared-down ingredients list, no unpleasant surprises are lurking in this soothing 4-in-one cream.
Editor's Rating:
Quick Facts:
Skin Type: Dry, Aging, Sensitive
Main Ingredients: Olive Oil, Beeswax, Honey
Vegan: No
Cruelty-Free: Yes
When reading the ingredients list, it's easy to think this moisturizer is almost too simple. Using mainly edible ingredients that are all organic, this cream has earned itself the distinction of being USDA certified organic.
Extra virgin olive oil is one of the oldest moisturizers in the world. This formula combines it with beeswax, raw honey, vitamin E, and organic essential oils. The cream is thick and rich, making it excellent for your eye, neck, and décolleté areas as well. Just a small dab is enough for your entire face.
Raw honey has natural antibacterial properties, which make this cream ideal for helping prevent the occasional breakout. Breakouts and irritation caused by preservatives, fragrances, and emulsifiers found in most commercial moisturizers won't be a problem either.
Downsides
This moisturizer uses two essential oils to complete the recipe. Bergamot and sandalwood oils may smell pleasant to some, but for others, it may spoil this product. While both are considered generally safe for use in body products, a small percentage of the population may experience contact dermatitis. This may manifest itself with redness, burning, and a rash.
Since this product doesn't have any synthetic preservatives, it also has a shorter shelf-life. Over time the oils may go rancid, and there is a risk for mold, especially if you store it in a warm place or if any water or dirt from your hands gets into the jar. This can be inconvenient, especially when this amount of cream can last several months. To help increase its life, you may want to store it in the refrigerator.
Of course, this is one of our non-vegan options. If you're looking for a plant-based moisturizer without chemical preservatives, try this one from The Sage Witch.
Why It Stands Out
Beside helping breakout prone skin, this product can add a luxurious moisture boost to aging skin that experiences dryness. Keeping your skin nourished and moisturized can go a long way to reducing the appearance of fine lines and discoloration, even without fancy anti-aging ingredients.
By avoiding extra additives and chemical compounds, this cream distinguishes itself as being a good option for people with sensitive skin. For the majority of people who won't have an adverse reaction to the essential oils in this recipe, these plant extracts can actually be beneficial for reducing the symptoms of conditions like eczema. There is some evidence that sandalwood, in particular, can reduce the signs of aging in skin.
For most, this is an excellent choice if you're looking for a natural way to balance your skin. The simple ingredients give peace of mind, and many skin types can benefit from the nutrients they provide.
Pros
No chemical additives or preservatives

Rich moisture for dry skin

Benefits for aging and sensitive skin
Cons
Essential oils can be possible allergens

Shorter shelf-life
---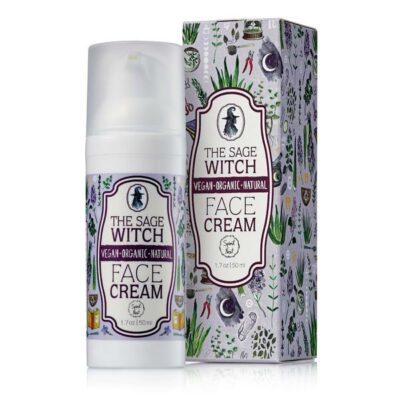 Why we like it:
This fresh hydrating cream helps with skin irritated by eczema or acne, and it smells nice.
Editor's Rating:
Quick Facts:
Skin Type: Combination, Sensitive
Main Ingredients: Green Tea, Aloe, Cucumber Seed Oil
Vegan: Yes
Cruelty-Free: Yes
Developed in Israel, this balancing moisturizer combines botanical ingredients to create a light, non-toxic moisturizer. Soothing aloe, rapeseed oil, shea butter, and olive oil provide non-greasy hydration. Green tea extract features heavily in the recipe and is known to be an effective antioxidant and anti-inflammatory ingredient for the skin.
This formula uniquely includes cucumber seed oil as well. This ingredient is noted for treating dry and damaged skin. Honeysuckle extract adds both a mild floral scent and anti-inflammatory properties to this moisturizer as well. 
Downsides
While this moisturizer uses many organic ingredients, it's not 100% organic. It contains xanthan gum, a sugar and alcohol-based thickening agent which some people are sensitive to as a food additive. If you are allergic to xanthan gum in your food, it may bother you when applied topically. It also gives the product a different texture than many moisturizers have. It's both thin and slightly clay-like, so you have to massage it in to ensure complete absorption.
There are a few other naturally derived humectants and emulsifiers in the mix, which may make people a bit wary. While they are natural compounds, they are not organically produced and are more likely to cause irritation.
Why It Stands Out
For people who struggle to find balance, this moisturizer can be very beneficial. Combination skin can look oily in areas while still feeling dry in others. It can be hard to find a moisturizer that can help both regions of your face. This lotion fits the bill.
People who struggle to find a non-irritating daily moisturizer if they suffer from frequent breakouts and irritation from conditions like eczema may find this to be their best option. Its soothing and balancing mix of oils and plant extracts can give your skin the moisture it needs to protect itself day to day without causing a flare-up.
The lotion is non-greasy, has a pleasantly light fragrance, and you only need a little to hydrate your skin all day.
Pros
Lightweight, non-greasy moisturizer

Antioxidant-rich green tea helps heal damage

Balancing, anti-inflammatory plant extracts
Cons
Unusual texture

Contains possible allergens like xanthan gum
---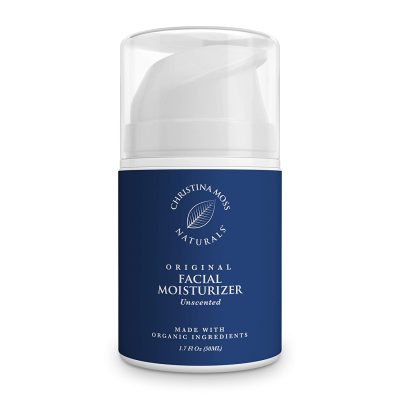 Why we like it:
This unscented formula is free from common irritants and helps oily skin get the care it needs without adding shine.
Editor's Rating:
Quick Facts:
Skin Type: Oily, Normal
Main Ingredients: Aloe, Grapeseed Oil
Vegan: Yes
Cruelty-Free: Yes
This lightweight moisturizer uses grapeseed oil as the main ingredient. Grapeseed oil is known as a "dry" oil that absorbs quickly without leaving a shiny residue on the skin. This makes it ideal for nourishing oily skin without increasing shine.
Aloe makes an appearance at the top of the ingredient list too. Aloe helps soothe and heal damaged skin. Sodium hyaluronate (a hyaluronic acid extract) and vitamin C in the form of ascorbic acid round out the ingredients with revitalizing and antioxidant properties.
The recipe leaves out many problematic things too. Free from fragrances, this cream is ideal for people who are sensitive to scented products on their face. It also leaves out dyes, sulfates, propylene glycol (a common cause of contact dermatitis in skin products), and other additives.
Downsides
This product may not be hydrating enough for drier skin types. A few hours after absorption, you may feel tightness in your skin that can indicate it hasn't had enough moisture. If you have dry or combination skin, our pick from BeeFriendly might be a better option.
This moisturizer also uses sodium hyaluronate. This ingredient is a salt extract form of hyaluronic acid that is more easily absorbed into the skin. While hyaluronic acid is a naturally occurring compound, it is created synthetically for use in skincare. This particular form of hyaluronic acid may cause irritation and sensitivity more than other types.
Why It Stands Out
An area where this product particularly shines is in adults with acne. As you get older, you may start worrying about preventing fine lines, and your skin may start to get drier. However, many adults are trying to balance those concerns with continued breakouts.
This product may help you find some equilibrium in your skin. With its non-oily moisture, it can nourish your skin without increasing your breakouts and shine. The hyaluronic acid extract will simultaneously work to help your skin rejuvenate itself to help prevent fine lines and discoloration. It's a gentle formula that's worth trying if you struggle to bring balance to your skin.
Pros
Non-greasy option for oily skin

Can bring balance to skin with adult acne

Avoids common irritants
Cons
May not be moisturizing enough for combination skin

Sodium hyaluronate may be an irritant for some
---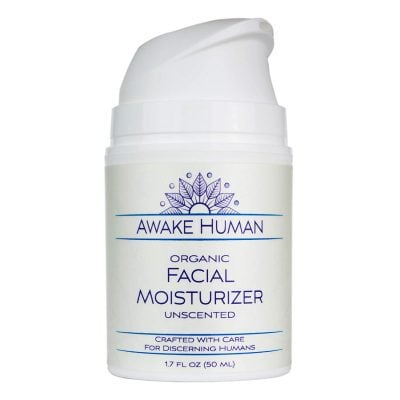 Why we like it:
This moisturizer uses unique ingredients that are tailor-made to help balance oily and acne-prone skin types.
Editor's Rating:
Quick Facts:
Skin Type: Sensitive, Oily
Main Ingredients: Green Tea Extract, Aloe, Sweet Almond Oil
Vegan: Yes
Cruelty-Free: Yes
Sweet almond oil is the base oil used in this product. Almond oil is frequently used in therapeutic applications with essential oils. Uniquely, its fatty acid structure helps moisturize and soothe any dry patches but also has a natural retinoid content. This can help heal acne and make your skin look less oily overall.
Soothing aloe also appears near the top of the ingredients list. The moisturizer includes some vegetable-based humectants and stabilizers, jojoba oil, shea butter, and honeysuckle extract that serves as a natural antimicrobial ingredient, removing the need for artificial preservatives.
This light, non-comedogenic moisturizer won't clog your pores, so it's ideal for people who struggle with breakouts and oily skin. Green tea extract helps bring balance to oily skin while healing environmental damage.
Downsides
Despite having no added fragrance, the moisturizer still has some natural scent. Some may find the smell unpleasant to wear on their skin. It has a clay-like odor, and you can smell the shea butter in the recipe. Some love the smell of shea, but others don't. For an unscented option suited to oily skin, you can try this one from Christina Moss on our list.
If you're looking for a deeply hydrating moisturizer for dry skin, you'll be disappointed in this lotion. It won't be enough for very thirsty skin. And for people with aloe sensitivities, this product will likely cause an allergic reaction due to its intense concentration of aloe.
Why It Stands Out
Out of all the moisturizers on our list, this is the only one that relies on sweet almond oil. For oily skin, that is one of the best moisturizing oils available. Combined with green tea and aloe, this formula has soothing and healing in mind.
If you have sensitive, acne-prone skin that hasn't reacted well to harsh treatments like salicylic acid, this moisturizer is worth trying. A gentle, non-greasy option that will soothe your skin, not punish it. It might be the change of pace your skin's been waiting for.
Free from preservatives and animal products, it's a well-balanced all-around option.
Pros
Non-greasy, won't clog pores

May reduce skin oiliness

Soothing and balancing ingredients
Cons
Not suitable for dry skin

Strong aloe will affect those with allergies

Some find the scent unpleasant
---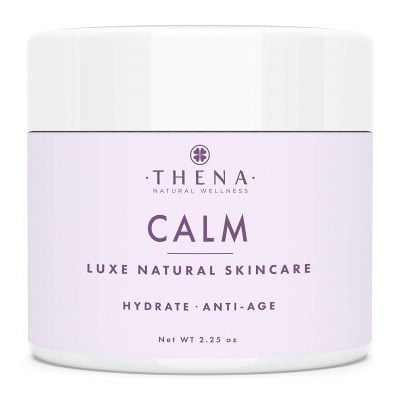 Why we like it:
Combining traditional herbal skin ingredients and some favorite modern ingredients, this cream bridges the gap between old school and the new.
Editor's Rating:
Quick Facts:
Skin Type: Dry, Aging
Main Ingredients: Hyaluronic Acid, Rosehip Seed Oil, Botanical Extracts
Vegan: Yes
Cruelty-Free: Yes
This moisturizer starts with a moisturizing cocktail of oils, including safflower oil, shea butter, avocado, and jojoba oils. These lock in an intense amount of hydration along with the humectant vegetable glycerin.
Most interestingly, though, this cream has a long list of botanical extracts to back up their modern skincare darling: hyaluronic acid. This acid has been a popular buzzword in skincare recently for its anti-aging properties. But herbs like witch hazel, calendula, and rosehip oil have been used in skincare compounds for centuries.
Just looking at these three herbal compounds (though the ingredients contain many more), their usages are impressive. Witch hazel is a popular astringent that can help reduce inflammation and skin irritations. Calendula (or marigold flowers) is used to correct redness and heal sunburns and skin irritation from eczema conditions. Rosehip oil is a natural source of Vitamin A (what retinol typically adds to a recipe) and can help improve skin texture and heal acne scars.
Downsides
Despite its impressive collection of gentle traditional herbs, this cream is also loaded with chemical preservatives. Phenoxyethanol is a chemical preservative that can make conditions like eczema worse and cause severe allergic reactions in some people. If you've ever reacted poorly to a product with this ingredient, it would be best to avoid this moisturizer.
It also includes titanium dioxide, a metallic whitening agent. While small amounts are approved for use in food in the US, other countries such as France have banned its use over long-term health concerns. While ingredients are metabolized somewhat differently when applied to the skin versus eating them, some may not be comfortable taking them into their body in any way.
If you're looking for deep moisture with a truly clean and simple ingredients list, our option from BeeFriendly will be your safest choice.
Why It Stands Out
If you're looking for a deeply penetrating moisturizer to help reduce redness and dry patches, this moisturizer will do the trick. Despite its deep hydration, it won't leave an oily residue on your skin.
Users who aren't sensitive to Phenoxyethanol may even find that it helps relieve some symptoms of several drying conditions. The nourishing oils and herbal extracts combine to help clear up the uncomfortable dryness caused by these conditions. The hyaluronic acid encourages your skin to heal better and replenish itself.
This is an excellent cream that, unfortunately, loses some confidence due to its inclusion of some problematic ingredients. If you're looking for a genuinely all-natural skincare solution, this isn't for you. If you don't mind some chemical additives, you may appreciate the other wonderful facets of this moisturizer.
Pros
Excellent for dry skin

No oily residue after use

Hyaluronic acid aids skin healing
Cons
Some ingredients are problematic

Not suitable for people with eczema
---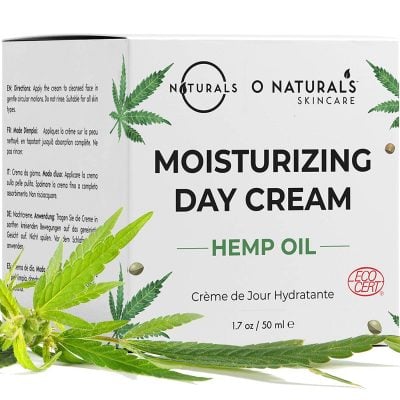 Why we like it:
Hemp seed oil is an excellent source of nutrients that can be helpful for several skin sensitivities.
Editor's Rating:
Quick Facts:
Skin Type: Sensitive, Aging
Main Ingredients: Hemp Oil, Hyaluronic Acid
Vegan: No
Cruelty-Free: Yes
Containing both Omega-3 and Omega-6, hemp seed oil is a potent source of skin nutrition that can help soothe the symptoms of conditions like psoriasis and acne.
This cream boosts its skin nourishment with hyaluronic acid, a popular additive that helps skin lubricate and heal itself. This gives it anti-aging properties and helps your skin deal with less-than-ideal environments, like dry indoor heating or excess sun.
Uniquely, this moisturizer also adds squalane into the mix. This lipid is produced by our bodies and keeps our skin supple. As we get older, production naturally decreases. By adding it back to your skin in a cream, you can see your skin texture improve, and it can help reduce the damage that ages your skin.
Downsides
Since the ingredients are naturally derived, there is some risk of separation that isn't found in products with synthetic emulsifiers. This moisturizer also does not have as long of a shelf-life as products with chemical preservatives and may develop a stale smell over time.
This cream contains added fragrance, which may bother those who are sensitive. Others may simply not like the scent.
Its thicker texture can make it take longer to absorb. You'll have to take a moment to rub it into your skin to ensure absorption. It's a heavier moisturizer than you may expect for a self-proclaimed day cream. If you prefer a lighter moisturizing cream, our choice from InstaNatural would probably suit you better.
Why It Stands Out
Overall, if you're looking for a hemp seed-based cream, this is one of the best options available. Particularly if you're struggling with a condition like psoriasis and looking for a solution that won't irritate your sensitivity, this provides hydrating moisture for people with those conditions.
Besides that, it supports aging skin, giving back the natural moisturizers you lose over time. It's a good choice to protect yourself from environmental damage and see more nourished skin day-to-day.
Pros
Hemp oil can soothe sensitive skin conditions

Helps heal environmental damage

Puts back moisture your skin losing while aging
Cons
Risk of separation

Shorter shelf-life

A heavier moisturizer than most day creams.
---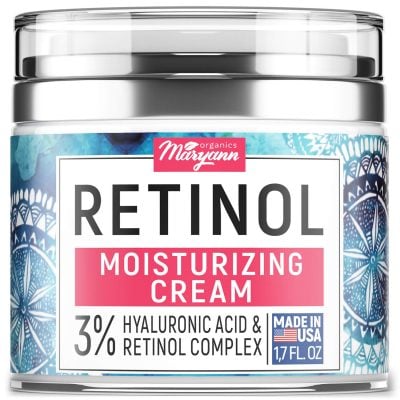 Why we like it:
You can help fight environmental damage and boost your natural collagen production with this retinol moisturizer.
Editor's Rating:
Quick Facts:
Skin Type: Aging
Main Ingredients: Retinol Complex, Jojoba oil, Hyaluronic Acid
Vegan: Yes
Cruelty-Free: Yes
This retinol cream is designed to help give aging skin the nourishment it needs. It combines popular ingredients like hyaluronic acid and retinol with traditional plant extracts and oils.
Gotu kola is an herb found in traditional Chinese medicine used to assist with skin healing. This combines with green tea, a powerful antioxidant that can fight UV damage, and retinol, a Vitamin A supplement that boosts collagen production. The intention is clear: this cream is meant to help your skin heal itself from environmental damage.
Downsides
While the company is called Maryann Organics, they've experienced some criticism over their use of synthetic compounds and preservatives in creams like this one while claiming to be "all-natural." Instead of using pure plant products, they use many chemical derivatives.
Retinol itself is a synthetic vitamin A added to various supplements. It can be harsh for those with sensitive skin. Preservatives such as potassium sorbate and imidazolidinyl urea are also included in the ingredient list of this cream. While potassium sorbate and vitamin A can be found in nature, imidazolidinyl urea is not. This chemical preserves products by creating formaldehyde within it.
There is strong evidence of allergens and irritation caused by formaldehyde releasers in skincare products. If you have a sensitivity to this ingredient or simply don't like the idea of slathering formaldehyde on your skin, try our pick from Instanatural that specifically guarantees the company's strong stance against formaldehyde releasers.
Why It Stands Out
Light and easy to apply with its pump applicator, this cream absorbs quickly. Many users will see results within just a couple of days when it comes to smoothing and hydration. It takes a little bit longer to see the effects of the collagen boosting.
For a product that costs a lot less than many department store brands and does attempt to use mainly natural compounds, it's surprisingly powerful. It provides daily moisture while gently softening fine lines and encouraging your skin to heal itself from environmental damage and the effects of aging.
Pros
Helps skin heal from UV damage

Boosts natural collagen production

Improves the look of skin quickly
Cons
Uses harsh synthetic versions of natural compounds

Has a formaldehyde-releasing preservative
---
The Know-Before-You-Buy Guide to Natural and Organic Moisturizers
In this section, we'll cover some information to help you decide which is the best natural and organic moisturizer for you. Whenever you are buying an all-natural or mainly plant-derived product, there are several things to keep in mind. You want to be as educated as possible when it comes to the product you're buying. This will help you have the best possible experience.
Issues With Natural Formulas
Since many of the moisturizers on our list rely on natural oils and plant extracts, there may be some inconsistency between batches. If you're used to mass-produced chemical compounds, this can be a little unnerving.
Many people will feel concerned or put-off if the moisturizer they bought a few months ago is slightly different from what arrived in the mail this week. Slight differences in color and consistency are relatively normal, though.
Depending on when plants are harvested and the conditions of their growing season, there may be slightly higher or lower levels of certain compounds in each batch. This can result in one batch looking more white and another looking more yellow. Or one being slightly runnier or having a stronger scent. This may or may not affect how your skin responds, but manufacturers do their best to ensure as much consistency as possible.
Many natural moisturizers use essential oils as well. These extra concentrated plant extracts can have many benefits; some will help control particular skin conditions or problems. However, some people may have allergic reactions to these very potent ingredients. They also aren't recommended for women who are nursing or pregnant.

Key Ingredients
It can be hard to decode labels. What exactly are all the things in your moisturizer? And more importantly, what do they do?
When it comes to looking for natural products, it can be even trickier because some ingredients, while naturally occurring, are synthetically reproduced to more easily blend into a formula. Whether or not you're comfortable with that definition of natural is up to you.
Vitamin C
Vitamin C isn't just for cold and flu season anymore. It has been a popular additive in serums and skin creams for many years. Most people tolerate topical forms of vitamin C well, and the benefits can be quickly visible.
Vitamin C has been shown to brighten up your complexion. It can reduce discoloration and even diminish dark circles under your eyes. For aging skin, it can be even more beneficial by encouraging your natural collagen production. Its antioxidant properties can protect you from the effects of environmental damage, particularly from UV.
Citric acid and ascorbic acid are forms of vitamin C that you may find in your skincare products. Citric acid is naturally found in citrus fruit and is often added to bottled fruit juices to preserve their freshness. Ascorbic acid is another naturally occurring form of vitamin C that is sometimes even used to treat scurvy since it packs such a nutritional punch.
Retinol
Retinol is a synthetic form of naturally occurring vitamin A. Retinol can sometimes be isolated from milk, eggs, or plant sources in the case of all-natural products. Some users and reviewers debate over whether it's a natural ingredient, but many people appreciate what it can do for their skin regardless.
Over-the-counter retinol products (as opposed to prescription creams you can get from the dermatologist) can take up to a few months to show a distinct improvement in your skin. Patience pays off, however. Retinols can improve your overall skin texture, particularly in aging skin. It can reduce the appearance of scarring, discoloration, and wrinkles over time.
While some users may experience a bit of redness or peeling after their first several applications of a retinol treatment, this is apparently normal. Those with sensitive skin should probably not use it every day, at least not until their skin acclimates to the strong product.

Hyaluronic Acid
Our body naturally produces hyaluronic acid to help lubricate our skin and joints. Scientists have found a way to recreate this substance so you can apply it if your skin needs a boost. Some people prefer to inject it rather than apply it for better absorption.
If you have environmentally damaged or aging skin, your face may not heal itself and retain moisture as it used to. Hyaluronic acid can increase your skin's moisture and encourage it to heal itself faster. Users may find relief from dryness and see acne scars heal when this ingredient is used regularly.
Over time, your skin can become plumper and firmer, better retaining moisture with the use of hyaluronic acid. Again, this is a natural compound, but in skincare products, it will be found in its synthetic form. Some people would prefer to boost their body's own stores of the acid by eating foods rich in it instead of using the synthetic form topically.
Green Tea
Green tea is a healthy afternoon sippable, and it's good for your skin. Talk about versatility. Many products have popped up in the market with green tea extracts over the last decade.
A powerful antioxidant and anti-inflammatory, green tea offers these therapeutic properties when applied topically. It can help balance oily and acne-prone skin gently. Evidence has also shown that it can help heal UV damage, reducing your risk for skin cancer. Repairing environmental damage can help reduce the signs of aging in skin as well.
Final Thoughts
When it comes to natural and organic moisturizers, there is a wide range of products that fall under that umbrella. Sometimes it means that only whole plant-based compounds are used. In other cases, synthetic versions of natural compounds are used. Sometimes even chemical preservatives creep in and truly stretch the definition of natural.
In this guide, we've tried to present you with a collection of products to suit everyone, no matter your reason for going natural and organic. Whether you're trying to avoid specific allergens, reducing the chemicals you take into your body every day or are trying to be kinder to Mother Earth, there are options available to you.
No matter your reasons or how natural you aim to be, we hope that our list will help you. Understanding your skin type and what allergen triggers you may have will allow you to choose products that are more likely to work for your skin. This will give you a better experience overall as you start your journey to improving your skin more naturally.