Top Picks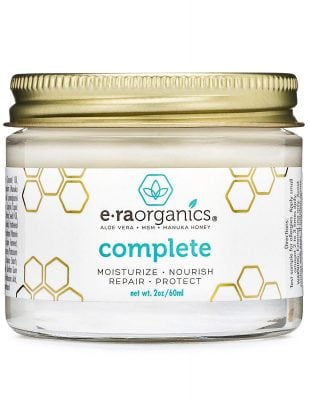 Era-Organics Natural & Organic Face Moisturizer Cream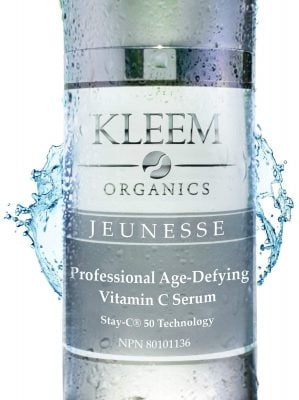 Kleem Organics Vitamin C Serum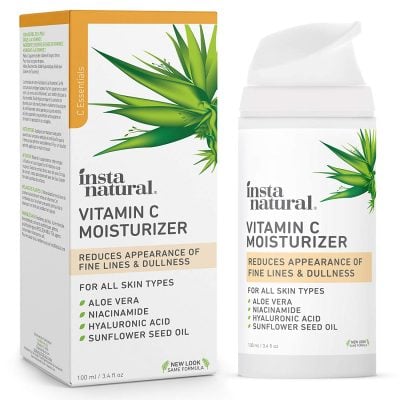 InstaNatural Vitamin C Moisturizer
Previous
Next
More and more, people are becoming interested in living healthier and more naturally. They're also realizing that putting something on your skin is just like eating: your body absorbs and processes any creams or makeup and passes it into your bloodstream. So you don't want to ruin a clean and healthy diet with less-than-clean skincare products.
Natural and or organic skincare products are also great if you have sensitivities to certain additives and preservatives. Still, there's a wide range of products that call themselves "natural" or "organic," so we'll help you figure out what it means and share some of our top product choices.
What You Need Know About Organic Moisturizers
Before you choose the right organic moisturizer for you, let's examine some of the most important things you need to know before you decide.
What Makes Something Natural or Organic?
Most body products don't have a USDA organic certification. Organic labeling is complicated and excludes some ingredients, but for the most part, it's a designation for consumable products. Only one item on our list is USDA certified. Many face products include too many non-consumable ingredients, which can make it harder to be certified. Most moisturizers labeled as organic will consist of a large percentage of organic ingredients without being organically certified.
Natural is a broad term, which typically means that most of the ingredients in the product are naturally derived. There is a range there too, however. Some products will only use things like plant extracts to provide certain compounds. Others will use compounds that are found in nature but are synthetically recreated for their recipe.
It's a complicated task to evaluate precisely how natural or organic these products are. Fortunately, we're here to help. Our guide will explain what the key ingredients are in a product and let you know if there are any potentially problematic additives included in a formula.
Active Ingredients to Consider
There are a variety of ingredients that may be in your organic or natural moisturizer, and which ones you should select depend on what you most need it to do. Vitamin C can help brighten your skin, retinol can improve skin texture, hyaluronic acid can lubricate your skin, and green tea offers therapeutic properties. We make sure and list the active ingredients in each product below. For an even more thorough look at what these ingredients do, check out our detailed guide.
Know Your Skin Type
There are several basic skin types, and each has its own set of needs. Throughout our guide, we've labeled moisturizers with the skin type they work best with to help you find one that will suit your skin.
Normal
If you have normal skin, you're pretty fortunate. Your skin is already reasonably balanced. It may still feel a little dry in the winter or have the occasional hormonal breakout. A light moisturizer will help it stay radiant and undo any day-to-day environmental damage.
Oily
People with oily skin tend to have a shiny complexion with more frequent breakouts. It can be tempting to think that you don't need moisturizer but neglecting to nourish it can cause your skin to over-produce oils and worsen the problem. A light, non-comedogenic moisturizer will help balance your skin.
Dry
Dry skin can cause redness, rough patches, and a tight feeling in your face. Too much sun or indoor heating can make it much worse. People with dry skin should find a moisturizer that deeply hydrates their skin. It may be advisable to moisturize twice a day, both in the morning and at night, and any time after you wash your face, you should follow it up with a moisturizer.
Sensitive
You may experience itching, redness, dry patches, and rashes if you have sensitive skin, and certain ingredients in skincare products may easily trigger these reactions. Skin can also be sensitive because of conditions like eczema or psoriasis. Choosing a gentle but nourishing moisturizer that is free from allergy-triggering ingredients will help you manage your condition.
Aging
While most aging skin also falls under one of the previous categories, it deserves special attention. Aging skin may start to lose plumpness and elasticity. Fine lines and wrinkles will begin to form, and your skin may become more sensitive or dry than it was before. Choosing a moisturizer with some extra benefits, such as one with retinol or hyaluronic acid, can help your skin repair itself and minimize the signs of aging.
Vegan and Cruelty-Free Certifications
Beyond the quality of the ingredients, you may be concerned about the ethics of a company. Companies that seek out cruelty-free certification and must pass a rigorous evaluation to gain a stamp of approval. Cruelty-free products are not tested in any way on animals.
Vegan products don't use any animal-derived products in their recipes. While many manufacturers highlight this fact on their packaging or website now, if we notice an ingredients list is entirely free from animal products, we'll note it in our product stats.
Ingredients like honey and beeswax are skin-nourishing natural compounds that many people enjoy using, so not every product on our list is vegan. But there are many great all-natural vegan options.
Next, we'll show you our top ten picks for the best natural and organic moisturizers.
Here's our list of ten products that offer a range of options depending on your skin type, budget, and preferences.
Top 10 Best Natural and Organic Moisturizers 2021
The Know-Before-You-Buy Guide to Natural and Organic Moisturizers
In this section, we'll cover some information to help you decide which is the best natural and organic moisturizer for you. Whenever you are buying an all-natural or mainly plant-derived product, there are several things to keep in mind. You want to be as educated as possible when it comes to the product you're buying. This will help you have the best possible experience.
Issues with Natural Formulas
Since many of the moisturizers on our list rely on natural oils and plant extracts, there may be some inconsistency between batches. If you're used to mass-produced chemical compounds, this can be a little unnerving.
Many people will feel concerned or put-off if the moisturizer they bought a few months ago is slightly different from what arrived in the mail this week. Slight differences in color and consistency are relatively normal, though.
Depending on when plants are harvested and the conditions of their growing season, there may be slightly higher or lower levels of certain compounds in each batch. This can result in one batch looking more white and another looking more yellow. Or one being slightly runnier or having a stronger scent. This may or may not affect how your skin responds, but manufacturers do their best to ensure as much consistency as possible.
Many natural moisturizers use essential oils as well. These extra concentrated plant extracts can have many benefits; some will help control particular skin conditions or problems. However, some people may have allergic reactions to these very potent ingredients. They also aren't recommended for women who are nursing or pregnant.

Key Ingredients
It can be hard to decode labels. What exactly are all the things in your moisturizer? And more importantly, what do they do?
When it comes to looking for natural products, it can be even trickier because some ingredients, while naturally occurring, are synthetically reproduced to more easily blend into a formula. Whether or not you're comfortable with that definition of natural is up to you.
Vitamin C
Vitamin C isn't just for cold and flu season anymore. It has been a popular additive in serums and skin creams for many years. Most people tolerate topical forms of vitamin C well, and the benefits can be quickly visible.
Vitamin C has been shown to brighten up your complexion. It can reduce discoloration and even diminish dark circles under your eyes. For aging skin, it can be even more beneficial by encouraging your natural collagen production. Its antioxidant properties can protect you from the effects of environmental damage, particularly from UV.
Citric acid and ascorbic acid are forms of vitamin C that you may find in your skincare products. Citric acid is naturally found in citrus fruit and is often added to bottled fruit juices to preserve their freshness. Ascorbic acid is another naturally occurring form of vitamin C that is sometimes even used to treat scurvy since it packs such a nutritional punch.
Retinol
Retinol is a synthetic form of naturally occurring vitamin A. Retinol can sometimes be isolated from milk, eggs, or plant sources in the case of all-natural products. Some users and reviewers debate over whether it's a natural ingredient, but many people appreciate what it can do for their skin regardless.
Over-the-counter retinol products (as opposed to prescription creams you can get from the dermatologist) can take up to a few months to show a distinct improvement in your skin. Patience pays off, however. Retinols can improve your overall skin texture, particularly in aging skin. It can reduce the appearance of scarring, discoloration, and wrinkles over time.
While some users may experience a bit of redness or peeling after their first several applications of a retinol treatment, this is apparently normal. Those with sensitive skin should probably not use it every day, at least not until their skin acclimates to the strong product.

Hyaluronic Acid
Our body naturally produces hyaluronic acid to help lubricate our skin and joints. Scientists have found a way to recreate this substance so you can apply it if your skin needs a boost. Some people prefer to inject it rather than apply it for better absorption.
If you have environmentally damaged or aging skin, your face may not heal itself and retain moisture as it used to. Hyaluronic acid can increase your skin's moisture and encourage it to heal itself faster. Users may find relief from dryness and see acne scars heal when this ingredient is used regularly.
Over time, your skin can become plumper and firmer, better retaining moisture with the use of hyaluronic acid. Again, this is a natural compound, but in skincare products, it will be found in its synthetic form. Some people would prefer to boost their body's own stores of the acid by eating foods rich in it instead of using the synthetic form topically.
Green Tea
Green tea is a healthy afternoon sippable, and it's good for your skin. Talk about versatility. Many products have popped up in the market with green tea extracts over the last decade.
A powerful antioxidant and anti-inflammatory, green tea offers these therapeutic properties when applied topically. It can help balance oily and acne-prone skin gently. Evidence has also shown that it can help heal UV damage, reducing your risk for skin cancer. Repairing environmental damage can help reduce the signs of aging in skin as well.
Final Thoughts
When it comes to natural and organic moisturizers, there is a wide range of products that fall under that umbrella. Sometimes it means that only whole plant-based compounds are used. In other cases, synthetic versions of natural compounds are used. Sometimes even chemical preservatives creep in and truly stretch the definition of natural.
In this guide, we've tried to present you with a collection of products to suit everyone, no matter your reason for going natural and organic. Whether you're trying to avoid specific allergens, reducing the chemicals you take into your body every day or are trying to be kinder to Mother Earth, there are options available to you.
No matter your reasons or how natural you aim to be, we hope that our list will help you. Understanding your skin type and what allergen triggers you may have will allow you to choose products that are more likely to work for your skin. This will give you a better experience overall as you start your journey to improving your skin more naturally.