Somewhere along the line, the world accepted it was normal for us to lather our faces and bodies with products full of chemical names we can't pronounce. If you've concluded that your skin might prefer something more natural than a cocktail of preservatives and artificial colors, you're in the right place.
Not everyone subscribes to the idea that organic and natural cosmetic products are necessary — but those people probably never had to worry about sensitive skin or allergic reactions. While there are plenty of people that don't have any issues with non-organic and non-natural face washes, others find great benefits from switching to more natural products.
Choosing the Right Organic and Natural Face Wash
For most people, the greatest objection to choosing organic products is a lack of education. The second objection? A higher price tag. If you've learned about these products and decided that keeping your skin healthy and radiant is worth a slightly higher cost, you at least want to be sure that the face wash you choose is living up to its promises. Here's how to select the right one.
Types of Face Washes
When you hear the word "face wash," do you think of a thick gel that foams when it comes into contact with water? Or a lighter, creamier product that moisturizes your skin?
Both types of products are sold under the label of a "face wash," so make sure you know what kind you're getting before you buy. A light, creamy substance is ideal for those with sensitive skin, while foaming gels are great for anyone with oilier skin.
However, bear in mind that organic face washes are often thinner and produce less foam since they contain fewer foaming detergents.
Certified Organic
If you're going to pay a higher-than-normal for a product, you want to be sure that it's genuinely organic and not just "organic." Beware of companies that choose an organic-sounding brand name but don't use organic ingredients. This is sometimes referred to as 'greenwashing.'
Instead, look for certification from an official organization. The main ones are NSF/ANSI 305 Standard for Personal Care Products Containing Organic Ingredients and the USDA National Organic Program. Some products simply say they use "organic extracts" — while this sometimes indicates good quality and at least shows there are some organic ingredients, these products aren't fully organic.
Are Natural Products Always Organic?
An organic product must be natural, but a natural product isn't always organic. For instance, a "natural" face wash might contain ingredients like lavender and coconut oil grown using GMOs or pesticides. This would mean the product is not organic.
If your priority is finding a product that's as natural as possible, look for products that don't contain parabens, synthetic colors, or fragrances, phthalates, sulfates, and formaldehyde.
As for whether it's necessary for you to buy organic, that's a whole other question.
Cruelty-Free and Vegan
As a general rule, natural and organic cosmetic products tend to be vegan and cruelty-free — but this isn't always the case. To be sure, look for the "leaping bunny" symbol, which means a product is certified by the Coalition for Consumer Information on Cosmetics (CCIC) to be cruelty-free, although not necessarily vegan.
Some vegans also prefer to avoid petroleum-based products since it's harmful for the environment (and for our bodies).
Skin Type
Is your skin oily, dry, or combination? How about sensitive? Make sure you know your skin type before you buy a face wash.
If your skin is oily or acne-prone, you might want to choose a product with special ingredients to tackle pimples, like salicylic acid or glycolic acid. The Botanic Tree face wash is a great example. If you have dry skin, choose something more moisturizing that doesn't strip your natural oils so much.
Those with sensitive skin should avoid harsh and synthetic ingredients, so natural and organic options can be particularly helpful. The ACURE soothing facial wash could be a good choice.
Allergic Reactions
One of the top reasons people turn to organic or natural products is to prevent allergic reactions and contact-based dermatitis or irritation.
Irritants in cosmetic products are a relatively complex topic, but the most common allergens include acids, synthetic fragrances, sulfates, and even essential oils — although they're natural, they're also very strong and can irritate some people.
If allergens are a problem for you or if you have sensitive skin, look out for face washes labeled as "non-comedogenic" or "hypoallergenic," like this Christina Moss face wash that eliminate the most troublesome ingredients.
Top 10 Best Natural and Organic Face Washes 2023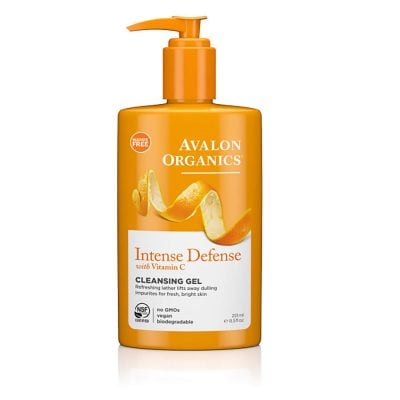 Why we like it:
It's an NSF and USDA certified organic product packed full of great ingredients at an affordable price. Fight everything from aging to sun damage without exposing yourself to damaging ingredients.
Editor's Rating:
Quick Facts:
Size: 8.5 Fl Oz
Type: Foaming gel
Cruelty-free: Yes
Certified organic: Yes
Ideal skin type: Oily/normal
Free from: Parabens, harmful sulfates, GMOs, preservatives, synthetic colors, and phthalates.
Fragrance: Orange (but there are no synthetic fragrances).
As an all-organic brand, Avalon cares about creating gentle, pure formulas that won't expose your skin to harsh chemicals. An extra bonus is the promise to tackle aging (for you) and environmental damage (for the world). All this comes at a relatively affordable cost for a premium product.
It's best for normal/combination or oily skin — those with sensitive or dry skin might find it too drying thanks to the strength of the ingredients.
Ingredient Quality
The ingredients list couldn't be much cleaner — it's free of just about anything harmful and uses a range of plant-based ingredients instead.
Marketed as being an "Intense Defense" product, the combination of Vitamin C, white tea, and lemon bioflavonoids is a formidable one. Vitamin C helps to even your skin tone and keep the skin firm, and citrus bioflavonoids support Vitamin C in the body while brightening the skin. Finally, white tea fights off signs of aging, like sagginess and wrinkles.
Overall, the mix of ingredients helps to repair the skin from signs of sun damage like dark spots while keeping it looking youthful.
However, there are a few ingredients to be careful of – it contains the cheap preservatives sodium benzoate and benzyl alcohol. These aren't the worst things in the world, but some people like to steer clear of alcohol as an ingredient.
Pros
Certified organic

Free of most harmful chemicals

Fights aging and sun damage
Cons
Contains benzyl alcohol and sodium benzoate
---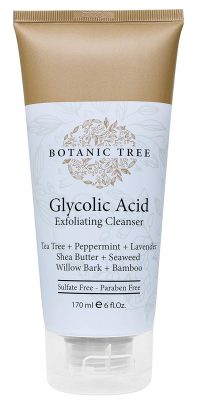 Why we like it:
If you want a product that can tackle your acne and wrinkles simultaneously without using synthetic ingredients, you can't do much better than this.
Editor's Rating:
Quick Facts:
Size: 6 Fl Oz
Type: Exfoliating, non-foaming cleanser.
Cruelty-free: Yes
Certified organic: No, but it's made with organic extracts.
Ideal skin type: Oily/acne-prone
Free from: Parabens and sulfates.
Fragrance: Tea tree.
If you want something to kick your skin into shape after struggling with acne or signs of aging, Botanic Tree's face wash could fit the bill. It's an exfoliant that will penetrate and rejuvenate your skin while helping remove dead skin.
The only downside is that Botanic Tree uses organic extracts rather than being certified as organic, which is surprising for the high price tag. But if your priority is natural ingredients rather than avoiding GMOs, this is less of an issue. It's also made in the USA.
Ingredient Quality
Although there's a strong link between ingredient quality and organic ingredients, the distinction is not always so simple. A quick look at this product's ingredients list points to excellent quality.
As an exfoliant, the face wash contains alpha hydroxy acid (AHA), which helps remove dead skin cells. Don't worry, it's natural — AHA is a naturally-occurring acid that comes from fruit.
The star ingredient is glycolic acid, which is well known for tackling acne. This face wash contains a 10% concentration, making it effective at tackling severe conditions like cystic acne. A second item helpful for treating acne is salicylic acid.
Further ingredients are bamboo, shea butter, tea tree, will bark, seaweed, peppermint, and lavender. These are the organic extracts and help with discoloration, acne scars, sun spots, and other skin issues.
Pros
Contains 10% glycolic acid to tackle cystic acne

Fights aging

Cruelty-free
---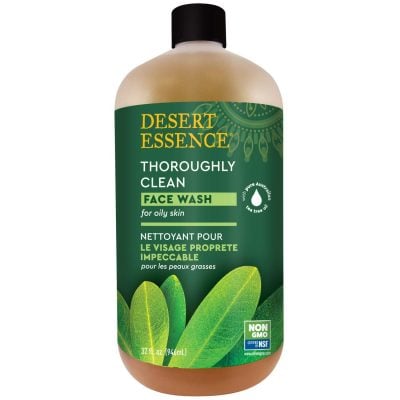 Why we like it:
This huge bottle of face wash costs the same as products a fraction of its size, yet it doesn't compromise on quality. Free of GMOs, sulfates, and parabens with a host of pure and plant-based ingredients, you can't go wrong.
Editor's Rating:
Quick Facts:
Size: 32 Fl Oz
Type: Thin, lightly foaming liquid.
Cruelty-free: Yes
Certified organic: No (only the tea tree is certified as organic)
Ideal skin type: Oily
Free from: Sulfates, parabens, GMOs, phthalates, petroleum compounds, PEGs, PPGs, MEA, DEA, TEA, gluten, and phthalates.
Fragrance: No synthetic fragrances.
Although organic products get a reputation for being overly pricey, this face wash shows that this isn't always the case. It might not quite have full organic certification from the NSF or USDA, but the NSF certifies it as being GMO-free. Also, it's made in the USA.
Unlike most face washes, the Desert Essence face wash doesn't foam. This is a good thing for those who prioritize natural ingredients, because foaming is an indicator of artificial thickeners and detergents. However, those who like the foaming cleansers could be disappointed at the unconventional texture.
Ingredient Quality
Desert Essence focuses heavily on the pure Australian tea tree oil, which makes this face wash ideal for those with oily skin.
It also features three other essential oils: lavender, chamomile, and calendula. These are antioxidants to rejuvenate and nourish your skin.
Another major ingredient is castile soap, known for penetrating pores and aiding oily skin without being too harsh on sensitive skin. It's a lifesaver for anyone struggling to manage both oily and sensitive skin, although it can be drying.
It's free of animal-derived ingredients and almost all problematic ingredients, as outlined in the impressive "free-from" list above.
Pros
Price effective

Very natural ingredients

Made in the USA
Cons
Not fully organic

Thin and watery
---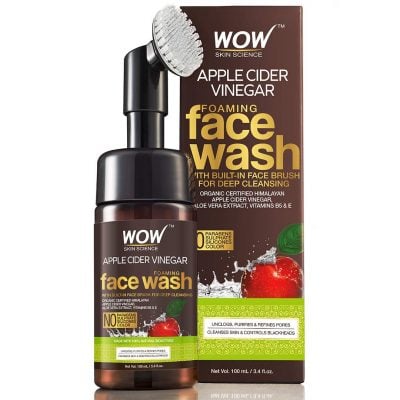 Why we like it:
It can be a minefield to figure out which face wash you should choose, but the WOW face wash is suitable for almost all skin types. Apple cider vinegar is a magic bullet for oily and dry skin and it even comes with a face brush for easy application.
Editor's Rating:
Quick Facts:
Size: 3.4 Fl Oz
Type: Foaming gel
Cruelty-free: Yes
Certified organic: Yes
Ideal skin type: All
Free from: Parabens, sulfates, silicones, and artificial colors.
Fragrance: Aloe vera
WOW is an India-based brand that focuses on bioactive ingredients with no animal testing and has organic certification. It's a great start already.
But having a great skincare routine isn't just about using the right face wash – you also need to apply it to your face properly. WOW includes a silicone brush built into the bottle of this face wash, which is great for massaging your skin, boosting circulation, and removing dead skin cells.
Ingredient Quality
Apple cider vinegar has a wealth of health benefits, but as an extremely acidic ingredient, it does an especially good job of balancing the skin's pH and cleansing pores. Be careful as it can dry out skin for some.
Those with sensitive or dry skin will be pleased to know that there are soothing, moisturizing ingredients too. The aloe vera does a good job of moisturizing and fighting dryness, and vitamins B5 and E also promote hydration.
Finally, tocopheryl acetate is an antioxidant that protects skin of all types from damage.
However, like many other face washes, it has the preservative sodium benzoate.
Pros
Suitable for all skin types

Great, natural ingredients

Comes with a helpful brush
Cons
Contains sodium benzoate

Can dry out skin in some cases
---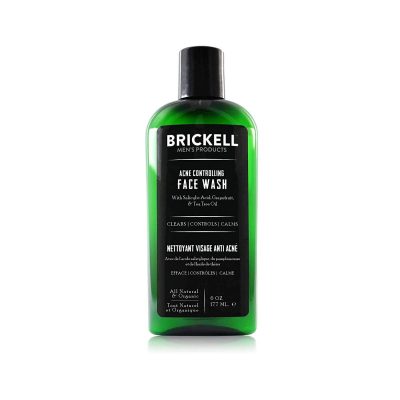 Why we like it:
Men don't have many options in the world of organic cosmetic products, but this Brickell face wash offers a fantastic option. It's full of pure ingredients to help tackle acne.
Editor's Rating:
Quick Facts:
Size: 7.5 Fl Oz
Type: Lightly foaming
Cruelty-free: Unclear
Certified organic: Yes
Ideal skin type: Acne-prone
Free from: Sulfates, parabens, glycols, PEGs, synthetic fragrances, gluten, phthalates, and petrochemicals.
Fragrance: Tea tree and grapefruit.
Brickell is a new skincare brand that has attracted attention from customers and prestigious magazines alike. With good reason — this is one of the few certified organic face washes targeted for men on the market, although men can really use any face wash.
Although on the pricey side, this facial wash is a fabulous and organic option for men who struggle with acne.
However, the cruelty-free status is unclear. Brickell itself claims its products are cruelty-free, but this face wash doesn't have an official Leaping Bunny certification. Those sensitive to animal testing might want to steer clear just in case.
Ingredient Quality
It contains a concentration of 2% salicylic acid to prevent acne. However, this is a lot less than the stronger 10% concentration of Botanic Tree. If you suffer from severe acne, you might need something stronger
Further staples are the classic anti-acne ingredient tea tree oil and the lesser-known tool grapefruit oil — both are natural antibacterials that preserve the product and clean skin. The mix of these three pimple fighters is ideal for clearing your skin, tackling impurities, and maintaining a long shelf life.
Everything is certified organic, and the solution is free of most nasty items, from gluten to petrochemicals. Overall, the ingredients list leaves little to complain about, but it contains the cheap preservative sodium benzoate, which could be disappointing for some.
Pros
Great for fighting acne

Free of most troublesome ingredients

Certified organic
Cons
Expensive

Cruelty-free status unclear
---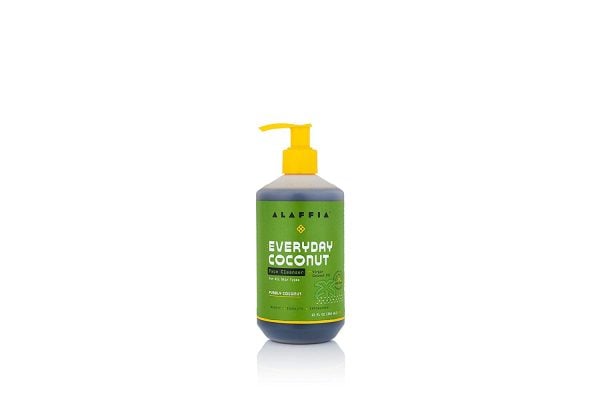 Why we like it:
It's unusual to find any cosmetic product with a single-digit number of ingredients, but Alaffia has managed to pull it off. Talk about natural! If that wasn't enough to convince you, it's also made only with fair-trade ingredients.
Editor's Rating:
Quick Facts:
Size: 12 Fl Oz
Type: Foaming
Cruelty-free: Yes
Certified organic: No
Ideal skin type: All skin types
Free from: Parabens, sulfates, gluten, dye.
Fragrance: Coconut and neem
Every time you buy from Alaffia, they donate money to good causes such as maternal care, school supplies, and reforestation. If you need something to justify splurging out on an organic, natural face wash, you just found it.                                                       
Ingredient Quality
With such a small ingredients list, it's easy to scan through everything inside this face wash. We can confirm that there's nothing harmful in sight.
The main ingredients are virgin coconut oil, papaya leaf, and neem. Coconut oil is antibacterial and nourishes the skin, while neem is an antioxidant great for protecting the skin from the sun and even the aging process. Papaya leaf also protects against aging and pimples.
The only downside of the face wash is that it isn't certified organic, although it does pull off a fair trade certification.
Pros
Fair trade

Very natural

Minimal ingredients
---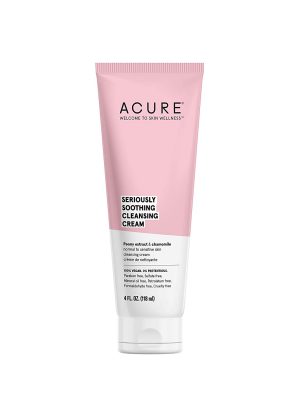 Why we like it:
Lots of face washes on the market take an approach to tackling problems like acne and aging that's too aggressive for more sensitive skin types. ACURE knows that and has created a great alternative.
Editor's Rating:
Quick Facts:
Size: 4 Fl Oz
Type: Creamy
Cruelty-free: Yes
Certified organic: Yes
Ideal skin type: Sensitive and dry
Free from: Sulfates, mineral oil, parabens, and formaldehyde.
Fragrance: Citrus
Unlike lots of the foaming gels on the market, Acure has produced a face wash designed to moisturize. This is far gentler than many foaming products, which are designed to strip your skin.
ACURE also has lines targeted at different skin types (e.g. aging and acne-prone). Check them out if you have more sensitive skin.
Ingredient Quality
Coconut oil is a major ingredient, which contributes to nourishing the skin. There's also a blend of argan oil (another moisturizer), peony extract (an anti-inflammatory to soothe the skin), and sunflower amino acids (protect against inflammation and damage). Naturally, they're all organic.
Although there are no standout "red-flag" items, there's a very long list of ingredients, which doesn't exactly scream simple. Also, the main ingredient is water. Although water isn't harmful, it's a filler ingredient that will evaporate on your skin, and can increase dryness. This is disappointing for a relatively expensive facial wash.
Pros
Certified cruelty-free and vegan

Ingredients are certified organic

Moisturizing
Cons
Long ingredients list

The main ingredient is water
---
8.

Best Makeup-Removing Natural Facial Wash:

Organys Cleansing Oil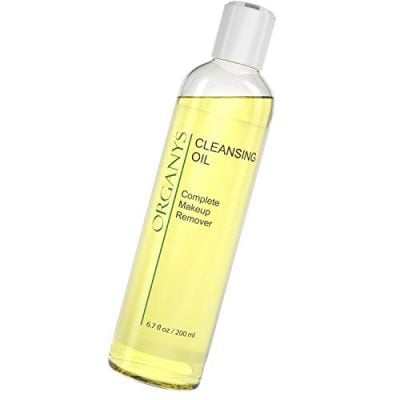 Why we like it:
If you wear makeup, it's crucial to take care of your skin and make sure it's free of impurities by the end of the day. This cleansing oil does a great job of removing it while also caring for your skin.
Editor's Rating:
Quick Facts:
Size: 6.7 Fl Oz
Type: Cleansing oil
Cruelty-free: Yes
Certified organic: No
Ideal skin type: All skin types
Free from: Parabens and sulfates
Fragrance: Light
Another rare gem that's suitable for skin of all kinds, the Organys face wash does a great job of managing your natural oils. It won't strip your skin, keeps your face hydrated, and also gets into your pores to tackle acne.
Unlike the other facial washes on this list, it's a cleansing oil rather than a cream or gel, since this is more effective at getting rid of makeup. This is also good news for those with sensitive skin, who may struggle with soapy, lathering formulations.
The application process is very similar to most on the list — just massage it onto your face and wash it off.
Ingredient Quality
The ingredients list here is extremely minimal and couldn't be much more natural.
The base ingredient is olive oil. It's not just a cooking oil — it also hydrates the skin and even helps with acne. There's also Vitamin E, an antioxidant that fights against damage to the skin from external stressors.
Other than this, there are only two other ingredients: PEG-20 Glyceryl Triisostearate, caprylic triglyceride, and geranium oil. Some believe PEGs could be harmful for sensitive skin, but it hasn't been confirmed.
Despite the slightly misleading name, Organys isn't actually organic. Is that a big deal when the ingredients are all-natural? You decide.
Pros
Suitable for all skin types

Removes makeup

Very few ingredients
Cons
Not certified organic

Contains a PEG
---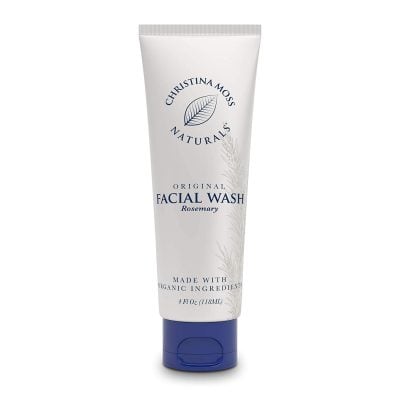 Why we like it:
Anyone who suffers from allergies or sensitive skin will appreciate this hypoallergenic face wash, engineered to soothe even the fussiest faces.
Editor's Rating:
Quick Facts:
Size: 4 Fl Oz
Type: Foaming liquid
Cruelty-free: Yes
Certified organic: Yes
Free from: SLS, dyes, propylene glycol, sulfates, SLES, and parabens.
Fragrance: Rosemary
If your skin is prone to allergies and sensitives, you'll have to pay for it — figuratively through the stress it causes you, and literally through buying products like this. This Christina Moss hypoallergenic face wash works out as costing more than $5 per ounce, although the brand is quick to point out that you don't need to use much of it to get good results.
As well as the cost, another issue is the bottle design. It's prone to leaks as it doesn't properly seal in the liquid, meaning that not only are you losing money drop by drop, you're also wasting the product.
However, it does what it promises by providing a hypoallergenic option. Also, Christina Moss offers a refund if you're not satisfied with the product within the first six months.
Ingredient Quality
As you'd expect, the ingredients list is simple. In addition to the lack of bad chemicals, there are no preservatives at all.
Rosemary essential oil and flower extract cleanse your skin with their antiseptic properties and protect your skin from damage.
These are accompanied by various oils, like hydrating coconut oil and the antioxidant olive fruit oil. Finally, aloe vera juice adds an extra soothing touch.
Pros
Hypoallergenic

Free from bad chemicals

Very few ingredients
Cons
Expensive

Poor bottle design
---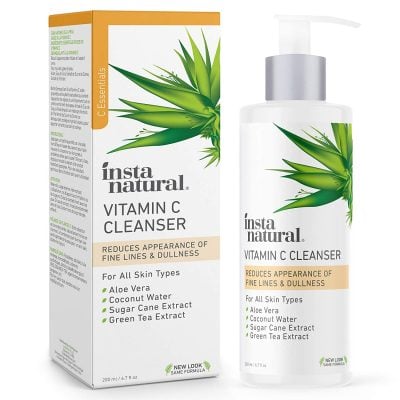 Why we like it:
This is a facial wash that does it all — exfoliates, fights the aging process, and tackles acne. It's also composed of a very natural ingredient list.
Editor's Rating:
Quick Facts:
Size: 6.7 Fl Oz
Type: Lightly foaming soap
Cruelty-free: Yes
Certified organic: No
Ideal skin type: All types
Free from: Parabens, SLS/SLES, mineral oil, formaldehyde, synthetic dyes, petroleum, PEGs, and DEA/MEA/TEA
Fragrance: Unscented
This unscented and all-natural product is a lightly-foaming cleanser that helps strip oil from the face, helping the face stay bright and beautiful. All Insta Natural products are made in the USA and free from a wide range of bad chemicals.
Ingredient Quality
Vitamin C is a popular ingredient in face washes, and the Insta Natural cleanser is no exception. This citric touch promotes brightness and radiance.
There's also coconut water, sugar cane extract, and green tea extract to keep your skin extra lively and fight signs of aging, like dark spots and wrinkles.
Our main qualm is that the top ingredient is water, which is a waste of space and can contribute to skin drying. It's also not organic, but since the majority of ingredients are natural, we can let it slide a bit.
Pros
Free from most bad ingredients

Suitable for all skin types

Has various functions
Cons
Not organic

The top ingredient is water
---
Selecting a Natural Facewash
Still not sure which organic and natural facial wash is the one for you? We're here to answer all those burning questions, including the ones you never knew you had.

How Important Is Buying Organic?
Ah, the million-dollar question. Do you really need an organic face wash, or will something simply labeled 'natural' suffice? If you're reading this, chances are you don't think organic products are a complete waste of time, but let's take a look at both sides.
First, it's important to point out that any brand can claim to be "natural," no matter how many chemicals and synthetic preservatives they use — the term is not regulated. On the other hand, a company can't stick an "organic" label on a product unless it has certification from an official regulating body like the USDA.
This doesn't mean that every non-organic product is a load of rubbish — the ones we included certainly aren't! For example, the Organys cleansing oil isn't certified organic, but has the least amount of ingredients on its list, and they're all-natural.
On the other hand, there are certified organic products on this list that contain preservatives that some people choose to avoid like sodium benzoate.
However, if you want a truly 100% natural product in the way most people think of it, you'll need to go organic. A face wash might be made entirely of coconut oil and rosemary oil, but unless they're organic ingredients, they could come from plants sprayed with pesticides.
Pesticides and GMOs
Pesticides and fertilizers have been long accepted as a normal part of modern farming practices, but that doesn't mean they're good for us.
Although you're (hopefully) not eating your face wash, we can still absorb harmful chemicals from pesticides through our skin. These chemicals then contribute to the overall chemical burden in our body, leading to all kinds of illnesses. For example, sweet almond oil and cocoa butter commonly contain pesticides — but they're also both common ingredients in conventional cosmetic products.
Then we come to the controversial topic of GMOs. Depending on who you ask, they're destroying our ecosystem and health or helping the world distribute resources more evenly. It's confusing to know what to shop for.
Farmers like to use GMO crops to get a better yield cost-effectively. For example, modifications of canola oil help it produce more lauric acid — a staple ingredient in soaps.
According to the FDA, these genetically modified crops are safe. Still, the Organic Consumers Association and Greenpeace disagree, believing we don't know enough about the long-term effects of these substances. If you want to tread carefully, organic is the way forward, although most scientists agree that the possibility of being harmed via GMO products in cosmetics is unlikely.
Buying Organic and Natural for the Environment
On top of having benefits for the body, organic products are better for the environment — pesticides and fertilizers can kill wildlife, pollute water sources, and damage ecosystems.
While organic farming practices aren't perfect and can still cause a negative environmental impact, scientists say buying organic, natural products is definitively better for the earth.
Harmful Ingredients and Why You Should Avoid Them
We've consistently badmouthed ingredients like parabens and phthalates without ever really explaining why. Fear not — here's a comprehensive guide to every controversial cosmetic ingredient under the sun.
Parabens
Parabens are one of the most common chemicals out there, and they have some problematic side effects. They're endocrine-disrupting chemicals, which means they disrupt how our endocrine system works.
Since the endocrine system holds hormones that affect everything from our mood to our sleep to pubescent development, this isn't something to take lightly.
Thankfully, none of the products on this list contain parabens — never buy anything that claims to be "natural" yet has them listed as an ingredient.
Sulfates
Sulfates are prevalent in all kinds of everyday products — not just face washes but also toothpaste, shampoo, and more. There are various kinds, but the most common by far are sodium lauryl sulfate (SLS) and sodium laureth sulfate (SLES).
Although there isn't definitive proof that sulfates are harmful, we do know they strip away our natural moisture and protective barrier. This has a drying effect and leaves us more vulnerable to toxins in the environment and can cause flaking and skin dryness.
Again, none of the products on this list contain sulfates.
Glycols and Phthalates
Most people with even the smallest knowledge of skincare products have a vague idea that sulfates and parabens aren't a good thing, but a slightly lesser-known bad ingredient are products called phthalates. In this same family are glycols, both are used to prevent bacterial growth in cosmetics.
Like parabens, phthalates are endocrine-disrupting chemicals. Researchers are still unsure how exactly they interact with parabens, but it's unlikely to be good news.
Petroleum Compounds
Any ingredients derived from petroleum are bad – not just for the skin, but also the environment. Mineral oil, petroleum jelly, and paraffin all fit into that category.
Applying items with these ingredients to the skin can get them into our bodies, contributing to our chemical load. Even worse, some of them might be carcinogenic.
Petroleum jelly is a common favorite among those with dry skin, but why not try a creamy yet natural face wash like the ACURE facial wash instead?

PEGs and PPG
Polyethylene glycols (PEGs) are also made from petroleum. Used mostly to thicken cosmetic products, they can irritate and damage the skin. Anyone with sensitive skin should avoid them, especially as PEGs make it easier for the skin to absorb other harmful chemicals.
Polypropylene glycols (PPG) is slightly less common, but also linked to skin irritation.
The Desert Essence face wash is a great, affordable option free of both PPGs and PEGs.
Formaldehyde
People are accustomed to hearing about formaldehyde in high school bio, but most don't know it's found in many face washes, plus other cosmetic products like nail polish. What is it? A harsh preservative that is known to be carcinogenic— yikes. Need we explain why this is so harmful?
Formaldehyde has links with cancer and skin irritation. If you'd rather avoid it, check out a product like Insta Natural facial cleanser, although none of the products on our list contain formaldehyde.
MEA, DEA, and TEAs
MEA, DEA, and TEAs are ethanolamine compounds: they control pH and fragrance. Commonly found in sun lotions and cleaning products, they also make appearances in cosmetics and face washes.
These compounds are so risky that the European Union has banned them, but they still appear in some products sold in the US. Avoid, avoid, avoid.
Synthetic Dyes, Colors, and Fragrances
We all love a cosmetic product that looks good and smells good. Unfortunately, that comes at a cost.
Synthetic colors and fragrances are notorious for irritating the skin, and anyone with sensitive skin shouldn't think twice about avoiding them. In fact, even natural fragrances like essential oils can cause irritation sometimes.

Alcohol
You might be used to seeing alcohol as an ingredient in face washes, but that doesn't automatically mean it's safe.
To be fair, alcohol as an ingredient isn't always a bad thing — there are some "good alcohols' that can eliminate bacteria in cosmetics. However, others dry our skin. For many people, alcohol isn't the worst ingredient in the world, but if you have sensitive or dry skin already, it could lead to inflammation or redness.

Finding the Right Face Wash for Your Skin Type
Everyone's unique, as you've probably heard multiple times from well-wishers in your life. When it comes to skincare, it's more true and important than ever! To get that smooth, clean skin you've been dreaming about, make sure to choose the right face wash for your skin type.
Oily or Acne-Prone Skin
If your skin is naturally shiny or you're always getting pimples, chances are you have oily skin. Face washes for oily skin are also helpful for those with a skin condition like cystic acne.
Glycolic acid and salicylic are two of the best ingredients out there for looking after oily skin. The Botanic Tree face wash contains a 10% concentration of glycolic acid, making it particularly effective in eliminating oil.
However, these acids can dry out skin and be harsh for people with sensitive or eczema-prone skin. For some with oily skin, extracts like tea tree are also helpful.
Dry Skin
Some face washes aim to give you a "squeaky clean" finish, stripping oil from your face. This can be great for people with oily skin, but it's far from ideal for those with dry skin. Instead, you should be looking for something that can nourish and moisturize your face while cleaning it.
Ingredients like coconut oil and aloe vera are ideal for this. The WOW face wash is suitable for dry skin and contains aloe vera.
You might also want to try the ACURE facial wash, our top choice for sensitive skin.
Sensitive Skin
Sensitive skin is one of the most challenging skin types to care for — even if you go through the ingredients with a fine-tooth comb, it's hard to predict exactly which ingredients can irritate your skin. Avoid chemicals and go for something as natural as possible.
The the ACURE facial wash is free of harmful chemicals, fully organic, and contains anti-inflammatory ingredients.
If your skin is so sensitive that you struggle with allergens, consider using a hypoallergenic option like the Christina Moss Naturals face wash.
Combination Skin
Do you have combination skin? That could either mean you've hit the jackpot, or you have the worst of both worlds — some people struggle with both acne and flakiness, while others simply have no noticeable skin problems.
The WOW face wash has ingredients to tackle both dryness and pimples, so it could be a good option if you have combination skin.
FAQs
Still got some questions? No worries – we have the answers.
Why Use Organic Face Washes?
Organic face washes don't contain chemicals, GMO ingredients, or anything cultivated with pesticides and artificial fertilizers. This keeps us safe from ingredients that can potentially cause damage in our bodies, with links to everything from cancer to hormone disruption. Since the ingredients in non-organic face washes can increase pollution and harm wildlife, it's also better for the environment to go for an organic option. Remember, though, many non-natural facewashes can also be effective and safe.
Are Natural Face Washes Better?
Just because something says it's natural, it doesn't necessarily mean it's better or safer— the term "natural" is often used loosely and isn't regulated. However, many common chemicals found in conventional cosmetic products can be harmful for our bodies and the environment. If a face wash uses only natural and organic ingredients, it can provide benefits to your skin.
How Do I Use an Organic Face Wash?
Every face wash comes with its own instructions, but you can use most of them in the same way as you would a regular face wash. Simply apply the wash to the skin, massage it in, and wash it after your face is cleaned thoroughly. Make sure to use it alongside other organic skincare products such as organic moisturizers or natural body washes to get the most benefits.
How Can I Make an Organic Face Wash at Home?
It's possible to make an organic and natural face wash at home — Pinterest and YouTube are great places to start looking for recipes and resources. However, you must make sure you do your research because of how different ingredients can react with each other.
How Do I Store Natural Face Wash?
Store your face wash in a dry, dark, and cool environment to make it last as long as possible. Since organic products contain fewer preservatives and chemicals than conventional cosmetic products, they often expire sooner. After around six months, expect ingredients to start degrading.
Next Step: Great Skin
With so many ingredients to learn about and questions to answer (do you care about GMOs? Is your skin dry or oily?), it's possible you're suffering from information overload right now. If so, it's okay to take a step back and process all this information before choosing the best face wash for you.
Give yourself a pat on the back. By choosing a natural and organic face wash, you're going the extra mile for your skin and guaranteeing its long-term health. Your future self will thank you for it!