Lip plumping glosses can be a fun way to add fullness to your lips without expensive and invasive injections. With a variety of formulas and shades, picking one that works the way you want it to and coordinates with the rest of your look can be a challenge.
Use our guide below to learn more about what makes a great lip plumping gloss and how to maximize the results you get from one. You'll also find our top 9 favorite lip plumping glosses for 2021!
How to Choose the Best Lip Plumping Gloss
The most important factor to consider in a lip plumping gloss is the formula. That is, what ingredients does it use to create a fuller, plumper look? Before we dive into specific ingredients, let's talk about what makes a lip plumping gloss different from your everyday lip gloss:
How Do Lip Plumping Glosses Work?
Lip plumping glosses usually work by either causing your lips to swell slightly or by rehydrating them and stimulating collagen production. Many lip plumping formulas use a blend of ingredients that can do both.
Stimulating Ingredients
Ingredients that cause swelling usually do so by stimulating blood flow. This includes ingredients like menthol, capsaicin, and caffeine that create a tingling or hot sensation on your lips.
The benefit of the blood flow stimulation formulas is a more immediate and more dramatic result. As blood flow increases, your lips swell up gently and can also become a little darker in shade, creating a natural, youthful look.
The drawback is that many of the ingredients used to stimulate blood flow might cause irritation. For example, capsaicin-based formulas can create a burning sensation that some people won't enjoy. Another drawback is that results are temporary. You'll need to reapply the gloss every 1-4 hours to maintain the look. For these reasons, we've avoided this common ingredient in favor of gentler—yet just as effective—alternatives.
Hydrating Ingredients
Hydrating ingredients include natural oils, hyaluronic acid, and other deeply moisturizing options that not only help fill in wrinkles but can also stimulate collagen production so that lips remain full, even on days that you don't use your lip plumping gloss.
The benefit of a collagen-promoting gloss is that they are far less irritating. Those with sensitive skin or allergies are much less likely to have a reaction to these formulas. Collagen production is also more long term. It doesn't disappear in a few hours.
However, the drawback is that the immediate result is only mild. Your lips will look softer and you'll have some mild plumping effects from the fact that they are better hydrated. However, it's not as dramatic as a tingly formula that draws blood to the lips.
So, a moisturizing formula provides less impressive immediate results but more impressive long-term results. A stimulating formula does the reverse: more impressive immediate results but little to no long-term results.
Some common hydrating lip plumping ingredients include:
Hyaluronic acid
Coconut oil and other plant oils
Peptides
Beeswax
Tint
In addition to the lip plumping effects, you also want to consider what the gloss looks like on your lips. While you can choose from a range of tints, you can also get a clear coat.
A tinted gloss is great if you want to use it on its own or in combination with a lipstick in a complementary shade. A clear gloss is best if you always plan to wear it with lipstick and don't want to worry about whether it will match your shade or not.
Once you know what kind of formula and ingredients you're looking for, choosing the perfect lip plumping gloss will be a lot easier. Check out some of our favorite options below!
Top 8 Best Lip Plumping Glosses 2023

Why we like it:
Caffeine stimulates blood flow without that burning sensation while hyaluronic acid and peptides get beneath the surface for plumper lips that last.
Editor's Rating:
Quick Facts:
Hydrating Ingredients: Hyaluronic Acid, Peptides
Stimulating Ingredients: Caffeine
Tints: 3 options available
This affordable lip gloss provides premium results with a formula that's gentle enough for all skin types. Get one of the pink shades to wear as a standalone gloss, or use the clear coat to wear on top of your lipstick.
Performance
This is a great formula for those who have tried plumping glosses before and either can't stand the burning sensation or get frustrated from the lack of immediate results in the gentler formulas.
The use of caffeine frees you from the burning sensation associated with menthol or capsaicin. It does still tingle, but it's closer to the way your leg feels when it's fallen asleep than to the burning feeling of spice.
In addition to stimulating blood flow for immediately plumper lips, Physician's Formula uses hyaluronic acid and peptides that soak into your lips, stimulate collagen production, and fill in fine lines.
This makes it the ideal pick for someone who wants both immediate and long-term results.
Texture and Appearance
There are three tints available: a clear coat and two shades of pink. They're affordable enough that you can pick up a couple. Use a pink gloss for your everyday looks and keep the clear gloss for wearing over lipsticks.
The gloss is sticky enough to stay on your lips without leaking but not so sticky that it clumps up or becomes difficult to spread.
Our least favorite thing about this product is the applicator design. Instead of a swab like most glosses, it uses a brush. This is mean to help spread the gloss more evenly across your lips. However, after two or three uses, the bristles start to bend out of shape and fray.
This can make it difficult to apply the gloss evenly and without spreading it outside your lip line. You can work around this by dabbing the product onto your finger or onto a lip brush if you have one. Then apply to your lips that way instead of directly using the applicator.
If you'd prefer a gloss with a better applicator, check out the E.L.F gloss.
Pros
Caffeine acts as a less irritating stimulant

Hyaluronic acid and peptides provide long-term plumping results

3 tints available

Great texture
Cons
Applicator brush frays easily
---

Why we like it:
This luxurious formula glides on smooth and instantly makes your lips look and feel fuller, softer, and smoother.
Editor's Rating:
Quick Facts:
Hydrating Ingredients: Peptides, Vitamins A and E
Stimulating Ingredients: Menthol
Tints: 100+ options available
This is one of the best lip plumping formulas on the market. The refreshing menthol provides powerful plumping performance, while peptides and antioxidants soothe skin and promote collagen growth. Plus, it looks as incredible as it feels!
Performance
The menthol makes this polish feel minty fresh and cool on your lips, while also making your lips look immediately plumper. These results are intensified by the use of wax and natural minerals like mica and titanium dioxide. These fill in fine lines and a look of fullness to your lips that will last even after the menthol has worn off.
Meanwhile, a blend of peptides and vitamins A and E penetrate beneath the surface to help promote collagen growth for fuller lips in the long-term. Overall, you get noticeable results right away and enduring results when you use it regularly.
While we really love this formula, menthol is a mild irritant. For most skin types, it won't be a problem, but sensitive skin might become irritated or break out in a rash. Always patch test before applying it to your full lip.
Texture and Appearance
Buxom is hard to beat on texture and appearance. The gloss has an incredibly smooth texture that provides a dewy glow without clumping up or feeling sticky. It looks so liquid-smooth, yet it stays in place on your lips.
With over 100 shades ranging from clear to deep burgundies and chocolates, there's a shade for every occasion and every skin tone.
While this gloss might be too expensive to justify buying dozens of different shades, we think it's worth investing in at least two or three, including one clear coat, so that you can enjoy these lip plumping benefits no matter what shade the rest of your look demands.
Pros
Over 100 tints available

Perfect non-sticky texture that still stays in place

Menthol-based formula provides immediate, noticeable plumping results

High in antioxidants

Peptides help hydrate and promote collagen growth
Cons
Expensive

Menthol may irritate sensitive skin
---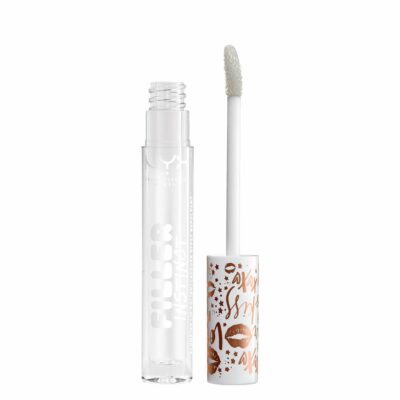 Why we like it:
This menthol-based gloss offers serious results without the serious price tag so you can enjoy plumper lips all day, every day!
Editor's Rating:
Quick Facts:
Hydrating Ingredients: Seed Extracts, Konjac Root
Stimulating Ingredients: Menthol
Tints: 10+ options available
You'll love the look and feel of this lip plumping gloss as you apply it. It goes on smooth and uses cool menthol to stimulate blood flow and fill out your lips. It's also affordable enough that you can grab a couple of their gorgeous shades to match any look you're going for.
Performance
The lip plumping power comes from menthol, which causes the lips to swell up slightly for a fuller appearance. This is balanced out with assorted seed extracts and konjac root powder, which hydrate and nourish your lips.
While you do get those immediately noticeable results from the menthol, the formula isn't as potent as some of the more expensive options. Since it's a little more diluted, the swelling caused by the menthol starts to disappear in about an hour.
You'll need to reapply often to maintain the fullness. While it's affordable enough to reapply every hour or so, you might prefer to splurge on a more potent formula like Latorice that doesn't require as much maintenance.
Texture and Appearance
This gloss uses mica and titanium dioxide to help fill in fine lines as well as create a more even layer with less stickiness. So, it feels like a high-end gloss but sells for drugstore prices.
While it does offer some shine, it is a little more mattified than some of the other dewier looking glosses on our list. This is great if you want a more toned-down lip for everyday looks. But if you're looking for a more dramatic shine, try the Buxom gloss instead.
Pros
Over 10 shade options available

Uses natural mineral powders to visually fill in lips

Smooth, spreadable texture

Drugstore prices

Root and seed extracts hydrate lips
Cons
Less potent plumping ingredients
---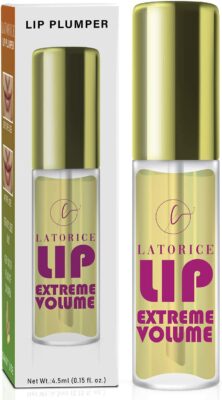 Why we like it:
This ginger-based lip plumping gloss provides instant results in the form of plumper, softer lips that last for up to four hours.
Editor's Rating:
Quick Facts:
Hydrating Ingredients: Mineral Oil
Stimulating Ingredients: Ginger Oil
Tints: Clear
Ginger oil forms the base of this tingling formula that immediately plumps up your lips while infusing them with antioxidants and other nourishing ingredients. It's a great option for getting that added oomph before a night out.
Performance
Ginger oil works in a similar way to capsaicin by causing mild irritation that triggers your lips to swell up. This means you get instant results in a matter of minutes, and your lips will stay noticeably plumper until the irritation wears off.
It also means that this formula causes that burning sensation that some people prefer to avoid. If you'd rather have a gentler lip plumping gloss, you might prefer Physican's Formula.
While ginger does cause that burning sensation, it also infuses your lips with antioxidants that repair damage and minimize wrinkles. So, it's not just an irritant. It will also provide some long-term benefits.
Texture and Appearance
This gloss goes on smooth and provides a dewy clear coat that will make a nude lip look refreshed and youthful. When layered over your lipstick, it'll help the color pop and look more dramatic.
The biggest drawback is that the main moisturizing ingredient is mineral oil. While mineral oil is a safe and effective moisturizer, it's not the most pleasant to use. It's incredibly slow to absorb, and it can be runny. If it leaks over your lip line, it can cause breakouts around your mouth, especially if you are prone to breakouts.
It will also take the ginger oil with it, potentially causing irritation around your mouth area. Since you want to keep that plumping inflammatory effect targeted to the lips only, leaking can be a problem.
We recommend applying a very thin layer to start and building gradually from there to minimize leaking. For a less messy option, you might prefer Maybelline.
Pros
Ginger oil provides immediate plumping results

High in antioxidants

Clearcoat can be worn alone or over lipstick
Cons
Mineral oil absorbs slowly and may leak down chin

Potentially irritating
---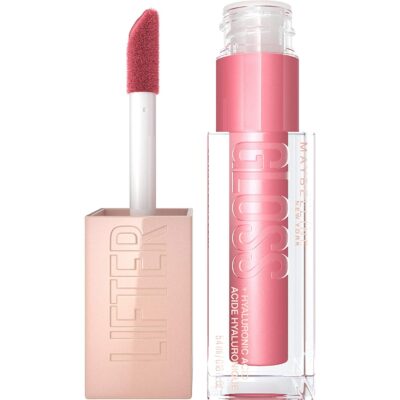 Why we like it:
This nourishing lip gloss goes on smooth, minimizes fine lines, and encourages collagen production for plumper lips that last.
Editor's Rating:
Quick Facts:
Hydrating Ingredients: Hyaluronic Acid, Coconut Oil,
Stimulating Ingredients: N/A
Tints: 10 options available
This is a great lip plumping gloss for sensitive skin because it's free of irritating ingredients. The moisturizing formula helps gradually build up plumpness while also minimizing lines and smoothing out lip texture, all without irritating your skin!
Performance
All the plumping effects in this gloss come from the hyaluronic acid and coconut oil. That means you won't get those instantly fuller lips that you get from the more potent lip-plumping glosses like Latorice. However, with regular use, your lips will become more hydrated and will start to produce more collagen, leading to fuller lips over time.
One potential issue with this gloss is the presence of aluminum compounds. While the research on the safety of aluminum in skincare products is mixed, there is at least some evidence that it may be linked to neurological conditions like Alzheimer's.
The FDA still generally recognizes it as safe, but if you'd rather err on the side of caution, opt for an aluminum-free formula like M3 Naturals.
Texture and Appearance
The look and feel of this gloss are reason enough to keep it in your consideration. It's super spreadable and it won't melt off of your lips, but it also isn't tacky or prone to clumping.
The 10 shades available match a wide range of skin tones and are pigmented enough to work on their own or in combination with your lipstick. There's also a clear coat available if you just want a versatile gloss that can work with any look.
Pros
Great texture

Wide range of shades to match all skin tones

Hyaluronic acid and coconut oil provide long-term results
Cons
Contains aluminum

Mild results
---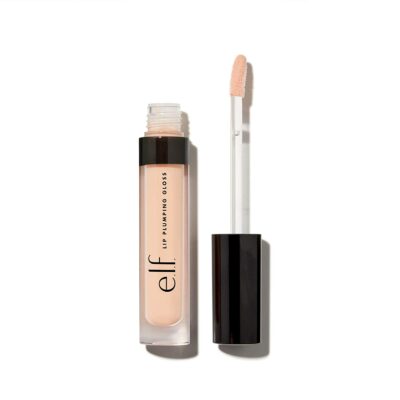 Why we like it:
This is an affordable pick for those who need a lip gloss that adds a great pop of color while it plumps your lips.
Editor's Rating:
Quick Facts:
Hydrating Ingredients: Coconut Oil, Vitamin E
Stimulating Ingredients: Menthol
Tints: 5 options available
E.L.F is one of our favorite brands for getting professional quality at drugstore prices. This silky gloss infused with menthol and vitamin E is a great example of that. You'll love how hydrated your lips feel and how well this gloss stays in place on your lips.
Performance
Rich in vitamin E and coconut oil, this gloss offers a ton of nourishment for your lips while the menthol infusion gives it its lip-plumping power. On the whole, this is a relatively mild formula. There will be some immediate results, but it's better to think of this as a gorgeous and affordable lip gloss that happens to add a little boost to the fullness of your lips.
With regular use, you will notice your lips are looking a little plumper and smoother, but for a more dramatic transformation, you'll want something like Physician's Formula, which has a more concentrated blend of plumping ingredients.
Texture and Appearance
The E.L.F gloss has a silky, almost creamy texture that spreads well that comes in shimmery shades that look beautiful on their own but also help your lipstick pop with incredible dimension.
This is the gloss for those who want something that will take their look to the next level while still working to hydrate and plump up their lips. It can add that finishing touch to your work makeup or accentuate an already jaw-dropping evening look.
Unfortunately, there is no clear coat option. These are affordable enough that you can pick up multiple shades to coordinate with your lipstick collection but if you wanted a more versatile, catch-all lip gloss, you'll need something like the NYX gloss that offers a clear coat.
Pros
Silky, smooth texture

Great shade options

Nourishing coconut oil and vitamin E blend

Menthol provides mild plumping effects
Cons
Results are mild

No clear coat available
---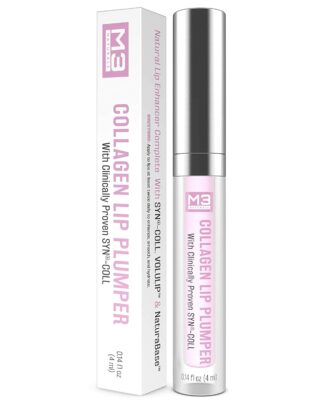 Why we like it:
This nourishing yet invigorating lip plumping gloss is packed with essential oils, peptides, and other ingredients that your lips will love.
Editor's Rating:
Quick Facts:
Hydrating Ingredients: Almond Oil, Peptides
Stimulating Ingredients: Peppermint Oil, Portulaca Pilosa
Tints: Clear only
Your lips will feel totally renewed after a few applications of this healing and plumping plant-based formula. It's a well-balanced blend that stimulates your lips while soothing and repairing them at the same time.
Performance
This is one of the most unique lip plumping formulas on the market that uses a variety of natural ingredients to create a proprietary formula that boosts and hydrates at the same time.
One of the plumping ingredients is Portulaca Pilosa, a succulent whose common name is, aptly, "Kiss-Me-Quick." The blend of peppermint oil and Portulaca Pilosa help to stimulate blood flow and collagen production while smoothing out fine lines and uneven texture.
In combination with the nourishing almond oil and peptide blend, this gloss has the power to create immediately fuller lips while also increasing collagen to maintain plumpness in the long-term.
Overall, the immediate results are not as dramatic as a more potent formula, but we think the long-term improvements to your lips will more than make up for it. You might consider using this as an overnight treatment and switching to a stronger plumping gloss like Physician's Formula for getting those dramatic instant-results before you go out.
Texture and Appearance
This has a smooth, spreadable texture that never gets sticky or clumpy, even after it's been sitting on your lips for a while. In terms of appearance, it does improve the health and texture of your lips, but it adds little in the way of shine or color.
They only offer a clear coat, and it goes on a little more like a serum than a lip gloss. This is what helps it avoid getting sticky or clumpy. But if you're looking for show-stopping shine, you'll likely be disappointed.
Use this more like a lip treatment than a makeup product. For a bolder shine and color, check out E.L.F instead.
Pros
Nourishing peptides and almond oil hydrate lips

Peppermint oil and Portulaca Pilosa create instantly plumper lips

Dramatically improves lip health, texture, and fullness in the long-term

Natural formula
Cons
Immediate results are mild

Little to no shine
---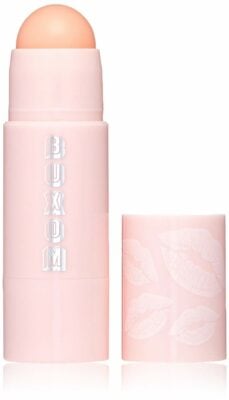 Why we like it:
A rich oil complex provides deep moisturization while a unique pH-reacting formula transforms this lip balm into a lip shade perfectly matched to your skin tone.
Editor's Rating:
Quick Facts:
Hydrating Ingredients: Pumpkin Seed Oil
Stimulating Ingredients: Menthol Derivatives
Tints: 3 options available
This lip balm pulls double duty by healing chapped lips and making them look and feel fuller at the same time. It's great for a midday boost when you don't want something as dramatic or shimmery as a lip gloss, but it also helps intensify the results of a lip plumping gloss when used as a primer.
Performance
This balm includes menthone glycerin acetal to mildly stimulate some swelling in your lips. It also has a blend of oils, including pumpkin seed oil, that helps provide lasting hydration throughout the day while also triggering collagen production to gradually build up fuller lips.
The wax-based balm can act as a lip primer with gentle plumping effects. While it may not provide show-stopping results on its own, it's a great go-to lip balm to have in your pocket for maintaining healthy, hydrated lips all year round.
When used as a primer with a stronger lip plumping gloss like the Buxom gloss, it can help boost the effects and create more lasting results.
Texture and Appearance
This creates more of a matte look with a subtle sheen as the pumpkin seed oil and other moisturizing ingredients warm up and sink into your skin. Meanwhile, the wax provides a smooth layer that fills in fine lines and creates an even surface to apply lipstick or gloss on top of.
What we love most about it, though, is the color. Each of the three shades uses a special form of dye that is activated by moisture. It sounds weird, but this allows the pigment in the balm to adapt to your skin tone, augmenting the natural hues in your lip skin. This means each of the three options can custom match all skin tones.
Pros
Hydrating oil complex promotes collagen production

Menthol derivatives provide mild plumping effects

Works great as a plumping primer

Versatile shades match all skin tones
Cons
Plumping effects are mild
---
The Ultimate Guide to Getting Fuller Lips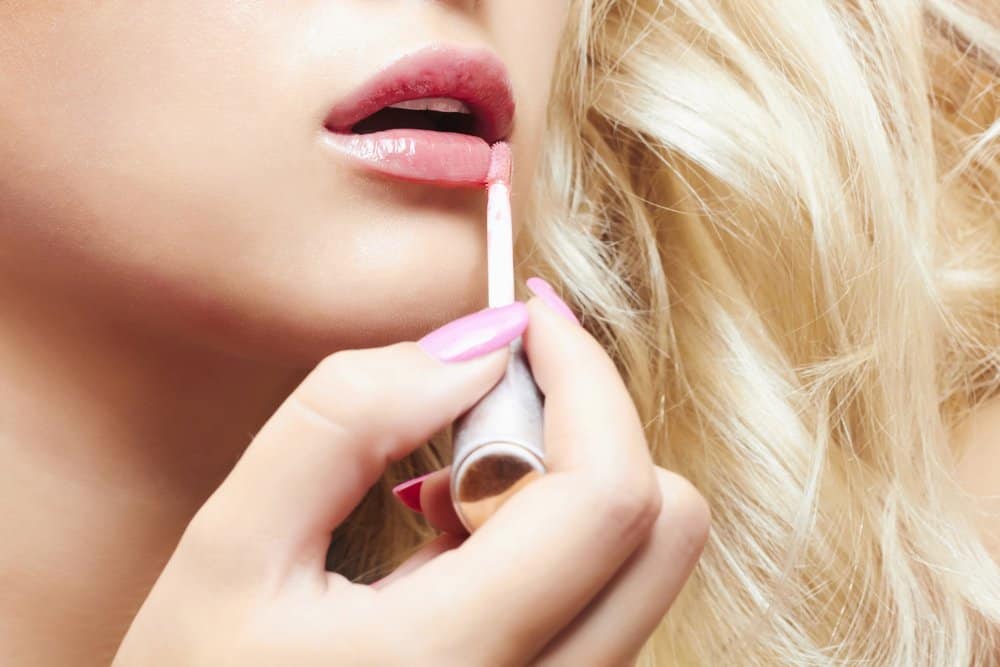 Lip plumping glosses are one of the best non-surgical options for fuller lips, but there are other simple habits and strategies you can use to improve the health and appearance of your lips. In this guide, we'll take a deeper dive into what different lip plumping ingredients do and give you some additional tips on how to keep your lips full and healthy:
The Best Limp Plumping Ingredients
You read a bit about the different kinds of ingredients used in lip plumping glosses earlier. In this section, we'll take a deeper dive into specific ingredients and what benefits they offer. This will help you narrow down the exact formula that will work best for your lips:
Stimulating Ingredients
Stimulating ingredients draw blood to the lips and cause minor swelling to create a plumper, fuller look. The three most common compounds used to create this effect are capsaicin, menthol, and caffeine.

Capsaicin
If you've ever eaten a hot pepper and felt a tingling, burning sensation on your lips after, that's the capsaicin. This tingling sensation is actually a mild irritation. Your body responds by swelling the area.
The result is a fuller and pinker lip. Capsaicin-based formulas are some of the most fast-acting, most noticeable lip-plumping glosses on the market. However, some users find the burning sensation to be too much, and there are alternative plumpers that use ingredients like ginger to provide nearly identical results with fewer side effects, so we don't recommend purchasing any capsaicin-based plumpers.
If you do use one, though, we recommend testing out a small dab of it before applying it to your full lip.
Menthol
Menthol is the compound that creates that cool tingling sensation that comes from peppermint, eucalyptus, and similar ingredients. It can sometimes feel like a "cool heat," as weird as that sounds.
This is because it works in a similar way to capsaicin. It's mildly irritating your lips, causing them to swell up.
For those who find capsaicin-based formulas to cause too much of a burning feeling, menthol-based formulas like Buxom are a good alternative. They work in a similar way, but the cool sensation helps neutralize the burn.
Caffeine
While capsaicin and menthol are inflammatory and are specifically used in lip plumping glosses to cause targeted inflammation, caffeine is the opposite. This anti-inflammatory ingredient helps minimize wrinkles and restore color specifically by soothing inflammation.
It does that by improving circulation and infusing your skin with antioxidants and amino acids. The result is a smoother, fuller, and brighter lip.
A caffeine-based gloss like Physician's Formula is a great option for sensitive skin that might react too strongly to the other forms of stimulants. That's because caffeine stimulates blood flow by dilating blood vessels and improving circulation rather than by causing irritation.
Because it doesn't cause swelling and irritation, the effects might not look as dramatic as capsaicin or menthol, but they will last longer and you won't have to deal with that burning sensation.
Hydrating Ingredients
Hydrating ingredients can help soothe the mild irritation experienced by ingredients like capsaicin or menthol. They also provide long-lasting plumping effects on their own. Some of the most nourishing and beneficial ingredients to look for include hyaluronic acid, coconut oil, and antioxidants:
Hyaluronic Acid
Hyaluronic acid is one of the best moisturizing ingredients to use in a lip formula because it not only hydrates but promotes new collagen growth. Collagen will help minimize wrinkles and fill out your lips for the long term.
While the immediate results are less dramatic, hyaluronic-based formulas like Maybelline provide lasting transformation so that even if you skip the gloss for a day, your lips will still look plumper.
Coconut Oil
Coconut oil is a great natural moisturizer that can penetrate deep into the skin to repair damage, prevent chapped lips, and minimize wrinkles. It also creates a protective barrier that will lock moisture in so that your lips maintain their hydration and plumpness throughout the day.
A coconut oil formula like E.L.F provides mild but lasting results and pairs well with a more fast-acting formula to minimize irritation.
Antioxidants
Antioxidants like vitamin E or C can help repair damaged skin, strengthening the surface layer of skin and restoring pigment. With stronger lip skin, wrinkles will diminish, textures will be smoother, and your lips will be able to retain moisture better.
This leads to an overall fuller and more youthful look to your lips. So, antioxidant-rich formulas like Buxom are great if you're dealing with fine lines, chronic chapped lips, or other signs of sun or environmental damage that can make lips look thinner.
How to Apply Lip Plumping Gloss
Once you've chosen your lip plumping gloss, you might be wondering how you actually apply it. Does it go on before or after your lipstick? Do you need to prep your lips first?
If you don't want to overcomplicate it, you can just apply lip plumping gloss like you would any other lip gloss. However, if you want to maximize the plumping effects, follow these steps:
Use a lip exfoliating scrub to remove chapped skin and smooth out lip texture.
Immediately apply a lip balm or moisturizer to lips after exfoliation.
Allow that moisturizer to soak in for 5-10 minutes.
Apply your lip liner and lipstick, if using.
Coat your lips with your lip plumping gloss.
Don't rub your lips together. Just let the gloss sit on your lips for at least 2-5 minutes undisturbed.
If you want to tone down the shine, you can blot away some of the excess gloss with a tissue. Otherwise, leave it on and let it continue soaking into your lips. That's it!
How to Get Plumper Lips Naturally
Lip plumping gloss isn't the only way to get fuller lips without the injections! Here are a few other non-invasive beauty secrets you can try for plumper, fuller-looking lips.
DIY Lip Plumping Mask
Many of the ingredients used in lip plumping glosses are naturally occurring in things you might already have in your kitchen right now. In preparation for a night out, you can treat yourself to a homemade lip mask featuring some all-natural lip plumping ingredients.
Use a tablespoon of coconut oil, olive oil, or another plant-based oil as your base. Then mix it with one or more of the following:
Cinnamon
Cayenne pepper
Powdered ginger
Dried, crushed peppermint leaves
Mix enough into the oil to create a paste that will stay in place on your lips rather than dripping down your chin. Leave it on for 10-15 minutes. Rinse it off. Then, apply a lip balm or moisturizer to lock in the results.
DIY Coffee Lip Scrub
You can make your own coffee lip scrub using some of the grounds from the coffee you made this morning. The texture will exfoliate your lips, while the caffeine in the coffee will stimulate blood flow, resulting in plumper, smoother lips.
To use the coffee grounds, just mix them with enough coconut oil or olive oil to form a thick paste. Massage it onto your lips for a few minutes.
You can leave the paste on your lips for a few minutes to let the caffeine absorb or rinse it off right away.
Do Face Yoga
One reason for thinning or wrinkling lips is weakening facial muscles. While lip exercises won't immediately create plumper lips, regular plastic will help in the long term by strengthening and sculpting the muscles around your mouth.
Some popular lip exercises include:
Blowing kisses into the mirror.
Swirling a small mouthful of water around in your mouth.
Sucking in your cheeks to make a fish face and holding it.
Do multiple repetitions of these exercises like a workout routine for a total of 2-3 minutes. You can make it part of your nighttime routine.
Tips to Prevent Thinning Lips
As we get older, it's natural for our lips to start thinning out. The main reason for this is a decline in collagen production and natural shrinkage in our teeth. While part of this is genetic, there are also some lifestyle factors that can cause premature lip thinning.
Making these simple changes to your skincare and health can stop premature aging of your lips and even help reverse some of that thinning:
Quit smoking. The smoke itself will dehydrate your lips and cause damage to your teeth and gums. If that weren't enough, repeatedly puckering your lips to smoke creates wrinkle lines and pulls your lips inward over time.
Skip straws. Straws force you to pucker in a similar way that smoking does. Over time, this will lead to thinner lips.
Use SPF on your lips, too. Sun damage is a leading cause of premature signs of aging on our skin and preventing that damage is one of the best things you can do to maintain a youthful appearance. Make sure to use a high-SPF lip balm as part of your daily lip care routine!
Rehydrate before bed. You might already apply a rich moisturizer to your face before bed. If you're not using something for your lips as well, you're missing a prime opportunity to repair damage and restore collagen to your lips. A moisture-locking lip mask or a rich overnight lip cream can be a great way to plump up your lips overnight.
Frequently Asked Questions About Lip Plumping Glosses
With so many different lip plumping products on the market, it's natural to have a lot of questions about which ones work, how to use them, and how to figure out which one is right for you. In this section, we'll answer some of the most common questions people have:
Do Lip Plumpers Actually Work?
Any ingredient that stimulates blood flow or provides below-the-surface hydration will make your lips look plumper. For more dramatic results, look for a formula with powerful stimulating ingredients like this Latorice gloss.
For gentler but longer-lasting results, try a more deeply hydrating formula like the M3 Naturals gloss.
You may need to experiment with a few different ones before you find the one that gives you the results you want with a finish that complements the rest of your makeup look.
How Long Do Lip Plumper Glosses Last?
This depends on what the active ingredients are. Anything that stimulates blood flow will eventually wear off within 1-4 hours, depending on how potent the formula is.
Hydrating formulas can last anywhere from 8-24 hours, but you need to use them regularly in order to build up noticeable, long-lasting results.
Which Lip Plumper Works the Best?
Your priorities will be the biggest deciding factor on which lip plumper works best for you. With that said, our preference is toward a balanced formula like Latorice that uses is a mix of stimulating ingredients for immediate results and hydrating ingredients for lasting results.
You can also keep a few different formulas on hand, depending on the occasion.
For example, keep a plumping lip balm with you for daily treatments that will help stimulate collagen production for lasting results. Then, for a night out, turn to a powerful, fast-acting formula like this caffeine-based gloss for more dramatic results just for the night.
Keep a tinted plumping gloss like Maybelline on hand for everyday looks when you don't have time to do a full liner and lipstick look. Then, keep a clear plumping gloss like NYX to use on top of your lipstick or lip tint.
Is Lip Plumper Bad for Your Lips?
For the most part, no. The biggest risk with a lip plumping gloss is the potential for an allergic reaction. If you have sensitive skin or you have any allergies, the active ingredients in a lip plumping gloss might trigger a reaction.
However, when compared to other lip plumping treatments, like injections, glosses are definitely the safer option.
If you do have an allergic reaction, it will likely be caused by one of the stimulating ingredients like capsaicin, caffeine, or menthol. In this case, you'd be better off sticking with a gentler, stimulant-free formula like Maybelline and pairing that with a deeply hydrating overnight lip mask or cream.
Create a Fuller, More Dramatic Lip
A lip plumping gloss will work best when used in combination with other lip care and makeup products that help hydrate lips and create a more dramatic look:
Final Thoughts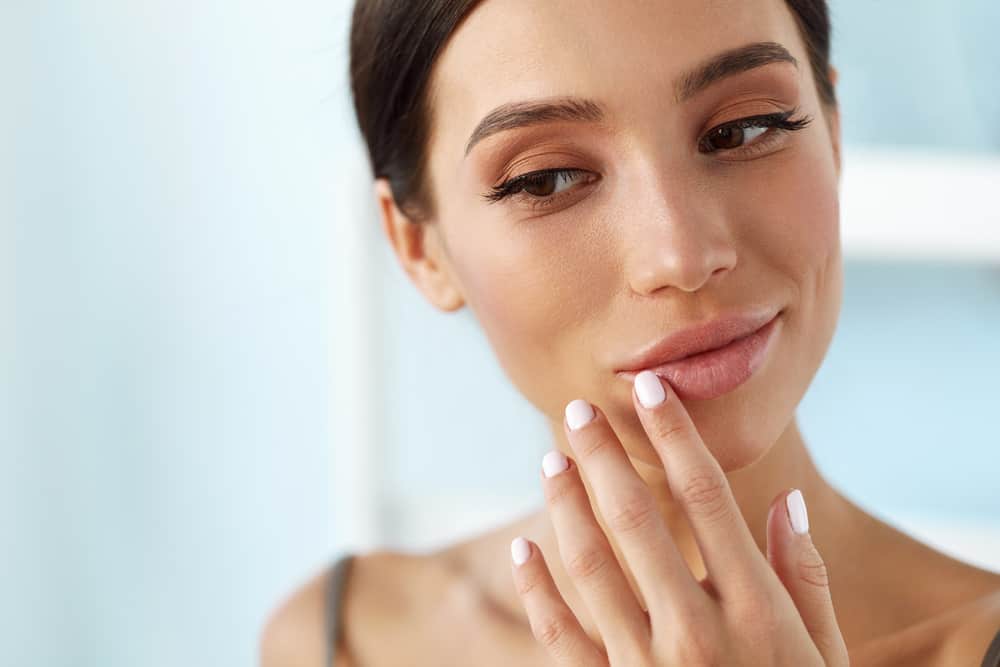 Lip plumping glosses are a great, non-invasive way to get fuller lips. Whether you opt for a tingly, stimulating gloss like the Latorice gloss or a soothing, hydrating gloss like M3 Naturals, you'll be able to create a healthier, plumper looking lip in no time! Just make sure to check the ingredients and choose a formula that works the way you want it to!