Top Picks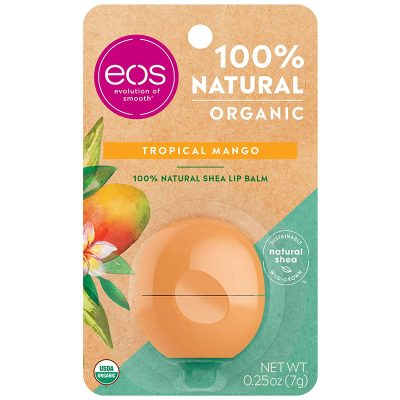 eos Natural Organic Lip Balm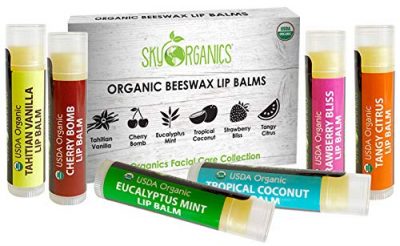 Sky Organics Lip Balm

Bite Beauty Agave Lip Mask
Previous
Next
Balms can be a lip's best friend, especially in the heat of the sun or during the winter months when the cold, dry air is at its worst. Cracking, splitting, or flaking skin can all be signs that your lips are in dire need of some TLC. While this issue can be aided from the inside out with an intake of vitamins and fatty acids, lip balms are a highly effective way to treat dryness on the spot.
However, not all balms are created equal. Ingredients matter a great deal as some components will dry your lips even more, further exacerbating the problem. Therefore, finding the right lip balm with mainly natural ingredients that provides long-lasting hydration, is important. To help you out, we've put together our top 10 list of natural/organic lip balms according to moisturizing effectiveness and ingredients.
How to Choose the Right Natural/Organic Lip Balm
There is no shortage of options when it comes to balms that contain natural and/or organic ingredients. But while lip balms can appear quite similar at first glance, there are a few key features to look out for. It's also important to understand why you might want (or need) it.
Who Needs Lip Balm?
Lip balms are an essential item to carry around in your bag, especially if you frequently suffer from dry lips. Great for both men and women, lip balms can also be a defensive treatment if you're out in extreme weather, or they can be for cosmetic purposes if you're after gloss or shine. Whatever the reason may be, natural/organic lip balms can keep your lips protected and hydrated. However, to get the most out of it, you'll need to evaluate how well the balm moisturizes, what ingredients it contains, and how well it applies on the lips.
Why Should I Buy Natural/Organic Balm?
Many commercial lip balms contain petroleum, a known carcinogen, and preservatives or chemical compounds, such as phthalates, which make scents last longer. These products can also include menthol, camphor, and phenol which create a pleasant tingling but are also quite drying on the lips. Ironically, this combination of ingredients can lead to what's known as the 'addiction effect,' where your lips become so excessively dry that you find it difficult to live without the aid of the balm.
Benefits of Natural Ingredients
Natural and organic balms, on the other hand, contain nourishing oils, butters, and waxes that soothe, rehydrate, and repair, so you can avoid this 'addiction effect.' You'll want to choose balms that contain natural ingredients like beeswax, shea butter, coconut oil, jojoba oil, or sunflower oil. We've covered the main list of natural ingredients in each balm and what benefits they provide at the bottom of this article.
When choosing a natural/organic lip balm, it's also important to read the entire ingredient list, as some products claim to be 'natural,' but contain only a sprinkling of these components.
Moisturizing Effectiveness
The most important factor to consider when assessing a balm's effectiveness is how well it rehydrates, protects, and retains moisture in the lips. To achieve this, be on the lookout for ingredients like beeswax and shea butter which seal in moisture, and coconut oil, and jojoba oil which are good moisturizers.
Good natural balms will last for a while without constant application and there should be noticeable improvement over time in the moistness and softness of your lips. If you wear a balm for several days and your lips still feel dry and scaly when it wears off, then it's a sign that the ingredients are not very hydrating. In our list below, we've assessed the effectiveness of each balm in terms of how well they hydrate and protect, and how long they last after each application.
Application
Lip balms also differ in terms of how they apply onto the lips. This varies depending on the ingredients, the applicator type, as well as the size. To ensure you're getting the best feeling when you apply the balm to your lips, you'll want to become familiar with the consistency of particular ingredients, as well as what different applicators are like — whether they're a lip butter, a stick balm, or a gel.
We go into more detail about texture, finish, swiping experience, and applicator type at the bottom of this guide. In our top 10 list below, we also examine each balm in terms of how easily it spreads onto the lips, including the thickness and consistency, and whether it has a smooth, dry, or waxy texture.
Having covered what features to look for when buying a natural/organic lip balm, let's review the best selection available and why we like them.
Top 10 Best Natural & Organic Lip Balms 2021
Guide to Buying the Best Natural/Organic Lip Balms
Buying the right natural/organic lip balm can be complicated. With so much selection and a dizzying array of flavors to choose from, it might be tempting to just pick the first one you see. However, there are key features to look out for before making your choice. This includes the type of ingredients, the balm's moisturizing power, the way it applies on your lips, and how these fit in with your individual needs. We explore these in more detail below.
Why Should You Use Lip Balm?
Before you start perusing your options, you might first be pondering whether you need lip balm in the first place. To figure out if balms are for you, consider whether your lips could do with an upgrade in terms of softness, moisturization, or appearance. If you feel your lips need additional nourishment or protection from dryness, then natural or organic lip balms are a great idea. Conversely, if you're fine with the state of your lips, then you may want to skip this guide!
What Kind of Balm Do You Need?
Once you've established that you need or want to start searching for a suitable lip balm, it's important to determine what type is best. For example, do you have severely dry lips? Are you spending long hours in the hot or cold weather? Or are you on the hunt for something cosmetic that will also add shine or color?
Once you know why you're buying the lip balm, you can start examining its main features. Below we cover the top three features you'll want to look out for when selecting an ideal lip balm.
Moisturizing Effectiveness
Depending on your needs, the degree to which the lip balm moisturizes, replenishes, or rehydrates your lips is one of the most important things to establish. The best natural balms will be long-lasting and will soften the skin over time. Therefore, you shouldn't need to do frequent applications throughout the day (unless that's something you prefer!). If your lips are cracked, flaky, and dry, you will want a balm that produces quality hydration, not just a superficial coating.
What Causes Dryness?
At this point, you may be wondering why lips get so dry in the first place. Unlike skin, lips lack sebaceous glands that produce oil so they're sensitive to moisture loss. On top of that, lips are quite absorbent, so they plump up when they're highly moisturized and shrink down when they're dry. Nutritional deficiencies in iron, fatty acids, and vitamin B can also cause dryness, as well as habitual practices like licking your lips (the saliva dries the skin out) or eating too many spicy foods. Topical therapies like natural/organic lip balms are therefore helpful for on-the-spot treatment, particularly if the dryness causes pain.
How to Evaluate the Quality of Moisturization
While the feel of the lip balm is of course important in terms of softness, it can be easy to mistakenly think that a slick coating is doing the most moisturizing. Some balms can feel a bit thick or stiff initially, but they work gradually by absorbing into the lip and then softening from the inside out.
To truly evaluate the effectiveness of a lip balm, you'll want to know whether the product contains anything which could be potentially drying, as well as if the ingredients are hydrating and protective.  Therefore, it is sensible to arm yourself with general knowledge about natural ingredients and what they do — which leads us to our next point!

The Importance of Natural Ingredients
While every lip balm claims to be moisturizing, some ingredients can have opposing effects. Commercial lip balms, for example, often contain petroleum (which is toxic) and other drying agents such as menthol or camphor. These balms can feel good at first because they are slick, cool, or tingly, but over time, they can severely dehydrate your lips causing a bit of a cyclical balm addiction. Natural ingredients, on the other hand, are non-toxic; they allow the skin to breathe, and they contain properties that hydrate and seal in moisture at the same time.
If you are looking for truly hydrating balms, you'll want to get to know some of the natural ingredients and what is and isn't good for your lips. Below is a list of the most popular moisturizing ingredients found in balms and what they do.
Coconut Oil
Coconut oil is perhaps the king of all ingredients when it comes to a lip balm. It not only softens, hydrates, and traps moisture in the skin, but it is also antimicrobial and analgesic. Coconut oil's supreme healing qualities make it one of the most hydrating ingredients around which is why so many balms contain it.
Beeswax
Beeswax is another popular and deeply moisturizing ingredient. Derived from female bees, beeswax is also hydrating, antibacterial, and is an effective agent for retaining moisture and providing protection from the sun. Unlike petroleum, beeswax allows the skin to breathe.
Shea Butter
Extracted from shea tree nuts, shea butter's high amounts of fatty acids and vitamins make it another very hydrating ingredient. Shea butter is also anti-inflammatory and emollient, meaning it traps moisture in the skin. For those with nut allergies or sensitive skin, however, you may want to avoid shea butter as an ingredient.
Lanolin
Lanolin is derived from the oil glands of sheep and it is used in balms because of its emollient (water-retaining) properties. This is an ingredient to avoid if you're vegan or trying to avoid animal products. If you want to look at a list of lip balms that are exclusively vegan, we have a wealth of options in our vegan lip balm guide.
Sunflower Oil
Sunflower oil is another great moisturizer, thanks to its high amounts of linoleic acid. It absorbs easily into the skin and is also high in vitamins A and E, and zinc.
Jojoba Oil
Jojoba oil is high in fatty acids, making it another popular lip balm ingredient. It can also help protect your lips during extreme weather as it forms a light barrier on the lips.
Cocoa Butter
Cocoa butter is extracted from cocoa beans and is high in vitamins, omega oils, and natural fats. Commonly found in natural skin creams, cocoa butter is another moisturizing ingredient that softens skin while retaining moisture. It is also high in antioxidants.
Honey
Honey is moisturizing, containing antibacterial and antioxidant properties that help protect lips from infections. Along with other natural sugars, honey is also a gentle exfoliant which can help remove dead skin.
Vitamin E
Vitamin E is another popular lip balm ingredient, but not so much as a moisturizer. Vitamin E's primary benefit is that it acts as an antioxidant, protecting the skin from free radicals. It is therefore found in balms that offer protection from the harmful rays of the sun.
Natural Plant Ingredients
Other common ingredients are plant-based extracts such as aloe, chamomile, lavender, and rosemary. These are primarily calming components, often used in products for relaxation. They soothe skin and provide a pleasant smell.
What to Avoid
If you are looking for all-natural ingredients, avoid any balms that contain petroleum, parabens, silicones, or sulfates. Also, avoid drying components such as camphor, menthol, and phenol.

Application
The last feature to consider when buying a natural/organic lip balm is how it applies onto the lips. While it is difficult to know what it will truly feel like until you try the product, the size of the balm, its applicator, and the ingredients can help you determine how it will glide on and what it will feel like.
Swiping Experience
This preference will vary from person to person, but it is useful to know ahead of time what you might be getting. The best balms out there will provide a great swiping experience, meaning that the application is smooth and soft, rather than greasy or dry. While we've said above that slick application doesn't always equal the most moisture, knowing how a balm applies can make a difference to your enjoyment.
Applicator Type
The applicator style will also give you a clue about how it will glide on. For instance, a gel, cream, or lip butter dispensed from a tube will tend to have a thicker or more buttery consistency. If you prefer to use your fingers, balms also come in tins or tubs, but these can be a bit messier to work with. The stick versions, on the other hand, are a bit stiffer and vary in terms of how thickly they apply on the lips. But generally, stick applicators are the fastest and easiest to apply.
Texture
Determining the texture also involves an understanding of the ingredients. Beeswax and coconut oil, for example, can be a bit firm and cool upon application. This can be especially the case if you're applying it in cold temperatures. As a general rule, expect slightly harder textures on stick style balms that contain waxes or shea butter.
Other factors that will affect texture are sugars or honey as they might be a bit grainy, depending on the product. If the lip balm contains a good mixture of oils, it will have a smoother texture.
Finish
Depending on your preference, you may want a balm with a matte finish or one that produces a bit of shine. Again, this depends on the ingredients, but generally, a softer balm with a tube applicator will tend to have a shinier finish. Wax-based balms or those in stick form can have more of a matte effect, but these also vary depending on the ingredients. When in doubt, check the label as they will often indicate what kind of finish to expect.
How Often Should I Apply the Lip Balm?
How often you apply your lip balm is personal preference, but it also depends on why you need it. For excessively dry lips, 3 or 4 applications throughout the day might be needed. However, if you select a high-quality lip balm like some of the ones in our top 10 list, you shouldn't need to apply any more than that.
Poor lip balms will leave you swiping your lips every hour, which can be inconvenient, expensive, and not very effective long term. The best lip balms will hydrate and nourish, which means you may only need to use it intermittently.
Making Your Choice
So, now that you have become familiar with some of the main ingredients and application types, it is time to choose the best one based on your needs (i.e., excessive dryness or protection).
For Excessive Dryness
If dryness is your issue, you'll want to choose lip balms with the largest amounts of emollients and hydrating oils, and/or that contain exfoliants. Bite Beauty's Agave Lip Mask and the Handmade Heroes Vegan Coconut Lip Scrub are excellent products for repairing dryness.
For Sensitive or Allergy-Prone Skin
If you fall into this category, you may need to avoid soy, vitamin E, or shea butter, depending on what allergies or sensitivities you have. In this case, the Sky Organics Lip Balm is a good choice as it's designed for most sensitive skin types.
For an All-Rounder
If you're looking for an all-round lip balm, select ones with a good balance of oils, vitamins, and flavors or scents. eos's Natural Organic Lip Balm is a fantastic all-round choice and has the added benefit of being 100% natural and organic.
For Cosmetic Purposes
For those who are aiming for a bit of color or shine, look for tinted lip balms or moisturizing glosses. The Kopari Coconut Lip Glossy and the Juice Beauty Lip Moisturizers are great choices as they provide shine and color.
For Extreme Weather
If you're heading out into the sun or the dry, blistering cold, a balm high in oils like lanolin or beeswax are great because they form a porous barrier that can block out wind and sun. Burt's Bees Natural Lip Balm is a good choice in this case.
Final Thoughts
Natural/organic lip balms are a great option for those who are health-minded and earth-conscious, especially as the ingredients are often sustainable, gentle, and far more hydrating than commercial ones loaded with chemical compounds.
While choosing the best balm amidst a sea of choices can be tricky, it becomes easier once you know which ingredients provide the best mileage in terms of hydration and moisture retention. Having a general understanding of these ingredients will also give you a clue about what to expect in terms of the product's consistency, thickness, texture, and finish. No matter what your reason is for looking for a natural balm, explore our list above and give your lips the moisture and softness they deserve!