Oily skin can seem like a curse – yes it means that you age more slowly, but at what cost? With makeup dripping off your face like a Picasso painting, by the end of the day you might wish that you could trade it in for wrinkles and dry skin.
However, all is not lost. With the right kind of setting spray, you can keep your makeup working for you all day, with minimal touch-ups. A makeup setting spray has been designed to hold the products you've used in place all day – similar to hairspray on your updo, or a top-coat on your nail polish.

How to Choose the Best Setting Spray for Oily Skin
So, you've decided that you're going to try setting your makeup with a spray. Now you have the daunting task of choosing the right one for your skin. There are a few factors you'll want to consider when looking for the best setting spray for oily skin.
Finish
Different setting sprays may have different finishes – matte, dewy, or luminous.
Products that create a matte finish are made without any ingredients that add shine or dewiness. These are best for people with oily skin as they often contain ingredients that help combat shine and oil, leaving the skin looking airbrushed.
Products that give a dewy finish, are the opposite – they're often formulated with moisturizing ingredients to hydrate skin. These are ideal for dry skin as they add moisture to the skin while keeping makeup in place. For those with oily skin, these products are best avoided. As such, none made our best products list.
Products that offer a luminous finish, like the Too Faced Hangover Rx 3-in-1 are pretty much bang in the middle of the two – not as flat as matte but nowhere near as glowy as a dewy finish. Perfect for those with combination skin, products with this finish mean that you don't have to reach for two separate setting sprays.
For oily skin, you're more than likely going to want to reach for the matte finish setting sprays, but if you find you have combination skin, you might be able to get away with a luminous finish setting spray.
Oil-Free
The last thing you want in any product that you're going to be putting on oily skin, is more oil. While a little oil can be a good thing in skincare products, in a setting spray it is definitely an ingredient you're going to want to avoid.
Spritz vs. Mist
This refers to how the setting spray is pumped out onto your face. Mists tend to be a lighter ultra-fine spray whereas a spritz can come out a little heavier. They both do the same job – it's just a matter of personal preference. Some people also find that mists are less likely to leave any streaks and that they may dry faster than a spray that comes out as a spritz, but this does depend on the product.
Alcohol
Alcohol-based products in general have the pesky habit of drying out your skin. Now, this isn't a big issue if your skin is naturally oily, and in fact, you may decide that you prefer to choose products containing alcohol in this case.
However, if you have combination skin with some dry patches, you're probably going to want to stay away from setting sprays with alcohol in them. Alcohol-based products can also irritate more sensitive skin types so it's probably best to avoid them where possible.
Additional Considerations
The above factors cover the most essential buying criteria. But there are several other considerations that you may wish to make, dependent on your personal preferences and ethics. These include the following.
The presence of parabens
Whether a product is cruelty-free and/or vegan
Specialist ingredients that can directly help oily skin (like niacinamide)
Supplementary ingredients that can indirectly help oily skin (like hyaluronic acid)
Each of these are explored in more detail in our what else to look out for section.
Otherwise, keep reading. We've scoured the beauty world for the top ten setting sprays to try if you have oily skin.
Top 10 Best Setting Sprays for Oily Skin 2023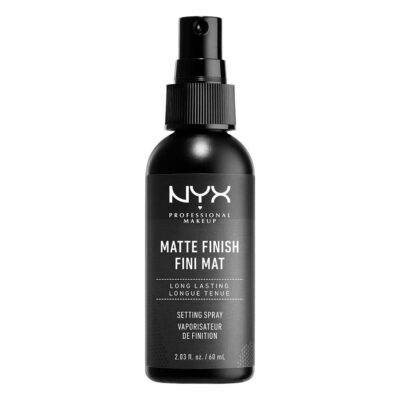 Why we like it:
This is a high-end quality product with a drugstore price tag. Working just as hard as the more expensive sprays to keep your makeup intact, this spray will keep both your look and your bank balance happy.
Editor's Rating:
Quick facts:
Finish: Matte
Size: 2.03fl oz (60ml)
Scent: Unscented
Waterproof: Yes
Spritz or Mist: Mist
Cruelty-Free & Vegan: Yes
Founded in 1999, NYX prides itself on creating 'a great quality product with chic packaging at a wallet-friendly price point'. At under ten bucks for the standard size bottle, the NYX Matte Finish Setting Spray definitely does fit the bill.
For a matte makeup look that stays put, this lightweight setting spray can reduce shine and leave you with a fresh, just-applied look all day. Affordable enough to use generously, but effective enough that you don't need to use too much, this product is often compared to the more expensive Urban Decay. While the standard size available for the NYX Matte Finish Setting Spray is just over 2fl oz, when you fall in love with it, you'll be happy to know that it is also now available in a jumbo 6.08fl oz size.
Compassion for living beings is at the core of the NYX brand, which is why all NYX Professional Makeup is certified by PETA as being cruelty-free. Importantly, not only do they not test their products on animals, they specifically note that they also do not ask anyone to test on their behalf.
Pros
Vegan and cruelty-free

Excellent value for money

Waterproof

Unscented, making it suitable for those with sensitivities to scents
Cons
Standard size bottle is on the smaller side
---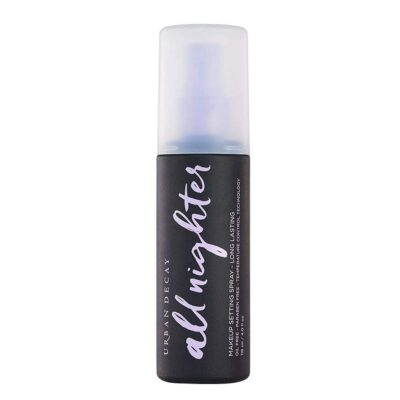 Why we like it:
Patented Temperature Control Technology makes Urban Decay All Nighter Long-Lasting Makeup Setting Spray a cult classic, working in all weather scenarios.
Editor's Rating:
Quick facts:
Finish: Mattified, photo-ready finish
Size: 4fl oz (118ml)
Scent: Unscented but we find it has a chemically smell
Waterproof: Yes
Spritz or Mist: Mist
Cruelty-Free & Vegan: Yes
Free from: Oil and parabens
Urban Decay is a ground-breaking beauty brand with a mega-following. Standing by their manifesto that embraces pure, unapologetic individuality, they are known for being different right from when they first launched in 1996.
This long-lasting makeup setting spray features patented Temperature Control Technology which lowers the temperature of your makeup – science! The pump on this baby delivers a calibrated, microfine mist that goes on so lightly, they reckon that you'll hardly feel it. Formulated in conjunction with Skindinavia, this cult classic is a firm favorite among professional makeup artists and YouTube beauty bloggers alike. It locks makeup in place for up to 16 hours, keeping it looking freshly applied all day long.
Whether they had combination skin, oily skin, or dry skin, 88% of participants in a 50 person study conducted by The NPD Group, said All Nighter was the best product to help their makeup last. Plus, it works in hot and humid, or cold and windy weather conditions, meaning it's perfect for everyone, all year round.
Now, Urban Decay does offer a variety of all-nighter setting sprays, and this one is said to be brilliant for all skin types with a mattifying and anti-shine effect that oily faces will appreciate. However, if you do have exceptionally oily skin, you might want to take a look at the De-Slick version, formulated just for oily faces.
Pros
Vegan and cruelty-free

Free from oil and parabens

Waterproof

Features patented Temperature Control Technology
Cons
Although this is unscented, we find it has a chemical scent
---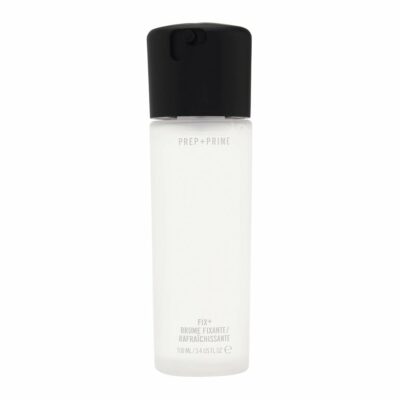 Why we like it:
A lightweight water mist that utilizes an innovative combination of powders, silica, and other oil-absorbing ingredients to immediately mattify skin, this setting spray comes in a huge variety of formulas and scents.
Editor's Rating:
Quick facts:
Finish: Various
Size: 3.4fl oz (100ml)
Scent: Various
Waterproof: No
Spritz or Mist: Mist
Cruelty-Free & Vegan: No
Known as the holy grail of setting sprays, the MAC Prep and Prime Fix+ Setting Spray Mist comes in a variety of scents and versions. If you have combination skin, go for the original version. This is great to keep your skin in that perfect middle-ground between matte and dewy. For oily skin, opt for the Fix+ Mattifying Mist, a lightweight mattifying spray that refreshes skin while instantly controlling the look of shine and oil.
With almost unlimited scent choices, for example, the romantic rose scent, calming lavender scent, or creamy coconut scent, you may be tempted to try to collect them all. As well as the 3.4fl oz full-size bottle, you can also grab a single ounce bottle to take with you on the go, and they often offer limited edition versions in unique scents and formulas. Just be warned – this stuff can be addictive! The MAC Prep and Prime Fix+ Setting Spray Mist sets and improves the quality of makeup wear up to 12 hours.
With an option for all skin types, the MAC Prep and Prime Fix+ Setting Spray Mist range has something for everyone. Looking specifically at the mattifying bottle, the innovative formula contains powders, silica, and other oil-absorbing agents to help set makeup, rebalance, and mattify skin. This setting spray is dermatologist tested, ophthalmologist tested and non-comedogenic making it perfect for those with sensitive skin too. Pop it in the fridge for that extra refreshment!
MAC maintains that they do not own any animal testing facilities and they never ask others to test on animals for them, however, they also indicate on their website that they don't want to 'exclude' any of their fans, so they still distribute in countries such as China who require animal testing. Therefore, this brand cannot be said to be entirely cruelty-free, so if it's something that's important to you, we have preferred options, like the NYX Matte Finish Spray that are.
Pros
Wide variety of different scents

Large catalog of formulas

Dermatologist-tested, ophthalmologist-tested and non-comedogenic
Cons
Not an entirely cruelty-free brand

Not waterproof
---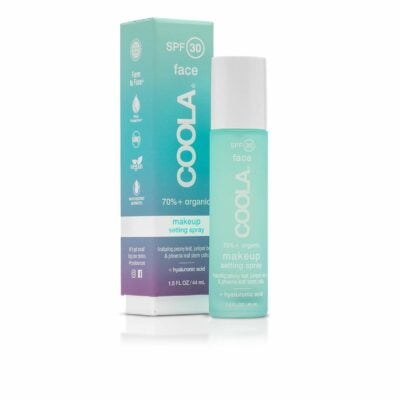 Why we like it:
This double-duty, water-resistant setting spray keeps makeup locked in whilst being a barrier to harmful UV rays and is made up of 70% organic ingredients. Brilliant for all your outdoor activities where you still want to look glam.
Editor's Rating:
Quick facts:
Finish: Matte
Size: 1.5fl oz (44ml)
Scent: Green tea
Waterproof: Water-resistant for up to 80 minutes
Spritz or Mist: Spritz
Cruelty-Free & Vegan: Yes
Free from: GMOs, parabens, silicones
This handy spray keeps skin looking and feeling fresh, whilst keeping it safe from harmful UV rays, thanks to the built-in SPF 30 broad-spectrum protection. It also contains aloe vera and cucumber to soothe skin and is made up of a whopping 70% organic ingredients. Impressively, it still provides a matte finish, working hard to help to keep oily skin at bay.
Protect your face from the sun while helping to boost the skin's natural immune system with organic extracts, antioxidants, and vitamins packed inside this bottle. This setting spray does contain alcohol, which may be how it keeps your face matte, but that's the main complaint we have. However, users of this product note that unlike other SPF sprays, this doesn't leave white specks on your face, which is handy when you're trying to keep your makeup on point. It also dries quickly, which is great for when you're out and about.
It is on the pricier end of the scale and is one of the smaller bottles on this list, so if you're on a budget this one might not be for you. In that case, we'd suggest the MAC Prep and Prime Fix+ instead, which is much more budget-friendly and still highly effective. Having said that, the compact size of this Coola spray makes it easily transportable. Ideal for throwing in your bag for on-the-go touch-ups.
Pros
Doubles as an SPF

Water-resistant for up to 80 minutes

70% of organic ingredients

Helps to boost the skin's natural immune system
Cons
Hefty price tag

The smallest bottle on this list
---

Why we like it:
Using a similar formula to the
Urban Decay
setting spray, this lesser-known brand's offering keeps makeup from budging for up to 16 hours.
Editor's Rating:
Quick facts:
Finish: Matte

Size: 4fl oz (118ml)

Scent: Unscented

Waterproof: Yes

Spritz or Mist: Mist

Cruelty-Free & Vegan: Yes

Free from: Oil, parabens
Their patented formula will keep your makeup cool and shine-free while absorbing excess oil, which prevents makeup from settling into pores. Skin's natural heat and rapid moisture loss result in your look requiring touch-ups throughout the day, whereas Skindinavia's patented technology forms a lightweight, breathable web that works with your makeup rather than against it. 
This finishing spray gives you a soft matte look while holding makeup perfectly in place. The name is actually a touch confusing, since it's more of a setting spray than a finishing spray. The anti-budge fine mist spray can help keep your makeup flawless for up to 16 hours.
As well as the standard 4fl oz bottle it also comes in a jumbo 8fl oz bottle for when you decide you love it. They even offer a teeny travel-sized bottle that comes in at 2/3rds of an oz – perfect for if you're not ready to commit to full-sized, or if you love it so much you need a bottle in every purse.
All Skindinavia products are vegan and cruelty-free, with this finishing spray being no exception. Pair this with their vitamin E infused Makeup Remover Spray to ensure that your makeup only comes off on your terms.
Pros
16 hours of hold

Patented technology

Variety of size choices
---
Why we like it:
Maybelline is a well-known brand offering quality products at an inexpensive price point, and this setting spray is no different.
Editor's Rating:
Quick facts:
Finish: Matte
Size: 3.4fl oz (100ml)
Scent: Unscented
Waterproof: No
Spritz or Mist: Mist
Cruelty-Free & Vegan: No
Free from: Oil
This micro-fine liquid mist setting spray boasts to give a matte finish makeup setting spray with up to 16-hour wear. As a drugstore alternative, this could be ideal for those on more of a budget, packing the same staying power as some of the high-end brands.
We recommend spritzing this before applying lipstick and mascara, but on the flip side, others praise the spray for how well it keeps their lippy in place! It's one that you're going to have to test out to see which way works for you, but with the large bottle size, you can even apply it at both stages.
In our experience, this is ideal for very active people with oily skin who want to make sure their face stays where it's supposed to be, rather than slipping or transferring. The lightweight and breathable finish means that this setting spray sits comfortably on your face and means that you won't even know you're wearing it. This all-day wear makeup setting spray is dermatologist tested, allergy tested, and suitable for sensitive skin.
Unfortunately, Maybelline as a brand still funds animal testing on their finished products going into countries that require it, such as China. This means that although this may not have been tested on animals in the United States, the company as a whole is not cruelty-free, and therefore this product isn't for you if it's something you'd like to avoid.
Pros
Micro-fine liquid mist

Dermatologist tested and allergy-tested

Free from oil

Unscented, ideal for those sensitive to smells
Cons
Not vegan or cruelty-free as a brand

Not waterproof
---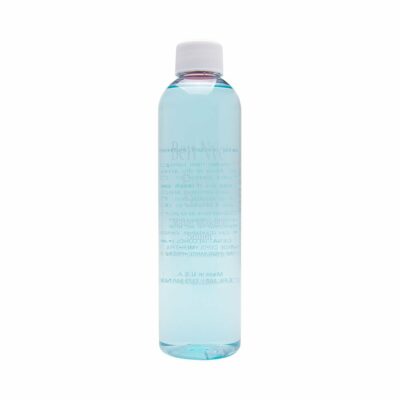 Why we like it:
Designed with performers in mind, this sealer keeps makeup intact for a whopping 24 hours!
Editor's Rating:
Quick facts:
Finish: Matte
Size: Various
Scent: Mint
Waterproof: Water-resistant
Spritz or Mist: Spritz
Cruelty-Free & Vegan: Yes
Ben Nye Final Seal is a smudge-proof, water-resistant sealer that leaves a matte finish, locking makeup in place for up to 24 hours. This spray keeps makeup in place even through heavy sweating, meaning that it's great for warmer days or even for use at the gym!
Completely cruelty-free, Ben Nye Final Seal is a firm favorite for makeup artists worldwide, appreciated and used by performers and artists across the globe. Sizes start at a 1fl oz bottle and go all the way up to 16fl oz, but the larger bottles don't come with a pump.
Unfortunately, we find that if you spray it too close to your face it may leave 'blobs' on your face, or even streaks as the spray bottle isn't as good as one may hope and is prone to clogging. If you buy the larger sizes you'll have to decant it into a smaller spray bottle, but some users of this spray have found that moving the product from its original packaging into a fine mist spray bottle solves the sprayer issues and allows the product to work to its full ability.
The scent can be a little too much for some people (a strong minty smell– akin to mouthwash), and those with sensitive skin might want to choose a different product as apparently, the tingling from the minty freshness can be a little irritating for some faces.
Pros
Lots of size choices

24-hour long-lasting effect

Water-resistant
Cons
Minty scent means it can cause tingling on the skin

Spray pump prone to breaking

Larger bottles don't come with a sprayer at all
---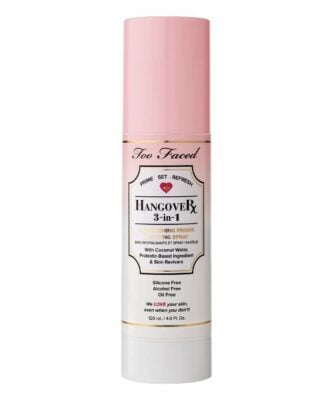 Why we like it:
This multitasking sweet-scented spray is designed to be used at every step of makeup application, helping to create the perfect base for your makeup.
Editor's Rating:
Quick facts:
Finish: Luminous
Size: 4fl oz (120ml)
Scent: Coconut
Waterproof: No
Spritz or Mist: Spray
Cruelty-Free & Vegan: Yes
Free from: Gluten, parabens, silicone, alcohol, and oil
This setting spray gets an honorable mention here because although it does contain ingredients designed to hydrate the skin rather than keep it matte, it works triple time to make sure that your makeup stays put. It's great for combination skin that needs a little hydration in places, helping to keep your skin in that perfect middle-ground between matte and dewy.
It doubles up as a primer as well as a refreshing mist for you to use throughout the day. Too Faced also recommends mixing it in with your foundation before you apply it to your face, making sure that it is fresh, dewy, and stuck in place all day long.
If you're someone with particularly oily skin, Too Faced's 'Peach Mist' mattifying setting spray might be more up your alley. Sporting their signature peach scent, this mist offers up to 12 hours of shine control and keeps your makeup in place for up to 16 hours.
Pros
Free from alcohol, parabens, silicone, and oil

Hydrates those pesky dry patches - great for combination skin

Gorgeous coconut scent
Cons
Original version not designed to mattify

Not waterproof
---

Why we like it:
Free from all the nasties, this setting spray is enriched with high-quality ingredients and free from parabens, mineral oil, and scent.
Editor's Rating:
Quick facts:
Finish: Matte
Size: 4fl oz (120ml)
Scent: Unfragranced
Waterproof: No
Spritz or Mist: Mist
Cruelty-Free & Vegan: Yes
Free from: Alcohol, parabens, sulfates, talc, gluten, and mineral oil
The ultra-fine mist application of this water-based spray delivers a lightweight and lasting matte finish – it's so weightless that you won't notice you are wearing anything, but it's still extremely durable and keeps your makeup intact all day.
Despite being free of most things you'd usually find in cosmetics, the water-based Cover FX Mattifying Setting Spray manages to work hard to tackle surface shine and make your pesky pores look smaller. Kaolin clay provides an instant matte finish and absorbs excess oil and this is combined with ancient African tree bark to visibly reduce the appearance of pores and help control shine.
We suggest that this should be used as a last step in the makeup application process, as it can sometimes cause makeup to look cakey if used in between each step. One of the bigger bottles, this does come with one of the higher price tags, but because you get so much it can be argued that it's an investment.
Pros
Kaolin clay provides a strong, matte finish

Weightless feel

Free from parabens, mineral oil, and scent
Cons
Can cause makeup to look cakey in some cases

Not waterproof
---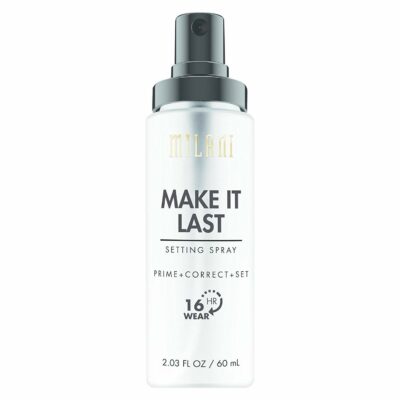 Why we like it:
This setting spray is unique on this list in that it can also be worn alone to create a beautifully matte, flawless face.
Editor's Rating:
Quick facts:
Finish: Matte
Size: 2.03fl oz (60ml)
Scent: Unscented but some users suggest it has a slight chemically smell
Waterproof: Yes
Spritz or Mist: Mist
Cruelty-Free & Vegan: Yes
Milani Make It Last 3-in-1 Setting Spray primes, corrects, and sets your makeup for up to 16 hours. This multi-purpose spray is designed to be used at the beginning and the end of your makeup application process, locking in makeup from all angles. The only spray on the list that's also designed to correct, Milani suggests wearing it on its own for a gorgeous flawless matte face.
This setting spray contains niacinamide which helps to build proteins in the skin and offers protection against environmental damage, which is where the 'correct' aspect comes into play.
Milani Make It Last 3-in-1 Setting Spray also comes in a variety of formulas. Although this original version is suitable for oily skin, if you're finding it's not quite up to the task, they do make a charcoal-based setting spray designed specifically for oily skin. The oil-absorbing setting spray features micro-fine charcoal powder and silica to set makeup and reduce the appearance of pores.
Milani doesn't test on animals nor do they allow others to test on animals on their behalf, meaning that this brand is happily, completely cruelty-free.
Pros
Primes corrects and sets

Waterproof

Contains niacinamide
Cons
Slight chemically smell

Smaller bottle
---
The Complete Guide to Setting Sprays for Oily Skin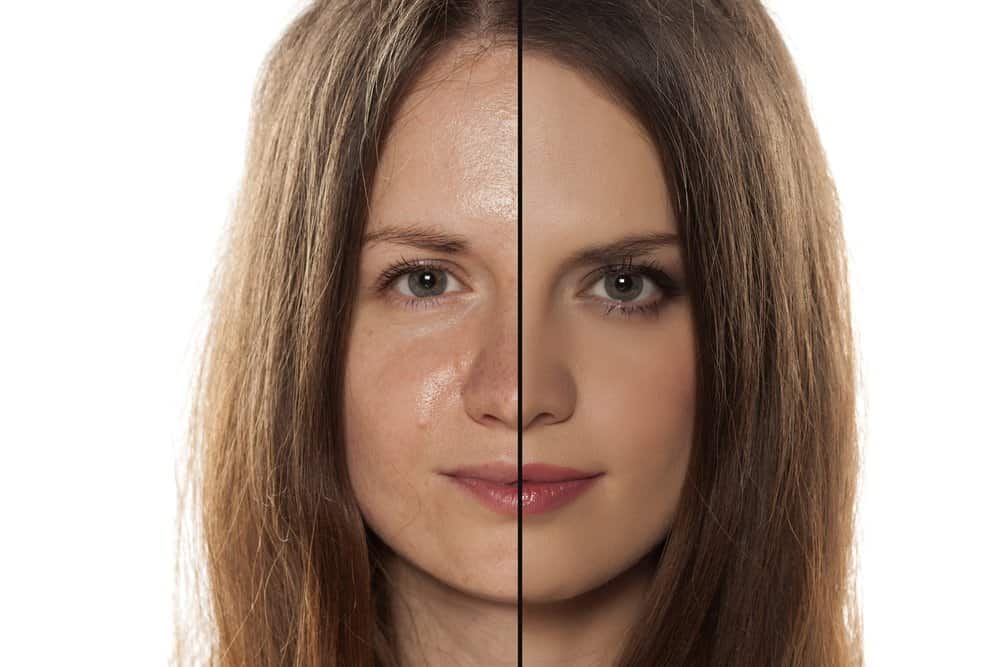 Beyond what we covered in our factors to consider when buying a setting spray, there are also some additional considerations to make when assessing the products from our review list. This section covers those, along with the answers to the most frequently asked questions about setting sprays for oily skin. But before that, let's first explore the benefits of setting sprays!
The Benefit of Using a Setting Spray
You may be asking yourself: why bother? It's already a hassle putting on your makeup every day, so why add an extra step to the end of the process? Well, if you don't want all your hard work to go to waste, it's probably worth considering using a setting spray.
They're specifically designed to help prevent your makeup from smudging, creasing, or fading quickly – whether you've spent hours creating a look, or you've just put on your daily face, the last thing you want is for it to disappear after a few short hours.

What Else to Look Out For
Our how to choose the best setting spray for oily skin section covered the most essential factors to consider when shopping for a new setting spray. But here's the lowdown on other ingredients and formulation practices that can help you make the most informed decision possible.
Parabens
Parabens are a group of similar chemicals that are commonly used as preservatives in cosmetic products. Parabens are often used in combination with other types of preservatives to extend the shelf life of cosmetics, but there are some health concerns related to the use of parabens.
Many natural and organic cosmetics manufacturers have found effective alternatives to parabens to protect against a broad range of microorganisms that might be trying to make your cosmetics go bad.
Cruelty-Free
You don't have to be vegan to want to use products that don't test on animals. With such a wide variety of companies out there that don't harm animals in the production of their cosmetics, it's never been easier to make an informed choice. Some brands indicate that they only test on animals when legally required, but this means that any brand that sells in China is required to carry out animal testing.
To be sure that a setting spray is cruelty-free, keep an eye out for the 'leaping bunny' symbol. This means that a product is certified by the Coalition for Consumer Information on Cosmetics (CCIC) to be cruelty-free.
Vegan
To count as vegan, a product has to have no animal-derived ingredients or byproducts. It may seem like the word 'vegan' should also imply that the product isn't tested on animals. Unfortunately, due to this not being regulated a product can be tested on animals and still legally claim to be 'vegan'. It's important to look out for both claims if you want to be sure.

Supplementary Ingredients
Niacinamide: regulates oil production, which helps to prevent clogged pores. For oily skin this is a super ingredient that you'll want to look out for in all of your products.
Hyaluronic acid: reduces wrinkles, redness, and irritation. While these issues are not specific to oily skin, choosing a setting spray that contains hyaluronic acid can help tackle a wide range of skin concerns.
Using a Setting Spray for Combination Skin
Combination skin means that you have oily skin in some areas of your face and dry skin in other areas. Usually, the t-zone (your forehead, nose, and chin) are the oily parts of your face, and the cheeks tend to lean more toward dry.
Most of the time, combination skin also has more noticeable pores on and around the nose compared to the rest of the face, and blackheads or blemishes may appear more regularly in the area around the nose too.
Luckily, the dry areas can be dealt with by using a moisturizer or serum, designed for dry skin, in the problem areas, and you can then concentrate on tackling the oil slick that might be your t-zone – a strategic combination of mattifying products can help keep your oily skin in check without stressing out the already dry areas.
Other Types of Setting Sprays
Setting spray isn't just to give you a matte look. If you've got dry skin this could be the last thing you want. Different setting sprays can give you different finishes, depending on what ingredients they contain – as mentioned above, as well as matte, there's also dewy and luminous finishes.
Setting Sprays vs. Finishing Sprays
A setting spray does exactly what it says on the tin – it sets your makeup, making it movement proof and staying put no matter what the day throws at you. Finishing spray helps blur your complexion, making your makeup look less powdery. It can also be used to refresh your look throughout the day but doesn't usually give your makeup the same staying power as setting spray does. Luckily, most setting sprays double up as a makeup refresher and help prevent that caked on look.
How to Use a Setting Spray
First, finish your makeup. From base to mascara make sure you've applied everything and gotten it exactly how you want it – once you've added setting spray your face is not going to budge!
Next, read the instructions to see if there are any special instructions on how to use it. If it doesn't say anything, it's worth giving it a shake just in case. Some setting sprays need to be shaken to mix the ingredients together – it can't hurt to give it a shake anyway. Plus, all the beauty gurus on YouTube seem to do it, so you can channel your favorite while putting on your makeup.
Then, make sure that you're holding the bottle a good distance from your face – too close and you'll end up soaking wet in one area and completely miss everywhere else. Between 6-10 inches away from your face is a good start, and you can always adapt as you get used to the specific product and its spritzing action.
Finally, close your eyes and mouth, and spray lightly in a T and X motion – the number of pumps you'll need will depend on the setting spray you use but it's best to go for fewer to start with. One to three sprays is usually enough. You don't want to completely drench your face, just cover it in a light layer of product, and you can always add more if you don't feel like you've covered everything.
Make sure you let the spray properly dry before pulling clothes over your head, otherwise all your hard work will have been for nothing. By letting it fully dry, you ensure that your look is locked in.
Read on for other ways to use setting spray – it's not just for the end of your makeup application.
Setting Spray Hacks
As mentioned earlier, setting spray isn't just the last step in applying your makeup. There are many other uses for this versatile product.
Use an SPF
Kill two metaphorical birds with one stone by opting for a setting spray containing SPF to protect your skin without having to reapply your sunscreen throughout the day.
Although you'll still need to apply sunscreen to your face, to begin with, choosing a setting spray that contains sunscreen means you can easily top up throughout the day and freshen up your makeup at the same time. Bonus!
Spritz Makeup Sponge Before Application
To really lock in your liquid or cream base products, or anything else you'd apply with a sponge, use setting spray! Everyone knows that the most effective way to use a makeup sponge is damp, but did you know that you don't have to use water?
Spritzing a few pumps of setting spray onto your makeup sponge before use is a great way to give your products a bit more staying power while still helping to blend and smooth your face.
Keep Layering
As well as using it on makeup sponges to keep your look staying put, another thing you can do to increase longevity is to layer the spray into each step of the application. Combine with a kick-ass primer to really lock in the look.
This is more effort than just a quick spritz at the end of your makeup application but is a brilliant tip for when you need your makeup to last, no matter what. Like at a wedding, photoshoot, or when you're trying to impress a date at the beach.
Boost the Pigments of Eyeshadow Powders
Another great hack is using a setting spray to brighten up your eye looks. Spraying your eyeshadow brush with a little bit of your favorite setting spray is a sneaky way to get the color to pop when applied to your lids.
Use a small brush so as not to waste product, and the water in the setting spray will bind with the powdered eyeshadow, making it look more concentrated and vibrant when you apply it. This also helps the eyeshadow stay put and may even prevent fall out.
Setting Spray FAQs
Do You Use Setting Spray Before or After Powder?
With some setting sprays suggesting that they help stop makeup from looking so cakey and powdery, you would assume that setting spray comes after powder, right? Well, this is a point of contention in the beauty world.
Some people argue that setting spray should be the last thing you put on, with powder being applied after your foundation and concealer, and that's it. Others maintain that an extra dusting of powder at the very end of your routine is the way to go.
Realistically, it depends on the setting spray and powder that you're using and depends massively on the skin you're blessed with. Try each way and figure out which works best for you and your skin.
How Do You Dry Setting Spray?
In short, you don't. It may be a little annoying having to wait for it to dry, but if you've gone for a decent product, it should dry pretty quickly. You can speed things up slightly by fanning yourself with your hands, otherwise, take these few minutes to practice some mindfulness or brew yourself a coffee.

What if You Have Combination Skin?
Combination skin – the bane of women everywhere. Not only is it dry in patches, but you also have to deal with oil in other areas. It's easier to hydrate the dry patches using other products such as a high-quality moisturizer than it is to keep the oily areas matte, so opt for an oil-free setting spray and tackle the dry patches separately.
Can You Use Hairspray as a Setting Spray for Makeup?
Most of us have been tempted to do this at one point or another. But trust us – for the love of all that is good in the world – and for the love of your skin, don't!
Due to the nature of hairspray, and the ingredients it contains, applying it to your face can cause rashes, irritation, or clogged pores – all the bad stuff we try to avoid. Poison Control even warns that any hairspray that gets on the skin should be promptly washed off to prevent irritation.
It may seem like a handy 'hack' but it can do a lot of damage to your skin and when there are so many purpose-developed setting sprays out there, specifically designed for the delicate skin on your face, why risk it?
Final Thoughts
Whether you're putting on your everyday makeup or getting dolled up for a night on the town, choosing a setting spray designed for oily skin means you may just find your new holy grail product. Combine with a mattifying primer to keep your makeup locked in place until you're ready to remove it at the end of the night.