The first step to making curls stay in your fine hair is choosing a curling iron that's up to the challenge. What works for normal or thick hair doesn't always provide the same results on finer strands. In this guide, we'll go over the key features that make a curling iron effective for fine hair, give you some tips on how to make your curls stay in place, and then talk about the best curling irons for 2021!
How to Choose a Curling Iron for Fine Hair
When shopping for a curling iron, the key factors you need to look at are the barrel type, barrel size, and the temperature range (as well as how much control you have over that temperature). Here's a quick look at each of those factors:
Barrel Material
Barrels can come in a variety of different materials, each offering its own benefits. Your main options, however, are a ceramic or tourmaline barrel or a metal barrel. Both can work for fine hair, depending on what you're trying to achieve.
Ceramic or Tourmaline
Ceramic and tourmaline coated barrels are better at heating your hair without scorching it. They also have a natural negative charge that helps fight frizz and smooth your hair.
While they are gentler, the negative charge that prevents frizz can work a little too well on fine hair. It sometimes ends up making your hair look flat and limp and causing your curls to vanish.
If you want to curl your hair more than once a week, though, the damage control offered here is important. In order to compensate for the flattening effects of the ionic charge in ceramic, use the tips for making curls last in our full buyer's guide below.
Metal
Titanium and other metal alloy barrels get super hot and do not have a negative ionic charge, so they'll do the best job of creating a voluminous, curly look that will last longer than it would with a gentler barrel.
However, hot metal can burn your strands and lead to breakage if you're regularly curling your hair with this tool. So, save the titanium iron for special occasions when you want a show-stopping formal look.
If defined, lasting curls are your top priority, go for a metal barrel like the Hot Tools iron. If you're just trying to create some texture and dimension, go for a gentler ceramic barrel like the Conair Double Ceramic iron.
Barrel Size
No matter how careful you are, fine hair just won't hold a curl as well as thicker hair can. One way to compensate for the inevitable flattening of your look is to start with a tighter curl than you actually want.
When comparing barrel sizes, keep these two rules in mind:
For fine hair, go a size down from what is normally recommended for the style you want.
Stick to 1.5" or smaller barrel sizes, as the looser waves created by larger barrels will not last at all in fine hair.
Temperature Range
With fine hair, it can be tricky to find the right temperature. For longer-lasting results, you want to go for higher temperatures. For minimizing damage and breakage, you want to go for lower temperatures.
A good way to compromise here is to get a curling iron with a wider range of temperature settings. The more options you have, the better control you have over the results. Curling irons with precision temperature control like the Hoson give you full control over the temperature you use.
You can read more on choosing the right temperature in the full buyer's guide below.
With these considerations in mind, keep reading to see some of the best curling irons on the market for your fine hair.
Top 10 Best Curling Irons for Fine Hair 2023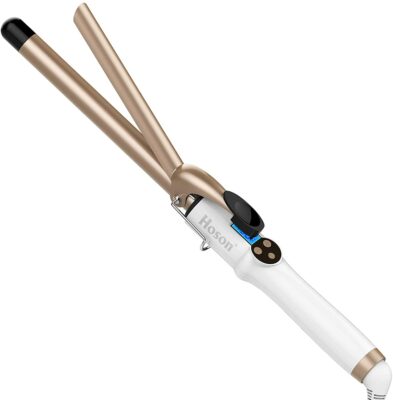 Why we like it:
The wide temperature range, sleek design, and affordable price make this one of the best choices for your go-to curling iron for every occasion!
Editor's Rating:
Quick Facts:
Barrel Material: Ceramic Tourmaline
Barrel Size: 0.75"
Temperature Range: 225° to 450° F
This beautiful design boasts the widest range of temperature settings, giving you full control over your styling results. The rotating cord, secure clamp, and extra-long barrel are all features that make curling fine hair a breeze!
Design and Features
The ceramic tourmaline barrel is gentle on your strands while the clamp is tight enough to hold hair in place, no matter how fine it is. The cord rotates a full 360°, so you don't have to worry about getting tangled up as you wrap your hair around the iron.
The temperature ranges from a gentle 225° all the way up to a powerful 450° F. Go low for gentler, everyday styling. Then, crank it up to 450° F to lock in well-defined and frizz-free curls that last longer than you ever thought possible.
At over 18 inches, this is a great option for longer hair or for spreading your strands out in a thinner layer to allow for better heat distribution, which will lead to better curl definition.
However, that extra length can take some getting used to. Until you're used to it it might feel unwieldy, and you might find yourself accidentally grabbing the hot barrel instead of the cool tip. So, make sure to pay extra attention to what you're doing while using this.
For a curling iron with a more standard length, check out the InfinitiPro tourmaline iron.
Use
The temperature range makes this a versatile option for a wide range of styling needs. You can achieve great definition and lasting curls at the higher end while getting looser curls or waves without causing extra damage at the lower end.
The 0.75" width is a good middle-range for fine hair, but you may want to go up to the 1" if your main goal is texture or beachy waves.
Pros
Long barrel

Secure clamp will hold fine hair in place

Rotating cord

Wide temperature range

Gentle ceramic tourmaline wand
Cons
Extra length takes time to get used to
---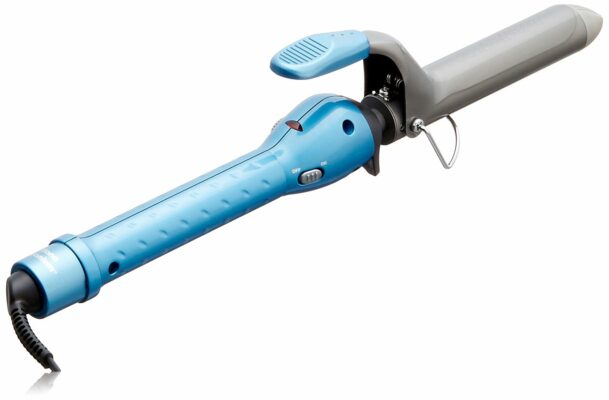 Why we like it:
By combining a titanium barrel with ionic technology, you get a curling iron that's both powerful and gentle on your fine hair.
Editor's Rating:
Quick Facts:
Barrel Material: Titanium
Barrel Size: 1"
Temperature Range: 250° to 450° F
This powerful titanium curling iron can create salon-quality styles while keeping damage as low as possible with a metal barrel. There are a ton of great design features that make this a great premium iron to keep on hand for elaborate updos or perfectly defined curls.
Design and Features
The nano titanium barrel is one of the most unique on the market. Titanium heats up quickly and provides the power you need for lasting, well-defined curls. The nanotechnology helps even out the temperature across the barrel, eliminating the hot and cool spots that tend to appear on metal barrels.
It also helps reduce frizz and damage for glossy, smooth locks, but this effect is mild enough that it won't cause fine hair to fall flat.
Other great features include a secure clamp that can hold fine strands in place, a swivel cord that prevents tangling, and a turbo heat button for even more power in your styling.
While the wide temperature range and ionic technology do help smooth your strands and prevent breakage, it's still a titanium curling iron. So, it's not going to be as safe for your hair as a ceramic barrel.
If you have damaged or chemically treated hair or you plan to curl your hair more than once or twice a month, this will be too strong. You'd do better with a product with a iron with a gentler ceramic barrel like Hoson that still offers high heat.
Use
This is a powerful styling tool that's ideal for your formal looks or for infrequent styling. If you only curl your hair once or twice a month and you want perfect, lasting curls when you do, this is the tool for you.
Pros
Wide temperature range

Powerful enough for more elaborate styles

Nano technology for a more even barrel temperature

Swivel cord

Secure clamp
Cons
Not ideal for damaged hair or frequent use
---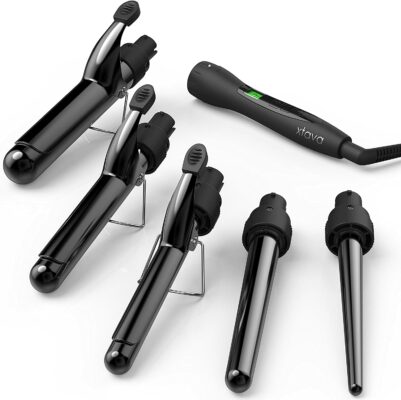 Why we like it:
This set offers versatility in size, temperature, and design so that you can create any look you want, even on fine hair!
Editor's Rating:
Quick Facts:
Barrel Material: Ceramic
Barrel Size: 0.30" to 1.25"
Temperature Range: 250° to 410° F
This 5-in-1 set comes with a variety of ceramic barrels that will enable you to create any style you want. This is a set that's ready to handle everything from your casual beach waves to your more formal updos.
Design and Features
This range of barrel sizes is perfect for fine hair. The largest barrel is still small enough to create lasting and visible beach waves. Then, the super small 0.3" size is perfect for creating perfectly defined ringlets that will still be ringlets, even when they start to loosen.
We also love that you get a mix of wand types. Three come with clamps, and two are clamp-free, so you can use your preferred technique.
The biggest issue with this design is the lack of a cool tip on the barrel. Without it, it's very easy to burn your scalp or your hand while curling. You'll have to be extra careful as you maneuver this around your head.
If you'd prefer to have that cool tip, you might like the Bestope set more.
Use
The ceramic barrels and the low heat options make this safe to use for everyday styling when you just want to add some dimension to your look. Meanwhile, the higher settings and the narrower barrels are great for creating tight ringlets that are secure enough to stay in place longer than they normally do.
Pros
Wide range of barrel sizes

Wide temperature range

Includes clamps and clamp-free barrel options

Suitable for both everyday looks and special occasions
Cons
No cool tips on the wands
---

Why we like it:
The beautiful rainbow titanium barrel is not only stunning to look at but capable of creating equally stunning curls!
Editor's Rating:
Quick Facts:
Barrel Material: Titanium
Barrel Size: 1"
Temperature Range: Up to 400° F
This unique metallic rainbow look makes this Conair curling iron look much more expensive than it is. Meanwhile, the titanium barrel and the high temperatures will allow you to create professional styles on a budget!
Design and Features
What makes this curling iron so unique is that it pairs a titanium barrel with a ceramic heating mechanism. By building ceramic components into the heating elements, you get that negative ionic charge that helps reduce frizz and keep damage to a minimum.
However, that negative charge isn't so strong that it will leave your fine strands limp and lifeless. The titanium barrel ensures that you're still getting great volume and strong definition in your curls.
There are 20 heat settings, with the highest setting at 400° F. It's unclear what the lowest temperature available is but with 20 heat settings, there's certainly enough range to find a setting that's safer for your fine strands.
Those with especially fine hair might have issues with the clamp. It is reasonably secure. However, when you combine a reasonably secure clamp with a glossy titanium surface and fine hair, what you end up with is hair that slides out of place easily.
We recommend using this with a heatproof glove, so you have a little more maneuverability to keep hair in place. Otherwise, try a curling iron with a more textured surface like the BaBylissPro.
Use
This is a great choice for special occasions or for people who don't curl their hair more than once a month or so. It's too powerful for regular use, but when you do use it, you're going to get great, long-lasting results!
Pros
Beautiful metallic rainbow design

Titanium barrel for salon-quality results

Heats up fast

Ceramic heating elements for mild frizz control
Cons
May be too slippery to hold fine hair in place
---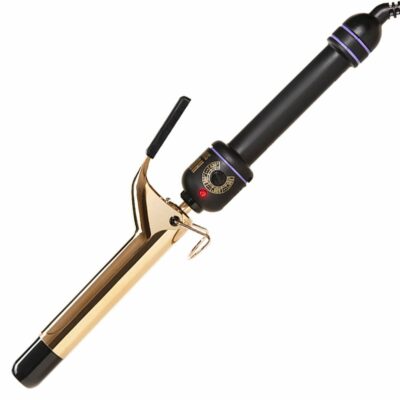 Why we like it:
This elegant gold curling iron boasts an incredibly wide temperature range and longer-lasting curls, even on fine hair!
Editor's Rating:
Quick Facts:
Barrel Material: Gold
Barrel Size: 1"
Temperature Range: 280° to 430° F
The secure clap, high temperature, and beautiful gold barrel are what set this curling iron apart from the pack. It's one of the best options for formal styles and locking in curls for as long as possible in your fine hair!
Design and Features
The gold barrel provides the rapid heat and power needed in a professional curling iron while the secure clamp helps hold hair in place. It can heat up in 30 seconds or less, depending on the temperature you set it to.
We love the temperature range here. At the lower end, you've got a gentle heat that's safer for fine hair and makes this more suitable for daily use. Yet, you still get a metal barrel that can provide more definition and heat up faster.
As much as we love this gold barrel, the glossy texture means that it is on the slippery side. This is not ideal for fine hair, which is liable to slide around and slip out of place if the surface isn't textured enough to hold it in place.
Fortunately, the extra secure clamp really helps with that issue, but if you have especially fine hair, it may still be a problem. In your case, you'd need a secure clamp and a matte textured barrel as found on the Conair Instant Heat iron.
Another issue that can get annoying is the short power cord. It really limits your range of movement. For professionals using this to style clients' hair, it's simply too short to work. For home use, you'll be able to live with it, but it would probably get tedious if you were using this more than once or twice a month.
Use
The gold barrel is powerful enough for more complicated styles. At lower heat settings, it's a good way to add some dimension to your look that will last all day. However, it's not the gentlest curling iron on the market, so we wouldn't recommend this as your go-to tool for everyday looks.
Pros
Gold-plated barrel for fast styling and lasting results

Wide temperature range

Secure clamp can hold fine hair in place

Great for special occasions and formal styles
Cons
Short cord

May be too slippery for fine hair
---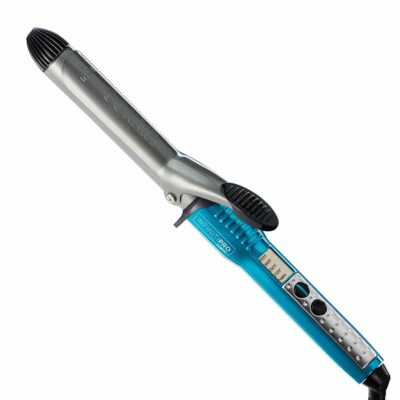 Why we like it:
This fast-heating ceramic curling iron is great for on-the-go or quick morning styling!
Editor's Rating:
Quick Facts:
Barrel Material: Ceramic tourmaline
Barrel Size: 1"
Temperature Range: 285° to 400° F
This is one of the few ceramic curling irons that can heat up almost as fast as a metal barrel. So, it's a convenient option for people who want to minimize damage but still need something that allows for quick styling in the mornings.
Design and Features
Ceramic barrels usually take a little longer to heat up, but this one can reach 285° F in just 30 seconds! When you're in a rush in the mornings, this fast heat-up time will be a blessing.
We also love the extra-long cool tip at the top of the barrel that makes it easier to maneuver this while styling.
For added safety, you also get a protective heat shield that covers the barrel when you're done using it. This means you can pack it up to take on trips without worrying about burning your clothes. It also allows you to tuck it away in a bathroom drawer without having to wait for it to cool down.
The wide temperature range gives it the power needed to create more casual looks as well as adding some definition to curls. However, the ceramic keeps it from being as powerful as something like this gold curling iron.
It's still a handy and sufficiently versatile option for your go-to curling iron.
Another issue in the design is the button placement. It's easy to accidentally switch the iron off while you're using it. For something with better button placement, try the Hoson.
Use
The ceramic tourmaline barrel and the lower temperature settings will allow you to create gorgeous everyday looks without doing excessive damage to your hair. The higher end of the temperature range is good for more complicated styles, but this may lack the power to achieve more ambitious updos.
Pros
Great for everyday styles

Wide temperature range

Heats up in 30 seconds

Extra-long cool tip

Heatproof cover for more convenient storage
Cons
Not strong enough for updos or tight curls

Too easy to accidentally turn it off while using it
---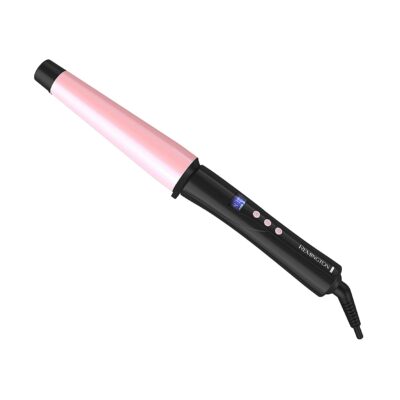 Why we like it:
This affordable conical wand gives you a good balance of versatility and gentleness that makes it a good pick for your everyday styles.
Editor's Rating:
Quick Facts:
Barrel Material: Pearl Ceramic
Barrel Size: 1" to 1.5"
Temperature Range: 266° to 410° F
The Remington pearl ceramic conical wand offers a wide temperature range and a wide range of barrel widths thanks to the conical shape. This enables you to achieve everything from beachy waves to tighter curls.
Design and Features
The pearl ceramic barrel is extra gentle on your fine locks. Pearl is an alternative to tourmaline that offers a similar negative ionic charge to fight frizz and minimize damage done to your hair.
They also offer this same design in a 0.5" to 1" size. Given the affordable price, you could get both sizes and get a similar level of versatility that a more expensive interchangeable set would get you.
The biggest flaw in the design is found at the base of the wand. There's a small gap where the handle meets the wand. This gap has a habit of catching strands and, if you're not careful, pulling them out. If you're using the narrower end of the conical wand, this won't be as much of an issue. However, when you're using the wider base, you need to be careful.
For a versatile yet gentle curling iron that isn't liable to cause breakage or pull out hair, try the Xtava 5-in-1 set.
The wand is also on the shorter side for a conical design. This really limits the amount of hair you can curl at one time if you're trying to get a consistent loop size across the entire shaft of the hair. You'll need to curl it in very narrow sections to achieve the right curl size and get the lasting hold you need.
For a conical wand with a little more room, check out the ones included in the Bestope set.
Use
This is gentle enough and versatile enough to be your go-to curling iron for everyday styles. It can get hot enough to create more well-defined and lasting curls, but it also offers low enough to temperatures to minimize damage when you're just trying to create loose, beachy waves.
Pros
Wide temperature range

Conical shape provides a range of sizes on one barrel

Gentle enough for regular use
Cons
Poor base design can cause breakage

Short barrel length
---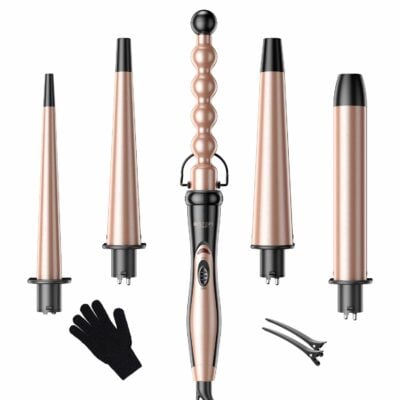 Why we like it:
This ceramic wand set offers versatility along with a gentle yet effective design that causes less damage to your hair!
Editor's Rating:
Quick Facts:
Barrel Material: Ceramic Tourmaline
Barrel Size: 0.35" to 1.25"
Temperature Range: 410° F
This gorgeous rose gold set comes with five interchangeable wands, a heat protective glove, and hair clips so you can achieve a wide range of styles, all with one setup.
Design and Features
Three of the interchangeable wands have a conical shape to maximize the range of styles you can create here. There's also a bubble wand which is great for creating effortless waves or adding volume and dimension to your hair.
This design also comes with an automatic shut off function so if you're using this in the mornings before work, you can rush out the door without worrying that you accidentally left a scalding hot curling iron on all day.
The most disappointing aspect of this set is the lack of temperature control. With no more than an on/off switch, you're stuck with 410° F. This makes it a little less ideal for your everyday styling needs than something like the Xtava 5-in-1 set that allows you to use lower temperatures.
However, 410° is a great temperature for creating lasting curls and the ceramic barrel does help minimize damage. So, we'd recommend this for the semi-frequent user. If you curl your hair three or four times a month on average, this set is for you.
Use
The gentle ceramic barrels and the wide range of styling options make this a handy option for semi-regular use. The lack of temperature control and the fact that its preset temperature is 410° F makes it a little too harsh to be your everyday styling tool. But, if you're only curling your hair a couple times a month and like experimenting with different styles, this is a good choice.
Pros
Ceramic barrels minimize damage

5 interchangeable barrels

Wide range of sizes

Includes a bubble wand for waves

Includes a heat protective glove and hair clips
Cons
Temperature not adjustable
---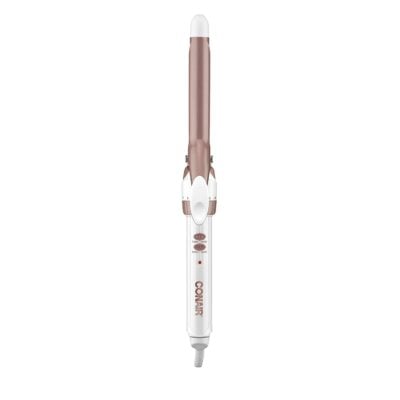 Why we like it:
This affordable ceramic iron is easy to use and offers a lower heat range that's gentler on your fine hair.
Editor's Rating:
Quick Facts:
Barrel Material: Ceramic
Barrel Size: 0.75"
Temperature Range: 200° to 375° F
Conair is one of the best brands for budget beauty tools that still provide gorgeous results. This double ceramic curling iron was specifically designed to be your go-to choice for everyday styling.
Design and Features
The barrel on this curling iron has a double coating of ceramic which creates a thicker barrier between your hair and the heating elements. It also keeps damage to a minimum. When you combine that with the lower temperature, this is one of the least damaging curling irons you could get.
With that said, the extra layer of ceramic may be too much for fine hair. That anti-frizz effect can end up sapping your hair of volume. If you use a texturizing spray or a lightweight volumizing hair spray when you style, you can likely avoid this risk. But if you're hoping to style without extra product, you'll need something with less ceramic like the Bestope set.
Use
The lower temperature range makes it a great option for creating everyday looks on a regular basis. It's gentle enough to minimize damage, even if you're curling your hair multiple times a week.
However, for more defined curls and lasting updos, this doesn't pack the heat you need to get the job done. While the turbo heat button can add a blast of 27° F to push this above 400°, you'll have to hold that button down constantly to complete a full updo.
So, you'll want to get a more powerful curling iron like the BaBylissPro to use on special occasions.
Pros
Lower temperature range is gentle on fine hair

Turbo heat boost can help lock in waves

Double ceramic coating minimizes damage
Cons
Not hot enough to create tighter curls on fine hair

May cause hair to fall flat
---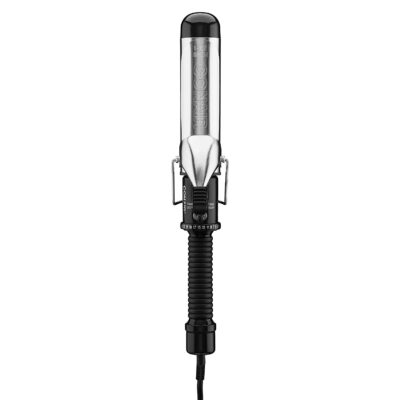 Why we like it:
This affordable curling iron boasts a chrome barrel that gets really hot, really fast, making it a great pick for special occasions when you need that extra oomph!
Editor's Rating:
Quick Facts:
Barrel Material: Chrome
Barrel Size: 1.5"
Temperature Range: Up to 400° F
This instant heat curling iron gets hot fast and provides enough heat to lock your curls in place, no matter how fine your hair. It's affordable, effective, and great for on-the-go the travel thanks to its dual voltage design.
Design and Features
The chrome barrel provides high heat and rapid heat-up time while the matte texture provides added grip to keep your fine hair in place. The turbo heat button can add a boost of 36° F for a temporary max heat of up to 436° F. This makes it a great pick for people with thinning hair who might still have some thicker, harder-to-style patches.
It's unclear what the lower temperature settings are in actual degrees. As with other Conair models, the packaging is a little vague, so you'll just have to experiment with the 25 different settings to find the one that's gentle enough for your fine hair.
Other than this, there are a couple design flaws that make this a little annoying to use. First, the little kickstand that keeps the barrel off your counter is metal. So, it gets hot and it also sticks in place so it's tough to move it out of the way while styling.
The other issue is that the clamp is not as tight as it could be and that is especially noticeable for fine hair that's already prone to slip out of clamps, even when they are well-designed. You'll need to wear a heat protective glove and use a little finesse to make this work for you.
However, despite these issues, it's a great low-cost option that packs enough power for more elaborate and defined looks. So, if you're only using this a couple times a year for special occasions, it's worth putting up with the minor annoyances.
If you want something that's more convenient and easier to use, try the Rainbow titanium iron.
Use
This is a convenient option for special occasions or for styling your hair on the road. If you're traveling and don't want to take your more expensive or bulkier curling iron along with you, this will make a great back up.
It's too powerful and lacks the quality design needed to be your go-to pick for regular use, though.
Pros
Matte barrel helps keep hair in place

Heats up fast

Dual voltage for international travel

Great for formal updos and defined curls
Cons
Poorly designed kickstand

Loose clamp won't grip fine hair well
---
Guide to Curling Fine Hair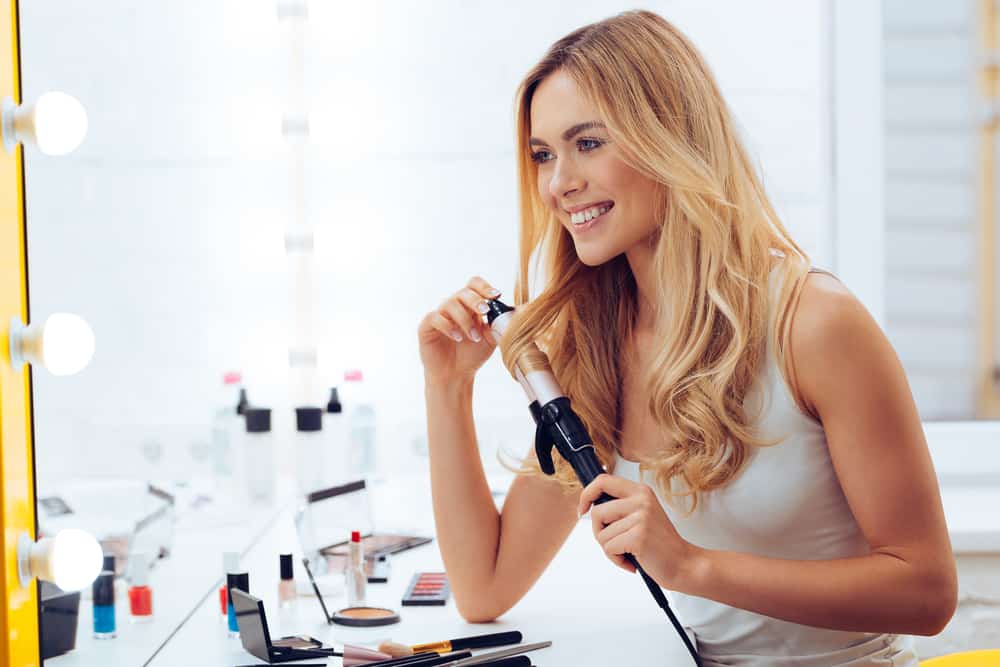 Shopping for a curling iron when you have fine hair takes a little more research and planning. Some of the features that work great on normal or thick hair can leave your hair looking flat or fried.
To help make the shopping process easier, we'll answer some of the most common questions people about curling irons.
Which Curling Iron Is Best for Fine Hair
As discussed earlier, the most important factors are barrel size, barrel type, and temperature. The best choice in terms of those factors depends on the style you're going for and how frequently you'll be using the iron.
In general, you want a gentler and more versatile option like the Xtava 5-in-1 set if you're planning to use it more than once or twice a week and want to create a range of different curly styles.
If you're not planning to use it often, go for maximum heat and power while avoiding ionic technology or gentler materials that can lead to premature flattening. A metal barrel with a high maximum heat like the BaBylissPro is great for creating long-lasting results. But the damage caused by these more powerful irons is too much to make them your go-to styling tool.
Another downside of titanium or other metal barrels is that the heat can be inconsistent. Ceramic is better at maintaining a steady heat throughout the process and a more evenly heated surface on the barrel itself. Titanium will have hot and cold spots, especially when it's just started to heat up.
You can compensate for this by giving it a few extra minutes to heat up, even after the indicator light says it has reached the right temperature. This will give those cold spots a chance to a heat up, too.
You can also look for a design with better heating elements, such as the Rainbow titanium iron.
Clamp vs. Wand
Some irons, including our top overall pick, come with a clamp that helps hold your hair in place while the iron does its work. Others are just a solid wand. The advantage of the clamp is that it makes it easier to curl the ends of your hair as well, but it can also create creases in your hair if you wrap it at an odd angle.
Wands without clamps create a smoother curl but it's harder to get the ends curled. They're great for more casual waves or loose curls. The clamp design is better for more formal looks where you have the time to make sure you're not creasing your hair.
Get a Smaller Barrel
If you're looking for loose waves, you should start with smaller ringlets and let them fall into the looser waves you actually want.
To use that technique, you'll want to go with a narrower barrel size than is recommended for the look you want. For example, if that hair tutorial you watched says to use a 1.5" barrel, you should actually use a 1" or 1.25" barrel.
If you want a more versatile curling iron that can achieve a variety of looks, opt for a tapered barrel as seen on the Remington that has a wide base and gets narrower as you reach the tip. You can also look for a tool that has interchangeable barrels like this Xtava set.
Avoid 2-in-1 Hot Tools
It's already challenging enough to get any curl to stick in fine hair so when you're using a tool that also straightens, you're making it even harder. Unless you're experienced with using a flat iron to curl hair, it's easy to accidentally pull the curl flat as you remove the iron from your hair.
Another popular 2-in-1 tool is the hot brush. If the brush head has firm teeth, you can use it safely to add some nice waves and texture to your hair. If the brush head has bristles, however, you should avoid it. These bristles are rough and dense which makes them liable to rip out strands, especially if your hair is fine and fragile.

What Temperature Should a Curling Iron Be for Fine Hair?
This is not an easy question to answer. If your main goal is to minimize the damage done by hot tools, you want to keep your curling iron at or below 300° F. You'll still be able to create some dimension and waves at this lower temperature so if you just want to add a boost of life to flat, limp strands, this is the temperature to be at.
However, fine hair already struggles to hold a curl so if your goal is to lock curls in place and avoid having them fall out the minute you put the iron away, you need to crank it up as high as it will go, ideally 400° F or above.
You definitely shouldn't apply this high of heat to your hair on a daily basis but it's a necessity for days when you want well-defined ringlets that actually last.
To make sure that you're always able to set your iron to the right heat level each day, be sure to choose a curling iron with a wide temperature range.

How Can I Make My Curls Stay in Fine Hair?
In addition to getting the right curling iron, you can also modify your styling routine to better accommodate the unique demands of your hair. Here are a few tips for curling fine hair:
Curl smaller sections of hair. It will take more time but when the layer of hair wrapped around the barrel is thinner, each strand is exposed to more heat. That extra heat on each strand helps better lock in the shape of the curl.
Use hairspray before and after. Spritz a little hairspray on the lock just before you wrap it around the iron. Then, pin the curl to your scalp and spritz a little more hairspray on it. Unpin the curls only after you've finished curling all your hair.
Skip the shampoo. Curls will hold better if there's a little extra oil in your hair. Too much oil will weight it down but just enough helps hold the curl in place. Day-old hair usually strikes that perfect balance.
Use Dry Shampoo. While a little oil along the shaft of your hair is helpful, an oily scalp will weigh your hair down causing curls to fall flat quickly. Dry shampoo can help lift your roots, which takes some of the weight off the curls, helping them preserve their bounce.
What Else Can I Use to Make Curls Last Longer?
A great curling iron is key to getting lasting results, but it can't do it alone. Here are some other products you should consider to help curls stay in your fine hair:
Hairspray for Fine Hair. Hairspray formulated for fine hair helps lock in styles without weighing your hair down. It's a must have for keeping curls in place.
Organic Dry Shampoos. Dry shampoos help lift hair by the roots, making it more weightless. This can take the pressure off your curls and stop them from falling flat so quickly.
Clip-In Hair Extensions. Extensions add more layers to your hair and give your real strands something to cling to, so they don't fall flat as easily. Use them to achieve long-lasting curly up-dos on special occasions.
Final Word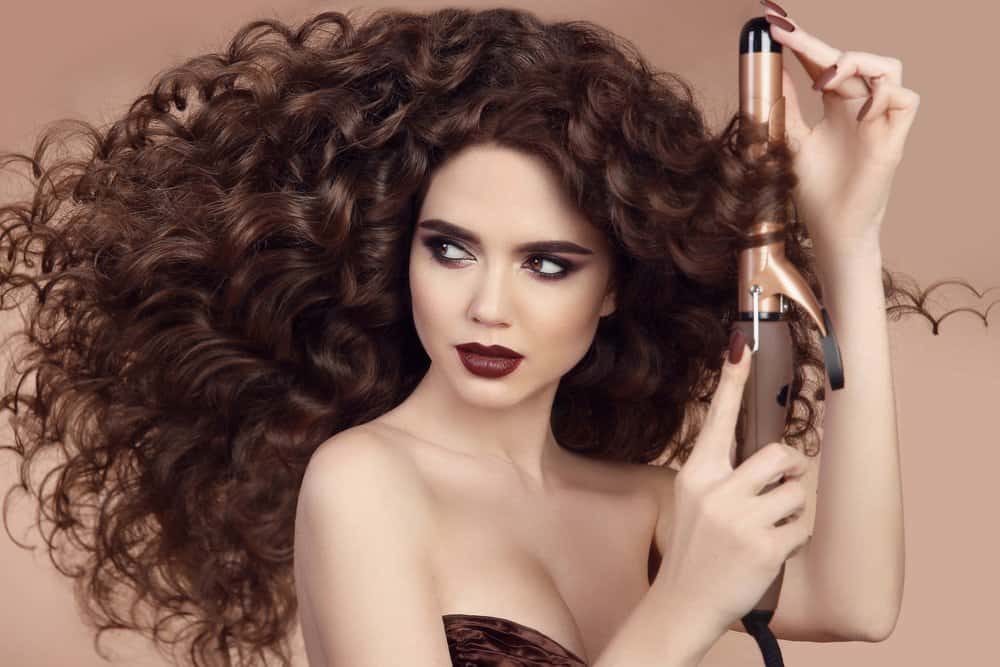 Keeping curls in fine hair can feel like an unwinnable battle, but with the right curling iron and the right technique, you can extend the life of your curls. You just need to decide what kind of look you're going for as well as how frequently you plan to curl your hair.
For daily or weekly styling, a gentler ceramic iron like Conair Double Ceramic iron or the versatile Xtava ceramic set are better choices. For special occasions and more elaborate styles, a high heat, metal wand like the Rainbow titanium iron packs the power you need for lasting curls.