While you may know it as one of the best natural remedies to soothe skin burnt from the sun, aloe vera gel has many more benefits beyond cooling your skin. Aloe vera can be used in a wide range of products for both skincare and hair care; it hydrates skin, treats acne and acne scars, conditions hair, and some forms can even be used to aid in digestion.
Today's wide range of aloe vera gel products offers a convenient way to access all the benefits of the aloe vera plant without actually harvesting the succulent yourself. These gel products can be applied directly to the skin or blended into one of the many DIY aloe vera recipes available.
We know it might be overwhelming to start looking for a great aloe vera product, so we've decided to help you out by making a list of our top 10 favorite products. Read on to find out all you need to know about aloe vera gel and more!
What to Look for in Aloe Vera Gel
It may seem like a straight forward product to shop for, but there are some things you should be looking out for in your aloe vera gel.
Ingredients
A good aloe vera gel should have a limited number of ingredients in it. Aloe vera should be one of the first 3 ingredients, and there should not be a large list of chemical preservatives or coloring. Aloe vera gel is actually white in color, so if a product is green, you should probably give it a pass. And remember that the further away aloe vera is on the ingredients list, the less of it is in your product.
Other ingredients you may find in an aloe vera gel include essential oils for scent or skin benefits (like the lavender found in our premium pick, or cooling and skin soothing ingredients such as tea tree oil or honey.
You may want to avoid additives such as lidocaine and menthol that are found in many aloe vera gels intended for use on sunburns. While these do have cooling and pain numbing properties, you likely don't want them in a product you will be using on your skin and hair.
Labeling
Paying close attention to the label of an aloe vera gel product can save you from accidentally buying a product that isn't so great. The label should claim that the product is "pure aloe vera". Any product claiming to feature "100 percent gel" or something similar is typically not being forthcoming about the nature of their ingredients – "100 percent gel" for instance, simply means the product is completely made out of gel.
Keep in mind that it is not possible to have 100 percent aloe vera, since certain stabilizers and preservatives are necessary to make the product shelf-stable. However, the closer the percentage of aloe is to 100, the more potent the product.
Now that we've discussed what to look for in an aloe vera gel, let's head straight into our list of the 10 best products available!
Top 10 Best Aloe Vera Gels 2023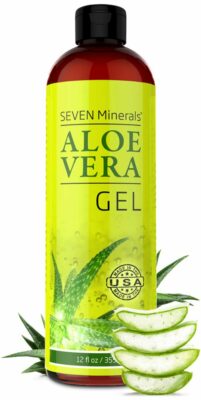 Why we like it:
Seven Minerals Aloe Vera Gel has a quick absorbing, potent aloe formula that is perfect for delivering maximum benefits.
Editor's Rating:
For anyone who is looking to apply aloe vera gel on the go, the formula of Seven Minerals dries quickly, so you can easily incorporate it into your morning or evening skincare routine. The formula is non-sticky and won't leave any residue or film on your skin after applying.
The gel itself is very skin smoothing. You will notice your skin feeling more hydrated and softer after the first few uses. The aloe used in this product is very potent, and has been purified and filtered so that it is food grade (though you probably shouldn't eat it!).
Because this product is so natural, it may have a gritty texture that some can find unappealing. This texture, combined with the product's potency, make it not the best choice for someone with sensitive skin. For a gentler product to use on easily irritated skin, we recommend NaturSense Organic Aloe Vera Gel.
Pros
Dries quickly

Non-sticky formula

Very skin smoothing

Food-grade, potent aloe
Cons
Gritty texture

May not be the best for sensitive skin
---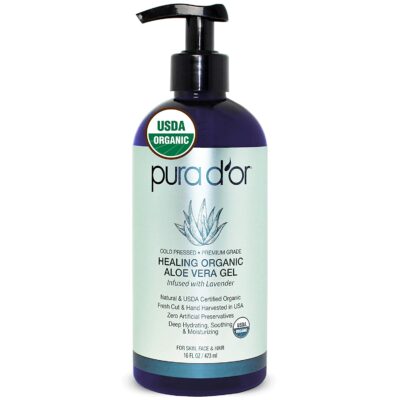 Why we like it:
Created with organic ingredients, PURA D'OR's Organic Aloe Vera Gel features a calming lavender scent.
Editor's Rating:
If you love products that are lightly scented and not too overpowering, PURA D'OR's Organic Aloe Vera Gel is a great choice. It features a calming lavender scent that is light and doesn't linger too long. It works great as a cooling aftershave for all genders.
Every ingredient in this product is USDA certified organic. This makes it a great choice for anyone who prefers natural products. It also has vitamin E blended into the formula, making it even more nourishing for both skin and hair.
This product is not the best for using with burns. The added lavender essential oil, which is great as a fragrance, can irritate burns or cause a skin rash in those with more sensitive skin. If you are looking to use your aloe vera gel primarily as a sunburn treatment, we suggest looking at First Botany Cosmeceuticals Aloe Vera Gel instead.
Pros
Calming lavender scent

USDA certified organic

Added vitamin E

Great as an aftershave
Cons
Not the best for sunburns
---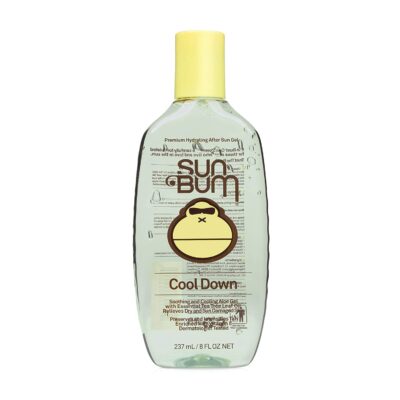 Why we like it:
Sun Bum's Cool Down Aloe Vera Gel is affordable and perfect for using on skin that is irritated or inflamed.
Editor's Rating:
This aloe vera gel is affordable and comes in a fairly decent sized bottle. The gel itself has a non-greasy formula that won't leave your skin feeling greasy or sticky after application. It is a good choice for anyone who wants to apply their aloe vera and forget about it as soon as it is absorbed.
This product is great for using on irritated skin that has been affected by bug bites, burns, or cuts. Tea tree oil helps to reduce inflammation and provide anti-bacterial properties while the aloe vera cools and hydrates the affected skin.
Unfortunately, this product does contain artificial dyes. There are not many, but if you are planning to use the aloe vera primarily on your face or hair, these dyes may be too harsh or drying for you. Check out Amara Beauty Aloe Vera Gel for a product free from artificial coloring.
Pros
Affordable

Great for using on irritated skin

Non-greasy formula
---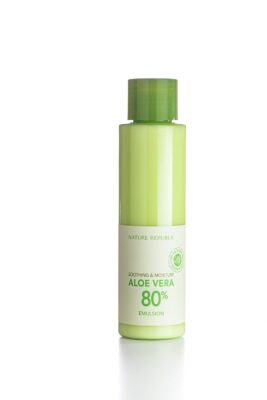 Why we like it:
Nature Republic's Aloe Vera is instantly hydrating and great for using all over your face.
Editor's Rating:
Perfect for using on your face, Nature Republic's Aloe Vera gel has a smooth and rich consistency. It is easily applied and absorbs into skin quickly. It makes a great choice for anyone who loves a luxurious-feeling skincare product.
This aloe vera gel is instantly hydrating; the moisturizing effects can be felt as soon as the first use. It is a great product to blend into homemade face masks or to simply apply under your eyes for an after-work pick me up. And if you're into super hydrating products, you should also look at KP Cure's Aloe Vera Gel.
There is quite a heavy fragrance mixed into the formula of this product. It can be a little overwhelming, especially if you are sensitive to strong fragrances. The gel might also leave somewhat of a sticky residue on your skin if you apply too much at once.
Pros
Instantly hydrating

Great for use in face masks

Works well underneath eyes

Smooth, rich consistency
Cons
Heavy fragrance

Leaves sticky residue
---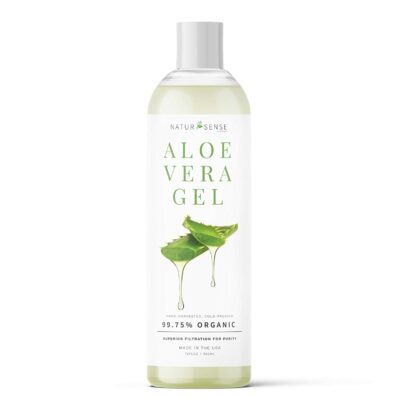 Why we like it:
Great for using on sensitive skin, NatureSense's Organic Aloe Vera Gel features a fragrance-free formula.
Editor's Rating:
If you have sensitive skin, this product may be perfect for you. It has an organic formula similar to PURA D'OR's Organic Aloe Vera Gel, and is created with 99.75 percent organic aloe vera juice. It is a very pure and non-irritating formula.
There are no chemical thickeners blended into this gel, and it is completely fragrance-free. This makes it a good choice for someone who dislikes scented products, or someone who prefers the most limited amount of ingredients possible.
Because there are no thickeners in this product, the consistency is a little waterier than its competitors. This makes it harder to apply as it tends to drip off skin easily. It is also not the best for using in DIY recipes because the consistency makes it hard to thoroughly blend.
Pros
Great for sensitive skin

No chemical thickeners in formula

Fragrance-free
Cons
Hard to apply

Not good for DIY recipes
---

Why we like it:
Amara Beauty's Aloe Vera Gel soothes itchy and dry scalps and is great for using in a DIY hair mask.
Editor's Rating:
For anyone wanting to receive the many hair benefits of aloe vera gel, Amara Beauty's product is a great choice. The gentle formula soothes itchy and dry scalps while conditioning hair, making it a good option for blending into any DIY hair mask.
There are no harsh preservatives in this formula, and it is created without any parabens or dyes. This means the product won't be drying to hair in anyway and shouldn't affect your hair's natural oil production. In addition, the company selling this product offers a full money-back guarantee if you happen to not like the product, so you can purchase with confidence.
When purchasing this product, be aware that it may turn up discolored. Some variations in color are normal for a natural product, but it may be off-putting to some users to receive a gel that has turned light or dark brown. You may want to check out Seven Minerals Aloe Vera Gel for a more reliably colored product.
Pros
Soothes scalp

Great for DIY hair masks

No harsh preservatives, parabens, or dyes

100 percent money-back guarantee
Cons
Gel easily turns discolored
---

Why we like it:
Packed with skin healing ingredients and plant stem cells, Honeyskin's Organic Aloe Vera Gel is perfect for all over the body use.
Editor's Rating:
Manuka honey is one of the key ingredients in this aloe vera gel that brings intense skin repairing benefits. Manuka honey balances out the skin's PH, helping to clear acne or other skin imperfections. It works with plant stem cells to promote collagen in skin and improve skin's overall appearance.
For anyone suffering from a skin condition such as eczema or psoriasis, this product is a good choice. It is perfect for all over the body use, so you can apply it to any area of the skin that is bothering you. The anti-inflammatory benefits also help to soothe and heal skin.
On the downside, this product is not as hydrating as others on our list. It is also a fairly small bottle for the price, and it may not last long if you are a daily aloe vera gel user. If you are looking for an aloe vera gel on a budget, we recommend looking back at Sun Bum Cool Down Aloe Vera Gel.
Pros
Manuka honey improves skin appearance

Plant stem cells promote collagen

Works well for skin conditions

Great for all over body use
Cons
Small bottle

Not as hydrating
---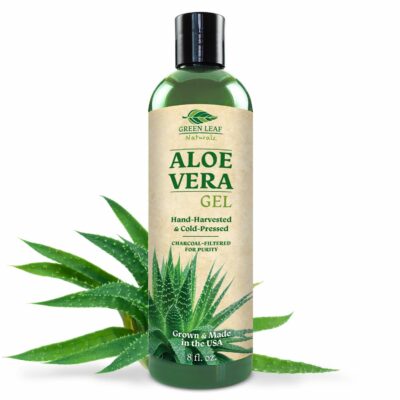 Why we like it:
Green Leaf Naturals' Aloe Vera Gel is easily blended into any of your DIY recipes and charcoal-filtered for purity.
Editor's Rating:
Green Leaf Naturals' Aloe Vera Gel is cold pressed for maximum potency and then charcoal filtered to ensure high-quality purity. It leaves a pleasant cooling effect on the skin after each use, and is a great choice if you are looking for a strong aloe vera gel to even out and improve skin tone.
This product is perfect for blending into DIY recipes because it is so pure. It does not have many other added ingredients or stabilizers that would affect your recipe. It also is easily blended and mixes up well, so your homemade skin and hair care products can feature a smooth, pleasant consistency.
Even though this gel does not have added fragrances in it, it does have somewhat of a bad odor that can be unbearable for some. If you are sensitive to strong earthy smells, then we recommend looking at a better scented product such as PURA D'OR Organic Aloe Vera Gel.
Pros
Easily blended into recipes

Charcoal-filtered for purity

Leaves cooling effect on skin

Great for use in DIY recipes
---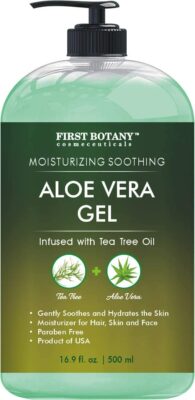 Why we like it:
Great for use with sunburns, First Botany Cosmeceuticals' Aloe Vera Gel uses tea tree oil to stop itching and pain.
Editor's Rating:
If you're looking to treat any and all kinds of burns caused by an active day in the sun, First Botany's Cosmeceuticals' Aloe Vera Gel is a great option for you. The cooling formula is mixed with tea tree oil and plant extracts that help stop any itching and pain associated with sunburns.
The formula of this product is fairly lightweight and won't feel too heavy or sticky on the skin. This makes it great for sun care because it is easily absorbed into skin without too much rubbing, which could irritate or cause pain to your burn.
Due to the addition of tea tree oil, this is not the best for use in your hair. It may be too drying, especially if you have naturally drier or curly hair. And if you have very sensitive skin or a skin condition, tea tree oil may further irritate your skin and cause redness or a rash. We recommend Honeyskin Organic Aloe Vera Gel instead if you have an existing skin condition.
Pros
Great for sunburns

Tea tree oil stops itching and pain

Lightweight formula
Cons
Not the best for use in hair

May irritate skin
---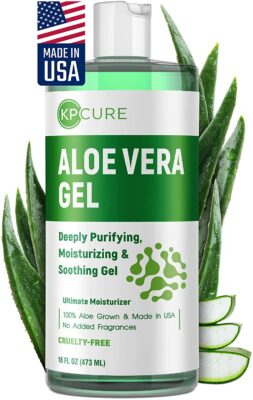 Why we like it:
For anyone with dry or damaged skin, KP Cure's Aloe Vera Gel provides just the right amount of skin hydration.
Editor's Rating:
This ultra-hydrating formula in KP Cure's Aloe Vera Gel provides a perfect amount of hydration to dry skin. Added chamomile extract helps to soothe skin that is damaged, leaving you with soft, silky skin in no time.
Eucalyptus oil is blended into this formula and can help fight inflammation. It makes this product a good choice if you are fighting acne, as the eucalyptus oil will help heal any blemishes. Additionally, the consistency is not too thick and spreads easily, making it a great choice if you want an easily applied gel.
The formula of this product does contain artificial fragrance and dyes. If you are trying to stick to more natural aloe vera gel products, this may be a drawback for you. You can check out Amara Beauty's dye and preservative-free formula instead.
Pros
Ultra-hydrating

Chamomile soothes damaged skin

Eucalyptus oil fights inflammation

Easily applied consistency
Cons
Contains artificial fragrance and dyes
---
Your Full Guide to Aloe Vera Gel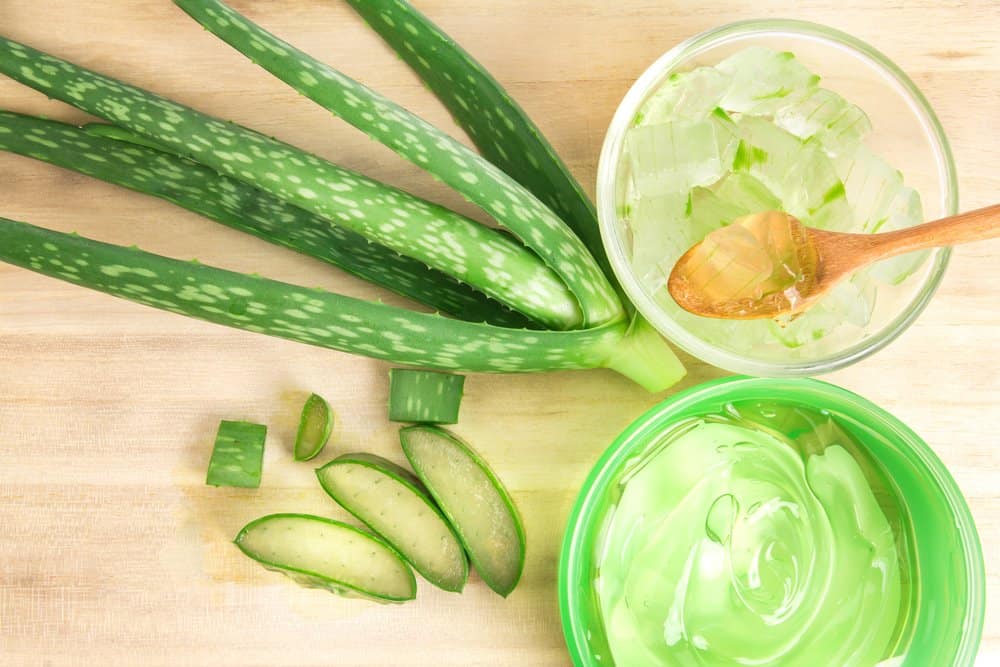 Need to know more about aloe vera gel? Read our full guide to learn what aloe vera can do for you and your skin.
What Can You Use Aloe Vera Gel For?
The benefits of aloe vera gel are an expansive list. Below, we've gathered some of the most important benefits of this helpful succulent.
Treating Acne
Aloe vera is a natural anti-inflammatory and anti-bacterial ingredient. It can be used topically on skin to stop acne redness and reduce the size of pimples. It can also be used to gently fade acne scars.
Moisturizing
A moisture-rich gel, aloe vera is perfect for soothing and hydrating all skin types. It is packed full of all of the vitamins and antioxidants skin needs to become soft and retain moisture. And if you are looking for an extremely hydrating aloe vera gel, we suggest taking another look at KP Cure Aloe Vera Gel.
Skin Conditions
Skin conditions such as eczema and psoriasis can benefit from regular aloe vera usage. The gel soothes itches and hydrates skin to prevent flaking.
After Sun Care
The most well-known benefit of aloe vera gel, it can cool and heal skin that has spent a little too long in the sun. It may also speed up the healing time of sunburns and prevent any peeling. For sun care, we recommend First Botany Cosmeceuticals Aloe Vera Gel.
Skin Brightening
Consistent application of aloe vera can help it brighten your skin and fade and spots of hyperpigmentation. This is due to the many vitamins, minerals, antioxidant, and moisturizing properties of aloe vera – your skin absorbs these with each application and becomes balanced over time.
Cuts and Burns
Beyond just sunburns, aloe vera can help heal any burns you may sustain while going about your day or experimenting in the kitchen. Its anti-inflammatory properties can also work to heal and protect cuts.
Hair Conditioning
When used in a hair mask or applied directly to hair, aloe vera will condition your tresses, leaving them soft and shiny. It can also strengthen hair, deep clean oily scalps, and soothe itches thanks to the vitamins B, C, E, and found in the gel. From our list Amara Beauty Aloe Vera Gel is great for use in hair.
Aloe Vera for Digestion
In the right form, aloe vera can be used as an aid in digestion. The same cooling and soothing benefits apply when you consume aloe vera, and it coats the esophagus and stomach, allowing for heartburn prevention and intestinal irritation.
Keep in mind that aloe vera gel should not be consumed and you will need a food grade juice or powdered form of aloe vera if you want to take advantage of this benefit.
How to Use Aloe Vera Gel
Adding aloe vera gel into your daily routine may be a little confusing at first, but you don't need to worry. Using aloe vera gel is simple and can be done in just a few steps.
Skincare
After washing and cleaning your face either in the morning or at night (or both!), apply a small amount of aloe vera gel to your fingertips. Rub it on your face or anywhere else on your skin in a circular motion, making sure to massage it completely into your skin. You can then follow up with the rest of your regular skincare routine.
Alternatively, you can add your gel onto a cotton pad and then dab that onto the areas of skin you wish to treat.
Haircare
Add aloe vera gel into your palm. You can start with a quarter-sized amount and add more if needed, depending on how thick your hair is. Rub the gel directly onto your scalp, making sure to massage it around your roots thoroughly. Let it sit on your head for approximately an hour before showering and using both shampoo and conditioner.
You can apply aloe vera gel to wet or dry hair, but it will need to be washed off after an hour to prevent it from over-drying hair or causing any scalp irritation.
Can You Use Aloe Vera Gel Daily?
You can, and in most cases, should be using aloe vera gel on your skin daily. Applying aloe vera gel to your skin twice a day can make a significant impact in the hydration and overall appearance of your skin. Additionally, if you are trying to treat acne or another skin condition, consistent use will be much more helpful for you.
As far as using aloe vera gel in your hair, this should not be done on a daily basis, especially if you have naturally dry hair. Because aloe vera gel is such a deep cleaner, it only needs to be used 2 to 3 times a week in hair in order to prevent completely stripping the natural oils from your locks.
How Much Aloe Vera Gel Should You Use?
How much aloe vera gel you use depends on where you are using it. Typically, a small amount applied to fingertips is enough to cover your face. You want to the gel to be absorbed into your skin in a thin layer without much effort and without leaving any product behind sitting on your skin. Overapplying aloe vera gel may result in a greasy residue on your skin or gel that simply doesn't absorb.
Ensuring Your Aloe Vera Gel Is Pure
When buying aloe vera gel, there are a few indicators you can look out for that indicate whether your product is the real deal or not.
Color
Real aloe vera should be clear in color. It may become a little less clear if it is blended with essential oils, but the product should never be green or any other color. This indicates the presence of artificial colorings or chemicals.
Check the Ingredients
In a quality aloe vera gel, such as our best overall pick, the first ingredient should be aloe vera, not water or an alcohol. However, if you love a product and water is the first ingredient, aloe vera should at least be in the first 3 ingredients – any lower than that and you likely won't receive potent enough benefits from it.
How to Use a Real Aloe Vera Plant
If you've managed to get your hands on a real aloe vera plant and want to know how to use it in order to get the same benefits as the products on our list, you've come to the right place. Follow this step-by-step guide to remove your aloe vera gel from the plant and start enjoying its benefits.
Place your aloe vera leaf on a clean cutting board. You may wish to wear gloves for the cutting process.
Take a sharp knife and cut off the serrated edges of the aloe plant on each side.
With the knife facing away from you, start at the bottom of the plant and slice up, removing the top layer of skin from the leaf. Keep the knife as close to the leaf skin as possible to avoid damaging the interior gel.
Now that you can see the gel, trim away any yellowish areas or areas with skin on them. All you want to see is a clear pulp inside of the leaf.
Take a spoon and scoop out the gel, placing it into a bowl. Use the gel immediately for the best benefits.
If you are using a homegrown aloe plant, after cutting the leaf of the plant, you will need to let it drain the aloin before following these steps. Aloin is the yellow bitter-smelling substance that drips out of a fresh aloe leaf; it is potentially toxic and has a laxative effect on humans. It must be completely drained before you can use the gel inside of your aloe leaf.
Wondering where to find an aloe vera plant? You can look for individual leaves in your local grocery store or international market, or you can buy a plant to grow at home for yourself.
DIY Aloe Vera Gel Recipes
Aloe vera gel is the perfect ingredient for adding into your DIY recipes and homemade spa days. Check out these ideas for using your product.
Face Masks
Face masks made with aloe vera can hydrate and brighten skin, and give a soothing effect to tired eyes. For soothing skin itches and burns, mix your aloe vera gel with honey. For skin brightening, aloe cider vinegar makes a perfect mix. You can check out this list of face mask ideas to find a recipe that perfectly targets your skin concerns.
As an added bonus, you can place your face mask mixture into the refrigerator 30 minutes before applying it if you want an even more relaxing experience.
Be sure to keep in mind that when you apply any aloe vera gel to the face, it should not be left on for more than 20 minutes in order to avoid skin irritation.
Hand Sanitizer
Believe it or not, aloe vera gel makes the perfect base for a hand sanitizer. You can mix it with a 65 percent rubbing alcohol in a ratio of 2/3 cup of alcohol to 1/3 cup of aloe vera gel. Mix it by hand or in a blender until thoroughly combined. Optionally, you can add essential oils for scent.
Hair Masks
Similar to aloe vera gel face masks, there are many ingredients you can mix your gel with to target individual hair concerns. Try coconut oil for hair that needs extra hydration or yogurt to help with dandruff. You can find several aloe vera hair mask recipes here.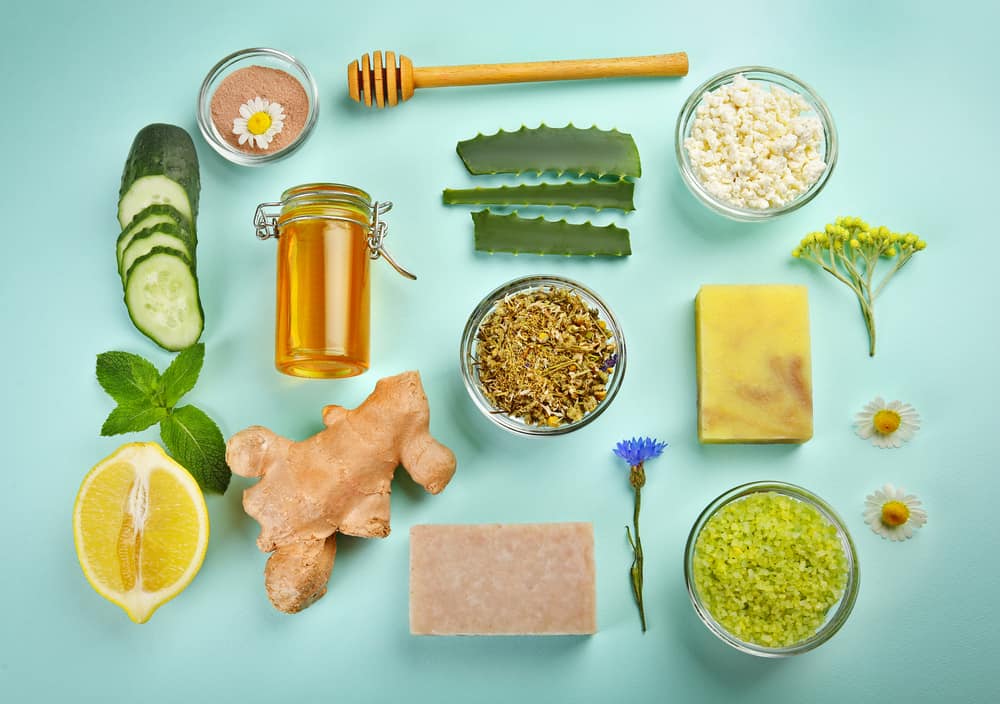 Storing Your Aloe Vera Gel
Whether you are using a premade aloe vera gel or a homemade one, it needs to be stored properly to extend its shelf life and prevent it from losing its potency.
Store-bought aloe vera gel should be kept in a cool, dark, dry place. It shouldn't be exposed to direct sunlight or to extreme humidity. It can last 2 to 3 years this way.
Fresh, homemade aloe vera gel should be stored in the fridge. The fridge will slow down any breakdown in the gel and keep it fresh for as long as possible. Make sure your gel is wrapped up tightly in an oxygen proof bag or bowl. It can last up to 2 weeks in the fridge.
You can freeze either type of aloe vera gel to preserve it, but this is not recommended as the gel will likely become watery and lose some of its benefits as it defrosts.
Side Effects of Aloe Vera Gel
Though side effects of using aloe vera gel are not common, they are still something you should know about.
Applying aloe vera gel topically could result in skin irritation or an allergic reaction. Stop using the product if you experience intense itchiness, a rash, or hives. You should avoid applying aloe vera gel directly to severe burns or surgery sites, as this could result in an infection.
Before using aloe vera gel, you should also do a patch test on a small area of your forearm. Apply the product and wait 24 to 48 hours; if there is no reaction, it is probably safe to apply the gel to other areas of your body.
Enhance Your Self-Care Routine
Aloe vera gel is one of nature's best solutions to many of today's skin and hair care problems. A quality aloe vera gel can assist you in moisturizing your skin, clearing acne, healing cuts, and making your hair shine. Once you find the perfect product, you will be on the fast track to enhancing your self-care routine.