Age spots are a common occurrence as we get older, but with proper care and management it is possible to minimize or even erase them. However, when shopping for an age spot remover, you'll see loads of harsh bleaching creams with serious side effects, alongside mild formulas that don't provide real results.
How do you find an age spot remover that is both safe and effective? This guide will help you do just that. We'll go over some of the best dark spot correcting ingredients to look for, give you some tips on how to choose the right formula, and then show you the top 10 age spot removers for 2021.
How to Choose a Safe and Effective Age Spot Remover
Choosing the right age spot remover mostly comes down to the ingredients. You want to choose a formula that is safe yet powerful. This can be tough in a market that includes potentially dangerous skin brighteners as well as faulty formulas that just don't do anything.
Ingredients
When shopping for age spot removers, the active ingredient is the most important factor. We'll take a look at some of the most effective dark spot correcting ingredients below.
Vitamin C (Ascorbic Acid)
Vitamin C serums like InstaNatural are one of the more popular age spot removers because they work by blocking tyrosinase, the enzyme that triggers excess melanin production in response to scars or frequent sun exposure. Tyrosinase blocking is the same mechanism that hydroquinone and other harsher bleaching agents use to remove dark spots.
So, vitamin C works like those harsher ingredients but doesn't cause the same kind of damage. The drawback is that it's a more gradual process, and it does make your skin sensitive to sunlight, so you should avoid using it during the day.
Retinol
Retinol is a great treatment for all the signs of aging skin, from dark spots to wrinkles to dull skin tone. It's powerful, multi-functional, and safe to use. If you've never used it before, it can cause redness and flakey skin, but these symptoms usually go away as your skin gets used to it. Start with a lower concentration to give your skin time to adapt.
Niacinamide
Niacinamide is a skin brightening agent that can fade dark spots, though its effects are milder than other ingredients on this list. What makes it a strong contender is that its one of the few skin brighteners that actually protects your skin from sun damage, so it's safe to use during the day.
Hyaluronic Acid
Hyaluronic acid is a great ingredient for hyperpigmentation because it hydrates and plumps up skin while also repairing cell damage. The result is a gradual yet long-lasting fading of dark spots.
Like niacinamide, it's safe to use in the daytime because it strengthens your skin's natural barrier rather than exfoliating it away like other dark spot correctors.
However, because its effects on dark spots are mild, it's rarely found on its own. It's often paired with retinol, vitamin C, or another more potent ingredient in multi-purpose serums like Yeouth. You shouldn't use the serum in the daytime unless it's free of those stronger dark spot correctors.
4-Butylresorcinol
The name is a mouthful, but it's a name worth knowing. 4-Butylresorcinol was developed to be a safer alternative to hydroquinone, a popular but controversial skin brightening agent that you can read more about int the full buyer's guide below.
Serums like EnaSkin that contain 4-Butylresorcinol operate in a similar manner to hydroquinone: by blocking tyrosinase activity (a process that triggers melanin production). However, it doesn't have the same toxicity and doesn't seem to come with long-term health risks.
Type
While ingredients are the most important factor to consider, you'll also need to decide between a serum or a cream.
Serums like Terez & Honor tend to be more concentrated and potent. However, they can be drying or irritating to your skin as a result since most age spot removers are acidic.
Meanwhile, creams like Whitening Labs are gentler and more soothing on your skin, but they're often more diluted and therefore not as effective.
If you do go the serum route, make sure to use a good moisturizer to minimize any redness or drying that might result from the high concentration of skin brightening ingredients.
Now that you have a better understanding of what the different ingredients do, take a look at some of our favorite age spot remover serums and creams below.
Top 10 Best Age Spot Removers 2023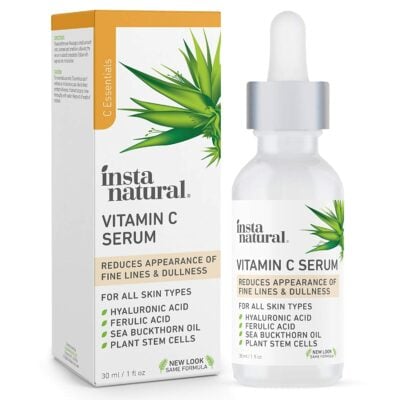 Why we like it:
This antioxidant-packed, collagen-boosting serum has a complete formula that will erase dark spots while also smoothing out wrinkles and brightening your skin!
Editor's Rating:
Quick Facts:
Main Ingredients: Hyaluronic Acid, Ferulic Acid and Sea Buckthorn Oil (Vitamin C), Vitamin E, Plant Stem Cells
Type: Serum
This Vitamin C serum uses a blend of soothing yet potent natural ingredients that erase your dark spots for good without all the side effects of synthetic formulas. It's gentle enough for dry or sensitive skin but effective enough to really work on your age spots.
Ingredients
This natural vitamin C serum is safe for sensitive skin since it's full of naturally sourced ingredients that help brighten skin and soothe irritation at the same time.
The vitamin C in this serum comes mainly from the ferulic acid and sea buckthorn oil. By using vitamin C sourced from these gentle, natural ingredients, it becomes a formula that's safe for daytime use. While most vitamin C serums ordinarily cause sun sensitivity, ferulic acid and sea buckthorn oil also provide protective effects that counteract that risk and actually protect your skin from sun damage.
These ingredients are also high in vitamin A and some B vitamins. Together, this range of vitamins helps fade dark spots, even out skin tone and texture, minimize wrinkles, and soften skin.
Use
This is safe for daytime use. In fact, hyaluronic acid and ferulic acid can help stop sun damage before it happens, so it's a great daytime option.
However, given that the dark spot removal results are more gradual with this serum, we recommend using it both in the morning and at night.
These gradual results are typical of vitamin C serums. They gradually reduce hyperpigmentation but do so in a lasting way so that the spots don't return, even after you stop using it.
The drawback of this safer, more gradual process is that you don't get instantaneous results. If you want a faster-acting formula, try this dark spot corrector from EraSkin.
Pros
High in vitamins A, C, E, and assorted B vitamins

Safe for daytime use

Results are long-lasting

Treats many age-related skin conditions
---
Why we like it:
This vitamin C serum combines a variety of nourishing antioxidants and essentials to brighten and tighten skin while gently erasing age spots.
Editor's Rating:
Quick Facts:
Main Ingredients: Vitamin C, Hyaluronic Acid, Aloe Vera, Witch Hazel, Vitamin E
Type: Serum
With dandelion, jojoba, and geranium, this natural formula acts as an excellent dark spot corrector as well as a hydrating, healing skin treatment.  Your skin will start to look and feel better within the first few applications!
Ingredients
Vitamins C and E work with the witch hazel to help minimize age spots while brightening overall skin tone. Hyaluronic acid and aloe help repair damage, minimize fine lines, and improve texture.
The gentle formula is great for sensitive skin. If you want to get rid of age spots but your skin tends to react poorly to most dark spot correctors, this serum is a great option for you.
Use
We recommend this for nighttime use due to the vitamin C content and the texture. Vitamin C causes sun sensitivity, so it can lead to sun damage if used in the morning.
While this vitamin C serum does work great and is gentle enough for sensitive skin, the application is a little annoying.
It's sticky and takes a long time to sink in. This makes it less than ideal as a morning treatment. Even though it would ordinarily be safe enough for daytime use, you probably don't have the time in the morning to wait for this to absorb.
For a vitamin C serum that sinks into your skin better, InstaNatural might be a better choice.
Pros
Great blend of natural skin brightening ingredients

Provides lasting age spot removal results

Corrects age spots as well as fine lines, texture, and overall skin tone

Hydrating and healing formula
Cons
Sticky and slower to absorb
---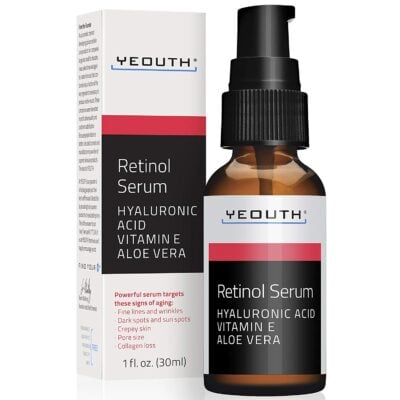 Why we like it:
This potent retinol serum combines the power of retinol with the brightening effects of hyaluronic acid.
Editor's Rating:
Quick Facts:
Main Ingredients: Retinol, Hyaluronic Acid, Aloe Vera, Vitamin E
Type: Serum
Retinol is one of the most powerful ingredients you can add to your skincare routine without causing long-term damage to your skin. This 2.5% concentration is the most potent form of retinol you can get without a doctor's prescription.
Ingredients
Pure retinol acts as an exfoliating chemical peel that produces the dark spot correcting results you're looking for sooner than other formulas. These results are reinforced by hyaluronic acid and vitamin E, both of which help to brighten skin while also hydrating your freshly exfoliated skin.
The aloe vera in this formula is a great touch. High concentrations of retinol can dry out skin, especially when you first start using it. As your skin gets used to it, these symptoms usually go away. Aloe helps soothe skin and prevent the flakiness and redness that retinol can cause.
If you've never used retinol before, you may want to start with a lower concentration of around 0.5% or 1% to help your skin adapt to it while minimizing the redness and flakiness that can appear.
Use
While some age spot removers, particularly vitamin C serums, are safe to use in the morning, this one should only be used before bed. Retinol makes your skin vulnerable to UV rays, and this high potency formula will make it even more sensitive.
We recommend only applying this at night. For a treatment that's safe to use in the daytime, try Naturium.
Pros
Highest concentration of retinol allowed without a prescription

Fast, lasting dark spot correcting results

Brightens and evens out skin tone while erasing spots

Hyaluronic acid and aloe soothe exfoliated skin
Cons
Not safe to use in the morning
---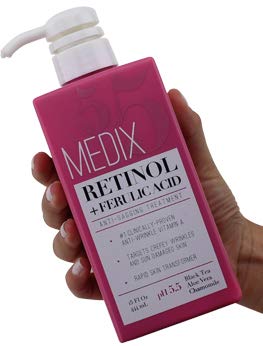 Why we like it:
The blend of rich moisturizers like shea and aloe with effective skin brighteners like retinol and ferulic acid makes this one of the more balanced formulas on the market.
Editor's Rating:
Quick Facts:
Main Ingredients: Retinol, Ferulic Acid, Aloe, Chamomile, Black Tea, Shea Butter
Type: Cream
This generous 15 oz bottle is filled with a healing, skin-brightening formula that you can use to treat age spots from head to toe. It's effective and deeply hydrating at the same time, so your skin will start feeling better right away—and looking brighter soon after that!
Ingredients
The stars of the show are retinol and ferulic acid. These ingredients will gradually fade your age spots while giving you overall brighter skin. The aloe and shea provide deep moisturization so that the retinol and antioxidant blend can get to work on your age spots without irritating your skin.
Use
This is a great nighttime moisturizer for deep hydration and overnight skin repair. It comes in a large enough quantity to use anywhere that age spots appear. However, the formula won't clog pores, so it's safe to use on your face as well.
With that said, this cream may be too mild for some skin. Lighter age spots will disappear, but the darker spots will probably only fade a little.
The rich moisturization effects and the mild dark spot correction make this a great addition to your routine, but you'll probably want to invest in a more concentrated serum like Terez & Honor for more serious dark spot correction.
Pros
Contains retinol and ferulic acid for lasting age spot removal

Great nighttime moisturizer

Ideal for use on face and body

Large bottle size
Cons
May be too mild for darker age spots
---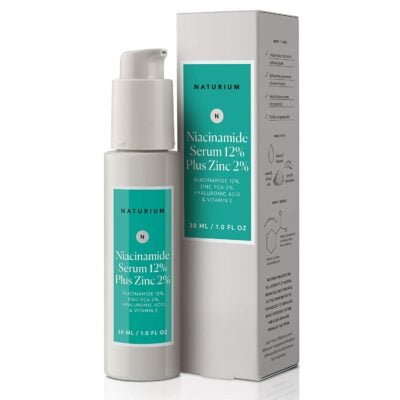 Why we like it:
Niacinamide is a powerful skin brightener that's also gentle on skin, and this formula blends other antioxidants and skin brighteners for even better results!
Editor's Rating:
Quick Facts:
Main Ingredients: Niacinamide, Hyaluronic Acid, Zinc, Vitamin B3, Vitamin E
Type: Serum
This skin brightening serum will make age spots fade with the combination of potent niacinamide, hyaluronic acid, and antioxidants. Unlike other age spot removers, this one is also safe to use during the day since it doesn't leave your skin vulnerable to sun damage.
Ingredients
The combination of niacinamide and hyaluronic acid makes this one of the strongest dark spot correctors you can get that won't leave your skin parched and flakey. Along with these highly effective skin brighteners, you also get a concentrated antioxidant blend that boosts those dark spot correcting effects while repairing sagging or damaged skin.
While this formula is potent, it's also gentle and the spot correction results are gradual like they are with other more natural formulas. However, the results do last, so we think patience pays off with this serum.
Use
This is one of our favorite serums for daytime. Niacinamide is great for tone correction but won't make your skin vulnerable to UV rays so you can put it on in the morning and not worrying about causing new skin damage.
The biggest drawback is how quickly you run through this bottle. The formula is on the thicker side so you end up using more per application than you would with a thinner, more spreadable serum. Because of this and the fact that the thicker fluid will stick to the sides, you'll run through this one-ounce bottle in a matter of a couple of weeks with daily use.
For a serum that will last longer, try Yeouth.
Pros
12% niacinamide provides dark spot correction and all-around tone correction

Formula contains multiple effective age spot removing ingredients

Safe for daytime use
Cons
Results are gradual

Runs out quickly
---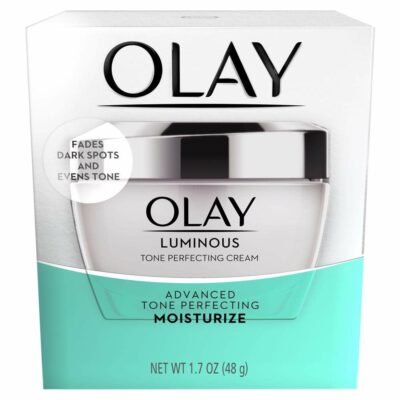 Why we like it:
This lightweight niacinamide skin brightening moisturizer combines a great antioxidant blend with hydrating aloe and other moisturizers.
Editor's Rating:
Quick Facts:
Main Ingredients: Niacinamide, Vitamin E
Type: Cream
This is a great lightweight moisturizer that's safe for oily or combination skin and boasts an effective skin brightening formula as well. Niacinamide and an antioxidant blend that includes vitamin E help fade dark spots and brighten your overall skin tone, while keeping skin soft and hydrated.
Ingredients
This lightweight moisturizer is water-based so it won't clog pores and it absorbs quickly. Meanwhile, the high niacinamide content will brighten skin and minimize age spots for a more even skin tone.
While niacinamide is a great age spot remover that also helps with overall skin tone, this cream is not as concentrated as, say, the Niacinamide serum, so the results will not be as dramatic.
It's also not fragrance-free. While the scent is pleasant and mild, the synthetic fragrances in the formula may irritate sensitive skin that is prone to allergic reactions. Make sure to patch test this before applying it to your whole face.
Use
This is lightweight enough to be your daytime moisturizer, so we recommend using it that way. Use a stronger age spot remover at night and then reinforce that with this milder tone corrector in the morning.
Pros
Great for oily or combination skin

Niacinamide is great for brightening and evening out skin tone

Fast absorption makes it great for daytime use
Cons
May irritate sensitive skin

May be too mild for darker spots
---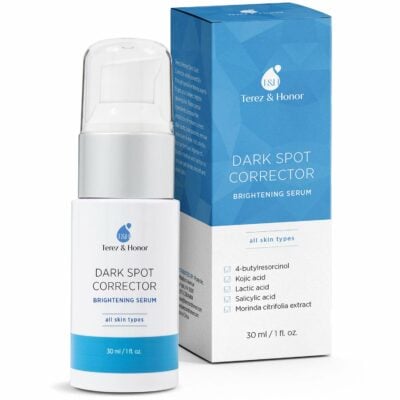 Why we like it:
The combination of antioxidants with 4-Butylresorcinol makes this one of the best possible alternatives to hydroquinone.
Editor's Rating:
Quick Facts:
Main Ingredients: 4-Butylresorcinol, Kojic Acid, Lactic Acid, Salicylic Acid, Morinda Citrifolia Extract
Type: Serum
This unique serum acts as both a vitamin C serum and a stronger, faster dark spot corrector. It's one of our favorite alternatives to hydroquinone for those who are looking for something safer to use on a long-term basis.
Ingredients
Morinda citrifolia is an extract from the noni fruit. It's high in vitamin C so this formula works much like a Vitamin C serum. However, unlike a typical vitamin C serum, it's also high in 4-Butylresorcinol, a safe and effective dark spot corrector that works the same way hydroquinone does but without the potential health concerns.
The addition of salicylic acid helps even out tone and texture, so this is a well-balanced formula that targets all the problems associated with aging skin at once.
Due to the combination of 4-Butylresorcinol and salicylic acid, this can be harsh on sensitive skin. The antioxidants do help balance this somewhat, but we definitely recommend using a moisturizer immediately after applying this. Try a dark spot correcting moisturizer like Medix to maximize your results.
Use
This is a powerful, fast-acting formula that should be used at night. The 4-Butylresorcinol and salicylic acid make this too harsh for daytime use. We recommend putting it on before bed right before you apply your nighttime moisturizer.
A little goes a long way, so make sure to start with a small dot of product and build up as needed. It's a bit slow to absorb so you only want to apply a thin layer. Otherwise, you'll be sitting with product on your face for a while.
Pros
Contains safe, effective alternative to hydroquinone

Powerful antioxidant blend

Fast-acting for immediate, noticeable results

Also evens out texture and minimizes fine lines
Cons
Slow to absorb

May irritate sensitive skin
---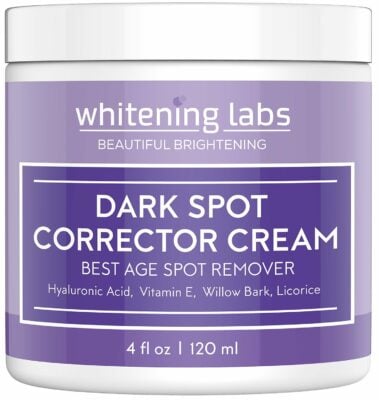 Why we like it:
This nourishing cream combines all-natural skin brighteners with a powerful antioxidant blend for an optimal balance of dark spot correction and hydration.
Editor's Rating:
Quick Facts:
Main Ingredients: Hyaluronic Acid, Aloe Vera, Vitamin E, Willow Bark, Licorice
Type: Cream
We love that this natural blend of dark spot correcting ingredients is infused into a rich, hydrating cream that's safe to use on your face and body. It's effective on its own but also works well in combination with a more potent serum.
Ingredients
Willow bark contains salicin, which is what salicylic acid comes from, so this is a natural acne-clearing, texture smoothing ingredient that can also brighten up dark spots. Licorice is a natural source of many potent antioxidants, so it's great for erasing dark spots as well. It also minimizes fine lines and helps with overall skin tone.
Finally, the aloe and hyaluronic acid heal and hydrate your skin while evening out skin tone and tightening sagging skin.
All of these ingredients are also anti-inflammatory, making this an especially great cream for sensitive skin. It's also a good choice for oily or combination skin since willow bark helps control oil production.
Use
This water-based moisturizer is a great pick for your morning moisturizer. It absorbs quickly, controls oil, and contains none of the more potent age spot removers that would make your skin sensitive to sunlight.
While this is effective, it's still a cream, which means it's not as concentrated as a serum, so it takes more time to notice results. It can take about a month to start noticing a difference in age spots, though wrinkles and sagging skin will start to disappear within a week or two.
If you want faster or more dramatic results, we recommend pairing this with Yeouth to speed up the skin brightening effects.
Pros
All-natural age spot remover ingredients

Complete anti-aging formula for age spots, wrinkles, and skin tone

Great daytime moisturizer

Safe for sensitive skin

Good for oily or combination skin
---

Why we like it:
This fragrance-free and hypoallergenic formula provides deep hydration while gently minimizing age spots.
Editor's Rating:
Quick Facts:
Main Ingredients: Aloe Vera, Jojoba Oil, Ginger Root Extract
Type: Cream
A lot of the most effective dark spot corrector ingredients also tend to be very drying since they act partially as exfoliants. This rich, hydrating cream prevents that by blending seven intensive moisturizers to ensure that you can erase age spots without leaving your skin red and flaky.
Ingredients
Ginger root extract promotes collagen production and helps brighten up age spots for a more even skin tone, making it an all-in-one treatment for aging skin. Meanwhile, aloe and jojoba provide deep, lasting hydration that can help minimize wrinkles and smooth skin texture.
The result is a formula that can take years of your skin without being overly harsh or using potentially dangerous bleaching agents.
Given the gentleness of the formula, you do lose out on effectiveness. This will help minimize age spots but it's unlikely to fully erase them. Given this, we would recommend using a more concentrated serum such as TruSkin to initially treat the spots. Then, make this your daily hand or body lotion to keep those spots from returning.
Use
This is formulated as a targeted body cream, so it's ideal for treating dark spots on hands, arms, chest, or legs. If you have especially dry skin or you aren't prone to breakouts, you can use it on your face, but this is a rich formula so we recommend patch testing it first to make sure it doesn't cause a breakout.
Pros
Ginger root is a powerful, natural dark spot corrector

Promotes collagen production

Great for treating spots on hands and neck

Rich, natural moisturizing ingredients like jojoba and aloe
Cons
May be too mild for darker spots

Too rich for oily or combination skin
---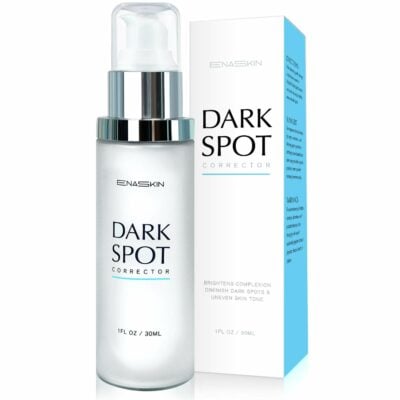 Why we like it:
This hydroquinone alternative is safe, powerful, and multi-functional so it will definitely become the cornerstone of your skincare regimen!
Editor's Rating:
Quick Facts:
Main Ingredients: 4-Butylresorcinol, Kojic Acid, Lactic Acid, Salicylic Acid
Type: Serum
For those in search of a more heavy-duty, immediate dark spot corrector, EnaSkin is a great option. This potent formula will give you results quickly and provide a full range of age-reversing effects. Fine lines and sagging skin will disappear along with those age spots!
Ingredient
The 4-Butylresorcinol reverses hyperpigmentation and new age spots from appearing by blocking the melanin production process. Then, your overall skin tone is evened out and brightened by the salicylic acid, lactic acid, and kojic acid.
This acid blend isn't just for pigmentation. They also help even out texture, minimize wrinkles, and can treat acne breakouts.
While this formula is effective, it's not especially gentle. If you have sensitive skin, this might be too harsh for you. On normal skin, you may experience redness or rashes during the first few weeks of use, but it should calm down as your skin gets used to it.
For an age spot remover that works in a similar way but is gentler on your skin, try this TruSkin vitamin C serum.
Use
Apply this serum at night, right before bed. Both the 4-Butylresorcinol and the salicylic acid will make your skin vulnerable to sun damage if you apply this in the morning. Sun damage can lead to more age spots, so you'll be defeating the purpose if you use it in the morning.
Pros
Potent, fast-acting formula

Dramatic skin brightening results

Safer alternative to hydroquinone

Plumps and smooths out skin in addition to erasing age spots
Cons
May irritate sensitive skin

Not safe for daytime use
---
Guide to Age Spot Removers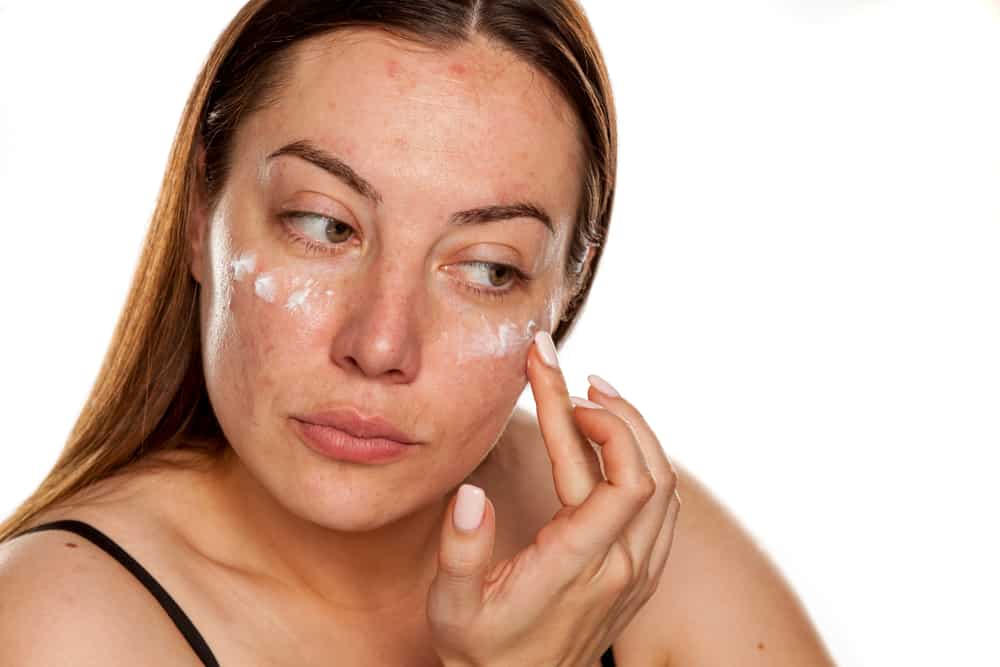 With so many different kinds of age spot removers on the market, it can be hard to figure out which one is the right fit for your skin. To help make that decision, we've answered some common questions that people have about age spot removers below:
Which Ingredients Should I Avoid?
In the world of skin brightening products, you do need to tread carefully. Some skin-brightening formulas can be dangerous. While they will, indeed, brighten dark spots, they can also burn your skin, leak toxins, and generally do more harm than they're worth.
Some of these, like mercury, are banned by the FDA but still have a habit of popping up in some products in trace amounts near the FDA's limit or in higher quantities that the brand is simply not reporting. Others, like hydroquinone and steroids, have FDA warnings and recommendations about safe maximum levels but not strict regulations so some products use more than the FDA recommendation.
Here are a few of the most common offenders you'll come across when you're shopping for an age spot remover:
Corticosteroids
Corticosteroids are another popular but controversial option for treating age spots. Steroidal creams can lighten skin, but they do so by thinning your blood vessels and reducing blood flow to your skin.
This lack of blood flow makes your skin paler, so any age spots appear to fade. In other words, they don't actually get rid of the spot so much as make it less visible. When you stop using the steroid cream, your skin starts to look just like it did before.
This means that you need to continuously use steroid-based creams to maintain those results. The trouble is that continuously restricting blood flow to your skin is not safe.
With long term use, you can end up with chronic headaches, unhealthy blood pressure levels, and thinner, more fragile skin that is now even more vulnerable to age spots than it was before.
Steroids are not a long-term solution. They're not good for your skin. And they will, ultimately, make the problem worse.
Only use steroid-based creams if your doctor prescribes them. Then, only use them as directed and avoid long-term use.
Mercury
It is fairly common knowledge by this point that mercury is not safe to consume or put on your skin.
Unfortunately, it sometimes ends up in age spot removers and skin brighteners made outside of the United States anyway. That's because mercury can, indeed, lighten dark spots. It just also happens to cause mercury poisoning.
The good news is that putting mercury in skincare products is illegal in the United States. However, it's still unregulated in many other parts of the world and there have been cases of mercury being found in products even when it wasn't listed as an ingredient.
If the product you're looking at was made outside of the country, you need to be careful, especially when shopping online. When you're shopping on Amazon, buy directly from Amazon when possible, rather than from a third-party seller.
If you do buy from a third-party seller, you should at least be sure the shipping is "fulfilled by amazon" (it will say so on the listing) and check the seller's profile page to make sure they look legitimate.

Is Hydroquinone Safe?
Hydroquinone is a popular skin brightening ingredient used to eliminate age spots and generally brighten up skin tone. However, due to the safety concerns, we've opted to list only hydroquinone-free alternatives in this guide.
While it is effective at lightening dark spots, it comes with certain long-term health effects when used regularly. In concentrations higher than 4%, it's also toxic. It was temporarily banned by the FDA for this reason, but that ban has been partially lifted. Treatments with 2% or less hydroquinone are allowed.
You can find additional hydroquinone safety information here.
For the most part, these risks and side effects can be avoided if you use it only for short term treatments and take proper safety precautions when doing so. Here are some important safety guidelines to follow:
Apply the treatment directly to age spots only, not over the entire face, neck, or other areas where the age spot appears.
Use hydroquinone only at night before bed, since it causes sun sensitivity. A gentler age spot removing product is safer during the day.
Apply a rich moisturizer immediately after using hydroquinone to minimize irritation.
Use a high SPF sunscreen during the day for the duration of your hydroquinone treatment. Stick with the sunscreen after to prevent age spots in the future.
When your age spots have disappeared, stop using hydroquinone. Switch to a safer, gentler alternative like the Gold Bond cream to maintain age spot-free skin.
Do not use hydroquinone while pregnant or breastfeeding.
If you are interested in using hydroquinone, you can find our recommendations for the safest and most effective ones in our hydroquinone guide.
What Is a Good Retinol?
Retinol is a great age spot remover and an all-around anti-aging treatment for your skin. It can be difficult to shop for, though, as it's hard to make sense of the different terminology and advertising claims. To simplify it, here's a few key things to know:
If the product claims to contain "retinoids" or "vitamin A," it's usually (but not always) a weaker formula. This is because "retinoid" is just the umbrella term for all derivatives of Vitamin A, including the least potent ones.
Look for something that actually says "retinol" as this is the name of a specific retinoid and it's one of the more potent ones you can get without a prescription.
If the product claims to have more than a 2.5% concentration, then it's not all retinol. It's a blend of other, usually weaker retinoids. 2.5% is the highest concentration of pure retinol allowed in non-prescription products.
How Can I Prevent Age Spots?
Using a gentle yet effective age spot treatment like the ones listed above as part of your long-term skincare routine is one of the best ways to prevent new age spots, even after existing ones have faded.
However, there are other steps you can take to prevent age spots from appearing on your skin:
Use high SPF sunscreen. Sun damage is the leading trigger of age spots so stopping sun damage is the best thing you can do to stop age spots. 30 SPF is ideal and getting a separate one for face and body will help prevent clogged pores and breakouts.
Avoid direct sunlight between 10:00 A.M. and 2:00 P.M. UV rays are at their most intense during these hours. If you need to go outside, wear a hat, and make sure you take sunscreen with you and reapply it every two hours.
Cut back on sugar and processed foods. Diets that are high in sugary or processed foods can wreak havoc on your hormones. Hormonal shifts are another leading trigger of age spots. So, reducing sugar and processed foods will help restore balance and minimize the dramatic hormonal shifts that can lead to dark spots.
Eat Omega-3 Fatty Acids. Supplements are also fine. Omega 3 fatty acids help with hormonal balance as well as for overall skin health. So, a diet high in this nutrient will prevent age spots while also minimizing wrinkles and sagging skin.
Exercise regularly. Even if it's just a 30-minute walk each evening after dinner, regular exercise can work wonders on correcting hormonal imbalances and improving blood flow to the skin. Both of these will help prevent new age spots from appearing.
In general, eating better, exercising, and proper sun protection are the keys to spot-free skin. They also happen to be things we all should be doing anyway, so this is just one more reason to commit to healthy habits!
Should I Be Concerned About Age Spots?
Most likely, no. Age spots are a normal part of aging. However, they also tend to appear on areas that are most frequently exposed to sunlight. This means that there is a slight chance that a new age spot is an early sign of cancer.
Before you panic, keep in mind that it is most likely not cancer and just a normal change in your skin. While you shouldn't be too worried about it, you should still make an appointment with your doctor.
Regular cancer screenings are generally recommended as you get older anyway since early detection is one of the best ways to ensure positive outcomes. So, noticing a new age spot is not a reason to panic but it is a good reminder to go get your regular screening!
What Else Can I Use to Treat Aging Skin?
Age spot removers are great for evening out skin tone and some formulas can also smooth out wrinkles and revive dull-looking complexions. But to completely restore that glow to your skin, you'll need a complete, nourishing skincare routine. Here's some other products you might want to add to your routine:
Moisturizers for Dry Skin. Age spot removers can dry out your skin while they're working their magic. Make sure to pair yours with a rich moisturizer.
Firming Creams. Firming creams can help smooth out the texture of your skin and restore collagen.
Foundations for Mature Skin. A good, lightweight foundation that evens out skin tone without exaggerating wrinkles is a great final step to your morning routine.
Final Word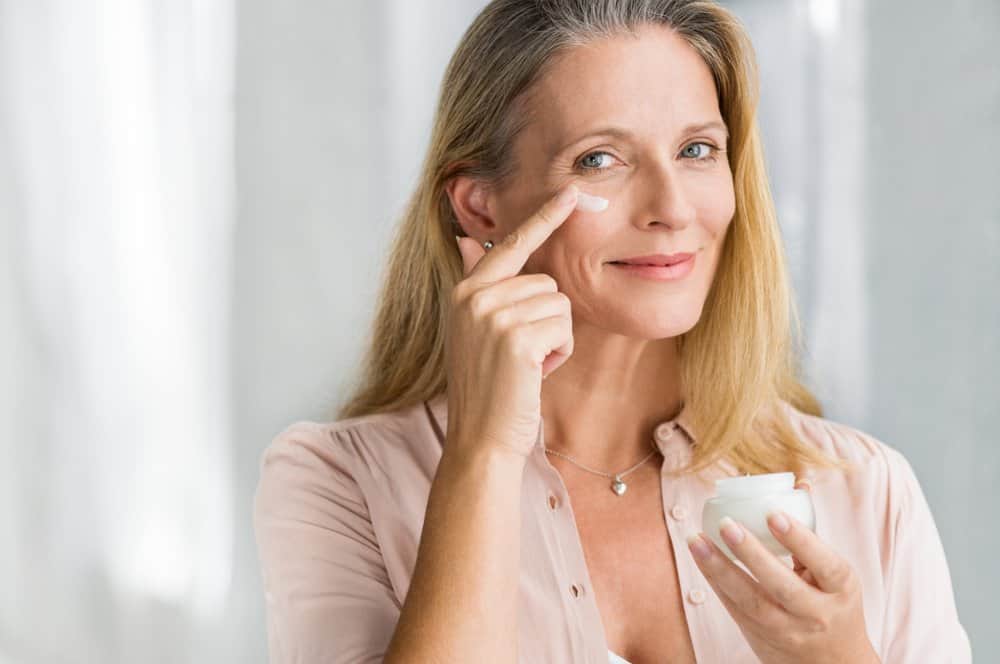 Finding the right age spot remover is about striking the right balance of efficiency and gentleness on your skin.
More gradual formulas, like this Vitamin C serum tend to be safer and provide longer-lasting results. Faster-acting formulas, like this EnaSkin serum, are a bit harsher on your skin but great for quickly erasing spots.
Whatever you choose, make sure it's part of a holistic skincare regimen that includes a good moisturizer and sunscreen to help prevent new age spots in the future!